Player Analysis: Al Musrati
Almoatasembellah Ali Mohamed Musrati, commonly known as Al Musrati, has solidified his status as one of the most decisive midfielders in Portugal. Born in Misrata, Libya, Al Musrati made his debut for Al-Ittihad Tripoli at 17 years of age, where he would impress over the next three years before catching the attention of Romano Sion, a retired Dutch striker who briefly played at Vitória de Guimarães from 2001 to 2002. On the back of Sion's recommendation, Vitória signed him for their B team in January 2017.
"Al Musrati has an enormous potential," said Sion. "I realized this right when I saw him play in Libya, when he was 19 years old. He is a defensive midfielder that practically wins all of his duels and goes out to play, always in the easiest form. Two years from now, he won't be here anymore. He is a talented player who has a big future, and besides this, he is a machine in training."
However, two years into his time in Portugal, Al Musrati was still playing for Vitória's reserve side. It wasn't until Ivo Vieira took charge of the club that the Libyan's fortunes began to change; he made his professional debut on July 25, 2019 in a UEFA Europa League qualifier against Jeunesse Esch, starting in midfield as Vitória took a 1-0 victory in Luxembourg. He would go on to start the following nine matches under Vieira before being subbed off due to a muscle injury in a 0-3 defeat to Porto.
Al Musrati missed the following two months and never managed to regain his starting spot in midfield, starting just one league match before joining Rio Ave on loan. With 1 assist in 15 matches, Al Musrati solidified a starting spot under Carlos Carvalhal as the Vilacondenses beat out Famalicão for the final Europa League spot on the last matchday of the 2019/20 season.
While he wasn't one of the team's brightest performers such as Mehdi Taremi, Lucas Piazón and Nuno Santos, Carvalhal saw the potential in him and decided to bring him to Braga following the expiry of his contract at Vitória. As João Palhinha returned to Sporting after his two-year loan at Braga, Al Musrati joined the Minhotos on a four-year contract.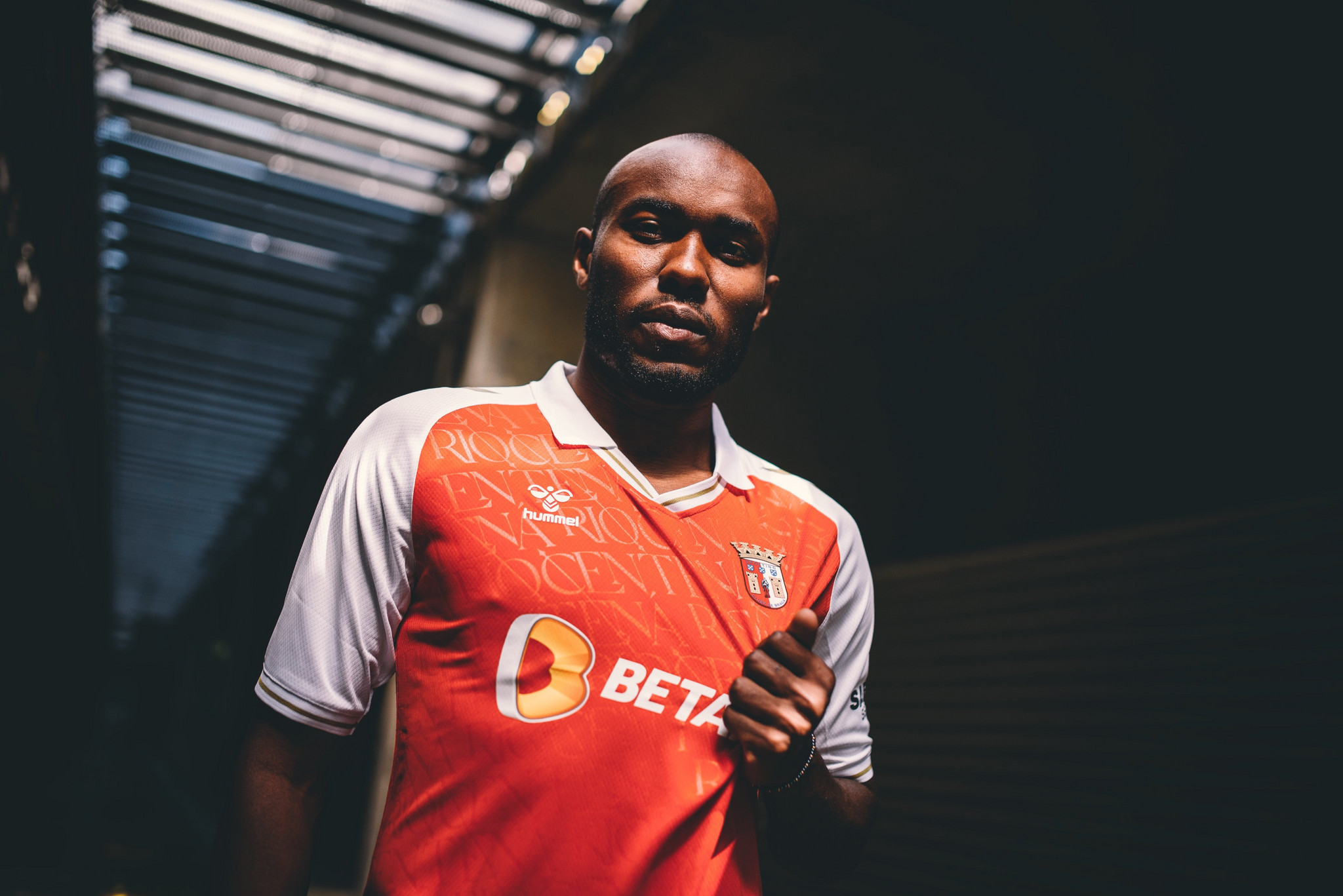 Photo: SC Braga
Despite losing their starting center forward Paulinho to Sporting in the January transfer window, and despite losing key players such as David Carmo, André Castro, and Iuri Medeiros to injury, Braga are through to the Taça de Portugal Final and are chasing top three under Carvalhal. They have fallen from second to fourth after drawing to Famalicão and losing to Benfica following Fransérgio's controversial first-half expulsion, but they are still alive in the hunt for Champions League qualification for the first time since 2012.
Crucial to their impressive form this season has been Al Musrati, who, alongside Fransérgio in the double pivot, has played a vital role in Braga's 3-4-3. He is a complete player who stands out both in defensive and offensive aspects, able to play as a holding midfielder or as a box-to-box midfielder. By looking at his performance against Porto in the first leg of the Taça de Portugal semifinals, we can get a better idea of his characteristics.
In the first leg, Porto drew 1-1 to Braga, a game that saw Luis Díaz and Mateus Uribe sent off for Porto, David Carmo suffer a season-ending injury, and Fransérgio's late equalizer cancel out Mehdi Taremi's opening goal. Three weeks later, a brace from Abel Ruíz and a goal from Lucas Piazón saw Braga take an early 3-0 lead at the Estádio do Dragão, and despite Cristian Borja's early expulsion and goals from Otávio and Moussa Marega, Braga would hold on with 10 men to seal their progression to the Taça Final.
Going up against the likes of Matheus Uribe and Sérgio Oliveira in Braga, Al Musrati was the best midfield on the pitch in the first leg, winning nine out of 13 ground duels and three out of seven aerial duels, completing two out of two successful dribbles, creating one big chance and one key pass, and completing 12 out of 13 long balls.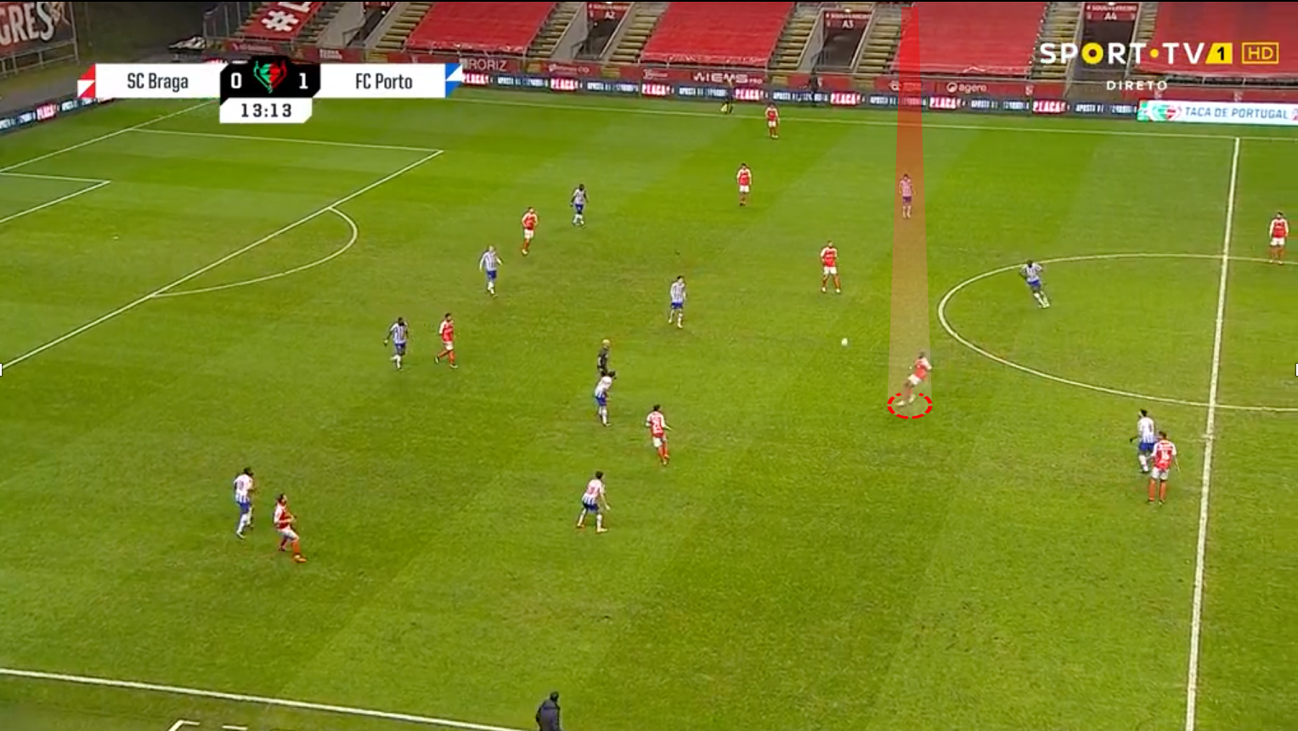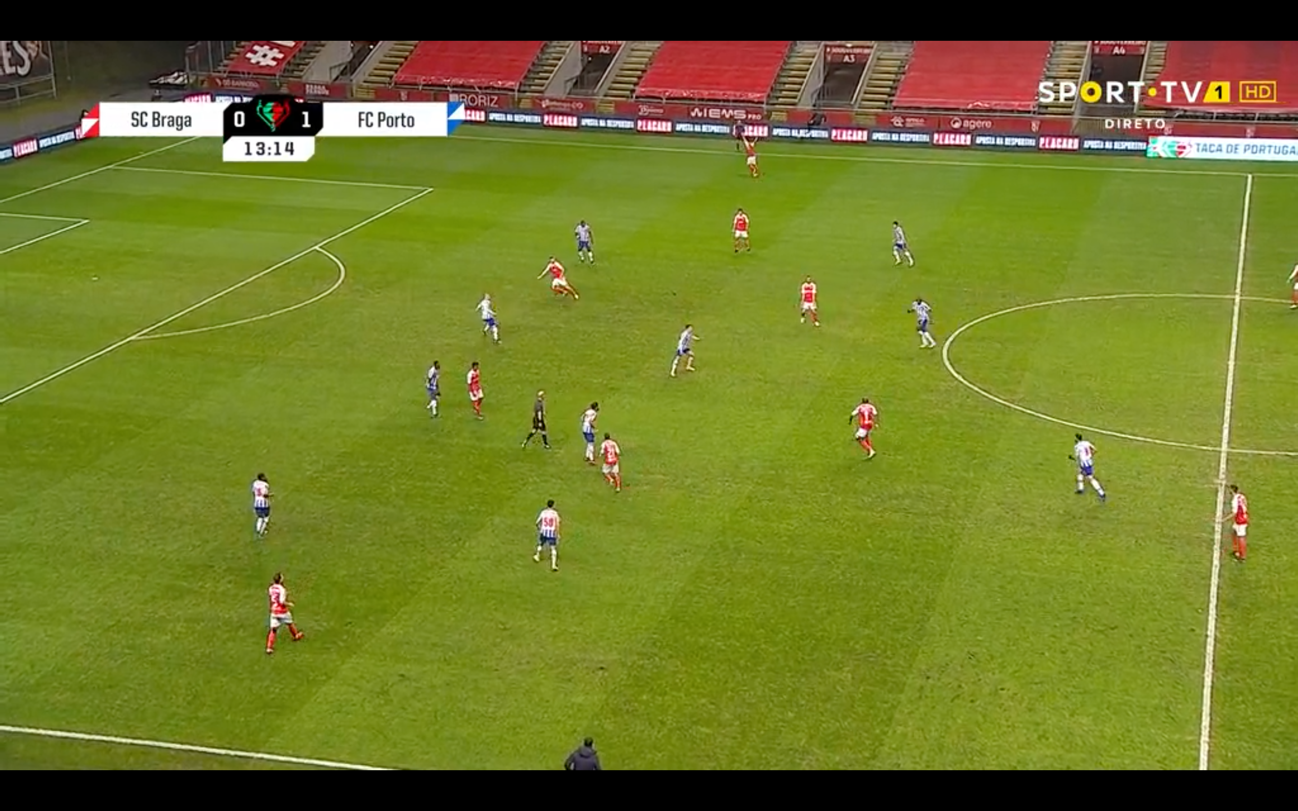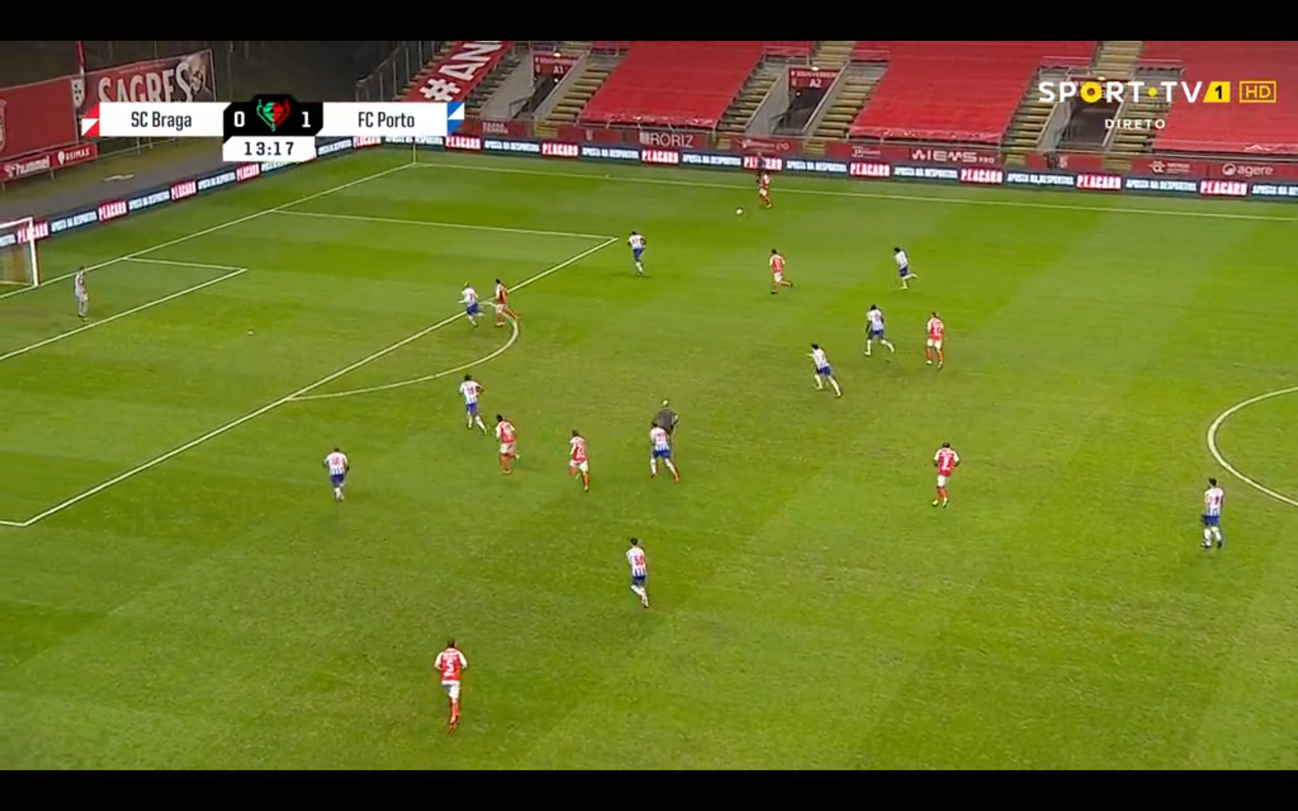 In the above example, Al Musrati controls a loose ball, turns and lifts his head up, and spots a wide-open Ricardo Esgaio on the right flank, before finding him with an inch-perfect long ball. The Libyan's ability to read the game and pick out teammates with long passes has made him into one of the most dominant midfielders in the ongoing Liga NOS campaign.
With a 76% long ball accuracy rate in the Primeira, Al Musrati is capable of breaking the lines with looping passes and through balls, having averaged 0.6 key passes per 90 minutes. He is also capable of making lung-busting runs into the final third, linking up with teammates in advanced areas, but his bread and butter is the ability to switch the play and pick out teammates in ample space.
In the below example, Al Musrati finds all of his short passing options tightly marked by Porto players, but when he looks up, he spots Wanderson Galeno open on the left flank, and picks out his Brazilian teammate with a delectable through ball. Given the fact that Braga's 3-4-3 calls for inverted forwards and wingbacks (Esgaio and Galeno) to stretch the pitch and provide creativity on the flanks, Al Musrati's ability to pick out the wingbacks in advanced areas is absolutely crucial to Carvalhal's style of play.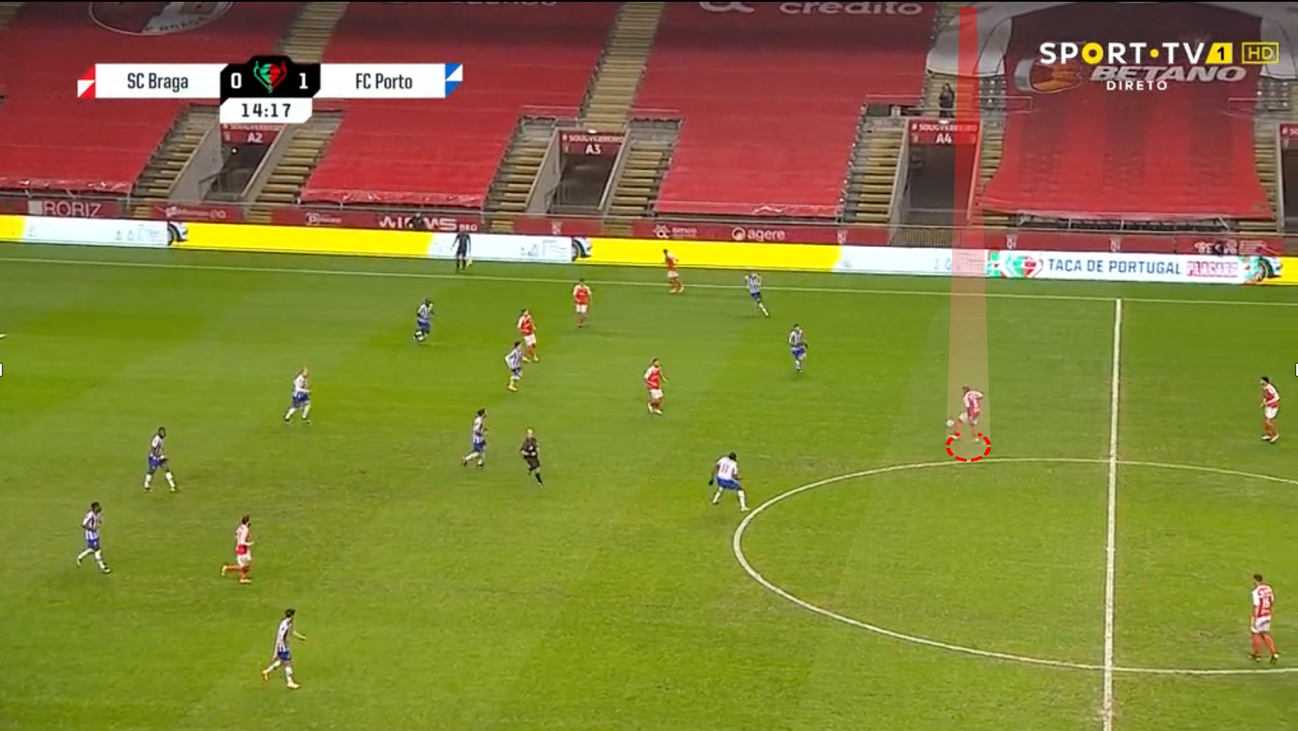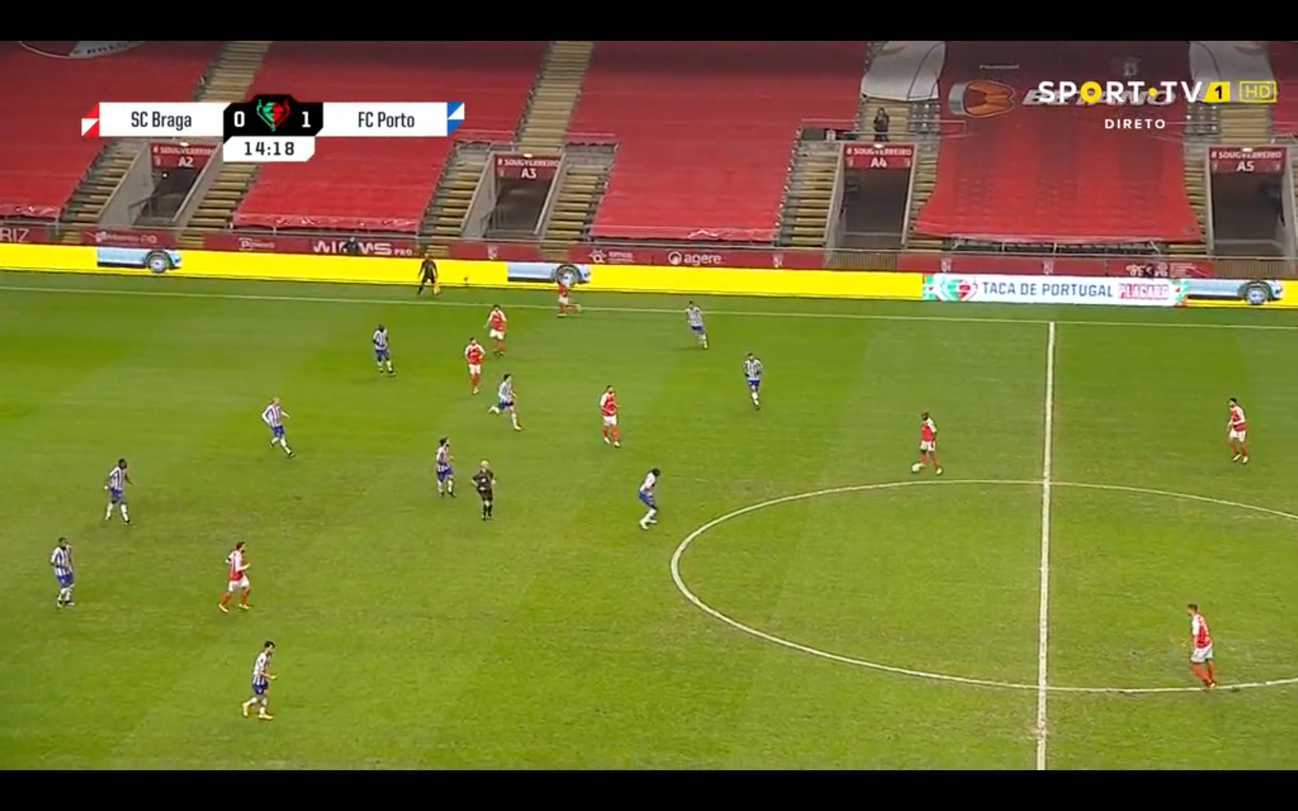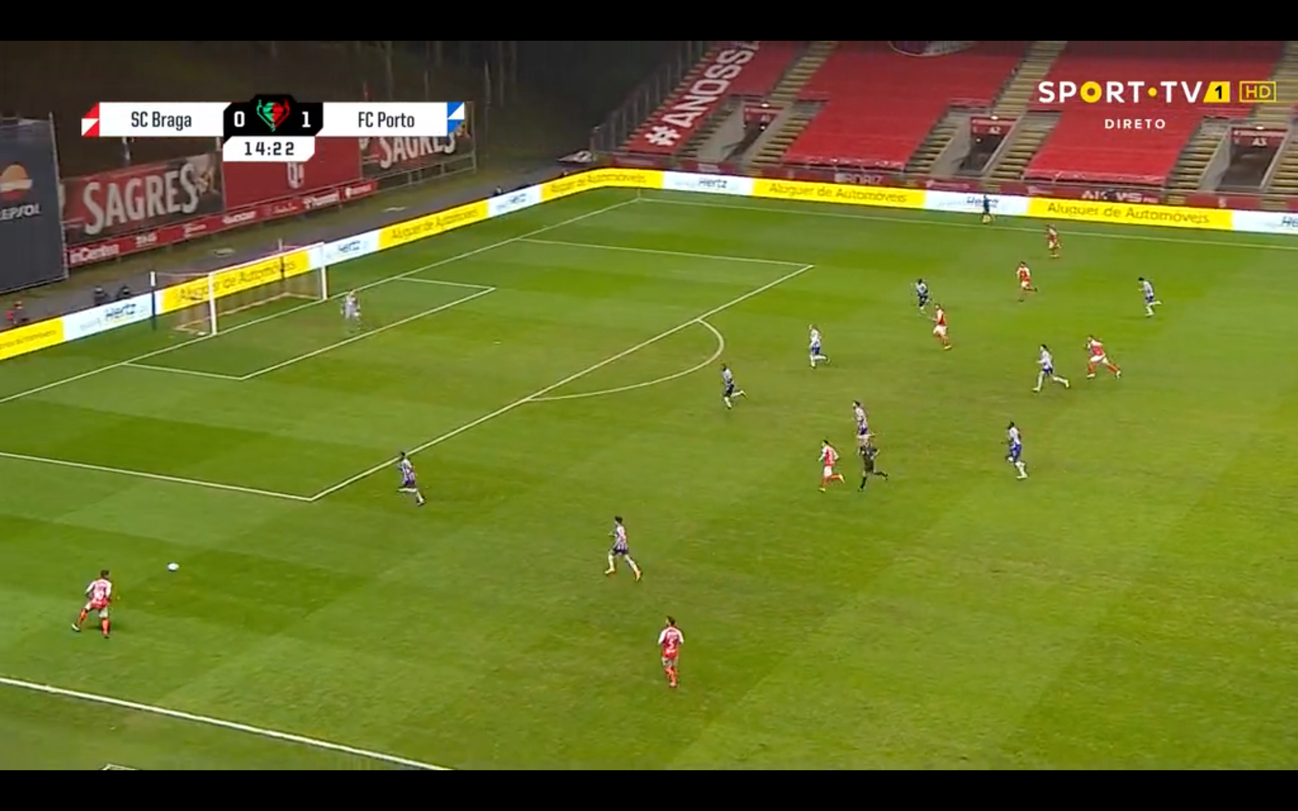 Whilst he is a magician on the ball, Al Musrati also stands out on the defensive side, averaging 1.6 interceptions and 1.4 tackles per match this season and impressing with his strong reading of the game, positional awareness, and intelligent tackling and marking. This has allowed him to play a more defensive role throughout his career and will certainly be a boon to any team looking to reinforce their midfield.
Under Vieira, Al Musrati typically played as the holding midfield in a midfield trio alongside two attack-minded players such as Pêpê, Dennis Will Poha, Lucas Evangelista and João Teixeira, mainly operating in a 4-3-3 but occasionally in a 4-2-3-1 or a 4-5-1. At Rio Ave, he typically played in the double pivot of a 4-2-3-1 next to a box-to-box player such as Filipe Augusto or Tarantini. At Braga, he has thrived in a 3-4-3 next to both André Castro and Fransérgio.
No matter where he plays or what system he is asked to operate in, he has always shone due to his reading of the game and never-say-die attitude. In this example, Sérgio Oliveira attempts to launch a counterattack by finding Moussa Marega in space, but as soon as the Malian striker receives the ball, Al Musrati has already chased him down. He remains side-by-side with him before making a sublime tackle and glancing the ball into the direction of Braga defender Nuno Sequeira.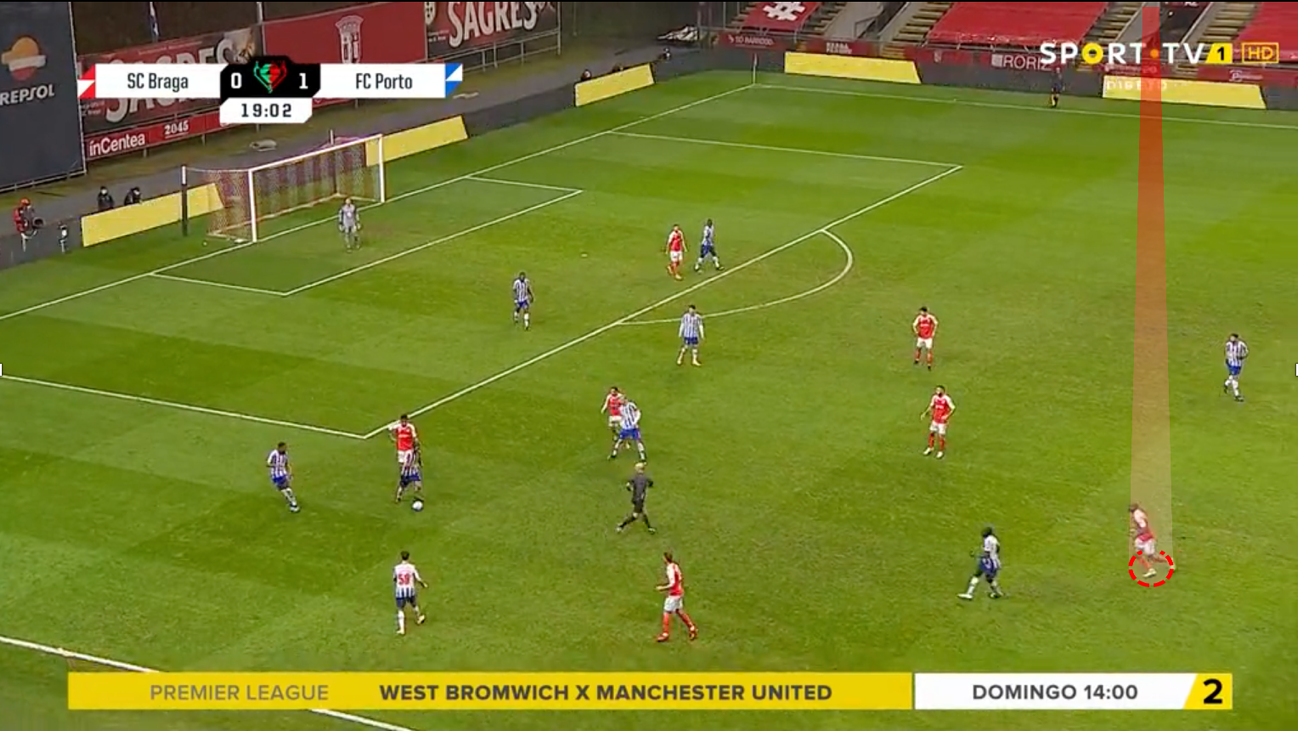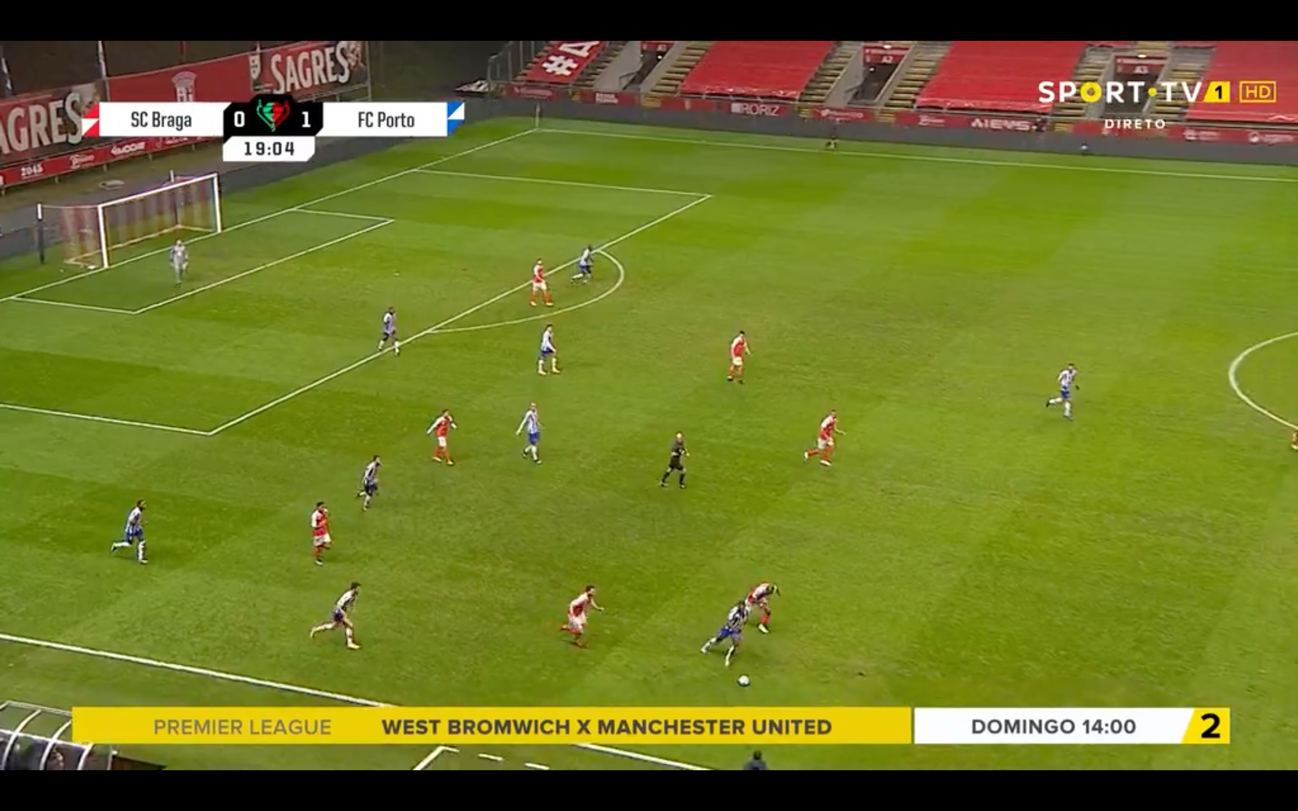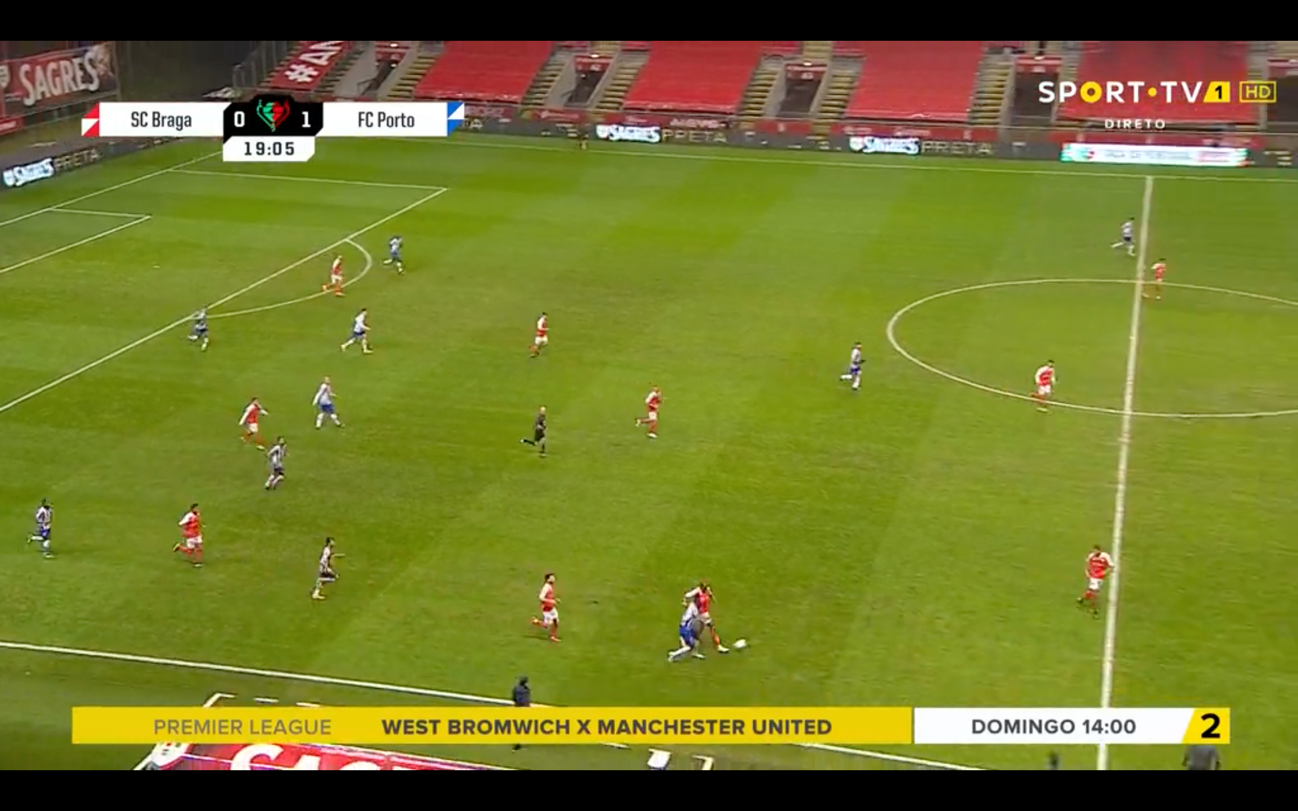 His muscular frame of 6'1″ and 176 lbs may lead some to believe Al Musrati is just another physical midfield destroyer who can break up attacks and hit the occasional Hollywood pass, but the Libyan midfielder is also slick and graceful under pressure. He has the technical ability to breeze past opponents and maintain the ball before finding a teammate with an inch-perfect pass.
In this example, Al Musrati controls a ball and traps it onto his foot, and, seeing Marega sprinting backward to steal the ball away, calmly tucks the ball past him to evade the onrushing forward. In doing so, he safely maintains possession of the ball and prevents a potentially lethal Porto counter-attack.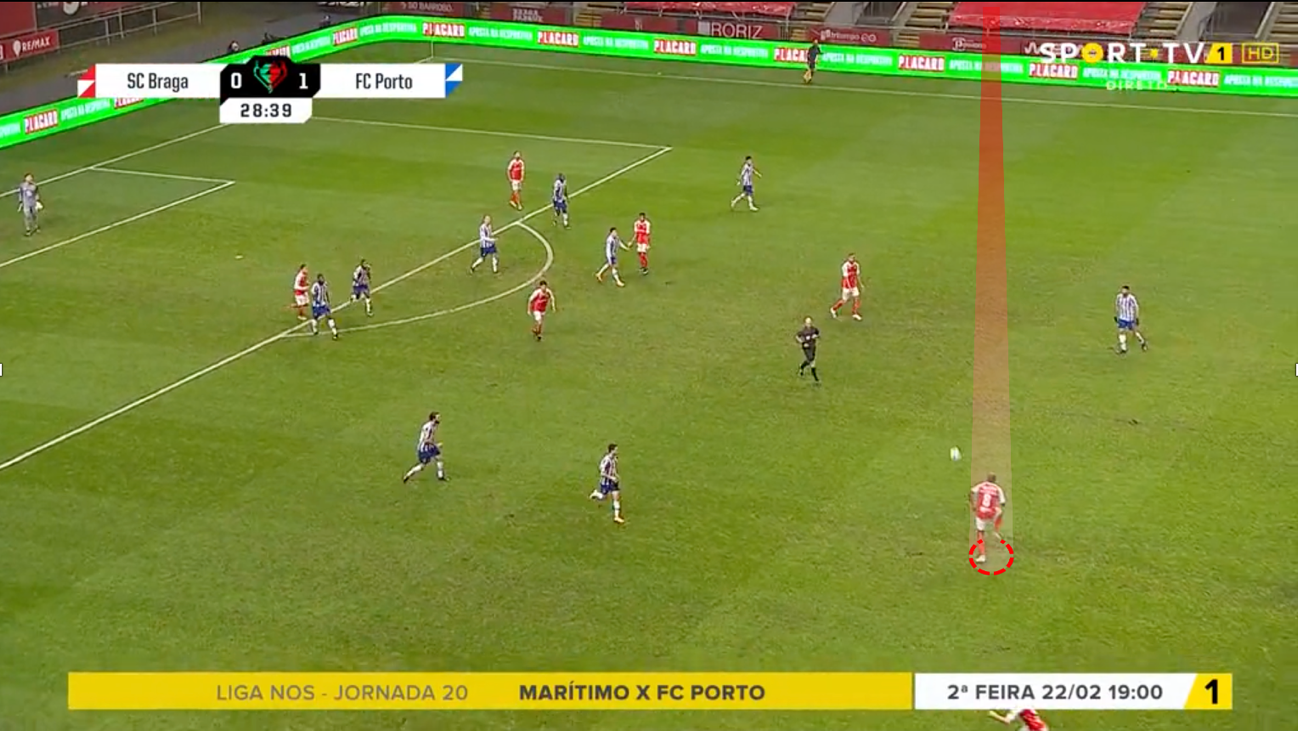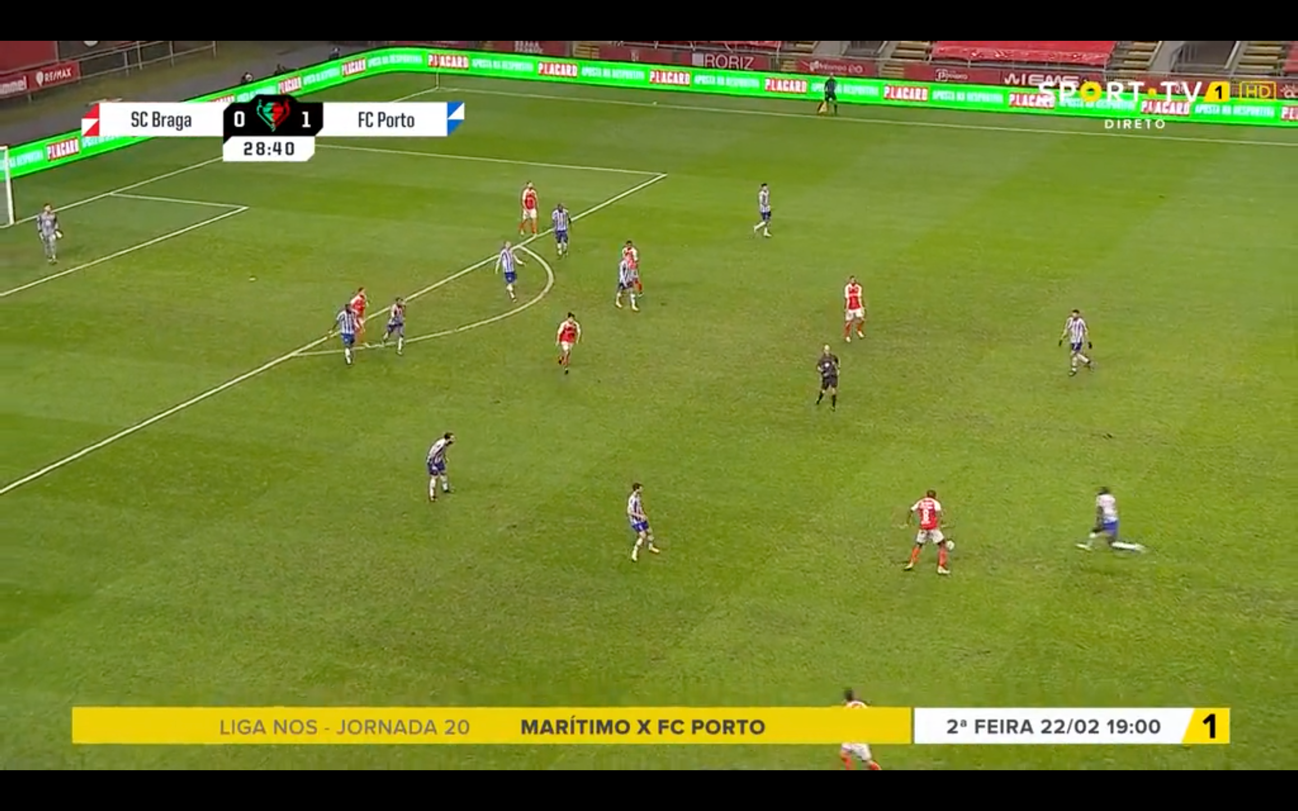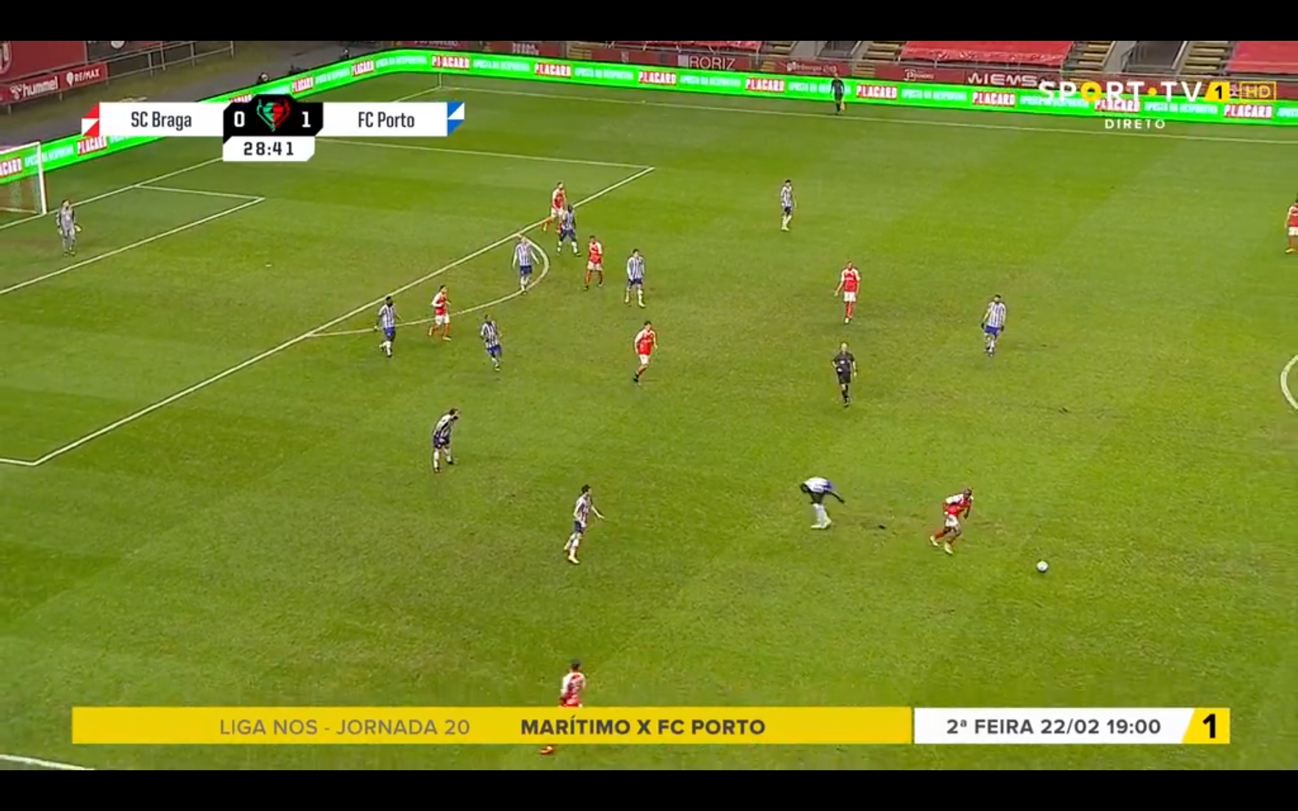 Al Musrati doesn't just have an imposing physique that sees him win aerial and physical duels, but a blend of aggression, speed and a stellar timing of tackles to allow him to regain possession and either stop opposition attacks or even launch counterattacks by himself.
In the below example, Sérgio Oliveira is waiting for a square pass from Matheus Uribe, but just as the Colombian midfielder finds his teammate in space, Al Musrati has already closed down the space and pressured him into losing the ball, allowing Ricardo Horta to receive possession in a dangerous goalscoring position. He doesn't allow Sérgio to turn and manages to win back possession without conceding a foul to Porto.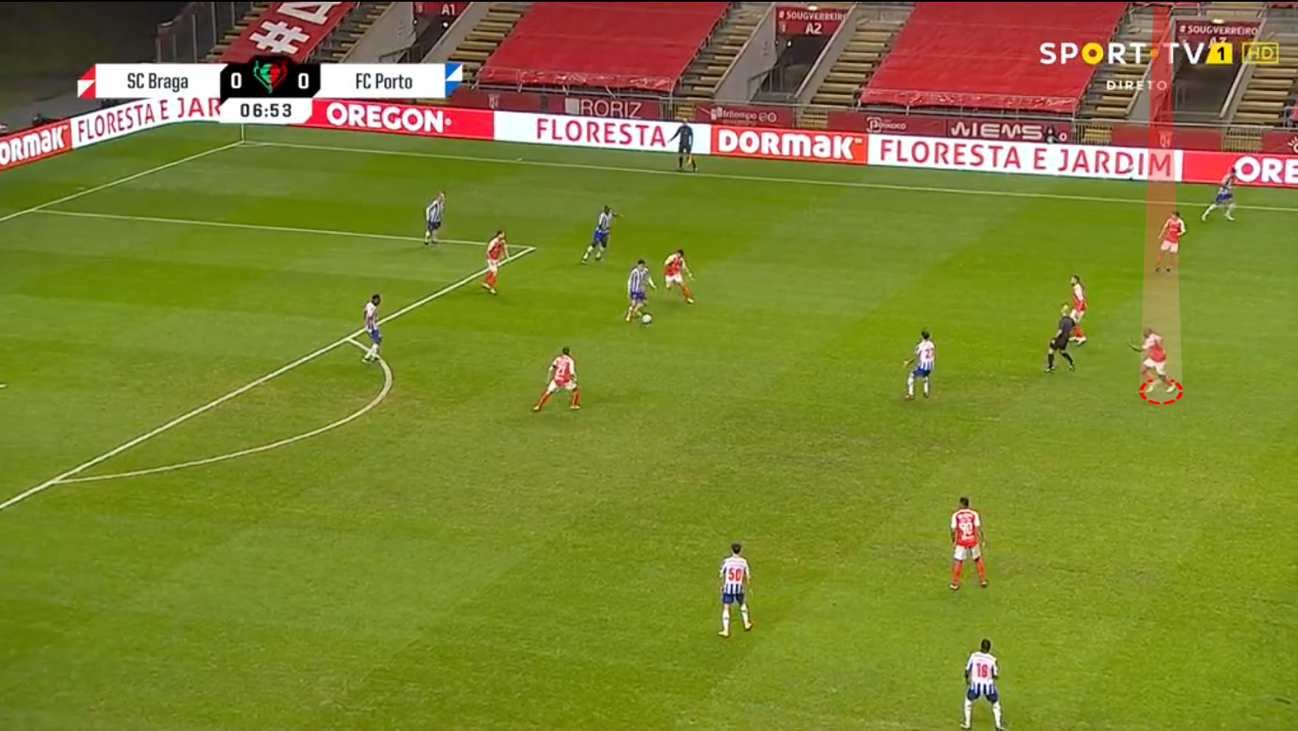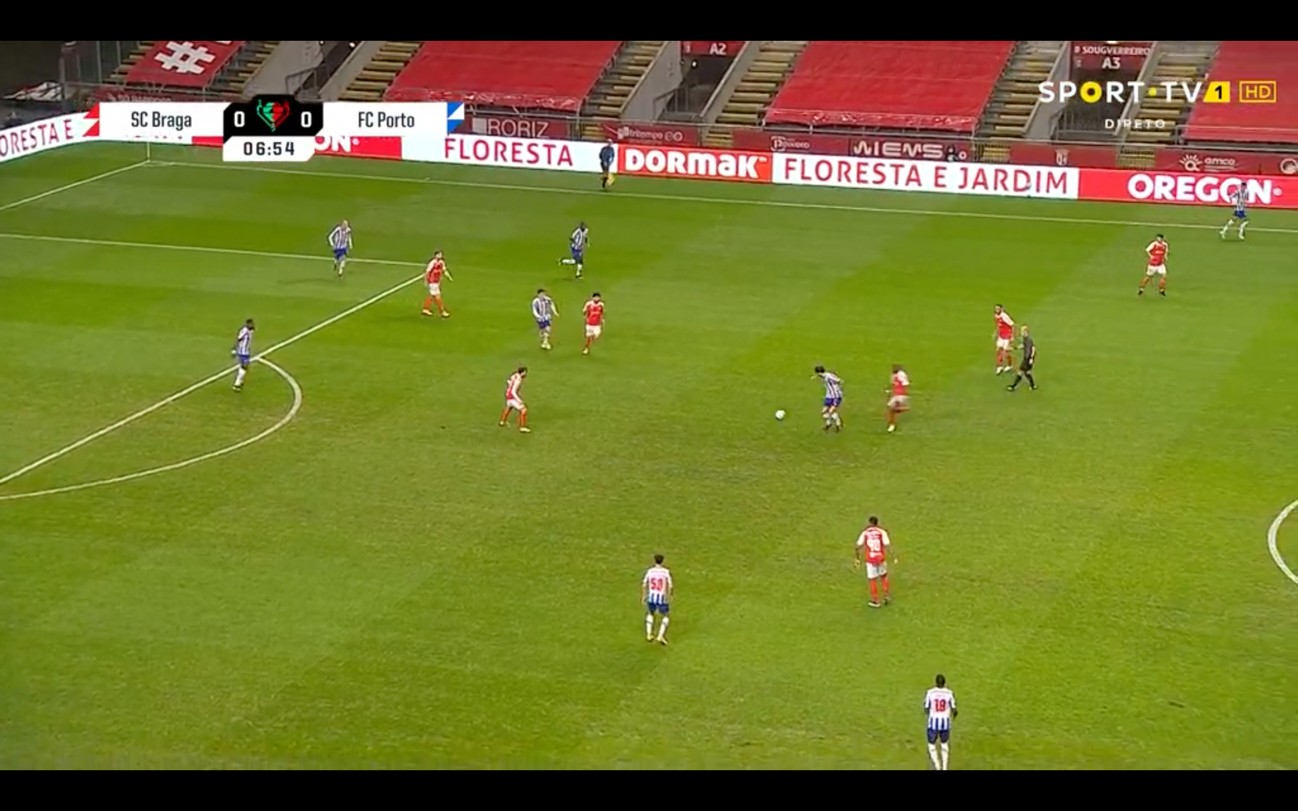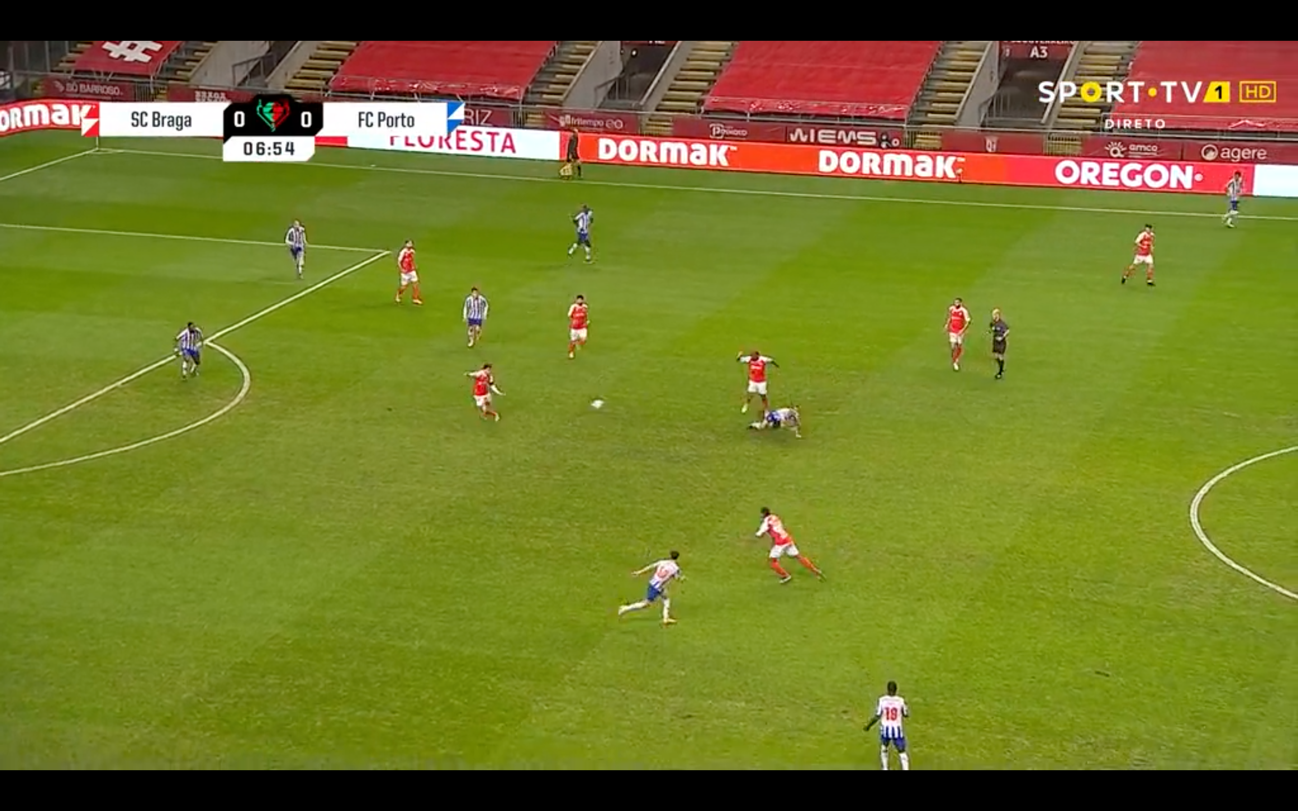 It's taken him a while to announce himself in Portugal, but at 24 years of age, Al Musrati is establishing himself as one of the finest midfielders in the Primeira. Whether driving into the final third with the ball, calmly evading pressure, or wrestling the ball away from an opponent, he is a player who stands out both in possession and out of possession, and with three goals and three assists in 35 matches for Braga and two goals in 27 matches for Libya, he's no slouch in attack either.
His performances have seen him earn Liga NOS's Player of the Month award for February, beating out competition from Sebastián Coates (18.95%) and João Palhinha (11.76%) for the individual trophy, two players who have been vital cogs in Sporting's title challenge under Rúben Amorim. In addition, he was also awarded the Best Midfielder of the Month for his performances for the Arsenalistas.
Braga president António Salvador is reportedly holding out for €20 million to part with the Al Musrati, who has a contract until 2024 and a release clause of €25 million. Benfica are rumored to be interested in him to reinforce Jorge Jesus' midfield options, whilst Bundesliga and Premier League sides are also following his progress. Furthermore, Sporting could enter the race if they do end up cashing in on Palhinha in the wake of his excellent campaign for the Leões.
Whether he remains for another season or departs in the summer, it seems likely that Al Musrati will become the second-most expensive sale in Braga history behind Francisco Trincão. For a player who arrived on a free transfer, you would struggle to find a smarter piece of business in Portugal this season.
By: Jaime Silva
Featured Image: @GabFoligno / Soccrates Images / Getty Images