Player Analysis: Alexander Isak
Just as Zlatan Ibrahimović has announced he will come back to the Swedish national team, the player that seems to be his heir is improving rapidly. This player is Alexander Isak, the 21-year-old who plays for Real Sociedad. So far, he has scored 12 times this season and provided two assists. 
I have always found it strange how Borussia Dortmund, who are known for their youth talent detection, managed to let him go for a small fee to Spain. He did not have time to adapt at Dortmund as he was only 19 years old at the time. However, Real Sociedad took advantage and paid a relatively small transfer for a promising, young striker.
It is difficult to not speak about the comparison between Isak and Ibrahimović. Both are tall strikers, with Isak standing at 1.90 meters. Additionally, they are both technically gifted despite being tall and are quite skinny too (Zlatan was also skinny when he started). It will be interesting to see how he does in the upcoming games for Sweden.
Not only are his physical attributes impressive, as Isak is also an intelligent striker who makes smart runs and is able to connect with his teammates well. We will analyse this in the article, where the following statistics were gathered with the help of FBref.com.
Intelligent Movement
Despite being young, Isak is showing that he is an intelligent striker that knows how to hurt the opponent's defence. When mentioning an intelligent striker, we highlight his clever runs and positioning, as well as good attacking awareness. He can be seen most of the time in between defenders. This is to have two opponents worried about him instead of one and to cut through the defence if he makes a run in behind. By being in between two defenders, he can exploit the defender's blindside when making a run.
This is crucial because if the defender is not aware, Isak can catch him by surprise, and it means that another defender will have to run after him. In turn, this dislocates their defence. In the image below against Real Betis, we see a good example, with Isak in between the two centre-backs and making a run in behind the right centre-back.
Betis' right-sided center back, Aïssa Mandi, is concentrating on the player in possession (Nacho Monreal) and seems to be unaware of Isak making a run behind him. This incisive movement leads to a dangerous scoring opportunity, but it was ruled offsides.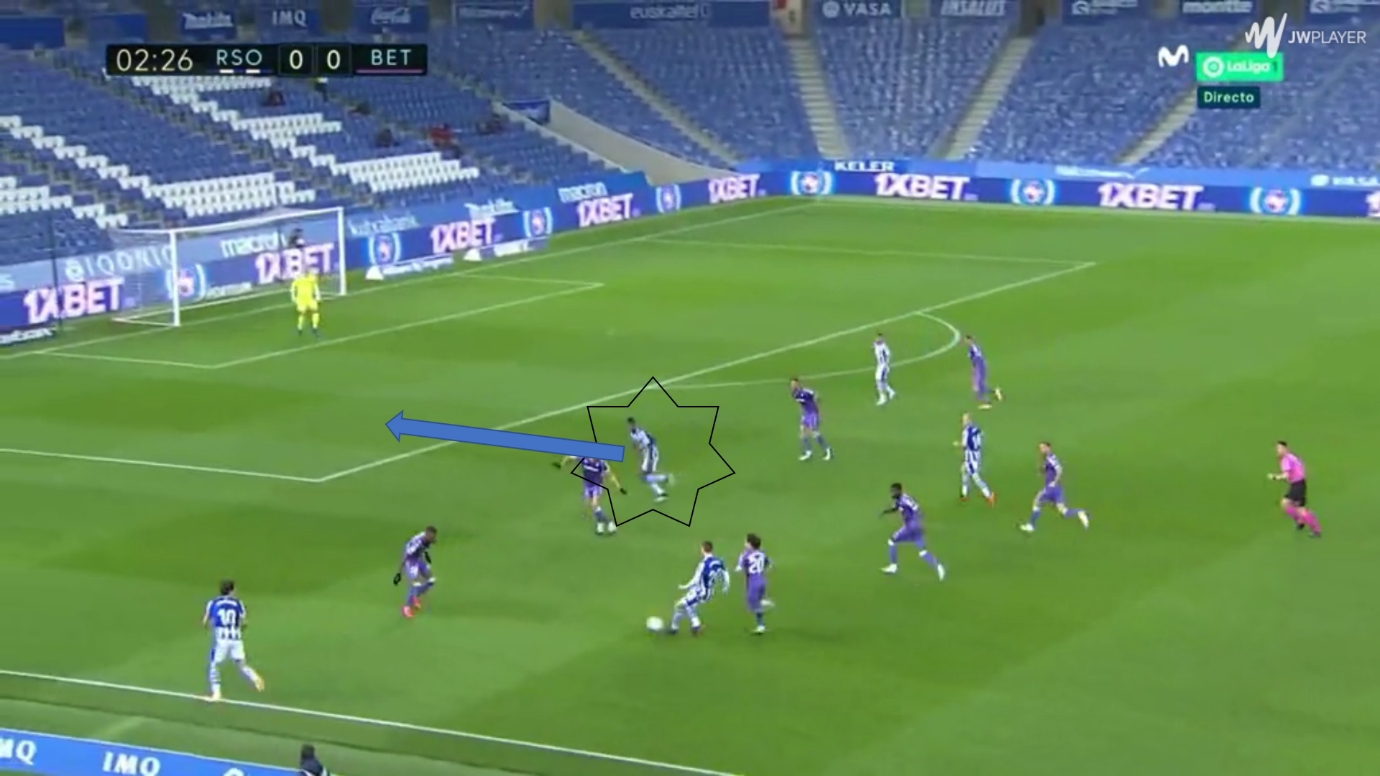 Similarly, he makes good runs when he is in the box and Real Sociedad are trying to cross it in. He varies in the runs he makes in these situations to be unpredictable for defenders. For example, maybe the first time he runs into the first post, but the second time he runs to the second post. 
Isak analyses the situation and decides which attacking movement is best. However, we have two examples to show his attacking threat in the box. When it is going to be a high cross, he also likes to position himself between two defenders. This means that he does not have a clear marker and can take advantage if the opponents have bad awareness.
In the game against Betis, he is expecting a cross from the left and he is clearly in between the left centre-back (Víctor Ruíz) and the left-back (Juan Miranda). For these types of crosses, he is always positioned diagonally in respect to the player in possession (Mikel Merino in this example) as only then can he receive a dangerous cross.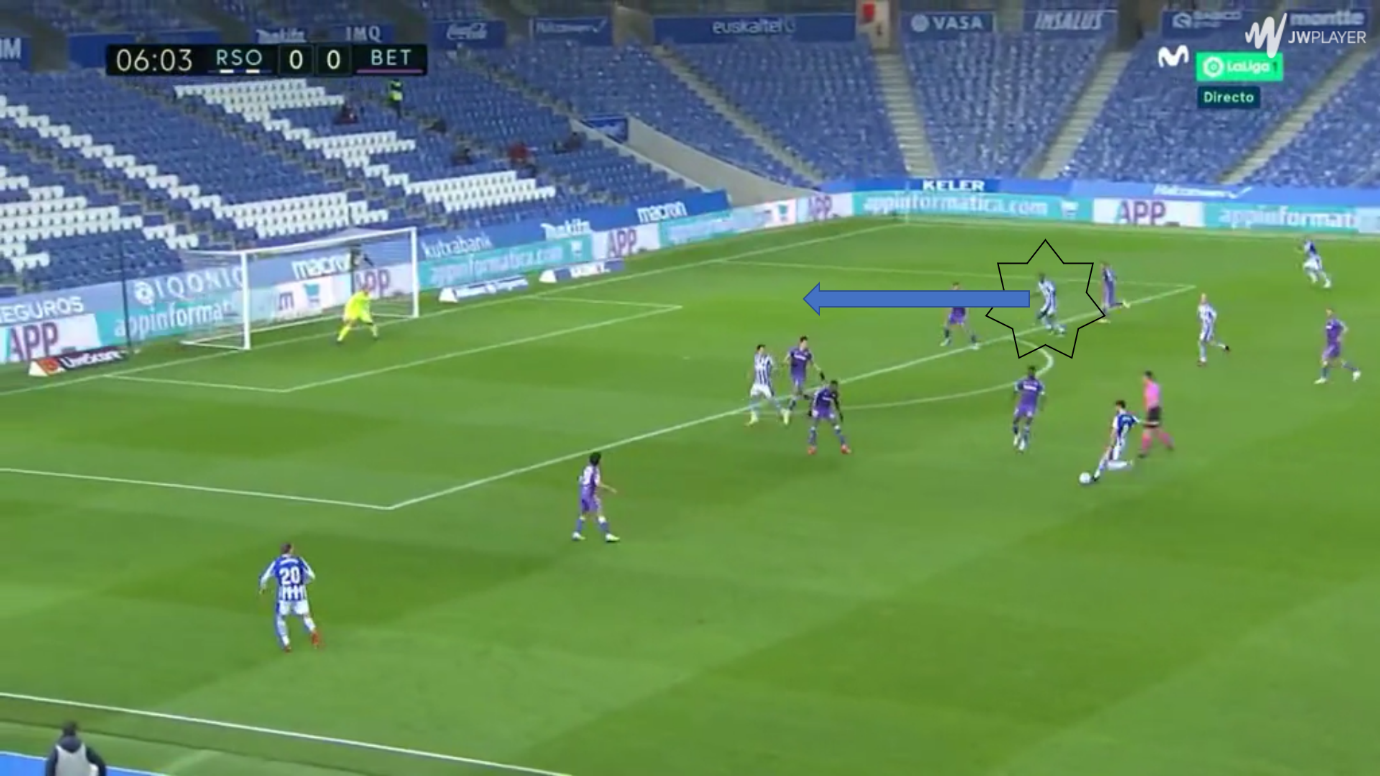 A further example of another type of run he makes in the box is below. This time, he is coming from behind and so can choose which way to go. Since there is already a teammate (Adnan Januzaj) going to the second post, he decides to quickly change speed and go to the first post.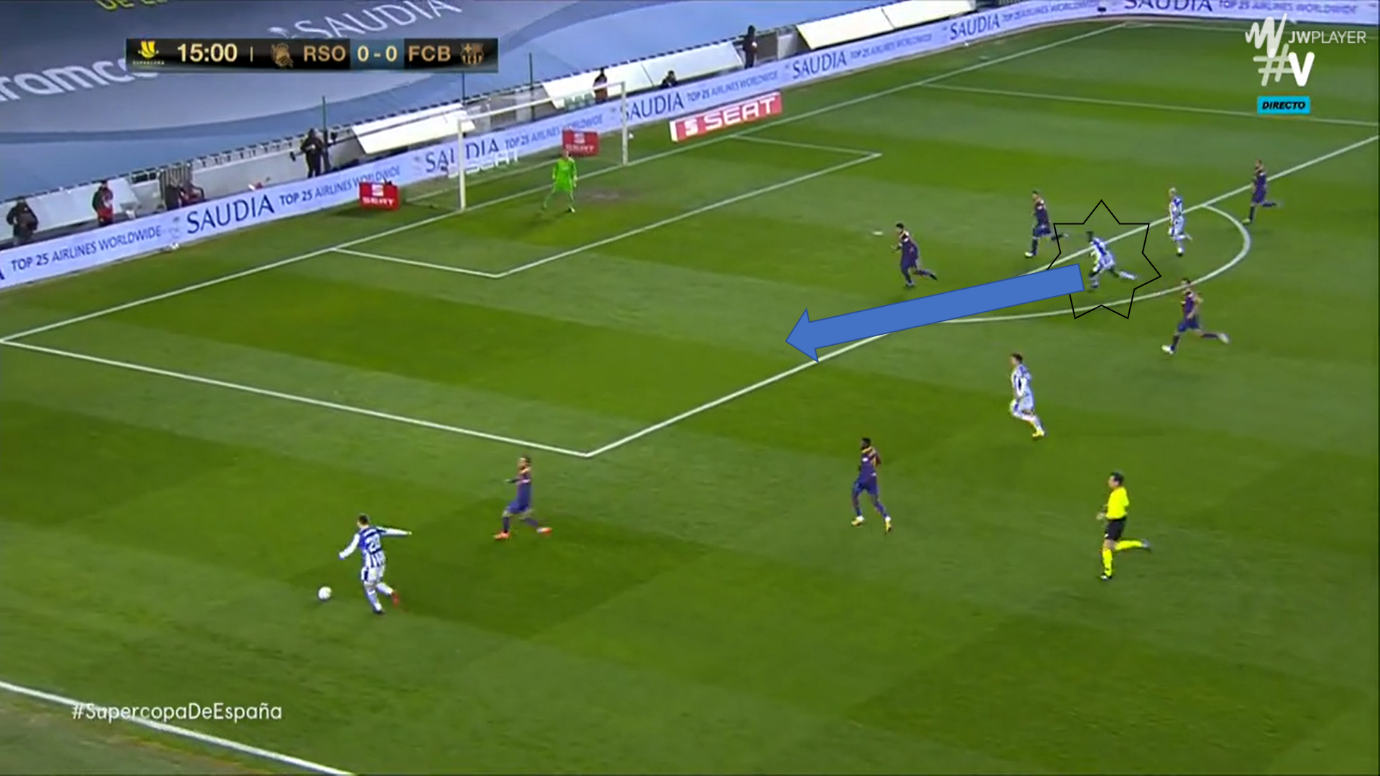 This sudden burst of space is critical to surprise the defender and get to the ball before him. Nonetheless, in this case, Barcelona's centre-back Ronald Araújo who is also fast, read his intentions well and managed to stop the cross.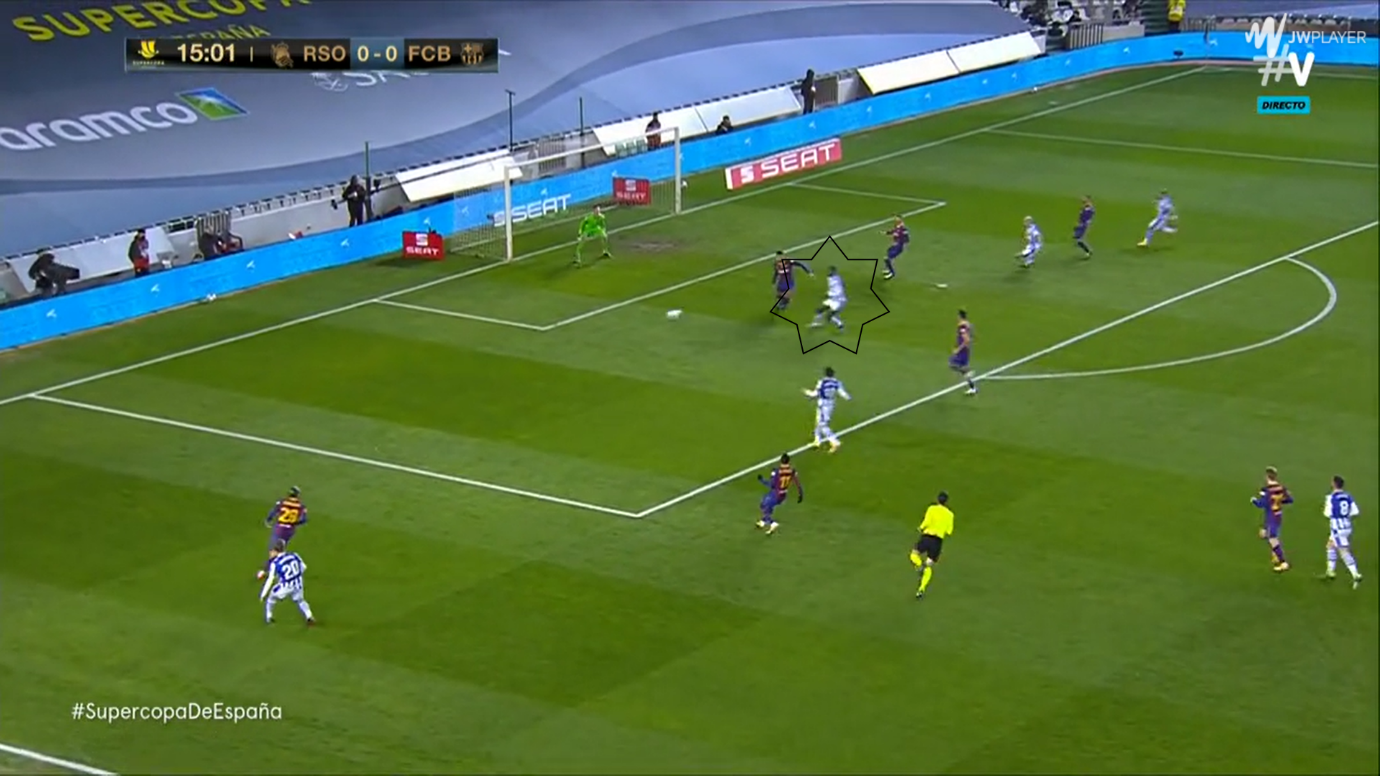 Dropping Back
Isak is a striker that likes to get involved in the play and not just be a target man. Additionally, he has the technical ability and conditions to do so well. With Isak coming down to support the play sometimes, it creates various options depending on if he is followed by a defender or not. If he is followed by a defender, that defender then leaves a big gap in the defence for Real Sociedad to use. On the other hand, if no one comes to follow him, he has become another attacking passing option for the team. 
Let's focus on the situations when a defender does follow him. In these occasions, Isak knows that he has someone on him. Therefore, when he receives the ball, he tries to pass it quickly for the team to try to use the space left behind. They also have rehearsed plays that start as soon as Isak comes down to support. 
This play is shown below against Real Betis. Isak drops down and brings Víctor Ruíz with him. At the same time, the left-winger (Portu) is coming inside closer to the space left behind. In the build-up, Igor Zubeldia passes it to Isak who plays it back to Mikel Merino with his the first touch.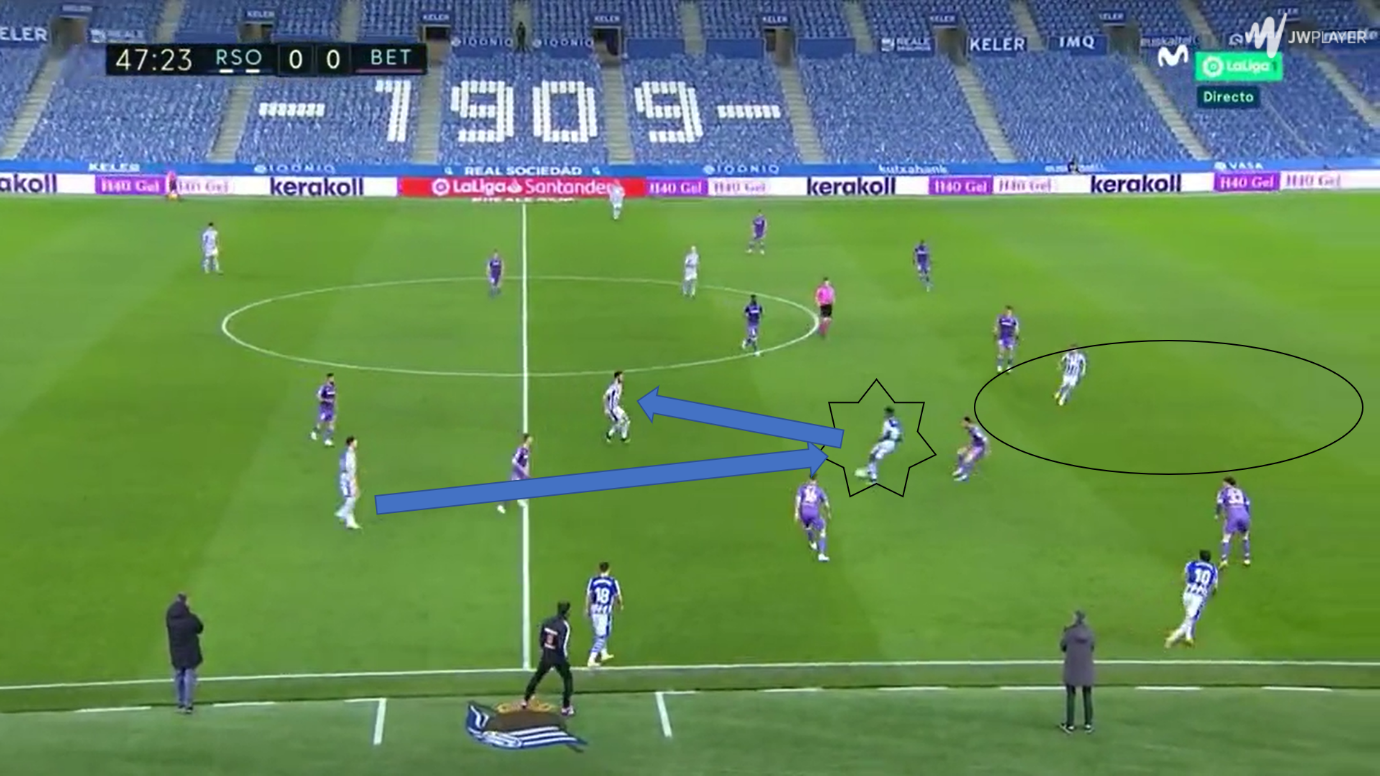 At this moment, Merino plays a through ball to Portu who has come into the space vacated by Ruíz. This shows how Isak is aware that when he comes down it serves the purpose of creating space and helps the play by circulating the ball quickly. Portu makes a run in behind the defense but decides to back off the ball and allow Oyarzabal to take a touch into the box, and with his second touch, he cuts back and evades Juan Miranda's slide tackle before finding Isak, whose shot is cleared off the line by Mandi.
The ball bounces to Merino, who towers over Paul Akouokou and heads it into the path of Oyarzabal, who controls it and hesitates before dishing it off to Jon Guridi, who takes a slight touch to deflect it towards Isak. The Swedish striker does not wait to line up his shot and quickly fires his attempt past a hapless Joel Robles to open the scoring for La Real.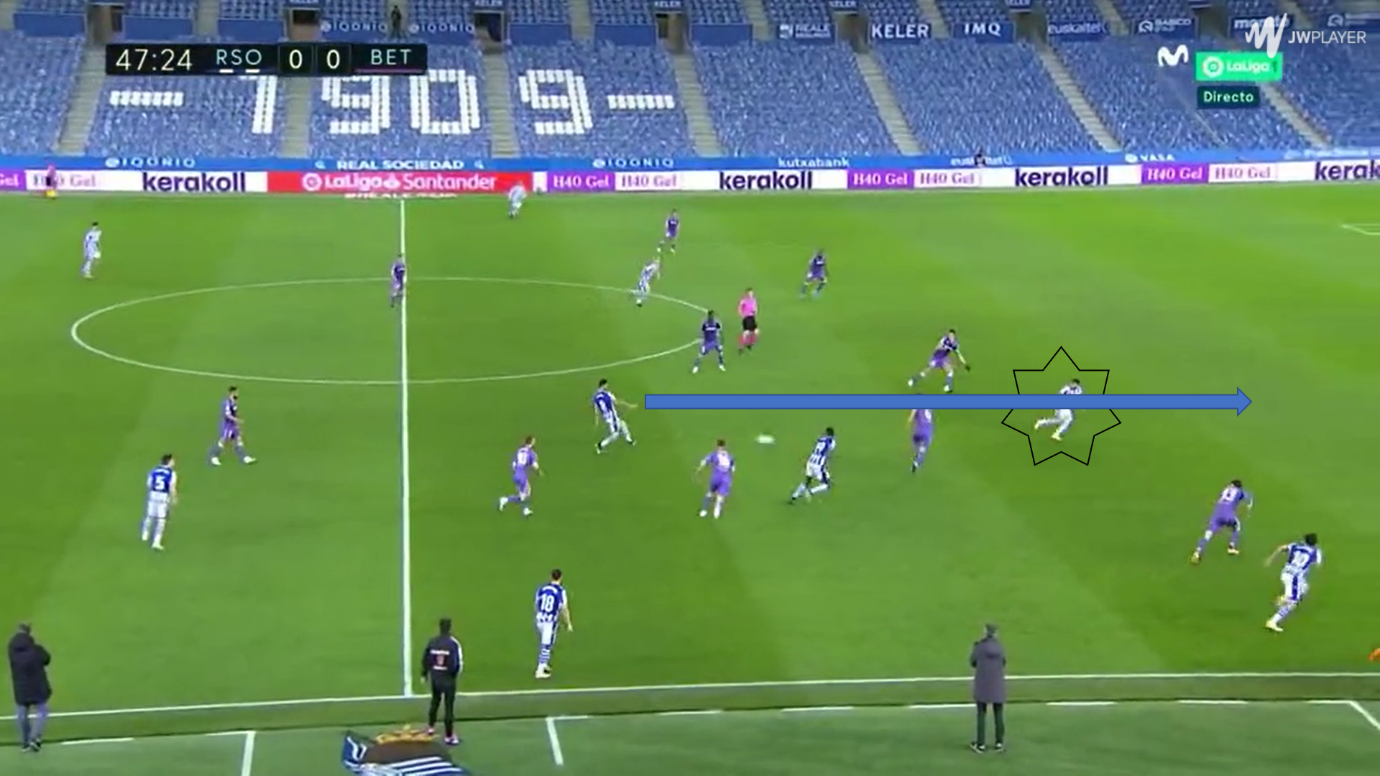 Isak also likes to drop back to initiate counter-attacks. He will purposefully come down when his team has just recovered the ball to either start running himself or make a vertical pass. With him coming down quite a lot in these instances, he is almost always in space and has time to turn and attack. 
He does this quite often and does it well because in a few touches, he makes the team be in a dangerous attacking position. For example, in the game against Betis, he has come into his own half to get the ball as seen in the first image. He has no one around him so he can control the ball and turn.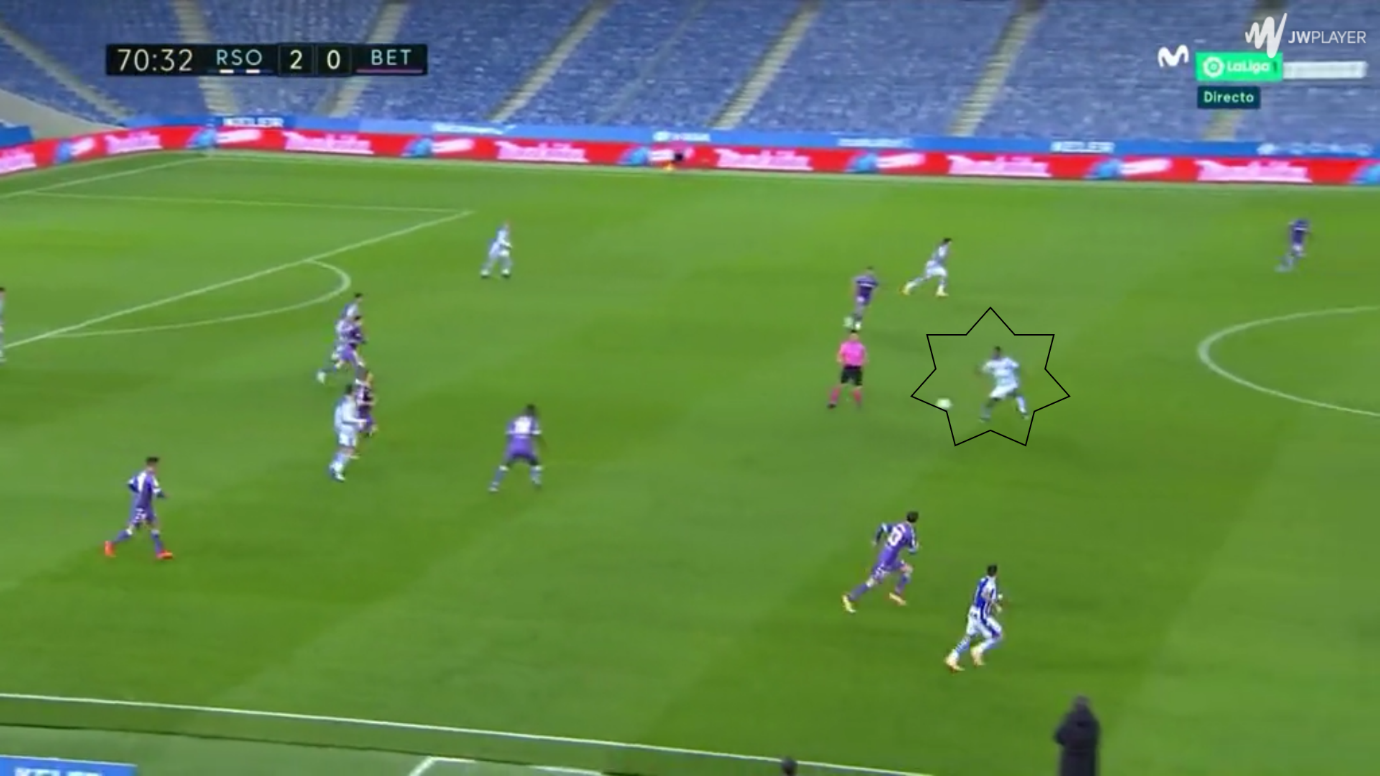 After having controlled the ball and attracting Mandi towards him, he is able to make a great through ball to the onrushing Portu on the right flank.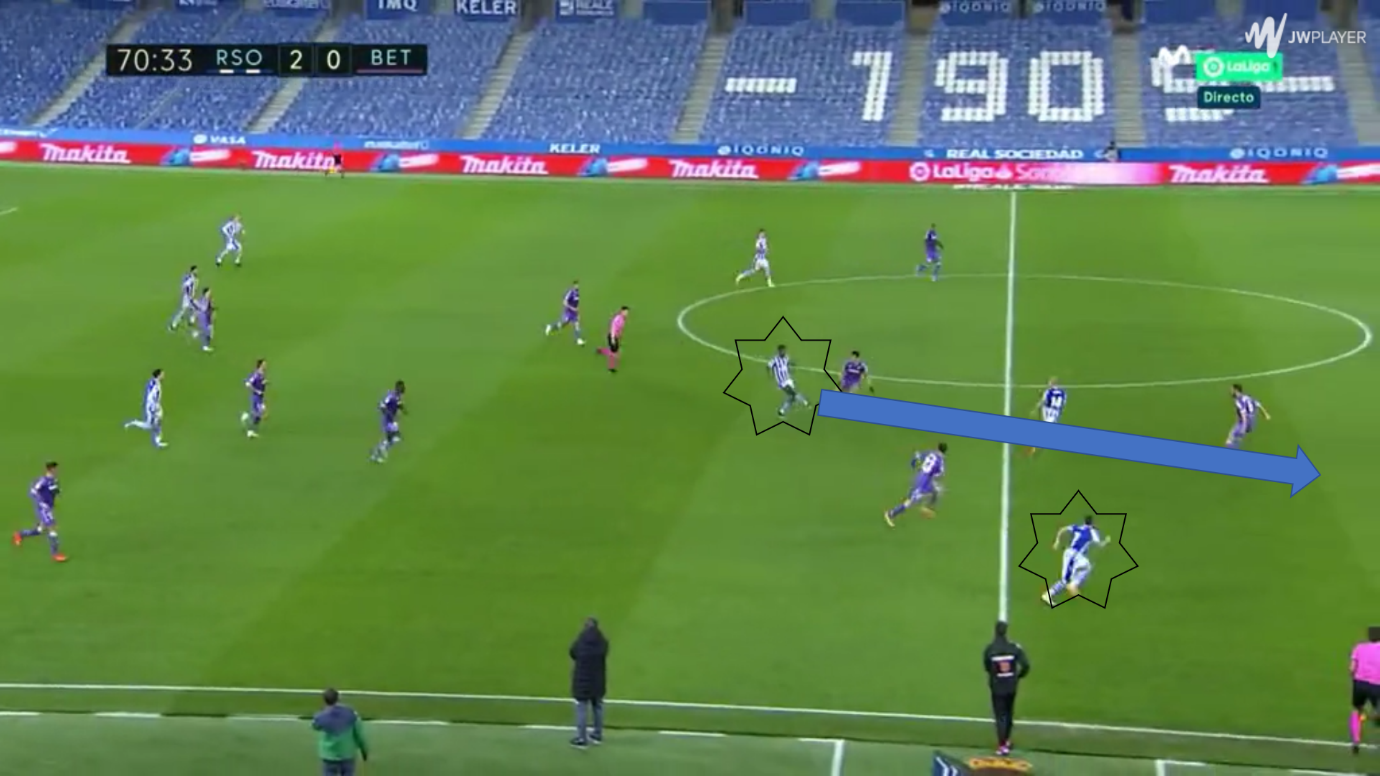 Furthermore, he likes to come into the left side to receive when building up. With him coming into the left from the striker position, the defenders hesitate on whether to go to him or not. This means that he is normally free to control the ball in this area. 
For example, in this instance below against Barcelona, Oyarzabal has come to the middle and Isak was aware of this. Therefore, he moved into the left flank where he was free to turn towards goal because the centre-back (Araújo) did not follow him. Isak's mobility and flexibility allows for Real Sociedad to have many options in attack. 
Isak will sometimes serve the purpose of a target man, where he comes down to control the ball while under pressure. He then keeps his defender away to then turn away from the pressure and switch the ball to the other side to create another attack. This action is a great relief for Real Sociedad as they know they can pass it to Isak with a defender on him and he will handle to situation well. 
In the below example against Real Betis, we see how he has just controlled the ball and is protecting the ball well whilst under pressure from Ruíz. Then, in the second image, he will turn away to pass the ball to Merino and keep the play going.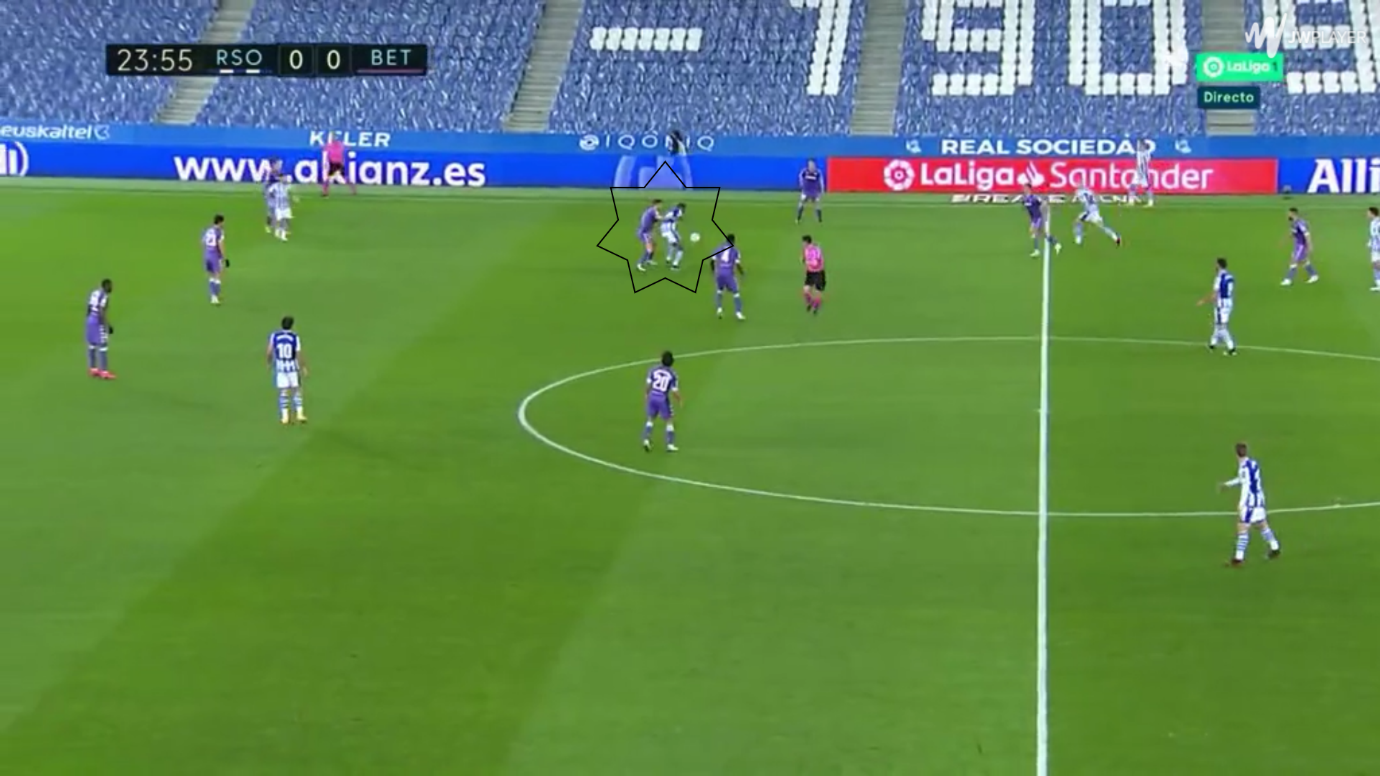 Technical Ability
Just like Ibrahimović, Isak is a tall player but good on the ball, standing 6'3″ and weighing 170 lbs. This blend of physical prowess and close control increases the danger he poses to defenders and allows him to be a threat both in concentrated possession as well as on the counter-attack. In fact, he has a dribbling success ratio of 60.9% while attempting 2.29 dribbles per game.
This prowess on the ball was shown in Real Sociedad's 1-1 draw against Barcelona in the Supercopa de España, where he dribbled past Antoine Griezmann. He used what is called in Spain "La Croqueta," popularized by Andrés Iniesta for Barcelona and Spain, passing the ball with the inside of one foot to the other foot. The dribble can be appreciated in the two following images.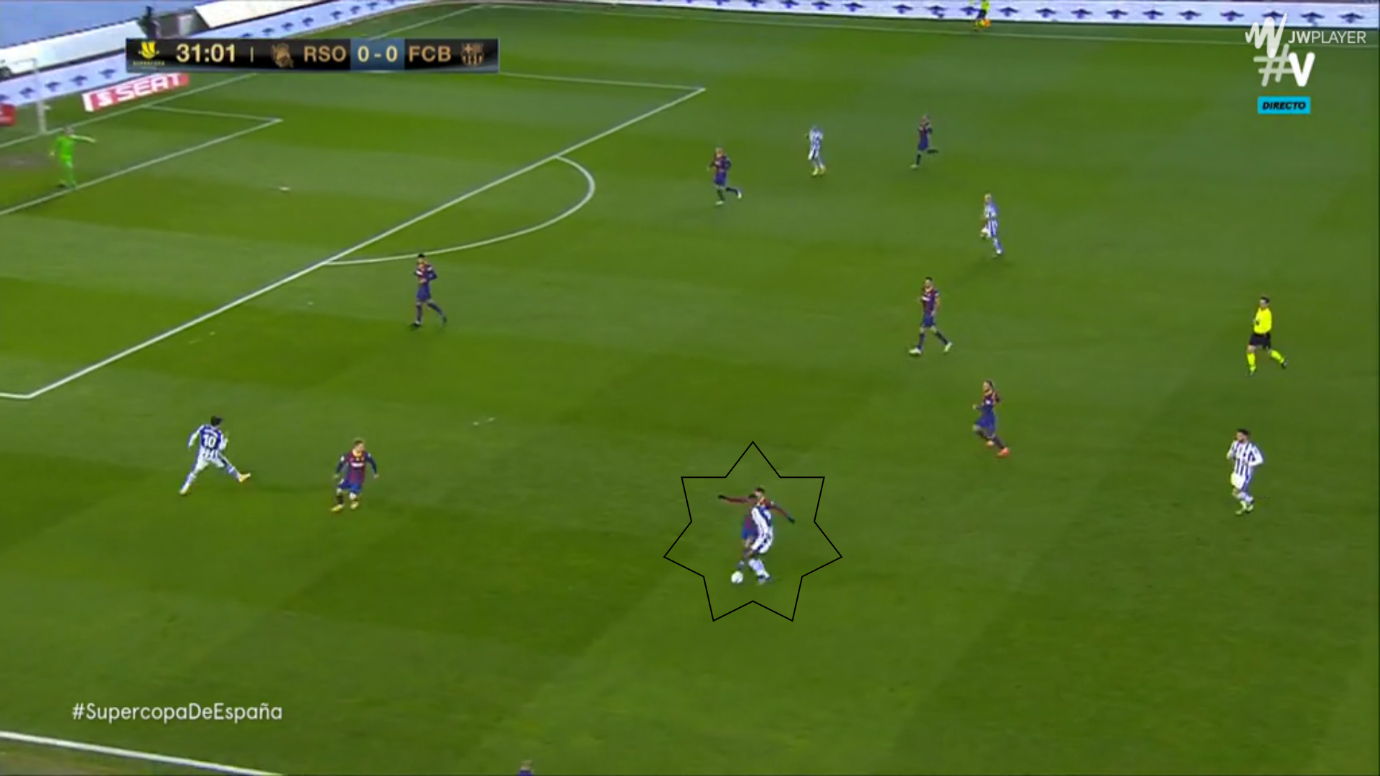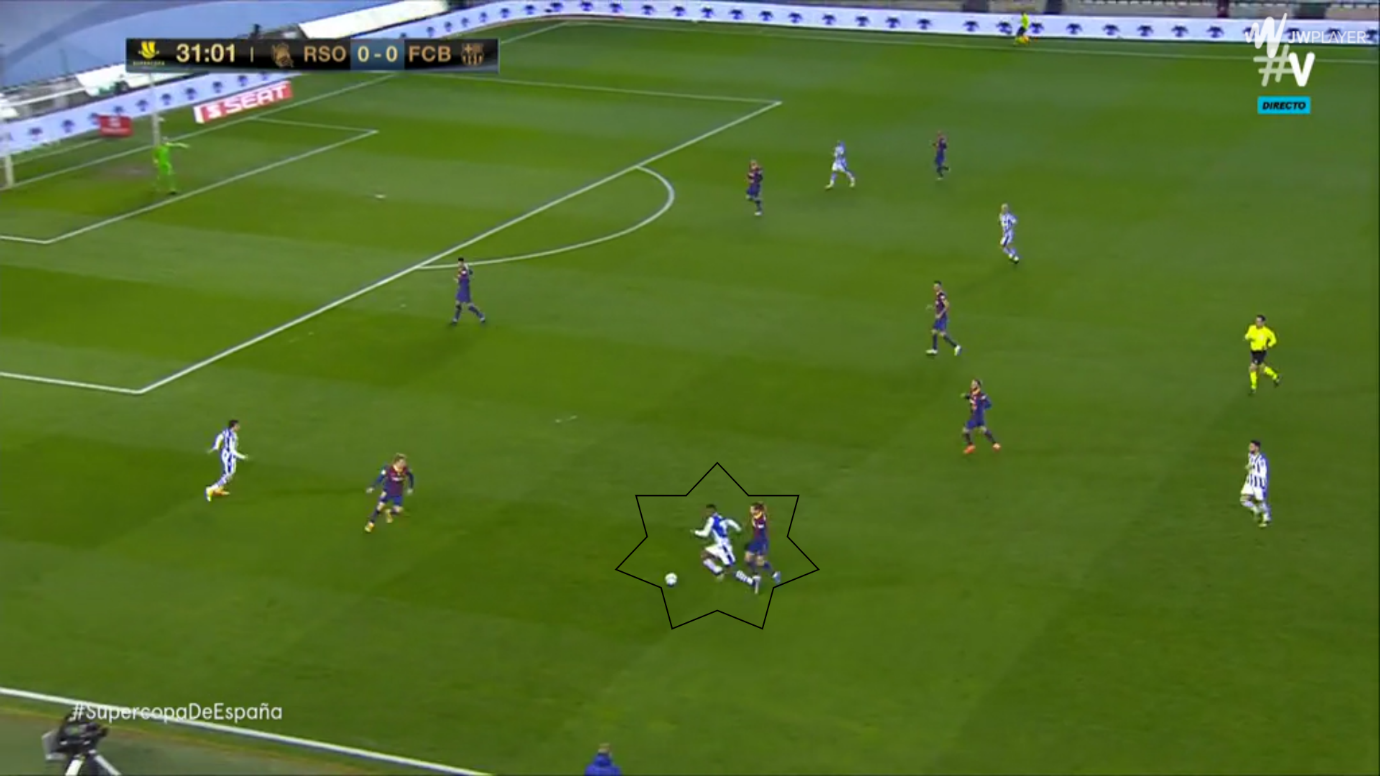 We can see another example of his impressive technical ability in the game against Real Betis. After opening the scoring at Anoeta, Isak helped to create the second goal. He received a through ball from Merino, finding himself isolated against Emerson on the left flank. The Swede cut inside and played a perfectly weighted pass to Oyarzabal, who penetrated Betis' defense with an incisve run and calmly chipped the ball over Robles for the second goal.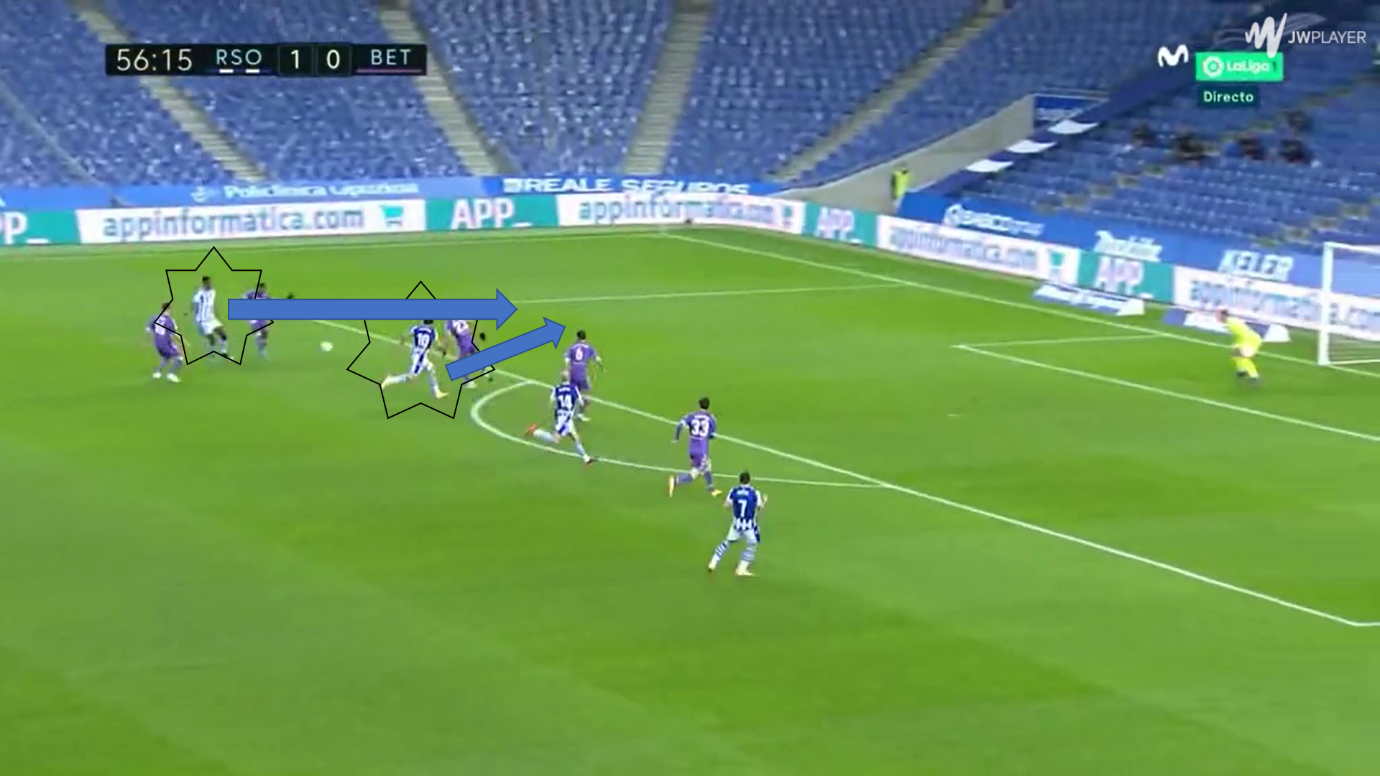 It looked like La Real were headed for an impressive home victory, prompting Imanol Alguacil to sub Isak off for Jon Bautista and Portu off for Januzaj in the 83rd minute. However, the Verdiblancos quickly halved the scoreline following a quick counter-attack as Sergio Canales headed in Joaquín's cross. They would equalize in the 92nd minute as Joaquín deflected Cristian Tello's cross past Álex Remiro and into the back of the net.
Conclusion
Nearly two years after joining from Borussia Dortmund for €10 million, Alexander Isak is staking a claim as one of the most versatile and promising center forwards in Europe. While he is skilled at holding up the ball and playing with his back to goal, he is also adept at making piercing runs in behind the defense and attacking the box. After scoring 16 goals and 3 assists in his debut season in La Liga, he already looks set to break that tally with 12 goals and 2 assists in 34 appearances so far.
The 21-year-old striker could be set for a move away from San Sebastián with the likes of Barcelona, Manchester City and even Borussia Dortmund linked with Isak, with the latter potentially searching for an Erling Haaland replacement. Four years after emerging from AIK as "the next Zlatan," Isak could form a fearsome attacking duo alongside Zlatan in this summer's Euros.
By: Jaime Fernandez Valencia
Featured Image: @GabFoligno / Juan Manuel Serrano Arce / Getty Images