Player Analysis: Alexis Mac Allister
In terms of pathways to professional football, it was almost a foregone conclusion Alexis Mac Allister would become a professional footballer. The young Argentinian comes from a footballing family. His father, Carlos, and uncle, Patricio played professionally. Such pedigree seemingly laid the pathway for not only Alexis but his brothers Francis and Kevin, who play top-flight football in Argentina for Talleres and Argentinos Jrs, with Kevin having played for Boca on loan at the same time Alexis did in 2019.
A product of Club Social Parque, the Argentinian youth football club, Alexis Mac Allister can count national superstars Carlos Tevez, Juan Roman Riquelme and even reportedly, Diego Maradona, as fellow alumni to have passed through the now famed youth football institution in Northwest Buenos Aires. Factoring in all of the above, it was inevitable Alexis was to become a professional footballer, which he achieved when he broke through at Argentinos Jrs in 2016, managing over 50 appearances before Brighton signed him in the 2019 January transfer window. 
Mac Allister's signing by Brighton is one of many 'emerging market' signings, where the South Coast club have run the rule and signed players directly from markets largely untapped by English clubs, such as Poland, South Africa and Ecuador, to varying degrees of success. Having originally failed to gain a work permit, Alexis spent time on loan in his native Argentina at his old club Argentinos Jrs, and then Boca, before gaining a work permit in January 2020. Since then, the Argentinian midfielder has been integrated into Brighton's team under Potter. This article will analyse Mac Allister and his key strengths and weaknesses. 
His Role in Brighton
The young Argentinian's primary role is as an attacking midfielder. In his formative years at the Estadio Diego Armando Maradona, Mac Allister played in a variety of central midfield roles, before settling into the number 10 position across a range of formations, including a 4-2-3-1 and a 4-diamond-2.  Upon moving to Boca temporarily, Mac Allister continued to display his versatility, being used from the left in a 4-4-2, as well as centrally. 
For Brighton, the 22-year-old has been required to operate across Brighton's forward positions, as well as deeper in central midfield for Brighton, with Potter predominantly switching between 3 at the back formations, where the tweaks are centred on the structure of their attack and the numbers in midfield. 
The Argentinos Jrs graduate has largely been deployed in his primary position of attacking midfield, at times in conjunction with another attacking midfielder or winger supporting a lone striker, or a lone number 10 behind two strikers. However, when required, Mac Allister has played deeper in central midfield, primarily as an 8, with Bissouma playing as the deepest midfielder.
The below heatmap demonstrates three key points about Mac Allister and his role for this Brighton team. Firstly, it shows when he plays as part of a duo behind the striker or as a midfield unit, he plays to the left-hand side.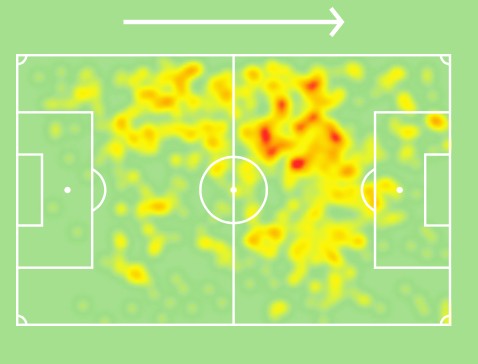 Photo: SofaScore
Secondly, it highlights where he as an individual feels most comfortable on the football pitch, operating in the left-hand inside channel despite being right-footed, as it allows him to attack more central areas on his stronger side and facilitate Brighton keeping the ball in these areas. Lastly, it demonstrates a majority of his work is conducted between the eighteen-yard boxes centrally, as usually, the wing-backs are the main providers of width in Potter's systems with Mac Allister moving wide occasionally to provide overloads.
Whilst there is a clear identifiable style of football Potter likes his team, a key element of his teams is their ability to be tactically flexible, shifting seamlessly between systems to suit different opponents and the Seagulls game plan. Potter's ability to do so largely rests on the versatility of players like Mac Allister. The diminutive Argentinian's ability to play across the attacking midfield areas and drop into central midfield helps Brighton to be tactically flexible and is reflected in his use across various positions, in a variety of different systems. 
Mac Allister's Strengths
Unsurprisingly for a player developed in Argentina primarily as a 10, Mac Allister is a highly technical player. Generally, he displays a good first touch, can manipulate the ball well and is a clean ball-striker, regularly playing crisp passes over shorter and medium length distances. The attacking midfielder's strong technical ability allows him to play at different paces, in the respect that he recycles possession at a lower tempo efficiently, allowing Brighton to retain possession across the pitch, as well as injecting tempo with quick punchy passes wrapped into teammates at speed.
The latter is an integral part of Mac Allister's game, as it forms a key tool in progressing the ball by playing quick combinations that subsequently free a teammate or himself into space. Executing quick combination play at speed requires consistent execution of technical skills to a high level, such as moving the ball at speed and controlling the weight of pass into a teammate. Across the young Argentinian's time in the Premier League, he has demonstrated good game awareness through many facets. The first being his overall appreciation for space on the football pitch.
Regularly you will find the 22-year-old dropping cleverly into spaces to receive the ball, primarily between the lines, whether this is behind the opponent's first line as a central midfielder, or further forward, operating in the spaces between the opposition's midfield and defence. This is where a majority of Mac Allister's best work is done, receiving the ball on the half-turn, opening up the game in front of him, and looking to inject an attacking spark or tempo as Brighton approach the penalty area. Not only content dropping between lines, he will also drift across into wider areas to help Brighton create overloads to aid with ball progression. 
The appreciation for space is a skill that typically separates elite attacking midfielders from their peers, as they open up the game in several ways: i) space for themselves to aid the creation of chances or the progression of the ball; ii) space for others around them as it drags opponents out of their defensive structure as they are required to defend different spaces, inevitably freeing up space elsewhere.
Secondly, whilst I acknowledge later some overall concerns regarding Alexis's decision-making in the final third consistently, Mac Allister has demonstrated good vision and the flair synonymous with Argentinian attacking midfielders which can open up defences and contribute to chance creation. 
For instance, in the Fulham stalemate at the Amex in January, Alexis plays a clever flick into the path of Maupay from a quick free-kick, who then fires over in a one-on-one situation, which demonstrates Mac Allister's potential in the final third, as well as a high level of vision (afforded by the initial scan in the first image) and a level of flair which allows the successful execution of the flick under pressure.
This is just one of many instances where the clever midfielder has shown glimpses of his high-level vision in a creative sense, with the lay-off to Maupay past an onrushing goalkeeper following combination play in and around the box allowed the Frenchman to finish into an empty net against Leeds another example. The high level of footballing awareness demonstrated by Mac Allister in his time in the Premier League bodes well, as he can lean on this ability significantly to create space for himself, and his teammates.

On the defensive front, Brighton's number 10 is perfectly in tune with the modern era's shift to attacking midfielders being an integral part of a team's defensive structure, as opposed to previously, where they were largely viewed as 'luxury' players. The La Pampa native is an extremely active defender, initiating the press in the higher areas of the pitch in line with Brighton's high press, as well as replicating this all over the pitch depending on his role, conducting a high frequency of pressures in the middle and defensive third of the pitch when compared with Premier League attacking midfielders and wingers. 
Mac Allister does this with high intensity and verve, unsettling opponents and forcing them into errors, allowing Mac Allister to complete a tackle, the cessation of possession or the opponent will be forced into retaining possession in unfavourable areas of the pitch. His commitment to his defensive duties is seen in the way he approaches aerial duels in his 5'8″ frame, throwing himself into duels as if it is his last opportunity to impress every game. 
Not only does the number 10 defend with intensity, but he has also demonstrated he can apply himself to sit within Brighton's rigid defensive structure, playing a tactically disciplined role in their defensive shape. In the below example, the 22-year-old presses Douglas Luiz with high levels of intensity, not allowing him to turn and look to progress the ball, limiting him to passing the ball back to retain possession.

The data wholly supports this argument. The young attacking midfielder's defensive metrics rank extremely favourably to other players in his position across the league this season, ranking in the 97th percentile for the volume of pressures and the 99th percentile of successful pressures, demonstrating frequency and efficiency in pressing.
This is a position that is mirrored across all zones of the pitch, and likely a key driver in the 97th percentile rank for tackles won and the 97th percentile rank in passes blocked, as his activity in the press increases the likelihood of situations arising where the latter actions occurring.
Mac Allister's Weaknesses
In both the number eight and attacking midfield roles Mac Allister occupies, ball progression is a central aspect to these roles, and specifically for Brighton, who usually share the progressive load across its central players such as Pascal Gross and Leandro Trossard, as well as their wing-backs and full-backs such as Solly March. 
Where his teammates usually display a strong ability to progress the ball either by passing or by carrying or a combination of both, Mac Allister compares poorly in this department. As a passer, the young Argentinian favours combination play and short-to-medium length punchy passes, which lends to being more of a facilitator in possession, as opposed to a progressor. Statistically, Mac Allister's passing progression statistics reflect this, sitting in the 37th percentile for progressive passes p90 per FBref. 
Compounding this, Mac Allister is not a particularly strong carrier of the ball and this impacts his ability to progress the ball. Given his ability to manoeuvre the ball well from a technical standpoint and operate in tight spaces, it appears an overall lack of explosiveness (both strength and pace) prevents Mac Allister from being an effective carrier of the ball and drive away from opponents. The Club Social Parque graduate also typically takes a lot of touches when carrying the ball, and at times, indecision causes him to lose the ball prior to laying it onto teammates.
This is echoed by the data, which ranks him in just the third percentile (meaning 97% of the population scores better than him) at progressive carries per 90, and in the overall dribbling data collected by FBref, ranking well below average in most metrics. Interestingly, his relatively strong successful dribble percentage suggests an individual who is aware of their shortcomings and will only attempt to do so at times are likely to be successful.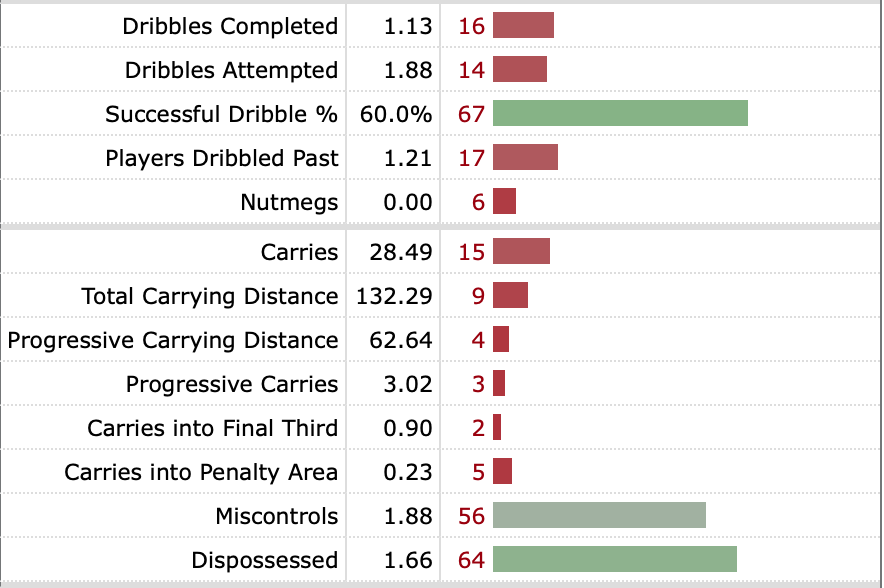 NB: Progressive carries are defined as "carries that move the ball towards the opponent's goal at least five yards or any carry into the penalty area" excluding carries from the defensive 40% of the pitch. The latter exclusion can reflect negatively on certain individual's stats, like in Mac Allister's case, he contributes in Brighton's defensive third and will be in possession in these areas, with any carries in these areas excluded. For instance, the following examples will be excluded if they were to result in carriers, given his positioning on the pitch.
How does this play out in a scenario where there are large spaces in front of him, where carrying is a viable option? Brighton's number 10 will subsequently opt to recycle possession as opposed to providing the necessary drive.
In the first example, Mac Allister is presented with a clear opportunity to drive through the centre of the pitch, instead, he has to shield the ball from Pierre-Emile Højbjerg who pressures him as he is unable to demonstrate requisite explosiveness to maintain separation, wasting the opportunity to relieve pressure and carry Brighton forward in transition, and potentially a counter-attacking opportunity. In the second example, he opts to play the sideways pass to a teammate, which in his defence, isn't necessarily a bad choice, but for players who can carry the ball, there is space ahead of him to exploit and to open up the game further.

The overall inability to progress the ball consistently to good effect does mean that at times, the diminutive Argentinian will struggle to impose himself on games and be regularly involved in build-up phases, as Brighton progress the ball via other means.

Physically, Mac Allister has shortcomings that do impact his ability to compete in certain scenarios. His slight 5'8″ frame will regularly be overpowered in certain defensive actions, and he will resort to fouling. Also, the Argentinos Jrs graduate will be dribbled past regularly as he is unable to utilise his slight frame effectively (as seen below versus Aston Villa) to prevent the opponent from powering past him, and where others can rely on strength to bring the duel to a level playing ground, Mac Allister cannot do this.

This weakness means that the twice-capped Argentinian needs to be played in advanced positions where he has players behind him tasked with carrying out defensive duties, such as the number 10 position, or in a midfield unit where there is sufficient defensive coverage, which is largely provided by Yves Bissouma. Individually, it is clear the young attacker needs to find a way to use his body to enable more successful outcomes repeatedly when in these scenarios.
Lastly, a key area for Mac Allister to work on is maximising his goalscoring and creative output in the form of goals and assists if he is to develop as a 10. Whilst he has been swapped about and used within a midfield unit deeper which will impact on his attacking output, an attacking midfielder playing at a good level should be consistently contributing in the final third. 
To date, the Argentinian has scored three goals (two of which came against lower league opposition in the cup) and set up two, which is not commensurate with the league's established players in this position. Furthermore, his underlying numbers are below average to average, ranking in just the sixth percentile for xG, and in the middle of the pack in terms of xA, ranking in the 52nd percentile. This is a step he needs to take to move into the next bracket and make himself a key part of Potter's Brighton team that has well-documented troubles finding the back of the net.
How can he do this? There are several clear ways in which Mac Allister can improve on his attacking output in my opinion. Firstly, the number 10 can increase the volume of late runs he makes into and around the box when Brighton is attacking. If we look at his shot map in the Premier League since joining the South Coast team, many have been from outside the box, with very few taken in the box, highlighting he doesn't typically attack the box in a way in which leads to "good quality" (higher xG) shooting opportunities for himself, shooting inside the box just nine times in 24 Premier League appearances.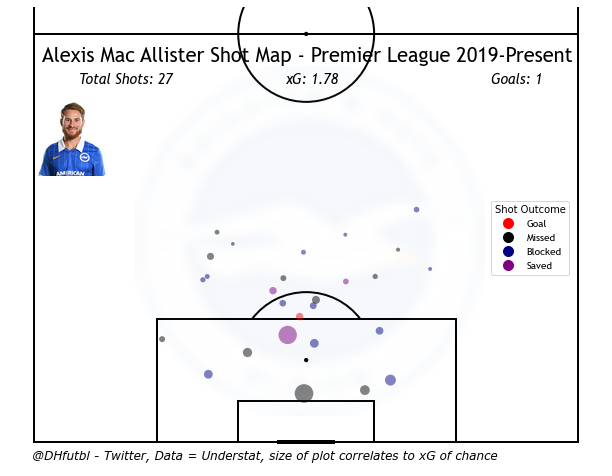 Arriving late into the box is a vastly underappreciated skill in football. It requires a complete understanding of the potential options unfolding in a particular scenario and an appreciation of timing to execute successfully. Fleetingly over his short career to date, Mac Allister has shown he is capable of attacking the box successfully, as demonstrated by the goal he scored against Preston in the EFL Cup.

The young attacking midfielder likely needs to look to increase the volume of runs made, to position himself in central positions more conducive to scoring. Currently, his natural tendency to sit around the edge of the box, or his involvement in the attacking build-up or creation takes him out of an area where he can look to attack the box, ultimately reducing the opportunities he has to do so. 
Inarguably, this is role-based at times, but at times, there have been opportunities for Mac Allister to be another body in the box. Therefore, in some respects, the work required is more on embedding when to recognise opportunities where he can do so. When playing deeper in central midfield, this is also a skill that he can use, just making the runs from deeper starting positions as he typically plays as an eight who is afforded more forward freedom.
Furthermore, the young Argentinian's decision-making in the final third can do with some refining to realise his full potential. As detailed before, he is a clever footballer who can be a creative spark through how he injects tempo in the final third, his game awareness and his clean technical ability. However, at times, Mac Allister's decision-making in the final third can let him down. 
This manifests in taking long-range shots where passing the ball is a better option and incomplete passes which lead to attacks breaking down. As demonstrated by the below example, as the number 10 shapes up to shoot from range, there is a better passing option (as highlighted) which will likely lead to a better chance being created than the low-quality shot he has taken.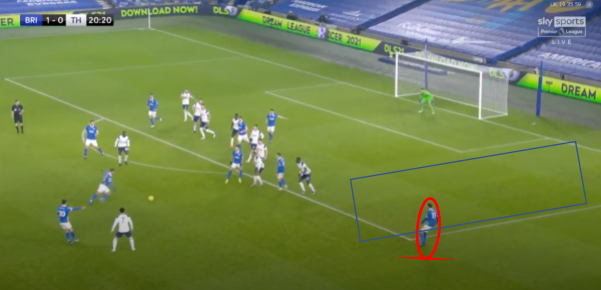 Where Next?
In the immediate future, the talented youngster who has now clocked up over 30 appearances for Brighton must be focused solely on winning his place in the starting XI back and consolidating this position as he has dropped out of Graham Potter's favoured eleven in recent weeks. 
In the longer term, a player of Alexis Mac Allister's skillset is valued across Europe. Whilst presently, it appears a title-chasing club that regularly plays in the Champions League may slightly be out of his reach in the future, he has all the tools to play as an eight or a ten with certain improvements made to his game for a club that is playing in Europe semi-frequently, or frequently in the continent's second-tier of competition, the Europa League.
By: @DHfutbl
Featured Image: @GabFoligno / Peter Cziborra – PA Images