Player Analysis: Alfredo Morelos
Banished to the naughty step for much of his time in Scotland, often by his own hand, Alfredo Morelos always manages to return to the hearts and minds of Rangers fans. Whether it be "El Bufalo", "Buff", "Alfie", or any of the whole host of monikers coined for the Colombian, Morelos never fails to make the headlines in Scotland and beyond.
Often for his outstanding goal-scoring exploits, however concerningly; he also finds his name on the back pages for his hot-heated nature and semi-frequent outbursts, though this has improved markedly in the last twelve months. Morelos's gritty and forceful style reflects his upbringing: tough and cutthroat, which ultimately sees many fall to the wayside, exposed and eventually captured by the gang lifestyle.
Morelos was thrown a lifeline which he would later repay ten-fold, from his local club in Cereté, Club Deportivo Fumigadores. His early footballing education was here; it was also here that locals first called the young Morelos "El Bufalo" after his style on the pitch, reminiscent of an enraged bull. Morelos had shown enough in his youth for his local club to attract the attention of Independiente Medellín, who he later joined and the team that kickstarted his professional career.
Whilst in Colombia's second city, Morelos was afforded few opportunities in the first-team setup and ultimately did little to convince otherwise. A transfer across the Atlantic to HJK Helsinki in 2016, initially a loan that later became permanent, down much to his agent, saw Morelos make his first forays into a continent where he would see much success.
Why the SPFL's Two Best Strikers Can Have a Big Impact in a Top 5 League Next Season
In Finland's semi-frozen landscape, Morelos lit up Helsinki and the Veikkausliiga, eventually leaving with 39 goals in all competitions and the league's best striker award. An uncommon career path for most professionals, let alone South Americans, Morelos, off the back of his successful stint in Finland, landed in Glasgow and signed for Rangers, the move initiated by Finish ex-Rangers player and coach, Jonatan Johansson.
Early into Morelos's time in Scotland, promising signs appeared; however, they were just signs. His debut season was impressive, all things considered; an 18-goal output in all competitions was sufficient considering his age and new surroundings. After that first year of assimilation, Morelos has not looked back and has been in and around the conversation for best player in Scotland since.
Back-to-back seasons with 39+ goal involvements and heroic European displays have set Morelos in good stead to go down in Ibrox folklore; however, the reoccurrence of an attitude problem and the resulting sanctions meant Morelos has always been a liability, albeit a dangerous one. This season perhaps due to lack of fans or just improved temperament, Morelos has begun to disassociate with his past troubles.
He is yet to receive a red card and has stayed out of the headlines whilst maintaining his impressive form and imperious style. With a first league title in the bag and the bright lights of the UCL soon, Morelos has everything he needs to either cement his legendary status at Ibrox or to handsomely compensate the Ibrox club when leaving to pastures new.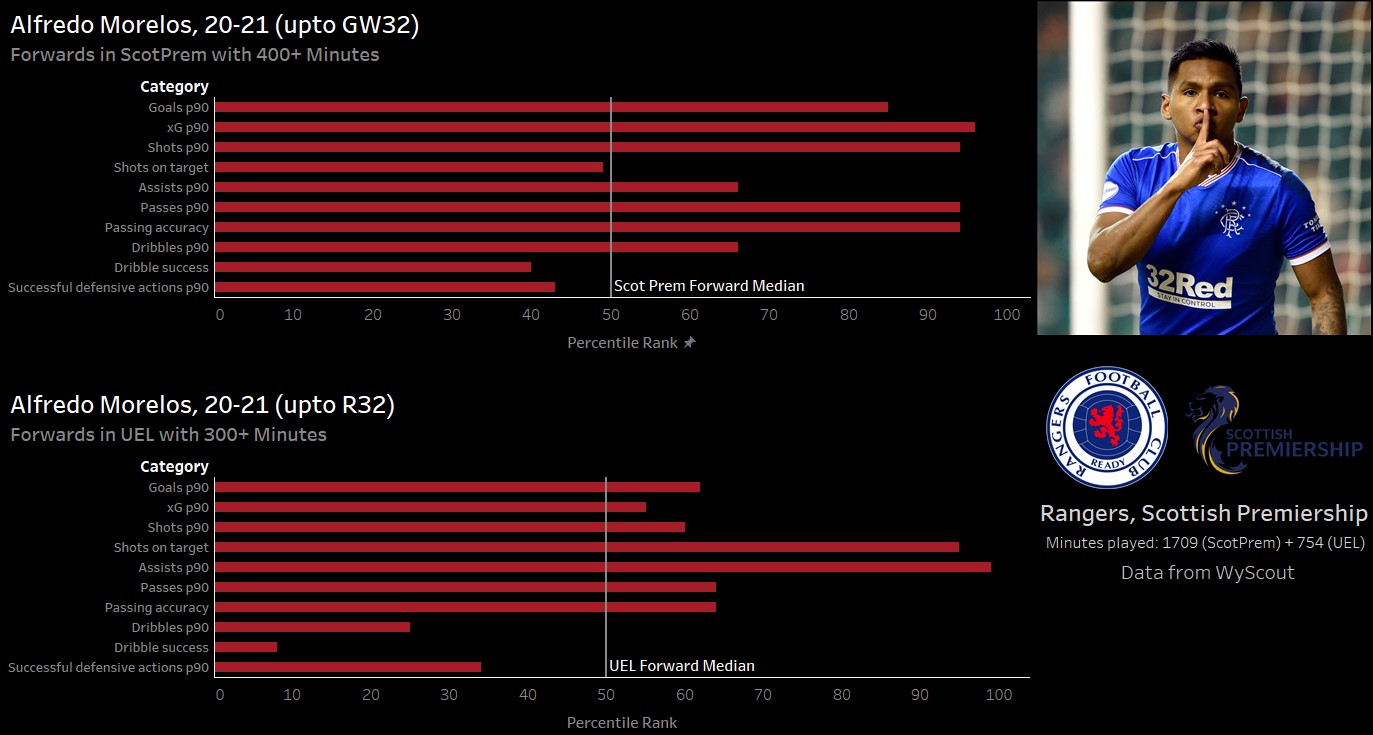 Pressing Contributions
The spearhead of the equally lauded and structured 4-3-3, Morelos's contribution and responsibility whilst Rangers are out of possession is crucial. The frontline is fluid, allowing Morelos to inhabit multiple positions, though he is most often seen in the centre.
Often the most advanced of the three, Morelos is tasked with pressuring opposition centre backs and keepers. His impressive physical traits lend well to this job, as his good pace and bullish strength require opposition defenders to constantly be on their toes.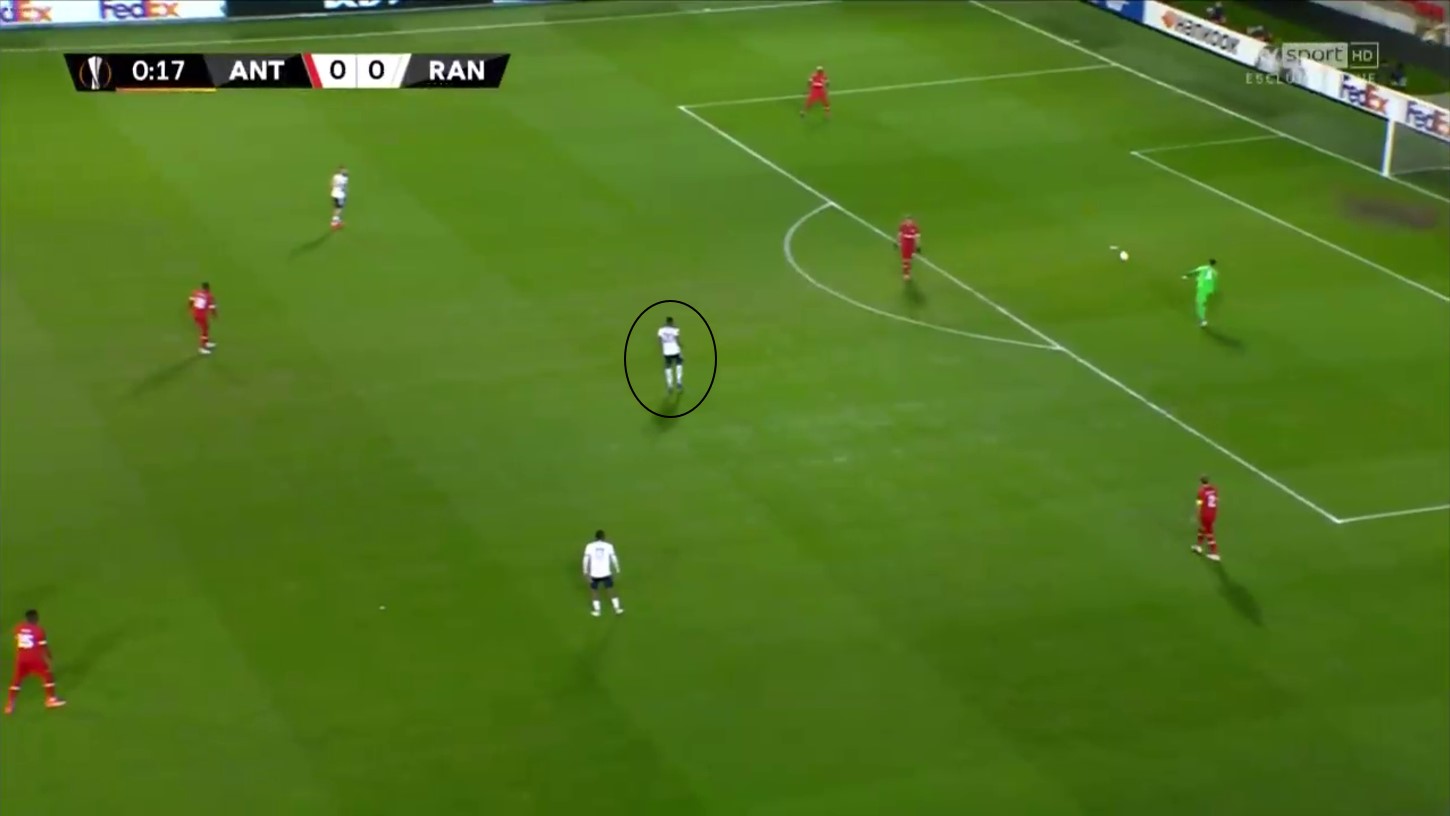 Beyond chasing down balls and applying solo pressure, Morelos, as a result of being the centre forward, is tasked with assisting any press on the wings. Whether it be Ryan Kent, Ianis Hagi, or Kemar Roofe, whoever is on the wings expects Morelos to help in a coordinated press into opposition corners.
The image below illustrates this well; Kent's pressure on Antwerp defender Ritchie De Laet is only valuable if backed up by a partner, which Morelos provides across the board.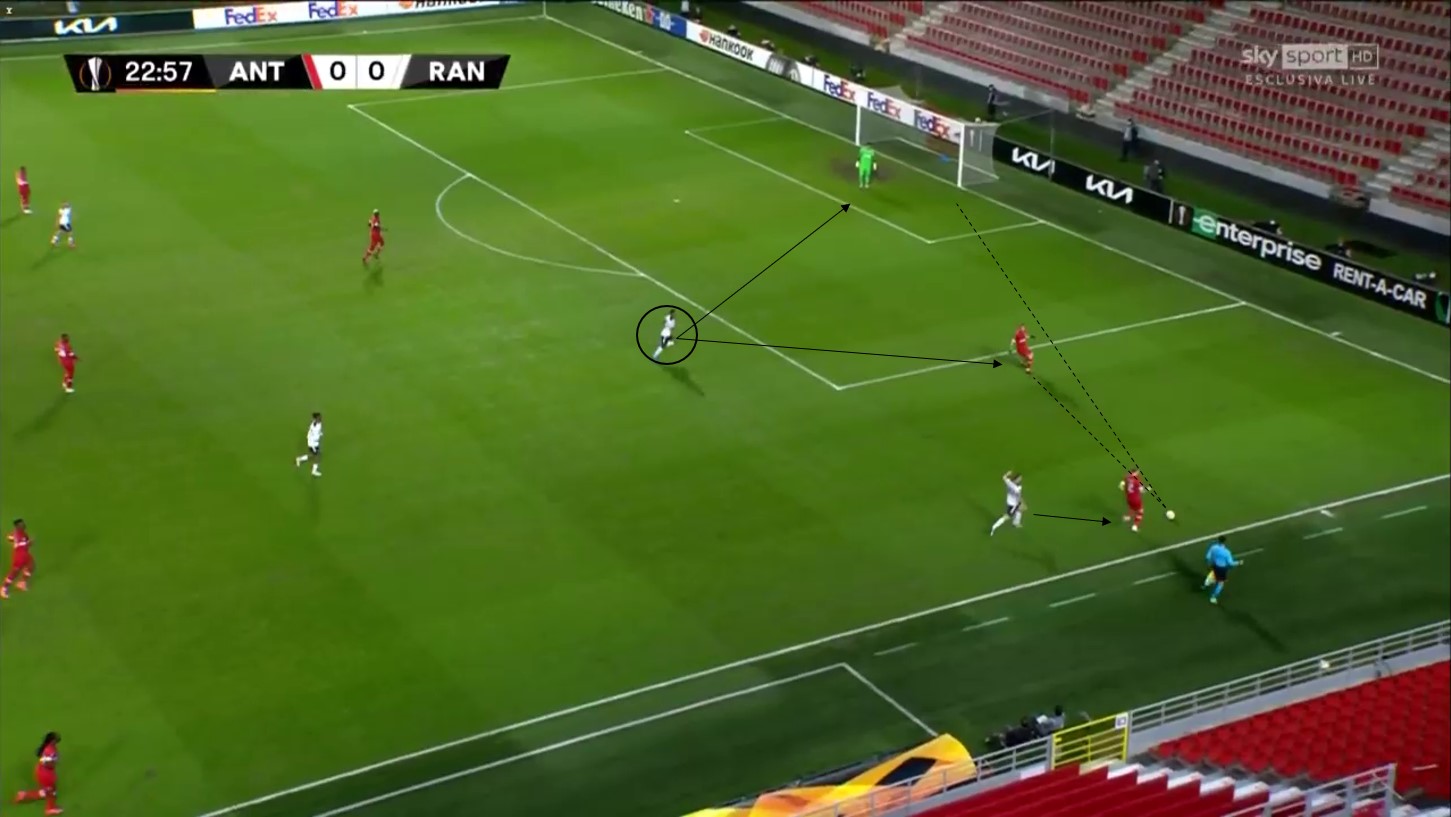 On the flip side, this show of pressing intent from Morelos also assists when possession is turned over. If the press is successful and if Rangers win possession, Morelos is already in an advanced position, and if found, more often than not, he will get a shot off or play it to a teammate.
Morelos occasionally spoils the stellar off-the-ball work by prematurely sticking his leg or applying too much pressure, allowing the opposition defender to collapse. In the grand scheme of things, you will take the occasional over-exuberance in turn for a committed and hard-working forward.
The Colombian striker's stamina and pace are adequate for the level he is currently at; however, if or when he leaves Rangers for a league of higher quality, this may be an area where he struggles, ultimately finding himself physically outmatched by opposition defenders, and thus less effective in a press.
Shooting 
Despite an impressive goal-scoring record, Morelos is not a natural finisher; in fact, he probably finds himself behind a few strikers at Rangers in terms of raw finishing ability. What he does have is a wide array of scoring methods. He is equally adept with his feet or head and with the ball on the ground or in the air.
The line with Morelos's finishing is not to have any expectations, he can fumble an easy 1v1 and then within ten minutes score from an unfancied angle. Morelos occasionally overthinks whilst in advantageous situations, often scuffing the ensuing shots, resulting in a tame effort, easily dealt with by opposition goalkeepers.
A perfect example would be his finish against Porto in last year's UEL. Whilst under heavy pressure, he placed a half volley into the bottom left corner of Agustín Marchesín's net, despite appearing relatively toothless prior to this.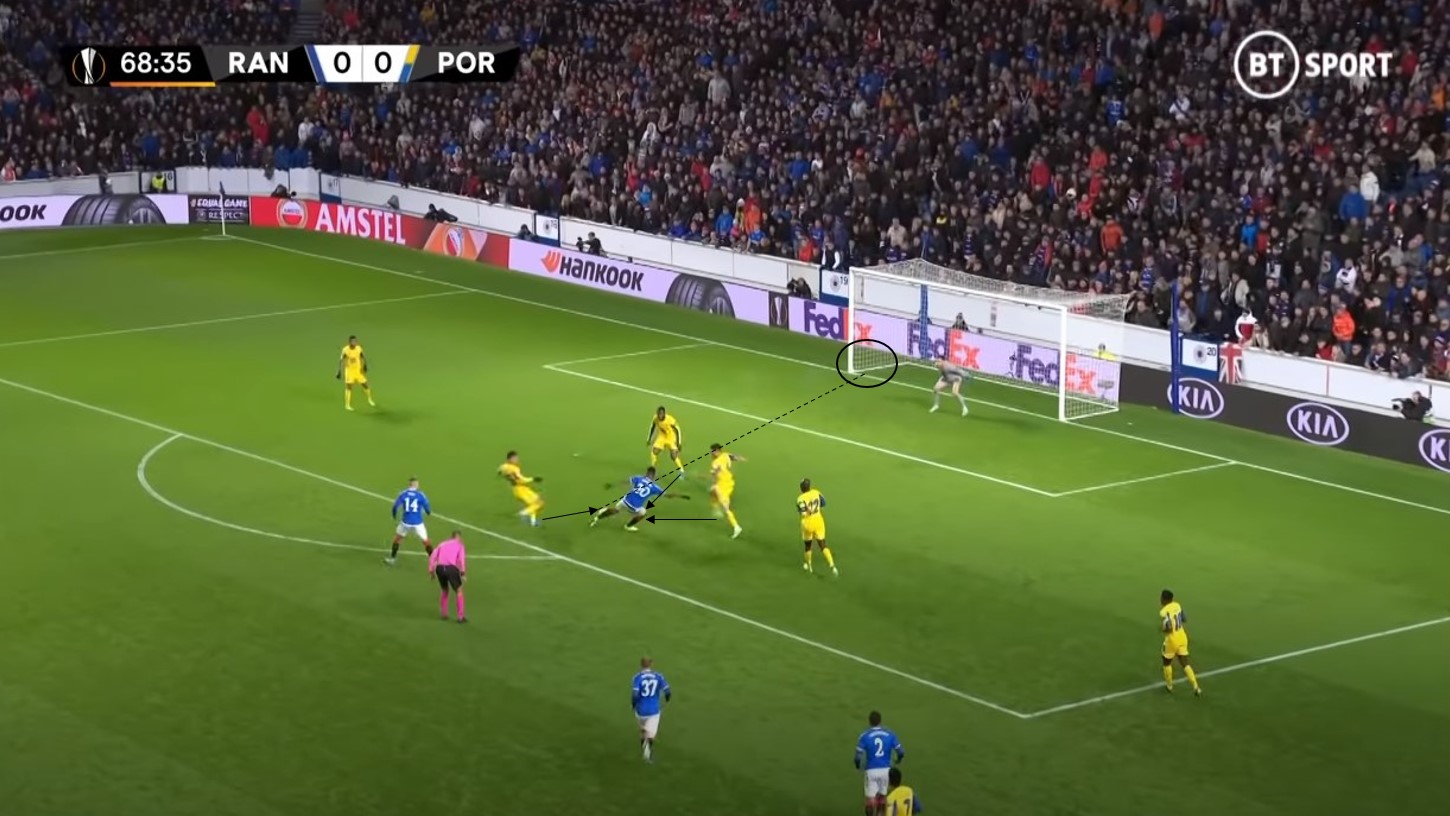 Regardless of how many chances he does squander, his appetite will remain, always on the hunt for goals. Morelos interestingly tends to get off shots at awkward and unexpected timings; some may see it as shooting prematurely; however, others see it as taking advantage of an unprepared goalkeeper.
This is best exemplified in an inch-perfect finish against Aberdeen two seasons ago, where he took both Joe Lewis and the Aberdeen back four by surprise, striking it seemingly early, however, the result landed him on the scoresheet.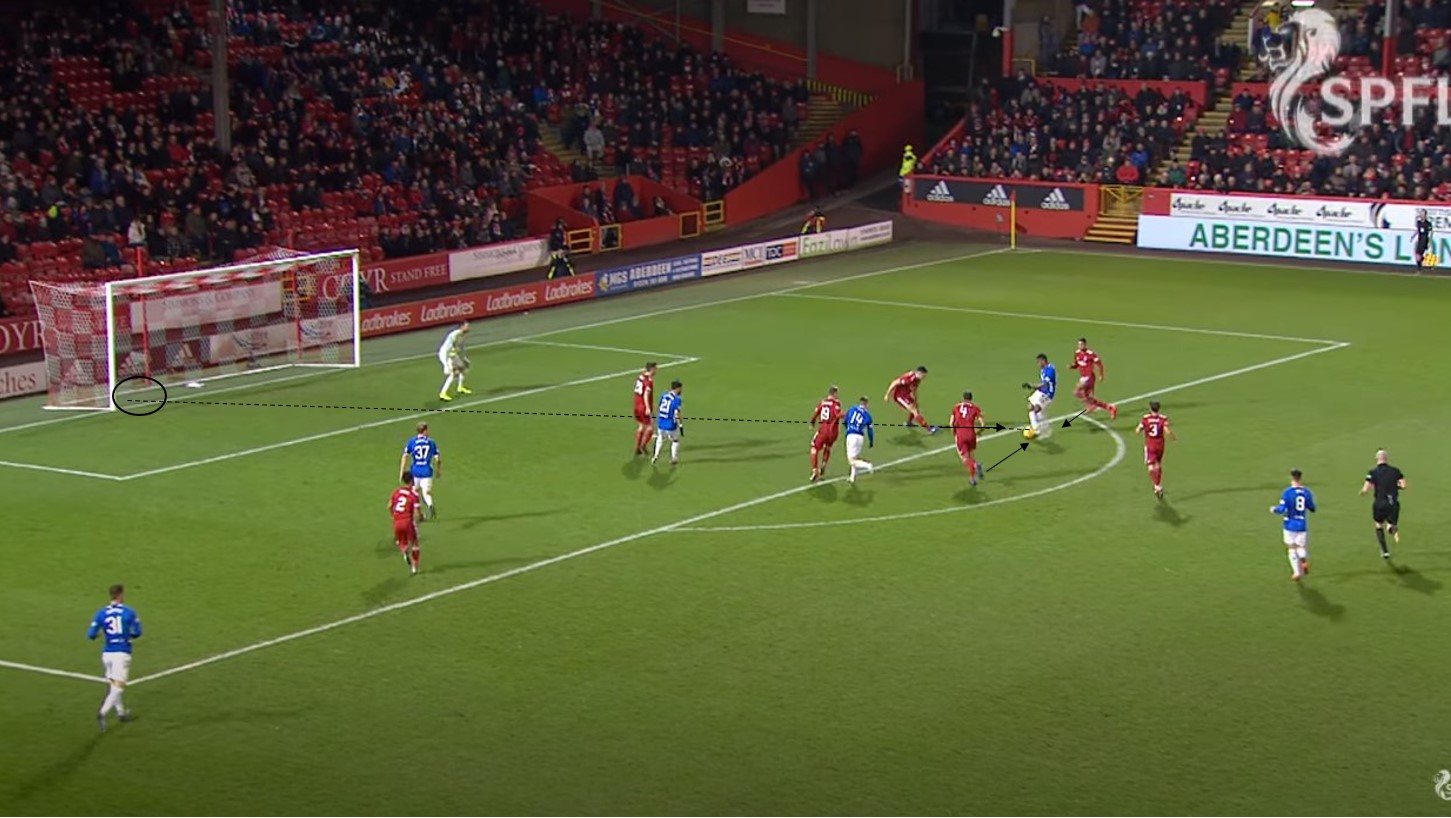 Like Mesut Özil, Morelos shares a tendency to strike the ball into the ground providing an awkward angle for the goalkeeper to contend with. This adds an extra layer of nuance for a keeper to contend with in the split-second decision of a first-time finish. Though not a towering presence, Morelos is productive in the air. Rangers do not rely heavily on crosses; however, he provides enough aerial threat for the opposition fullbacks to force them to consider whether wingers will continue to the by-line or cut in.
Patience is required with Morelos; you may be infuriated with his lack of consistency in optimal finishing situations; however, he will likely redeem himself and finish it off with his customary knee-slide. Ultimately this lack of consistent finishing may plague his career ambitions as he will most likely not be afforded the patience, which he receives from Rangers fans in a new environment.
Off-the-ball Movement
Morelos's acknowledgement and ensuing use of his personal gravity have become an increasingly pivotal weapon in his arsenal. Akin to a Larry Bird post up, opposition defenders are often dragged into assisting guarding Morelos, leaving teammates open and ready to pounce.
This has not always been a central axis of his game; a mix of developed footballing maturity and the emergence of a goal-scoring reputation have seen this gravity grow, to the point where no matter the opponent, Morelos is always attended to. It has taken Morelos time to fully realise his pull.
He has begun to extend his range of influence further down the park, picking up positions in the defence and midfield to stretch and pull oppositions out of formation and distribute accordingly. The image below perfectly represents the gravity that surrounds Morelos; despite his distance from the goal, he has gained the attention of three Ross County defenders, he plays a first-time ball to Davis, who finds an open James Tavernier ready to square it to Kemar Roofe, for a simple finish.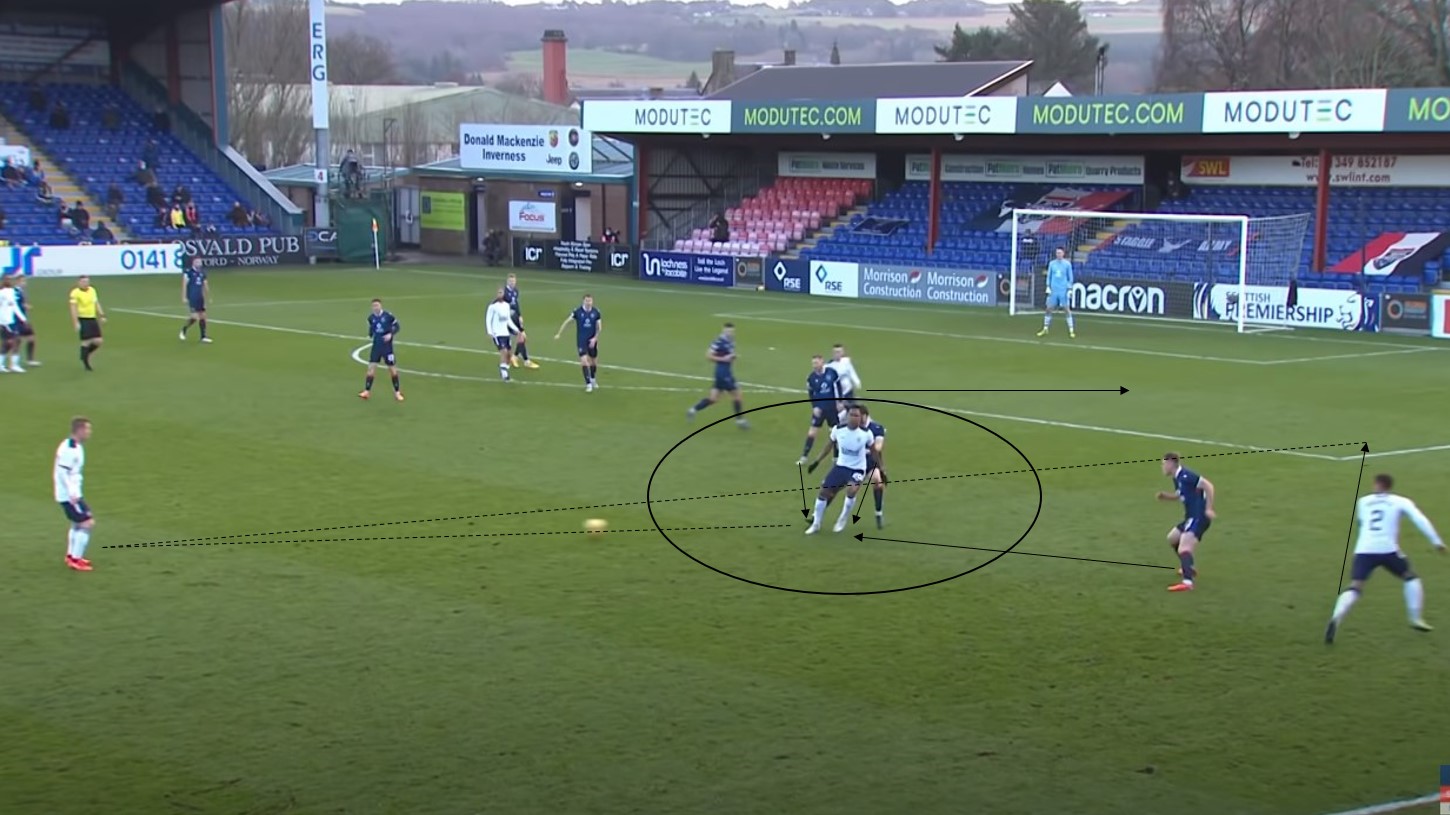 If left unattended in these seemingly unthreatening positions, Morelos is able to use his surprisingly impressive array of passing to progress the ball. If the ball is not played directly to Morelos, he will attract the defender's attention affording his wingers lots of space to run into.
On the other hand, if he is attended to, often due to his physique and dog-like attitude, he is able to manufacture petty fouls, which often land opposition players in the referee's book. This technique is often utilised towards the top of the pitch, where Morelos' teammates are indebted to him as he has seemingly mastered the technique of converting the actions of overly eager defenders into penalties and dangerous free kicks for his peers.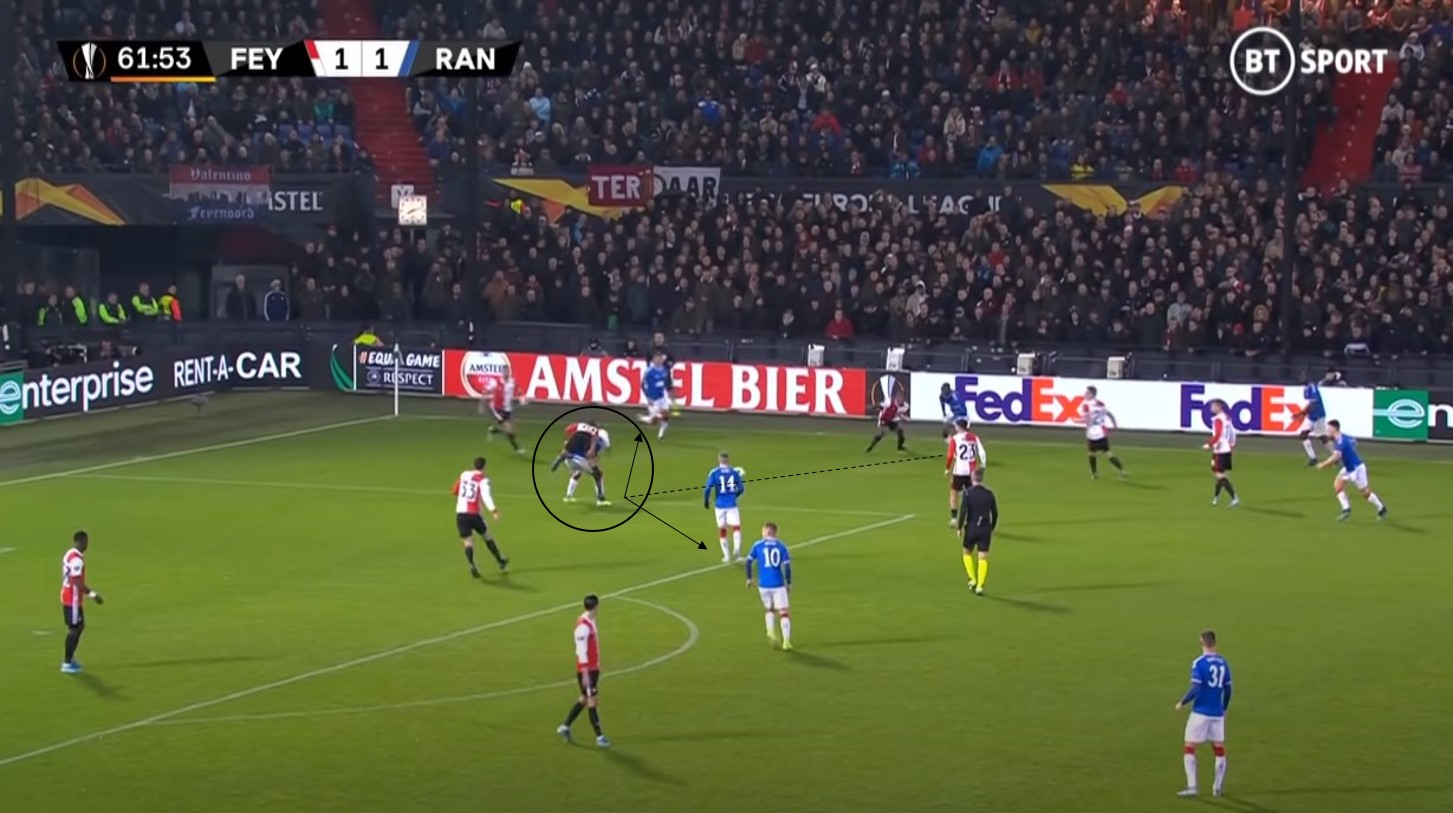 Morelos' off the ball movement is not all a selfless exercise; the Colombian loves to gamble in the box. Whether it be lofted or drilled, you are guaranteed to see Morelos stick a body part in, hoping for any contact to divert the ball's trajectory goalward. This tendency, mixed with his impressive heading ability, sees him in a nearly constant duel with opposition centre-backs whenever the ball leaves the ground in the box.
A long-standing connection between the two Rangers fullbacks, James Tavernier and Borna Barišić, who are able crossers, sees Morelos guaranteed a chance per game that originates from a crossed delivery. The interchange between Morelos and his wide men often sees the Colombian at the centre of the build-up play that generates such opportunities, whether a lay-off or a one-two, Morelos is constantly involved in both the creation and scoring of Rangers' goals.
The image below appropriately details this; in a benchmark European performance, the second of Morelos' two headers represents all that is good with the Colombian, up against a larger defender in Feyenoord's Marco Senesi, Morelos darts to the middle of the goal to finish off an inch-perfect Barišić cross.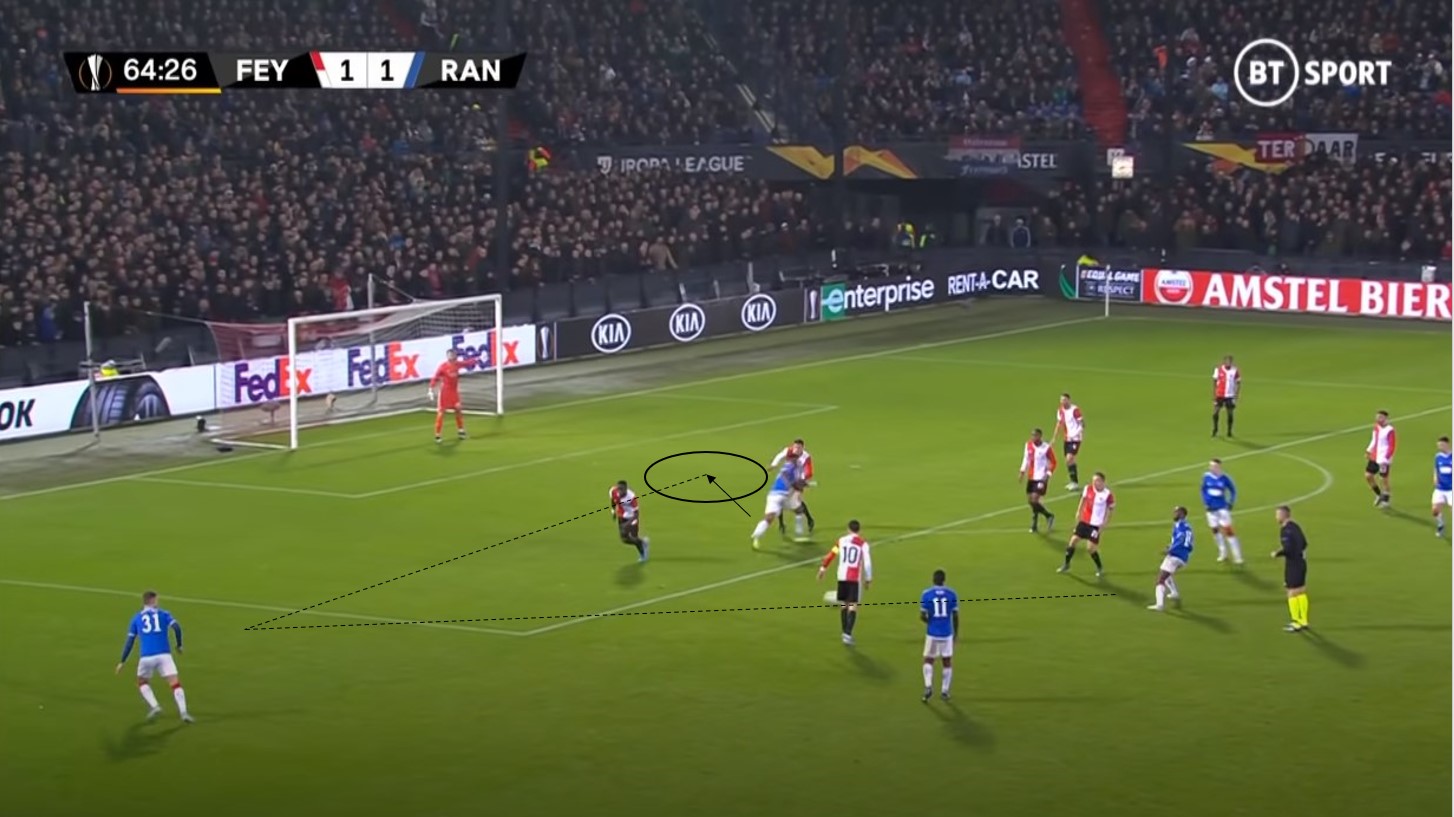 Admirably, even if all is going wrong, Morelos will not down tools; instead, he will continue to take up positions and run the channels. The only time you will see reluctance in Morelos' movement is when accompanied by a scowl as he is subbed off, something that no footballer likes, however, Morelos often takes personally. He is the sort of player that you would not dare sub off whilst chasing a hat trick.
Passing 
Morelos does not have the extensive and cultured passing range many of his teammates at both club and international level has. However, he does not need to; Morelos is okay sticking to what he does best. He is effective in close interplay with teammates, often used as a wall to bounce passes off due to his ability with his back to goal where he often shows off an array of cute flicks.
The Colombian forward often sends balls to the corners, switching the location of the attack and, in turn, adding an extra layer. Considering his play style and attacking responsibilities, his passing ability should not hinder him from stepping up to a higher level. What he does very well is delivering the ball fast and on the deck from wide positions.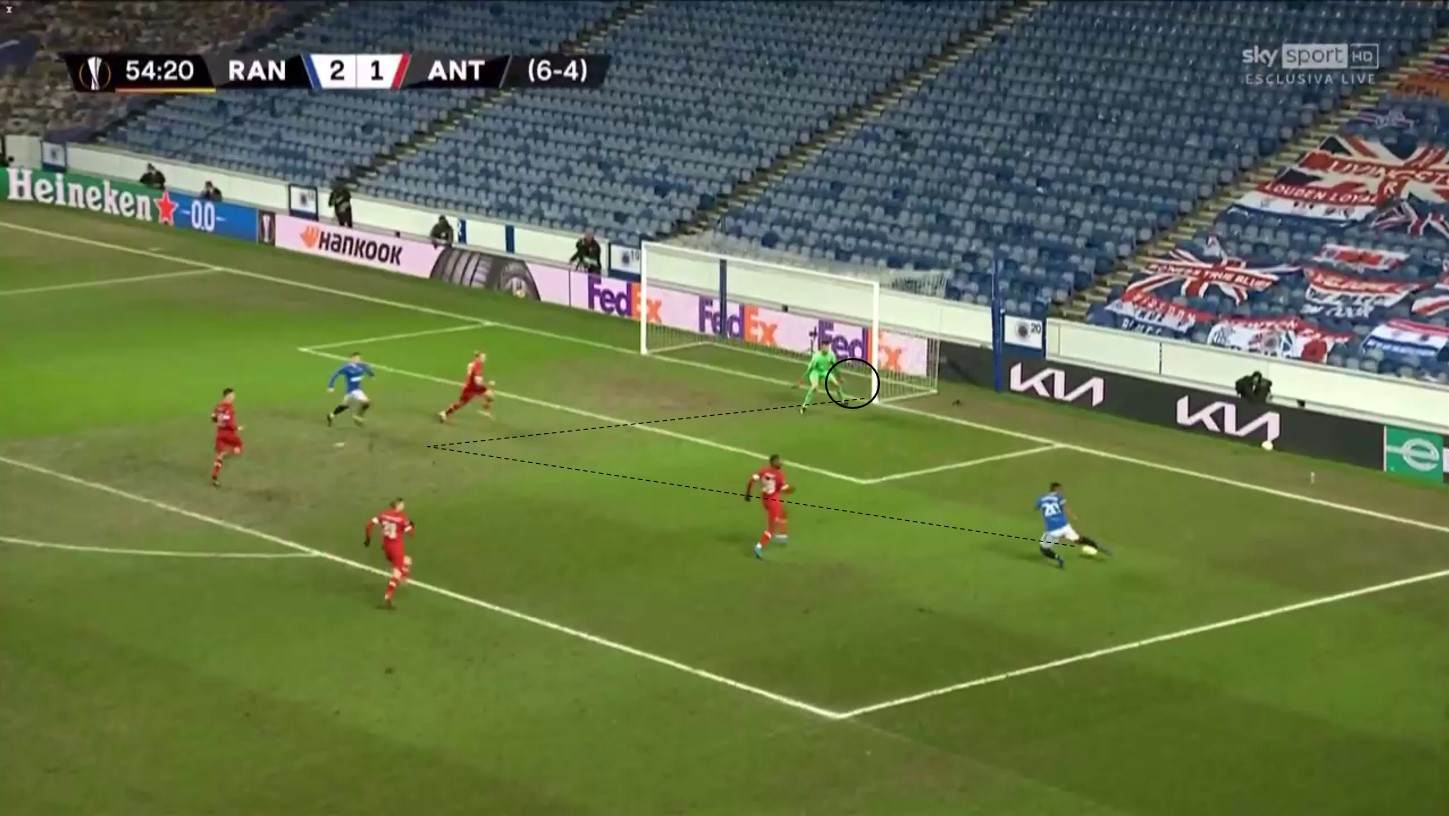 Due to Gerrard's front three's fluid nature, Morelos fills in on the left and right wings throughout the 90. When not central, Morelos's best work is done on the right; he can dart low balls into willing runners. Reminiscent of a shot more than a pass, the ball's pace allows for the recipient to take it first time.
This forces the opposition to consider two things whilst Morelos is charging at them, is he going to cut in or continue to the byline, and will he shoot or pass? When he chooses to defer to a teammate, this is often followed by a goal, as seen in two examples above, one in last year's UEFA Europa League qualifying away leg against FC Midtjylland and the other in this year's Round of 32 fixture against Royal Antwerp. 
Dribbling 
Morelos is not a fluid and natural dribbler; for him, it is a mode of transportation on the field as opposed to an art. He uses his frame and close control to manufacture space. One of his favourite moves is knocking the ball in front of the opposition's player and then engaging in a foot race to regain it.
He has beaten his man when done well; however, it often just becomes a turnover, albeit one with good intentions. His touch is adequate, but nothing spectacular. His mediocre pace and adequate dribbling mean that he is unlikely to beat many off the dribble, especially when playing up a level.
Though many consider dribbling a cornerstone of modern strikers, Morelos's game renders this opinion pointless. Morelos could inherit my terrible dribbling and would still be able to do most of his good work. However, if he was somehow able to improve his dribbling, this could go a long way towards cementing his credentials and prospects as a top-level striker
Charity Work
Morelos' greatest achievements and legacy may not have to do with his contributions to Football, rather to his hometown Cereté. Off-the-field contributions are seldom included in a player analysis; however, it is impossible to separate Alfredo, the footballer, and Alfredo, the man.
He started his eponymous foundation upon receiving his first paycheck in Finland. Initially, a small affair that would assist those in need has expanded to something much bigger than Football. The gifting of presents at Christmas, assisting the community whilst the Covid-19 pandemic raged on, and charity football matches are amongst some of Morelos's recent work.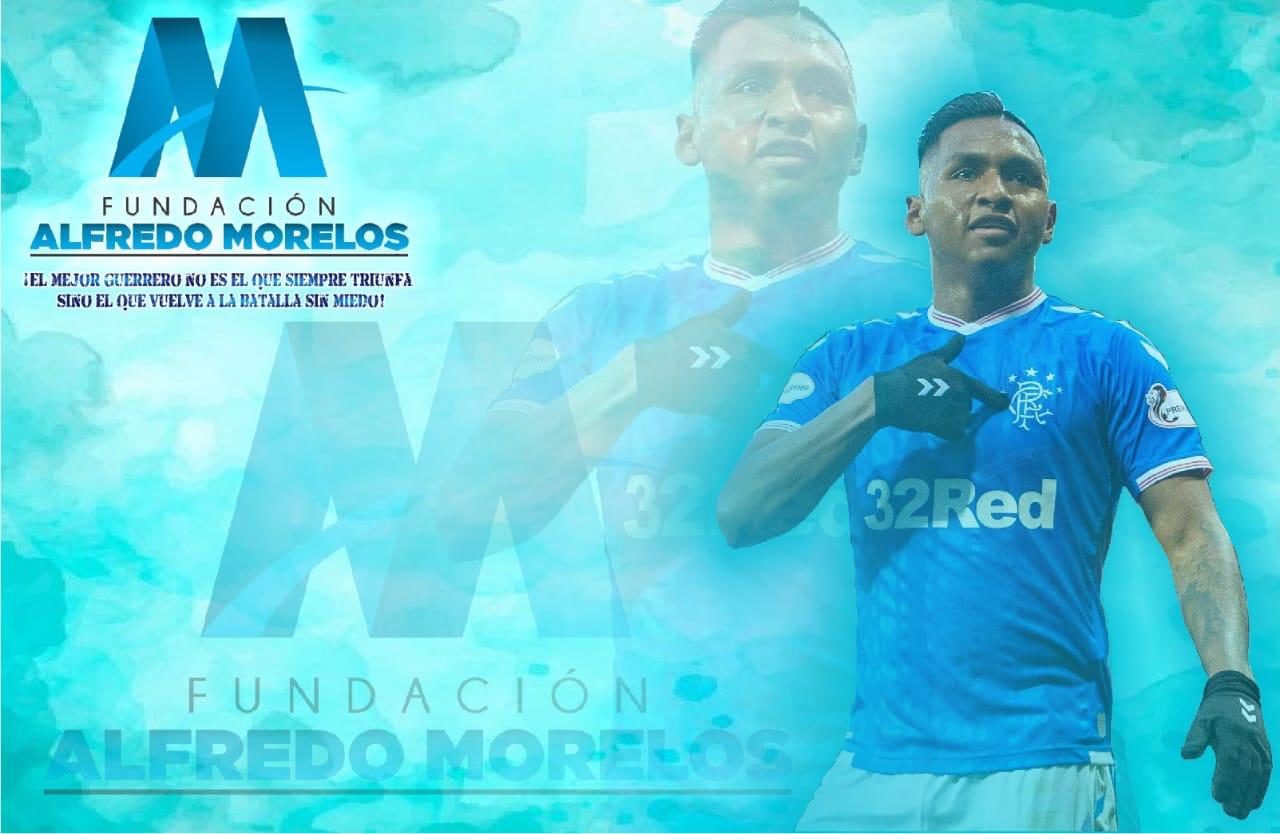 His crowning achievement has been the development of facilities in his hometown. Educational, Medical, and Recreational, Morelos has single-handedly provided prosperity and opportunity to Cereté and its community, seldom seen or provided by the Colombian government.
Even whilst in Scotland with all that comes with being a professional footballer, Morelos makes time to be actively involved in everything that occurs under his name. In Scotland, Morelos rightly or wrongly has developed the label of a troublemaker, but, if anyone is willing to extend their attention beyond the pitch, they would soon realise that Morelos is one of football's good guys.
His Future
Alfredo Morelos has been constantly linked away from Rangers, this even became a running joke within Scottish Football. What is for certain is that Morelos is on his way to becoming a legend at Rangers, with few amassing a similar CV in such a short time. The bright lights and big pay-packets of the top leagues will undoubtedly tempt Morelos and may lead to a move away from Rangers.
I discussed Morelos with Simon Edwards, a well renowned South American Football journalist and Medellín resident. He acknowledges that Morelos's cult-like status at Rangers and, by extension, the positive representation of his homeland pleases his fellow Colombians, who the negative narco-related stereotypes have long plagued.
Using the Touchline: A Deep Dive Into Rangers's Pressing Scheme
This may fuel him to continue to perform at Rangers; however, he and his countrymen may see the opportunity of a greater stage as impossible to turn down. Morelos' international career up to now can only be described as inopportune; Edwards, mentions that Morelos has often been played out of position and thrown in whilst chasing lost causes.
With the gradual fading out of Radamel Falcao as the starting striker for the NT and the new appointment of Rueda, Morelos has ample opportunity to stake his claim in the international setup. Edwards highlights his unique style as something that may help him gain a footing internationally whilst competing against the likes of Duván Zapata, Rafael Santos Borré, Duvan Vergara and Luis Muriel.
What is certain is that whatever role Morelos plays at club and international level, he will make headlines, whether it be on or off the pitch; Morelos will be on the frontpages. Morelos also shows youngsters around the world that a glamorous early career-path is not the sole precursor for success.
By: Patrick Caskie
Featured Image: @GabFoligno / Rob Casey – SNS Group