Player Analysis: Ali Akman
It is somewhat ironic that Ali Akman was born in Yıldırım, a district of the Turkish city of  Bursa which translates into English as 'thunder.' As they say, you can take the boy out of thunder, but you can't take the thunder out of the boy. 
Just ask Emilijus Zubas, Erhan Erentürk, Atilla Özmen, Milan Lukac and Orlando Mosquera. All five goalkeepers have tried to stop the striker scoring this season. They have all failed. 
Akman was born on 18 April 2002, beginning his career at İnegölspor before moving to Bursaspor in 2015. He broke into the first team last season when they were back down in 1. Lig for the first time in 13 years. Scoring on his full debut, Akman was mainly used as a winger, ending the campaign with 21 appearances. He might have only scored twice, but these figures are masked by the fact Akman only started three times. 
However, things changed going into 2020/21. The departure of main striker Kubilay Kanatsızkuş to Yeni Malatyaspor, alongside financial constraints, forced coach Mustafa Er to look in-house for a replacement. Akman has been redeployed as a sole striker in either a 4-1-4-1 or 4-2-3-1. This allows for the equally promising Burak Kapacak, alongside Özer Hurmacı and Recep Aydın, to find his runs in behind. 
Akman is the star of an extremely young squad. Fellow teammates this season include Batuhan Kör, Çağatay Yılmaz, Deniz Aydın, İsmail Çokçalış, Ramazan Keskin and Tuğbey Akgün. All are under 21.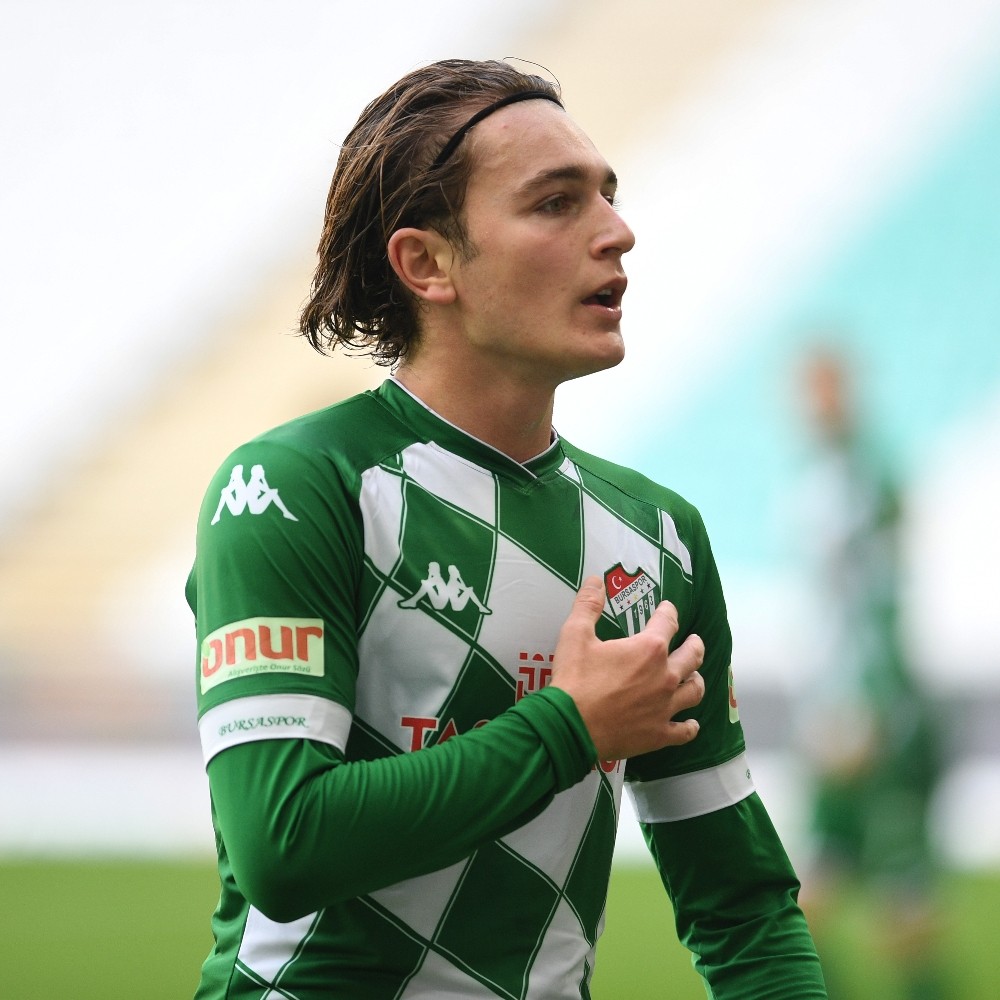 Photo: IHA
Improving after a losing start, president Erkan Kamat is optimistic: "Our average age so far this season is 21. If we protect these young players, we will achieve success after this process. Patience and heart are required, these players are all valuable for us. May Allah keep them from evil." 
One player with divinity firmly on his side is Akman. He opened his account this season on its opening day, heading in Kapacak's corner against Adana Demirspor. This is extremely impressive when you factor in that Akman is only 5'6." For such a small stature he is very good in the air. 
It is when used as a pressing forward where Akman is at his best. In the next game against  Altınordu he pursued the ball with raw enthusiasm for 90 minutes, culminating in defender Ravil Tagir making a mistake. Through on goal, Akman finished with a nice curled shot. 
The next month against Balıkesirspor is where Akman really started to lay down a marker.  Within ten minutes he had opened the scoring, running off a defender's shoulder to give Kapacak a great option for a pass. With one touch Akman redirected the ball with his  weaker left foot, and it rolled sumptuously into the corner of the goal. 
Into the second half and he continued to get in behind (see below). Playing a pass to Aydın, Akman span into the space vacated by the Balıkesirspor defence to find himself clean  through on goal, the stretched backline trailing in his wake.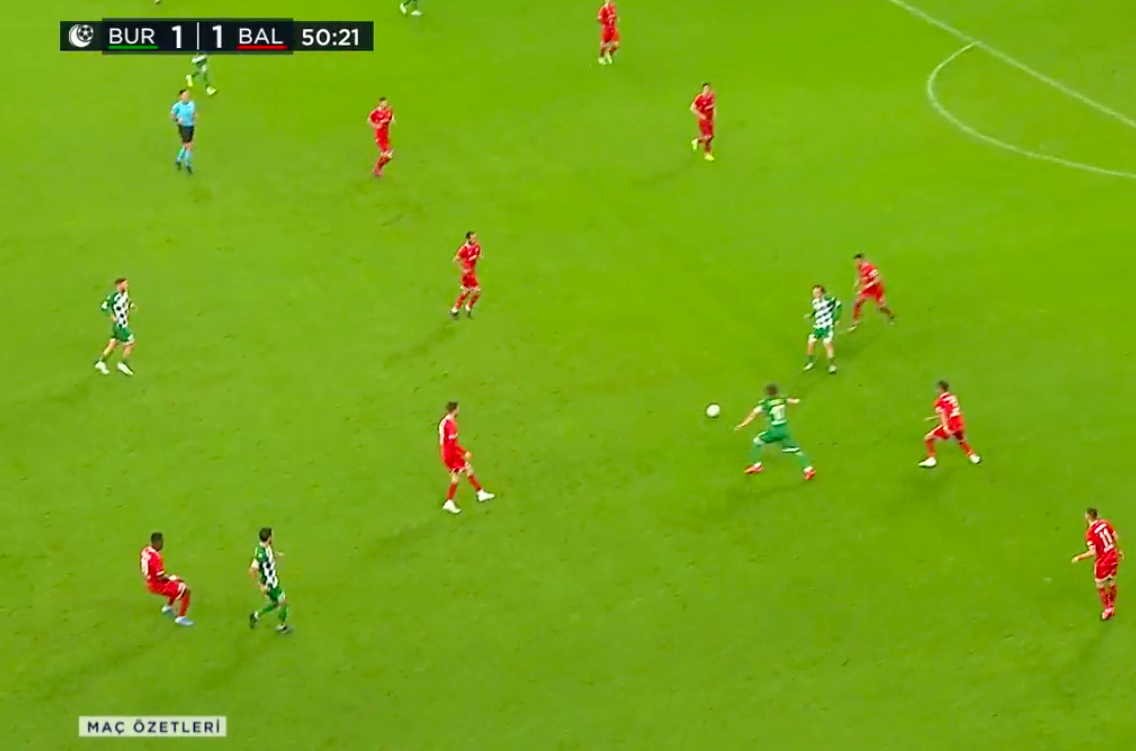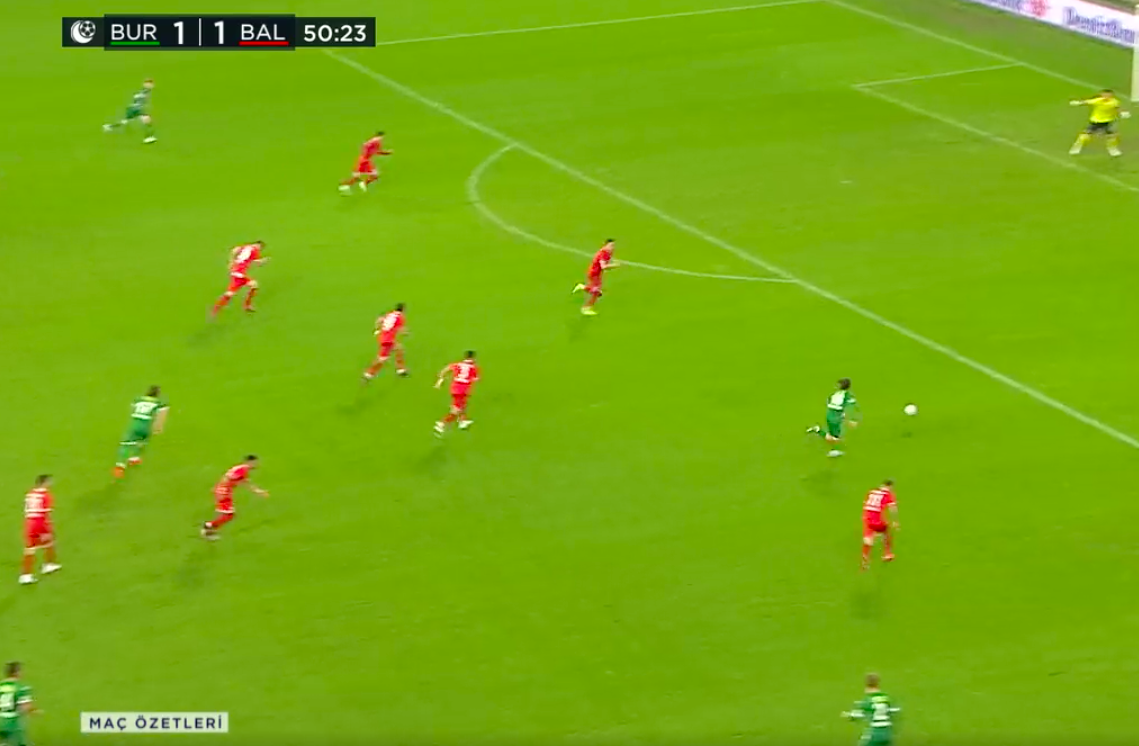 This move ended up hitting the post, but with the match locked at 1-1 in injury time, Akman made another similar run. A quick throw-in from Çokçalış saw the striker take the ball in his stride, before squaring for Kör to score an injury time winner. 
Just over a minute later Akman again demonstrated his aerial threat to beat the taller, stronger Batuhan İşçiler. Leaving him on the floor, he accelerated towards goal once again, scooping a chip over Özmen. The goalkeeper got a hand to it, although in the resulting scramble between two defenders Akman reached the ball first. For extra flair, he finished off with an overhead kick. 
As if to prove this performance wasn't simply a one-off, a week later he scored another stunning goal against Akhisarspor. Bringing a cross from the right down under pressure in the box, as Alperen Babacan lunges Akman steps round him and shoots into the bottom corner. 
Just this weekend Akman added another two goals to his tally against Boluspor. The first one saw him make a quick run at a free kick to catch the defence off guard, whilst the second was a finish from close range. This takes his season total to seven in eight games, making him joint top scorer in 1. Lig at the age of 18. 
Clearly such potential will be difficult for Bursaspor to hold onto. Rumours in recent months  have linked the striker with Bayern Munich, Leicester and Manchester City, but history has seen young talents such as Enes Ünal and Sercan Yıldırım leave Bursa young and fail to kick on. Akman will follow them out the exit door soon, but time is on his side. 
"During my time at Bursaspor, I have been doing amazing things which has led to me having  the goal of playing in Europe," Akman said. I want to make Turkey and the dedicated fans proud. Besides that, I want to represent Turkey in international competitions by being the main striker."
Milli oyuncumuz Ali Akman'ın Viktor Bannikov Turnuvası'nda Belarus'a attığı muhteşem gol 👍👏⚽🐊 pic.twitter.com/5vU1TRLLyi

— Bursaspor Futbol Akademisi (@BsFutbolAkademi) August 18, 2018
Akman scores from the halfway line in a friendly against Belarus in August 2018 for Turkey's U-17 side. Turkey would go on to win 2-0.
For now, it is best he remains with the club he has been at since he was 13. The nephew of  former Galatasaray midfielder Ayhan Akman, Ali has played for all of Turkey's youth sides, currently being a member of the U-19s. 
It is a question of when not if he graduates to the senior team. He might come from Bursa's  district of thunder, but before long the name of Ali Akman will be heard across Europe.
By: James Kelly
Featured Image: @GabFoligno / Cimbom Aşkı