Player Analysis: Andre-Frank Zambo Anguissa
Andre-Frank Zambo Anguissa has been a standout player for Scott Parker's Fulham, who are enjoying a mid-season revival following a difficult start. In short, Anguissa is a powerful operator; he is tenth in the league for dribbles completed and eight in the league for attacking duels won. His primary strengths include ball carrying and intelligence in movement and possession. This article analyses Anguissa's role in Fulham's revival.
Anguissa's action map suggests he prefers the right side of midfield, typically playing alongside Mario Lemina or Harrison Reed in the double pivot.  This map backs up the notion that the Cameroonian is largely a second phase player; he screens the defence and brings the ball to the final third, but rarely enters it.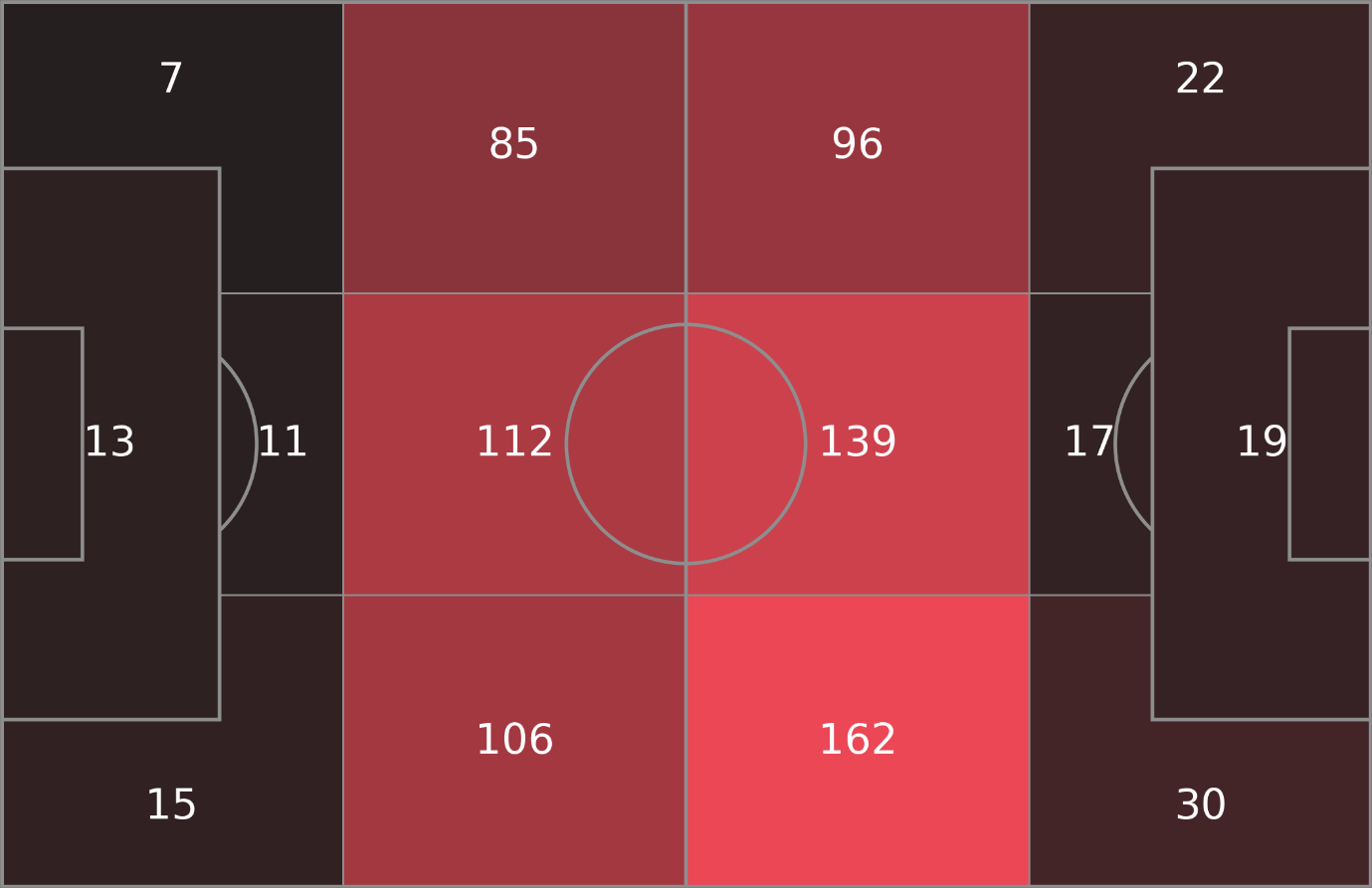 Photo: Twenty3 / Wyscout
His distribution sonar highlights his abilities to progress the ball from deep (often in transition) into the second phase and final third. He often looks right when progressing, seeking to find the perennially overlapping Bobby de Cordova Reid. He isn't limited to certain passing angles though, unlike Manchester United's Nemanja Matić for example.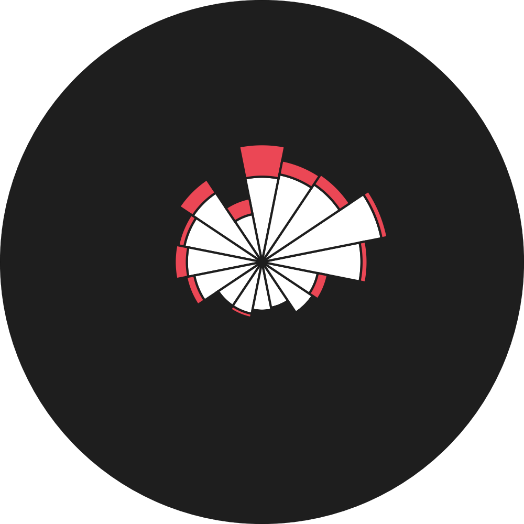 Photo: Twenty3 / Wyscout
The Cameroon international covers a vast expanse of ground out of possession, as shown by his defensive action map below. Fulham have been fairly resolute in their zonal settled shape, which allows Anguissa to roam and pressure opposition players while whoever plays out of Mario Lemina or Tom Cairney acts as more of an anchor. Anguissa is more similar to a Fred or a N'Golo Kanté in his role for Fulham rather than a Paul Pogba or Cesc Fàbregas.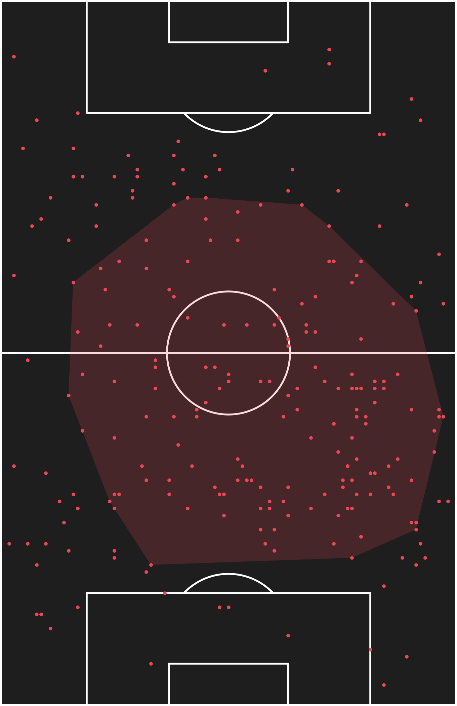 Photo: Twenty3 / Wyscout
Anguissa's abilities to disrupt opposition in possession is exemplified by his impressive volume of interceptions in the 1-1 draw against Newcastle United at St James' Park on Saturday. His industrious performance contributed to Fulham holding on to a point, despite being down to ten men for 35 minutes after Joachim Andersen's red card.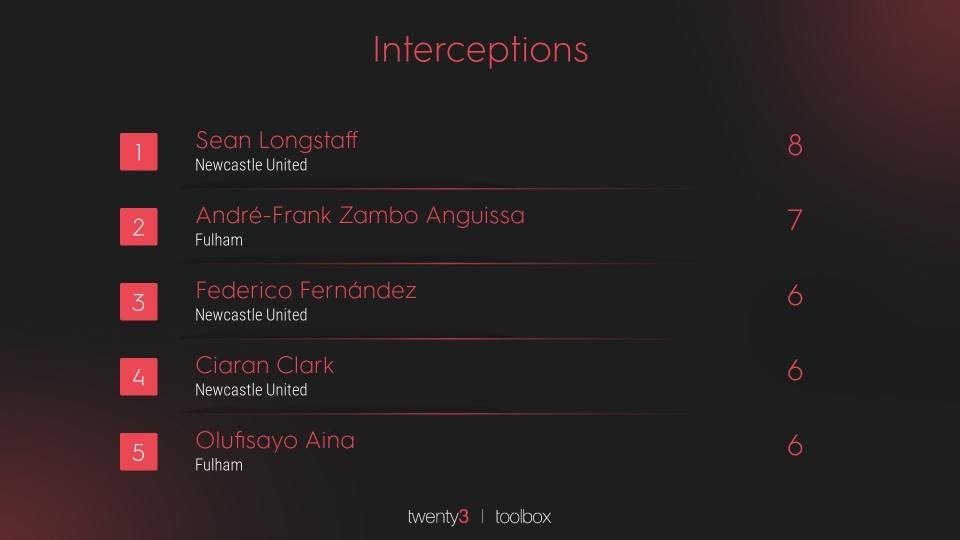 Photo: Twenty3 / Wyscout
He didn't just relieve the pressure on Fulham's defence with his ball-winning abilities, but his ball-carrying in transition frequently drove Fulham up the pitch. Anguissa eats up the ground so quickly on the ball, penetrating space so effortlessly. He can create opportunities for his team, but he also has the intelligence to read the game state and aid ball retention over attacking penetration if Fulham are holding on to points or need to retain possession to relieve opposition pressure.
Anguissa's 2020/21 pass map when Fulham are in a winning game-state is presented below: it is clear to see where Anguissa tends to pick the ball up, and where he passes to – he normally catalyses possession in the second phase, dragging Fulham out of danger.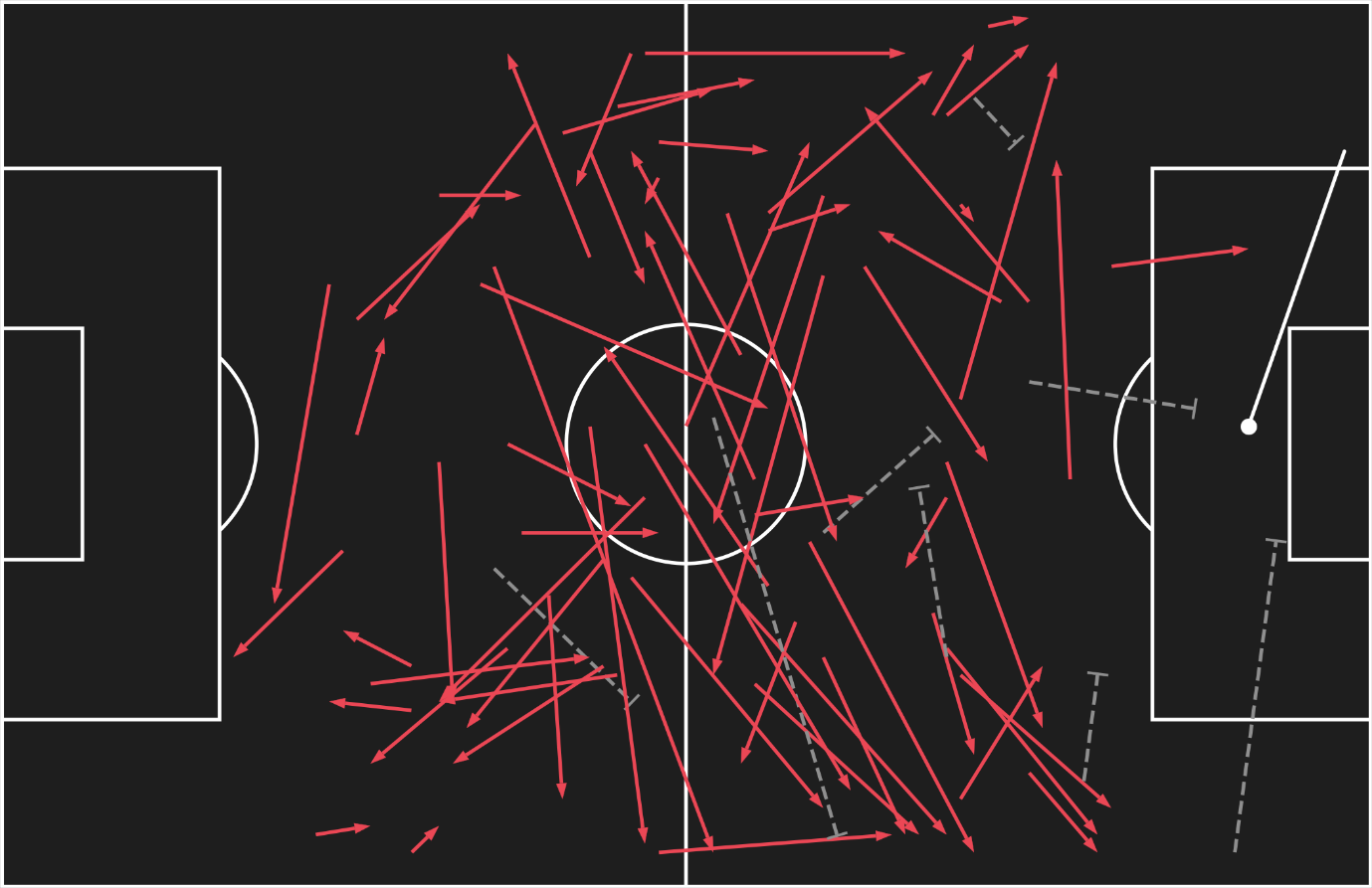 Photo: Twenty3 / Wyscout
Additional support for Anguissa's accomplished performance can be found in the fact that he made the joint highest successful dribbles for Fulham in that draw; he was phenomenal in all phases of the game.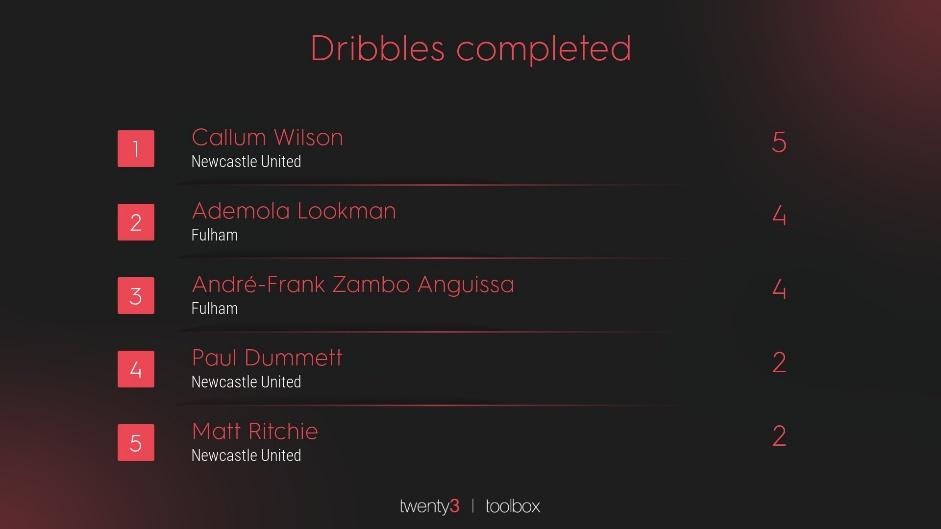 Photo: Twenty3 / Wyscout
One particular example that stood out was in the 69th minute when Anguissa picked up the ball in transition. He carried the ball 40 yards up the pitch, before passing into space ahead of Ademola Lookman. This maintained the fluidity of a potential counterattack. He then feinted to sprint beyond Lookman, before dropping off.
This showed intelligence for two reasons: it left Lookman 1v1 without dragging another man into his periphery but also left Anguissa as a passing option for Lookman to use if Fulham were to switch to the underloaded side. His powerful run prior to this had dragged three Newcastle players across to this side of the pitch, highlighting the gravity Anguissa has on a football pitch. He can disrupt even the most organised of sides with his carrying.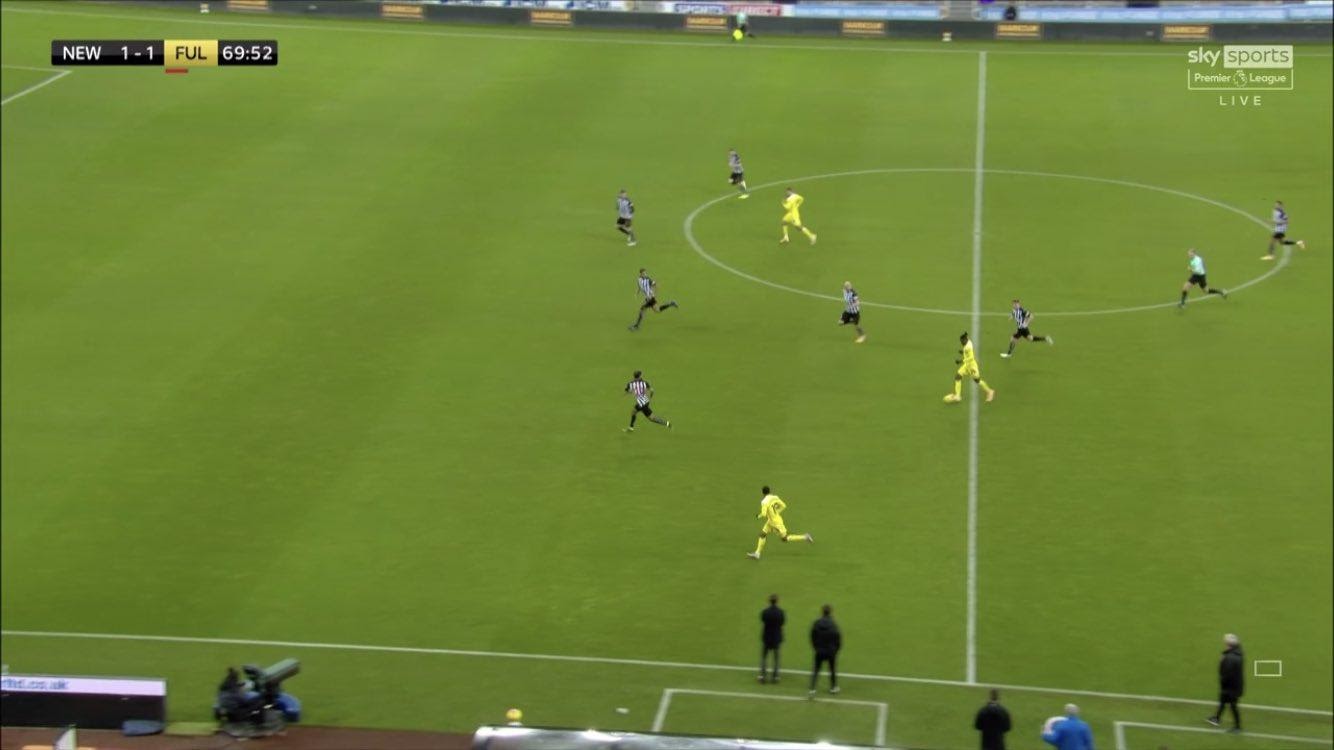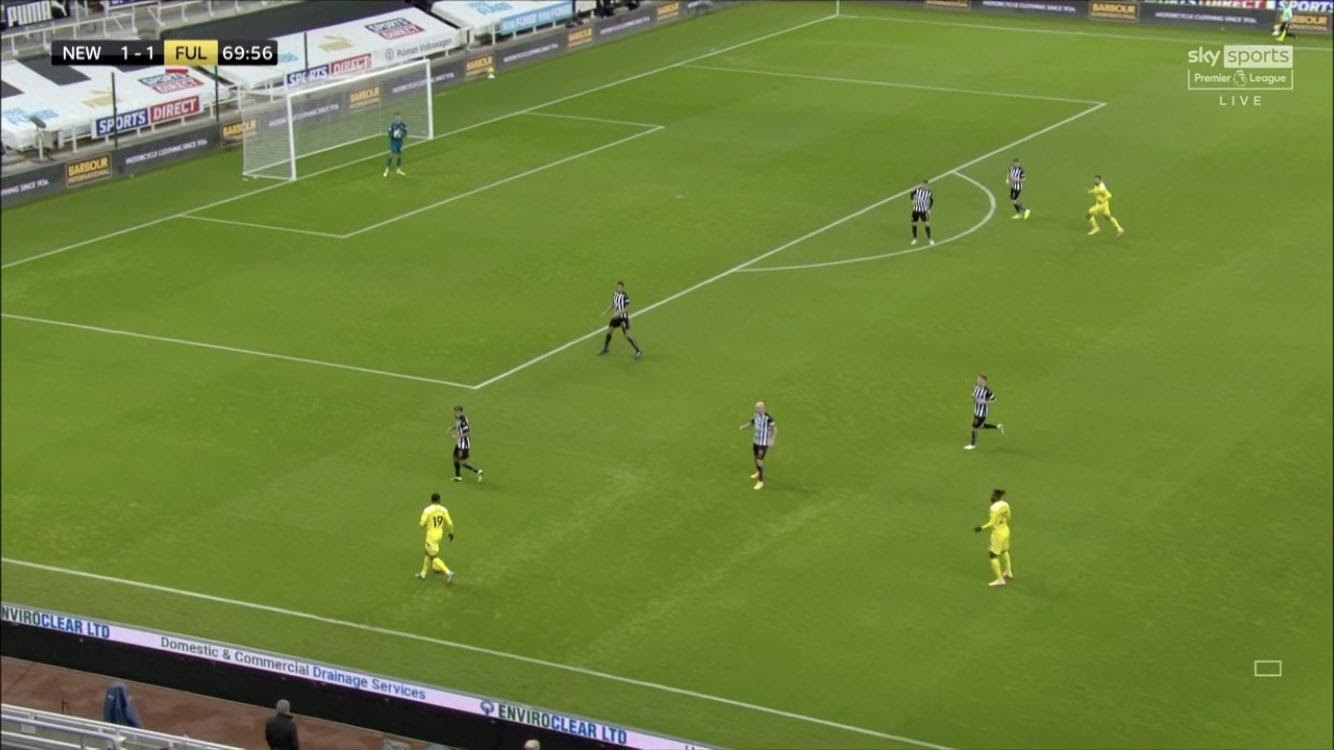 And this disruption was even more evident against league leaders Liverpool. Fulham out-played Liverpool for large parts, showing press resistance in the form of Anguissa bursting out from the defensive shape in transition to drag Fulham up the pitch.
Just as aforementioned, this aided Fulham not just in possession, but also defensively as they sought not to surrender territory to a Liverpool side who manipulate space and dominate territory so well. Anguissa was joint second for accelerations in this game, which could help to show his explosivity in transition.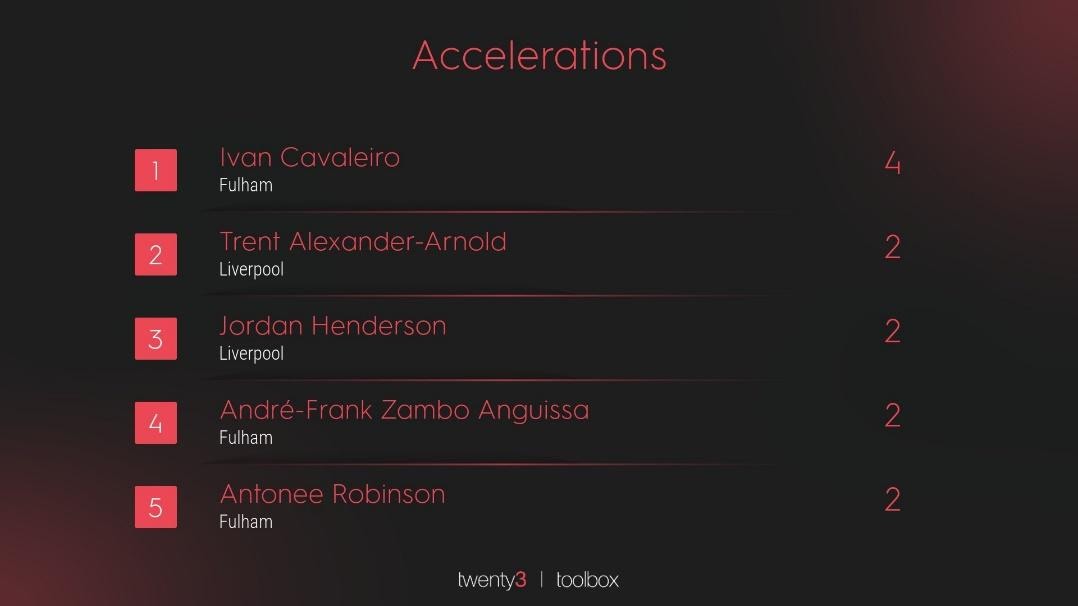 Photo: Twenty3 / Wyscout
His expected goals contribution was atypically high for a player that mainly operates in the second phase, but it only adds to the repertoire of skills Anguissa has presented in recent performances.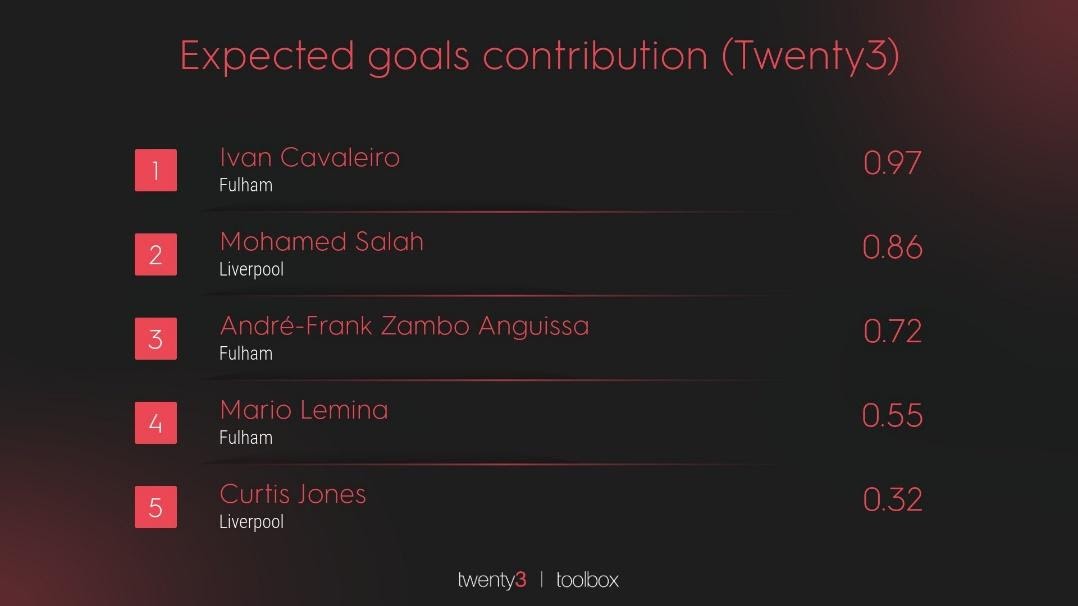 Photo: Twenty3 / Wyscout
Conclusion
To summarise, Anguissa's role is as a functional cog in a physically dominant, defensively astute zonal midfield. He has shown tendency to play aggressively out of possession, roaming to pressure and harass opposition players. In transition, Anguissa drives Fulham out of pressure, and up the pitch. He often lays off to attackers (for example Lookman) in the final third than going for goal or making key passes. The tactical maturity Anguissa shows in his decision making and positioning is extremely impressive too.
The next step for him is most certainly to join a mid-table/top-half team, who often sit in a good settled shape and look to create in transition. A move to Southampton or Leicester could be favourable (although Southampton don't quite fit the mould in terms of a medium-deep block shape).
Regardless of Fulham's fate this season, Andre-Frank Zambo Anguissa looks set to raise his stock significantly in 2021.
By: Jamie Scott
Featured Image: @GabFoligno / Stu Forster – Getty Images