Player Analysis: André Silva
After becoming the latest promising talent coming through the FC Porto academy, André Silva stagnated after moving to AC Milan in June 2017 for €38 million. He was unable to get going for the Rossoneri and was shipped off to Sevilla on loan in 2018/19. Another disappointing spell saw him sent out on a second loan, this time to Eintracht Frankfurt in the Bundesliga. 
Silva's 2019/20 campaign under Adi Hütter was a successful one and saw him dispatch 12 goals in just 16 starts in the Bundesliga. This impressive season led to Die Adler purchasing the Portuguese striker on a permanent deal for just £2.7 million – a sum which, a year later, is undoubtedly considered a steal. 
At the time of writing, Silva has 25 Bundesliga goals in just 29 appearances in the league. He has scored the same as Erling Haaland and is second to Robert Lewandowski, who has an unbelievable 36 goals in the league so far. This article will aim to delve into the strengths that the Frankfurt striker possesses and will use analysis and statistics (from FBRef.com) to dissect Silva as a player. 
Ability to Link the Play and Aid Progression
Before diving into the goals, we will first analyse the link-up ability that Silva brings to the table. It is mostly simple yet effective link-up that the striker offers his side; often dropping to receive, play one (or two)-touch passes and go. This is valuable to his side, because, in Hütter's 3-4-2-1 formation, he often has willing runners in these types of situations. This also creates a valid form of central progression for the German side. 
Silva has a great first touch that helps him to get the ball under control efficiently when it's played into him. This is also useful when he aims to run beyond the backline as will be analysed later.
In the below example against Borussia Mönchengladbach, he firstly drops into a space to receive the ball to feet and takes a good touch and plays the ball wide. Then, Silva receives a drilled pass inside of the area and takes a brilliant first touch – killing the ball dead – and lays the ball off perfectly to his teammate, whose shot does not trouble the opposition goalkeeper.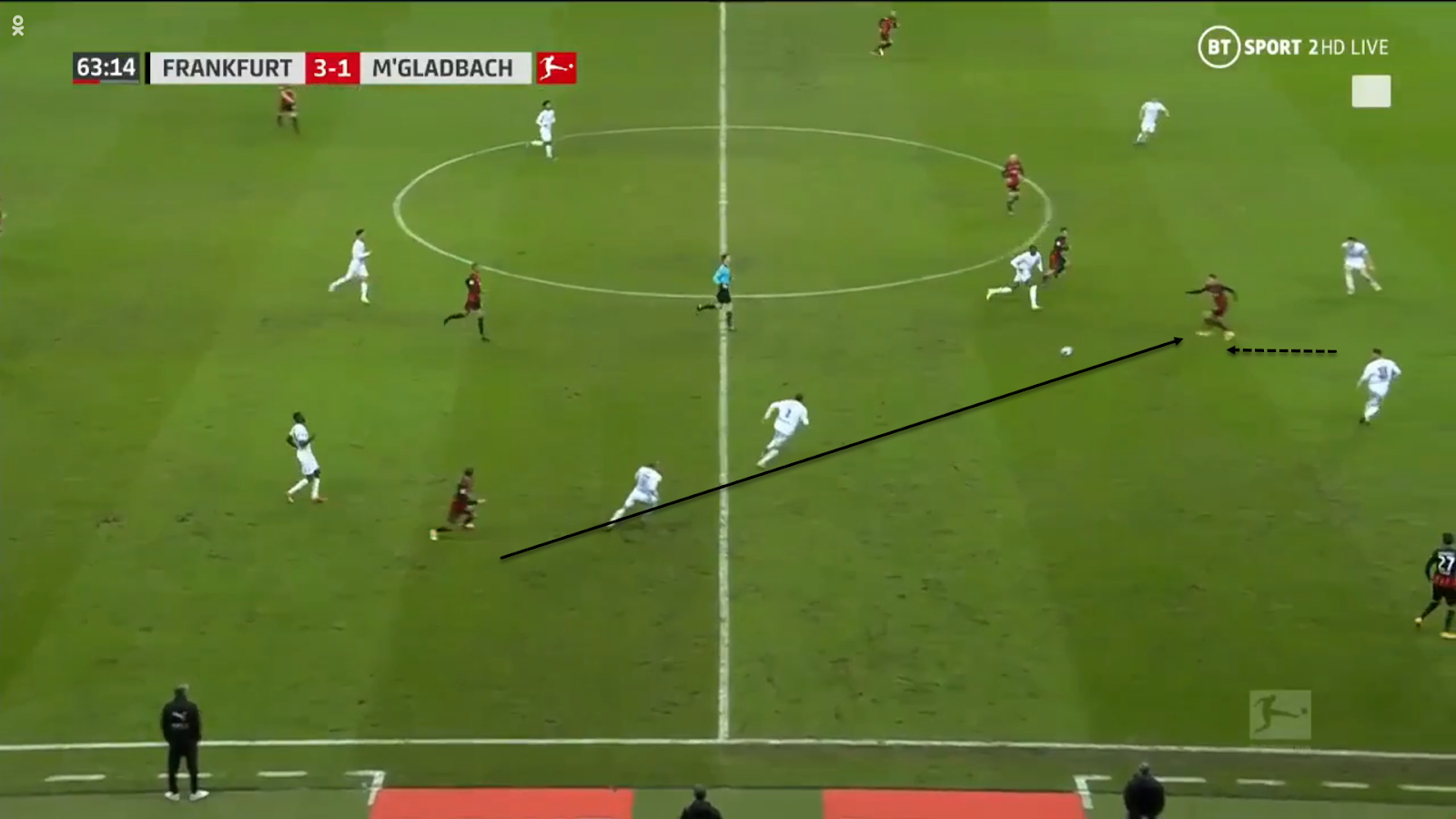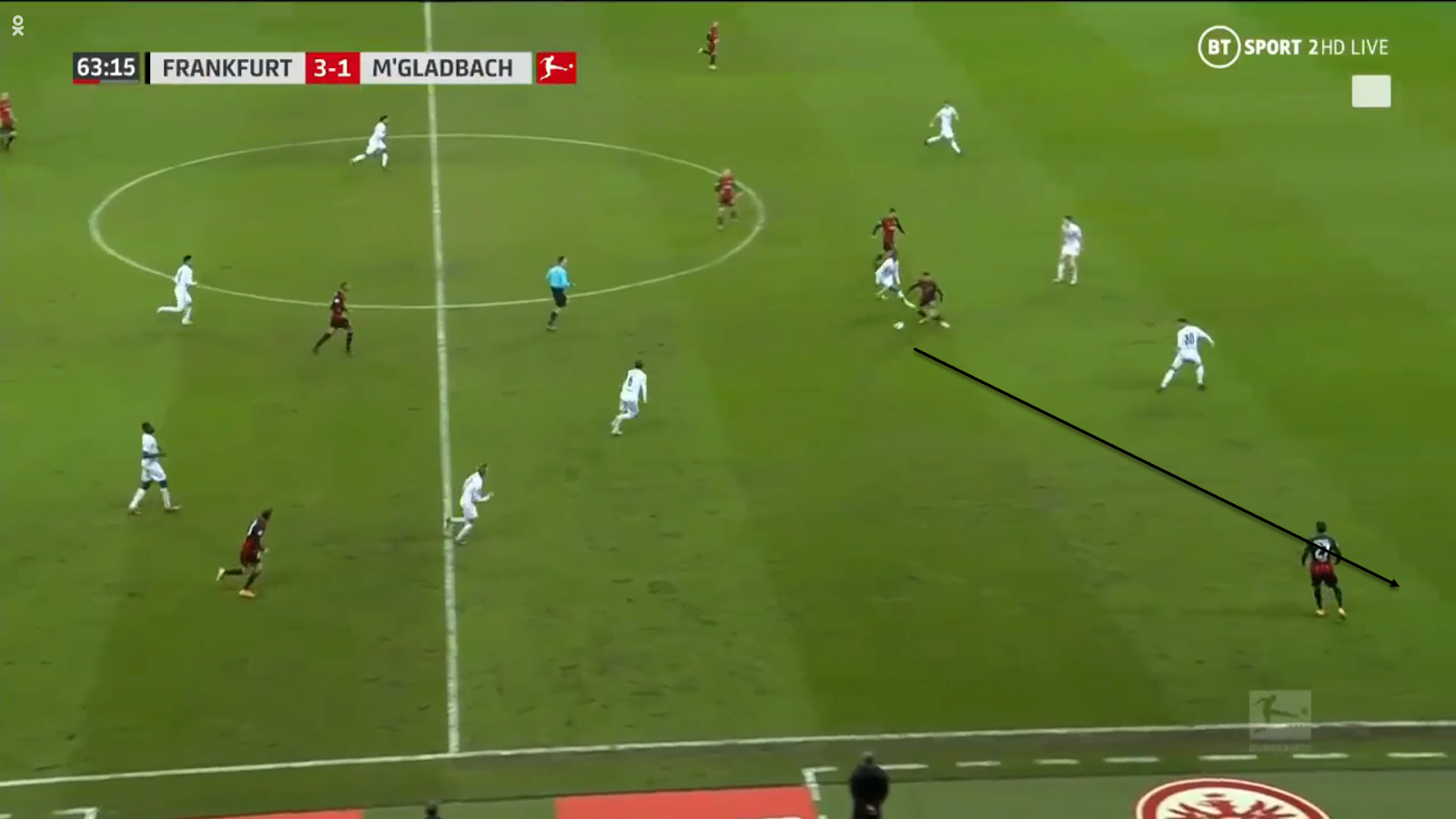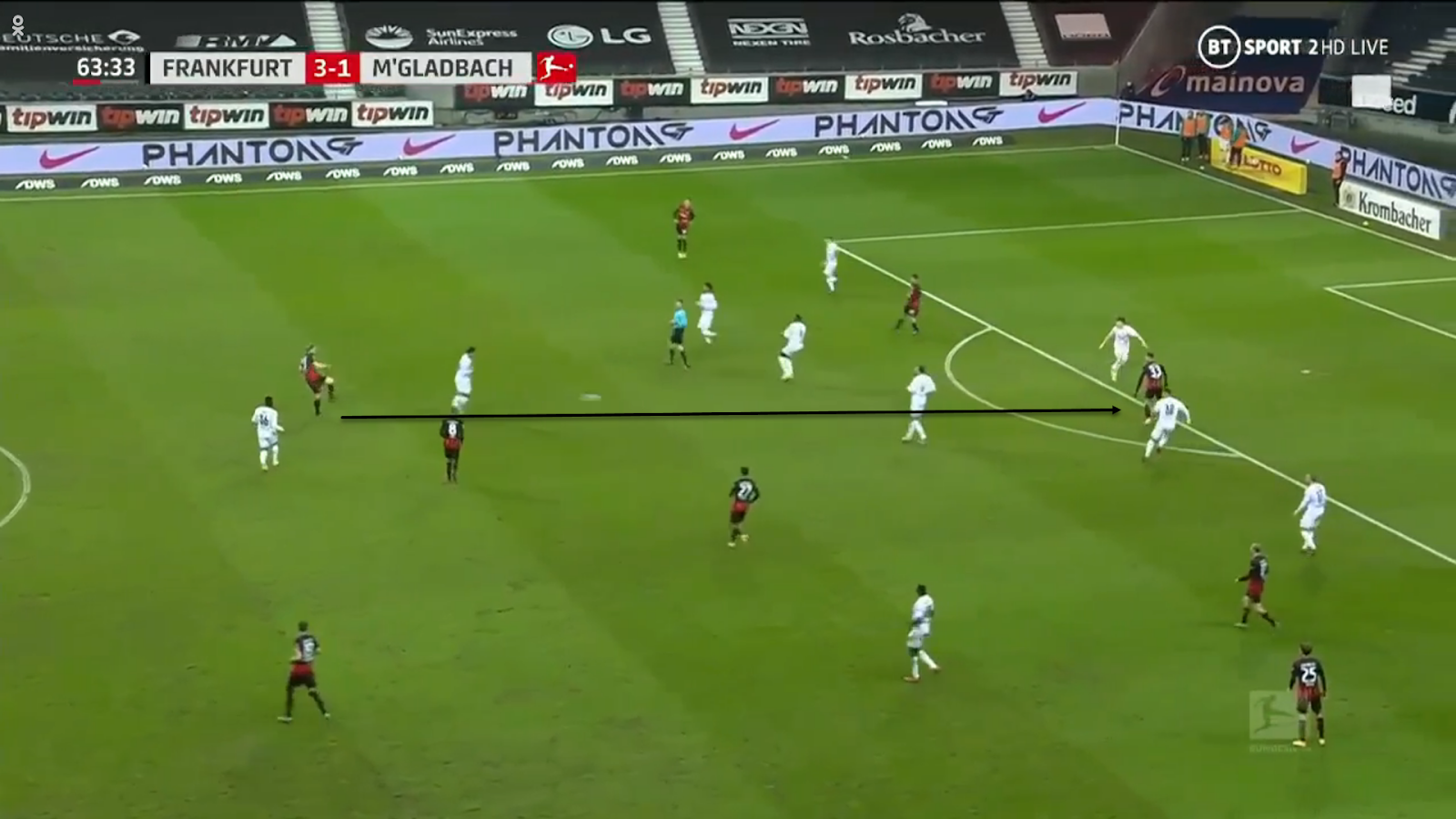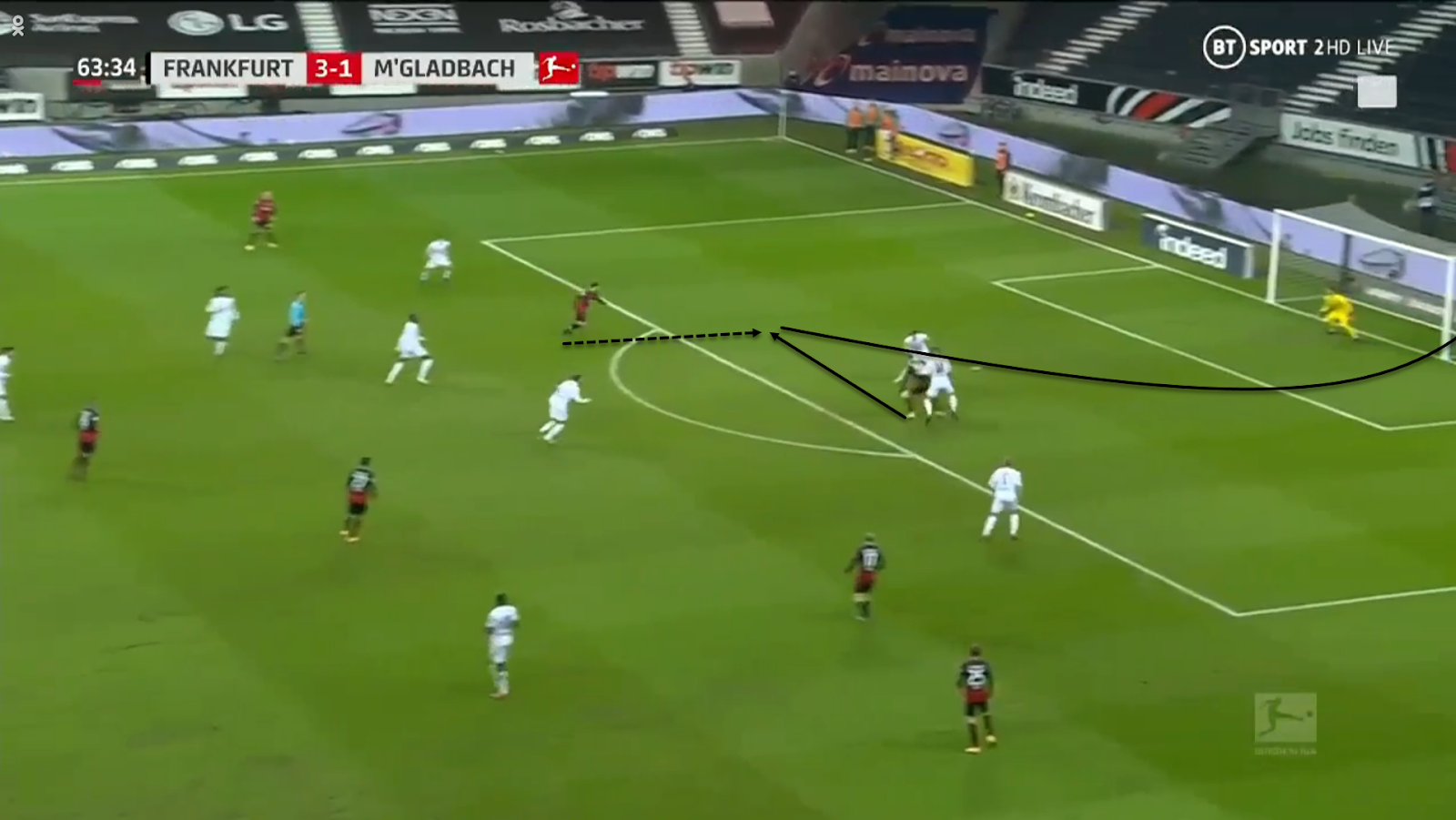 In this second example, Silva receives a long drilled pass from a deeper area and perfectly sets it first time to Amin Younes, who can then advance towards the area. It is also important to notice that immediately after playing the pass, Silva spins and attacks a good space in the backline.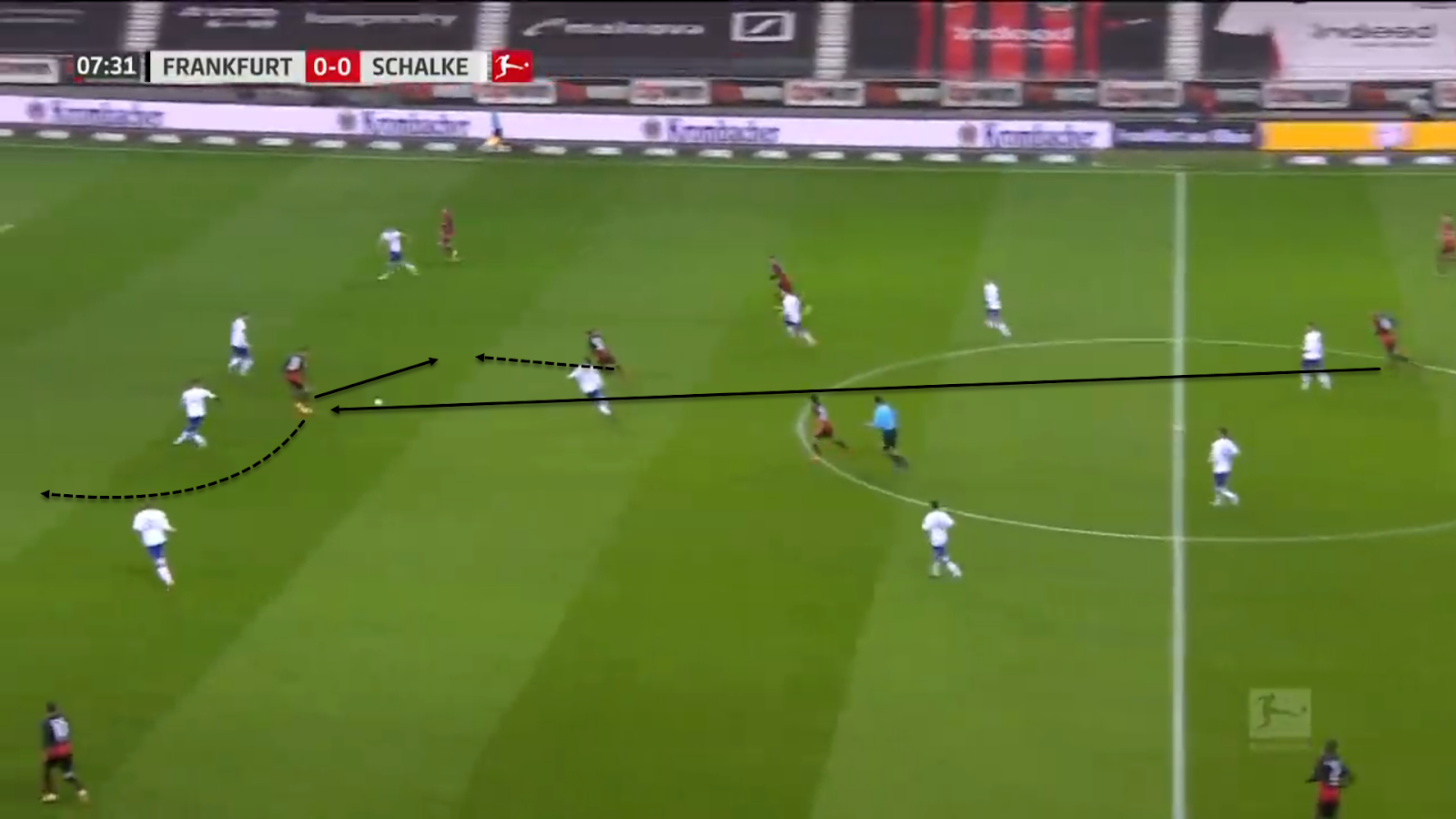 Over the last year, the forward has received an average of 11.21 progressive passes per 90 in the Bundesliga, this is in the 94th percentile against strikers in the top five leagues. He does not only show for progressive passes well but his 74% pass completion rate helps to show that he is mostly good in possession and aids his team in progression well through simple link-up play. 
Movement in and Around the Box
As previously touched on, straight after linking play, Silva looks to turn and run into good spaces – this is just one example of how his movement is impressive. The 25-year-old has an expected goals tally (xG) of 21.4 and a non-penalty expected goals (npxG) of 16.8 in the Bundesliga this season and yet again, this is just third in the division behind Lewandowski and Haaland. This is a testament to his impressive in-the-box movement. 
One particular area which Silva is impressive at is attacking the space between the defence – he does this both in transitions and when inside of the area. It is usually the spaces between the centre-back and the full-back which he moves into. In this example, Silva is being tightly marked by an opposition midfielder who has dropped deep, but then after an initial turnover, he leaves Silva and moves forward. But then as Frankfurt win the ball back, Silva recognises the large space behind him and moves into it.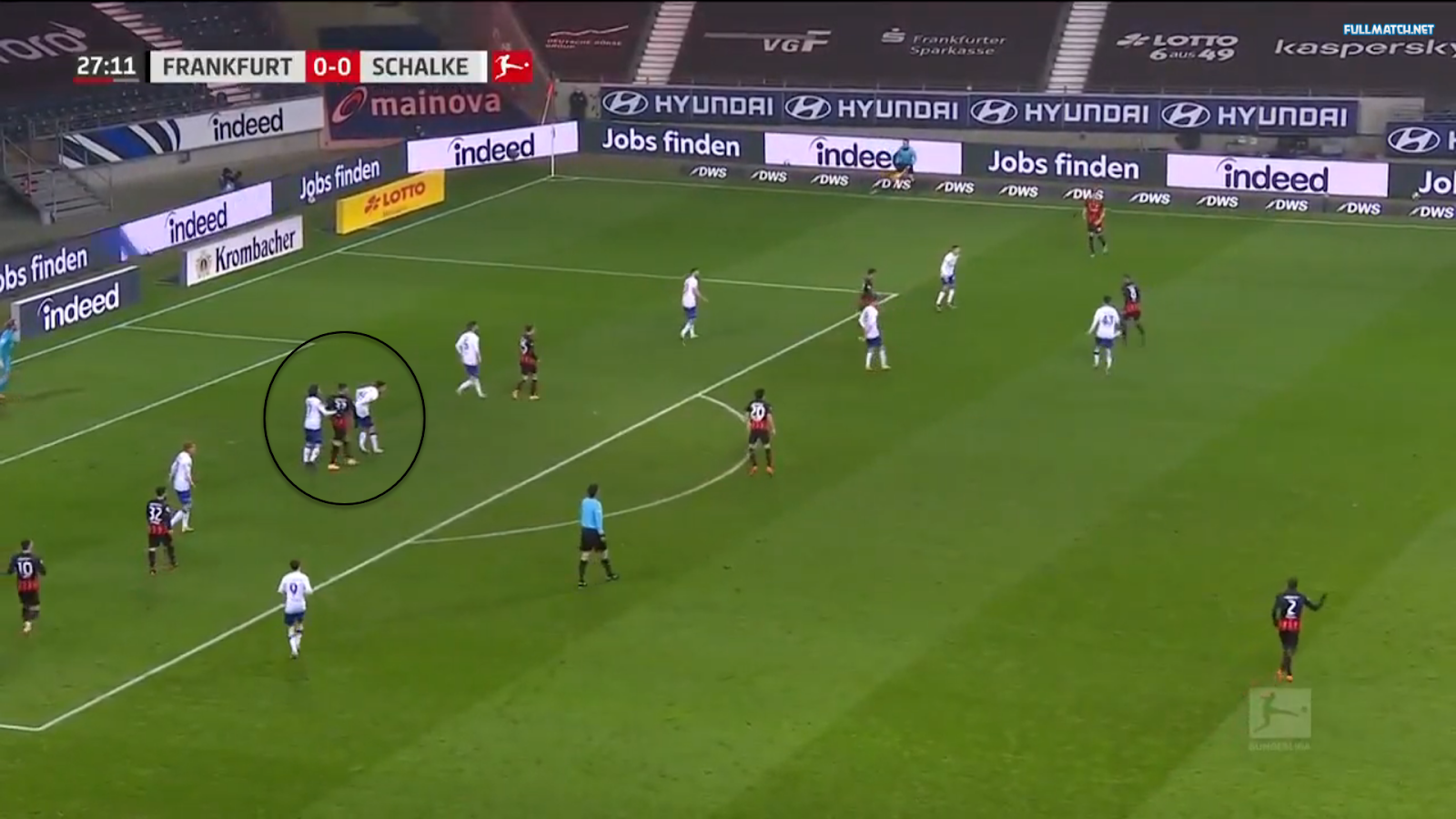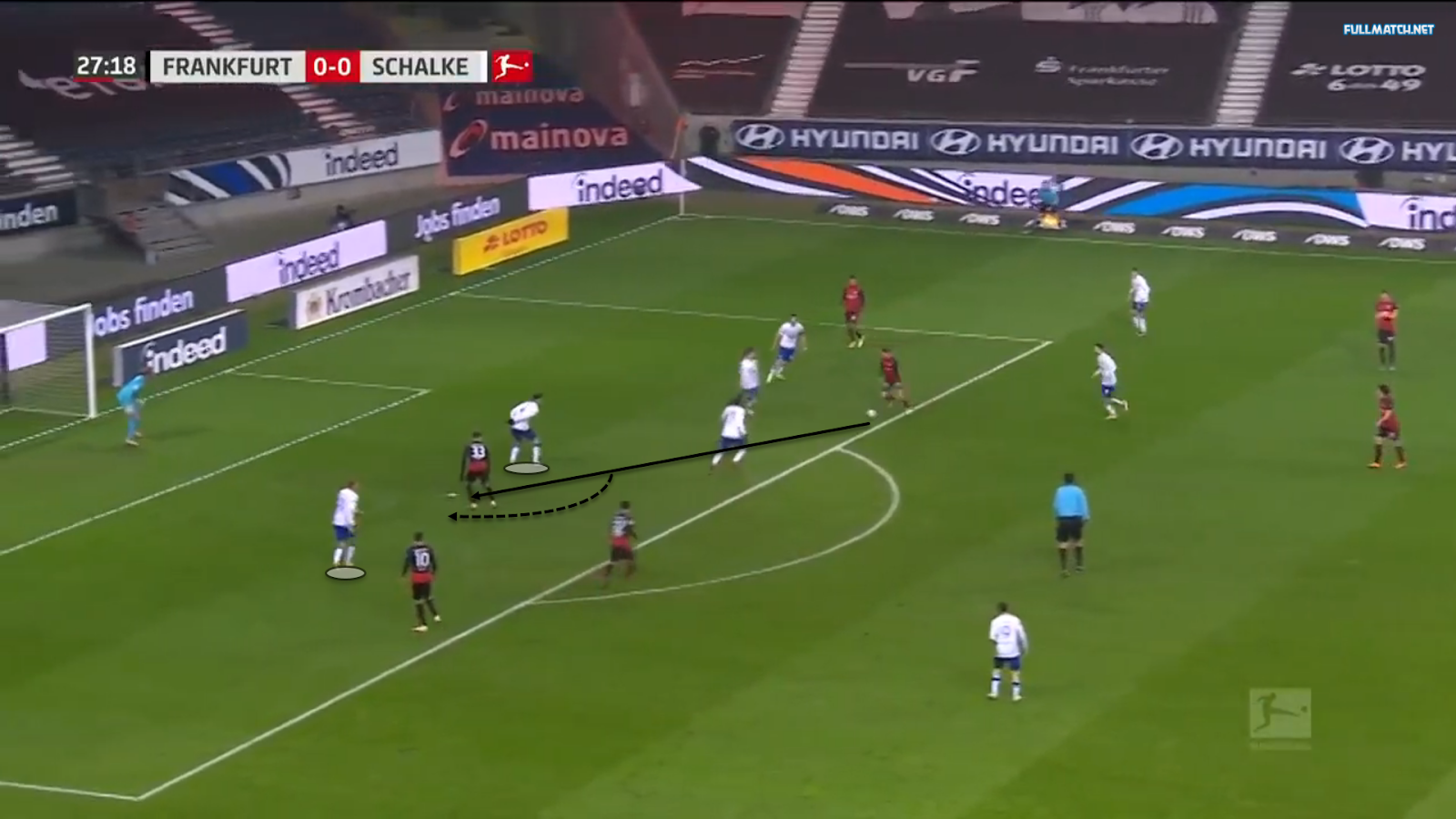 While in this example Silva creates the space with his first movement and then exploits it in his second movement. The ball is out on the left and Filip Kostić is setting himself to cross into the area. After an initial movement towards the back post, Silva checks his run back towards the front – where he created space through his first movement.
Kostić plays the ball to the front and Silva makes a good connection with the ball but is unable to guide the shot past the keeper. Nevertheless, these kinds of movements in and around the area have helped Silva score many goals, but his movement in transitions is just as (or more) impressive.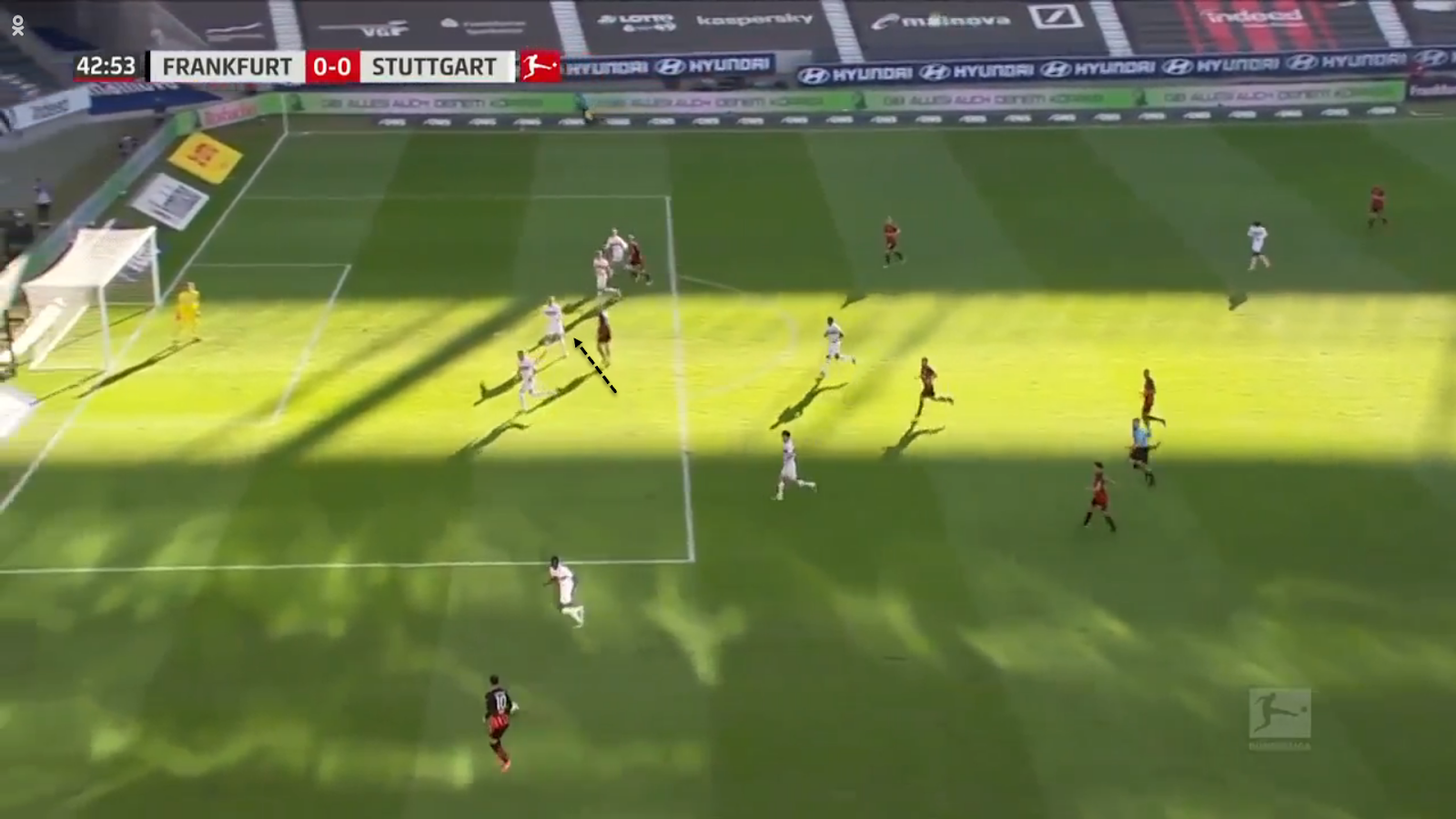 While Silva does possess a well-rounded shooting style, being able to shoot correctly in different situations, including in the air, it is his impressive awareness in and around the box, to find spaces in the defensive set-up which allows him to get so many goalscoring opportunities. 
Threat in Transition
Silva has many attributes which make him a threat in attacking transitions, in particular, his touch, agility and movement are all impressive facets of his game when looking to punish teams in transition. In this example, Silva's movement is impressive, as he makes a run into space behind the left centre-back and then his first touch sets himself for the shot perfectly. He recognises the space to run into and gives Aymen Barkok an easy decision to play the pass.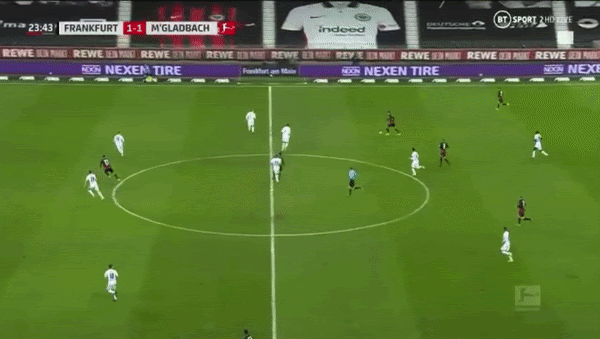 Again, in this example we see Silva attack the space in transition well. As soon as the turnover occurs, he recognises the space on the right and makes a run towards that side. His excellent first and second touch then allow him to square his man up and get a good shot away.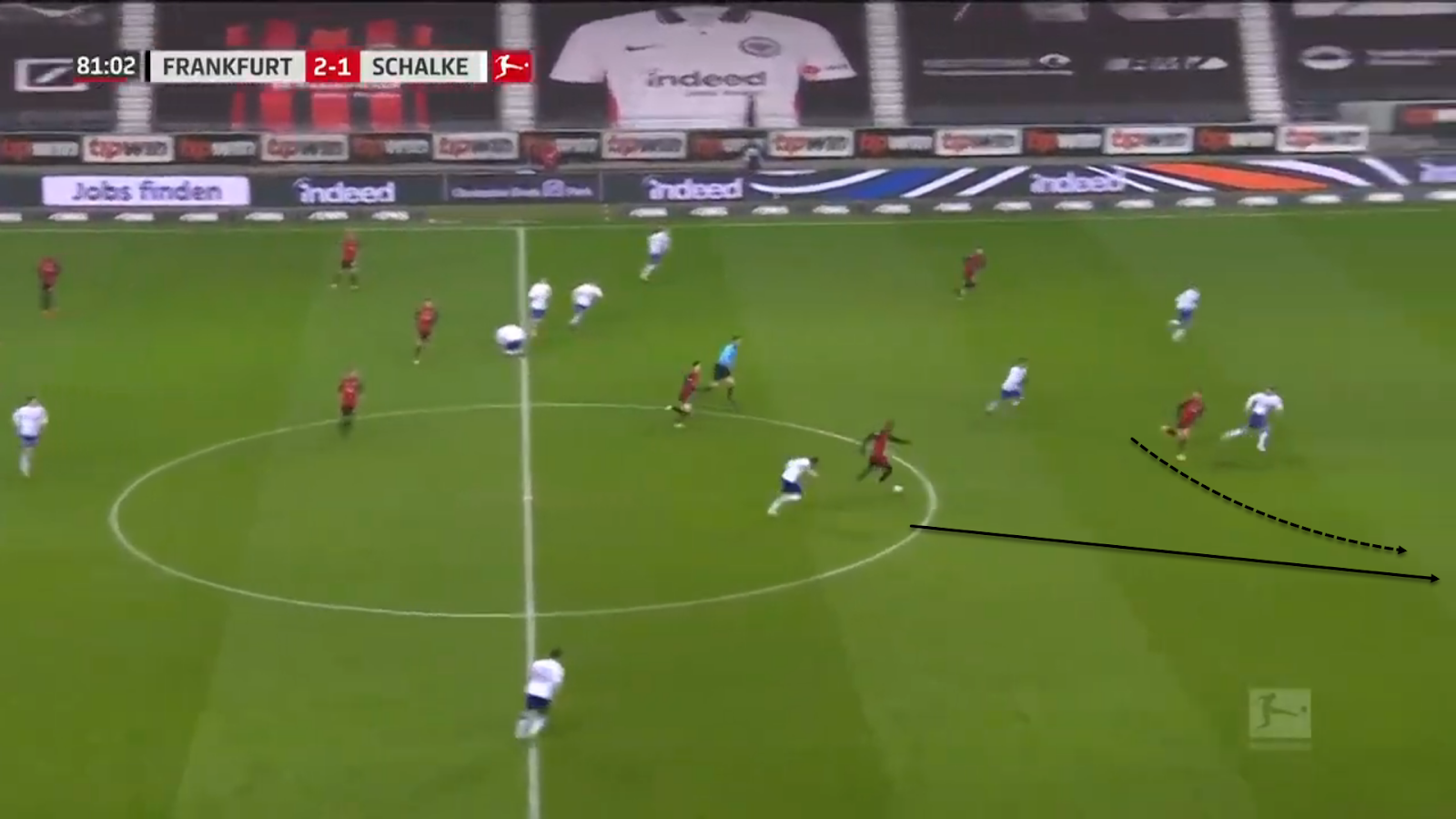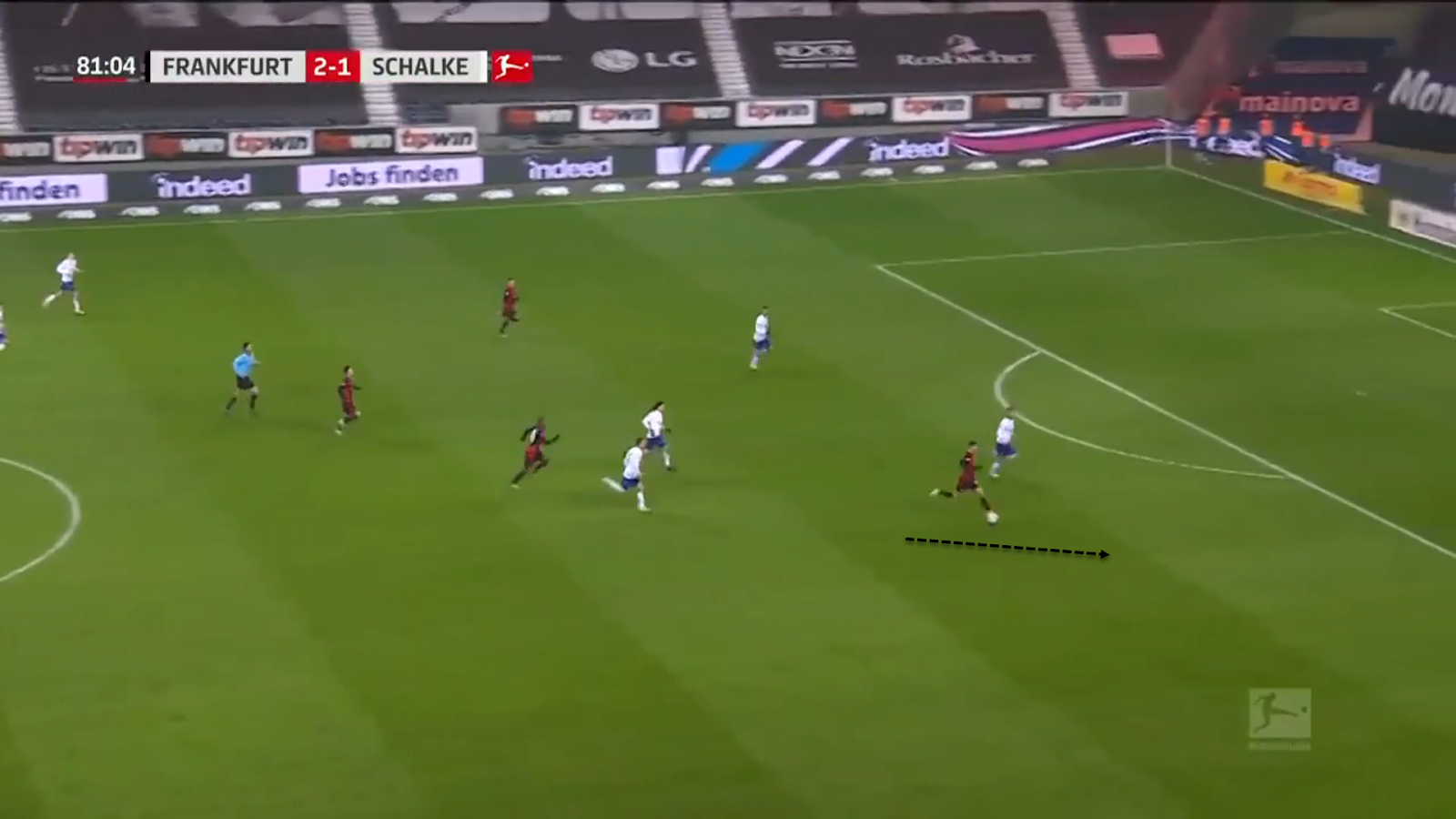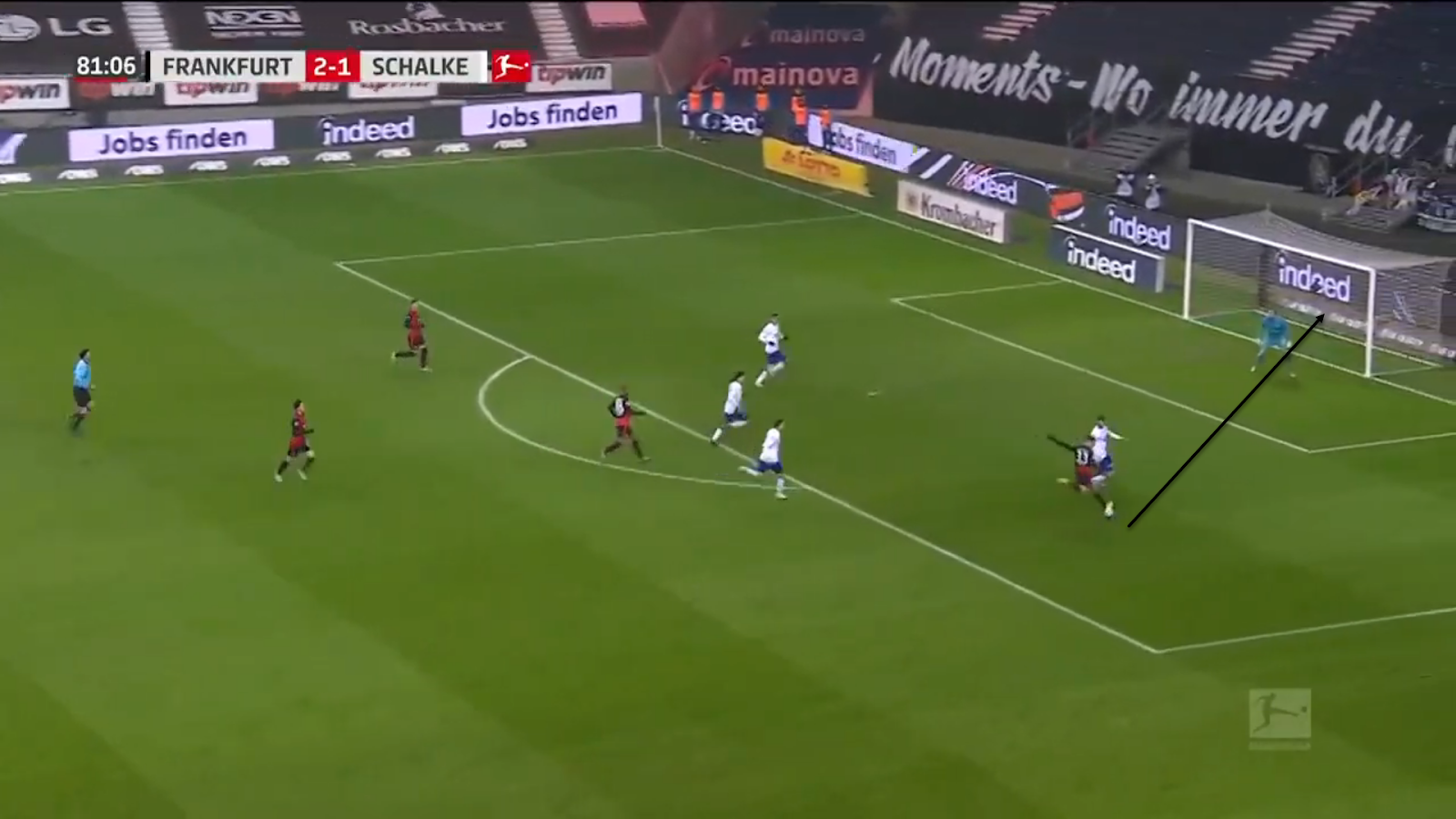 Silva's ability to attack the spaces in the defensive line, particularly in transitional situations, is a great attribute to have for a striker of his ilk. On the other hand, Silva should look to improve his ability one-on-one when he is against a defender.
While his 49.1% dribble success rate in the Bundesliga this season is above his career average (46.2%), it is still not great and often when Silva needs to take on a defender who is in settled defensive shape or has held the striker up in transition, he does not have the ability to shift or the skillset to bypass them – however, he does often realise this and opts for a pass in many of these situations. 
Conclusion
He is having his best season in his career so far, and many teams will be chasing André Silva in the summer. With strong in-the-box movement, Silva has shown over the last two seasons in Germany that he is a reliable threat in the opposition box and he also possesses strong link-up play and ability in transitions.
It is questioned whether his form would be the same in a different league, and while the Bundesliga is not typically a great defensive league, Silva's skill set is impressive for a striker and he could likely be a good signing for a top club – however, an extra season in the Bundesliga, being Frankfurt's marksman in European competition too, could be the best idea for the 25-year-old Portuguese striker.
By: Cain Smith
Featured Image: @GabFoligno / DeFodi Images