Player Analysis: Angeliño
In his time at RB Leipzig, Angeliño is calling the attention of many people, being one of the best attacking full-backs in Europe. After being deemed not good enough for Manchester City, RB Leipzig snapped him up and he is proving to be a vital cog in Julian Nagelsmann's system. Despite losing to Liverpool in the UEFA Champions League, Leipzig sit four points behind Bayern Munich in second place and will contest the DFB-Pokal semifinals.
Naglesmann has found the way to bring out the best in Angeliño seeing as he is not a typical full-back. In fact, in some matches he might even be considered a winger due to the number of times he attacks and how high he is up the pitch, as well as him scoring seven goals this season.
Angeliño generally plays as a wing-back because RB Leipzig like to play with three centre-backs. This is one of the reasons why he is given such freedom in attack, because he has support behind him. He can also play as a left-back in a normal defence of four, but this limits his qualities. In this analysis we will observe Angeliño's attacking qualities, his importance in the team's system, and defensive duties, with the help of statistics from FBRef.com.
Attacking Characteristics 
Angeliño is always out wide in the left flank. This is something he has understood well, and which helps the team when looking for attacking options. With him being a wing-back, he is usually running into the spaces in the left side because he starts from a deeper position than a winger would. 
By running into the space from deep and not being already in an advanced position like a winger, he catches defenders by surprise. This happens because the opponent right-back does not have anyone to get close to and mark the whole game since RB Leipzig do not play with wingers. However, all of a sudden there is a player sprinting into the space behind him which he does not expect.
Moreover, by running into the space, Angeliño reaches the opponent at full sprint while the opponent will have to analyse the situation and then start running. These details are what decide who gets into the space and to the ball first. We see an example of this when Manchester United's Aaron Wan-Bissaka is focusing on Christophe Nkunku, the player in possession, whilst Angeliño is making a sprint in behind him.
When RB Leipzig have the ball, passing it to Angeliño wide is a great and reliable option to attack. They will usually focus the play on the right side to attract opponents before making a long ball to Angeliño on the left who is out wide and running into the space. This option almost always works for them since the opponent right-back is usually tucked in with his team.
To prove this, we look at him receiving 5.77 progressive passes per game, placing him in the 99th percentile for this particular action.  This shows just how much the team looks for him in these areas. Angeliño's goal against Manchester United is a great example. RB Leipzig have started their attack on the opposite side. They then make a long ball to Angeliño who we can see is running behind the right-back and is in a lot of space. 
Manchester United's right-back seems to have no idea of Angeliño behind him. This is due to an RB Leipzig player intelligently making a run in behind the right-back and centre-back which makes both of these players have to worry about him. In the second image we then see how Angeliño receives the ball and is able to strike the ball cleanly, making the first goal of the game.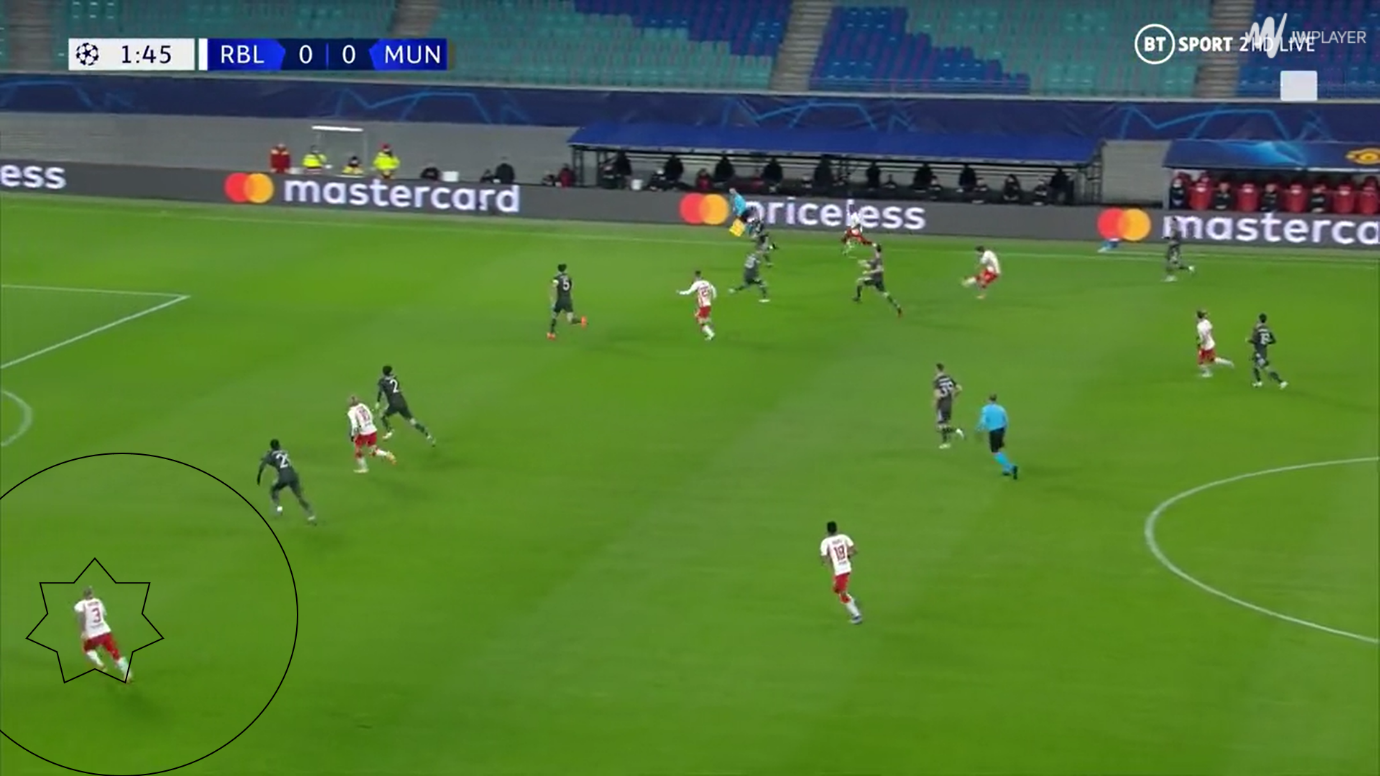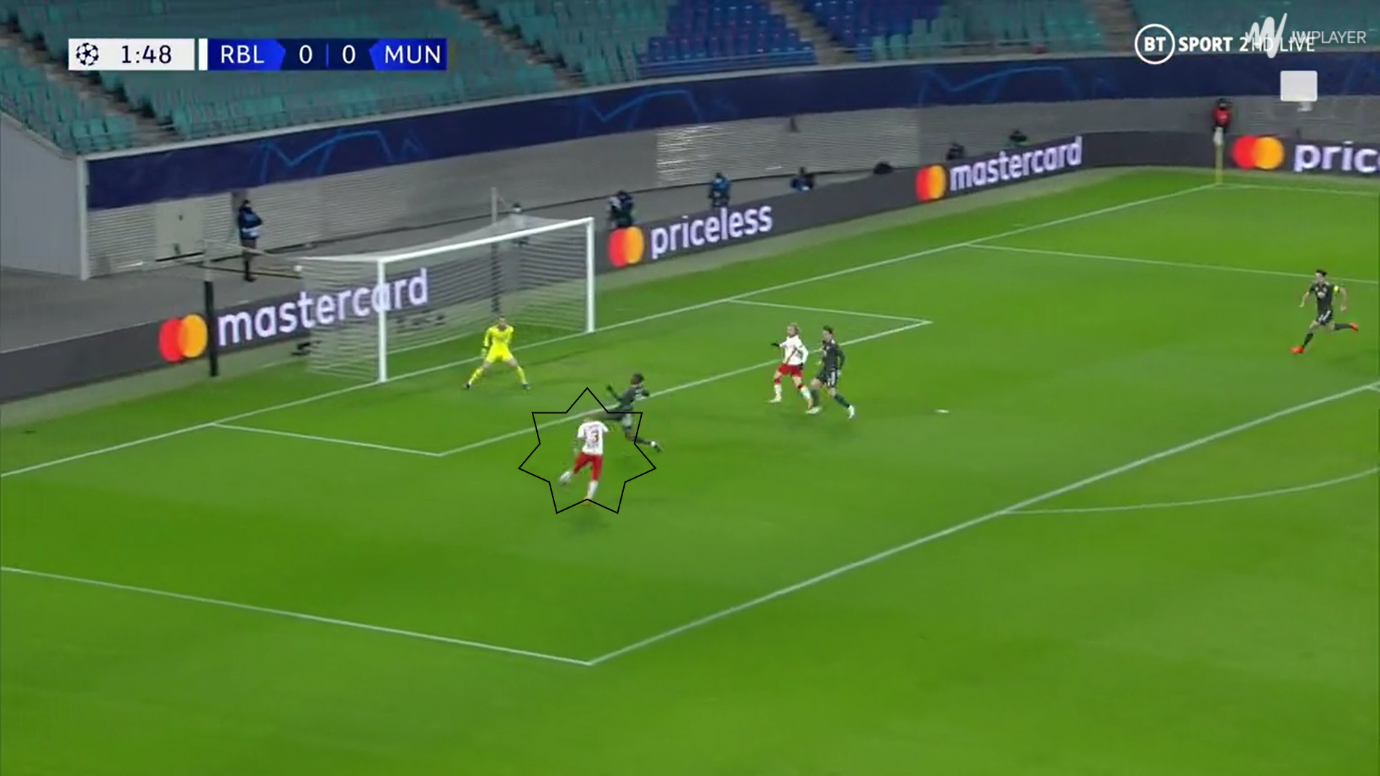 Nonetheless, the passes made to him are not usually that deep because normally he receives the ball with time in a crossing position. One of RB Lepizig's easiest ways of attacking is to focus the play on one side, switch the ball to Angeliño who is open on the opposite side, and for Angeliño to cross the ball into the oncoming players. Due to his great technical ability, Angeliño is an impressive crosser, registering seven assists this season and 0.27 assists per game. 
The game against Manchester United was one of his best attacking games because he scored a goal as seen before, but also provided an assist with a cross. In this play, RB Leipzig used the method explained before to get Angeliño into a crossing position. Here, Angeliño makes a cross into the second post where an oncoming teammate finishes it.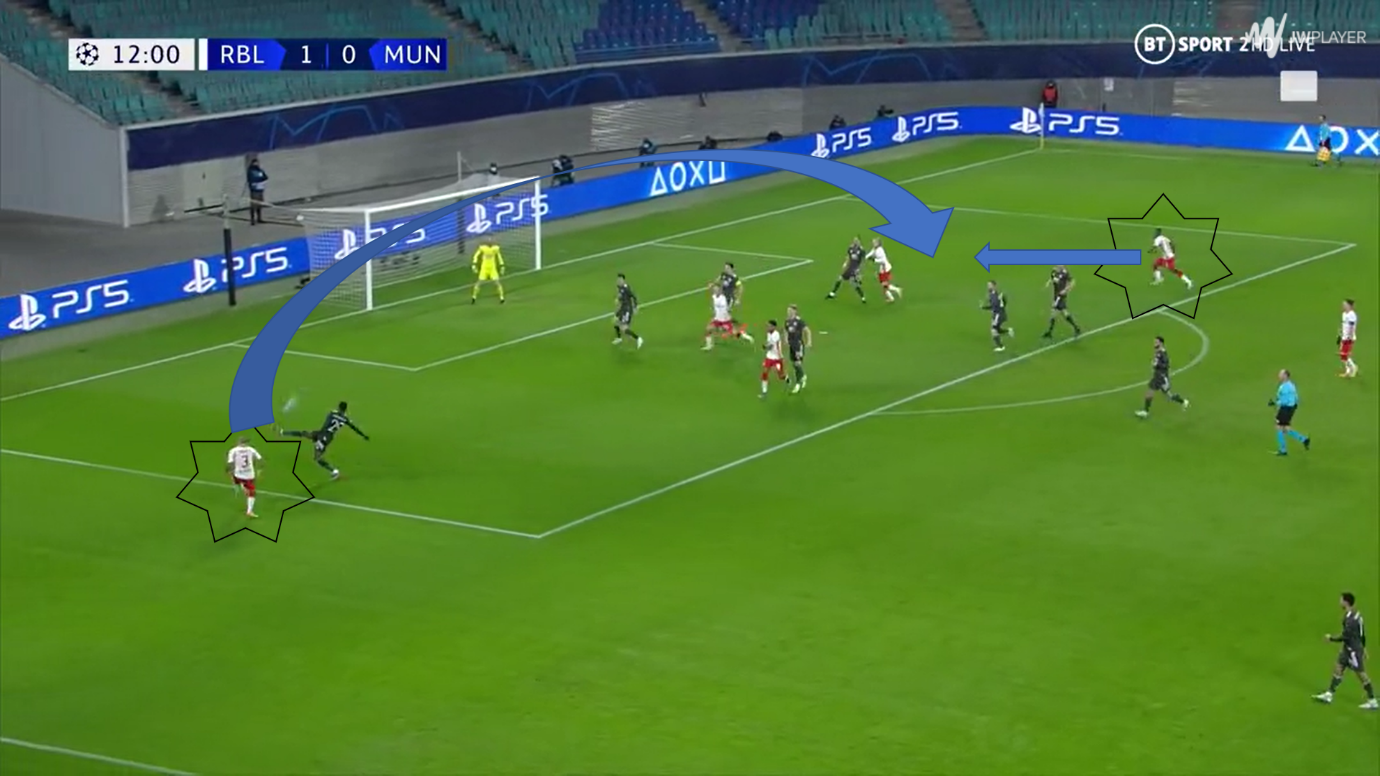 To turn these attacking actions into numbers, we observe that Angeliño makes 4.10 crosses per game as well as 2.21 passes into the penalty area per game. Both these stats are some of the best among full-backs. Additionally, he makes 2.16 key passes per game which for a wing-back is great. All of these statistics are shown to prove how important Angeliño is for RB Leipzig's attack and also his exceptional ability to create danger. 
Another way that RB Leipzig try to create space for Angeliño is by making an attacking-midfielder be in between the lines on Angeliño's side as this makes the opponent full-back have to doubt on whether to defend the new player in between the lines or defend him. Below we can see how Nkunku has placed himself behind the midfield line on Angeliño's side while Angeliño is making a run simultaneously.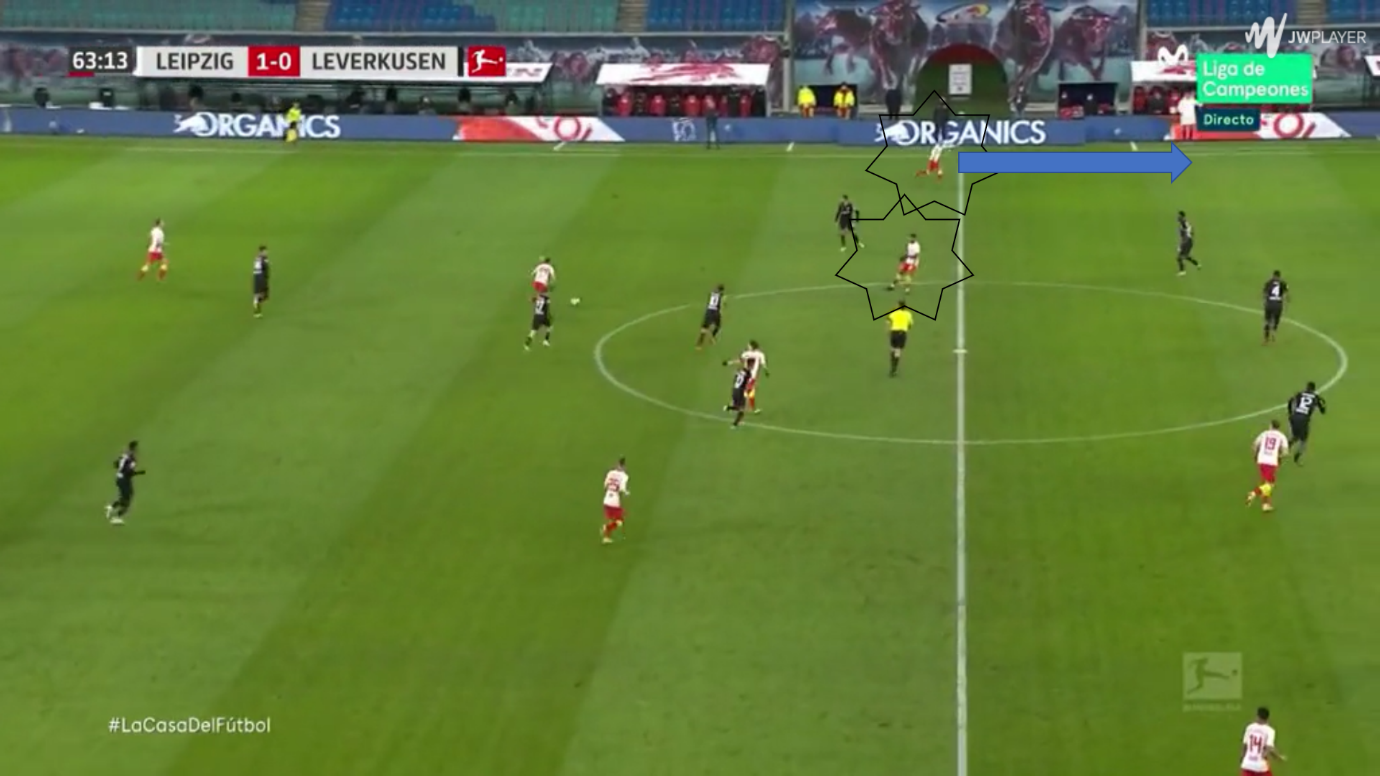 Defending
Angeliño is a player that is primarily meant to attack. However, this does not mean that he can forget about his defensive duties. Even though he is not very active in defence, he still plays a role. Since RB Leipzig have attacking wing-backs, they needed to make sure that not a lot of space was left behind for the opponents to exploit in case of a counter-attack. That is why, when one wing-back goes up to defend, the other one drops into the defensive line to form a defensive line of four.
In the image below, we see how the opponent's attack is taking place on the opposite side which has made the right wing-back go up to defend. Therefore, we observe how the right centre-back has moved into a right-back position and Angeliño has tucked into the defensive line. This movement keeps the balance for RB Leipzig at all times. 
If Angeliño did not come back, it would leave the three centre-backs to do all the defensive work and the opponents could take advantage of this by attacking from the wide positions and stretch them. Obviously, when the opponent's attack is on Angeliño's side, the left centre-back shifts over to support Angeliño.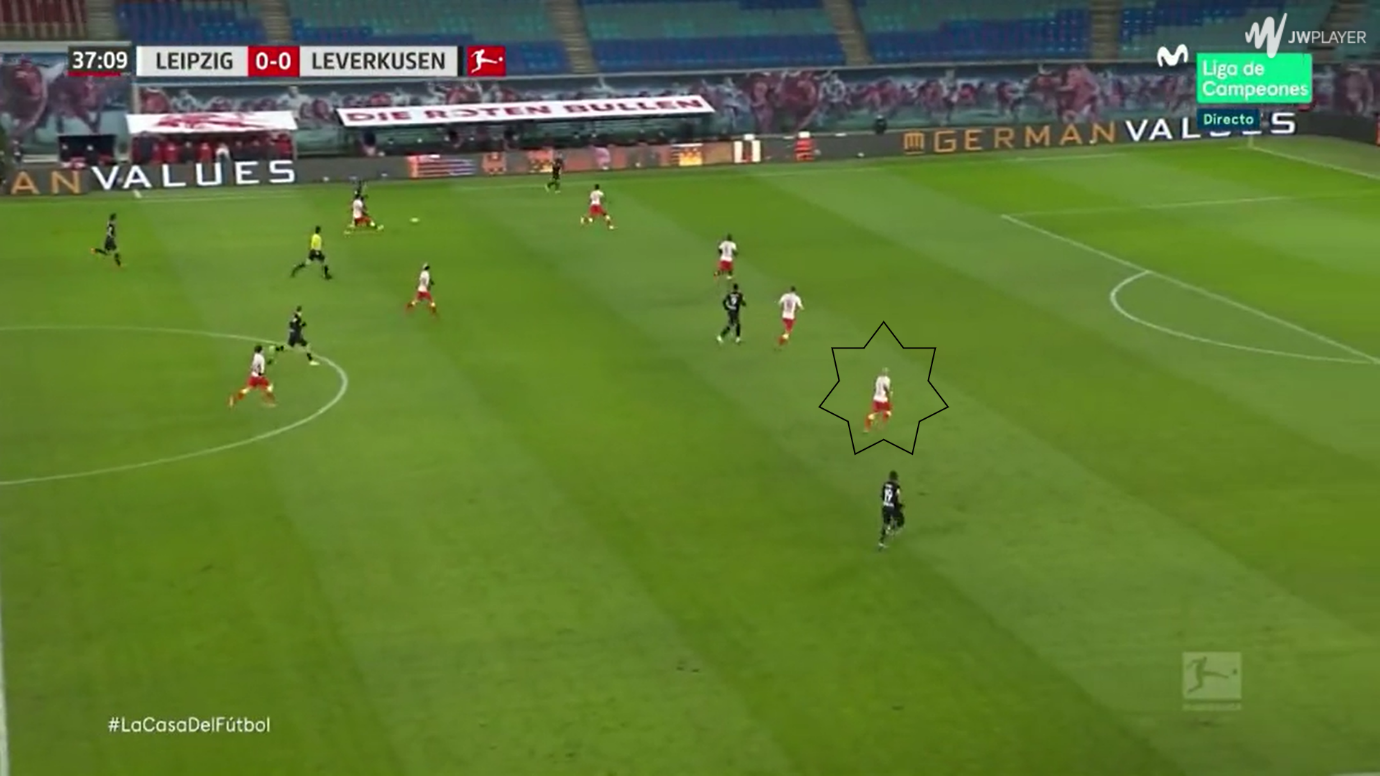 When having to drop into the defensive line, Angeliño also has good awareness. Here, he suffers the same problem that he causes the opponents and that is players making movements behind him. Since he has to shift with the team to where the ball is to be compact, it means that they leave more space in Angeliño's side. However, he has the awareness to be able to know where the opponents are at all times.
Connected to this, he positions his body well to be able to deal with runs in behind him. This is key, otherwise the opponents would find it easy to attack through his side. Below is the example of when a Bayern Leverkusen player is attempting to run in behind him.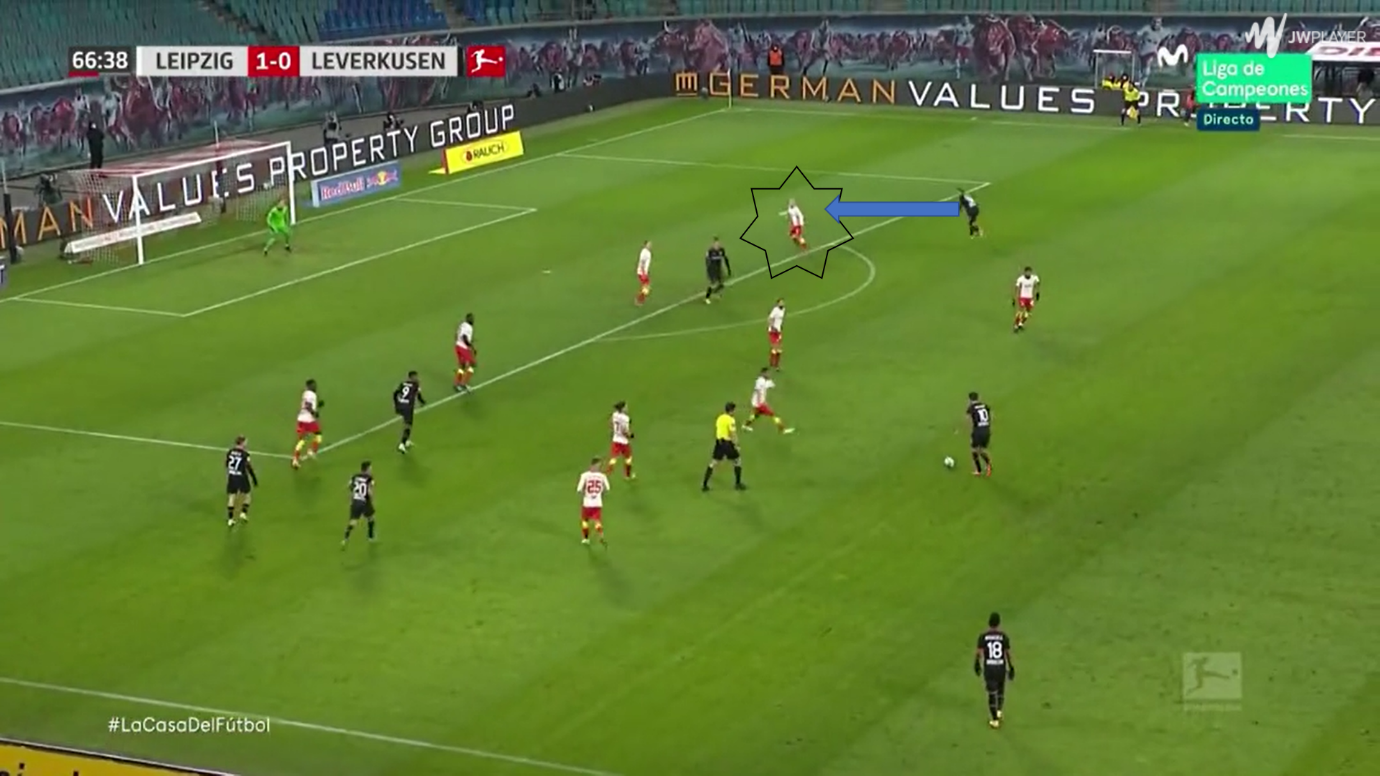 Angeliño is looking at the ball and is already starting to run backwards as he sees the danger in the first image. In the end, the opponent on the ball decides not to pass it there because he saw Angeliño was well-positioned. In the second image, we observe how Angeliño has followed his man all the way.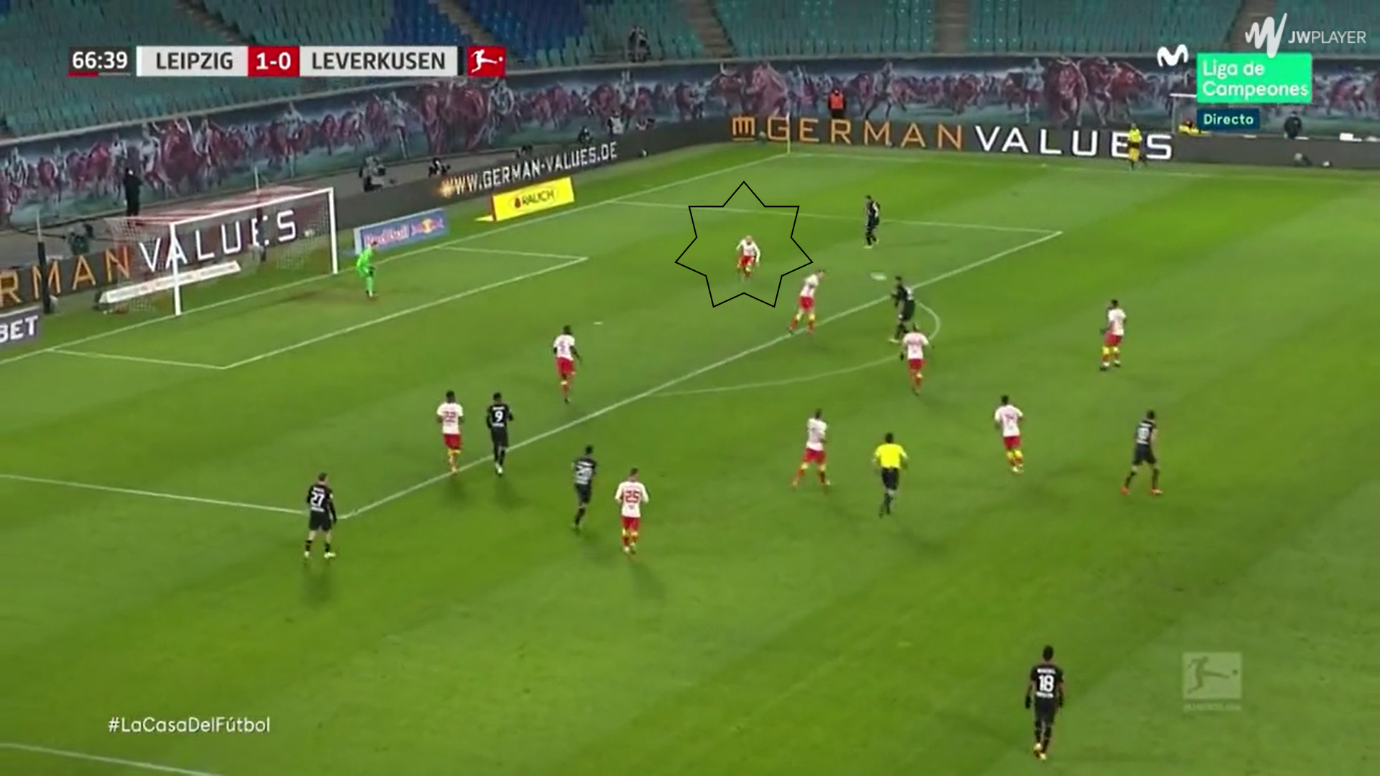 Conclusion 
Overall, Angeliño is a great asset to have in attack because he is continuously making runs forward and providing good attacking options to his team. He backs this up with good attacking statistics which makes him one of Europe's most dangerous wing-backs. It is true that he does not have as many defensive responsibilities as a normal full-back but even in these defensive duties, he serves the team well.
With the European tournament coming this summer, it is unclear whether he will be an option for Luis Enrique because Angeliño has not performed in a defensive line of four which Spain use. As Jordi Alba approaches 32 years of age, the Leipzig man is another option to replace him at left back alongside Sergio Reguilón, José Gayà and Juan Bernat.
By: Jaime Fernandez Valencia
Featured Image: @GabFoligno / picture alliance