Player Analysis: Antonio Rüdiger
Antonio Rüdiger signed for Chelsea in the infamous summer of 2018. Unfortunately, it was infamous for all the wrong reasons, reasons that eventually led to the unhealthy divorce between club and manager that Chelsea fans are numb to. Just two years removed from Antonio Conte's time, Rüdiger was frozen out by club legend and then manager, Frank Lampard. Questions surrounding Rüdiger's future at Chelsea were teetering from a distant theoretical precept to a reality.
Fast forward 6 months and Rüdiger is spearheading Thomas Tuchel's hard-hitting, well-drilled and impenetrable defense to Champions League glory. Football moves quickly, and Antonio Rüdiger's contract is an immediate problem for Chelsea's hierarchy – he has one year left on his deal and is looking for a massive payout given the presumption this will be his last top contract. What does Rüdiger bring to Tuchel's Chelsea?
Rudiger's Tactical Role
In this section, a brief analysis will be conducted on what has made Rüdiger undroppable for the German tactician. It is no secret that Tuchel has opted to line up in a three-man defense, what is interesting, however, is the tactical tweaks that make this system anything but predictable. Antonio Rüdiger is at the heart of such systematic advancements, in a world littered with metaphors, Rüdiger is an atrium in the heart of Tuchel's side.
In charge with bringing the ball forward in the first phase of build-up, remaining proactive to snuff out counter-attacks and stepping into midfield – Rüdiger makes things tick. The image below is Chelsea's base formation. We see the emphasis of width is provided by the wingbacks, and the centre of the pitch is governed by the significant "double sixes" as Thomas Tuchel puts it.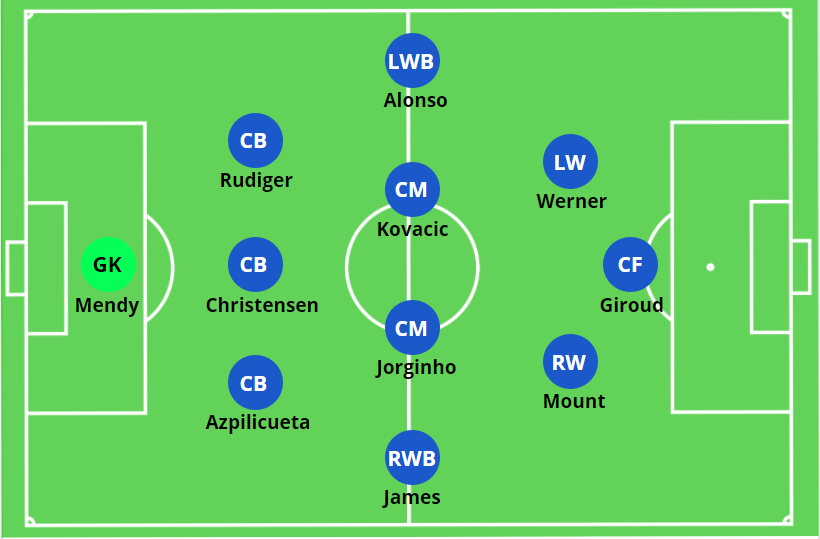 What is not seen by most is the "space" between the vertical line that is Rüdiger, Mateo Kovačić (to the left of Kovačić, between wingback /CM) and Timo Werner. In football, much like in chess, every movement is analyzed prior to the eventuality it becomes. Top tacticians such as Pep Guardiola and Jürgen Klopp have tried to puncture holes in Tuchel's Blue fortress. This is where Rüdiger, the left-centre back comes in.
Rüdiger, given his comfort on the ball and proclivity to advance into midfield with the ball makes Chelsea's rotations seamless; as the ball circulates, so must the players – a tenet of Juego de Posición a footballing philosophy of which Tuchel is a staunch advocate for. Rüdiger's ability to break the lines and clip balls over the top for his German compatriot Timo Werner and his left-wingback Marcos Alonso or Ben Chilwell mean Chelsea have technical quality in the build up, which seamlessly translates to a wider array of options in the attacking phase.
In the attacking phase, the "space" vacated by Alonso in the left channel becomes Rüdiger's coverage area. However, as seen below, the most interesting facet is Rüdiger's ability to shut down the entire left flank, in essence becoming an auxiliary left back for Tuchel's side. Rüdiger's physical capabilities – being  6'3 and clocking a top speed at just over 35km/h means Tuchel has an elite athlete and ball player that can contribute to a plethora of actions both on and off the ball.
In this regard, Rüdiger ranks first in the Chelsea side for tackles per 90, completing 1.7 showcasing his willingness to "get stuck in". Furthermore, Rüdiger ranks in the 83rd percentile for xA among defenders, 89th percentile for passes attempted and 80th percentile for pass completion. As one of the focal points of Tuchel's buildup structure, he excels with the ball at his feet – a core facet to how Thomas Tuchel sees his side playing.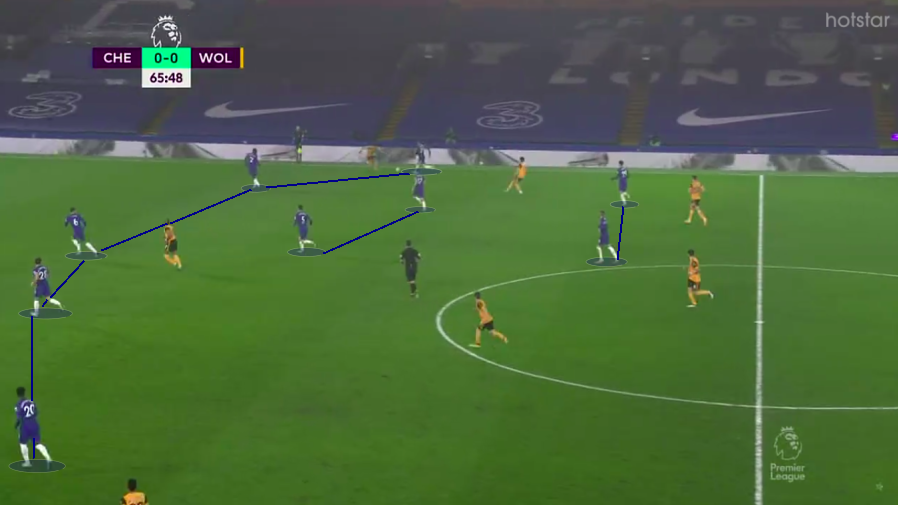 Rüdiger's resurgence has led Tuchel's side to the most impressive defensive record in the division – in a division with Pep Guardiola's Manchester City, Jürgen Klopp's Liverpool and Ole Gunnar Solskjaer's Reds this is no mean feat.
0.4 – Chelsea have conceded 26 goals in 19 Premier League games when Antonio Rüdiger hasn't started this season (1.4 per game), compared to just seven conceded in the 17 games when the German has started (0.4 per game). Loss. pic.twitter.com/uZYUgTLjJW

— OptaJoe (@OptaJoe) May 12, 2021
Rüdiger's Intangible Role
Sports have been akin to a battle since their inception. Diego Costa once famously looked at former Chelsea captain John Terry and said "I go to war, you come with me". This metaphor rings true for the ethos of Chelsea Football club, every game is a battle. Every result is supplemented with bone bruising tackles, passion and above all, a win by all and every means.
Antonio Rüdiger, in his heartfelt tribute before the Champions League Final, labeled himself the boy from Cologne. He battled growing up, the trenches were widespread, from social issues to economic ones. Antonio Rüdiger grew up a warrior, one who plays with his heart on his sleeve and enough desire to light up Stamford Bridge on a Saturday evening. 
Although much is made of the tactical role, technical quality and positional versatility of modern-day players I posit the most underrated of attributes are that which data cannot quantify. I call them the "intangibles". As far as intangible characteristics go, Rüdiger, in addition to his tactical awareness and defensive ability brings what Chelsea need.
He is a leader, both on and off the pitch, with Tammy Abraham stating in the summer of 2019, "Rudi [Rüdiger] made sure all the young boys felt welcome and comfortable". Furthermore, he brings a no nonsense attitude that every successful squad has had and continues to be as important as ever. From Sergio Ramos and Pepe to John Terry, Nemanja Vidić and Paolo Maldini, every legendary defense has featured an imposing figure.
Antonio Rüdiger embodies that attribute, whether it's a crunching tackle in the 7th minute or his game saving block on Phil Foden in the Champions League final. Rüdiger exemplifies attributes that Chelsea Football club and its supporters thrive on. Rüdiger's emotional impulses provide a platform for Chelsea's squad to feed off, whether it is to get riled up before a game or be the calm to the storm a football team is nothing without the emotional leaders.
As Chelsea fans well know, with John Terry departing the club, emotional leaders are hard to come by, in Rüdiger they have found one. Football is a game of passion, desire, and will as much as it is a game of finesse, tactics, and data.
In Rüdiger, Chelsea have found the balance between intangible and tangible characteristics, for one cannot go without the other. He is the first one to make sure his teammates whether young or old feel welcome and the last one too back down from a scuffle, if I'm going to war, I want Antonio Rüdiger to come with me.
By: @MedianoEra
Featured Image: @GabFoligno / Chris Lee – Chelsea FC