Player Analysis: Arthur Cabral
A 23-year-old Brazilian striker who has 57 goals and assists in his last 62 games; somehow, Arthur Cabral is yet to gain the praise he truly deserves. Attention is beginning to burgeon, especially since West Ham have reportedly made a recent £17m bid for him.
The hammers are not the only Premier League club linked with FC Basel's target man, as both Leeds United and Southampton are reportedly analysing a move for Cabral. The question is, which club stylistically suits him the most, and can these sides get to him before a bigger gun joins the mix?
Where Did Arthur Cabral Come From?
Like many young Brazilian footballers forging a career in Europe, Cabral has grown up quickly despite only turning 23 last April. Born in Campina Grande, near the northwest coast of Brazil, Cabral came through first at Ceara, a team playing in the state league, before briefly moving to Palmeiras in 2019. After only five appearances, Cabral made the move to Switzerland aged 21 years old.
Originally on loan, Cabral ended up becoming Swiss football's record signing at €6.3 million. That came after a stellar first season in 19/20, where in 26 games Cabral netted 14 goals and added five assists in 26 Swiss Super League games.
Under Marcel Koller, Basel reached the quarter-finals of the Europa League that season. Cabral even scored against Getafe in the group stages, and his header led to Basel's second in a 0-3 away win at Frankfurt. At 6ft 2, it's no surprise that Cabral scored 5 goals with his head alone in 19/20.
🔴🔵 Arthur Cabral finds the target 🎯

🤩 Sum up his season so far 👇@FC_Basel_en | #UECL pic.twitter.com/Ed3kU1Hyk6

— UEFA Europa Conference League (@europacnfleague) October 12, 2021
In the 20/21 season, after signing a three-year contract with Basel, Cabral went on to have a memorable campaign. With 18 league goals, he finished second behind Jean-Pierre Nsame in the Swiss scoring charts. That was the most any Basel striker had got in the league since footballing-cult-figure Seydou Doumbia notched 20 in 2017. Cabral also became a father to little Liam Cabral.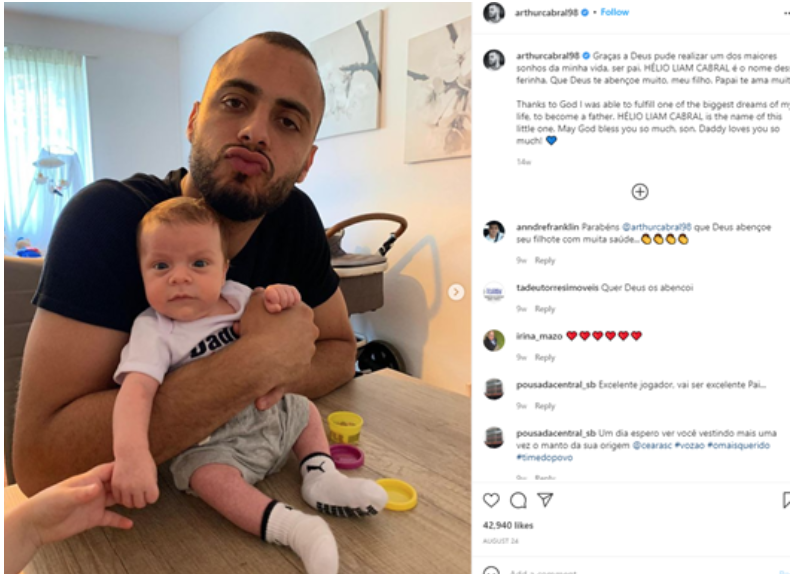 BSC Young Boys may have finished a herculean 31 points clear ahead of second-placed Basel, however, Cabral did manage to smoothly slot in a penalty against them in November 2020. Penalty taking is one of Cabral's other talents; he adopts the Jorginho 'skip-and-hop' technique, and hasn't missed any of his 11 penalties since moving to Europe.
Going into the 21/22 season, former Basel and Argentina striker Christian Gimenez met with Swiss paper Blick to discuss Cabral. When asked how many goals he thought Cabral would score in the upcoming campaign, he said: "If he keeps his quota, then it will be far more than 30."
Cabral in 2021/2022
On the current track, Cabral is set to hit 36 goals in the Swiss super league. That would see him break the record of goals in a season, currently standing at 32. He's currently top of the scoring charts with 14, but it's the variety of goals that have made Cabral stand out this season.
Cabral has proven himself as an intelligent poacher, with 13 league goals this season coming from inside the box. Cabral has often scored some scrappy, but appreciable goals too.
There was his finish against Servette in early August, where Cabral charged in for a rebound opportunity barely milliseconds after his teammate, Valentin Stocker, had taken a shot. His goal against Zurich in September also showed Cabral's ability to get into the right position inside the box.
There is a new hero in the Swiss championship. Arthur Cabral from FC Basel already has:
📍11 goals in 8 local league matches;
📍8 more goals in the Conference League qualification, and he scored in every selection match.
This counterattack in the match against Zurich was perfect. pic.twitter.com/XzuT2IyeZ9

— WeltBet Official (@WeltBetDe) September 28, 2021
This season has seen Cabral come out with some phenomenal goals as well. Take his overhead kick against FK Partizani of Albania, in qualifying for the Europa Conference League.
Arthur Cabral 🤩pic.twitter.com/GrjyXdg4Uq

— Okan Kılıç #TedescoNöbeti (@OkanKilic33) August 10, 2021
His first goal in a later game against Zurich, this time in matchweek 12, was a rocket worth watching too.
Arthur Cabral 😍😍pic.twitter.com/cmxXq99N4v

— GoncaloDias17 (@goncalo_diass17) October 31, 2021
No one in the league has a higher XG figure than Cabral, at 12.6. An overperformance of 1.4 goals is promising and relieves some risk around signing an in-form striker from a weaker European league. This chart below also shows that Cabral is taking enough shots to support his goal output.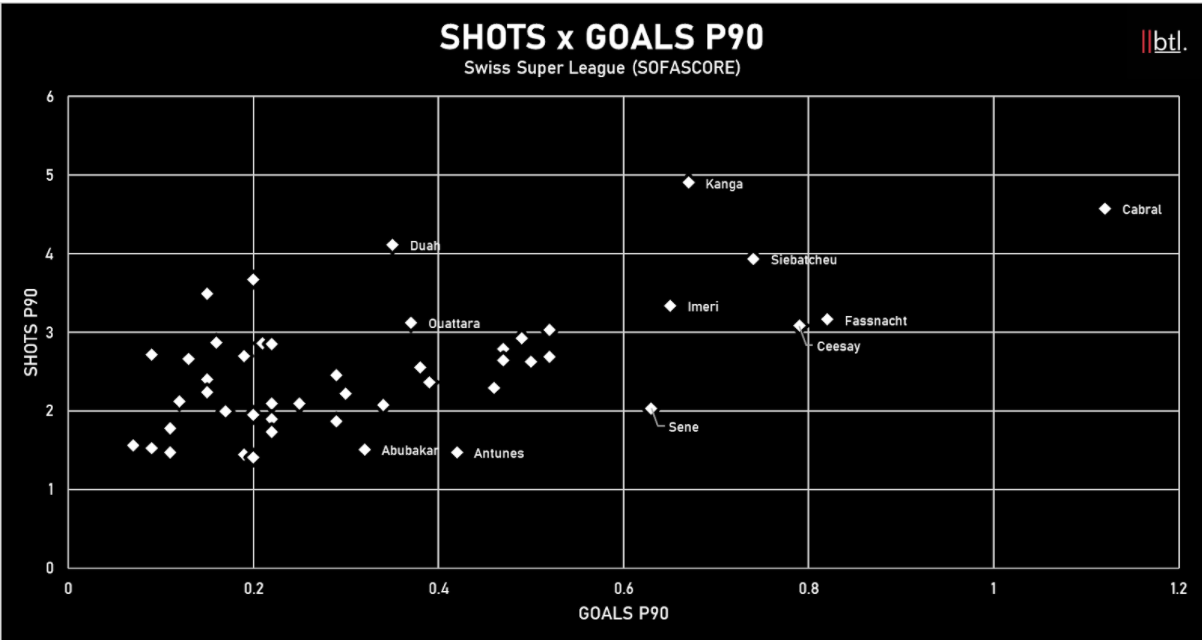 There are other elements to Cabral's play that are worth highlighting. His physicality may have yielded just the six headed league goals since the beginning of 20/21, however, he is contributing to Basel's attack in other ways.
He often drops a little deeper than the opposition defensive line, making himself available to bring down high passes. He's also quick for a man of his stature. 
This form has also got him into the Brazilian squad, although he is yet to actually appear. Nonetheless, with every current player in the squad hailing from clubs in the top 5 leagues bar Antony (Ajax) and Gabriel Chapeco (Gremio), it's impressive.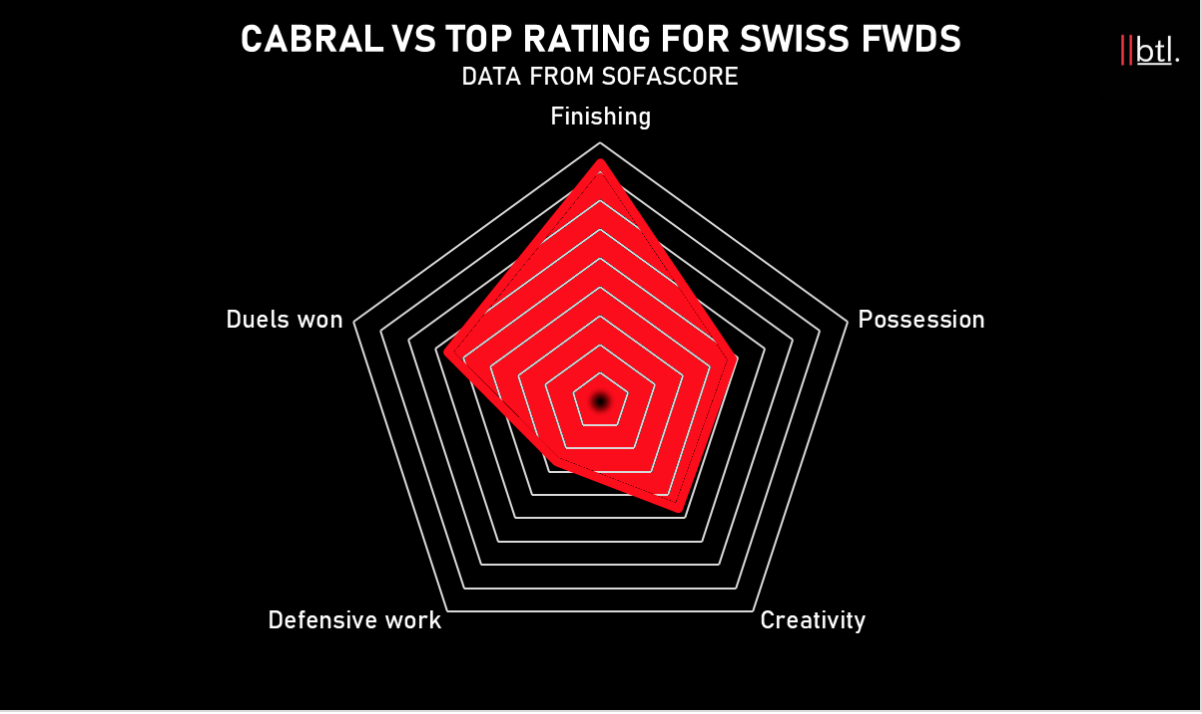 Cabral's form has helped Basel push to second in the Swiss super league. Despite recent dominance from Young Boys, particularly under now Leverkusen manager Georado Seoane, Patrick Rahmen's Basel are currently two points off FC Zurich. Perhaps this means Cabral will be sticking around past January, to see if he can lead Basel to their first title since 2017.
Where Will He End up in 2022?
It may be surprising to hear that Switzerland has actually been a fairly reliable breeding ground for top talent in Europe. Mohammed Salah, Matheus Cunha, Breel Embolo, Xherdan Shaqiri and Denis Zakaria have departed Helvetia since 2012.
Maybe that is what's forming the market confidence in Cabral, with links ranging to West Ham and Barcelona. The former seems like more of a reasonable fit; Cabral certainly shares similarities with Hammer's talisman Michail Antonio, and West Ham lack basically any depth in the striker position Cabral doesn't have any ubiquitous problems in his game either.
If Cabral is the number one name on David Moyes' shortlist and West Ham get the deal over the line, they could be getting one of Europe's next top forwards. It's unlikely Cabral goes on to be a Premier League top scorer, but he has proven his reliability and flexibility in a range of situations for Basel, which will hopefully translate well for him elsewhere. 
By: Alex Barker / @EuroExpert_
Featured Image: @GabFoligno / Christian Kaspar-Bartke / Getty Images