Player Analysis: Ben Davies
Many feared that Virgil van Dijk's long term injury had the potential to derail Liverpool's title defence. The fall out from that clumsy Jordan Pickford lunge in a controversial Merseyside derby was messy, to say the least. Emotions were running high, the goalkeeper was met with a barrage of online abuse and rival fans rejoiced in Liverpool's despair. This felt like it had the potential to be a season-defining moment for The Reds.
There's no doubt that Van Dijk's injury was a huge blow to their title chances, but Jürgen Klopp's well-oiled machine marched on, even without their defensive juggernaut. They successfully navigated their way through a tricky Champions League group, losing just once, and continued to pick up points in the Premier League. Liverpool were still finding ways to win, even after Joe Gomez suffered a potentially season-ending injury in England training, as Fabinho seamlessly slotted into the back four alongside Joël Matip. The defending champions were sat top of the table come Christmas.
However, as the fixtures began to pile up, so did the casualties. The hectic festive period took its toll on Klopp's relatively small squad, with Matip and Fabinho picking up injuries, as well as makeshift centre back Jordan Henderson. 
Rhys Williams and Nathaniel Phillips were called upon to deputise; a decision made out of necessity rather than choice. The inexperienced pair had just one Liverpool appearance between them before the start of the season. Williams, who was on loan at National League North side Kidderminster Harriers in 2019, quickly appeared to be out of his depth with Phillips also showing signs of vulnerability, despite impressing in a 3-1 victory away at West Ham United.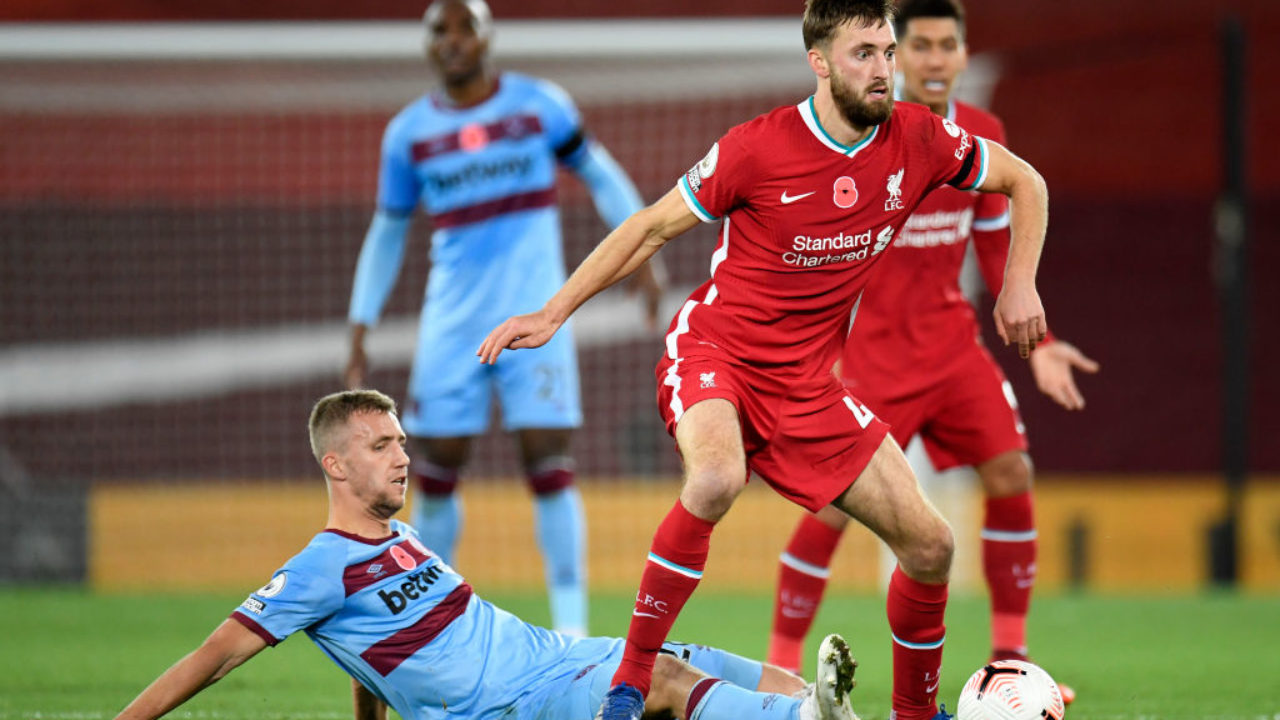 Photo: Peter Powell – Pool/Getty Images
This once imperious Liverpool side began to stutter, as Klopp had to field weakened teams. Disappointing results against Fulham, West Brom and Newcastle followed, with fans beginning to grow tired of the club's reluctance to bring in reinforcements.
Understandably, acquiring a new centre back was deemed a priority in the January transfer window by fans and pundits alike. Liverpool had been linked with experienced, short term options such as Arsenal's Shkodran Mustafi and Sokratis (with the latter since joining Olympiacos), as well as a number of youthful, promising centre backs like Lille's Sven Botman and Schalke's Ozan Kabak. 
However, it looks like the Reds are instead going for a rather left-field option; Preston North End's Ben Davies. The 25-year-old was originally set to join Scottish champions Celtic but Liverpool swooped in at the final hour, securing his signature in a deal reportedly worth just a few million pounds. Young defender Sepp van der Berg will head in the opposite direction on loan.
So, who is Ben Davies? And why are the Premier League champions turning to a Championship player to help solve their injury crisis?
Davies is a product of Preston's academy and has been at the club for 14 years now. After earning his stripes during various loan spells across the English football pyramid, Davies broke into the North End first team at the beginning of the 2017/18 season and has been a stalwart at Deepdale ever since.
During his time in and around the first team, Preston have consistently flirted with promotion and, while they are yet to achieve a top-six finish, Davies has played a key role in the team's relative success. He has quietly established himself as one of the best centre backs in the Championship and rarely puts a foot wrong.
Davies' career path tells you all you need to know about his personality; he isn't some pampered diva, he's had to show grit, resilience and determination to even break into the Preston first team. Davies had to prove his worth on loan at the likes of York City and Southport. Now he's about to sign for a European giant – it's a football fairy tale. 
Liverpool's recruitment staff would have understandably been searching for someone who can help fill in the void left behind by Van Dijk. Davies fits that bill, to an extent. Klopp's recent struggles on the transfer front have been well publicised, so picking up Davies for less than £3 million could prove to be a real coup for The Reds. 
The absence of Van Dijk has affected this Liverpool side in several different ways; they miss his imposing aerial presence, his defensive organisation and, perhaps most importantly, they now find it harder to progress the ball up the pitch. The modern-day centre back's role in ball progression seems to go relatively unnoticed, but the origin of several of Liverpool's attacking moves can be traced back to Van Dijk. Whether he's striding forward into midfield or switching the play to the opposite flank, the Dutchman's composure on the ball has played a huge role in Liverpool's recent success, and it's no surprise to see the forward line stall during his absence.
Like Van Dijk, Davies is a very neat defender who exudes an aura of confidence with the ball at his feet. This pass map confirms Davies' impressive passing range; the left-footed centre back is capable of firing the ball into midfield, playing lofted passes in behind the defence and spraying balls to the other side of the pitch, the latter being his trademark move. Davies is a brave and direct distributor of the ball and these traits would have certainly appealed to Klopp.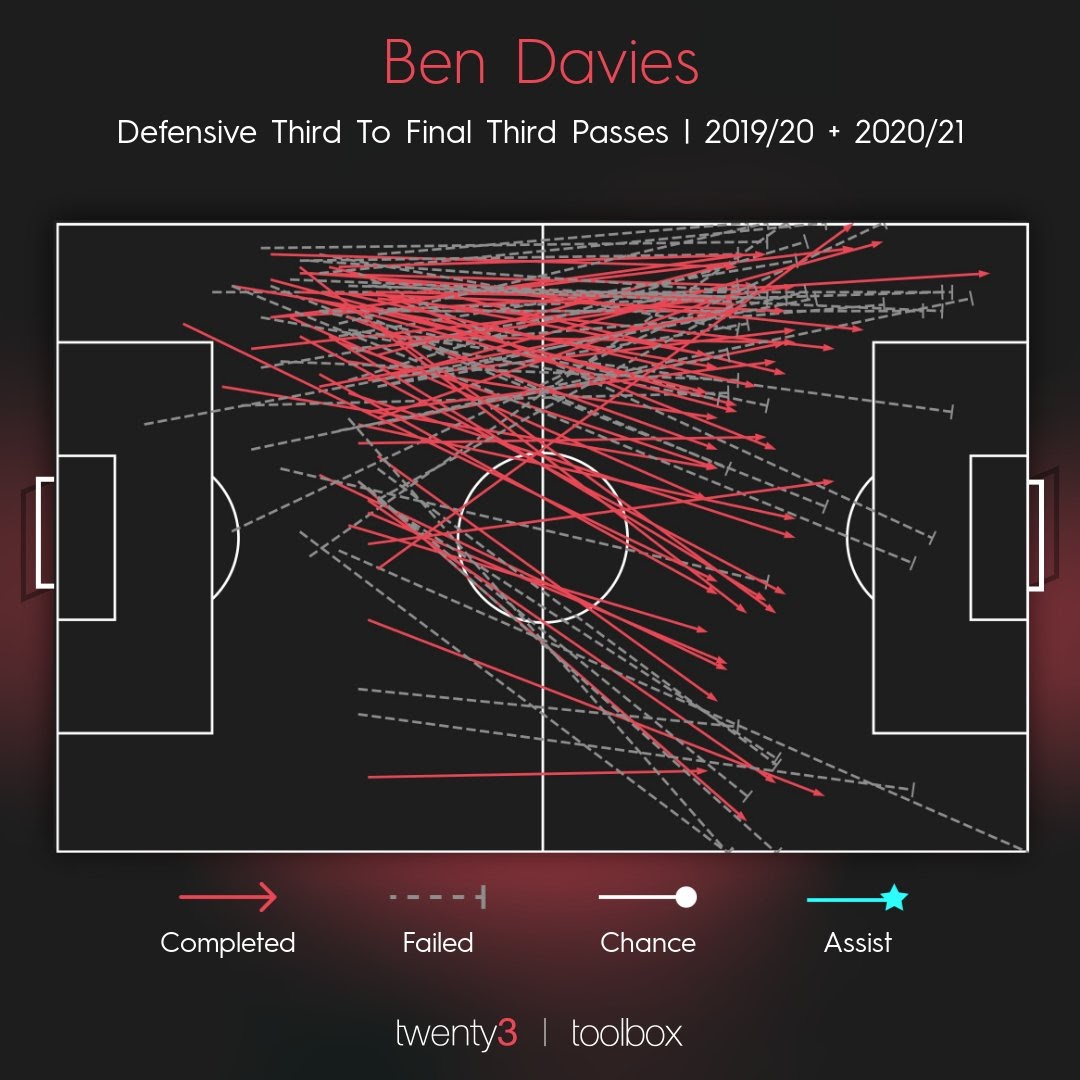 Photo: Twenty3/Wyscout
The addition of Davies should help reinstall that sense of sharpness and zip into this Liverpool team. He isn't your stereotypical 'head it, kick it' Championship defender. He's a classy centre back who's comfortable in possession and is able to start attacking moves from deep. Remind you of anyone?
Here's an example of Davies playing a dangerous long ball in behind the defence. He receives the ball in his own half and is able to get his head up and pick out a pass while being closed down by the Brentford forward.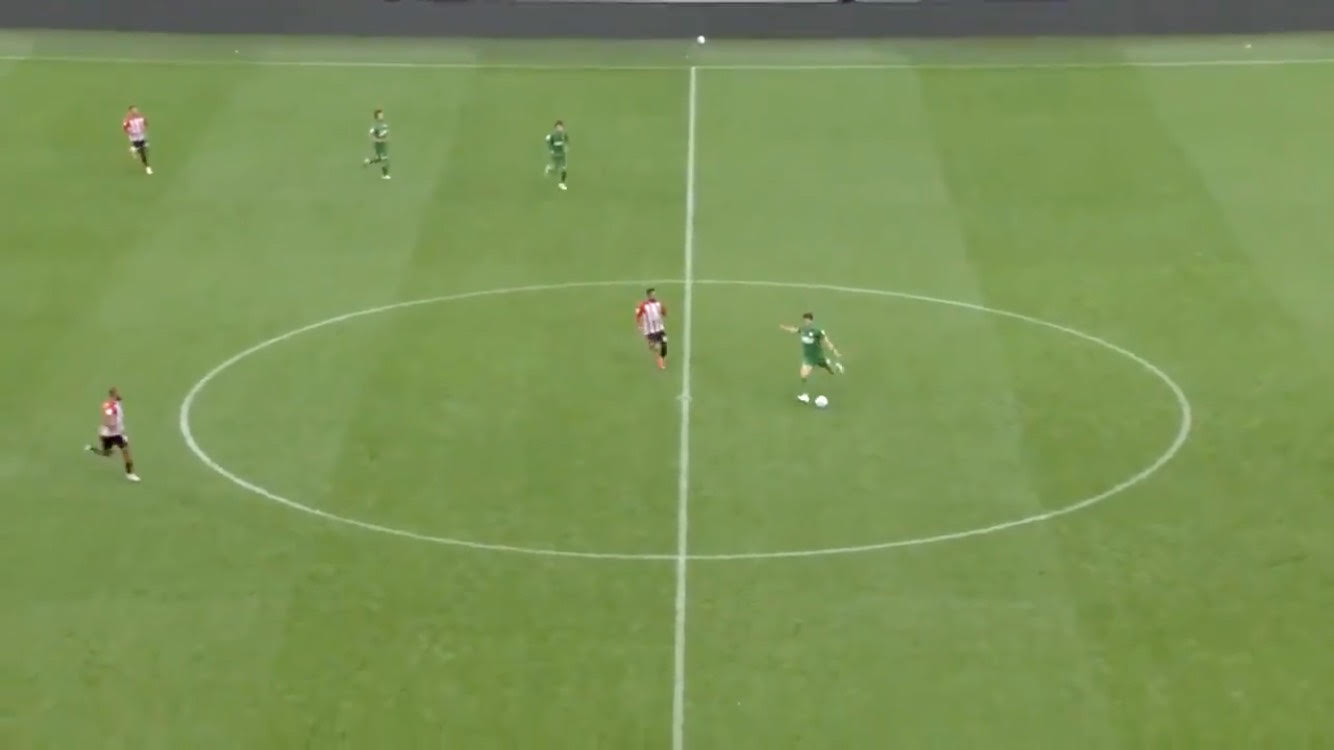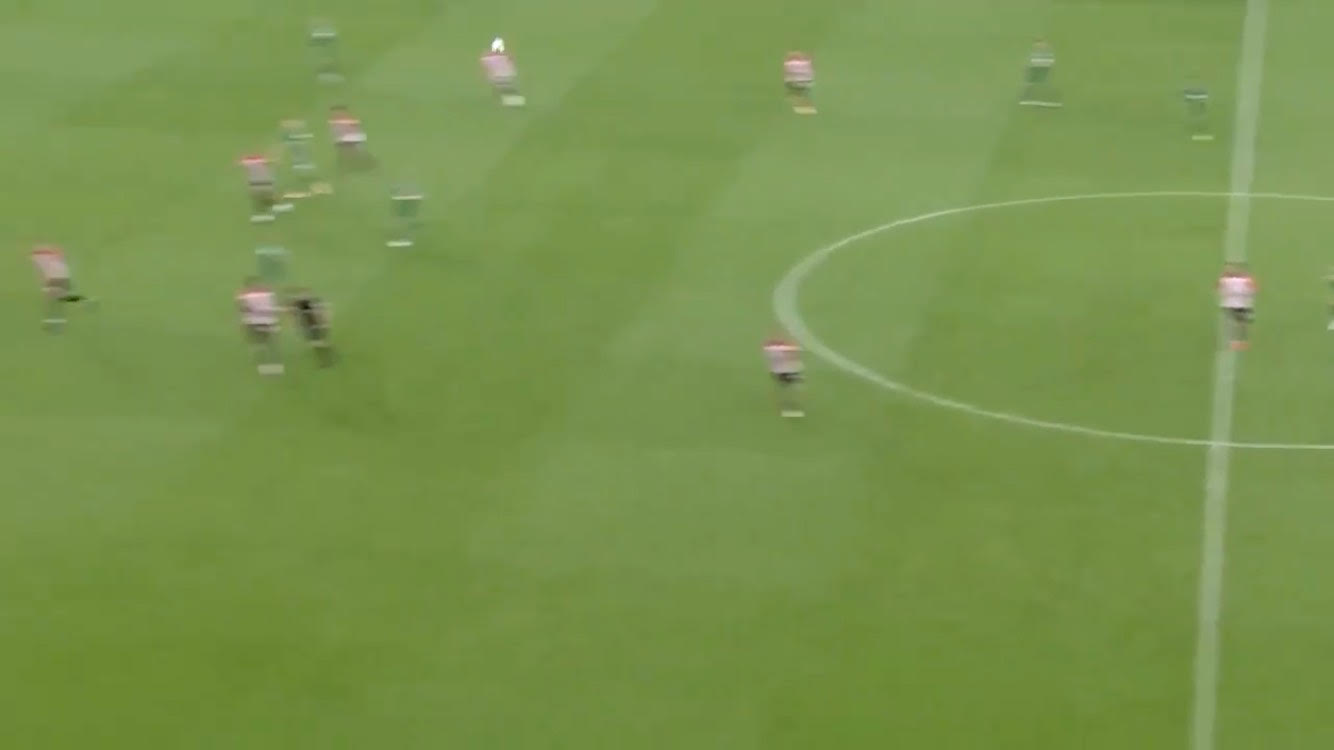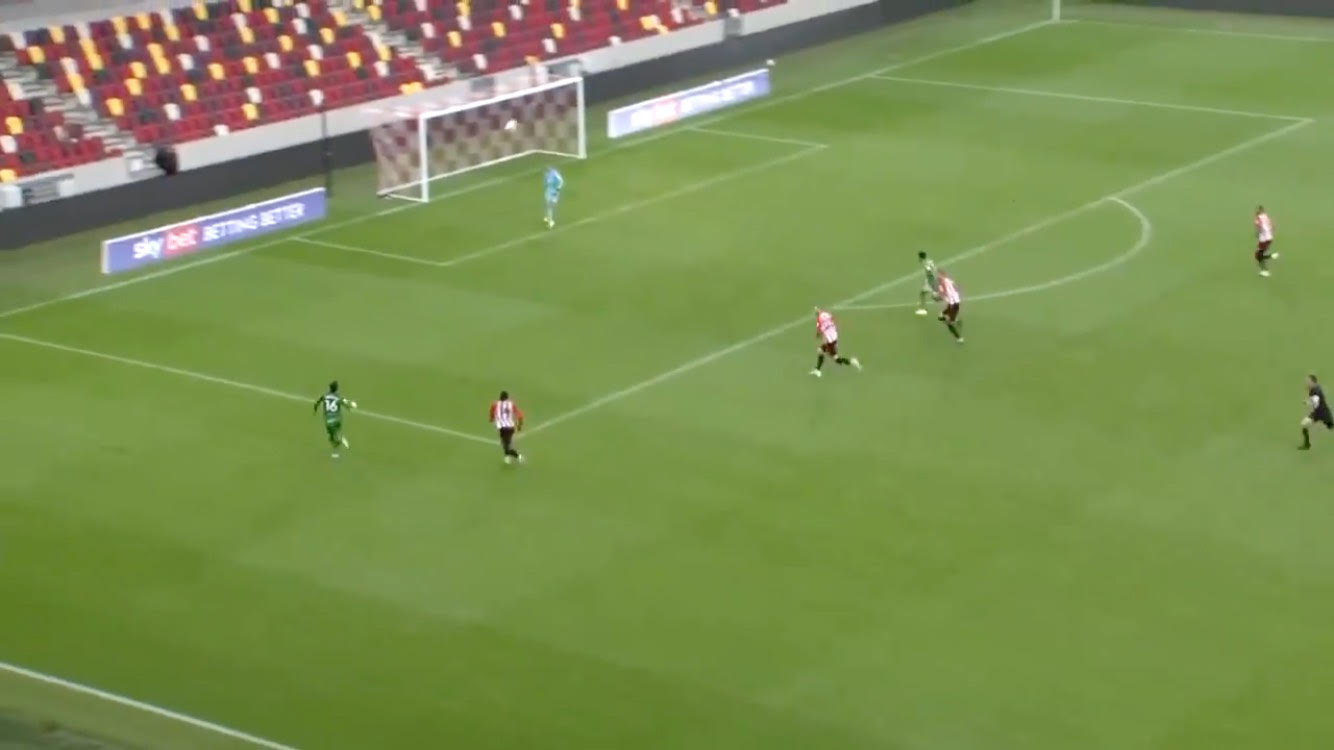 Davies spots Scott Sinclair making a well-timed run in behind the Brentford backline. The weight on the pass is excellent, meaning Sinclair doesn't have to break stride. Unfortunately, a sloppy touch from the winger means that the ball trickles out for a goal kick. Teammates who poorly control the ball shouldn't be a worry for Davies at Liverpool; the likes of Sadio Mané and Mohamed Salah are able to pluck the ball out of the sky with ease.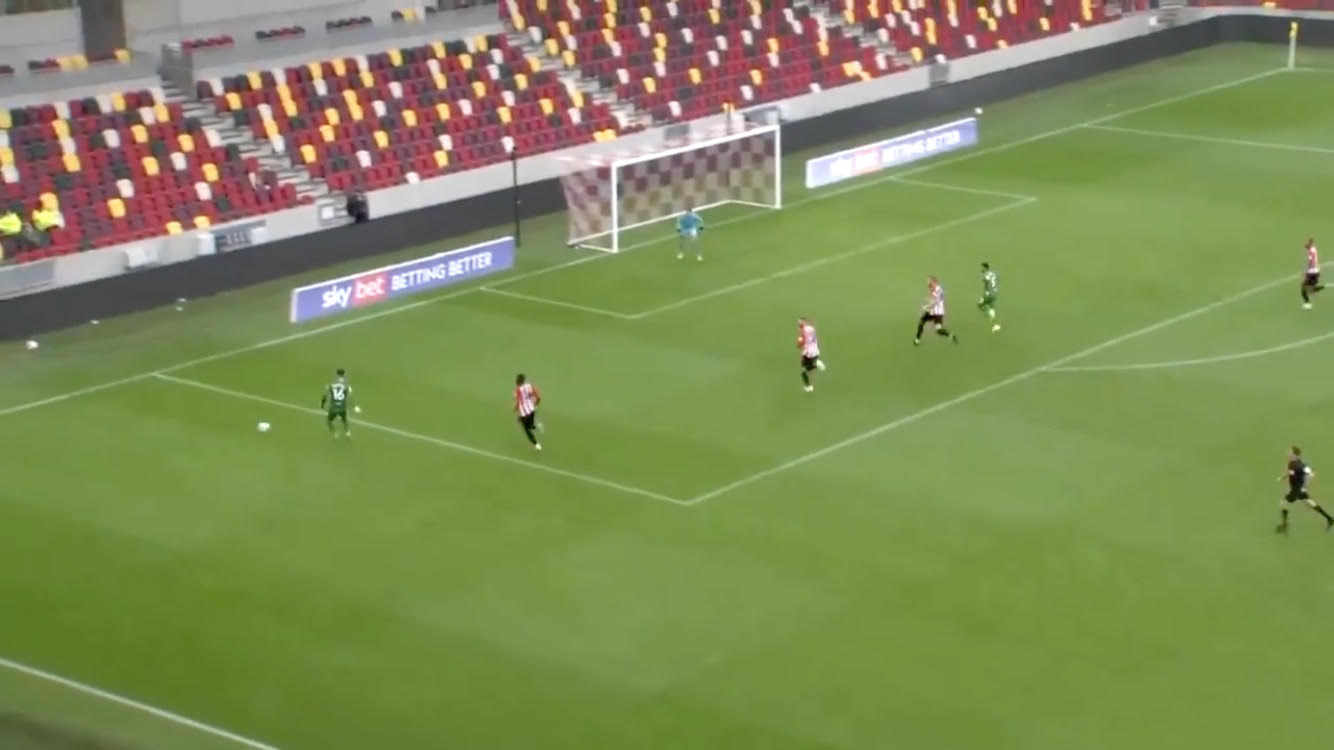 The arrival of a defender who is more than adept at lofting balls in behind the backline will be music to the ears of Liverpool's wide men, who have struggled of late. Davies is able to play these line-breaking aerial balls to the attackers as well as switching the play to the fullbacks. Of course, it'd be hard to replicate the pin-point accuracy of Van Dijk's raking cross-field balls on a regular basis, but Davies certainly has that in his locker.
It goes without saying that moving from Preston to Liverpool is a huge jump. Davies will have to contend with quicker, stronger and more clinical attackers, as well as adjusting to a new style of play. Alex Neil's side are extremely well drilled, and, as seen recently, do sometimes choose to sit in a compact low block. It'd be unfair to claim that the Preston backline regularly camp deep in their own half, as Neil has opted for a more high-octane approach in the past, but things will operate slightly differently at Liverpool.
The Reds play the highest defensive line in the Premier League as this allows them to press so effectively as a unit. This aggressive, 'heavy metal' style of play has been instrumental in Liverpool's recent success but it means that new signings require time to be bedded into the side. The team's 'wide forwards', Salah and Mané, sit fairly narrowly with Roberto Firmino dropping deep to operate as a false nine. Trent Alexander-Arnold and Andrew Robertson bomb forward to provide the threat from wide areas.
This means that opposition teams will look to exploit the space in the areas that both fullbacks leave behind, as Manchester United did in their recent FA Cup tie. Both Van Dijk and Gomez boast remarkable recovery speed and are comfortable defending with large, vacant space behind them. That, however, may be an unfamiliar concept for Davies.
Davies is used to defending in tight, narrow spaces in the Championship, so the thought of patrolling an extremely high defensive line, leaving acres of grass behind him, could be an initially daunting prospect. This could be an area of concern for Klopp, and the level of Davies' success at Liverpool is likely to depend on how quickly he can adapt to this new style of play.
However, like Liverpool's current centre backs, Davies is no slouch. In fact, he is fairly quick over long distances and can sweep up play when required to do so. At Anfield, there will be more of an emphasis placed on defending in transition, so Davies may take a while to get accustomed to the sheer amount of sweeping up he will have to do. The early signs do suggest that Davies possesses enough mobility and pace to make the step up to the Premier League, but it'll be interesting to see how smoothly he makes the transition.
Robertson's heat map from this season shows that he is a flying fullback who hugs the touchline and mainly operates in the opposition half. If Davies is going to nail down a place in this Liverpool side, he'll need to be comfortable covering for the Scotsman.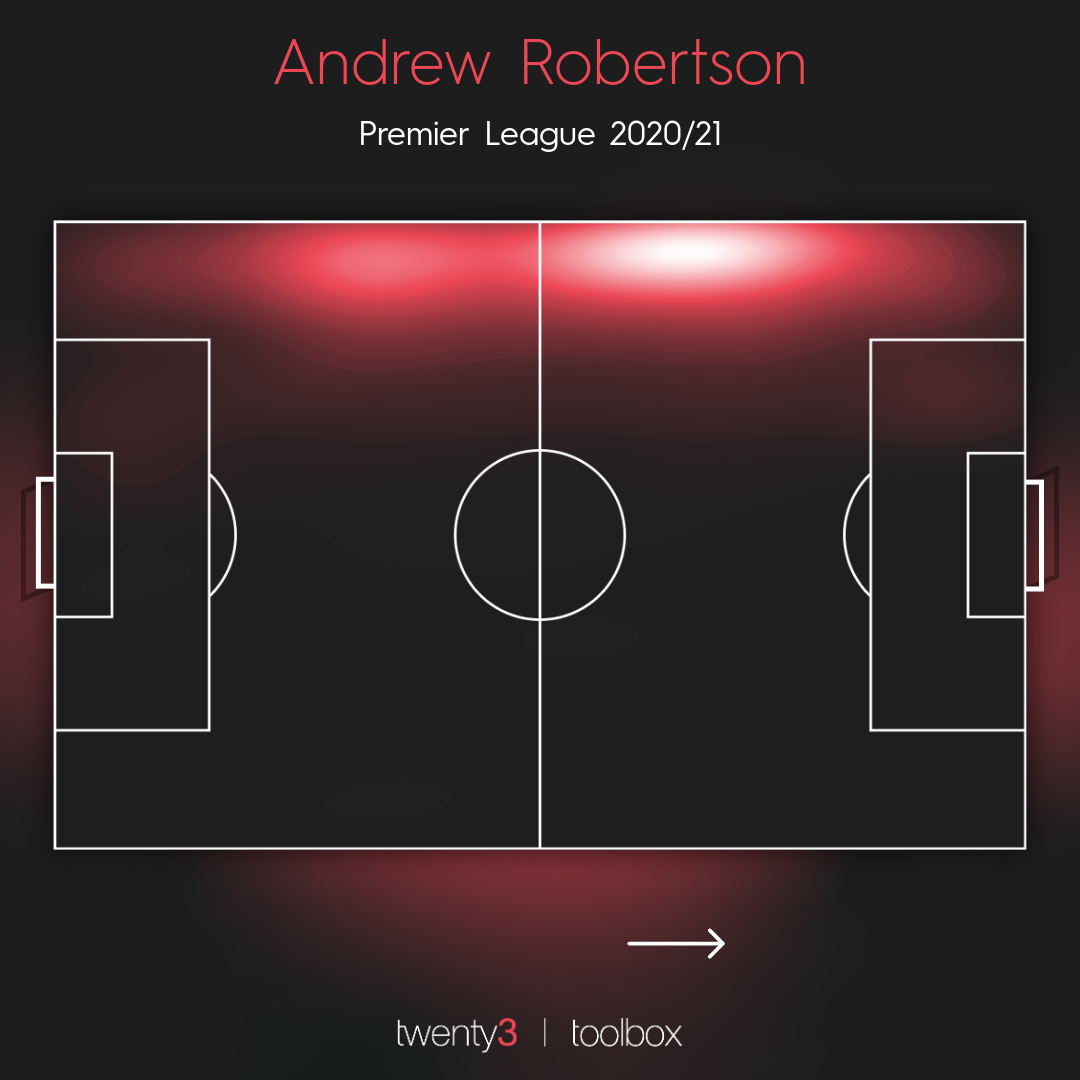 Photo: Twenty3/Wyscout
When recruiting centre backs, Liverpool typically prioritise aerial ability. Van Dijk (90.2%) and Matip (81%) won the highest percentage of aerial duels in the Premier League last season, they thwarted the majority of strikers who tried to engage in a physical battle with them, as well as proving to be a threat from set-pieces – scoring a combined total of seven goals. However, Davies isn't as dominant in the air. In fact, he only wins 2.47 aerial duels per game which places him 90th out of Championship centre backs. 
Davies stands at just 6'1, considerably shorter than both Matip and Van Dijk. He's not a towering, dominant centre back, and while he makes up for this with his mobility and defensive intelligence, one wonders if he will cope with the added physical demands that come with Premier League football. Davies can get bullied by players who are physically superior, which could result in the opposition targeting him at set-pieces and from wide areas. He may have to outthink attackers rather than outmuscle them.
His lack of experience playing in such a high line, as well as his mediocre record in the air, suggest that Davies is going to have to 'learn on the job' at Anfield, but he's experienced and should be about to enter the prime years of his career, so there's every chance that he could deal with the step up from second-tier football.
It's easy to dismiss Davies simply because he's a Championship player, but bringing him to Anfield for a few million pounds could represent good business for Liverpool. After all, the club do have a proven track record when it comes to unearthing diamonds in the rough; Andrew Robertson was signed off the back of a relegation season with Hull City and Joe Gomez arrived on Merseyside as an 18-year-old with just over twenty Championship appearances to his name.
Both defenders have come on leaps and bounds under the tutelage of Jürgen Klopp, who is truly an expert when it comes to developing players. The agreed transfer fee is pocket change for Liverpool these days, and they would likely make that money back if the move doesn't work out. This is a low-risk signing, and while Davies may not be the new £60m centre back that Liverpool fans were hoping for, he will serve as a reliable stopgap. 
By: Thomas Owen
Featured Image: @GabFoligno / Kevin Barnes – CameraSport