Player Analysis: Carlos Mendes Gomes
Carlos Mendes Gomes, a player who played at Getafe and Atlético Madrid's youth systems at the very highest level at 17 years of age, found himself playing for West Didsbury & Chorlton in the 10th division of English football. On 9 May 2018, Mendes Gomes signed a one-year deal with an option for another year with EFL League Two side Morecambe. It was within the 2018-19 season that Mendes Gomes made his first appearance for the club. 
He made no goal contributions in his first season and only played 588 minutes in 15 EFL League Two games, an average of 39 minutes per game. Mendes Gomes caught the eye of then manager Jim Bentley to offer him the second-year option that was in his contract.
However, from the start of the 2019-20 EFL League Two season, Mendes Gomes found himself out of favour at Morecambe due to Bentley fancying other players over him, a manager who liked to stick to his roots and to the players who kept Morecambe safe over the eight years he had at the club. It was only until the arrival of Derek Adams in November 2019 that allowed Mendes Gomes the game time that he richly needed, finishing the season EFL League Two with 16 appearances and two goals.
Carlos Mendes Gomes in the EFL League Two 2020-21 Season
FIGURE 1: Mendes Gomes, in the first game of the season against now champions Cheltenham Town, after Liam McAlinden being forced out to the left where Mendes Gomes was positioned the entire game. Mendes Gomes moves into the second striker role and plays off McAlinden, then fakes a shot to move onto his left causing the goalkeeper and the Cheltenham centre-half to dive in. Leaving an open goal for Mendes Gomes to slide the ball into. Superb use of his agility and his positional awareness. 

FIGURE 2: Mendes Gomes showing his positional awareness yet again, pulling off to the back post after both Grimsby defenders have been drawn towards the ball, allowing Mendes Gomes to make a run on the blind-side of the centre-half and be able to tap the ball into the back of the net unmarked.

FIGURE 3: Mendes Gomes dragging a centre-half out of position by making a run down the centre of the pitch. Another use to his game in which Mendes Gomes acts as an inverted winger to allow fluid rotation of the front three to create confusion amongst the defense of the opposition. Therefore, Mendes Gomes temporarily becomes a number 9.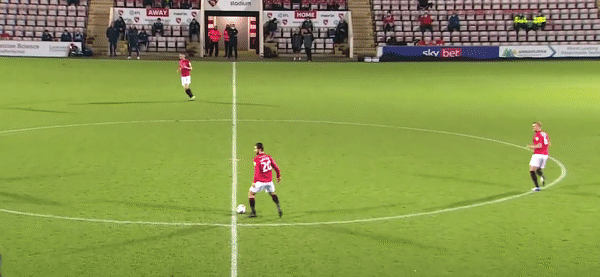 FIGURE 4: Mendes Gomes, running in from the left wing position, centrally in behind the high line set by Barrow, with a fantastic first touch to bring the ball under control and take it around the oncoming keeper before slotting it into an empty net. Credit: Morecambe Football Club YouTube.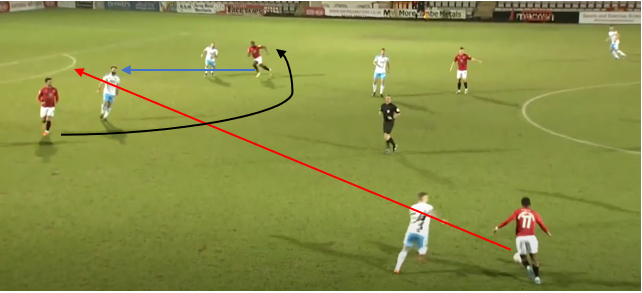 FIGURE 5: Mendes Gomes with a defence splitting pass. From the left midfield position he plays in Jordan Slew due to the run that he makes centrally, allowing Cole Stockton to transition in behind the blindside of the other centre-half who has been drawn to Slew because of the run made by him and the ball played by Mendes Gomes.

FIGURE 6: Mendes Gomes, peeling off to the back post yet again due to the defenders' ball-watching and being drawn to the ball. The shot got parried into the path of Mendes Gomes for him to slot in his second of this game. Great footballing IQ and a poachers mentality used by a winger is hard to come across, however, Mendes Gomes clearly has it.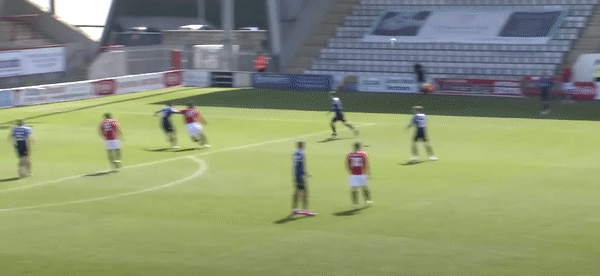 FIGURE 7: Mendes Gomes against Oldham, waiting on the last line of defence, before making a run from the left-wing to receive the pass that the Oldham players thought was running out of play. Mendes Gomes ran in on the blind-side of both centre-halves before rolling the ball into the back of the net from the narrowest of angles. A sensational goal. Credit: Morecambe Football Club YouTube. 

FIGURE 8: Mendes Gomes on the left wing receives the ball after holding his run. He then beats the oncoming centre-half to take the ball closer to the byline before cutting it back to Aaron Wildig who has made a run to the back-post. A clear sign of the understanding and communication that Mendes Gomes has with his teammates to know where his teammates would be for the cutback. 
Mendes Gomes Stats
He has made 43 Appearances in EFL League Two, with 15 goals and five assists. 20 G/A with one every 185.25 minutes, G/A of 0.47 per 90. Mendes Gomes was involved in 29% of the goals scored by Morecambe in the EFL League Two, a truly fantastic stat for a player playing in the 10th stage of English football just two years prior.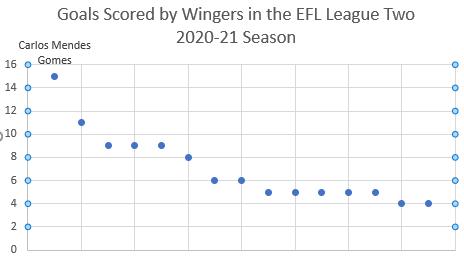 FIGURE 9: Mendes Gomes compared against the top 15 goalscorers for players in a similar position to Mendes Gomes. I.E Winger/Right or Left Midfield.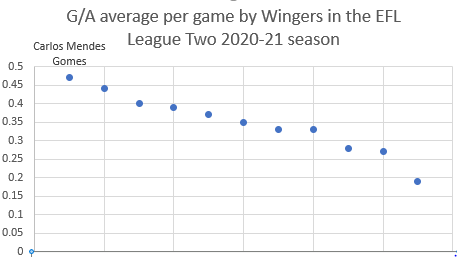 FIGURE  10: Mendes Gomes' G/A per game compared against the top 10 G/A averages for players in a similar position to Mendes Gomes. I.E Winger/Right or Left Midfield. 
Conclusion
Carlos Mendes Gomes is a very talented football player, who uses his qualities to make them his strengths. He has fantastic positional awareness; this can be seen due to the various poacher-like goals that he scores. An inverted-winger that transitions anywhere across the front three but can also act as a number 10 temporarily if needed, as well as being comfortable at left and right midfield.
It is clear to see why many teams in leagues above are very interested in Mendes Gomes, especially with his contract running out at the end of this season, with teams like Rangers apparently interested in the youngster. It would be only plausible that Mendes Gomes stays at Morecambe if they do not manage to get promoted through the EFL League Two playoffs. Even then, you could see Morecambe struggling to hold onto him.
An all-round player across the front line and in attacking positions, Mendes Gomes would be a threat for teams even two steps above the league he is currently in with Morecambe. If the team had a fluid, transitional front line, allowing for movement in roles. He made the jump from West Didsbury & Chorlton to Morecambe and he has the potential to make another significant jump this transfer window. 
By: Oliver Hargreaves
Featured Image: @GabFoligno / Lewis Storey – Getty Images