Player Analysis: Christopher Nkunku
Christopher Nkunku was born in Lagny-sur-Marne, an eastern suburb in Paris, the same area where Paul Pogba was born and brought up. Nkunku was an incredibly gifted and robust player with a "footballer's DNA" from a young age and joined France's renowned national academy, Clairefontaine, alongside the talent of Marcus Thuram, Allan Saint-Maximin, Amine Harit and a year before a certain Kylian Mbappé.
He joined the PSG junior side in 2010 at the tender age of 13 and made his full Ligue 1 debut in 2015 under Laurent Blanc. His minutes kept increasing steadily season on season but so did the Hollywood superstar signings. Most of these minutes came as a "mezzala" in a 3-man midfield.
Nkunku even made 22 Ligue 1 appearances in what would be his final season at Paris Saint-Germain in 2018-19. However, he was never particularly prolific with only 3 goals and 2 assists in that season being his best tally.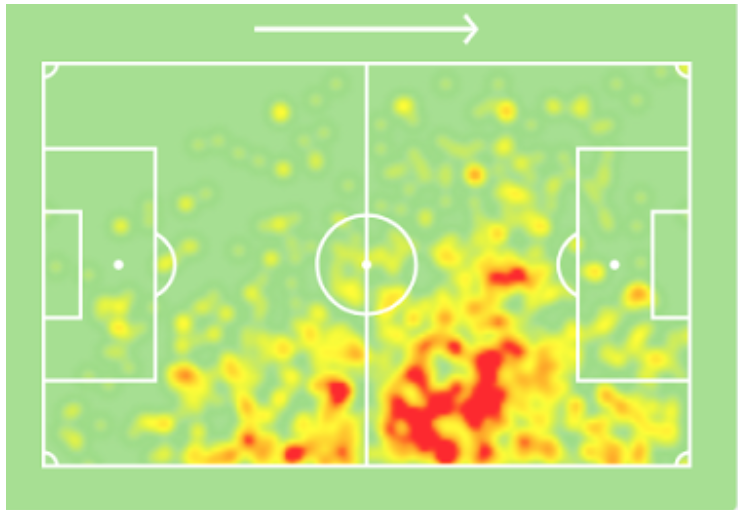 Photo: Nkunku's 2018/19 Ligue 1 heat map [SofaScore]
Speaking to the media at PSG, he said "I've been told that I need to work on my killer instinct, because I sometimes don't try my luck or I might miss the odd chance. This is important. I aim to work on this because attacking players must be decisive."
However, in 2019 with his contract soon running down, he had to decide whether he wanted to develop his talents elsewhere or in the French capital. The then PSG manager, Thomas Tuchel leaned on buying superstars rather than letting academy talent flourish.
The likes of Julian Draxler were kept and midfield reinforcements in Ander Herrera and Idrissa Gueye arrived. He was close to joining Arsenal but the deal fell through because of club negotiations.
And so, Nkunku along with Moussa Diaby (Bayer Leverkusen) headed to the Bundesliga, a hotspot for the best young talent. The Red Bull project was one of the best he could've joined developing players like Sadio Mané, Joshua Kimmich, Timo Werner and later Erling Haaland.
The Leipzig Chapter Under Nagelsmann:
Nkunku's first season in Saxony was also the first of German manager Julian Nagelsmann, who had arrived after a promising spell at Hoffenheim. In his first season, Nkunku caught the eye of many taking to the Bundesliga like a duck to water. He played most of his minutes hugging the left side touchline in Nagelsmann's 3-4-3 and 4-2-2-2.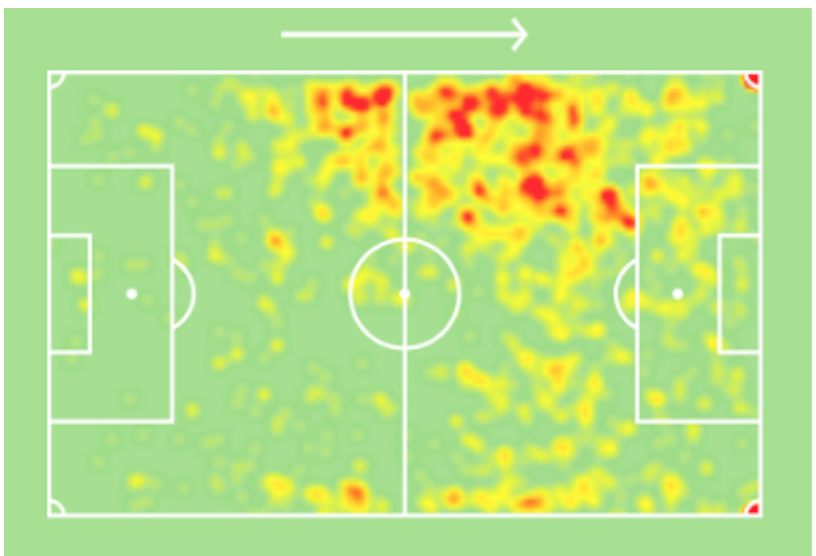 Photo: Nkunku's 2019-20 Bundesliga heat map (Sofascore)
He ended up with 5 goals and an astonishing 13 assists in his debut Bundesliga season. For context, only Emil Forsberg had more Bundesliga assists in a debut Bundesliga campaign in 2016-17. 
Nkunku said in 2019, "I feel I am blossoming and liberated. Changing clubs was not such a bad idea. Now I can say that it is better to leave your comfort zone to grow taller."
And grow taller he did. The following season in 20-21, Nkunku started playing a lot more in the half-spaces on both sides in Nagelsmann's 3-4-2-1, an idea still not seen a lot. There wasn't too much penalty box involvement however as Nkunku still didn't possess the predatory goalscoring instincts.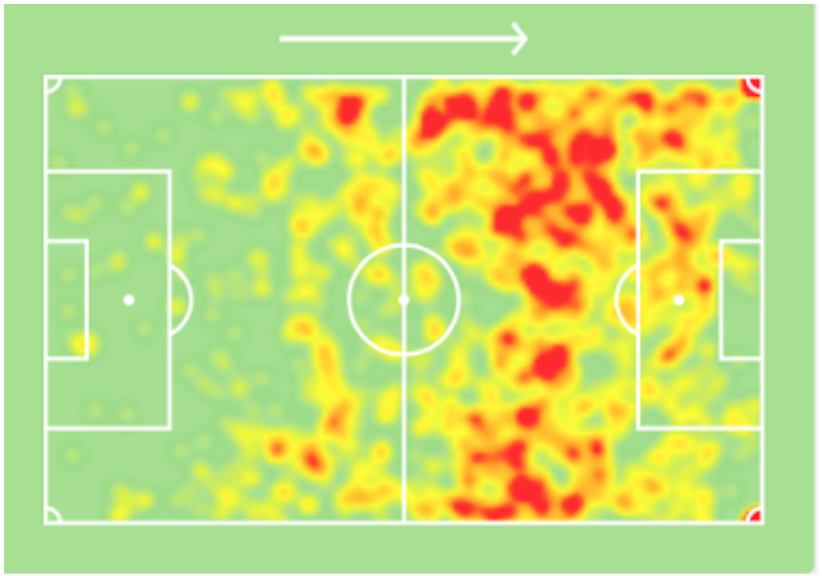 Photo: Nkunku's 2020/21 heat map (Sofascore)
Nagelsmann gave a lot of weight to quick thinking and lightning-fast exchanges following an extended spell of possession, which went away slightly from the Red Bull high-intensity model. This game style suited Nkunku to a tee as it played to his 'pass and move' strengths at the time.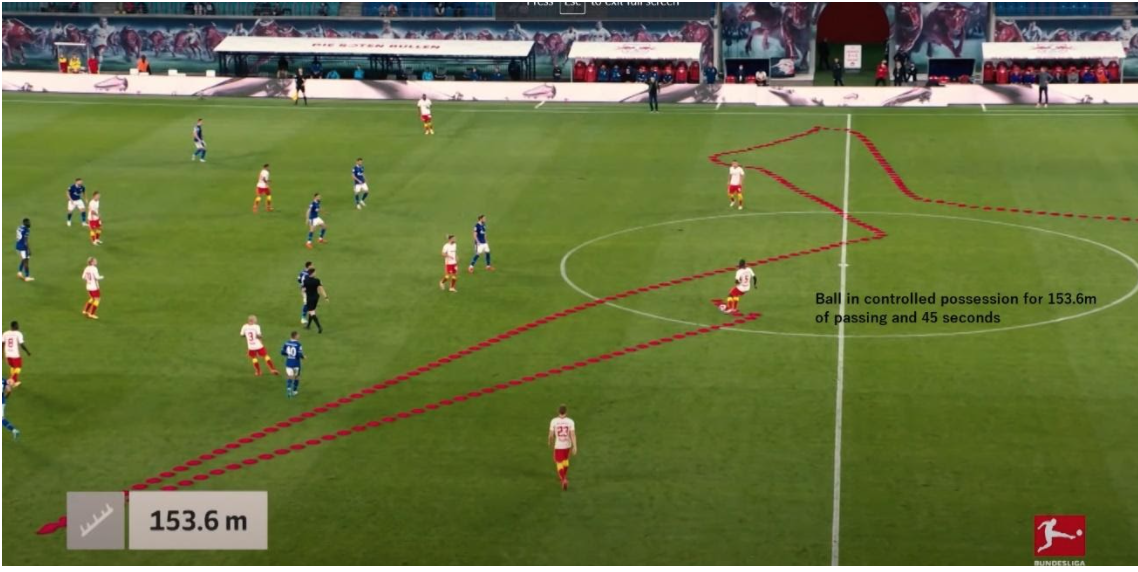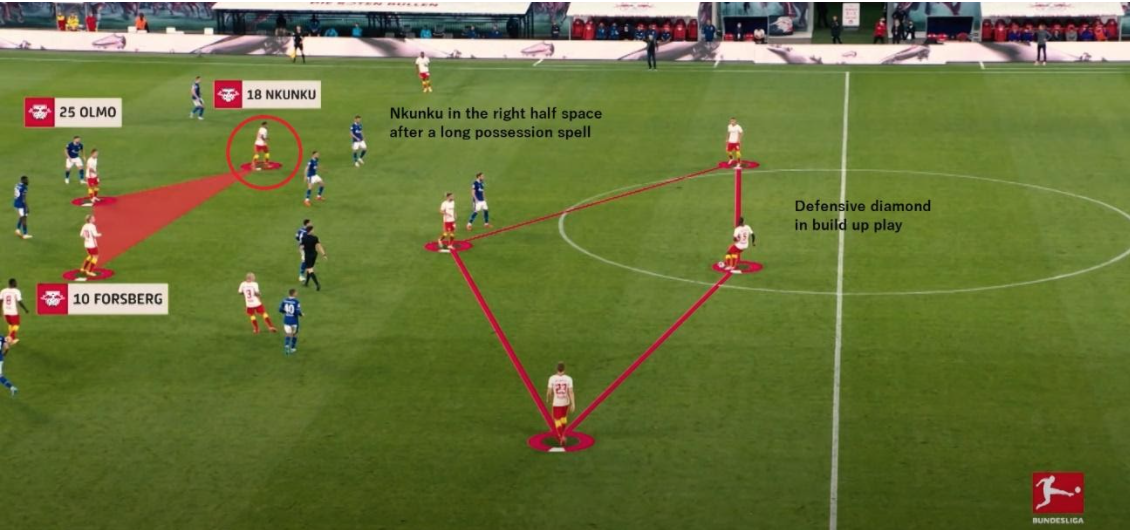 All in-game clips courtesy of Bundesliga.
Short contact times on the ball were another integral element of Nagelsmann's 20-21 side. Playing in tight spaces and needing less than a second on the ball, Nkunku's interplay often left opponents with very less time to adequately respond or counteract the threat.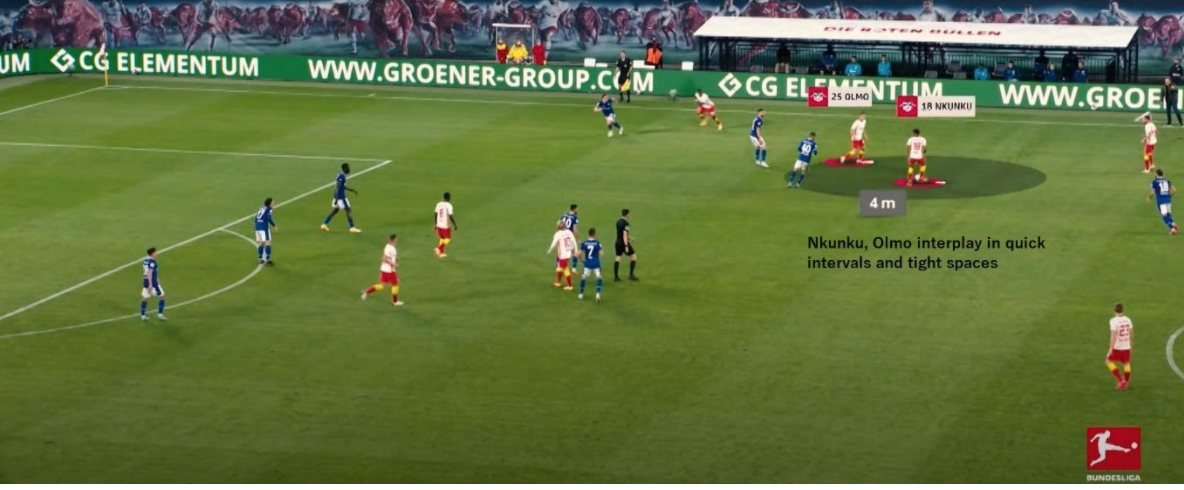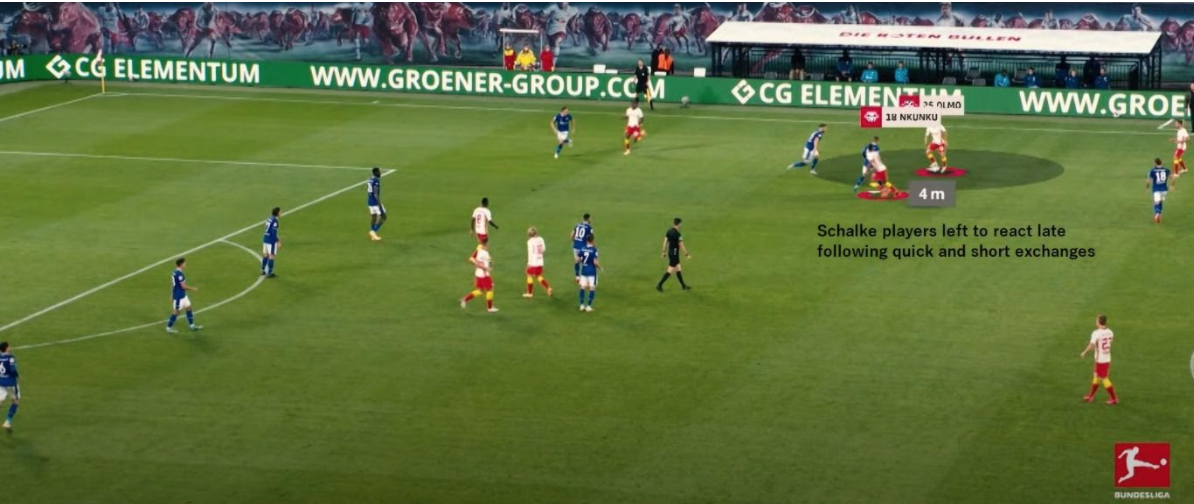 This can clearly be justified by the sharp increase in all the passing and short passing metrics between 2019-20 and 2020-21.

Photo: FBRef
Even considering Didier Deschamps' infamous reputation for sticking with the tried and tested for far too long, it was mind-boggling how Nkunku hadn't received a Les Blues cap then and even now. He was left out of the France roster for the postponed EURO 2020 tournament.
Deschamps hinted that he was close to a call up saying "He's a player that we're following. He could have been in there; he is doing interesting things. He's not here, but he's one of the serious candidates who can aspire to have this opportunity. I can only encourage him to continue."
During this time, Nkunku worked with a personal trainer to improve on his already explosive speed and strength but most importantly to become more clinical as a goalscorer ahead of the 21-22 season.
Tactical Switch under Jesse Marsch
Following Nagelsmann's departure to Bayern Munich last summer, American manager Jesse Marsch was brought in from Red Bull Salzburg to replace him, and naturally, Leipzig once again had a noticeable switch in style.
Compared to his predecessor, Marsch's fundamentals involved a return to the original "RB football" and he placed a renewed emphasis on vertical, direct play. Leipzig took the most shots following a high turnover and the number of 10+ pass sequences came down drastically. Marsch initially started with a 4-2-3-1 with Nkunku playing as a natural winger.
Their results stunted as they lost 3 of their first 4 Bundesliga games and got battered by Manchester City 6-3 in the UEFA Champions League. The only positive from the game was Nkunku making sporadic late runs in the box and scoring a hat-trick including two predatory close-range finishes.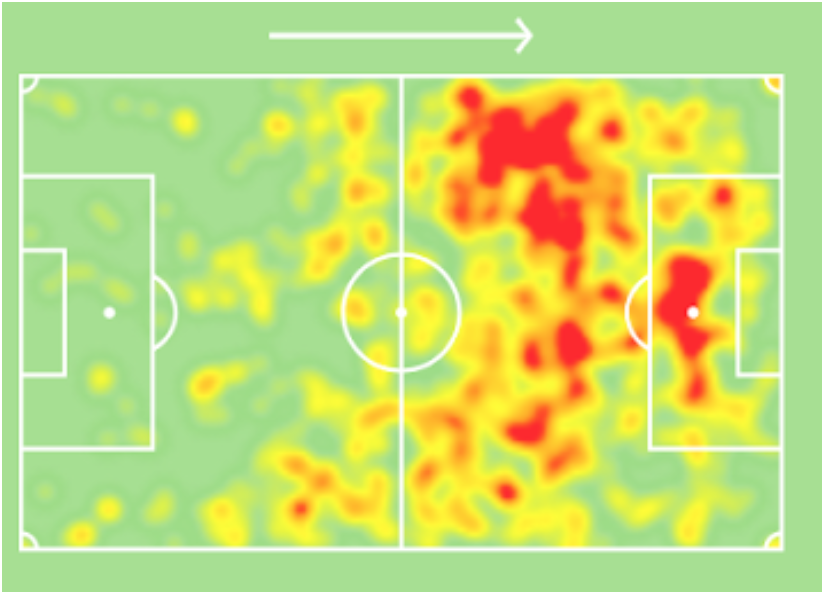 2021-22 Bundesliga heat map (SofaScore)
This was a precursor to what was coming as it prompted a tactical switch. Marsch reverted to the 3-4-2-1 and deployed Nkunku in the half-spaces, his best position. In this role, he could use his speed to get in behind defences, his passing and technical ability to combine with teammates and utilise his newly acquired finishing skills, some of which he couldn't do as effectively as a 10 or an out-and-out winger.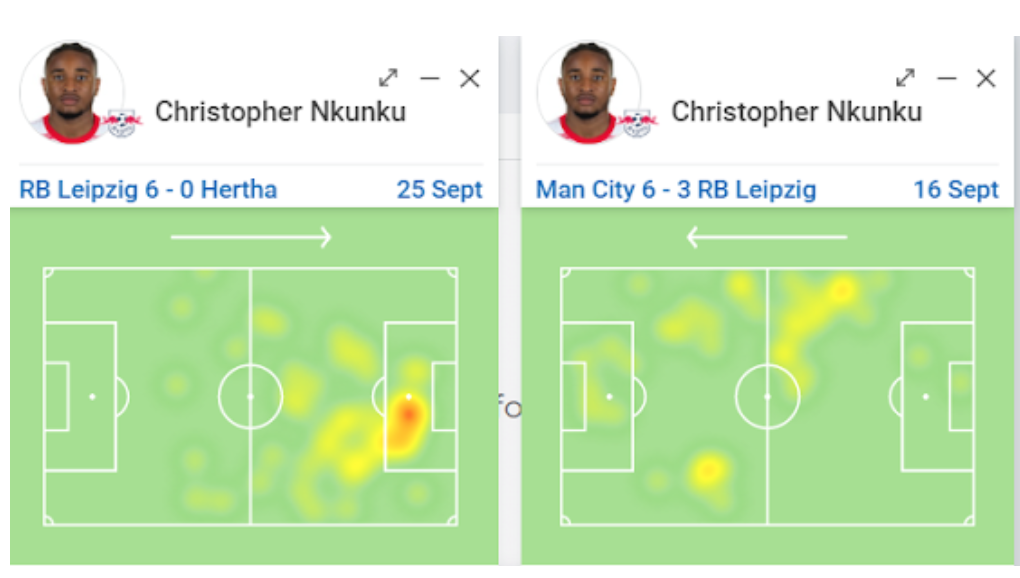 In the span of just nine days, we can notice a distinct shift in Nkunku's role. [SofaScore]
It paid immediate dividends as Nkunku got 5 goals in 3 games vs Hertha Berlin, Bochum and Club Brugge. The tactical high press/verticality and this newfound goalscoring prowess meant Marsch wanted Nkunku to receive the ball as high up the field as possible.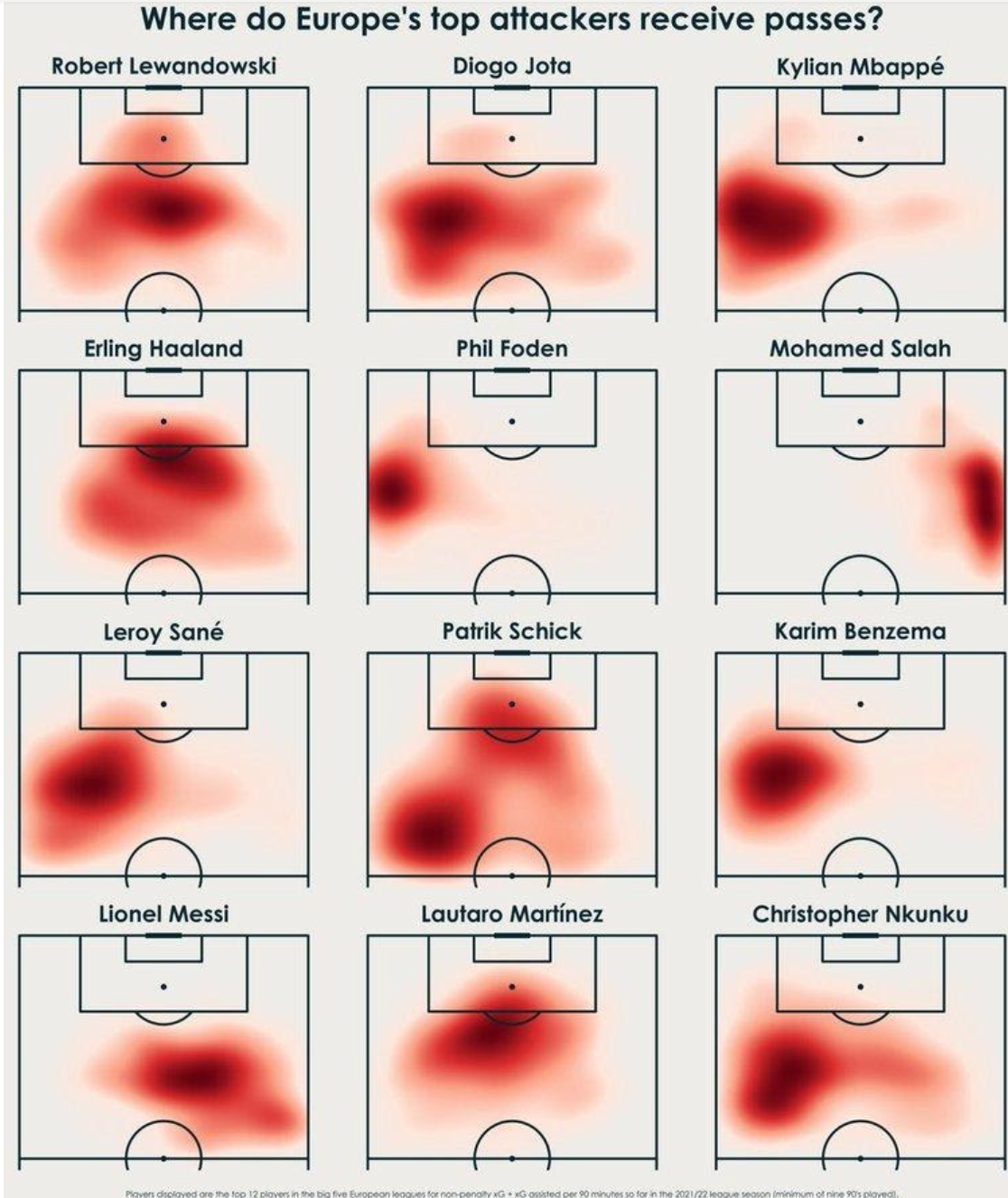 However, even with the improved eye for goal, Nkunku has not lost any creative edge. He's had 15 goal-creating actions in the league this season, the fourth-highest in the top 5 leagues. This is backed by the underlying metrics too, with Nkunku's expected assist (xA) value of 5.8 only topped by Thomas Müller in the league and by Trent Alexander-Arnold, Dimitri Payet and Mohamed Salah in the top 5 leagues.
Photo: @gasipo_opinions
If his passing and shooting abilities weren't enough, to add icing to the cake, his dead ball deliveries from corners and freekicks are among the best judging by the eye test and backed up statistically. He is in the top 2 percentile when it comes to shot-creating actions per 90 minutes via dead balls.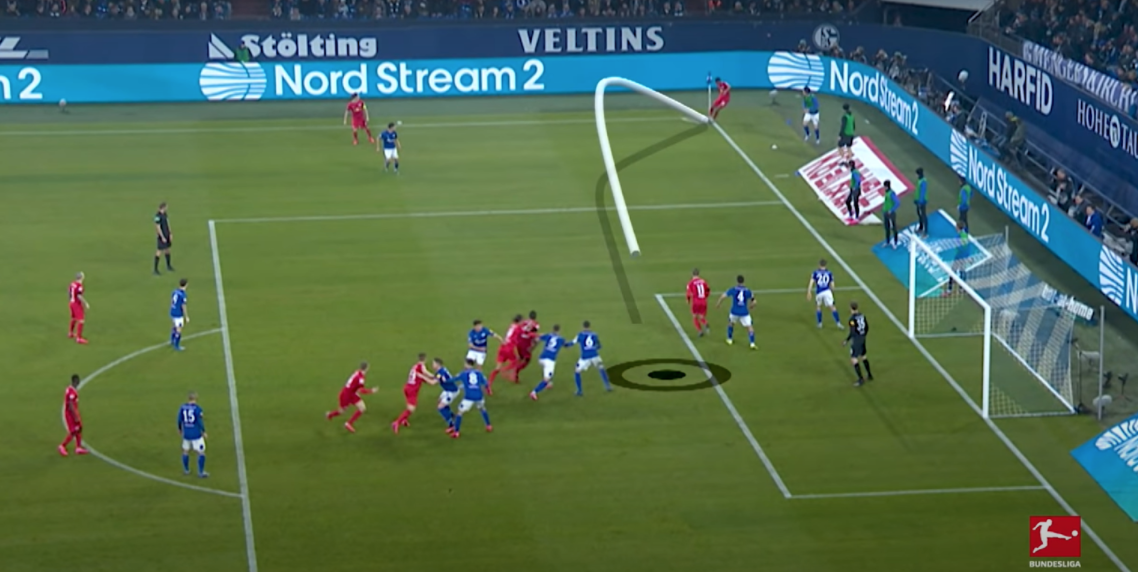 Thanks to his technique, the trajectory in his corners often causes confusion in the box and the goalkeepers to hesitate. It is just an added bow to his armour which can be very potent on days when his team is not playing well.
Nkunku's astonishing 21-22 is reflected when compared with other attacking midfielders and wingers, with the Frenchman in the 90th percentile or better for most key stats, as we can see from his underlying numbers via FBRef.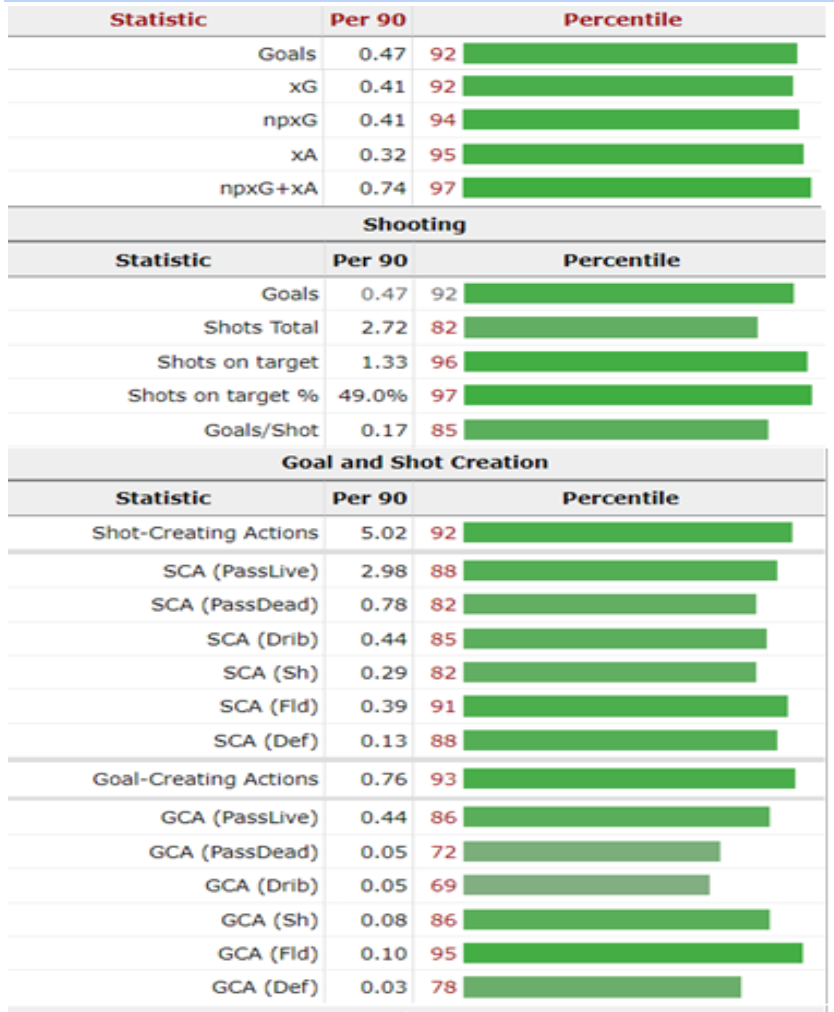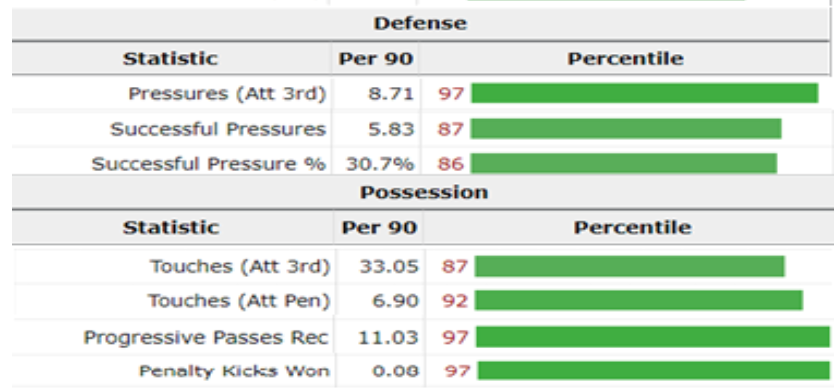 Leipzig's Struggles – Third Coach in Less Than a Year
Despite the individual brilliance of Christopher Nkunku, Leipzig have been hit hard with injuries and underperformance from other key players as well as the departure of key bodies like Dayot Upamecano, Ibrahima Konate and Marcel Sabitzer.
This has led to an inconsistent return of 10 wins, 5 draws and 10 losses across all competitions in the "hinrunde", a UEFA Champions League group stage exit and the eventual sacking of head coach, Jesse Marsch. Domenico Tedesco was quickly in line to replace Marsch and started with an impressive 4-1 win vs Borussia Mönchengladbach.
He continued with a relatively similar 3-4-1-2, with Nkunku almost playing as a second striker. However, a 2-0 home defeat to relegation-threatened Arminia Bielefeld means Tedesco has his work cut out for the "rückrunde". With Emil Forsberg out for up to 2 months with a thigh injury, a lot of the creative and indeed goal-scoring burden is going to fall on Nkunku again.
Nkunku has been a vital player in a UEFA Champions League Semi-Final reaching RB Leipzig as well as a bottom half in the Bundesliga RB Leipzig. If his career trajectory continues in this manner and is as good as his aforementioned corner kick trajectories, he is going to be one of the most sought-after attackers very soon.
By: @SweeperKeeperMN
Featured Image: @GabFoligno / picture alliance – Getty Images