Player Analysis: Daichi Kamada
Despite taking seven points from their first three Bundesliga matches this season, Eintracht Frankfurt's form nosedived as they subsequently failed to win their next nine matches (seven draws, two losses). However, the situation has improved since their trip to Augsburg in December. Following the 2-0 win at the WWK Arena, the Eagles have amassed 28 points out of possible 33 (nine wins, one draw and one loss), including a 2-1 victory over the recently crowned Club World Cup champions Bayern Munich, although their hot streak ended after losing to Werder Bremen on February 26.
Die Adler's early-season slump included a 5-0 defeat by the reigning European and Bundesliga champions and a humiliating 4-1 reverse in the DFB Pokal by Bayer Leverkusen, but now things have turned Adi Hütter's men. They have scored the third-most goals in the Bundesliga (45), whilst their Portuguese forward André Silva is the second-highest scorer in the Bundesliga after Robert Lewandowski, having amassed 19 goals in 21 appearances.
Eintracht Frankfurt is ranked ninth among the Bundesliga clubs in terms of their players' market value, with €191.05 million. The team made some astute signings last summer, most notably Silva from Milan and Steven Zuber from Hoffenheim. In addition, they took Amin Younes on loan from Napoli, while loanees Aymen Barkok and Jetro Willems have returned from Fortuna Düsseldorf and Newcastle respectively. Outgoings included Ante Rebić, sold permanently to Milan, Bas Dost to Club Brugge, while Jonathan de Guzmán's contract was terminated.
This season,  the team has used a 3-4-1-2 or 3-4-2-1 formation with vertical passes to break their opponents' press, while attacking through the flanks and utilising a combination of possession and counterattack. In the midst of all this, one player has stood out. Daichi Kamada has shown a huge improvement in his displays and has become a key figure for the team by playing in between the lines. An all-around attacking threat, the 24-year-old adds creativity to the team. Here, we'll take a close look at  Kamada's many talents and analyse his strengths.
The Japanese midfielder joined Eintracht Frankfurt in the summer of 2017 from Sagan Tosu in the Japanese League for around €2.5 million. He played just four matches for his new club during the 2017-18 season before he was loaned to Sint-Truidense in the Belgian league for the following season. He played 36 games for De Kanaries, scoring 16 goals and providing nine assists. He returned to Germany for the 2019-20 season and quickly became a first-team regular at the Deutsche Bank Park.
Positioning
Kamada is able to play in a variety of attacking positions and is excellent at using both feet. He possesses superior speed to go with his great balance and agility and is comfortable on the left wing or as an attacking midfielder. He often likes to find central areas of the pitch as opposed to hugging the touchline.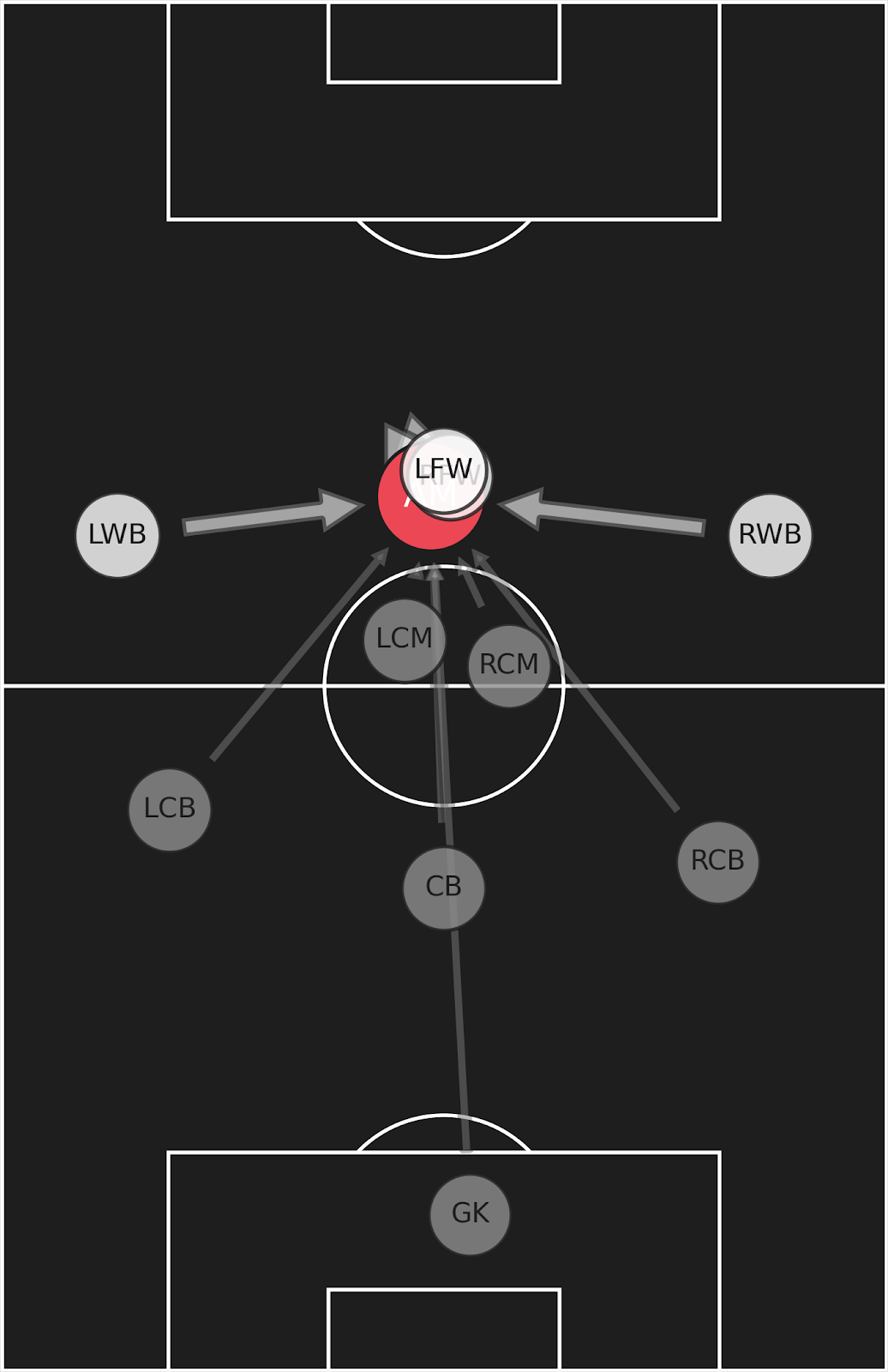 Photo:  Twenty3/Wyscout
Below is his heat map from the Bundesliga in the attacking midfield roles where he has received most of his minutes. As can be seen, he likes to find room in the half-spaces rather than wide areas.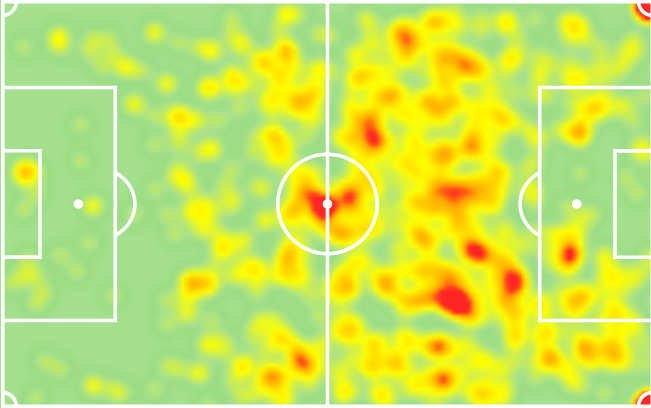 The former Sagan Tosu player is great at finding space between the lines and receiving the ball at his feet. He picks up good positions and exploits the space in opposition defenses, while he has completed 73.8% of his passes this season.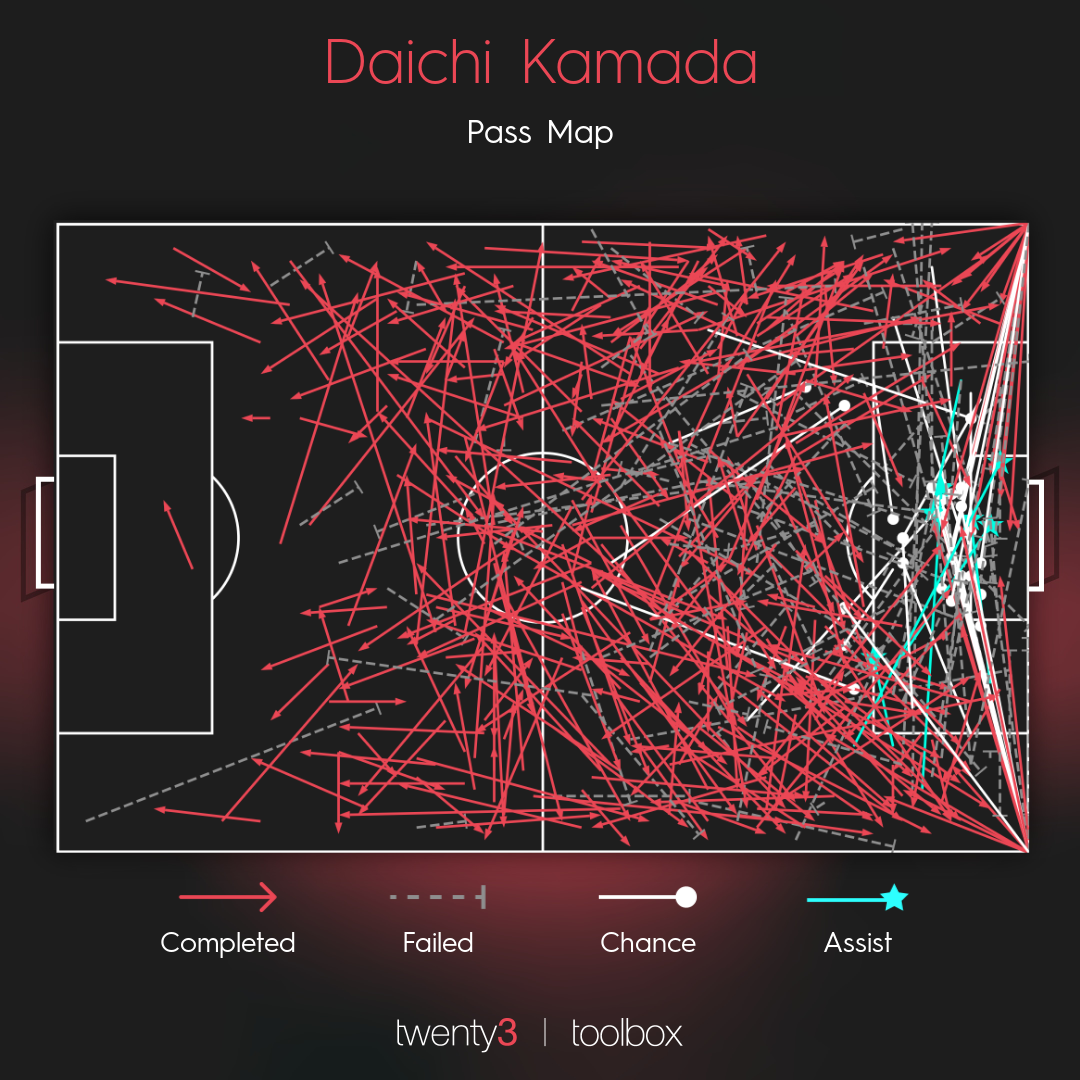 Photo: Twenty3/Wyscout
Below, we can see him looking over his shoulder to check the space and location of his opponents. He makes sure that he is free to receive the ball by finding space between three opposing Hertha Berlin players.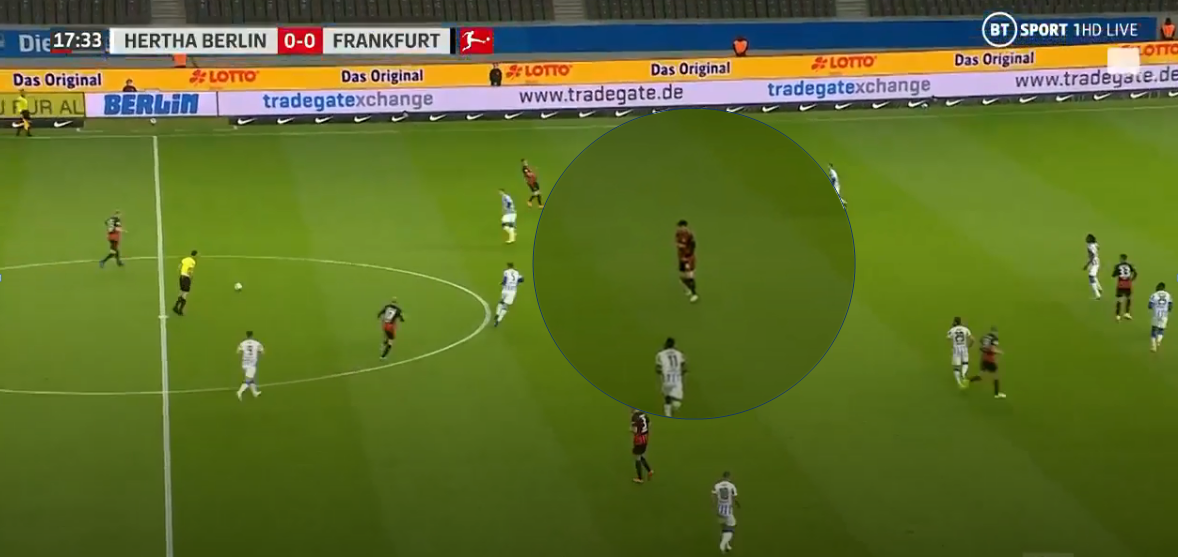 Upon receiving the ball on the half-turn, he attacks the empty space towards the left half-space of the pitch.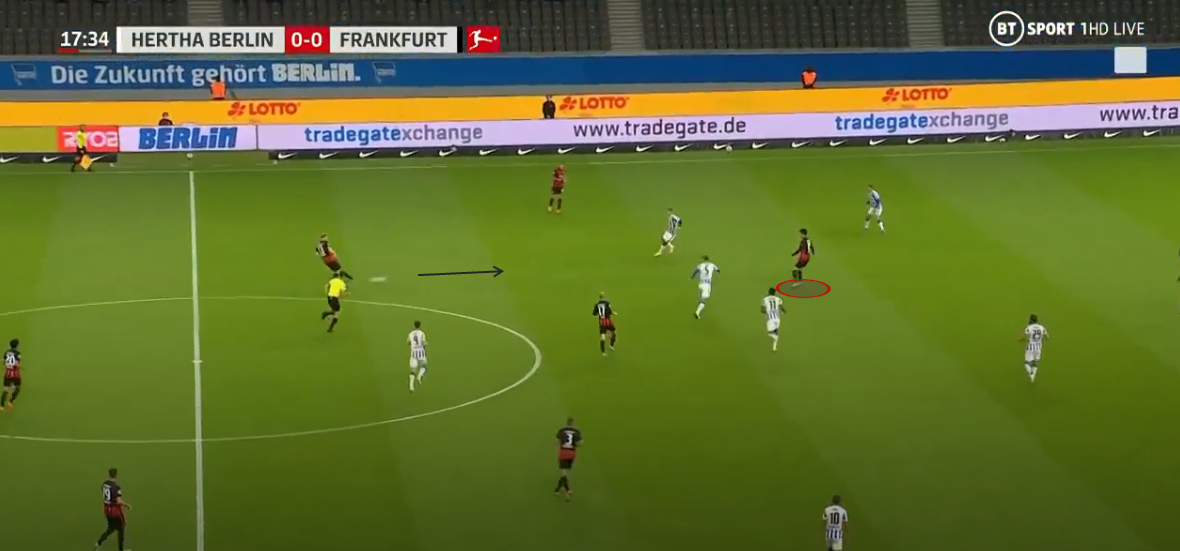 This enables him to find an unmarked Silva in space and put the Portuguese striker through on goal.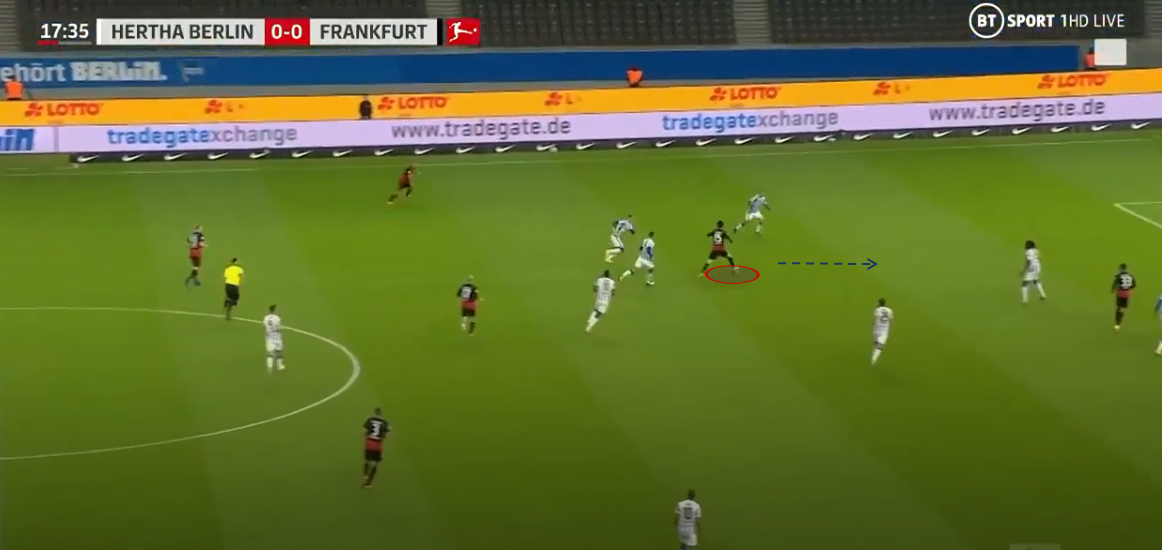 Not only is he able to find pockets of space, but Kamada is also secure in possession and regularly offers himself as an outlet for his team-mates. The example below shows how Kamada interacts with space before asking for the ball.
Kamada slowly enters the box when he finds the winger or full-back is about to make an early cross or cut back. This delay helps him to take a better shooting position with one touch or expand his shooting range. In the below example, the opponent defender tries to intercept the cross.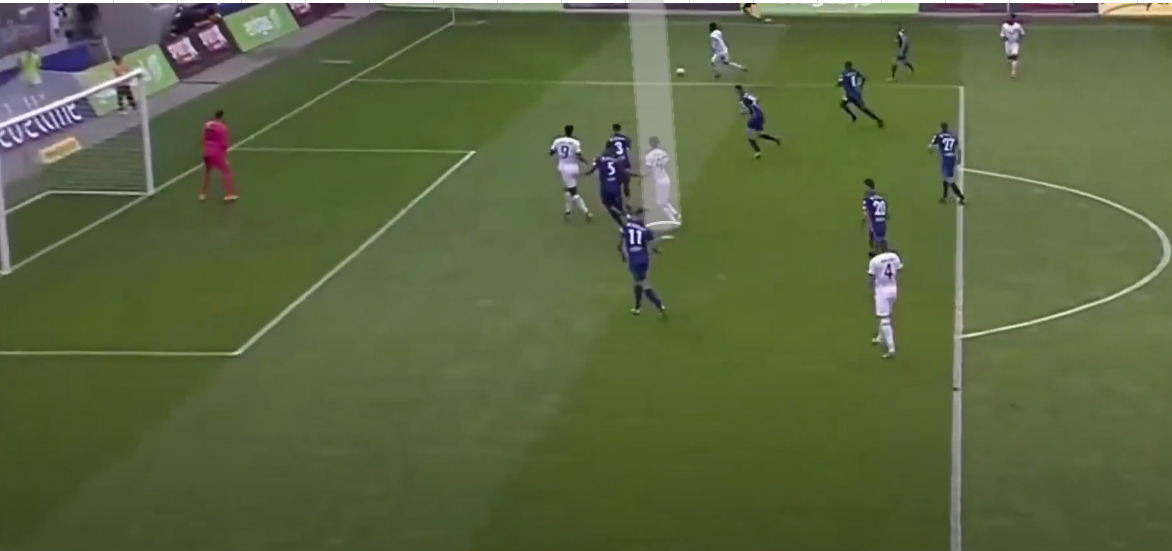 Kamada steps back a few yards to create enough space for himself.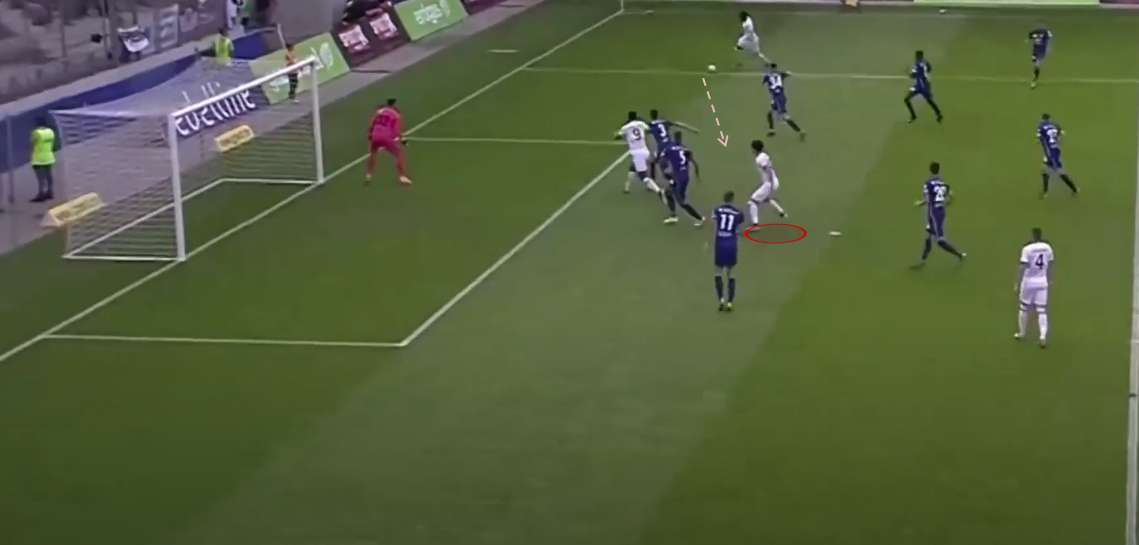 He receives his teammate's pass and hits the ball instantly.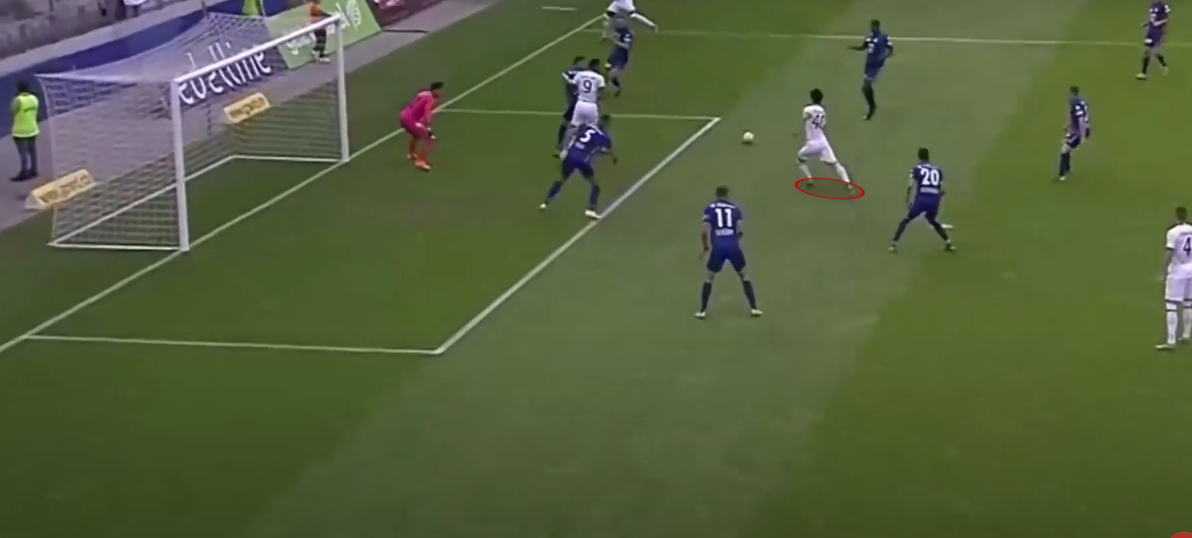 Progressive Dribbling
The Japan international is also a progressive attacking player with a fantastic ability to run with the ball at his feet. His progressive distance last season was 2,005 yards and has now registered 1203 so far this season. He registered 135 progressive carries last season and currently has 75 so far this season. Combine that with his 56 dribbles last season, with a 66.1% success percentage and 30 dribbles this season.
Below is an example of his ball manipulation combined with his spatial awareness from games with Sagan Tosu. With two defenders closing him down, he dribbles into space towards the centre of the pitch to relieve some pressure and gain better control of the ball.
Passing And Goal Creation
Kamada is excellent at passing to team-mates in dangerous positions. His excellent vision and two-footedness can make the difference in promising situations and so far this season, Kamada has registered 4.9 expected assists.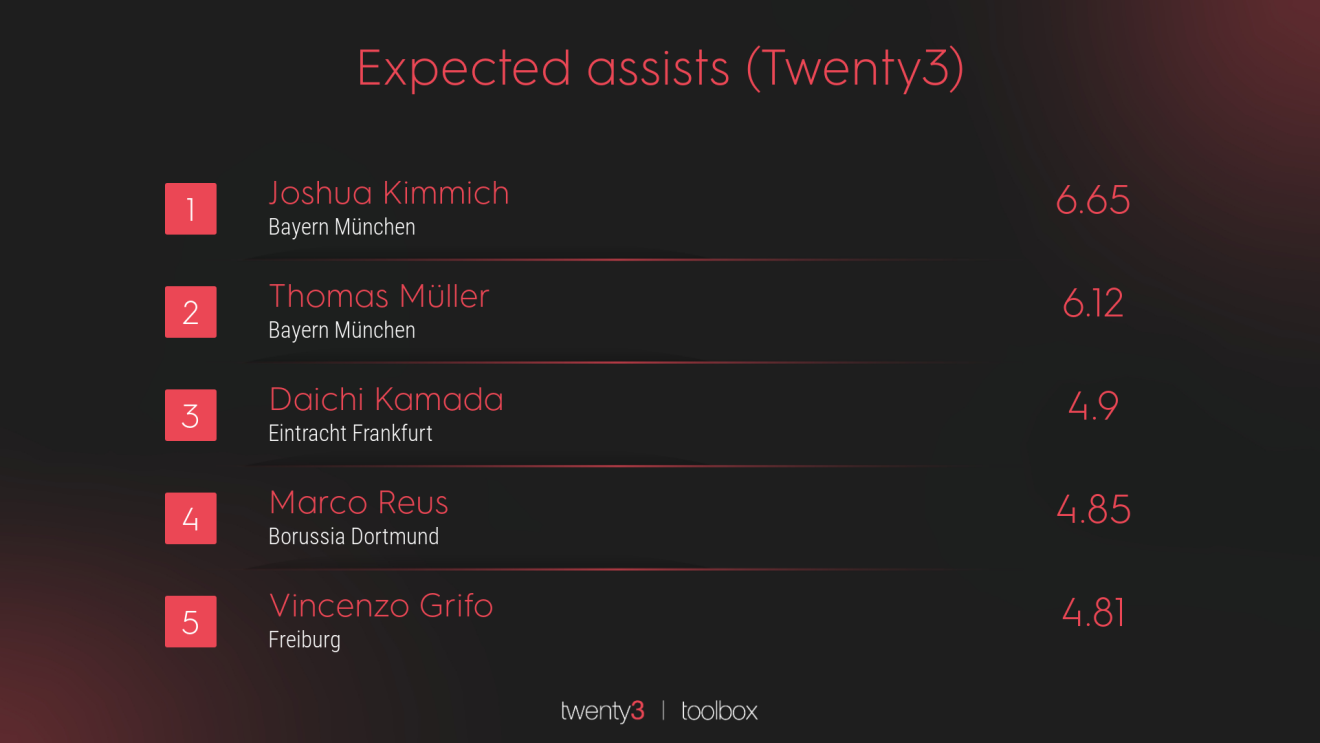 Photo: Twenty3/Wyscout
He also has 0.43 shot assisted xG and 4.37 shot-creating actions.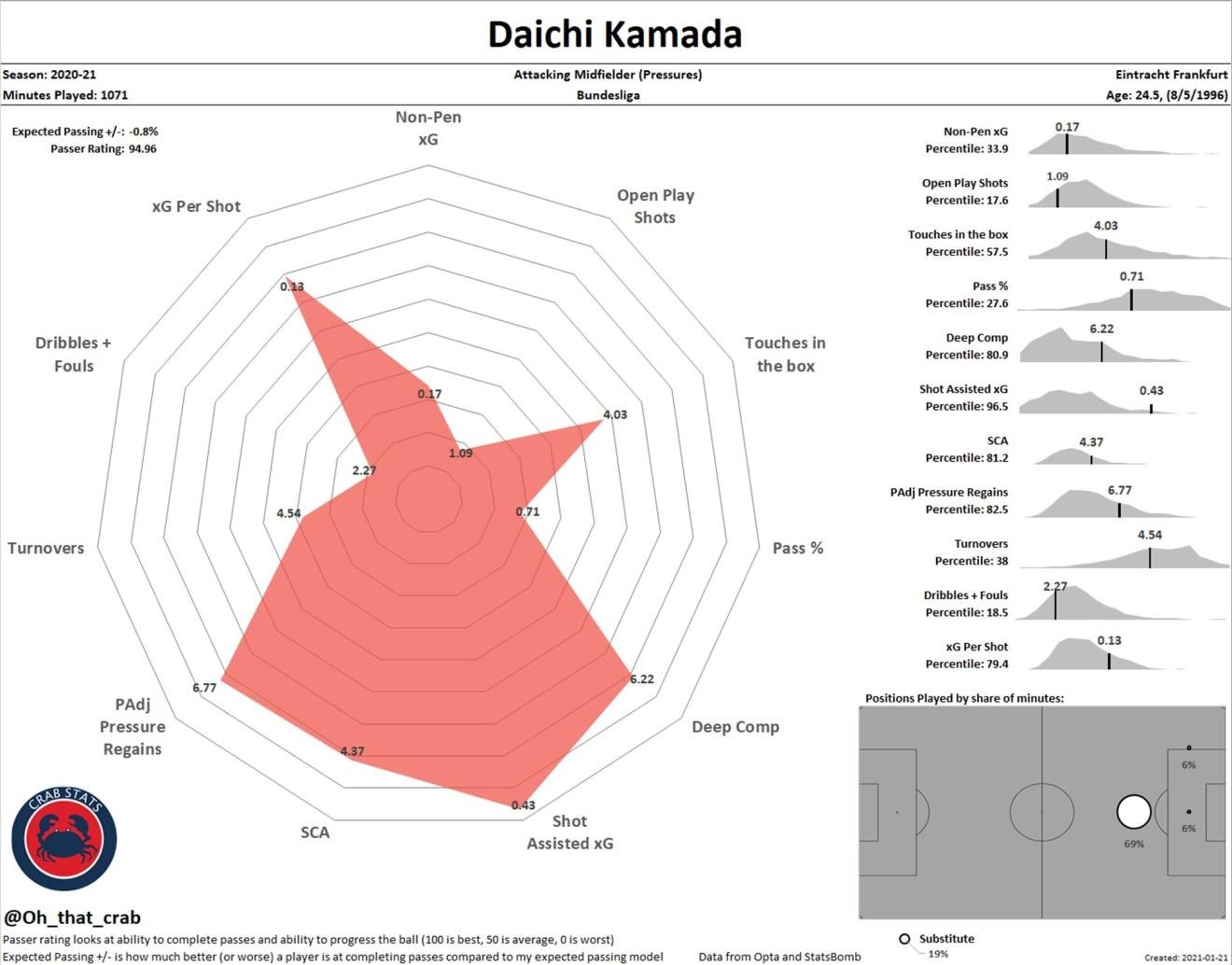 Kamada ranks first among Bundesliga midfielders in terms of shot assists per 90 minutes (2.26), and makes 2.9 passes into the final third per 90 minutes.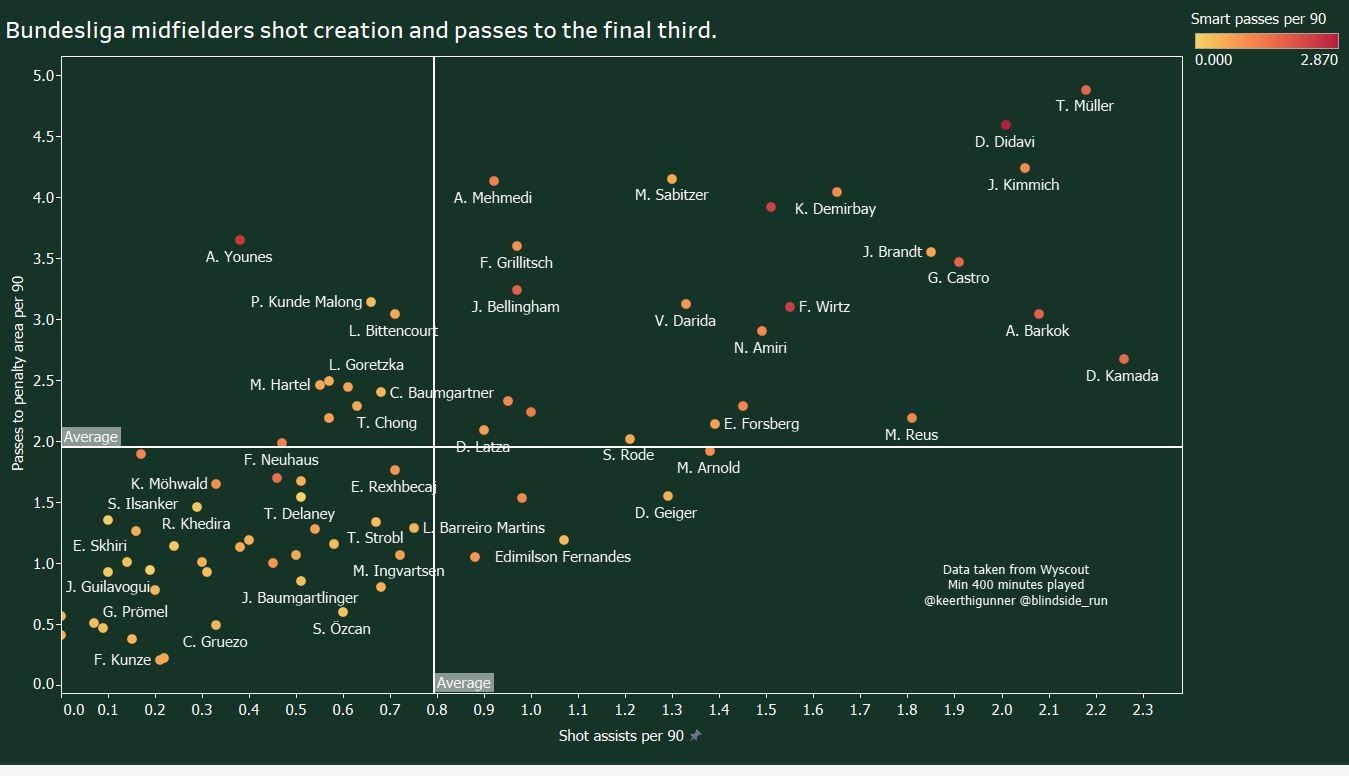 In the example below, Kamada carries the ball to the side of the penalty area. There are only two Eintracht Frankfurt players in the area, and the Japanese midfielder doesn't have time to notice as the Stuttgart defender presses him.
He holds the ball until his teammates arrive, then plays a cut back using his weaker left  foot to find a teammate in a dangerous position to score.

Shooting From Difficult Positions
Kamada is good at shooting from difficult positions. His high quality of shots and extreme accuracy make him dangerous even if the situation is tight. Below is his xG shot map.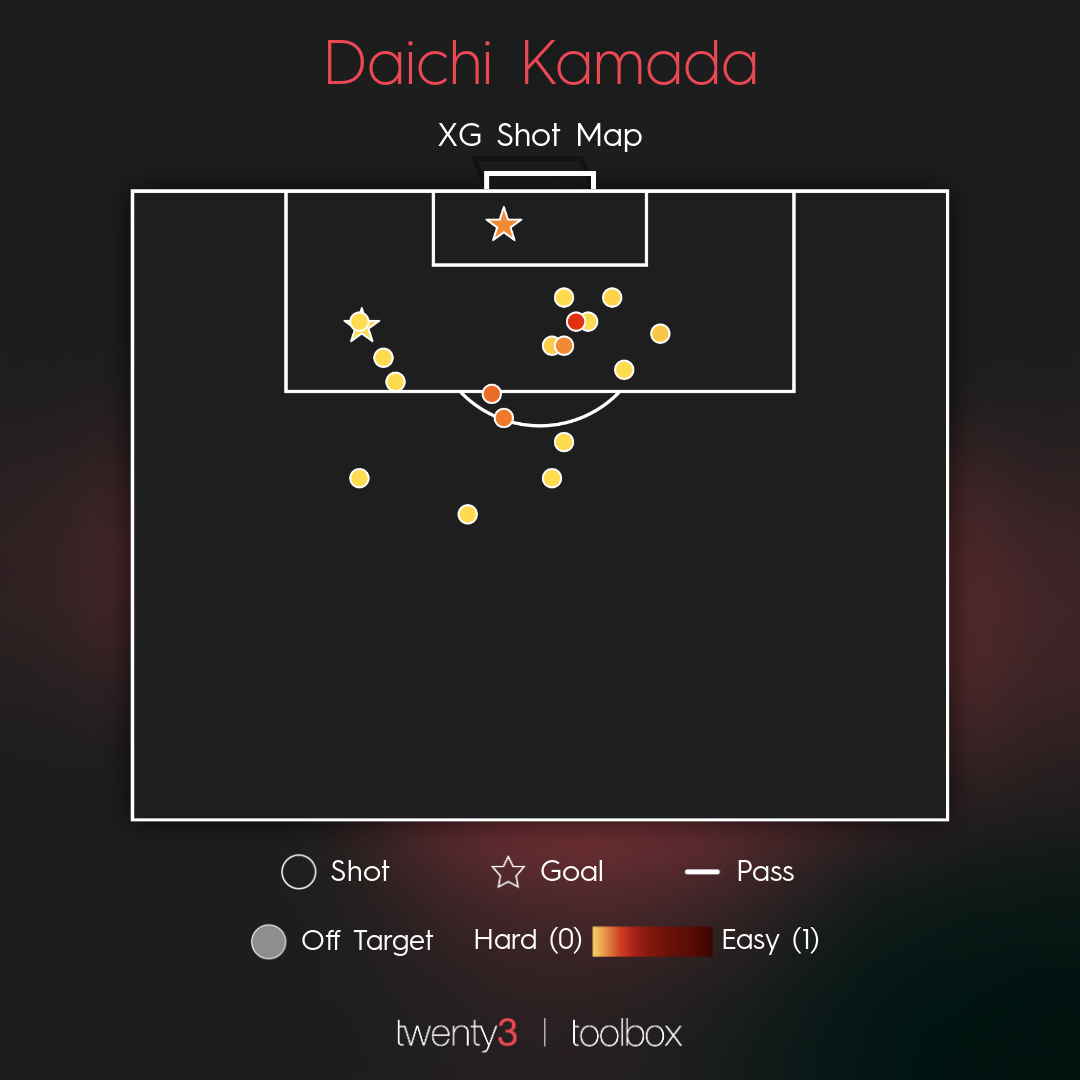 Photo: Twenty3/Wyscout
Against Arsenal, he scored a brace to lead Eintracht to a 2-1 victory; it just so happened that the victory would cause Unai Emery to be removed from his duties as manager. He's positioned inside the penalty area and ensures that there is no opponent to block the passing lane so he is able to receive his teammate's pass.
He receives the ball and makes a quick turn, making sure that he has full control of the ball.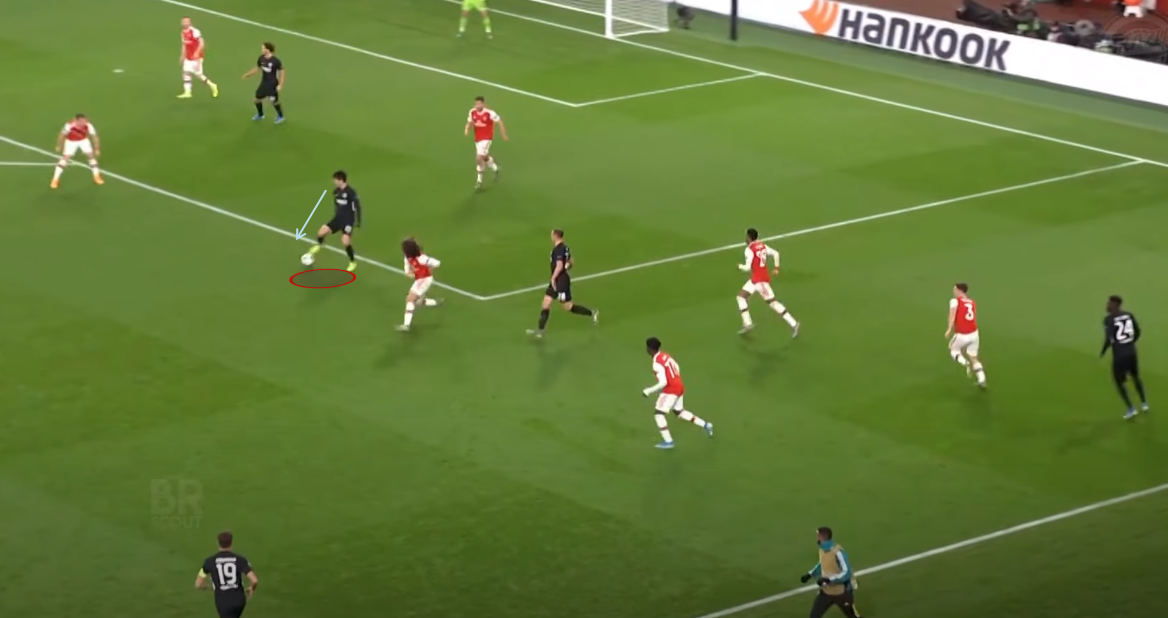 He uses his body to trick his opponent and open up a good angle for shooting.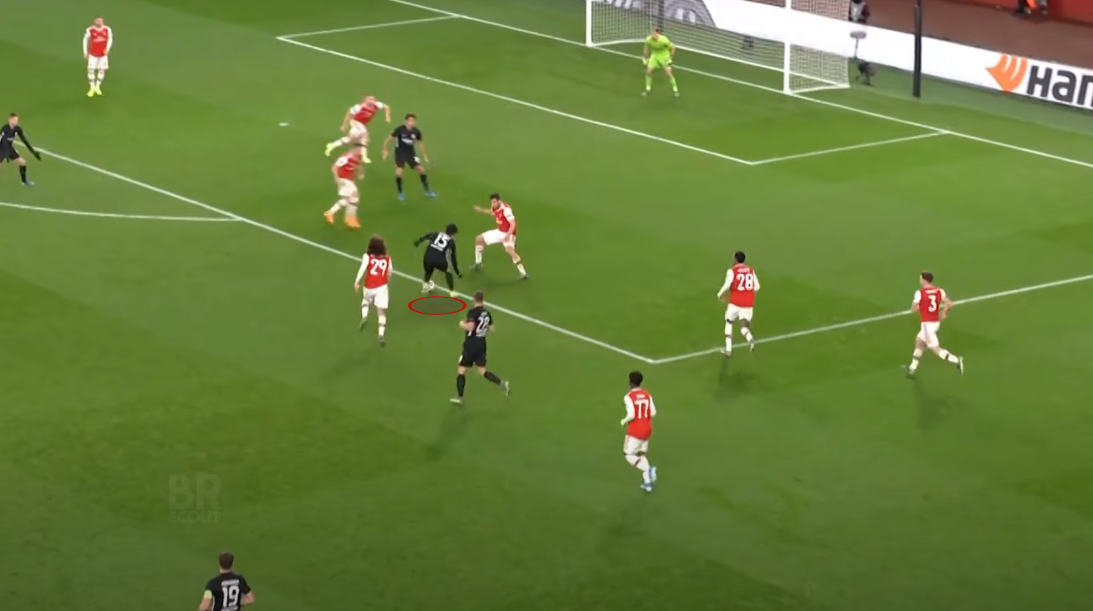 He shoots with great power and accuracy despite the narrow angle and opponents trying to close him down.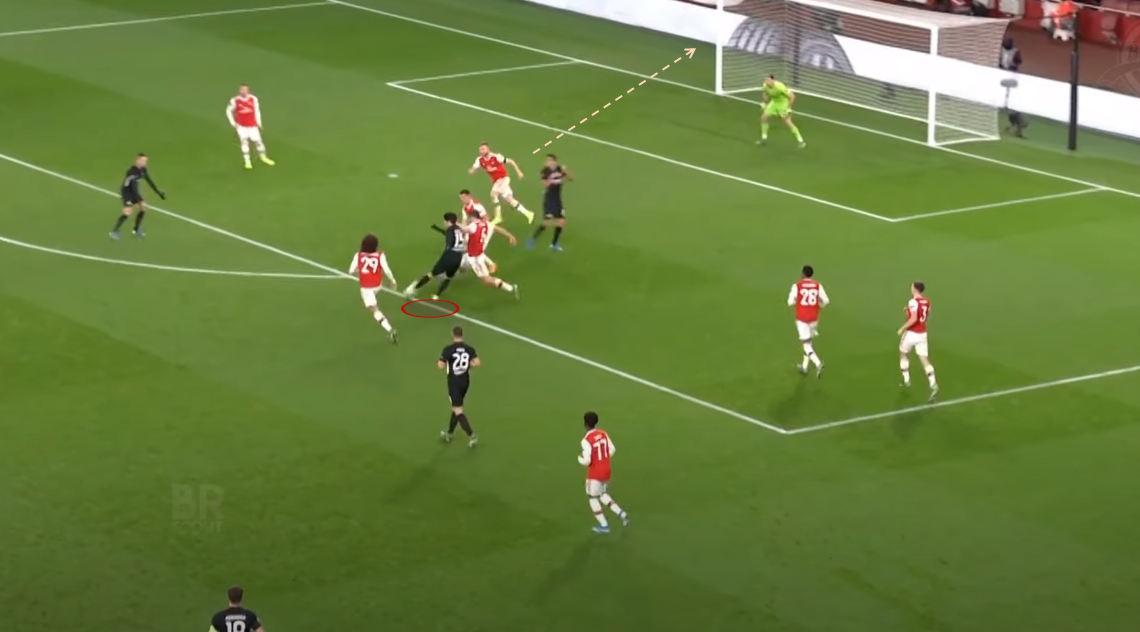 Conclusion
Eintracht Frankfurt experienced a difficult spell in the autumn after a promising start to the 2020/21 season. However, they recovered and currently lie fourth in the Bundesliga. With the possibility of battling for a spot in Europe for next season, Daichi Kamada's role will be vital.
During his third campaign with Eintracht Frankfurt, Kamada is in a rich vein of form and has become an indispensable member of  the squad after successfully establishing himself as a talented player who is versatile and fits into a variety of tactical set-ups. He's also capable of scoring a variety of goals and further contributes to his team either by assisting directly or creating space with his runs and movement. Keeping this level up means that we may soon see Kamada play for one of the European giants.
By: Omar Mokhtar
Featured Image: @GabFoligno / TF-Images / DeFodi Images