Player Analysis: Darwin Núñez
On the origin of species, in footballing terms at least; tall, aerially shrewd strikers would serve such purpose: stay central, saunter into dangerous areas, score and assist goals. Since the turn of the century, Didier Drogba and Robert Lewandowski have both mastered that purpose, phasing it into the modern game so proficiently. But in the age of unrivaled athleticism and unrelenting tempo, the traditional target man role is becoming increasingly bereft of benefit to many teams. 
As a result, those strikers that are typically weaponised as a spearhead have transitioned into a role that would be more accurately depicted by the fragments of a shotgun shell. Both unpredictable and widespread in positioning, thus equally intimidating for central defenders staring down the barrel, as well as those surrounding them who could succumb to the scattered approach. 
Darwin Núñez is a shotgun striker, so to speak. His movement menacingly incalculable, whilst his killer instincts remain a factor for his foes to be wary of, worried about, but with little by way of averting the inevitable. In no uncertain terms, the inevitable tends to be the Benfica forward's rocket-fuelled right foot – with which he has scored six of his eight goals for As Águias – but his overpowering presence appears in many forms. 
Whether a teammate has the ball on the halfway line or the byline in an attacking phase, Núñez's positional intelligence cannot be understated. It's almost as if he stops time for a split second with his team in transition, assesses the situation before making his decision. From one attack to another, he optimises different channels as a strategic ploy to play off the defender best suited to be his prey, and though he may not always find the ball at his feet, his movement so often creates successful attacking actions for his team. 
Interestingly, the Uruguay international has had quite the contrast across competitions when it comes to goal contribution, which has a lot to do with his versatility in the final third. In Primeira Liga, he has showcased his ability to control the left flank, bullying the right-back with sublime power and pace to carry Benfica forward and turn opposing defenders towards their own goal with his bursts on and off the ball. 
Meanwhile, in the Europa League thus far, the Uruguayan's tendencies to terrorise lie more centrally, where he links up play effortlessly with his back to goal before busting a gut to get in and around the box much more often than in the league. 
Consequently, he has registered three goals and eight assists in Primeira Liga, netting once every 398 minutes. On the continent, however, he has five goals in five appearances, averaging a goal every 68 minutes. This fascinating disparity is best displayed through the following heat maps across both competitions.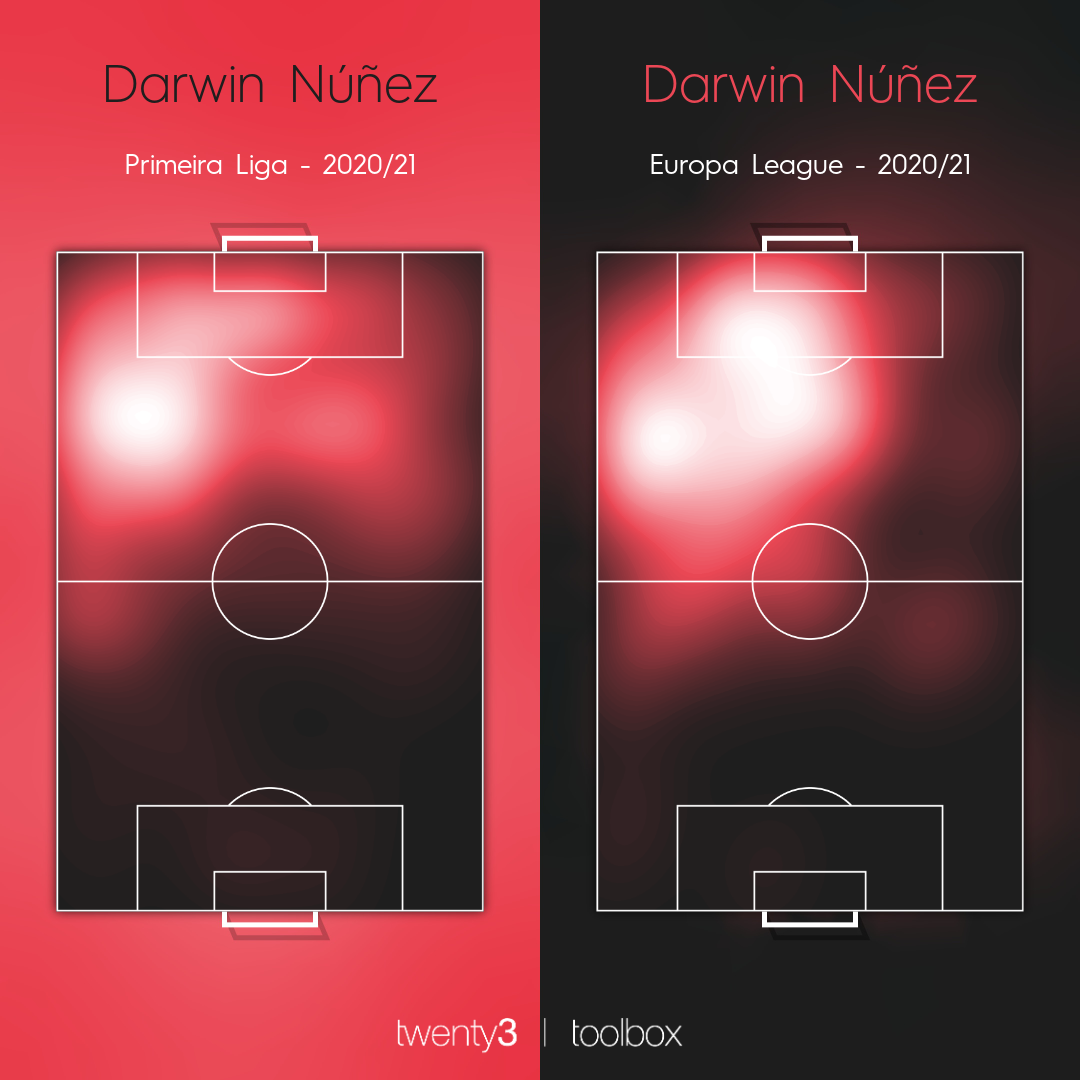 Photo: Twenty3/Wyscout
As you can see, Núñez has proven his ability to occupy different purposes across the front line depending on how Jorge Jesus has his team set up. In the Europa League matches that Núñez has scored in, he has always been deployed as a lone striker. Whereas every one of his Primeira Liga assists have come whilst playing as part of a front two. 
Despite the apparent, incessant qualities to contribute to his team's goal tally, Núñez's technical skillset is surprisingly limited. But he is fully aware of his flaws and continues to adapt his game to deem them futile to his overall impact. At long range, he has an aptitude to spray a pass that compatriot Federico Valverde would probably shake his head at, and still, an aspect of a striker's game that you would expect to be at least somewhat significant bears no burden on Darwin's cutthroat capabilities. 
Instead, when he finds a yard to pick a cross-field pass or a lobbed through ball over the defence, he drives into it, shortening the distance between himself and another teammate before releasing the ball successfully. In many ways, he has dispelled the myth that football is easier when you let the ball do the work. When you have a monstrous physique, frightening acceleration, and a delightful, devastating dribbling style, there is simply no need. 
At first glance, he appears slight and gangly in his frame, but at second glance, and the startled gazes that are sure to ensue, you will discover his staggering agility, balance, and composure for such a towering figure. And with those three crucial components, he is at his best in and around the opposition penalty area, thriving in pockets of space and making things happen when it is most important. 
As all good strikers should, he not only contributes to kickstarting counter-attacks but ensures he does everything in his power to be there to finish it off. A prime example of this came against Belenenses on October 26. After Haris Seferović opened the scoring in the sixth minute, Núñez came close to doubling Benfica's lead at the Estádio da Luiz.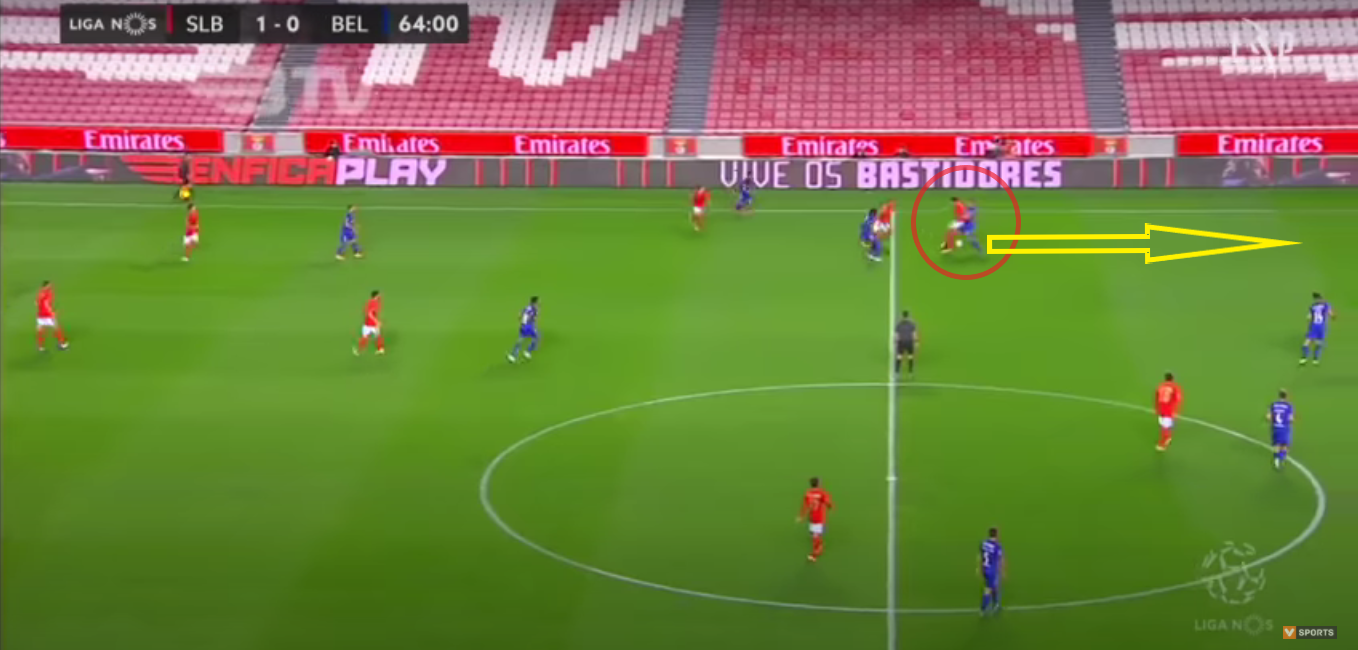 Having let the ball run into the path of Everton Soares before being fouled to the ground, Núñez appeared to have been taken out of the attack as it progressed swiftly ahead of him.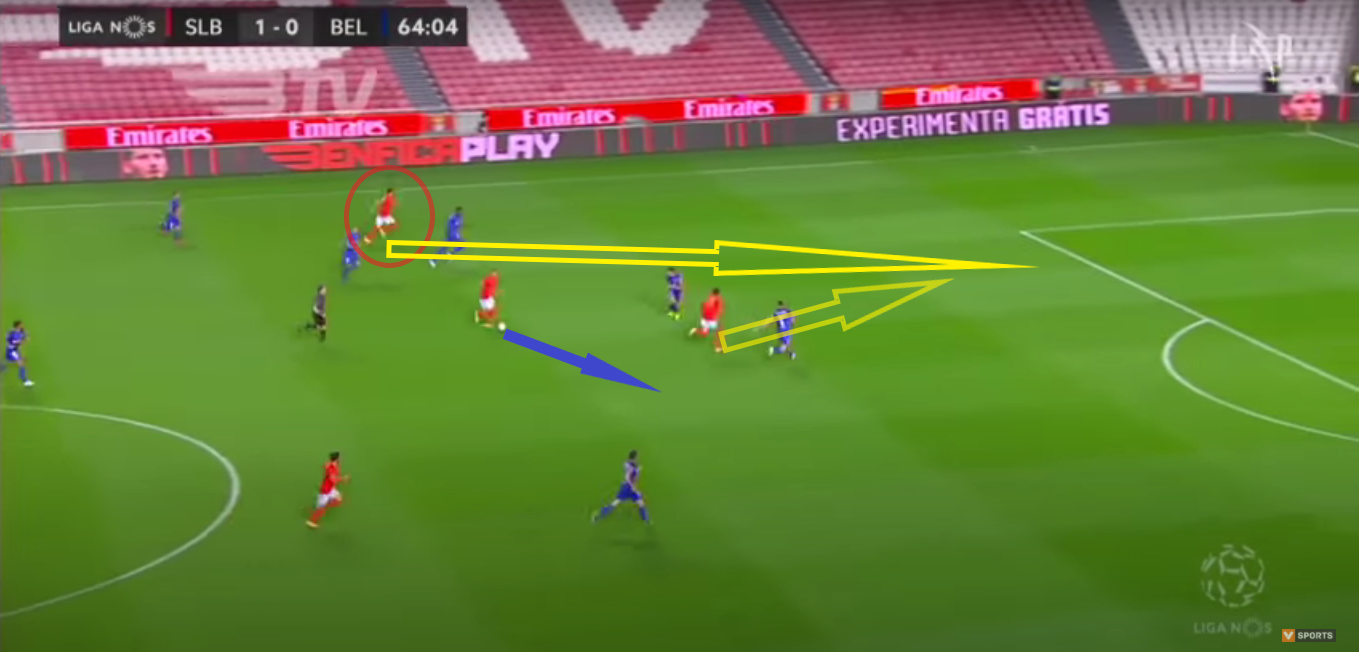 Nevertheless, as Everton entered the final third with poise, the Uruguayan was already up and tearing down the left to aid the attack as Belenenses appeared to have the numerical advantage. As Everton slid the initial pass into the path of Luca Waldschmidt, Núñez was on hand to collect the German's flick-on and finish emphatically into the bottom right corner.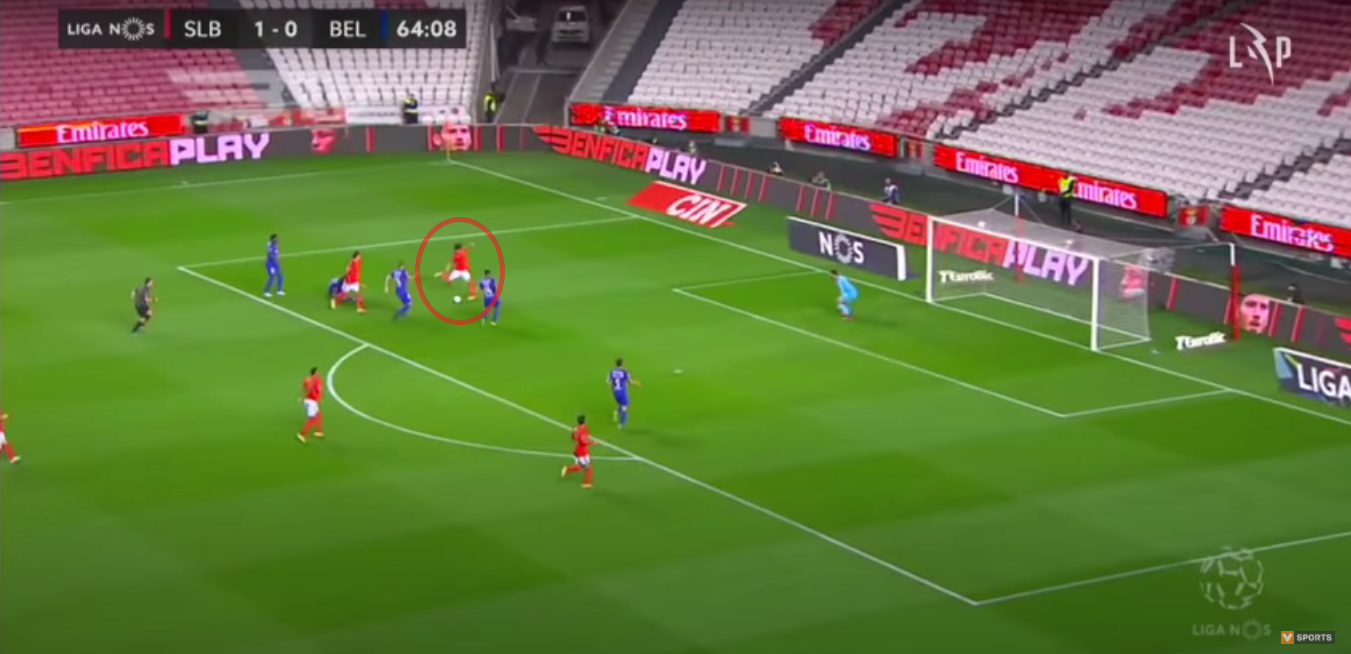 Unfortunately, he was deemed to be marginally offside, but he put the contest to bed just ten minutes later, gliding past goalkeeper André Moreira and sliding the ball into the back of the net. This move perfectly displays Núñez's tenacity to get into dangerous territory and almost always make a telling impact, thus producing such a prolific goal contribution rate. This is further exemplified by his superior presence inside the opposition penalty area.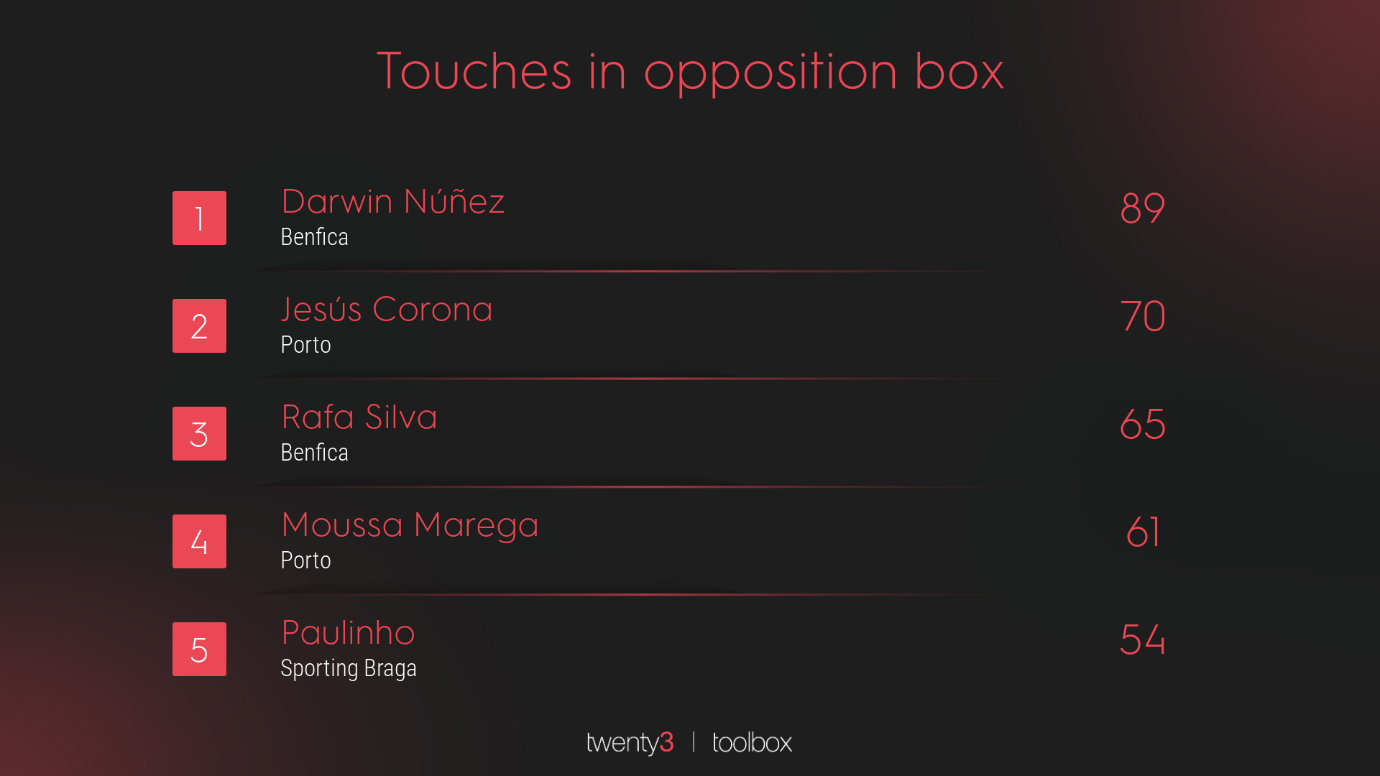 Photo: Twenty3/Wyscout
As a result of his implacable persistence on all fronts – due in part to his apparent short-sightedness on the field – Núñez can be guilty of overrunning the ball when a pass might have been the better option. But for the most part, he plays head aloft, hungry to create and horrifyingly efficient and ebullient in the final third. 
Going back to Núñez's standstill assessments of a free-flowing forward push, his speed and mental sharpness buys him a second to anticipate where the ball is going and decide where he can be most influential – and more often than not, he gets it spot on.
Be it a detour between the lines to collect the ball and connect intricately with oncoming teammates, or a dart in behind where he fancies himself even if the defenders have a 10-yard head start, the 21-year-old is both fearless and fearsome in equal measure, and it is that creative confidence that seems him conjure up so many opportunities for himself and others. 
It is no surprise that he has three more Primeira Liga assists than any other player this campaign (8) and is behind just Harry Kane for goals scored per 90 in the UEFA Europa League (1.26). As the expected goals contribution chart also suggests, his productive start to life in Portugal is definitely warranted.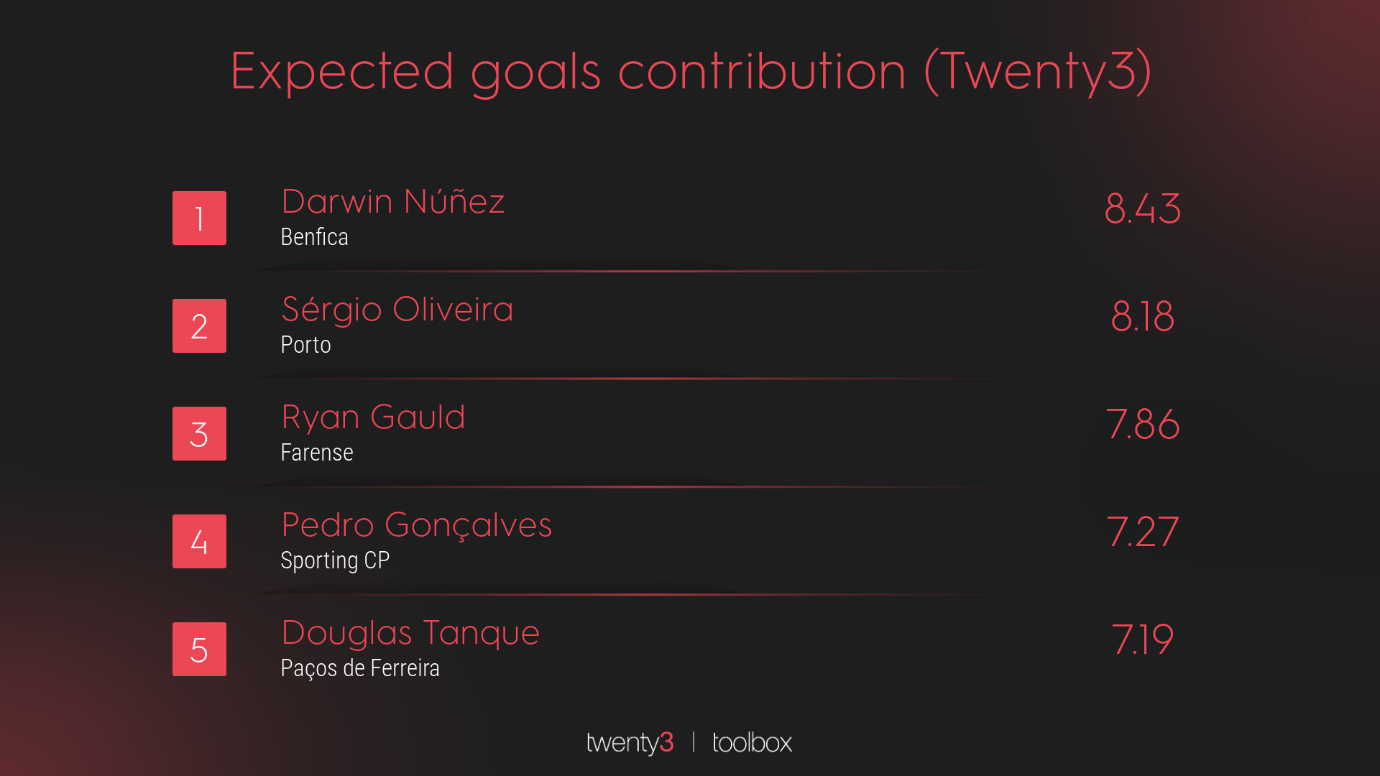 Photo: Twenty3/Wyscout
That instant impact – reinforced by his brilliance in the Segunda División with Almería, where he scored 16 in his first full senior season – has inevitably caught the eye of the kingpins across Europe, and Benfica boss Jorge Jesus is already expecting their record signing to go on to bigger and better things soon enough. 
After arriving on a €24 million deal in September, Jesus already believes the club will get more than five times that sum in return for the forward, admitting that when he does depart, it will surpass the club-record sale of João Félix in 2019 (€126 million).
That is some statement, but one that is undoubtedly supported by the astonishing standard the Uruguayan powerhouse has set since his arrival at Estadio dá Luz. In this instance, Núñez's emergence as a world-class striker is not a case of if, but when. 
As the spearheads slowly start to dissipate from existence – at least at elite level – the age of the shotgun striker is upon us, with Darwin Núñez front and centre. As Edinson Cavani and Luis Suárez creep towards their careers' conclusion, expect to see another dynamic, devastating threat from Uruguay tearing up one of Europe's top five leagues very soon. 
By: Brad Jones
Featured Image: @GabFoligno / Gualter Fatia – Getty Images