Player Analysis: Dembo Darboe
The stench of brutal police intervention at anti-Lukashenko protests around Belarus festered long after the protests themselves, clouding opinions worldwide of the former Soviet republic. Once that became old news, plans to assassinate the much-maligned dictator emerged and were quickly foiled by his friends at the FSB.
And last but not least, the fiasco at ten-thousand feet saw a Belarusian fighter jet force a Ryanair plane to land in Minsk so that Belarus could detain a pair of well-known activists, despite having no right but plenty of creedence. 2020 and 2021 have not been kind to Belarus, but as famously said, "no publicity is bad publicity."
Belarus's football scene saw a mini-boost in popularity when it was the sole league operating during the worldwide spring lockdown of 2020 though the attention was sadly short-lived as it dispersed as soon as the announcements of EPL and Bundesliga reopenings emerged.
The Belorussian league is the only league in Europe that is still going on. Energetik-BGU & BATE Borisov played yesterday in front of 730 people.

Despite having 51 positive cases, president Alexander Lukashenko has told citizens to "drink vodka, go to the sauna, and work hard."

— Zach Lowy (@ZachLowy) March 20, 2020
In the background of all of this Belarusian turmoil, it is a Gambian who has emerged as a figurehead of hope and excellence, an icon for those who call Salihorsk home. After arriving at the turn of the decade from Macedonia's capital, Dembo Darboe has become the "man" in Belarusian football as his goalscoring temperament has seamlessly translated from the Balkans to Eastern Europe.
Darboe is often the elephant in the room as he is found towards the top of goalscorer lists continent-wide, sandwiched between mega superstars whose cars are worth more than the price it would cost a club to purchase the Gambian. There is no smoke without fire, so let's look at Darboe and whether he is primed to continue his ascendancy somewhere out west.
Stylistic Features and Positional Tendencies
Ever since Darboe traded to Senegal for Skopje, the Gambian has primarily led the line for Shkupi and later Shakytor Soligorsk. The graphic below shows that despite some time spent in other positions, most notably CAM (9.3%), Darboe is an out-and-out striker with limited positional versatility, though that is not much of a criticism any sane individual wouldn't dare move him further from the goal.
To conclude on his position in an 11, it seems that Darboe can function outside of the striker's role, but this appears to only be on a needs must basis and that Darboe should not be part of a squad where he would be expected to contribute in multiple positions.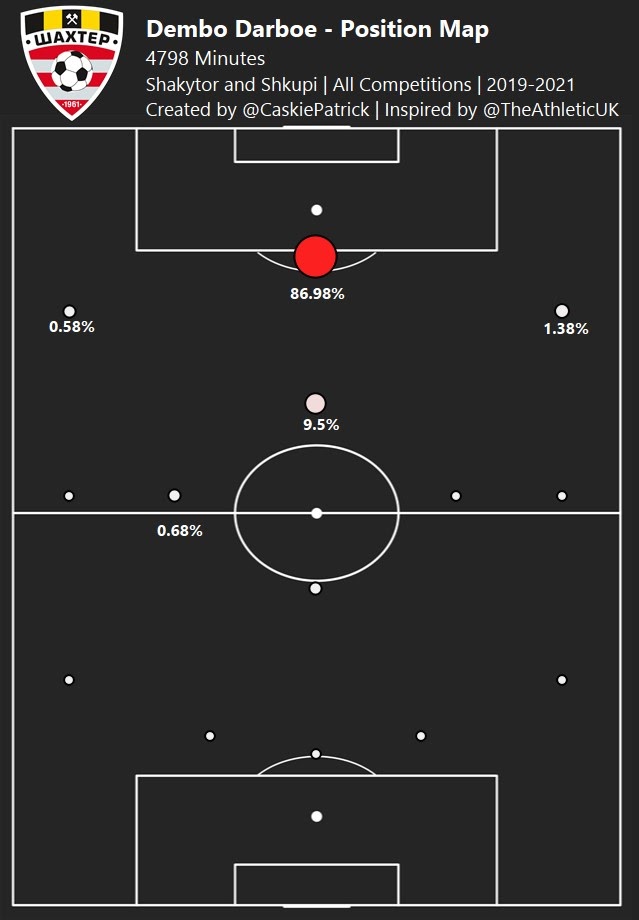 The graphic below will give us some real insight as to where Darboe is found on the pitch throughout the 90. The heatmaps below are from all of his starts in the past calendar year; notably, these span two clubs, so there may be room for tactical variance; however, this seems non-existent at first glance.
What we can see is that Darboe operates all over the front line, which makes sense when you consider Shakytor's two most used formations were 4-2-3-1 and 4-1-4-1, so Darboe is afforded plenty of room to roam. As mentioned, Darboe is found all over the opposition half, which is expected for any goalscorer worth his salt; however, unlike some strikers (primarily those who play in a 2), Darboe rarely comes back to his own half.
This is for one of two reasons; first, Darboe expends so much energy when in possession that he needs time to rest off the ball and that his physicality and skill make him an excellent out ball for a team under pressure or a side attempting to break.
Statistical Analysis
Darboe is about as complete an offensive weapon you will find trolling around the lower echelons of top-division European football. The graphic below makes it clear that Darboe is beyond anything that Belarusian football can offer him and that a move is in order for the Gambian.
The defensive numbers are the only which are not outstanding, but Darboe has and never will be a defensive forward, and expecting him to be such whilst putting up these offensive numbers would be asking for far too much. The statistical highlights for Darboe are his goalscoring, chance creation and dribbling ability, a triple threat that any forward would dream of having, not least at the numbers which Daboe has shown.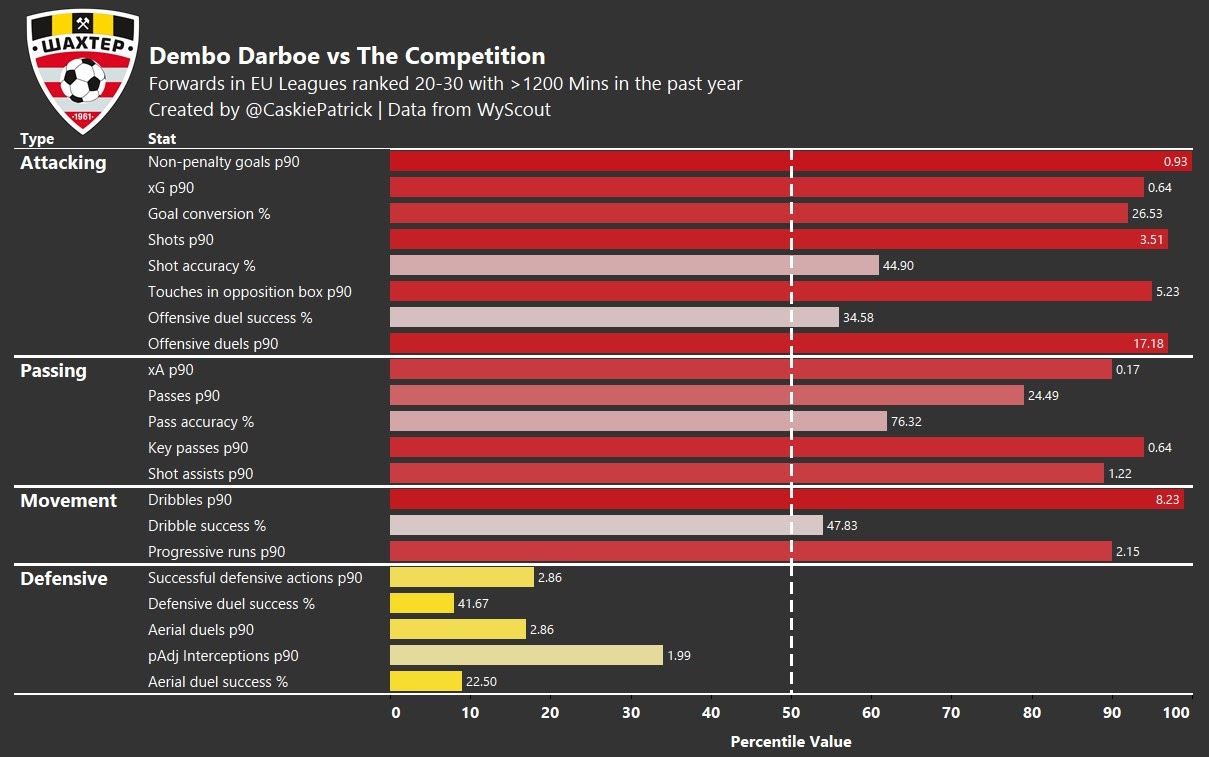 Considering that Darboe's quantity and quality of shots and, by extension, goals are outstanding, it appears an apt place to start; below is his shot map from the past year. There are no real surprises when it comes to where Darboe shoots from. He favours shots from inside the box and also shoots from wide positions often, which lends to the fact that he is often a lone-striker.
A vast majority of Darboe's goals are central and close to goal, suggesting that his positioning is intelligent and that he is the recipient of many crosses. Against better defenders, you would expect that  Darboe would not be allowed so many shots in such great positions; however, even if this does decrease his positioning and finishing, he should retain a threat from this area.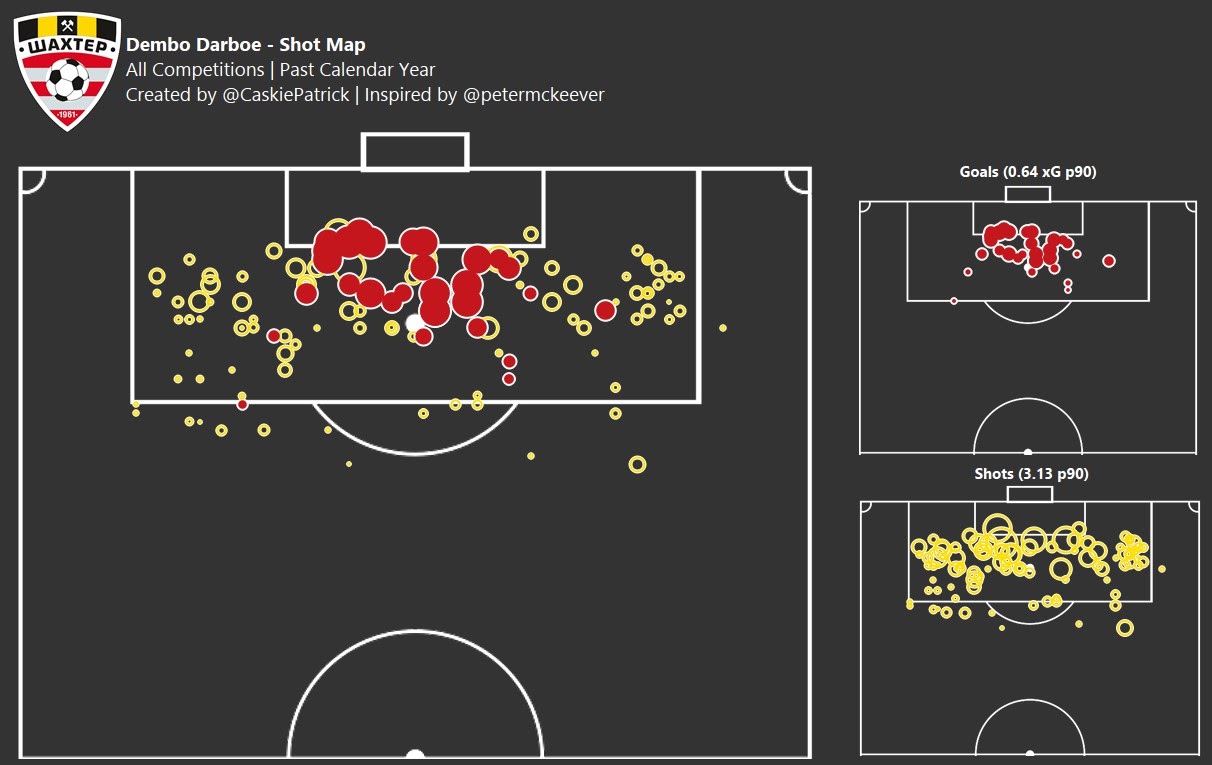 The previous shot map showed us that Darboe shoots a lot and reliably gets shots off in high-value areas, which unsurprisingly often lead to goals. Considering this, it will come as little surprise that the graphic below suggests that Darboe is in another league regarding both quality and quantity of shots and, by extension, goals. Darboe is in the top 85% for both non-penalty goals p90 and goal conversion, showing that his lethality in front of goal is not seasonal but rather is a constant.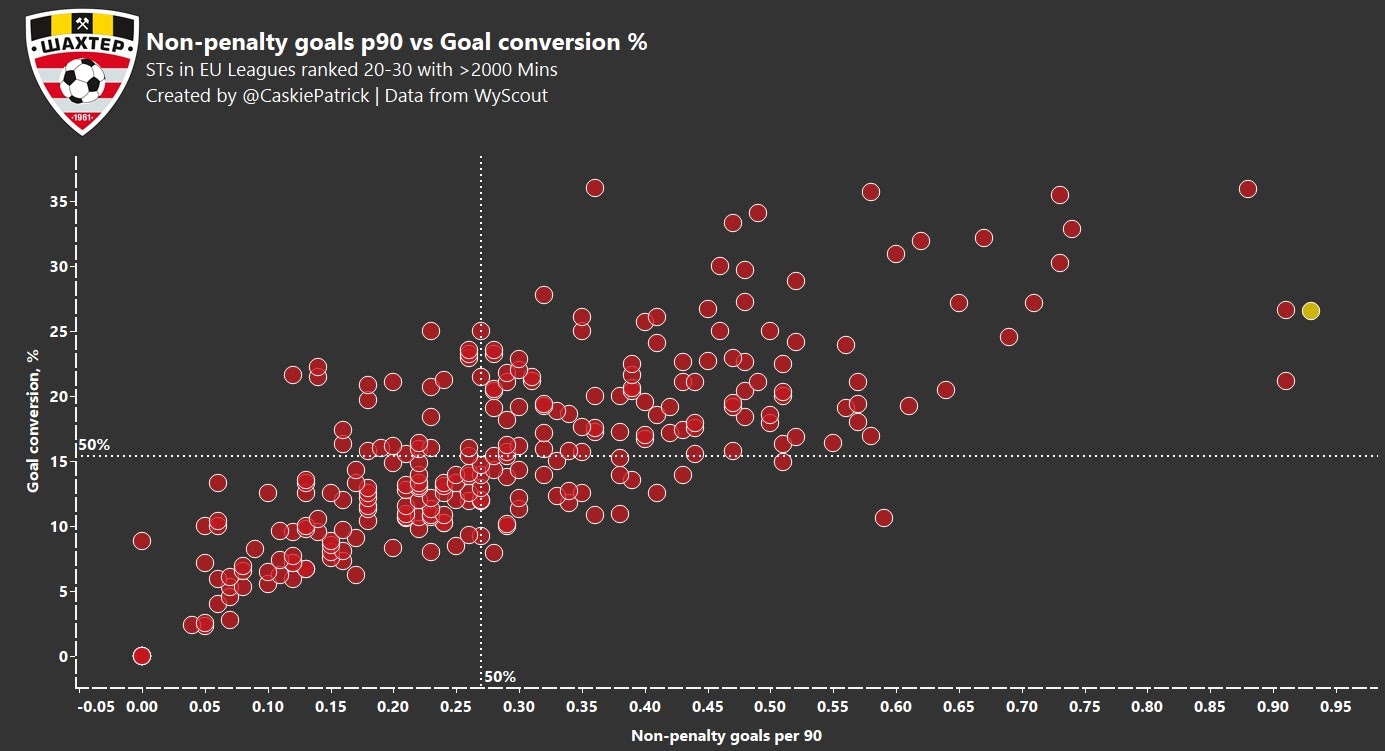 It doesn't matter what evidence is brought forward from here on; Darboe is a threat in and around the penalty area. To further cement and solidify that idea, I present the graphic below. Here we see xG p90 plotted against xA p90, which is a general representation of his penalty box quality in terms of both finishing and creating.
The trend continues here as we see Darboe in the upper right quadrant showing that he is a high-achiever in both metrics (top 75%). When you consider that Darboe vastly outperformed his already elite xG p90, the threat that the Gambian carries around the box cannot be underestimated and surely is unsustainable in the event of a transfer to a higher quality league.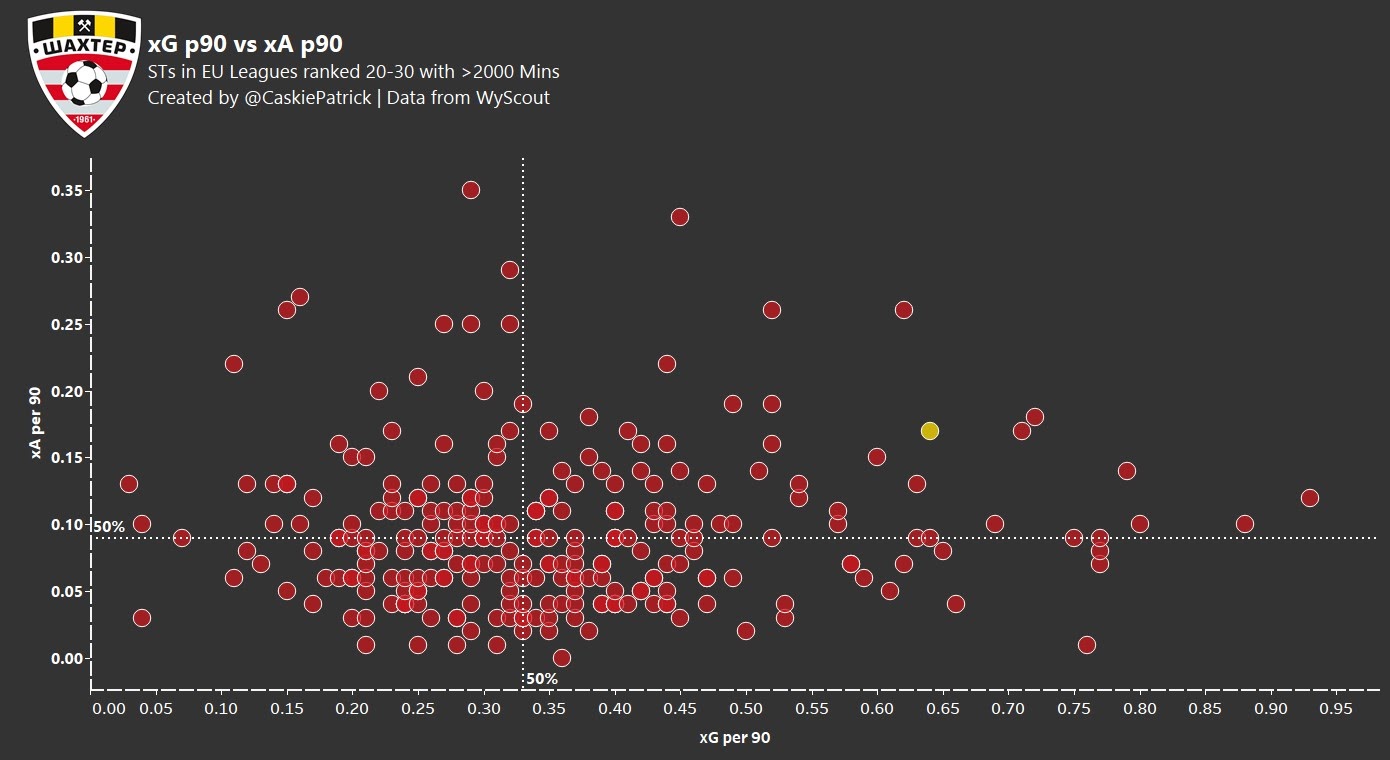 The graph above has established that Darboe is a valuable creator, especially when it comes to goal and shot-creating actions, so let's have a look at what type and from where he passes it from. The pass map below shows Darboe's shot assists and assists from the past calendar year, with thickness indicating origin and final destination.
Like his shots, Darboe is most active and influential in the box. This shouldn't come as any surprise, especially when you consider that relatively few of his teammates could be ahead of him, so backwards or lateral are his only options. Another trend is that much of his moves to the right, which is not a surprise as a right-footer is most comfortable opening their body up and playing right-ward.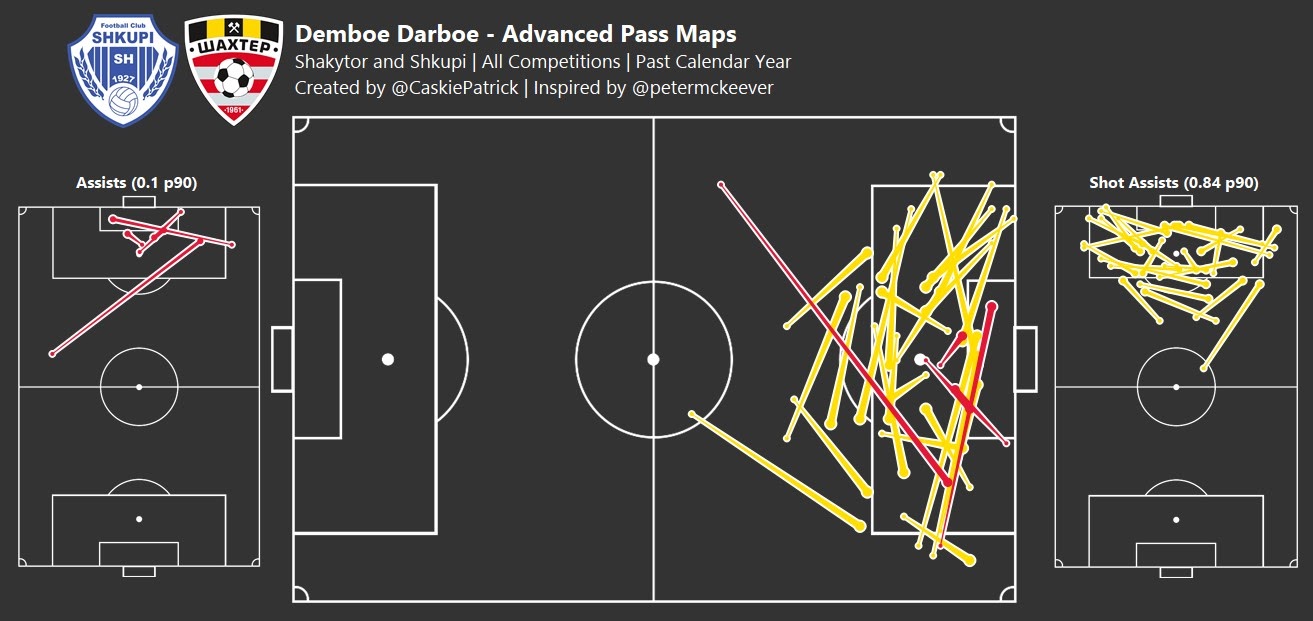 The graph above has established that Darboe is a valuable creator, especially when it comes to goal and shot-creating actions, so let's have a look at what types and from where Darboe passes the ball. The pass map below shows Darboe's shot assists and assists from the past calendar year, with thickness indicating origin and final destination.
Like his shots, Darboe is most active and influential in the box. This shouldn't come as any surprise, especially when you consider that relatively few of his teammates could be ahead of him, so backwards or lateral are his only options.
Another trend is that much of his moves to the right, which is not a surprise as a right-footer is most comfortable opening their body up and playing right-ward. Darboe is mainly used as a link man, which he is very effective at as his mix of size and technique mean that he can control, shield, and deliver the ball. He is also afforded quite a lot of time as he plays in a dominant Shakytor team.
In the event of a step-up in quality, Darboe would be afforded less time and would be challenged by a tier of defenders who can match him for physicality, so it would be interesting to see his playmaking abilities would remain a net positive or would regress as it does for many others when they make the step up.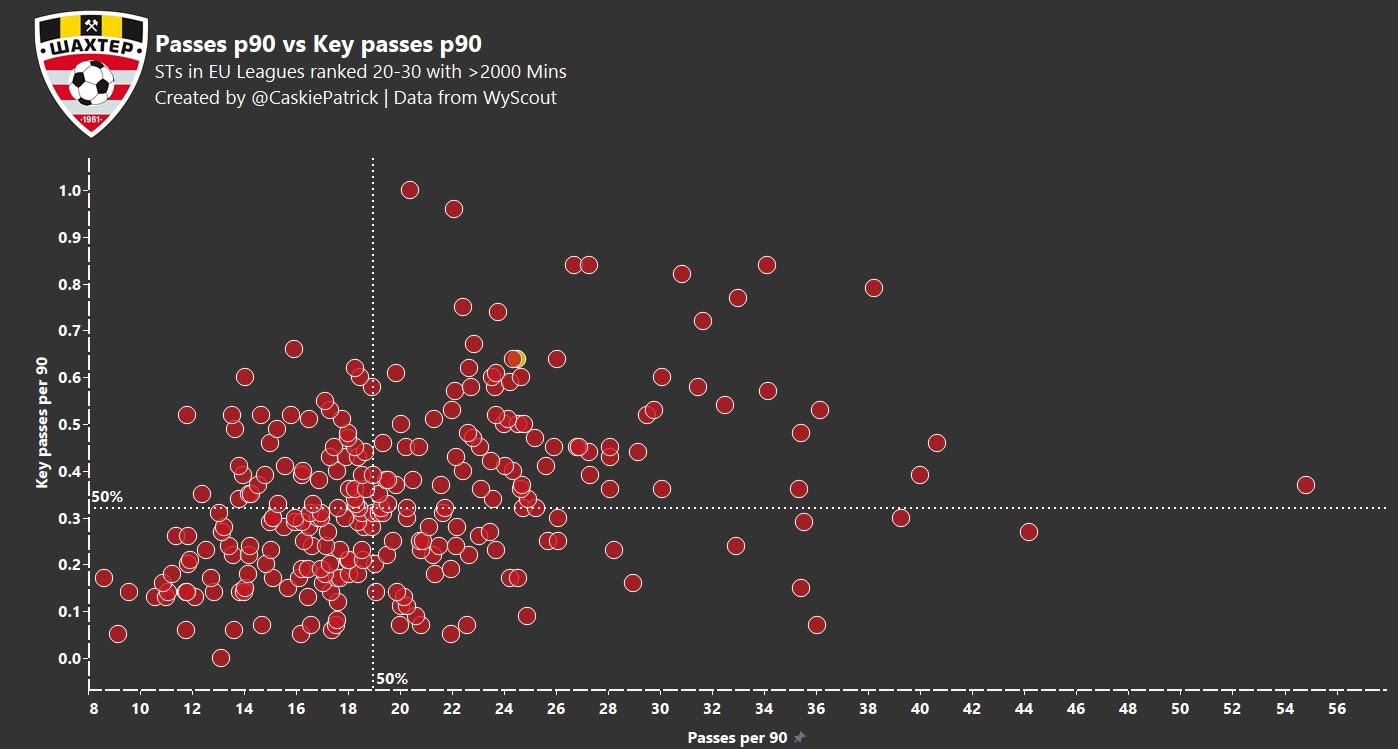 Assists are a key part of any forwards game; however, being a valuable creator goes much further than just setting up goals. Being involved in build-up and general play is as essential for a forward as being the man who plays the final ball. The graph above plots passes p90 vs key passes p90, providing insight into how involved Darboe is with his team's build up and how economic he is with said passes.
Yet again, we Darboe in the coveted top right quadrant, suggesting that he ranks highly in both metrics. More impressive is that Darboe has a key passes p90 number that ranks in the top 90% whilst only passing the ball enough to get in the top 70%, suggesting that the Gambian is an effective passer.

We have seen enough evidence to understand that Darboe is an uncomparable threat when in and around the penalty area. However, has Darboe just run hot since he arrived in Europe or are these numbers sustainable?
The graphic below suggests that Darboe has overachieved compared to what is expected in the past two seasons, but not by an astronomical amount. This is encouraging for Darboe and any potential suitors alike, as it suggests that his sustainable numbers are high and, if outperformed like at current, the output becomes elite.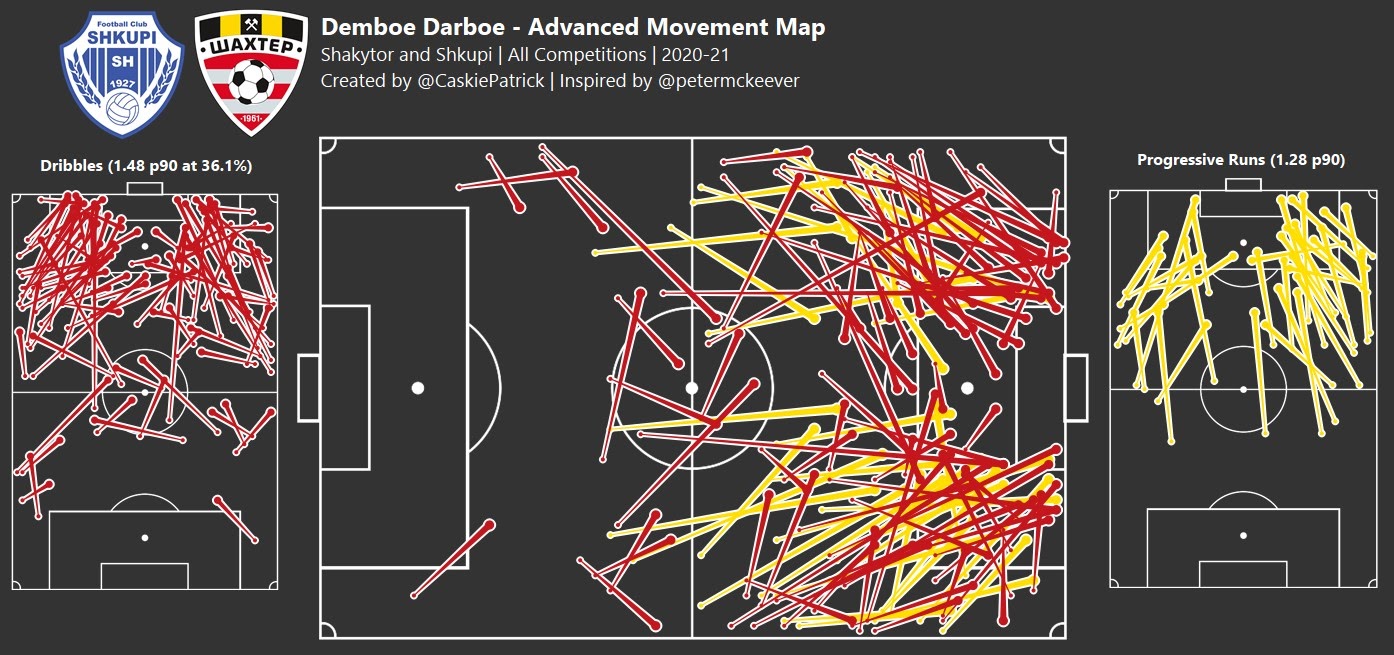 Let us move onto the final of the three most important aspects of any forwards game, movement. The graphic above shows us all of Darboe's dribbles and progressive runs in the past calendar year, and we can take a few things away from this.
First, Darboe receives from out wide and moves inwards; secondly, he often drops deep to receive and is used as Shakytor's primary on-ball mover. Darboe is relatively balanced when it comes to the side he chooses to receive from. This is important as it forces the defenders to actively track him instead of the defender knowing of a heavily favoured side and defaulting to that side.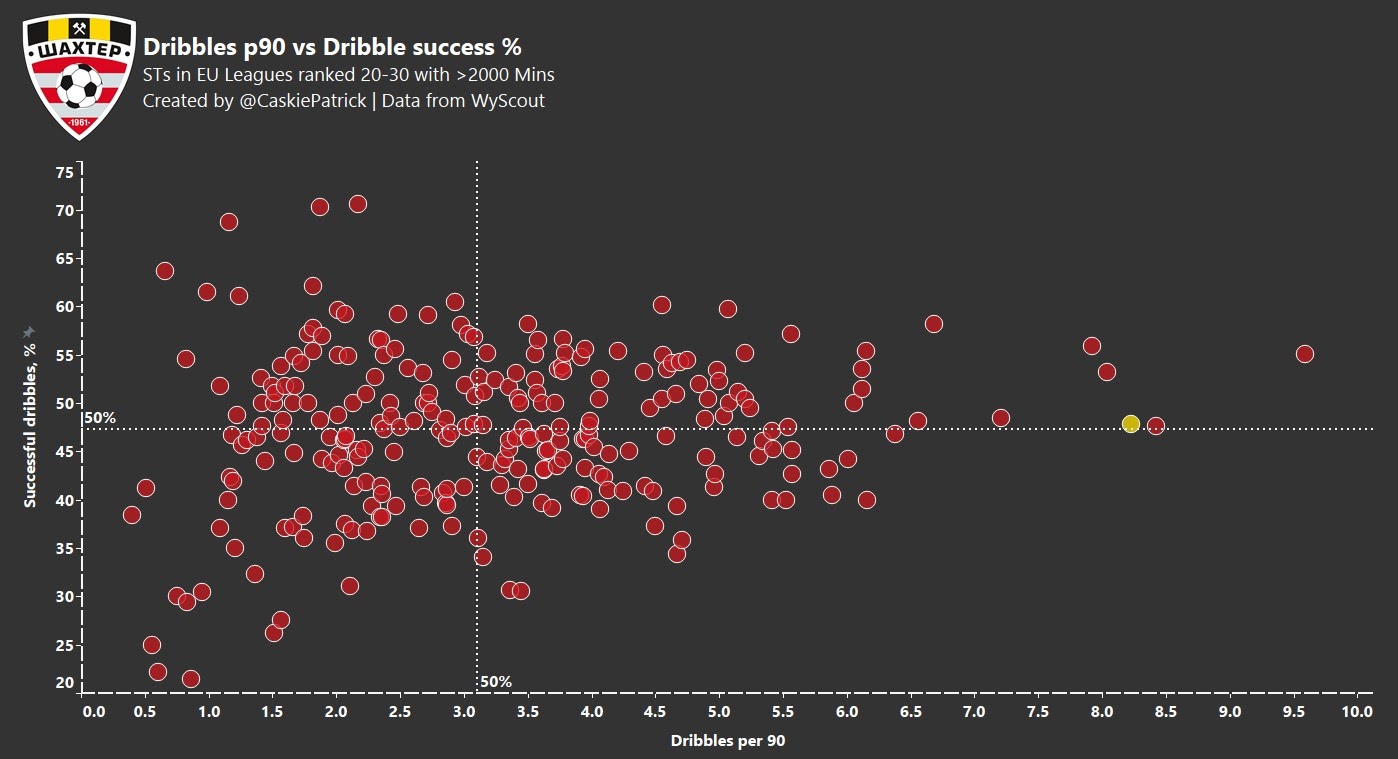 The previous graphic was littered with dribbles and progressive runs, so the graphic below should come as little surprise. Here we see dribbles p90 plotted against dribble success in an attempt to see the quantity and quality of Darboe's dribbles compared to his peers.
Darboe finds himself just over the 50% mark when it comes to dribble success; however, this is mighty impressive when you provide the number of dribbles p90 he makes, which is the 3rd most in this sample size at just over 8 p90. This paints a picture that is consistent with the previous graphic that Darboe is an accomplished dribbler who is often asked to move the ball and win space for his team despite maintaining an above-median success level.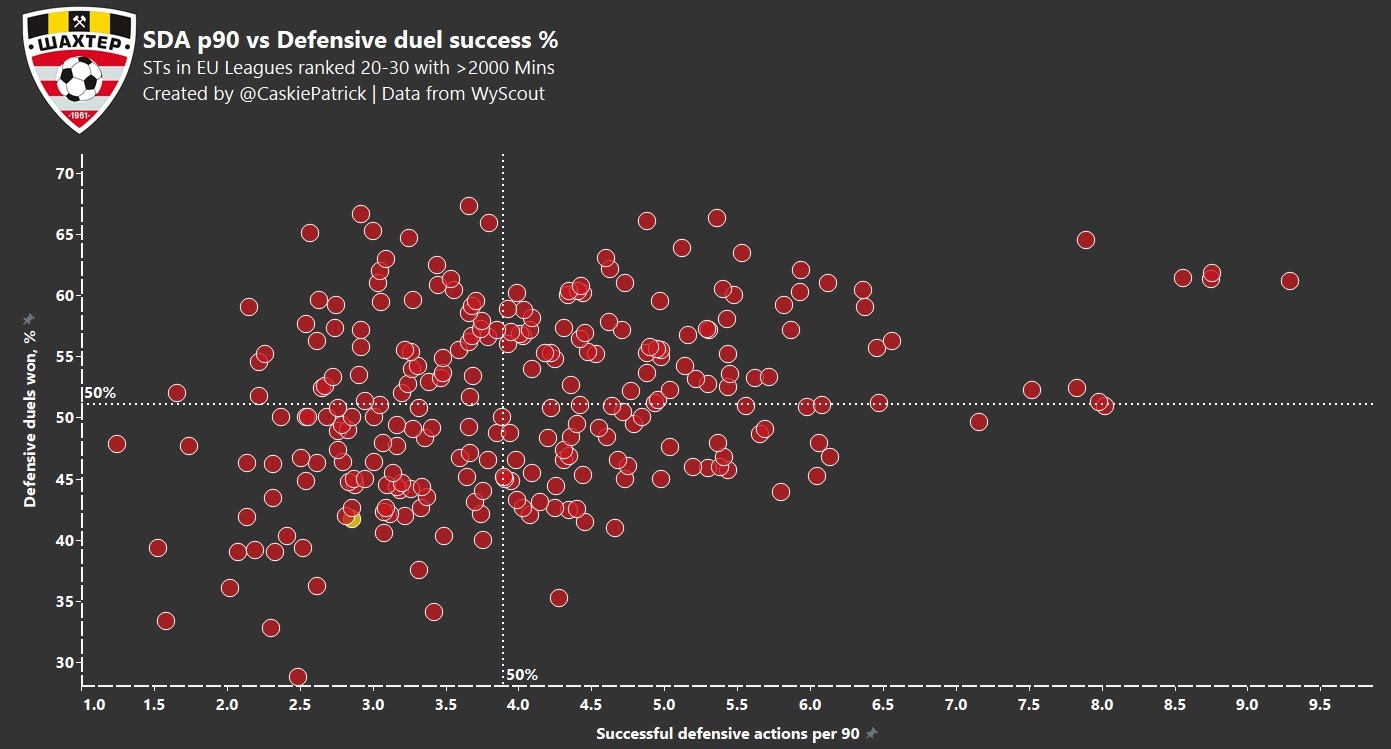 As mentioned during the statistical overview graphic analysis, Darboe is unlikely to get involved in much of the defensive work. The graphic above paints this clearly, as it shows that Darboe is both below the median for both number and success regarding defensive actions.
Regardless, this should not be a concern, as expecting him to be a defensive beast whilst scoring the number of goals, providing such a high number of assists and beating so many players off the dribble would be an unbelievable ask that very few in world football could fulfil, and certainly no one in the peripheries of European football like Darboe.
Video Analysis
As the old adage goes, football isn't played on paper, so let's have a look at Darboe in action. Before we analyse any specific clip, a recurring theme for all of the clips is that Darboe, in an athletic and physical sense, is beyond anything that Belarus can offer; this should bode well when he departs as he should be a top-level athlete in any league he lands in.
Credit & Source: YouTube
Though I just mentioned Darboe's physical superiority, that doesn't mean the Gambian lacks touch and class in any way; instead, he has the rare combination of both, which is seldom found in a league like Belarus's Vysheyshaya Liga. This class is in full view in the clip above.
Here we see his impressive touch and astute decision-making, which sees him easily beat the last defender before carefully lobbing it over the on-rushing goalkeeper. As we will see later, Darboe has a propensity to put it over or to take the ball around the goalkeeper; this variety forces the goalkeeper to consider his positioning as a traditional 1v1 is far from guaranteed.
Credit & Source: YouTube
Again we see a mix of Darboe's speed and skill combining for a goal in the clip above. Compared to the previous clip, this one is far quicker and, as a result, requires quicker thinking and higher technical proficiency.
Regardless, Darboe steps up to the plate and dummies the goalkeeper with what appeared early on to be a shot but was actually a scoop turn. The devious turn duped the goalie and left the goal completely open for a simple Darboe tap-in.
Credit & Source: YouTube
As the previous two clips have shown, Darboe is adept at operating in tight spaces despite being a large man. These clips have shown this when running straight, which is a whole different ball game to lateral movement. Despite the difference in necessary skills required, Darboe is a threat moving sideways, especially when cutting in from the wing.
The clip below shows this as, despite the lack of space and an unfavourable angle, he manages to manoeuvre to a high-value position and get a shot off. This is perhaps his most excellent skill, his ability to either be in or move towards high-value positions is elite, something that will, for the most part, stay with him regardless of the quality of the opposition.
Credit & Source: YouTube
The statistical portion of this analysis proved that Darboe is a handy dribbler and has a penchant for starting wide and drifting in. The clip below shows Darboe at his best as he starts deep and wide and, through a combo of touches and passes, manages to bypass enough opposition to get into an advantageous shooting position and take aim. This mix of balance, strength, and skill makes Darboe such a challenging prospect to deal with as a defender.
Credit & Source: YouTube
We have identified that Darboe is proficient at dealing with tight spaces; however, he is no doubt even better when given space to run into. This is because Darboe's physical strengths are given free rein, which spells bad news for defenders. The clip above shows this in abundance as we see Darboe lead the pack on the break before being played the ball.
Once in possession, we see Darboe show off his on-ball skills and play a well-timed and placed cross to a teammate who finishes well. As mentioned earlier, Darboe enjoys coming from out wide, so his ability to pick passes turns a headache into a migraine for defenders.
Credit & Source: YouTube
Though Darboe's best work is done with an eye on the penalty box, he does do a good job when it comes to linking up play. The video above shows this clearly as again his touted mix of physicality, and technical ability proves invaluable.
He does his work quickly and doesn't hold the ball for too long when it comes to building up play, which often works well as the move develops rhythm and shifts defenders; however, he often rushes it, and his passes become slack and miss their target. To improve, Darboe should simply just give himself more time; speed in any attack is important; however, it shouldn't take precedent from accuracy.
Credit & Source: YouTube
Another clip to support this assertion is found above. Here we Darboe pick up the ball deep, beat one player and then spray a wide ball to a winger springing a counter-attack. This is far from a regular occurrence for Darboe, which is disappointing as it appears that he has the tools to do more than he does currently; however, those tools have only been sharpened against Belarusian and Macedonian opposition.
Darboe's passing in a general sense could prove his major weakness when he leaves Belarus; however, he has the tools to become a net-neutral ballplayer. It is up to the system and circumstance he finds himself in to determine how detrimental or not his linkup is.
Comparisons and What's Next?
Darboe is not the first and will certainly not be the last ST to put up astronomical numbers in the lower ranks of European football. Terrem Moffi, Kasper Junker and others have done it previously and have earned the move which merited their performance and skill. However, what Darboe has, which few others had, is the combination of skill, circumstance, output, physicals, and age.
I think it's safe to say that Darboe may be one of the most well-rounded and exciting striker prospects to emerge from a league ranked <25 for a while. This is far from an outlandish statement when you compare his outlay with the average striker from the sample size below.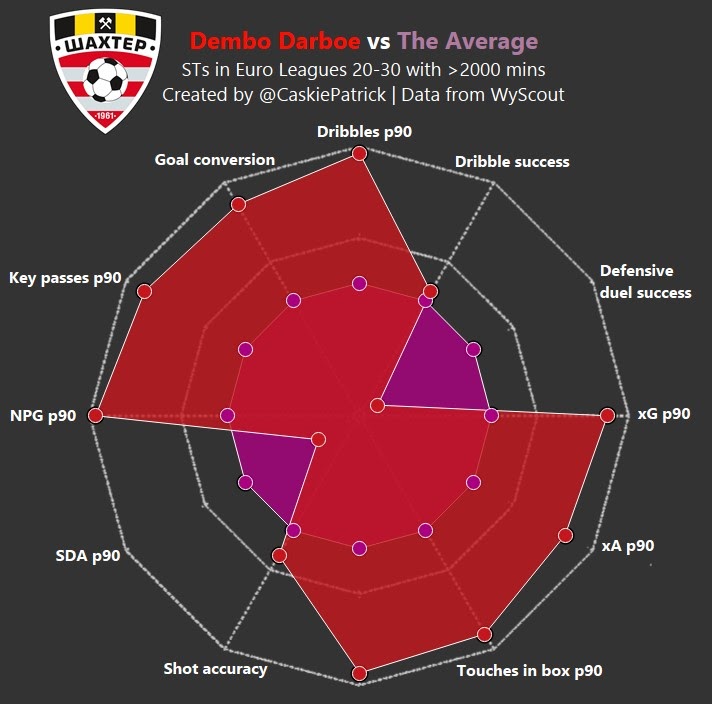 The aforementioned Kasper Junker was the king of 2020 and the leader of the much-loved Bodo/Glimt side who won the Eliteserien. He got his move which surprisingly was to Urawa in Japan. Darboe, the king of 2021, compares favourably with the Dane; however, the level in Norway is slightly higher, though Darboe is five years his junior.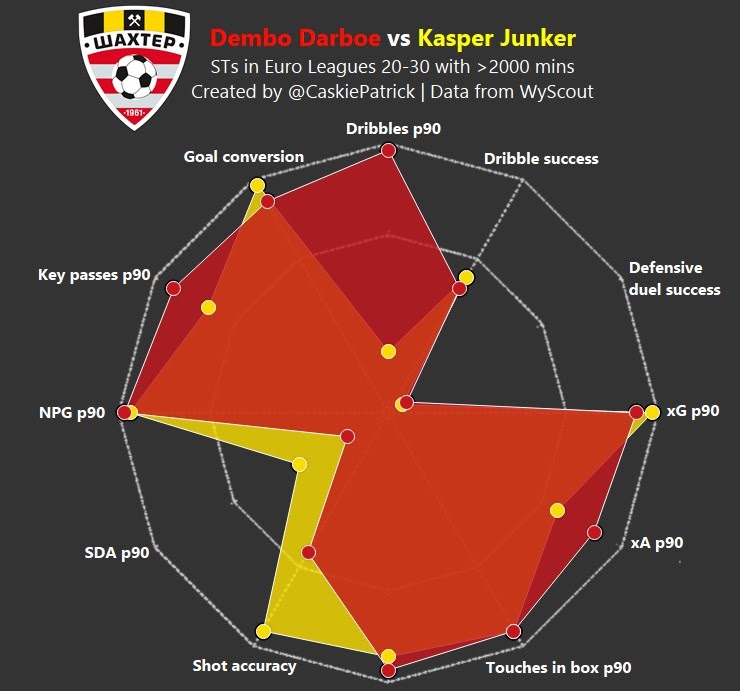 Mikael Ishak is another striker who stood out in the sample size; the Swede has done well in Poland for Lech Poznan; however pales in comparison to the Gambian. However, the level that each striker plays at must be considered. Regardless, a top-level Polish club may be a good landing spot for Darboe.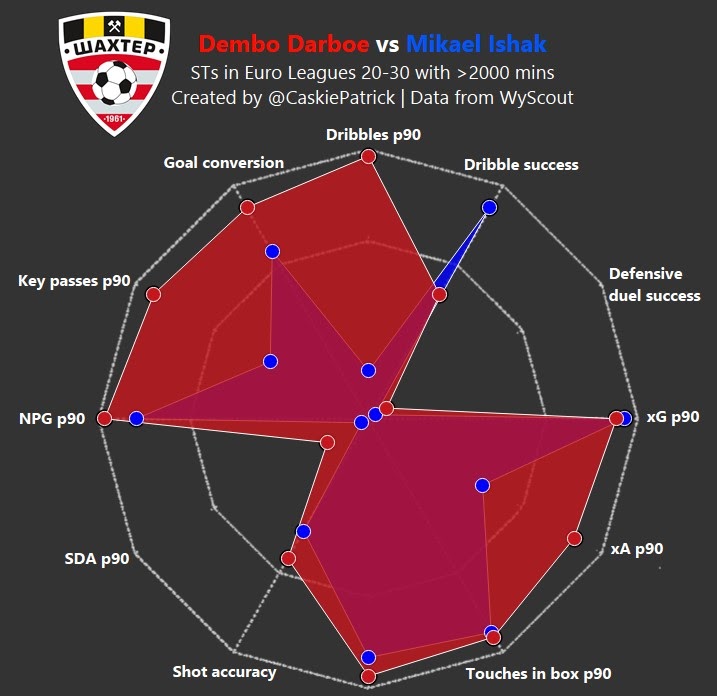 The final comparison is with Mahir Emreli, who finally got his move this summer, leaving Qarabag for Legia Warsaw. Both ran their respective divisions, which are of similar quality. Emreli has already scored twice in UCL qualifying and already appears to be one of the best pieces of business done this window; Darboe may follow suit similarly soon.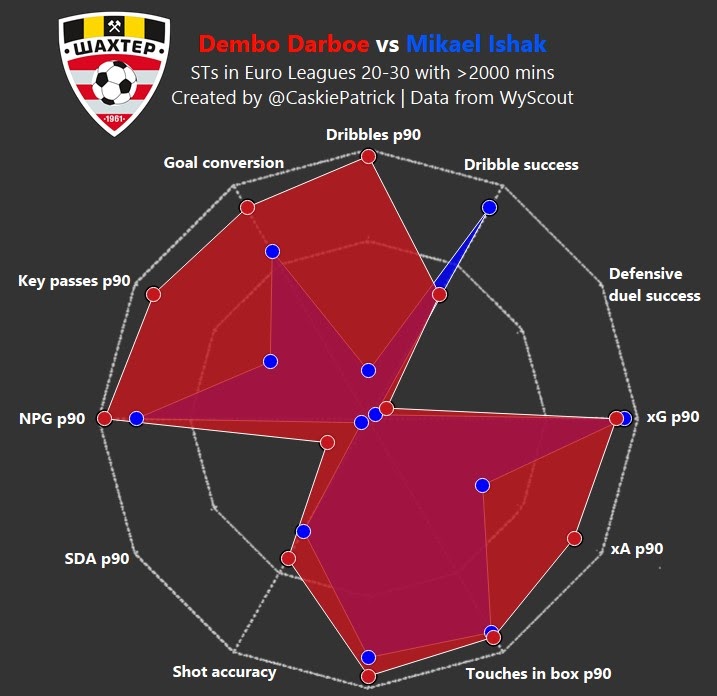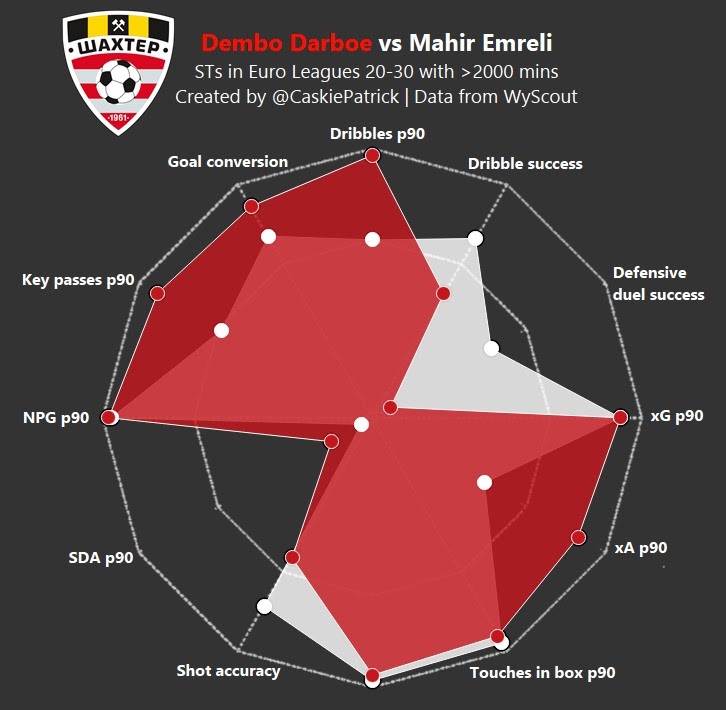 By: Patrick Caskie / @CaskiePatrick
Featured Image: Juan Castro / DeFodi Images