Player Analysis: Dion Charles
Dion Charles is a player that has played more non-league football than the top four leagues. A player that got released from Blackpool, he chose to play for close non-league neighbours in AFC Fylde which included being sent out on loan to Skelmersdale United, a team in the seventh level of English football.  Following the spell at Fylde, Charles signed for Fleetwood Town, where he yet again failed to make an impression.
He was then loaned out to Halifax Town in the 2017-18 season before making the permanent switch to Southport at the end of the 2017-18 season, which it would be Charles' fourth non-league team. It was at Southport that Charles scored 14 goals and assisted 4 goals within the sixth tier of the English football pyramid, which saw Charles get spotted by then newly promoted Accrington Stanley signing on 12 August 2019. A jump of three tiers to EFL League One.   
Dion Charles in John Coleman's System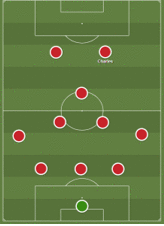 FIGURE 1: Charles in how John Coleman sets up his Accrington Stanley side, with the 3-5-2 preferred with flying wing-backs. The wingbacks often fall back in defensive situations to create a 5-3-2, making it harder for the opposition to break them down.
This creates a u-shape formation, causing the opposition to move the ball sideways rather than forwards. This formation can also turn into a flat 3-4-3, with the 10 who can transition to left-wing is Joe Pritchard, however, this can also be changed in the roaming 8 with Chelsea loanee Tariq Uwakwe causing Pritchard to cover and Charles moving onto right-wing. 

FIGURE 2: Charles with a tap-in for Accrington Stanley's 3rd away at Swindon. Charles waits on the blind-side of the left-sided centre-back to make his move. Due to Joe Pritchard feeding in Colby Bishop for a bounce-pass to break the defensive line set by Swindon. Pritchard only had to roll the ball to Charles for him to tap in at the back-post. A poacher-like goal from Charles, using superb attacking positioning to get himself in the position to score.

FIGURE 3: Charles, yet again getting himself in the best goalscoring position, creating space within the 6-yard box due to the right-sided centre-back for MK Dons was ball-watching. Then allowing for Charles to tap the ball in. Charles again scores a poacher-like goal for Accrington Stanley showing his vast knowledge of where to be at the right time. A fox-in-the-box.
FIGURE 4: Charles coming in from the right in the 3-4-3 to make a run in between the MK Dons centre-backs, with Bishop moving onto the right causing confusion amongst the MK Dons back-line. Great instinct by Charles to be in the perfect position for the ball to come in from Uwakwe and to be able to get goalside of the centre-back but in time to tap past the oncoming keeper. A superb run and great positional play by Charles. [Accrington Stanley YouTube]

FIGURE 5: Charles, in what has become his natural position, in between the left-sided centre-back and the left back. On the last line of the defensive line to make sure he is onside before having an untested tap-in from a few yards out.  

FIGURE 7: Charles on the left of the front three this time, with Pritchard covering the right-wing, in which Charles lofts the ball into a dangerous position for Pritchard to attack with a diving header. Gives out the same service that he has come to expect from Pritchard and others. [Plymouth Argyle YouTube]
Grinding the Numbers
Charles made 42 appearances in EFL League One 2020-21 season. In 37 of those appearances, Charles started and played the entire 90 minutes. Charles scored 19 goals scored by Charles, 30% of the entire goals scored by Accrington Stanley within the season and has a 34% goal participation which is including the three assists made by Charles. On average, Charles either scored or assisted 1 of every 3 goals scored by Accrington Stanley. 
He took 113 shots in League One in 2020-21, with 46 of them being on target. Of every shot on target by Charles, 0.41 are goals. And therefore per 1 shot, 0.17 are goals. He scores 0.45 goals per game with a goals/assists per game of 0.52, which is just over once every two games. Charles has taken three penalties within the 2020/21 season for Accrington Stanley, with a success rate of 100%.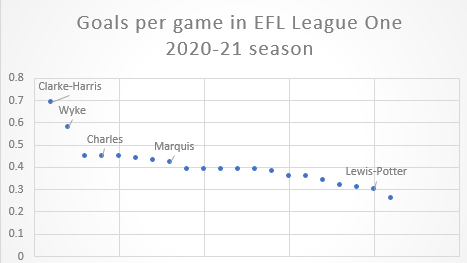 FIGURE 8: Charles' goals per game average compared against the other top 20 goalscorers in the EFL League One 2020-21 season.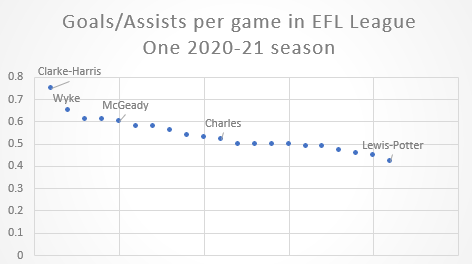 FIGURE 9: Charles' goals/assists per game average compared against the other top 20 goalscorers in the EFL League One 2020-21 season.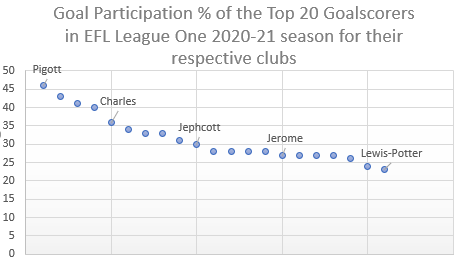 FIGURE 10: Charles' goal participation percentage for Accrington Stanley compared against the other top 20 goalscorers in the EFL League One 2020-21 season for their respective clubs. 
Conclusion
A massive step-up was taken by Dion Charles and a chance by Accrington Stanley at the start of the 2019-20 season, and it paid off. Charles is one of the best in the league at creating space for himself to receive the ball from a pass or a parry out from the keeper. This is usually also within the 18-yard box, if not as close to the ' keeper as he can possibly get. A poacher-like mentality, to wait on the last line of defence to gain an advantage on the defenders when the ball is played in behind.
Charles plays on the blind-side of the centre-backs, finding space in between the full backs and the relevant centre-back. Usually, Charles plays as a right-sided striker, and therefore gets in between the left-sided centre-back and left back of the opposition. I personally believe that Charles has all the qualities to becoming a good, solid championship striker who could easily hit double-figures, if the service is there for him. Give him that and Charles will score.
By: Oli Hargreaves
Featured Image: @GabFoligno / Gareth Copley – Getty Images