Player Analysis: Dominik Szoboszlai
Over the past decade, Red Bull Salzburg has produced a treasure trove of world-class talent, with Sadio Mané, Erling Haaland, Dayot Upamecano, Naby Keïta and Konrad Laimer finding themselves amongst a star-studded list of players who have emerged as some of the finest footballers in Europe. Today, Salzburg boasts the likes of Patson Daka (22), Sékou Koïta (20) and Enock Mwepu (22), but the brightest talent of the bunch is currently Dominik Szoboszlai.
After bouncing around a variety of clubs in his native Hungary, Szoboszlai made his way to Salzburg's feeder club FC Liefering in 2016, where he would spend the next two years developing before making his debut for Salzburg on May 27, 2018. Szoboszlai split time between the youth team and the first time in the 2018/19 season, although he was eased into the starting line-up during the final weeks of the campaign.
The summer departure of Hannes Wolf to RB Leipzig opened up more space in the first team for Szoboszlai to thrive, and the teenager took the opportunity by the scruff of his neck. Operating on the left flank of Jesse Marsch's 4-2-2-2, the Hungarian registered 12 goals and 18 assists in all competitions, leading Salzburg to the league title as well as the Austrian Cup.
His performances saw him win the Austrian Bundesliga Player of the Season, whilst also attracting interest from the likes of Arsenal, Napoli, and Paris Saint-Germain. Milan were strongly linked with a move from Szoboszlai when Ralf Rangnick — the former Head of Sport of the Red Bull Group — was set to be appointed as manager, but the move broke down when the Milan leadership decided to stick with Stefano Pioli as manager.
Szoboszlai remained in Austria, and he's hit the ground running this season with 5 goals and 7 assists in 10 appearances. However, with a contract that expires in 2022 and a release clause of £24 million that can be paid in three separate installments, it's only a matter of time before he becomes the next Salzburg player to make the next step to one of Europe's biggest clubs.
Modern Attacking Midfielder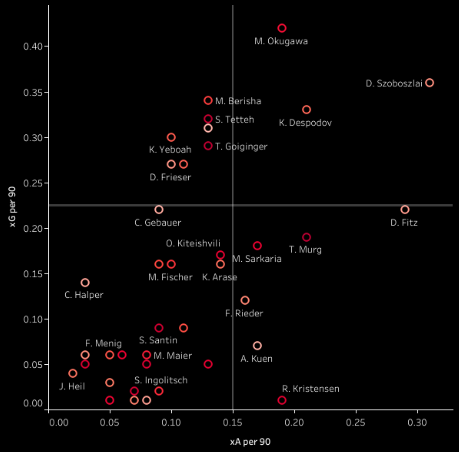 When comparing him with other players in Austria's top flight, it's easy to see why Szoboszlai has emerged as one of the hottest prospects in Europe; he ranks above the rest of his competitors in terms of expected assists per 90, whilst only placing below Salzburg teammate Masaya Okugawa in terms of expected goals per 90. Looking beyond his end product, he boasts a tactical intelligence that is well beyond his 20 years.
Neither Red Bull Salzburg nor RB Leipzig typically operate with traditional wingers; instead, attacking midfielders are preferred in the 4-2-2-2 formation, and they're tasked with a wide range of responsibilities from occupying the central zones, positional rotations, finding pockets of space in between the lines of pressure and inside the interior channels, combining with teammates in tight spaces whilst also creating overloads throughout the thirds.
He has set the standard of what makes a modern attacking midfielder, combining raw athleticism and world class technical quality with a proactive mentality. At 20 years old, he is still several years away from reaching his prime, and he has everything it takes to become one of the finest players of his generation.
Incisive Passing 
One of the Hungarian's best qualities is his incisive passing. Playing for the top club in the Austrian Bundesliga, he comes up against many deep and narrow defensive blocks, and in order to break them down, he constantly scans the pitch before and after receiving the ball in the final third.
With the ball at his feet, he identifies spaces to exploit before executing a perfectly weighted pass in behind the defensive line. He makes an exceptional number of passes into the penalty area, totaling 3.95 per 90 minutes, with 3.15 of them ending in a chance created. 
Despite being competent with both feet, he particularly favors his right foot when making these passes. Szoboszlai orients his body to confuse defenders where he is going to pass, hesitating to lure in the nearest defender, before executing a lovely disguised pass in behind the defense and into the interior channel.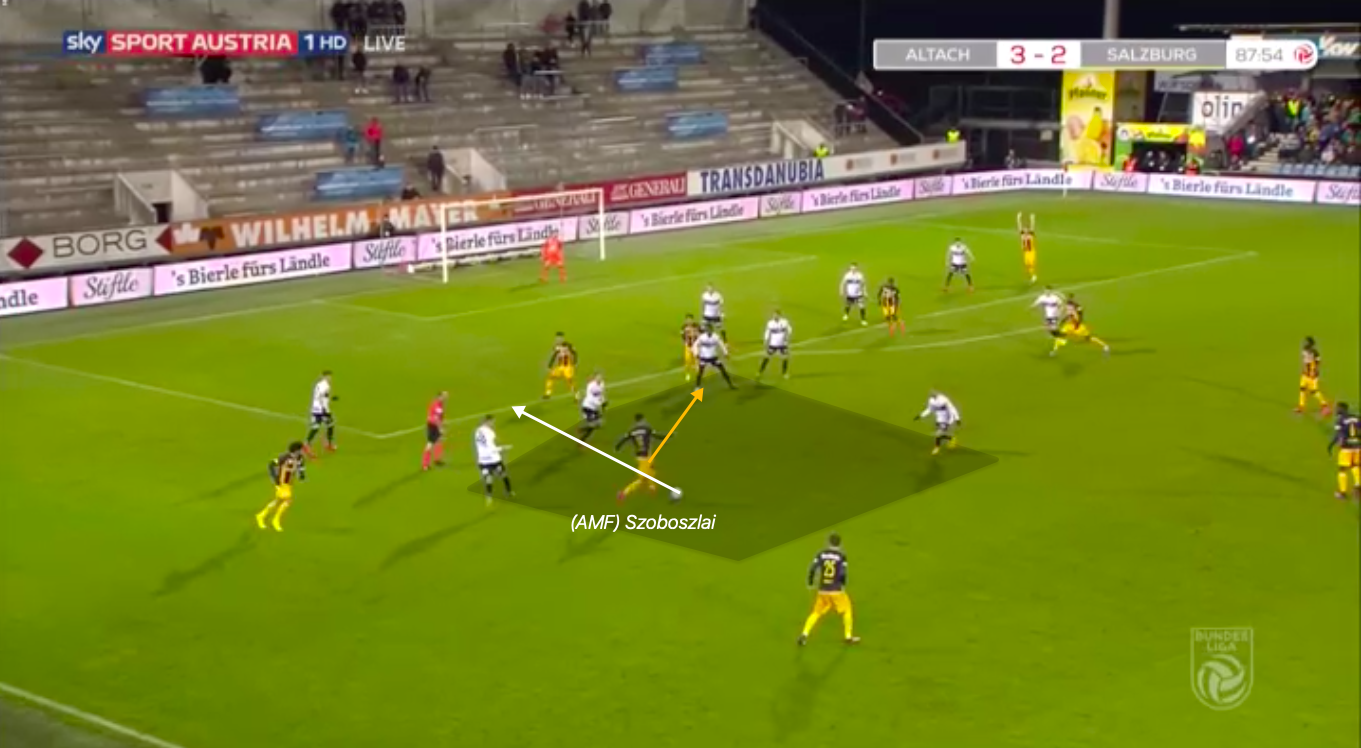 In this example against Austria Wien, he drives into the left half-space before playing a pinpoint ball in behind the defensive line. With one pass, he eliminates every single opposition outfielder in the game, breaking the lines with remarkable ease and creating a goalscoring chance.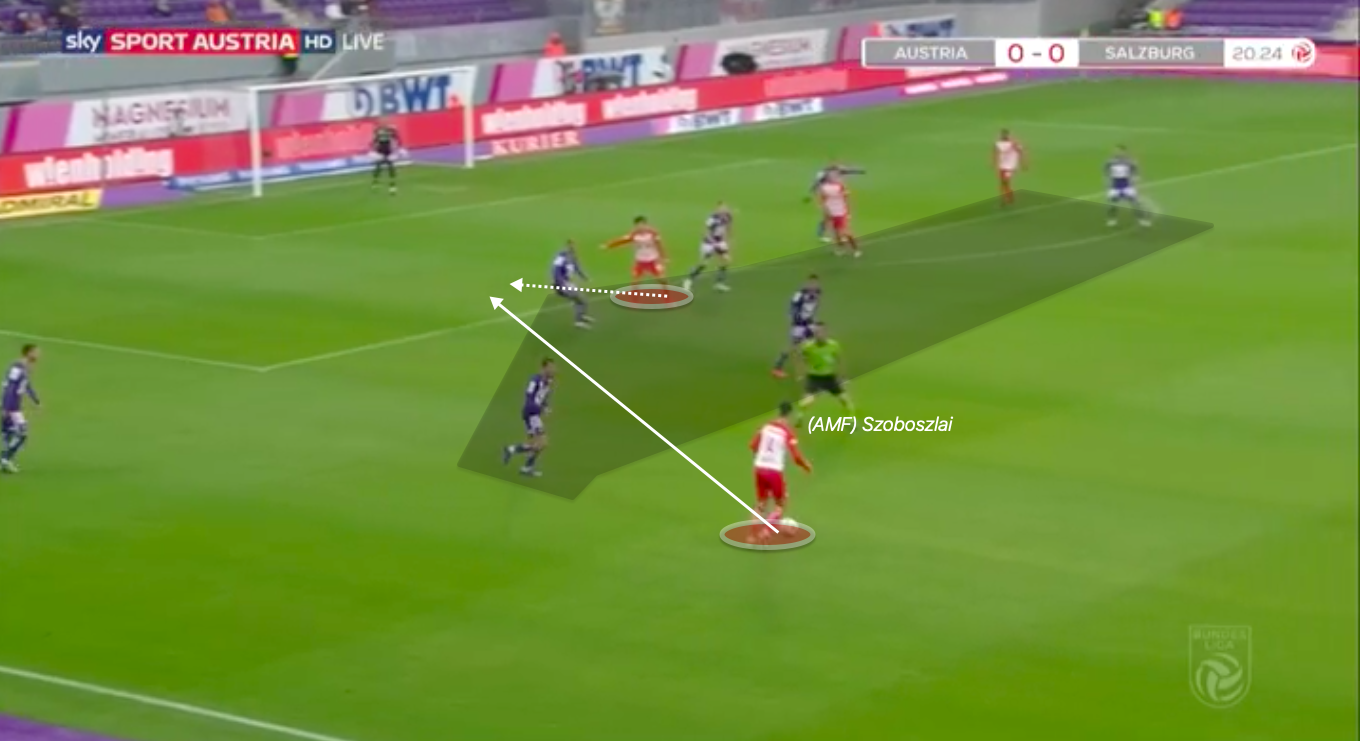 Problem Solving and Dynamism in Attack
Rangnick one said, "If you want to increase the speed of your game, you will have to develop quicker minds rather than quicker feet." Within Salzburg's 4-2-2-2 formation, the objective inside the middle third is to create overloads in the midfield and create dynamic passing angles to progress the ball through the lines. Few players do this better than Szoboszlai, who despite his quick feet, is even quicker in his head. 
Through his tactically astute positioning, he weakens the opposition's defensive structure and opens space up for his teammates. Up against a 3-4-3 formation in this example against LASK Linz, he positions himself in the left half-space. Initially, he creates a 3v2 in midfield and also drags the opposition right wingback (Reinhold Ranftl) with him, thus opening up space opening space for his fullback or forward to run into.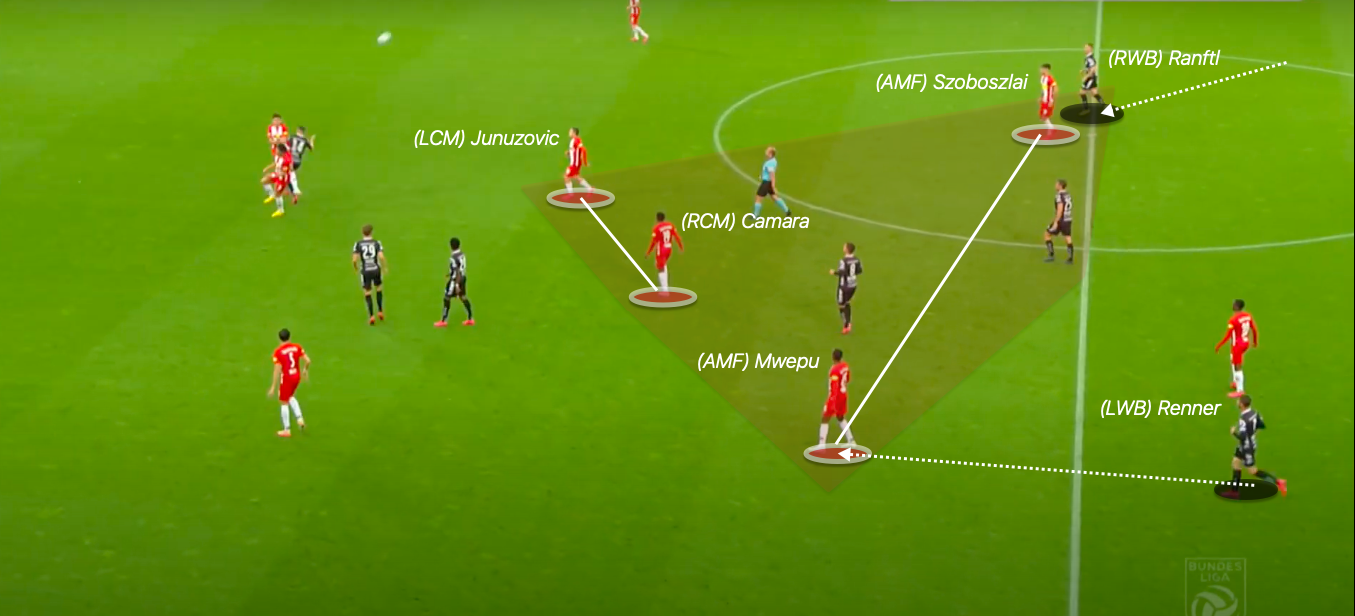 His dynamic skill set allows him to impact the interior channels in numerous ways. Aside from receiving between the lines, he can offer penetrating runs thanks to his impressive pace in order to bypass the defensive block completely.
Drifting inside when positioned in the attacking third, this allows the left-sided fullback to be positioned further forward, and once this player receives a pass, it triggers his run between the opposition fullback and center back. From here, he has the option to cut the ball back to a forward or have a go at the goalkeeper himself.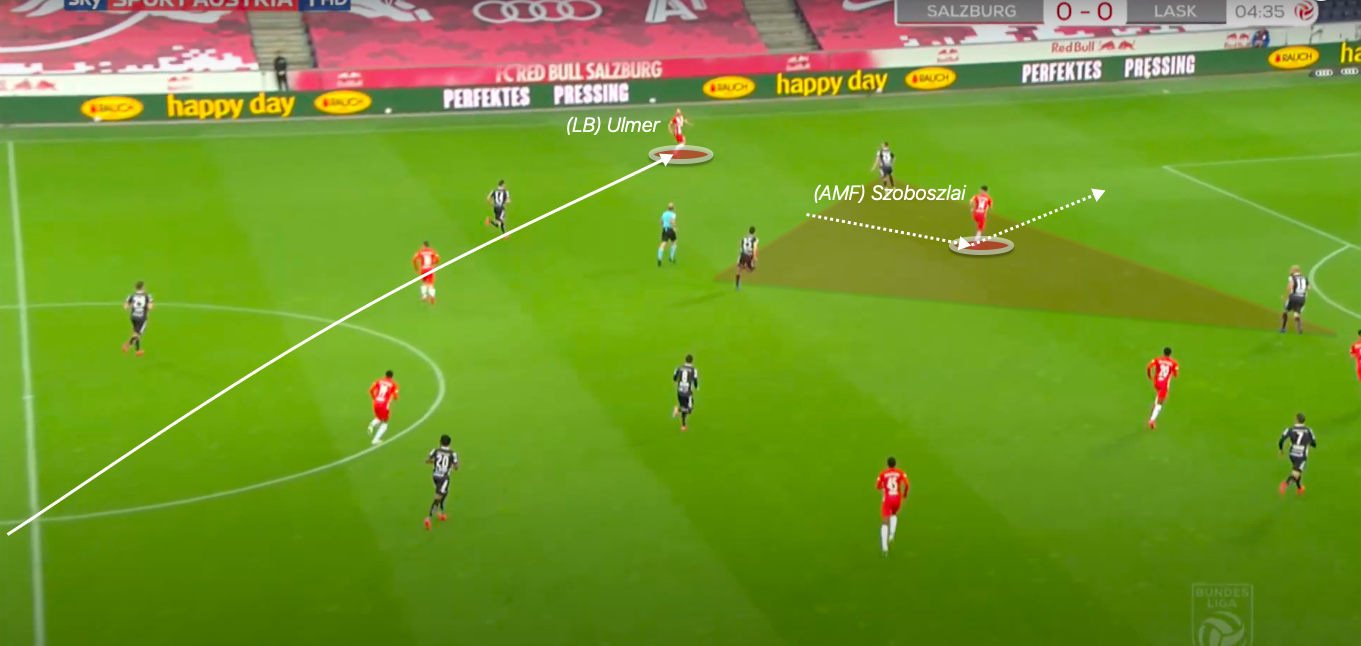 In the same game, he makes a run you'd often associate with a striker. The opposition are playing a high line, allowing him to exploit this with his speed by outpacing the defender. As the defender is looking at the ball, this allows Szoboszlai to attack from his blindside.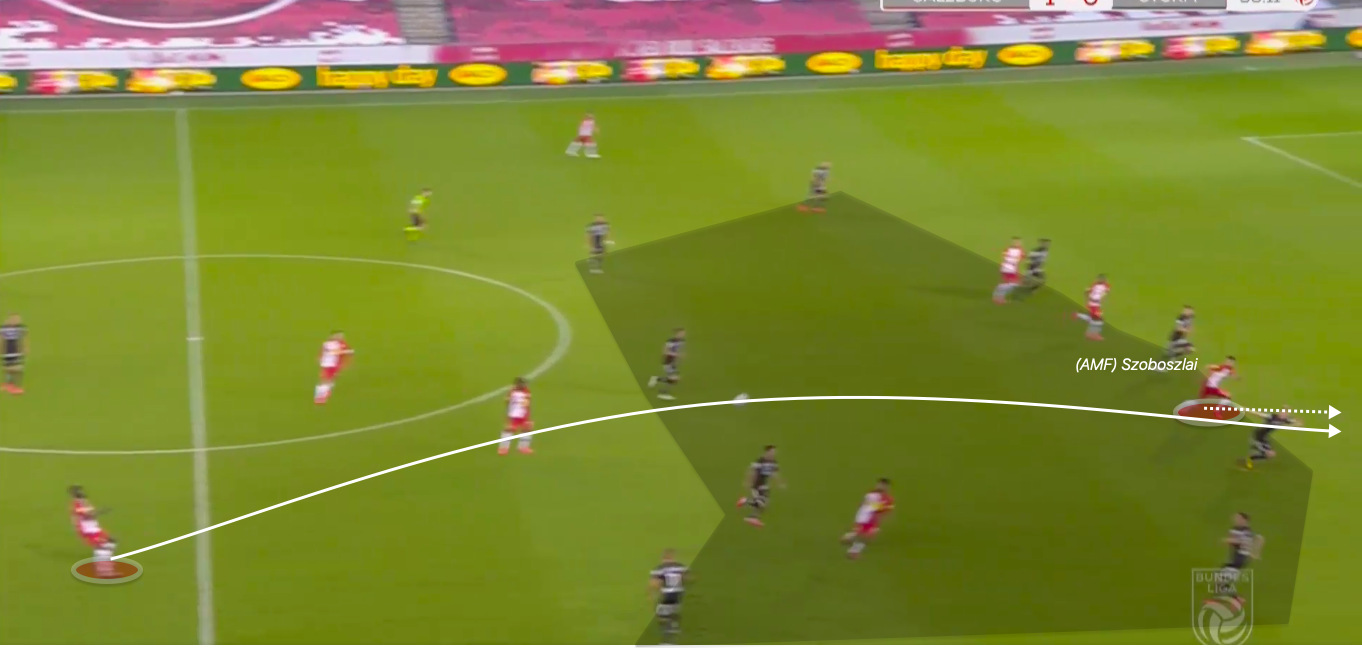 Red Bull Salzburg would go on to defeat LASK in a narrow 1-0 victory courtesy of a goal from Hwang Hee-chan, advancing to the Austrian Cup Final. They thrashed second-tier side Austria Lustenau at the Wörthersee Stadion in Klagenfurt by a 5-0 margin; Szoboszlai scored the opening goal and provided the assist for Noah Okafor's third goal, as Salzburg claimed their second straight Austrian Cup.
Conclusion 
As teams increasingly look to deploy two attacking midfielders in their setup, a player like Dominik Szoboszlai will undoubtedly be atop many club's shopping lists in 2021, especially after scoring in Salzburg's first two Champions League matches against Lokomotiv Moscow and Atlético Madrid. His unique profile gives his manager a plethora of options when playing through the opposition or directly attacking the defensive line.
There are plenty of clubs that will be chasing Szoboszlai next year due to his cheap buyout clause, his world-class potential, and his tactical versatility, but let's take a club at the two teams that would best suit the Hungarian's profile.
Arsenal: Mikel Arteta has played both Bukayo Saka and Ainsley Maitland-Niles as makeshift attackers within the left interior channel, but it is clear as day that Arsenal cannot afford to not sign a replacement for Mesut Özil. Arsenal attempted to sign Houssem Aouar to solve their chance creation problems, but the deal fell through due to Lyon's asking price, reportedly in the region of €60 million.
Szboszlai's problem solving between the lines will give new signing Thomas Partey a perfect option to look for between the lines, a player who can play deadly through balls in behind opposition defenses and link midfield and attack. For £24 million, he's a can't-miss bargain who would take Arsenal's efficiency in the final third up a notch.
RB Leipzig: Undoubtedly the best option for Szoboszlai to make the next move is RB Leipzig. Julian Nagelsmann places a vital importance on his players passing into the half-spaces, making dynamic movements and positional rotations, and creating space for teammates. For this reason, there is no better reason to oversee the next stage of Szoboszlai's development than Nagelsmann.
Leipzig will have to sell a player to make way for his place in the squad, and it will likely be Emil Forsberg (contract expires in 2022), who at 29 years of age has waned in importance and consistency over the past few years, but Szoboszlai's talent and potential is worth it.
By: Craig Moniz
Featured Image: @GabFoligno / Adam Pretty / Getty Images