Player Analysis: Douglas Luiz
After being relegated for the first time in 29 years, Aston Villa spent three years in England's second tier before winning the Championship play-off against Derby County and booking their ticket to the Premier League. Eager to avoid the mistakes of 2015/16, Villa spent nearly £140 million on transfers as they looked to reinforce their squad ahead of the upcoming Premier League season.
From that blockbuster transfer spree, it's been a mixed bag of new recruits. Wesley Moraes, who joined from Club Brugge for a club record fee of £22 million, has been sidelined since New Year's Day after suffering a cruciate ligament injury against Burnley. Marvelous Nakamba has struggled to convince after joining from Club Brugge for £13 million, having played just 13 minutes in the Premier League this campaign. On the other hand, Ezri Konsa and Tyrone Mings have formed a center back pairing that continues to improve since their arrivals from Brentford and Bournemouth last summer.
One player who has been worth the investment is Douglas Luiz. The Brazilian originally landed in England in 2017, after an impressive run of performances for Vasco da Gama earned him a £10.7 million move to Manchester City. Unable to secure a work permit, he was immediately loaned out to City's sister club Girona, where he would start just one match all season before returning to City the following summer.
Despite his shaky start to life in Europe, City manager Pep Guardiola remained determined to utilize him in his squad and City applied for a work permit based on "outstanding talent," even soliciting videos of support from Brazil manager Tite and current Arsenal technical director Edu. The Home Office rejected their appeal, and Luiz was loaned out to Girona again. "I accept the rules but I don't understand them. Anyone in the world should be able to work where he wants," lamented Guardiola.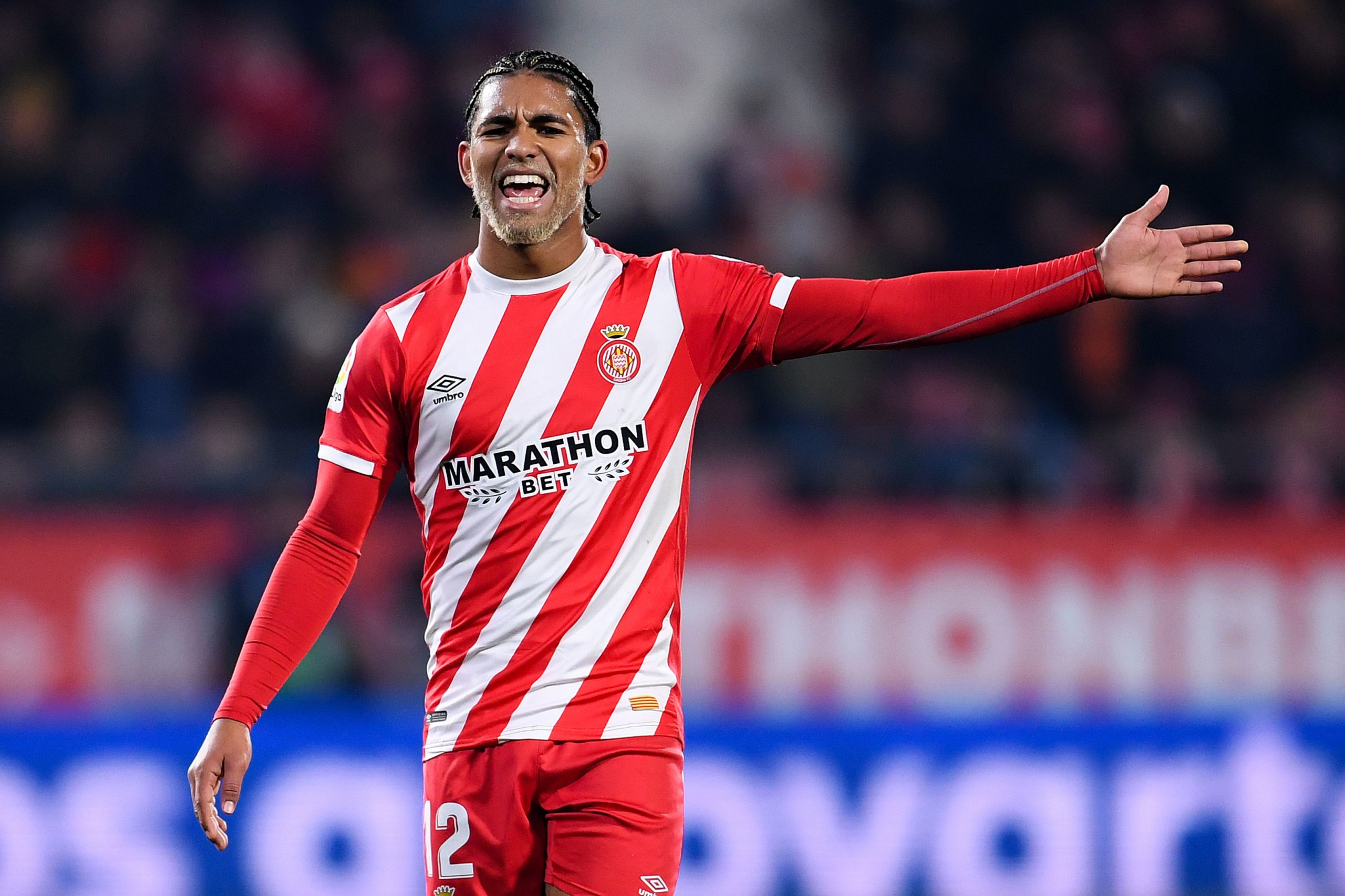 Photo: David Ramos / Getty Images
With Pablo Machín joining Sevilla in the summer, Luiz became a key first-team member under new manager Eusebio Sacristán; after playing just 295 minutes in the 2017/18 La Liga campaign, Luiz clocked 1,478 minutes in the same competition under Sacristán. It was to no avail, though; Girona were relegated after a two-year spell in Spain's top flight.
Luiz headed to the south of France, where he led Brazil's U-22 side to victory in the 2019 Toulon Tournament and was awarded the Player of the Tournament for his stellar performances. One month later, he joined Aston Villa for £15 million, signing a five-year contract. After a middling start to life in Birmingham, Luiz has cemented a starting spot in Dean Smith's Villa team, who currently sit 7th in the Premier League.
In-game Analysis
Whilst he originally operated as a lone holding midfielder in a 4-3-3, Luiz has played the best football of his career in Smith's new-look 4-2-3-1, partnering John McGinn on the right side of the double pivot. The 22-year-old is a deep-lying holding midfielder who likes to play long passes through the air to progress the ball.
Additionally, he breaks up opponent's progression while utilizing his technical strengths to redistribute the ball after winning possession. On attack, he remains just outside the opponent's box for possession retention and for opportunities to shoot from distance.
Although his style remains largely the same, his role and freedom has changed ever since Villa's transition from a 4-3-3 to a 4-2-3-1. 
Photo: WhoScored
In the previous 4-3-3, Luiz would often remain in more central areas of the pitch, not pushing too much further past the halfway line. This is best depicted in the image above in Luiz's positioning map against Fulham, where Villa won 3-0 in their second game of the season. 
However, in this new system Luiz has been able to exert more freedom in getting forward to help build up attacks with his long-range passing ability, as well as be an outlet for retaining possession with his positioning. Now operating as part of a double pivot on the right side, Luiz's movement and actions tend to be focused on this side of the pitch.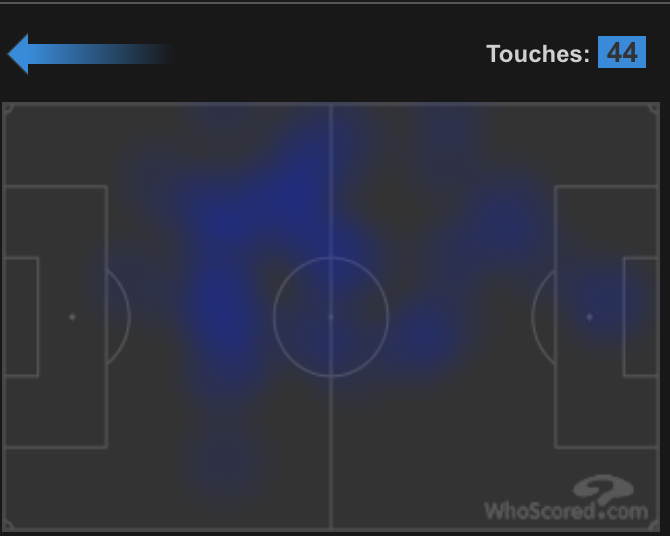 The map above demonstrates Luiz's positioning and touches in the game in Villa's 3-0 win versus Arsenal. Alongside McGinn, Luiz is able to push further up to provide support while remaining defensively sound. As a result, this has further solidified Villa's ability to attack with their new addition of Ross Barkley able to play more advanced with Luiz and McGinn supporting just behind.
Next, taking a closer look at Luiz's in-game tendencies, it can be observed from much of his gameplay he tends to play long passes from deep to progress the ball and build from the back.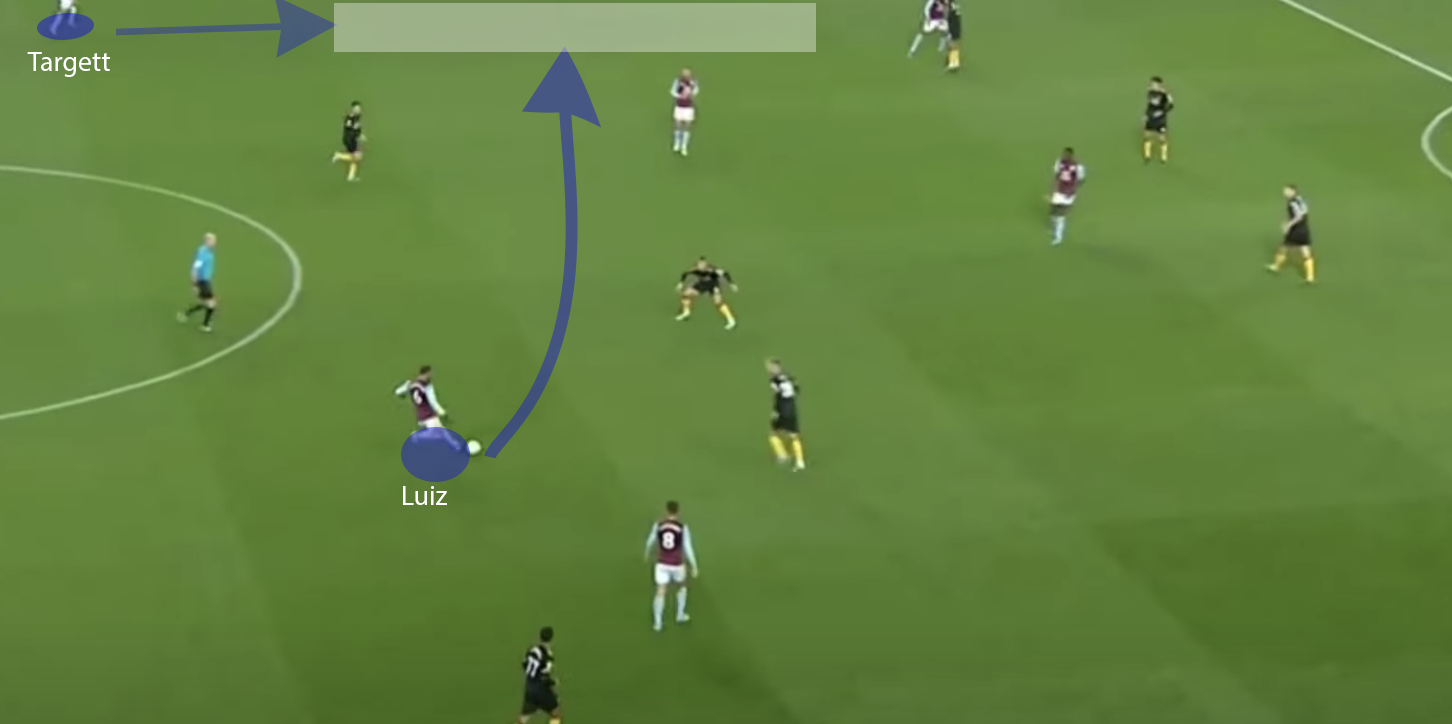 In the example above, we notice exactly that, as Luiz has drawn into a central position and attracted many opposition defenders who look to pressure him. He notices the movement of his teammate Matt Targett and space on the left-hand side to play a ball into.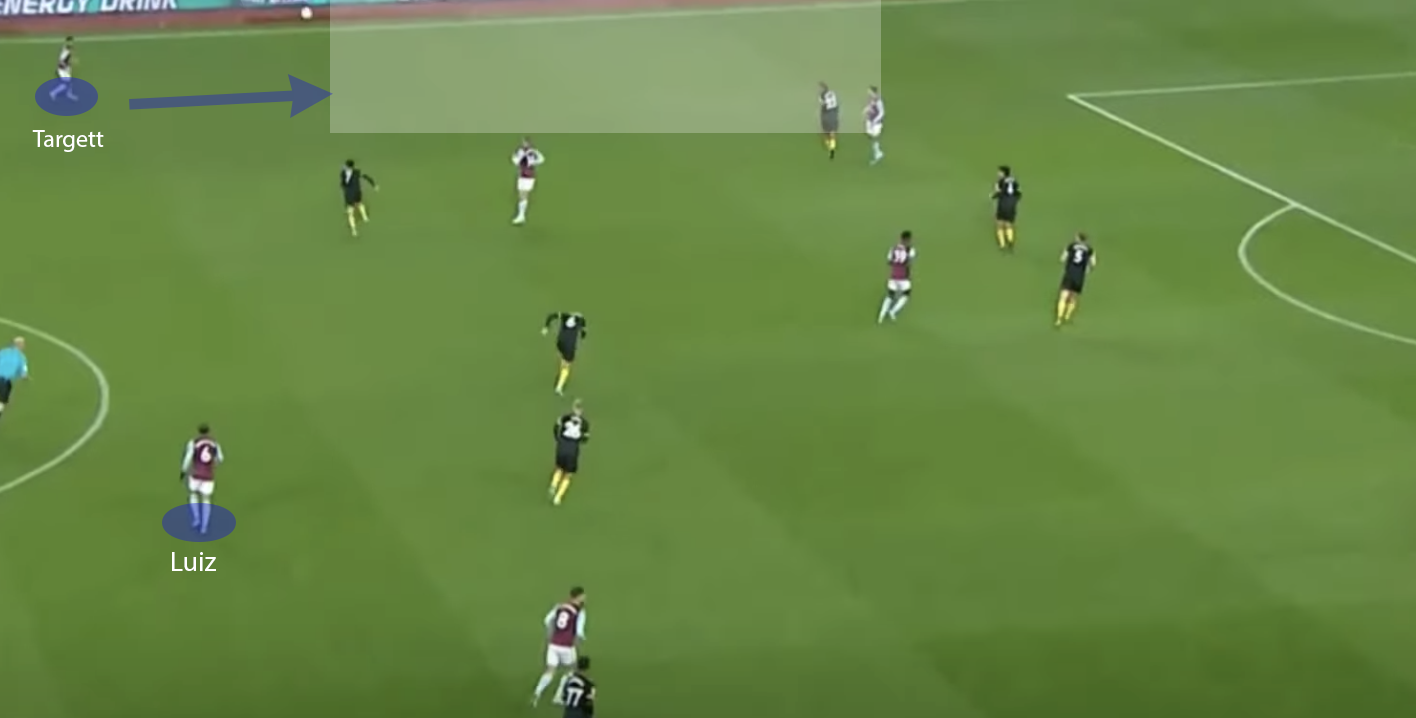 He plays the ball over the top to Targett, who then has space in front of him to progress the attack, and as a result forces the lines of the opposing team to shift quickly to cover the space.
Luiz, although a holding midfielder, is not the most physically dominant player on paper at 5'9 and 146 lbs. when compared with others in the league. However, he is aggressive and does understand how to use his body well. In addition, what he lacks in physical ability he makes up for in technical skills as he is able to control and move the ball quickly and efficiently.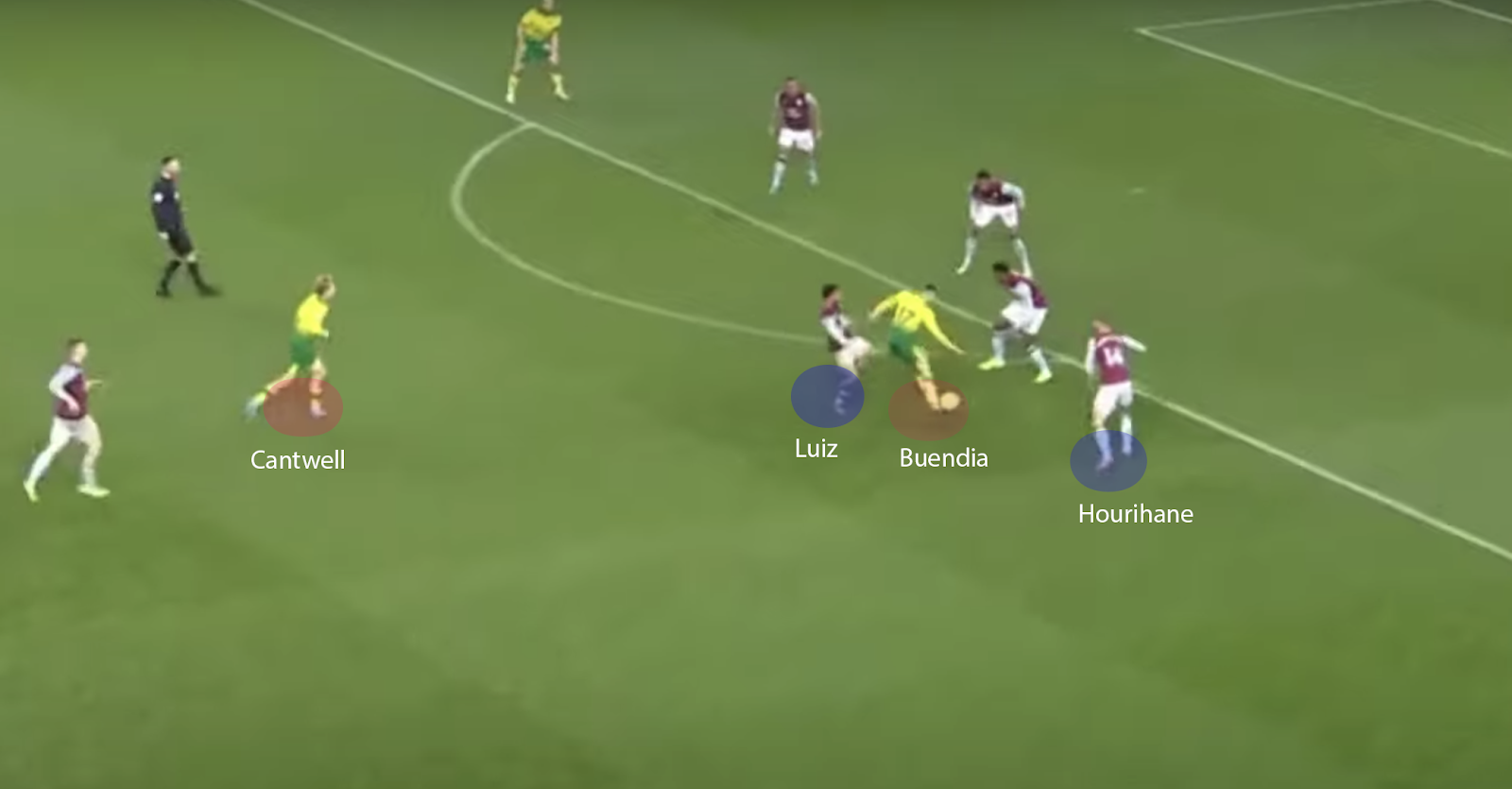 In the photo above, Norwich City's skilled playmaker Emiliano Buendía is threatening Villa's defense with his progression. Luiz steps in from behind to cut out the attack and win the ball, while Todd Cantwell notices this and looks to support Buendía by adding pressure to Luiz.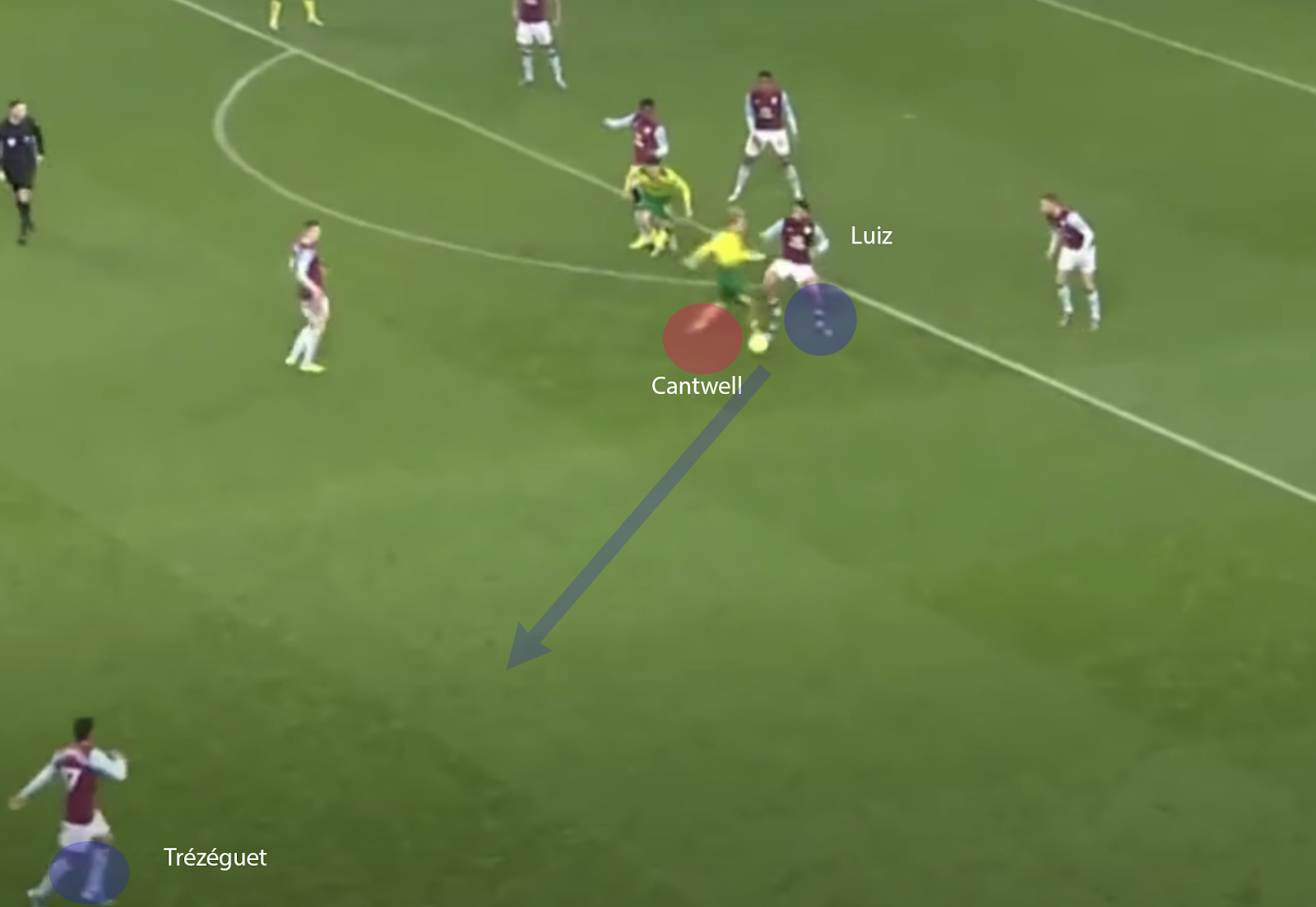 After effectively winning the ball back, Luiz immediately feels the pressure being applied by Cantwell, and spots teammate Trézéguet as an outlet. He is able to control the ball and poke it forward to play the ball to Trézéguet before Cantwell is able to close him down and win back the ball.
On attack, Luiz often sits just outside the edge of the box. This suits him quite well as his high technical quality allows him to become a retention outlet for possession when at the opponent's box or even take a shot from distance.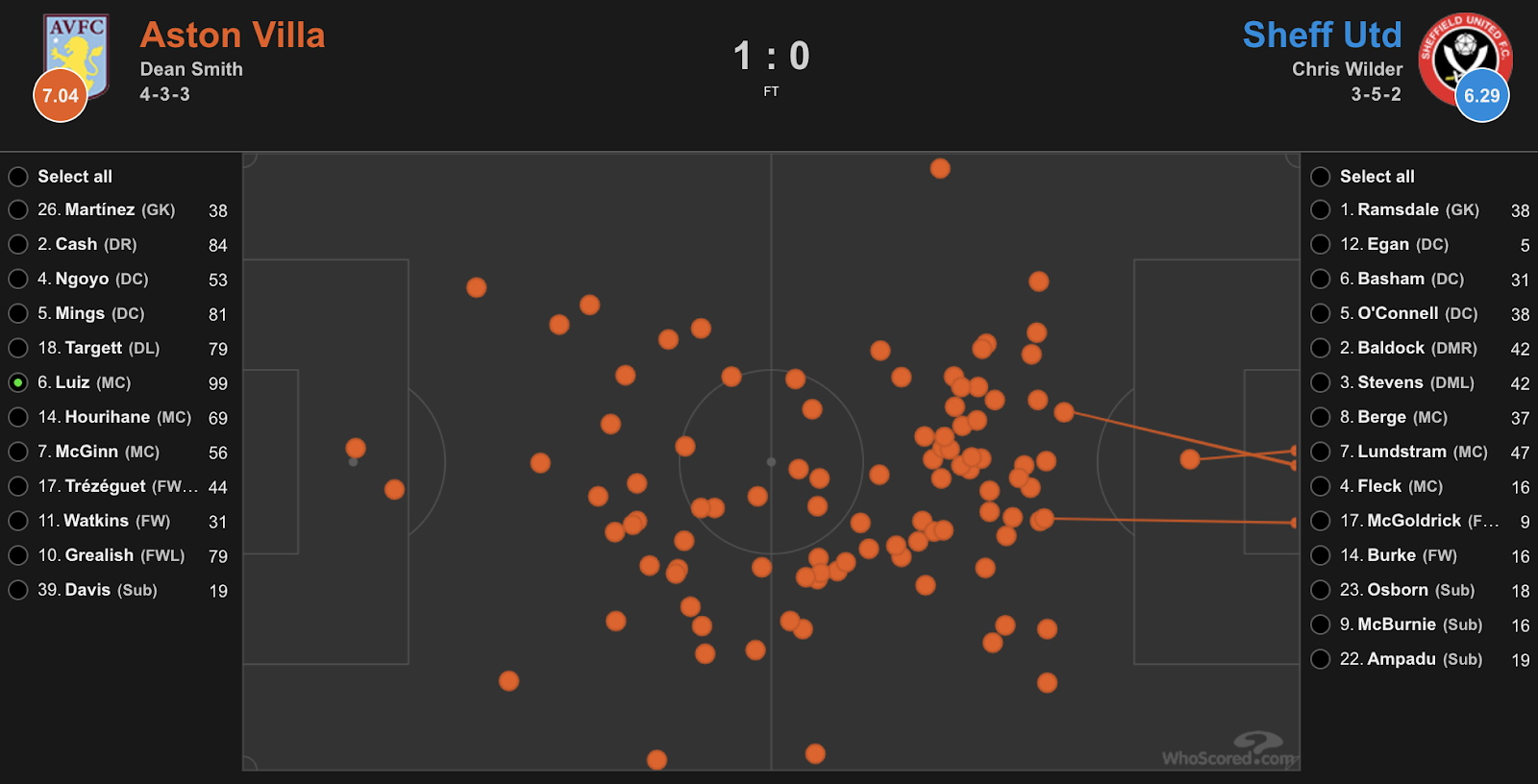 Photo: WhoScored
In Villa's first game of the season vs. Sheffield United, Luiz took 99 touches, majority of which came directly outside Sheffield's box. Of those 99 touches he took 3 shots in total throughout the game, 2 of which came from just outside the box and 1 inside the box as shown in the graphic above.
Luiz's shooting tendency comes as no surprise as he has scored from distance before, most notably his goal against Norwich last year in the Premier League.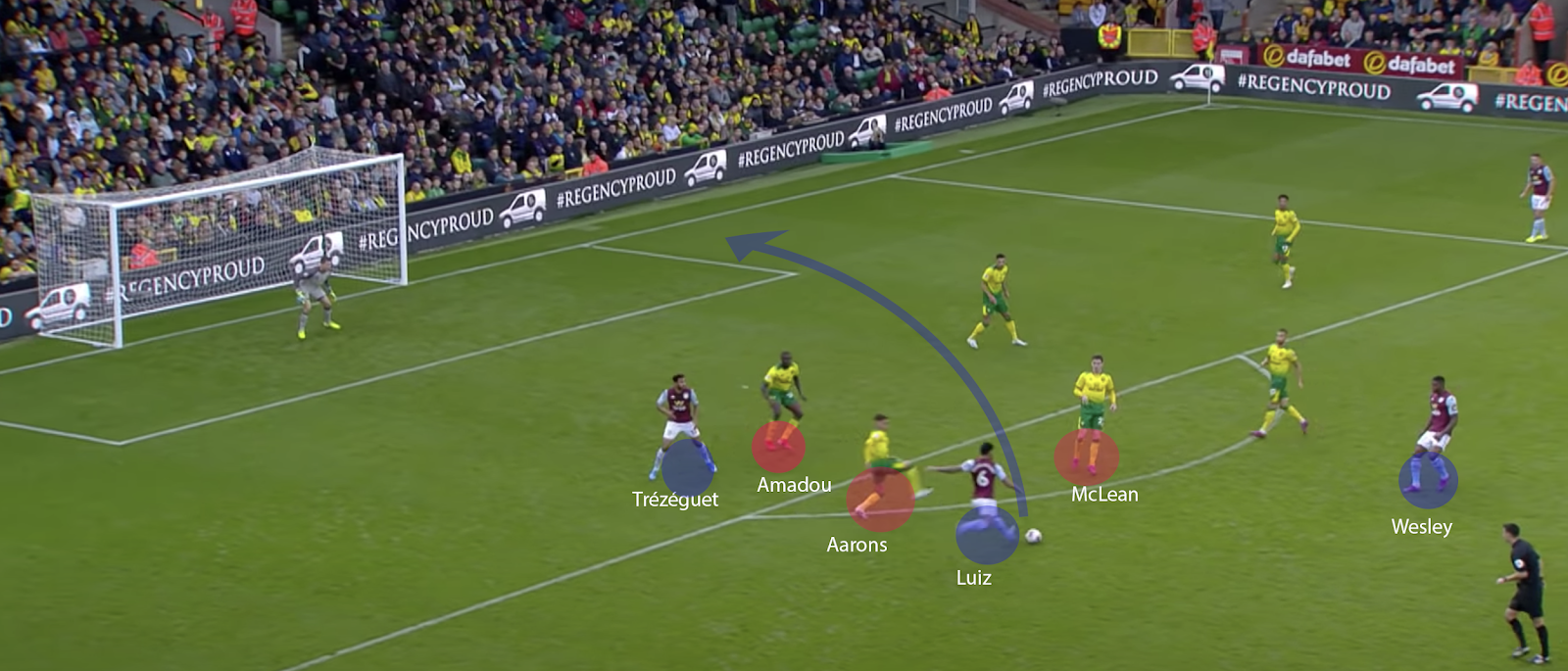 After having received the pass from Wesley just on the edge of the area, Luiz quickly takes a touch to control the ball and set himself up. He focuses on the opening between Kenny McLean and Max Aarons and curls the ball perfectly into the right side of the goal for his team's 5th goal of the game. 
Statistical Analysis
Luiz offers a different style to a traditional no.6 that is widely becoming popular in the modern game. A deep holding mid tasked with being an outlet for the defense to play out the back. Skilled enough to support the attack and progress the ball forward while remaining disciplined to not get caught out and capable in breaking up the opponent's progression of play.
The Brazilian midfielder heavily encompasses these ideals and it's no surprise he caught the eye of Guardiola early on.  While not one of the most dominant role players currently in the game he has shown tangible progression in his ability and is far from the finished product as he still has much potential to fulfill. 
Therefore, we'll analyze his skill set and statistical metrics from last year and compare it with the admittedly smaller data set of this season both on a percentile and raw value basis. We'll only look to analyze notable differences in his metrics, about 10 percentiles above or below the previous season. This will give us a better idea of Luiz's strength's in his output and in which areas he has improved as a player and how he compares in relation to others.
Beginning with the raw value comparisons of each season, we see the radar below and Luiz's production on the field in the 19/20 season versus the 20/21 season so far. The chart below displays the raw values of each stat, but also the extent and reach of the stat sonar represents the percentile ranking. Each inner ring is representative of 25 percentiles, so closest to the center and within the first ring is within or equal to the 25th percentile (lower ranking) and furthest and within the final ring is the 100th percentile (highest ranking).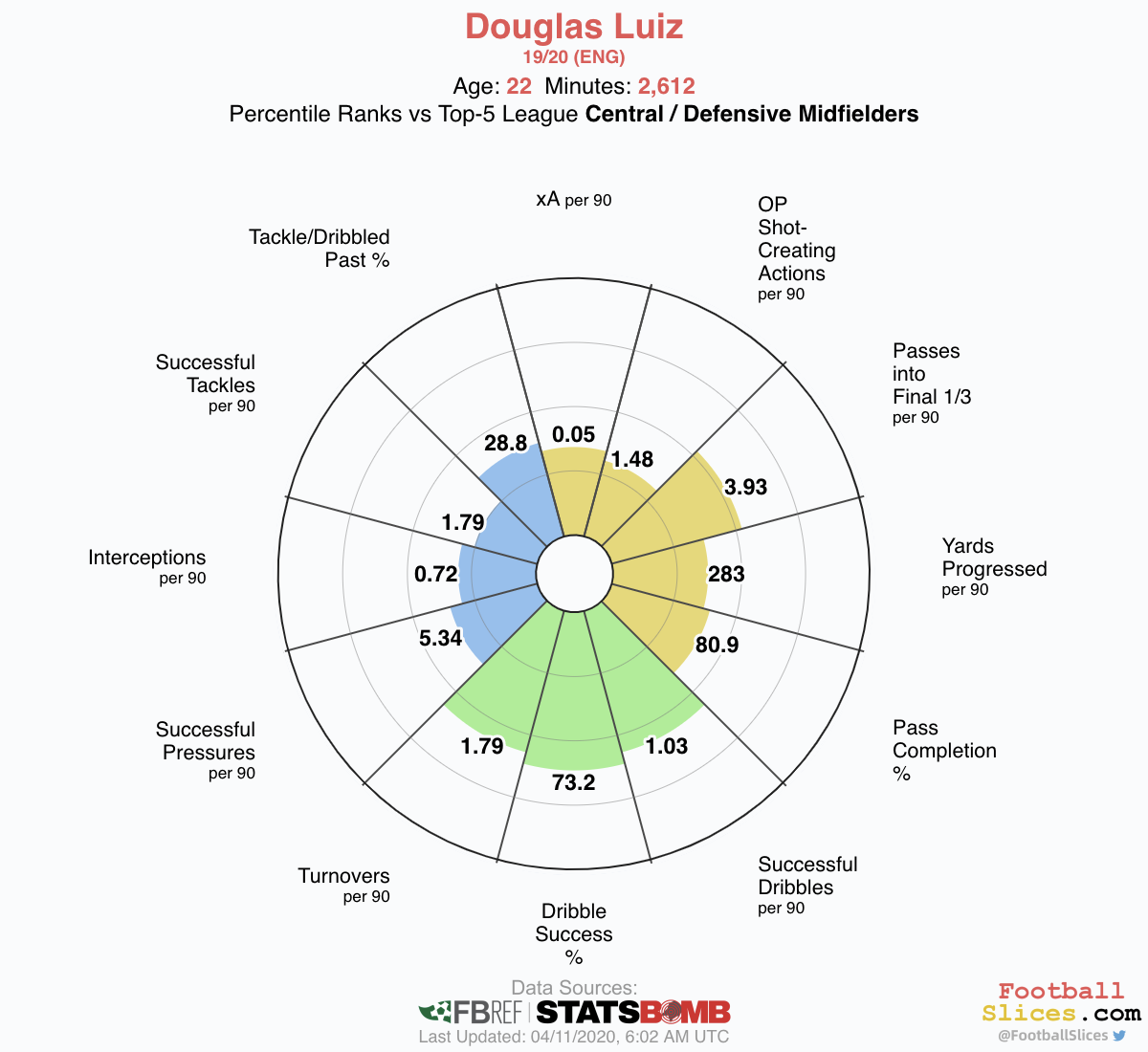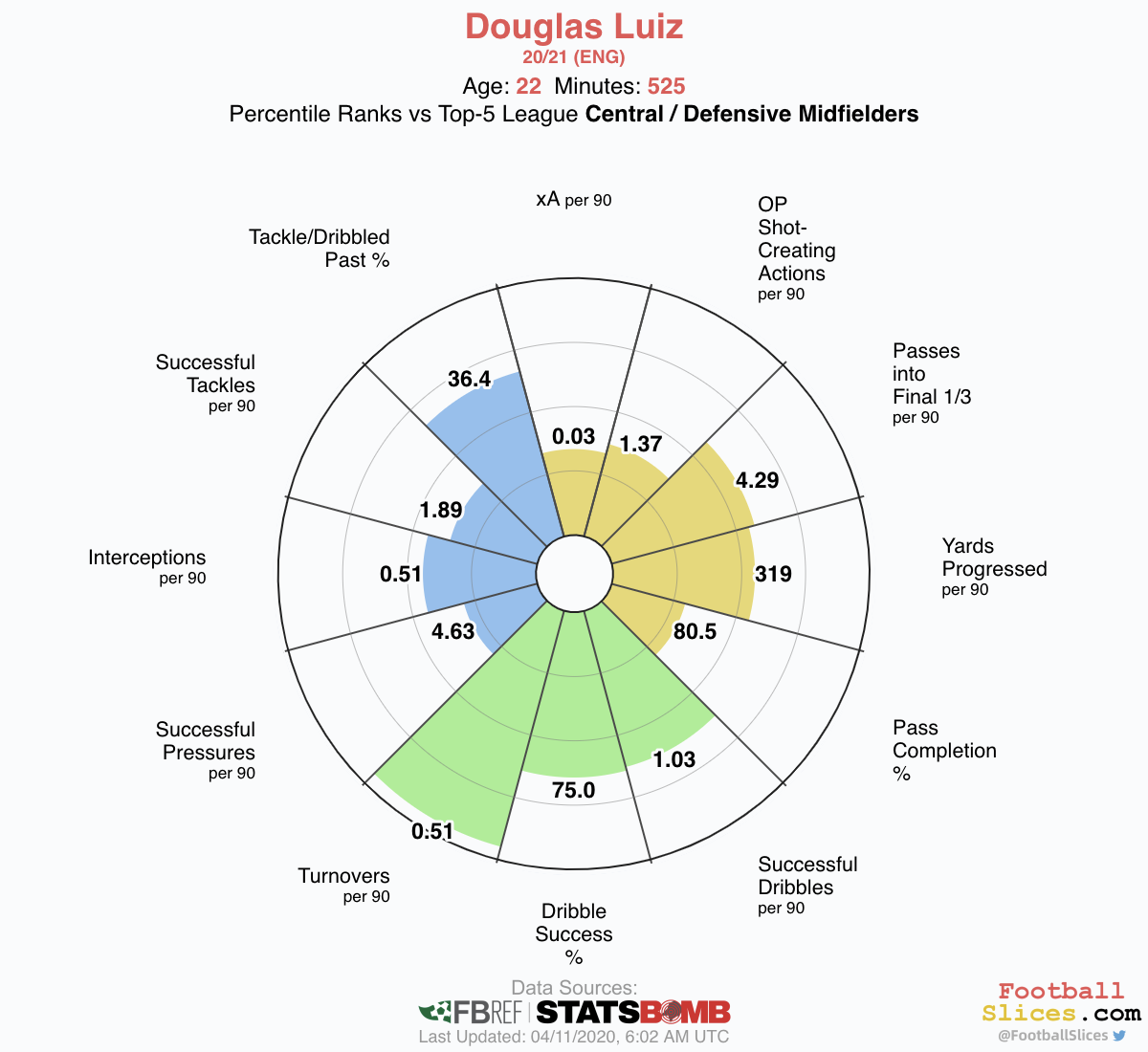 Photo: FootballSlices
Firstly, examining his stats on a surface level, we notice that Luiz's strengths in terms of output are in his passing, dribbling, and tackling versus dribblers. His passes into the final ⅓ rank well and he progresses the ball well, and he also exhibits a capable level of dribbling success. Additionally, although his defensive figures are not the highest, his rate of tackling success against dribblers of the ball is quite strong.
More importantly we'll note based on these metrics where Luiz has exceeded the previous and has further developed his skill set and where he may have lagged in. Beginning with his improvements, his turnovers per 90 minutes have actually improved.
Although his percentile has increased from 57th to 95th his raw value has actually drastically decreased so far from 1.79 to 0.51 per 90, possibly showing he has become more assured with the ball and less risky in possession which is always positive for a deeper midfielder. The increase in his percentile is likely due to the smaller data set and figures for the league as a whole, as only a total of 525 minutes of data have been registered so far.
Next, we notice that tackle success rate has also improved both in percentile and in the raw value. In 19/20 he fell in the 25th percentile for successful tackles per 90 while so far this season that has improved to the 35th percentile. Additionally, he now averages 1.89 successful tackles per 90 instead of 1.79, representing the development of his defensive capabilities. It's likely for this number to further increase as well in the future, as defensive acumen often increases over time in players and being only 22, Luiz has nothing but time.
Building on his tackling, Luiz has exhibited significant improvement so far in his ability to tackle dribblers successfully. Jumping from 38th percentile to 67th and improving his success rate from 28.8% to 36.4%. Luiz, unlike traditional holding midfielders as aforementioned, is smaller in size and weight. However, in the case of keeping up with faster and more technically gifted players, this likely works in his favor.
Similar to a full-back, Luiz must be capable to keep up with the pace and agility of these wingers, which his size allows him to do more effectively, and his aggression in his tackling further assures his ability to win the ball as shown in the example with Buendía. 
Finally, as an astute progressor of the ball, Luiz has improved this area of his game as well so far this season. Moving from 37th percentile to 55th and progressing the ball now 319 yards per 90 as opposed to 283 Luiz's areas of strength have only improved this season.
With tendencies to play long passes and distribute the ball forward as well as his technical strengths this comes as no surprise. Additionally, with the maturing of his game as time goes on to better recognize in-game situations and make more effective decisions, Luiz becomes more assured with the ball to push these numbers even further in the future.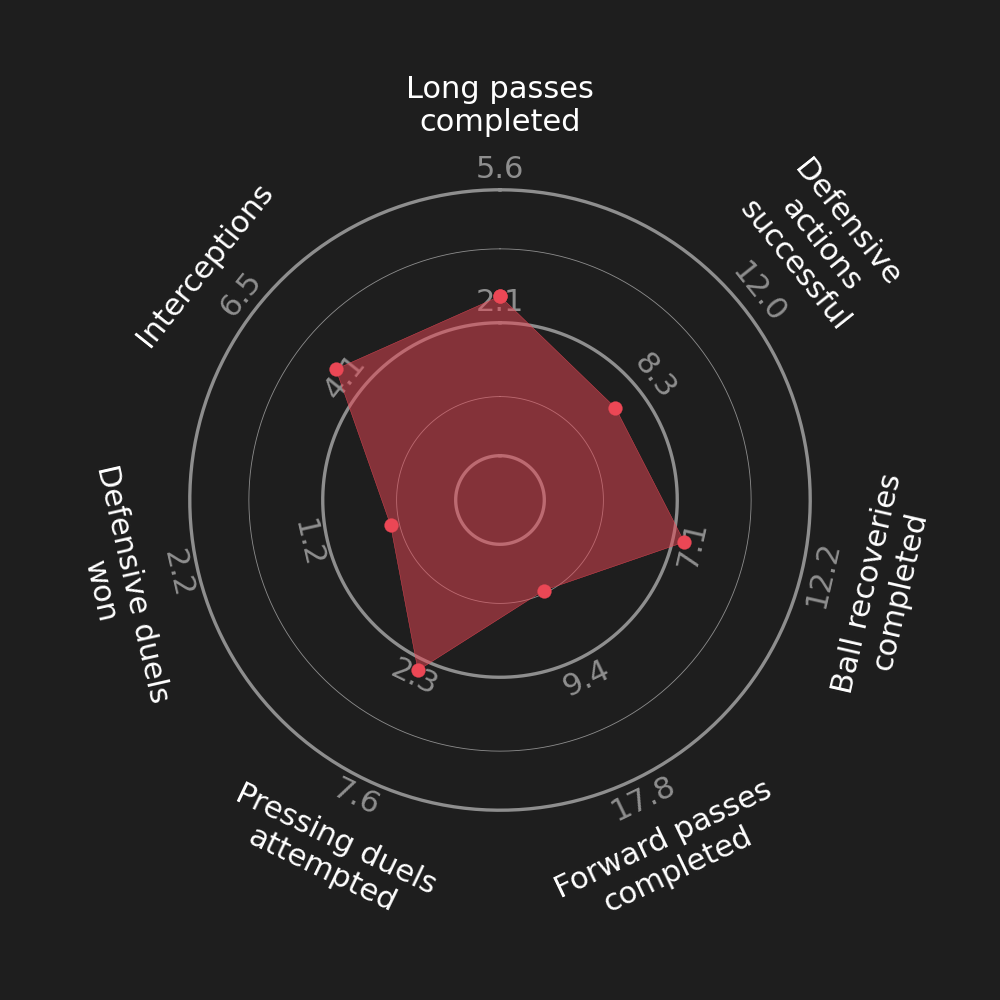 Photo: Twenty3 / Wyscout
However, this season so far has not only exhibited upside in Luiz's game. As his defensive capabilities can still be worked on, one area that so far has seen some regression has been his intercepting ability. Although his percentile has increased from 30th to 44th, his raw value has actually dropped from 0.72 interceptions per 90 to 0.51.
One caveat in this figure aside from the smaller data set could be the new formation. Now playing in a double pivot rather than being alone in the deeper role could have possibly limited his opportunities to perform in the same respect as last season as his responsibilities and focus has shifted to more of the right side of the pitch rather than the entire width.
Comparative Analysis
Douglas Luiz is a quality player with much potential left to fulfill, and although he may be considered underrated in his contribution to the Villa team, it's hard to tell how his game may truly progress in the future. However, for the time being we can take a look at currently who he compares well to in terms of his playing style. To do so, we'll use the new model developed by @GoalAnalysis. It's important to emphasize that these metrics are purely for analyzing stylistic categories based on player tendencies and team roles, not productivity. 
Before beginning we'll breakdown the model in terms of what it measures and what metrics are involved in the calculations. The model is based on factor analysis, takes large amounts of data and in this case performance metrics of these players, and creates small data sets of the large data set. It shows patterns and overlap in the data and can be used to create sets of similar items in the data which can then be categorized.
For example, in the model we are using, there are 5 categories of playing style produced by the model which have been then nicknamed. These are Advanced Playmaker, Metronome, Long Passer, Direct Progressor, and Midfield Poacher. Before discussing the players similar to Luiz, we'll briefly breakdown these categories even further to get a better understanding of them.
One caveat that is important to note is that although Luiz may have tendencies to play a certain style and his best stats may be in certain categories, that does not mean he ranks well in these in regard to the rest of the league. Therefore, it is quite possible to see him rank lower in certain categories of this model as a result of the model being a relative tool.
Starting with Advanced Playmaker, if a player has a high score in metrics of passes to penalty area, crosses, and deep completions and has low scores in PADJ interceptions, defensive duels, and aerial duels, they will score well in this category. Moving onto Metronome, this consists of high scores in passes, passes to final third, and progressive passes, while low scores in % of received passes that were long passes, % of passes played backwards, and aerial duels will boost ratings in this category as well.
Long passer scores well for players with high ratings in average pass length, % of passes played long, and % of passes played forwards and low ratings in touches in penalty area, % of passes played backwards, and progressive runs. Director progressors are players who do well in % of passes played forwards, % of passes played long, and progressive passes and players who don't do well in % of passes played backwards, passes, and touches in penalty area. Finally, Midfield Poachers are players who exhibit a high number of touches in penalty area, aerial duels, and shots and low numbers of passes to penalty area, crosses, and progressive runs.
Now we'll look at Douglas Luiz's rating as well as who he is reportedly similar to base on the model. We'll focus on the comparison's strongest categories (around 50th percentile and up), and we'll take a further look into some stats to see if we can make sense of the results. Beginning with Luiz himself, he scores well in the categories of Advanced Playmaker, and Long Passer, while scoring low in the other of Metronome, Direct Progressor and Midfield Poacher. 

Photo: Sam Gustafson / @GoalAnalysis
Beginning with Advanced Playmaker, we see Luiz actually scores around the 65th percentile in this. However, with consideration of the model's metrics for this category, we see deep completions and crosses be key metrics for this which matches well with Luiz's passing and progression. Additionally, while likely counter intuitive for a traditional holding midfielder, Luiz likely scores lower in the metrics which would help boost his Advanced Playmaker category.
The Brazilian does not stand out in terms of interceptions and defensive duels, meaning the low percentile in these metrics may actually boost Luiz's role as an Advanced Playmaker. In Metronome, however, he scores quite low around the 22nd percentile. While Luiz style of play relates to ball progression for his team, his ranks for passes into the final ⅓ and passing progression or not that high when compared with the rest of the league, likely explaining this score.
As a Long Passer, this turns out to be Luiz's strongest category. Scoring around the 84th percentile and taking into account average pass length and the proportion of passes played forward, it's no surprise Luiz ranks well here. He has the tendency to play long balls forward, likely boosting all of these metrics. In addition, his limited touches in the penalty area, and low progressive run count, all likely play a key role in further boosting this category for him. 
Finally, Luiz does not score well in either Direct Progressor or Midfield Poacher, with scores around 17th percentile and 14th percentile respectively. Direct Progressor likely ranks low due to his low rank in progressive passes per 90 and his large volume of passes likely works against him. For Midfield Poacher, a low number of touches in the penalty area and aerial duels, with high passes to the penalty area and crossing, likely lower his score in this regard.
With all this in mind, Luiz's most compatible match from the Premier League is Sean Longstaff. With similarities in the breakdown and shape across all categories, Luiz (top) does severely outperform the Newcastle midfielder (bottom) in all areas of strength, while the two remain similar elsewhere.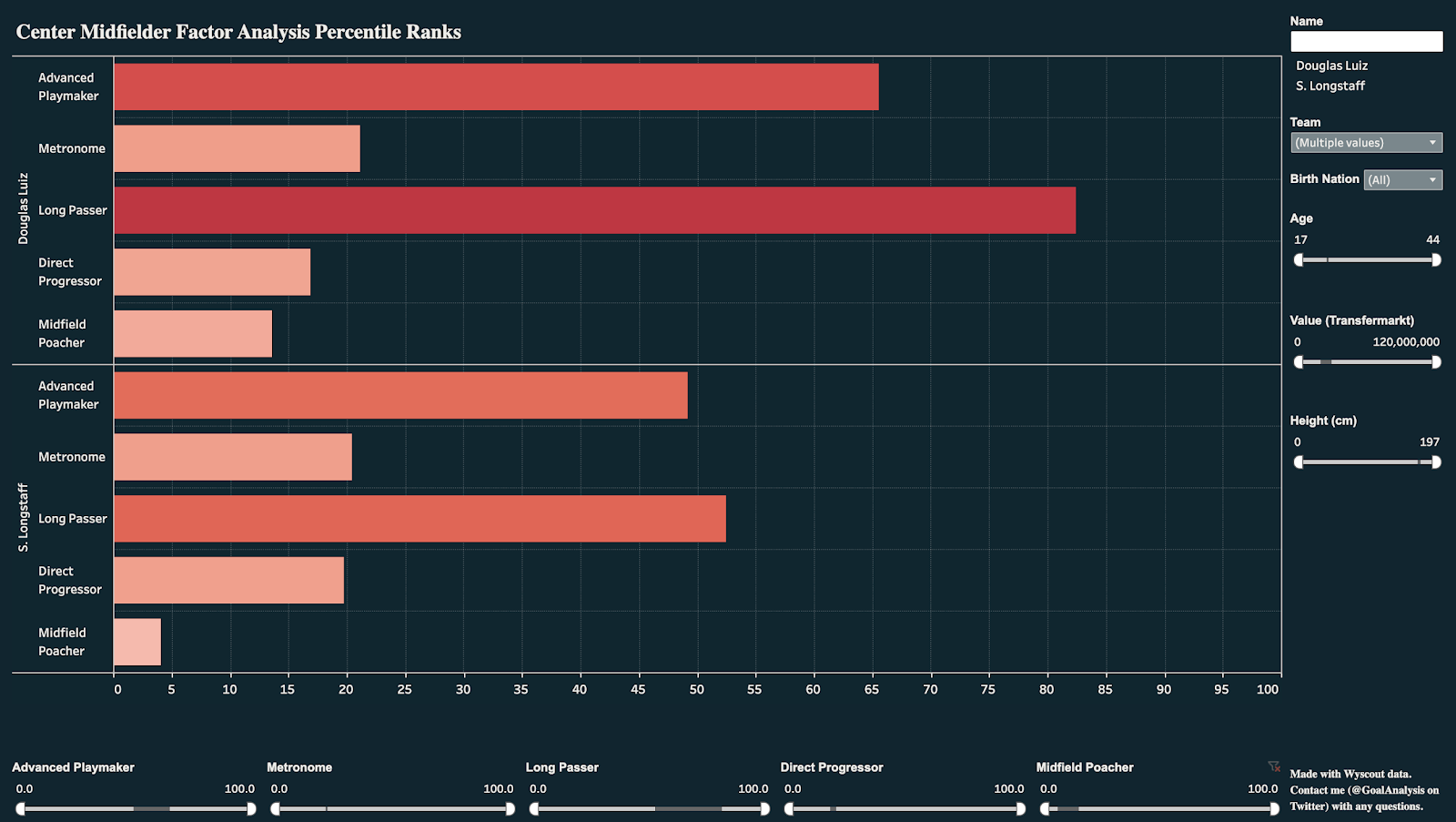 Photo: Sam Gustafson / @GoalAnalysis
Similar in their strengths of Advanced Playmaker, we see Longstaff last season averaged less passes into the penalty area, 0.26 per 90, compared to Luiz's 0.69 per 90. Luiz also completed 68.7% of his long passes, while Longstaff only completed 54.5%.
Additionally, Longstaff significantly outperforms Luiz in interceptions per 90 at 1.24 to Luiz's 0.72 which and in terms of defensive duels, Longstaff outperforms Luiz with 3.53 tackle attempts against dribblers per 90 versus Luiz's 2.28. All of which lowers Longstaff's rating in this category. 
For Long Passer, we see Luiz outperform Longstaff, and beginning with % of passes played long, we see Luiz has a rate of 23.3% while Longstaff has 20.1%. Luiz also surpasses Longstaff in passes into the final ⅓, passes into the penalty area, and progressive passes all per 90, with less pass attempts per 90 making it likely that his % of passes forward are greater than that of Longstaff.
Luiz has a significantly lower number of touches in the penalty area per 90 with 1.24 compared to Longstaff's 3.64 pushing his rating down in this regard. Although Longstaff is not as highly rated in the same categories as Luiz, it is not necessarily Luiz's overperformance in metrics that push his rating up, but the overperformance of Longstaff in metrics which push his rating down.
Next, we look at Luiz's other match in the Premier League, João Moutinho, whose breakdown and shape differs more so than that of Longstaff's. Initially we can see that in addition to sharing the same strengths as Luiz (top) in Advanced Playmaker and Long Passer, we see the Wolves man (bottom) is also quite strong as a Metronome.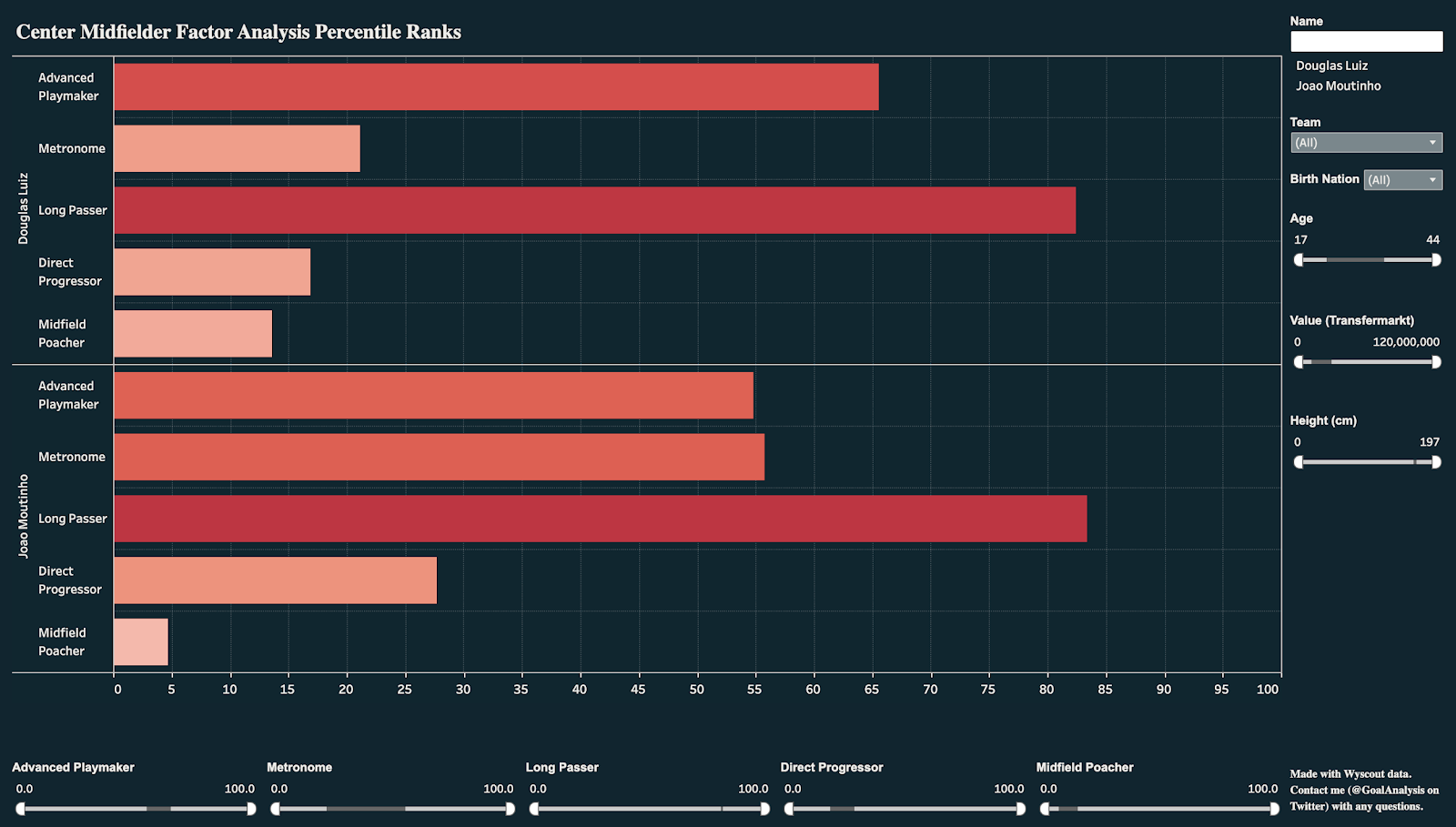 Beginning with Advanced Playmaker, Luiz actually underperforms in respect to Moutinho in all categories relevant to score well in to boost his score as an Advanced Playmaker such as passes into the penalty area, and crosses. However, it is Moutinho's overperformance in all stats which lower his score as an Advanced Playmaker which likely explains his lower rating in the category.
For example, Moutinho averages 0.81 interceptions to that of Luiz's 0.72 per 90. Additionally, he significantly outperforms Luiz in defensive duels, Moutinho with 4.09 tackle attempts against dribblers per 90 versus Luiz's 2.28 all contributing his lower percentile.
Next, in Metronome we see the Portuguese veteran ranks much higher at the 56th percentile to Luiz's 22nd. Moutinho exceeds Luiz in all boosting stats per 90 with 58.6 passes versus 41.9, 4.55 final third passes versus 3.93, 4.64 progressive passes versus 3.41. Additionally, Luiz also outperforms Moutinho in aerial duels with 2.24 attempts per 90 versus 1.36, lowering Luiz's rating further.
Finally ending with Long Passer, we see this to be both player's strengths, however Moutinho seems to just edge his rating over Luiz. Moutinho in this instance outperforms Luiz in all the following per 90 categories: final third passes, passes into the penalty area, and progressive passes, making his % of passes forward likely to be higher.
Moutinho also has a higher proportion of long passes, 27.6% of all his passes to Luiz's 23.1%. The Brazilian has more touches in the penalty area of the opponent of 0.44 per 90 versus 0.32 for Moutinho, lowering Luiz's rating in this category.
We can see that Moutinho seems to be a more well-rounded player in his niche style. He seems to perform well across many categories, however it's possible his team being historically stronger than Villa the past few seasons allows him more freedom and possession to perform better in certain metrics as they often can be the more dominant team. Examples of this would include being able to attempt more passes as a result of more possession.
Additionally, this could even come in the form of allowing for more passes that progress the ball and penetrate the defense of other teams as a result of being more attack oriented throughout games as a result of being the more dominant team.
Conclusion
After starting off poor last season, Villa have turned their form around so far this season with high profile signings driving adding to the excitement. The change in their system under Dean Smith has helped them get the best out of their new players and Douglas Luiz remains an integral part of the team in the new double pivot.
With his technical quality and aggression, he remains able to pressure opponents and block attacks from progressing. He remains assured on the ball to retain and progress the possession of his team with his tendencies to play long passes into space. On top of this, he is capable of thrilling moments when taking shot attempts from distance, sitting just outside the opponent's box for such opportunities. 
Although statistically, there is much room for improvement in order for Luiz to solidify himself among the league's best, he's shown maturity and development in his abilities. While he is quite capable on the ball, and is quick to cut out attacks, he can improve on his defensive competencies in areas such as tackling and intercepting at a higher level of production, while he can also improve his pass completion rating by taking more calculated risks as we've seen him start to do so this season.
In style metrics Luiz seems to exhibit qualities seen in advanced playmakers, and more notably a long passer of the ball. He stacks up similarly to Premier League players such as Sean Longstaff and João Moutinho. With Longstaff, they share similarities in both playmaker and long passing attributes and while Luiz ranks more highly in these style metrics, it seems Longstaff is more assured in his defensive capabilities relative to Luiz.
Comparing Moutinho and Luiz it can be distinguished that Moutinho stylistically fits better across more categories and is multi-faceted in that way. While Luiz's ability on the ball and aggression does outperform Moutinho, Moutinho is more successful in almost all passing categories whether it be to retain possession, progress the ball, or even assist. 
With all this in mind Luiz remains an exciting modern player to watch. Having received consistent game time from a young age in high level competitions, the development of his skills has been tangibly recognized. At the age of 22 alongside the supporting cast Villa have, Luiz is already an excellent role player for the club, and in the future, can position himself for greater opportunities throughout Europe if he continues his progression.
By: Michael Nazarian
Featured Image: @GabFoligno / Neville Williams – Aston Villa FC