Player Analysis: Emrecan Uzunhan
Amidst a particularly chaotic summer transfer window in Turkey, the big three have all sought to strengthen significantly. Besiktas have tried to bulk out their squad with 8 additions so far, one of which being the 21-year-old Emrecan Uzunhan from Süper Lig newcomers Istanbulspor. 
Crucial to Istanbulspor's return to the Turkish top flight for the first time in 17 years, Uzunhan spent two seasons steadily progressing and caught flight in the promotion campaign under Osman Zeki Kormaz's management. He played in 18 league games in the 2021/2022 season, averaging 82 minutes, but while Kormaz extended his deal at Istanbulspor, Emrecan sought a new challenge elsewhere, which led him to Valerian Ismael's project at Besiktas. 
What Kind of Defender is He? 
Uzunhan has played predominantly as a left centre back for Istanbulspor, as seen in the below heat map.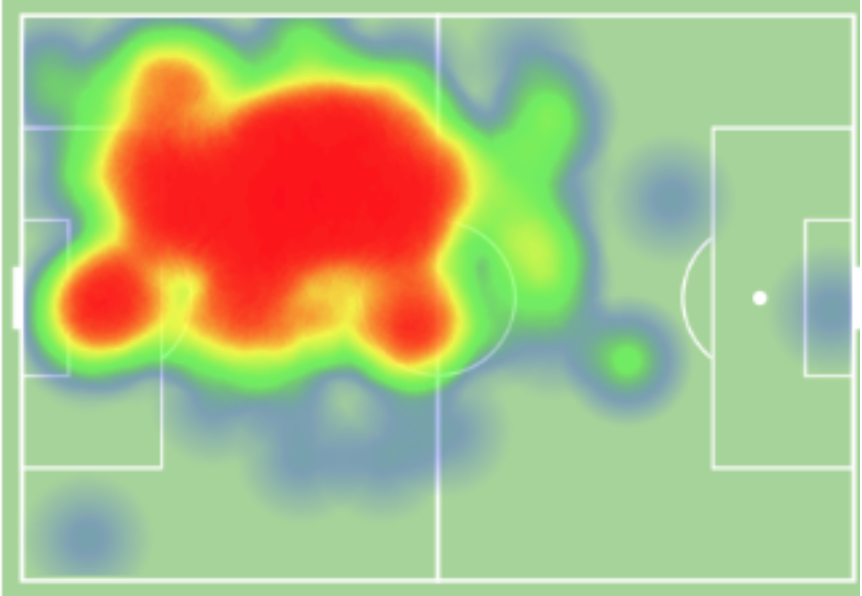 The below map showcases his turnovers from the 2021/2022 season. Blue dots are the areas where the ball lands, and the majority of the blue dots are in the opponent's half. This is due mostly to the long passes he seeks to make when he receives the ball. Many of his passes are received just off the left touchline, presumably due to coaching decisions.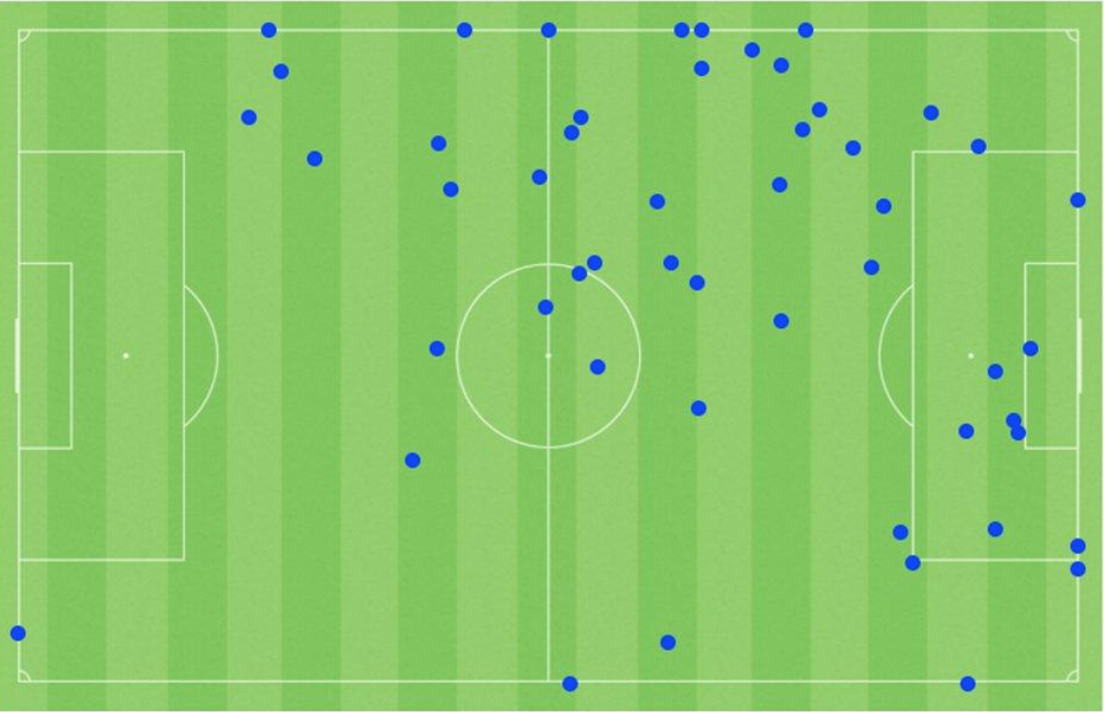 His positional awareness and timing of his interventions are also quite successful. By using his intuition and foresight correctly, he can detect the move that will occur and take his position accordingly. In the below sequence, he uses his body so accurately that he blocks the dribbling path of the opponent, while his physical stature is very suitable for backtracking and also makes the opponent constantly feel the pressure.
In Game Analysis 
(Istanbulspor – Bandirmaspor Play Off Final Game)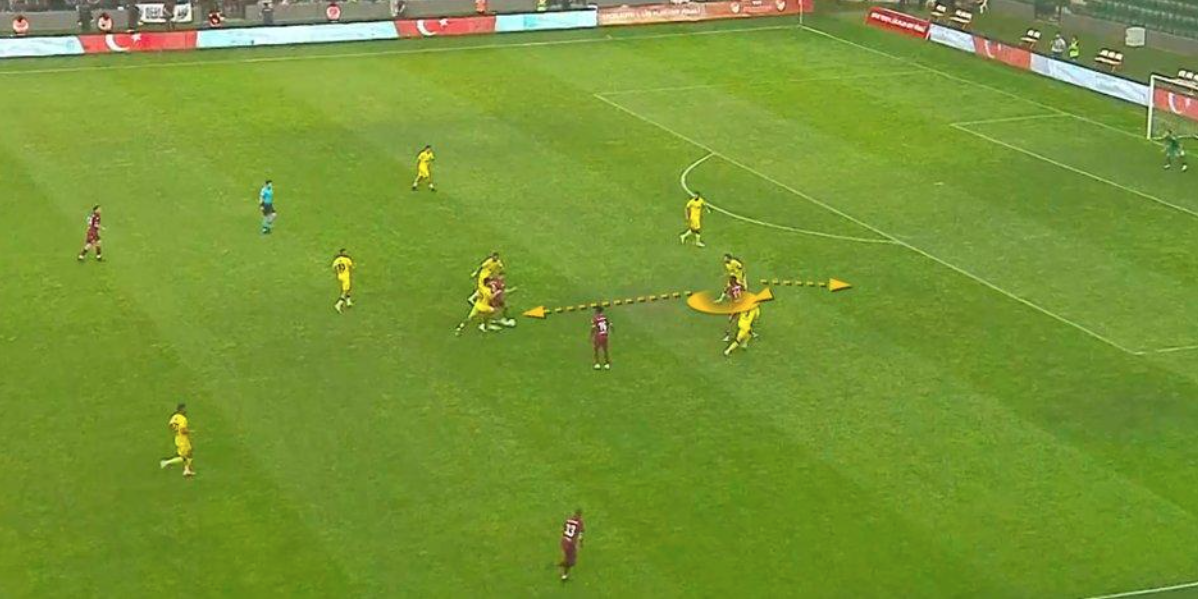 A few seconds later, at this point, he (Yellow 14 number) pulls the ball out of the opponent's feet with great courage and determination, prompting Istanbulspor's counter-attack to get underway.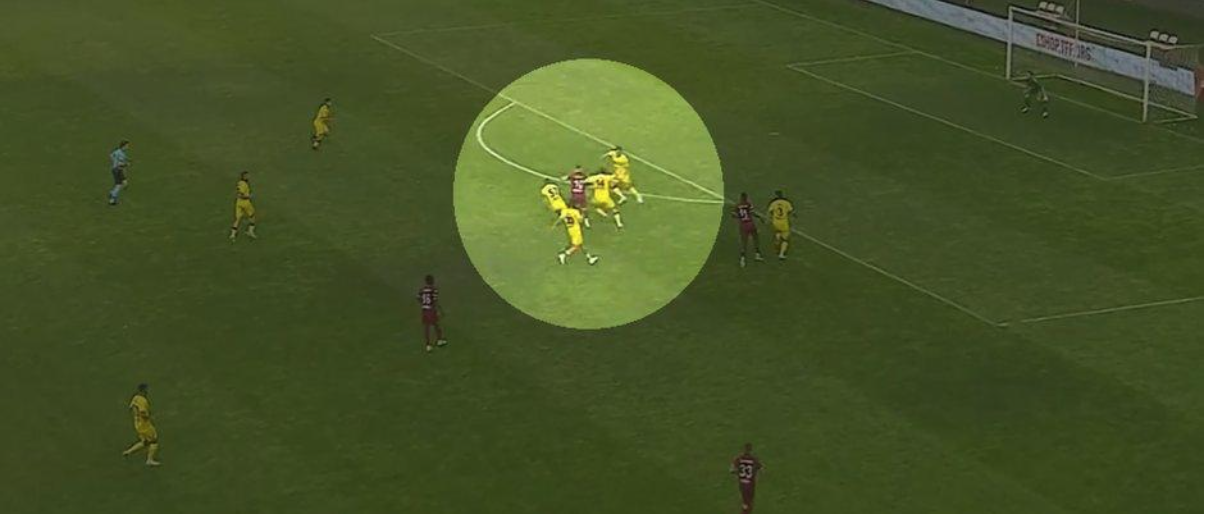 In addition to this, he is quite courageous in aerial duels and sticks his head in for almost any ball — he has overcome the threshold of fear. At the same time, he has the feature of sticking to his opponent and not leaving the duel without coming out with the ball —  he is a complete headache for the opponent.
In the below sequence, we can see how, even when he's not scoring, he can still help his team in set-piece scenarios. Uzunhan disrupts the goalkeeper position and angle without committing a foul, allowing his team to score from a corner kick.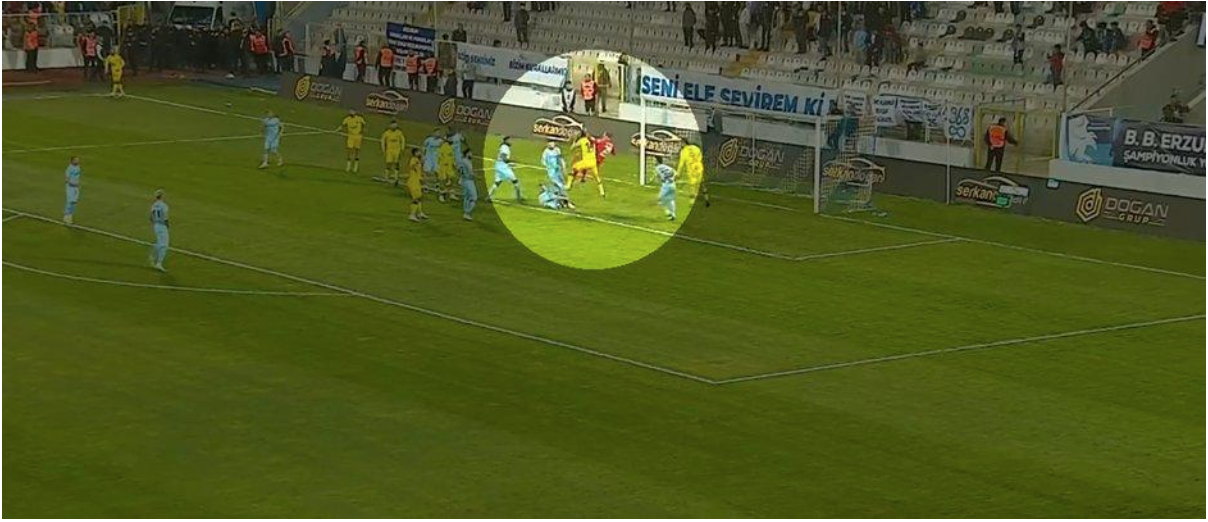 He often tries to create danger in the final third with his vertical long pass and especially the diagonal long pass. However, from time to time, he acts hastily and sends unnecessary long passes. Uzunhan averaged 2.7 lost balls per match and 0.63 in his own half (lost balls).
From a broader perspective, the majority of these lost balls are due to unsuccessful diagonal long passes and passing mistakes made during a disorganized build-up. In other words, we can say that it is not due to the weakness of the player in defence.
Instead of sending a long pass where the empty space is, he can also play with a short pass by doing this perimeter control correctly. He is very young and will this understand better with time, but Uzunhan performs like a defender ten years his senior at times. He is cold-blooded and does not panic under the pressure of the opponent. 
Critical Analysis 
In the image below, there is an opposing player who is likely to make an interception. Here, he could set up the game by passing (red arrow) to his teammate next to him, but he was a little hasty here and should have played a little simpler and smarter.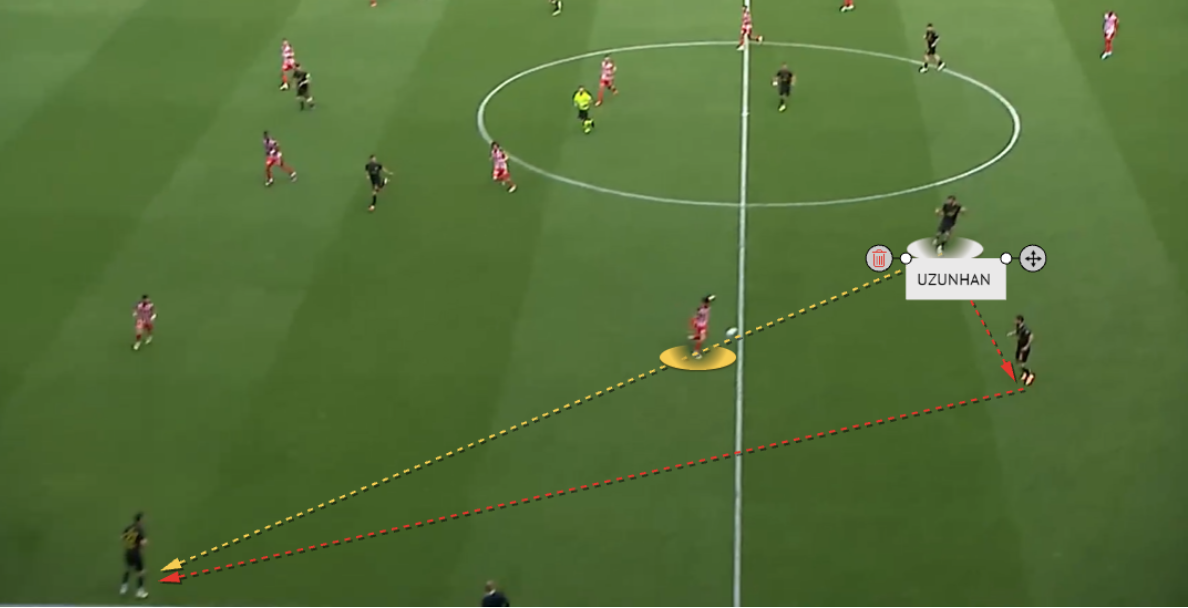 Emrecan Uzunhan is someone who gives incredible confidence in his own region in duels. While his general duel attempt is 13 per match, his success rate is 66%. While he attempts 10 duels in defense, his success rate is 68%. His duel attempt in air balls is 5.5 per match and his success rate is 65%. In the image below, you can see the gains and losses of 1v1 duels in blue and red — reds are losses.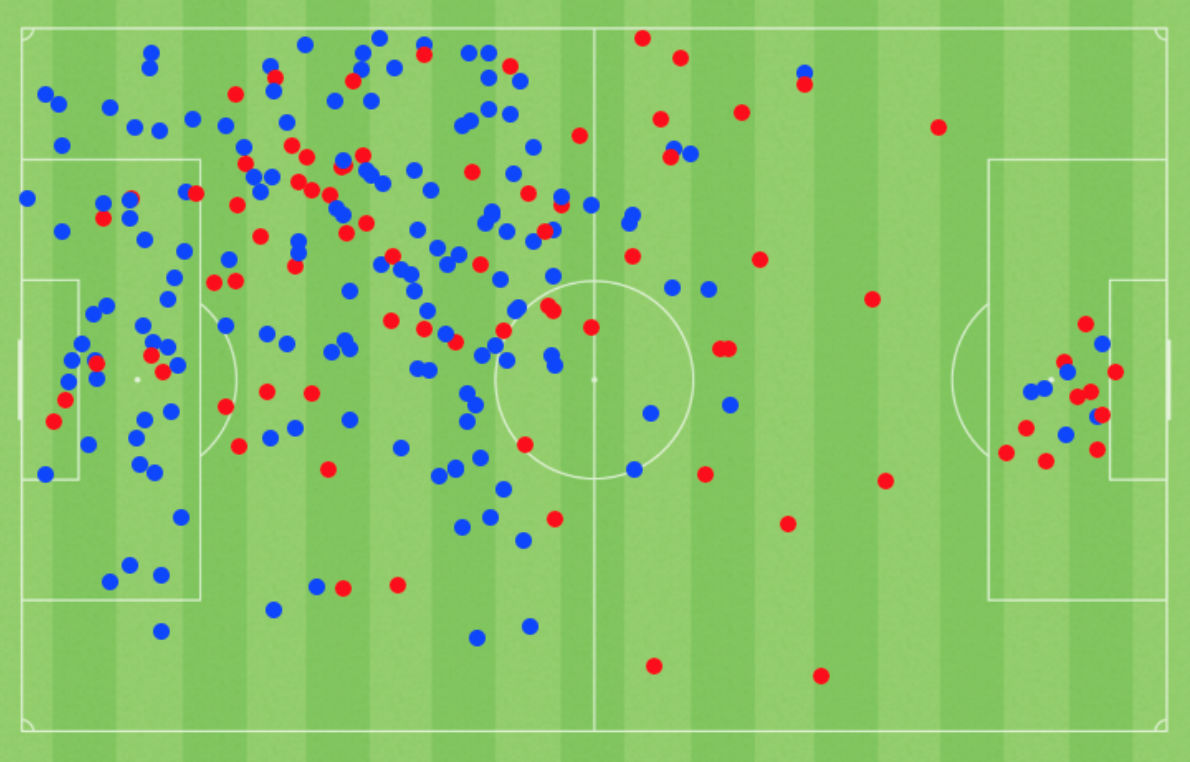 He's certainly an aggressive defender who is adept in the art of interceptions with 5.7 interceptions per game. It's one of his best metrics currently and something that undoubtedly helped aid his move to Besiktas this summer. 
Interceptions are timing-dependent and also related to mental and physical speed. In other words, an interception action will prevent you from conceding a goal, and in attack, it will counterattack quickly and help you score a goal. As such, it is an ideal parameter for players with high intuition, thinking speed and physical speed. In Beşiktaş, Josef da Souza has impressed in this area since joining from Al-Ahli in 2020.
You can see the points Emrecan made between the passes in the below image. Rather than being done outside the penalty area and in the left area, it is very important to have intensity at the penalty point, that is, at the critical point, which we call the Golden Zone.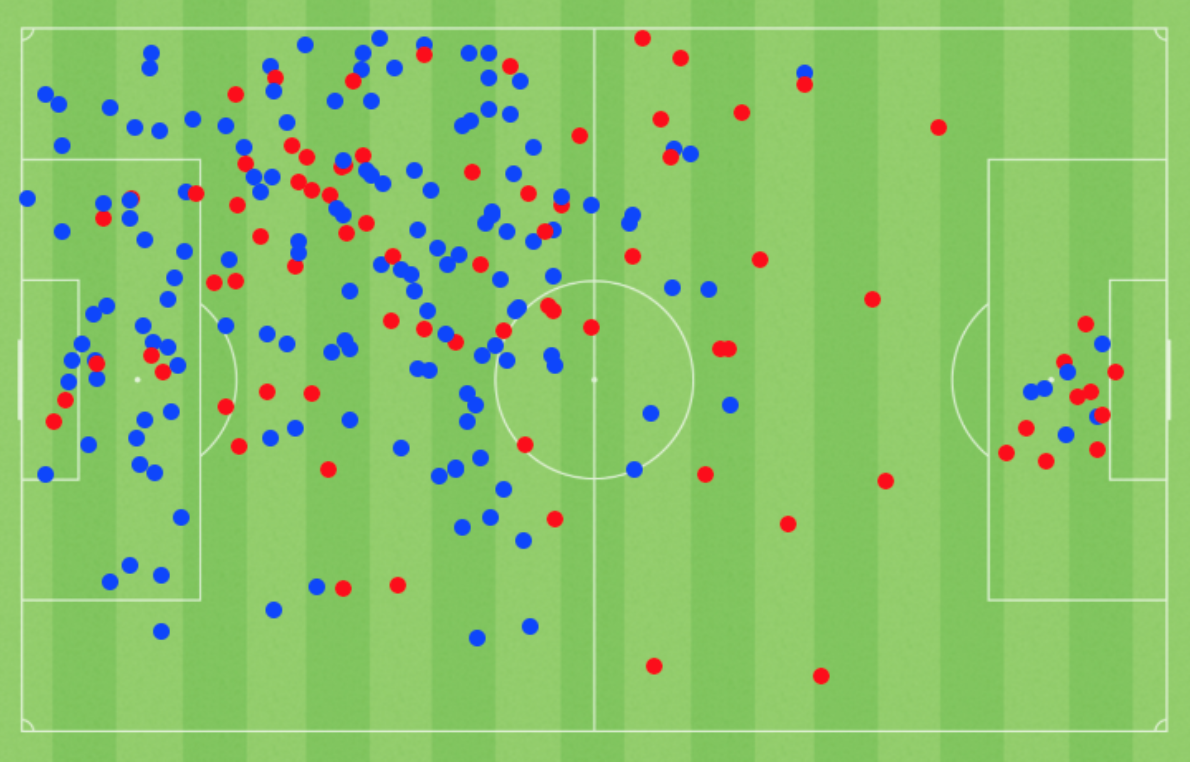 Finally, my personal comment; Emrecan is definitely someone who gives a lot of confidence in his region, in my opinion. Along with adjusting his physique, correct posture and positioning on the field, he acts mentally by thinking about the next move, but he also needs to fix the basic and simple mistakes he made, especially while building the game.
One of the reasons behind Emrecan Uzunhan's success is Istanbulspor coach Osman Zeki Korkmaz.  Kormaz created a successful defense system and understanding in the team, and the right role he assigned to Emrecan in this system caused Emrecan to perform better.
After spending the past six years of his development at İstanbulspor, Emrecan joins Beşiktaş on a five-year deal following a season that saw the 21-year-old rack up 17 appearances in the league as the club returned to the top-flight after a 17-year absence — and he'll be looking to continue that sharp run of form with one of Turkey's Big Three, a club who are in need of a leader in defense following a sixth-place finish and the departure of Croatian veteran Domagoj Vida.
By: Burak Manap / @burakmanap
Featured Image: @GabFoligno / Anadolu Agency