Player Analysis: Ethan Laird
On 8 January 2021, Ethan Laird left Manchester United's development squad to Russell Martin's MK Dons on a loan transfer until the end of the EFL season. Laird is a highly-touted prospect at Manchester United having spent the last 11 years at the Premier League club and is a versatile defender who can play both full-back positions. Laird has also shown his ability to get past the opposing full-backs when he is pushed higher up the pitch.
A loan move to MK Dons confused many Manchester United fans trying to figure out how Laird did not get a move to the EFL Championship, a level that he would thrive in seeing how well he has been at Stadium MK in League One this season. Martin prides himself on making his team play great, flowing, possession-based football that is very easy on the eye for. His 3-5-1-1 formation allows transitions in between the attacking 3-1-4-2 and the defensive 5-2-1-2, which allows for strength in defending and then the ability to overload the opposing box when attacking.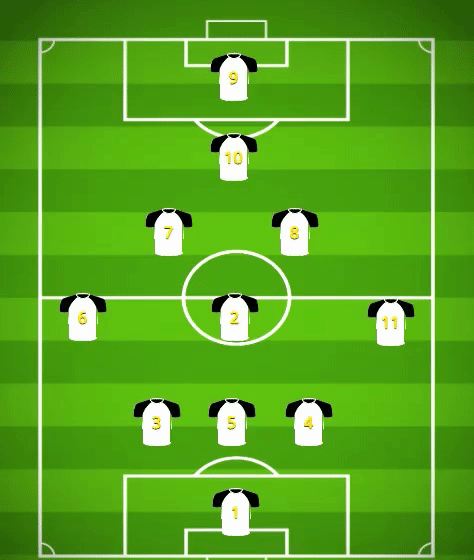 FIGURE 1: An example of the transitions that Martin's MK Dons make during the game, from the 3-5-1-1 with one holding 6 and two roaming 8s in the midfield five with flying wingbacks including Laird. This transitions to the defensive 5-2-1-2 when a roaming 8 sits alongside the 6, creating a double pivot. To the attacking 3-1-4-2 which pushes Laird and the LWB higher up into midfield and to help with the strikers.
Laird's Attacking Prowess 
It has been this style of play from Martin that has helped Laird showcase his attacking intent and one that makes him a major threat for opposing teams when Laird has the ball. Laird has three assists to his name from a wing-back role from 19 starts in League One and has helped contribute to MK Dons picking up an average of 1.61 points per game with him in the team. Before that, MK Dons averaged 1.19. 
Martin allowing Laird to get forward to join attacks has been one of the biggest factors in MK Dons getting better results, inevitably in picking up more points in the games as of it, as seen below in their 3-1 victory over Fleetwood Town on January 19. 
FIGURE 2: Laird (highlighted) pressing high against the back-line of Fleetwood Town to then force a mistake from the number 14 of Fleetwood, leading to an MK Dons goal, helped by the high press from Laird.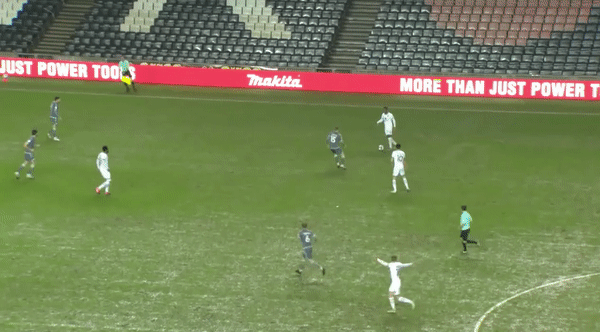 FIGURE 3: Laird with a brilliant assist, step-over and a drop of the shoulder to lose the defender before slotting in the striker, Joe Mason to finish. A real show of his talent.

FIGURE 4: Laird, yet again showing his attacking prowess by dropping the shoulder and beating his man to get to the byline, which allows the striker, Will Grigg, to make a run to the front post for a tap-in, a truly superb assist. 
It has been clear to see that Laird's ability to be able to drop his shoulder, to then use a change of pace to offset the defending is one of his best assets. Simple, but precise. Laird can use both feet to cross the ball and can shift it quickly in one motion from foot to foot for the cross to be made. A brilliant technique to have.
He is also brilliant at dragging central midfielders out towards him through him making forward runs, allowing space in the middle of the park for the ball to get played to the strikers who are stationed in between the lines. This allows for MK Dons to break the lines and have a chance on goal. 
Laird also is used frequently for beating the first line of press from other teams by being open for a bounce pass. In which the forward players will drop deep and then play the ball first time to Laird to then allow either a 1-on-1 situation with his man, or to be able to play a ball through to the striker.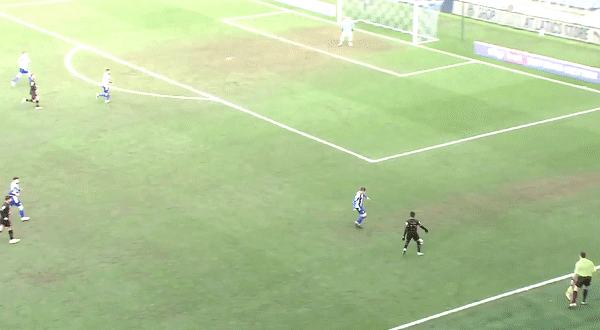 FIGURE 5: Laird, cuts inside on the defender instead of usually going to the outside. He then proves he has confidence in both feet to be able to get a shot off and trusts his ability in doing so, testing the Wigan Athletic keeper.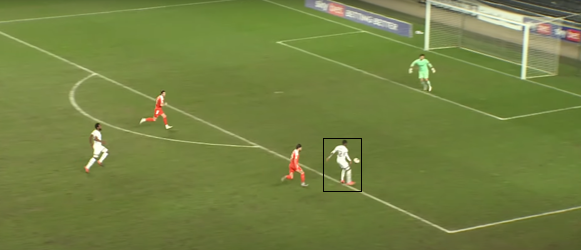 FIGURE 6: Laird (highlighted) beating the offside trap set by Blackpool and getting in behind their backline into a promising position from a diagonal pass from the centreback, Harry Darling. 
Laird's Defensive Side
Laird is largely renowned for his attacking mindset as a wing-back and the threat that he causes teams when he's on the ball or on the counter-attack. But he also is fantastic in pressing the ball when MK Dons lose possession.
With Martin dropping Laird whilst defending into a back 5, it creates the 'horseshoe' which causes the opposition to pass sideways to try and cut off any potential passing lanes going forward. Therefore, forcing mistakes in which Laird would then be able to help counter. 

FIGURE 7: Laird, dropping back alongside the three centre-backs to form a five, with one of the roaming 8s (highlighted) coming to help create the double pivot in the middle. The defensive strategy used by Martin.

FIGURE 8: Laird (highlighted) sitting in a back four with two supporting 6s. Laird wins the ball in this instance but the positioning from Laird and the right-sided 6 allows for a mistake to happen and Laird will fill in the 6 role as the right-sided 6 will cover Laird's position.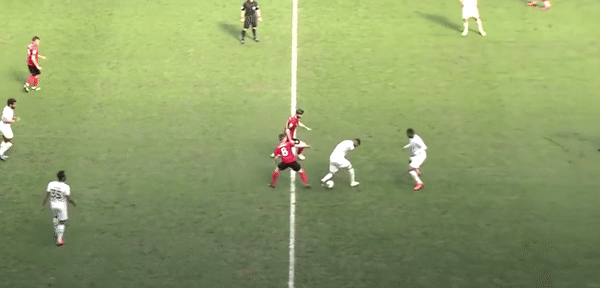 FIGURE 9: Laird, here on the left side of the defence. Which not only shows the ability to play other positions, but his confidence in being able to defend well with both feet.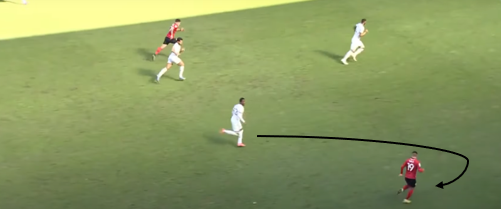 FIGURE 11: Laird, with his knowledge of the game wins a freekick in a dangerous position for his defense if he were to lose the ball. Cool, calm and collected.
Ethan Laird is one of the best wing-backs in League One and with another loan next year, potentially at a higher level, Laird will flourish. I have no doubts that in a few years' time that Laird will be pushing for the starting right-back spot at Manchester United if he continues his form and development, although United may naturally elect to send him out on loan to a Championship club to continue his development next season.
Whilst Aaron Wan-Bissaka has locked down a starting spot under Ole Gunnar Solskjaer, Brandon Williams and Diogo Dalot have failed to provide any genuine competition at the position or convince during the few opportunities they have been given at Manchester United. Laird could solidify his status as United's second-choice right-back in the coming years, before potentially challenging Wan-Bissaka for the short-term and long-term future of the Red Devils' right-back position.
By: Oliver Hargreaves
Featured Image: @GabFoligno / Pete Norton – Getty Images