Player Analysis: Facundo Torres
Uruguay have crashed out of the FIFA World Cup at the group stage for the first time since 2002, and with Luis Suárez (35), Edinson Cavani (35), Diego Godín, Martín Cáceres (35) and various veteran players entering the final years of their career and Diego Alonso leaving his position as manager, one thing is clear: La Celeste need a rebuild. One player who could have a crucial role to play in that rebuild is Facundo Torres.
Born in the capital of Montevideo, Facundo joined Peñarol's academy in 2010 and spent a decade at the academy before making his senior debut under Diego Forlán at 19 years of age, coming on as a halftime substitute and opening the scoring five minutes later in a 2-0 win against Boston River on August 16, 2020.
He would go on to score 6 goals in 38 appearances in all competitions in his first full season — 34 of them being starts — in total, he would score 16 goals and 15 assists in 71 appearances for the club, earning a call-up to the 2021 Copa América where he would make five appearances, all of them coming off the bench, as Uruguay lost on penalties to Colombia in the quarterfinals.
His final match for the club saw him score the equalizer in the Championship playoff as Peñarol drew 1–1 with Apertura winners Plaza Colonia, clinching the title with a penalty shoot-out victory, whilst also scoring four goals during Peñarol's run to the 2021 Copa Sudamericana semi-finals before being eliminated by eventual winners Athletico Paranaense, before moving to Orlando City in January as a Young Designated Player with the club paying a club-record $9 million, signing on a four-year deal with the option of a fifth.
Facundo made an instant impact in MLS with two goal involvements in his first four games before grabbing 4 goals and 2 assists in 6 games as Orlando won their first trophy in the club's history, beating USL side Sacramento Republic in the U.S. Open Cup.
This victorious campaign would prove a massive boost for the 22-year-old who finished with 9 goals and 8 assists in 33 league appearances as Orlando finished seventh to qualify for the 2023 CONCACAF Champions Leauge and qualified for the first round of the playoffs, where they would lose 2-0 to CF Montréal.
Player Profile:
Age: 22
Nationality: Uruguay
Position: Right wing, left wing, Center Forward
Roles: Inside Forward, Shadow Striker
Preferred foot: Left
Height: 5'10
Transfer Value: $8 Million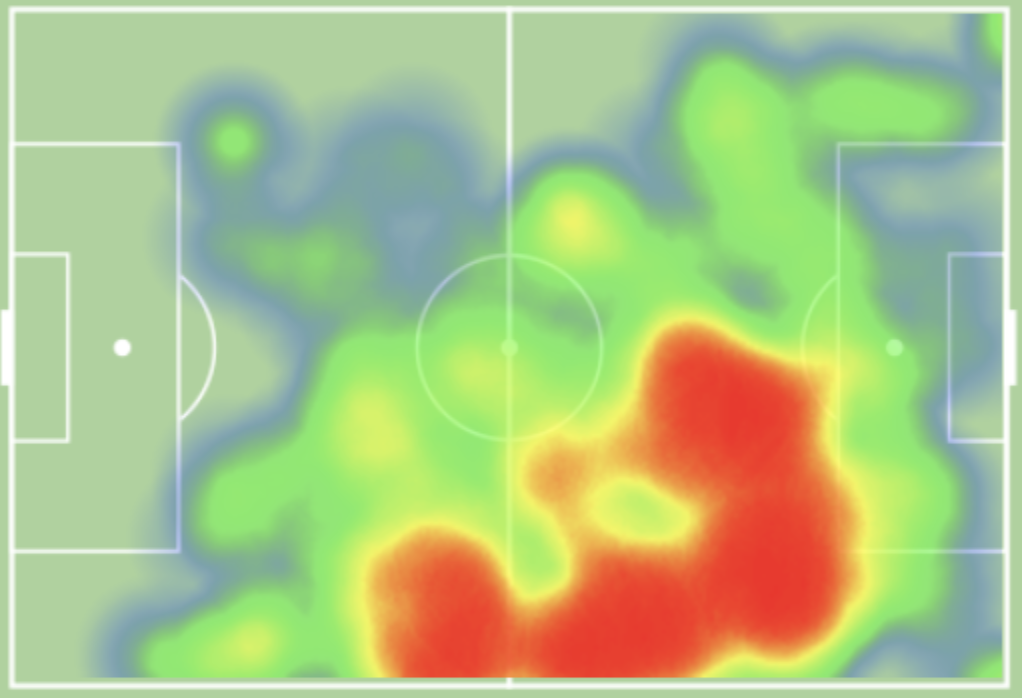 Photo: SofaScore
Facundo Torres plays most consistently on the right wing. However, Facundo attempts to drift more centrally. This is because Orlando City's right back Ruan is one of the league's fastest players and can provide support on the right as well as take advantage of Torres's awareness in the middle instead of out wide. Torres's calmness on ball in tight spaces and excellent dribbling also allows for good link-up with captain and fellow Uruguayan Marucio Pereyra. Even centrally, Torres stays to the right side to allow himself the ability to cut in on his left. 
In Possesssion
Unlike many wingers, Facundo Torres is not a very selfish player. He does not attempt to dribble past players frequently. Instead, Torres looks for passes to hold possession and create space. He often looks to get to the ball to playmaker Marucio Pereyra who plays centrally. Just because Torres does not look to beat players on the dribble frequently does not take away from his ability. He is calm in tight spaces and can come away with the ball more times than he will give it away.
When in dangerous positions Facundo Torres is always a threat. He can slot a ball into the corner but can also hit the ball with incredible power and spin. Most of his shots are an excellent mix of both. Inside and outside the box Torres is a threat to goalkeepers. The only thing Torres could do better shooting-wise is just to do it more in matches. He ranks in the bottom 30% of wingers for shots per 90 minutes averaging less than 2 a game. However, Torres also ranks in the top 22% of wingers for goals from open play (FBRef).
Torres's most underrated ability is his passing. While he is often praised for his goal-scoring ability, but it is even more impressive to see that his goals-to-assist ratio is almost exactly even. His vision and technical ability force defenders to close him down as quickly as possible. When given too much time on the ball Torres can pick out dangerous passes that can unlock a defense.
He ranks in the top 22% of wingers per 90 for assists. On top of this, he averages in the top 17% for passes completed by wingers. It is not just his vision, but his ability to understand his teammates and the defense. The video below shows just how accurate his passing is as well as understanding his teammate's strength. This mix of passing attributes makes defending him a nightmare.
Out of Possession
In the on-ball section, I mentioned Torres choosing to pass it more frequently than dribble past players. He tends to pass the ball to Mauricio Pereyra, the team's main playmaker and number 10. Torres's best ability may be his off-ball movement.
Frequently moving centrally into a shadow striker role in the attack, he can find gaps in the defense. As Ruan runs up the wing spreading the defense, Mauricio Pereyra can find Torres causing him to constantly be a threat in the final third. Because of his ability in central positions, it is vital that Torres plays with an attacking right back to let him drift centrally in attacking positions. 
Torres's one weakness is his defensive ability. Torres consistently looks to be getting in the correct position, but Torres fails to make any real impact. He is constantly dribbled past. He ranks amongst the bottom 50% of wingers in the MLS in tackles and bottom 40% in interceptions.
He averages a little over 1 tackle every 90 minutes and less than .5 interceptions every 90 minutes. In the first 4 games, I watched he made 3 tackles and 1 interception. However, because of his positioning, he is in the top 35% of wingers in blocks averaging 1 a match (FBRef). 
Physical
Physically, Torres does not have stand-out attributes. He is fast, but not significantly faster than other wingers or outside backs in the league. At 5'10 165 pounds, Torres is not exceptionally tall and has a skinny build. This does make it easy to push him off the ball, but he offsets this using his technical ability, His worst physical attribute is that he is not particularly good in the air. His size makes it harder for him to challenge in the air and often sees him get pushed off the ball. 
Mental
From what is possible to see in games, mentally Torres is very good. His high soccer IQ and understanding of the game helps him make smart runs. He has an excellent sense of defensive positioning and just needs a little more effort to be a good defensive winger. Torres is also very patient. He knows when to dribble as opposed to pass the ball. He does not force play very often and instead waits for openings. 
Room for Improvement
While Facundo Torres has excellent technical ability, he needs to work on being more consistent throughout 90 minutes. Facundo Torres can be the best player in MLS on his day, but often in a match, the opponent can phase him out of play. There have been matches where besides the occasional pass back to the defense, Torres would not touch the ball for more than 20 minutes. 
Another small issue in Torres's game is his communication skills. Multiple times through the matches I watched I saw Facundo Torres misplace an easy ball or mess up a lay off causing Orlando City to lose possession when they were in good positions to threaten the opponent's goalkeeper. 
Conclusion
Facundo Torres is an excellent player and one of the best young players to come through the MLS. It is becoming a matter of where he will move as opposed to if he will move. There are a couple of aspects of his game I think he could benefit from improving, but after failing to make an appearance for Uruguay since November 2021 despite being called up on three separate occasions — including the 2022 FIFA World Cup — he'll be looking to provide an attacking spark to an Uruguay side that scored just two goals — both coming in the final match — in their brief spell in Qatar.
Offensively the only thing that I would like to see Facundo Torres improve on is his ability to take on a defender. Frequently throughout the matches I saw Torres show off his dribbling, but most of these sequences just led to Torres passing back to the center midfielder. It is obvious when you watch him that his runs off ball are what make him such a special player, but if he were able to constantly beat the defender on the dribble, he would become almost unstoppable and the focal point of any offense. 
I consider Facundo Torres to be a top 3 talent in MLS right now and I do believe that Facundo Torres will move to a bigger league. As of November 2022. Arsenal reportedly is interested in him. I predict that if he moves to the club with a system that best supports his style of play, with a high pressing right back that he will be regarded similarly to Miguel Almiron as one of the best prospects to play in MLS.
By: Cameron Cohen / @upnextUSA
Featured Image: @GabFoligno / Karl Bridgeman – FIFA