Player Analysis: Ferran Torres
With Leroy Sané's contract entering its final 12 months and the German demanding a transfer to Bayern Munich, Manchester City were forced to sell their star winger to the Bavarian side for a fee potentially rising to €60 million. City were forced to act fast to secure a Sané replacement — and they decided to snap up another player entering the final 12 months of his contract: signing Valencia's Ferran Torres for €23 million.
It has been a breakthrough season for the 20-year-old Spaniard, but just how good is Torres and where will he be playing for Pep Guardiola's City?
Position Analysis
While he has played in multiple positions, his natural position is on the right, where he has played both in the 4-3-3 that Albert Celades used as well as the 4-4-2 that Marcelino typically utilized. City have typically played in a 4-3-3 under Guardiola, although they have experimented with other formations in big games, as Torres will allow his Catalan manager with the flexibility to chop and change his tactics.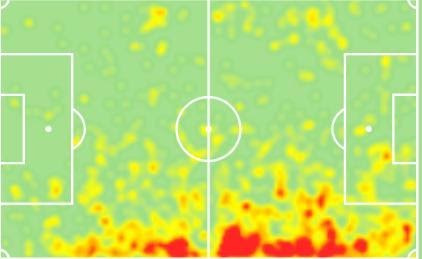 2019/20 Season Heat Map of Ferran Torres [Sofascore]
Torres tends to stay out wide in order to stretch the opposing defence, finding space in wide areas before taking on the full-backs and moving centrally into goalscoring areas. If he faces an opponent such as José Bordalás's Getafe that attempts to overload the wings, he will drift in centrally into the half-spaces in order to combine with the forwards and exploit the space in between the fullbacks and center backs.
Due to his style of play, the fullback on his flank (typically Daniel Wass in Valencia) are afforded plenty of space to combine and advance forward. This will come in handy at the Etihad Stadium where Torres will aim to create space and provide a constant passing option for the inverted fullback (mainly Kyle Walker) on the right flank.
During transitions, Torres will often drop between the opposing left back and left-sided center back to receive before attempting to evade them with his close control.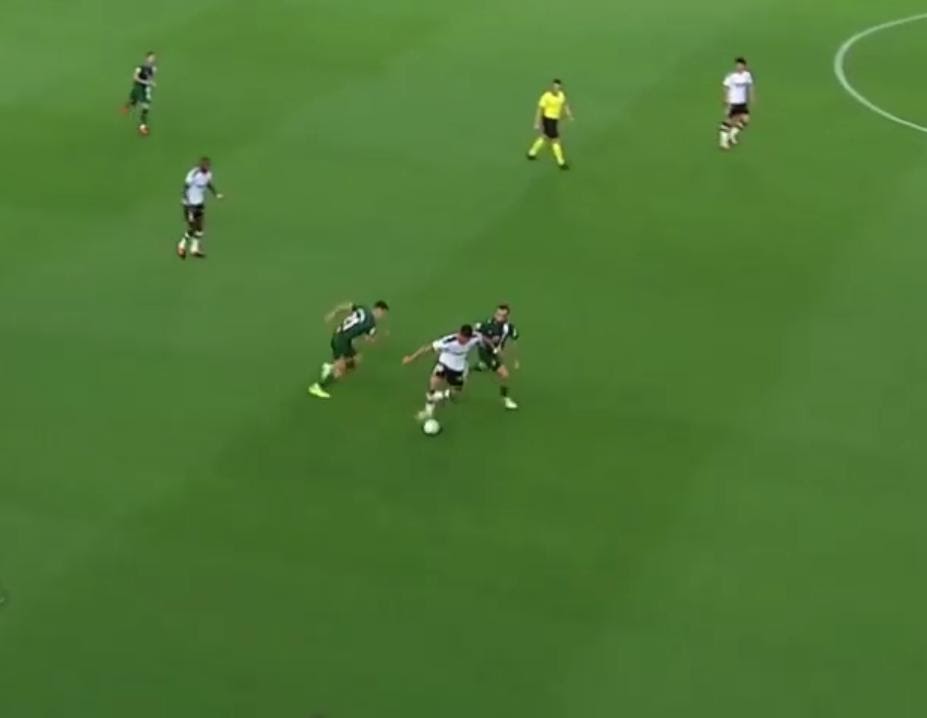 In this example, Torres drops deep into his own half to receive and progress it forward from midfield. He attempts to draw in and isolate opposition players with his movement in order to create space in behind the defense that can then be exploited by his teammates.
By drawing in the opposition full-back, one of his teammates can then make an underlapping run to receive in the space left in behind.
Here, Torres draws out the left back and the left-sided centre-back with his movement in between the lines, creating space in behind them where his teammates have plenty of space to receive and shoot.
Marcelino utilized Torres's pace and used him as the spearhead in the attack during transitions, but after Celades replaced him in September, the team adjusted from a counterattacking style to that of a slower build-up with a greater focus on possession. In Celades's system, Torres's diagonal runs became even more crucial, especially against teams that sat back and defended in low blocks.

Grinding the Numbers on Ferran Torres's 2019/20 season

By looking at his xA90 rating of 0.20 and his xG90 rating of 0.16, we can see that he has plenty to improve upon if he is to beat out the likes of Raheem Sterling, Riyad Mahrez and Bernardo Silva for a starting spot, but by playing for a better team such as City, he'll the potential to improve these numbers.
Whilst he was often a one-man attack in the Mestalla, Ferran's creativity responsibility will be eased by playing alongside the likes of Kevin De Bruyne and Phil Foden.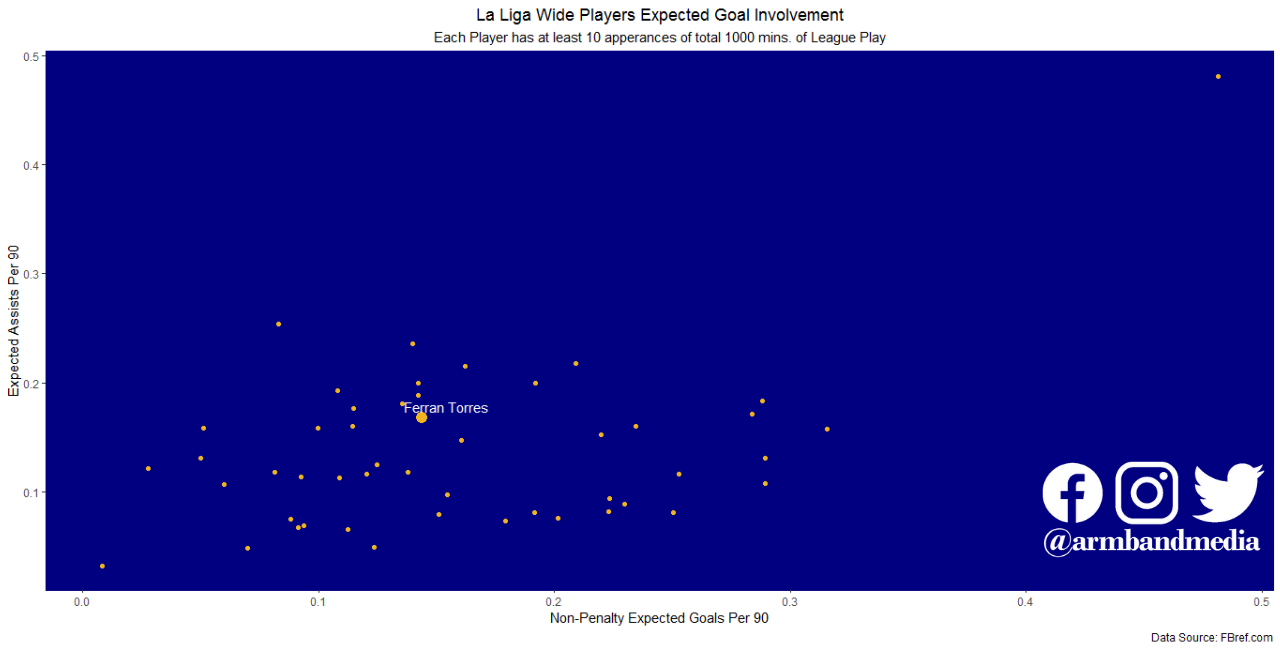 His most striking stat is his Key Passes per 90; his 0.74 key passes per 90 are only behind Barcelona's Lionel Messi for wide players in La Liga. Moreover, he also averages 3.42 crosses per 90, both of which are indicators of how effective he is at finding his teammates in dangerous positions.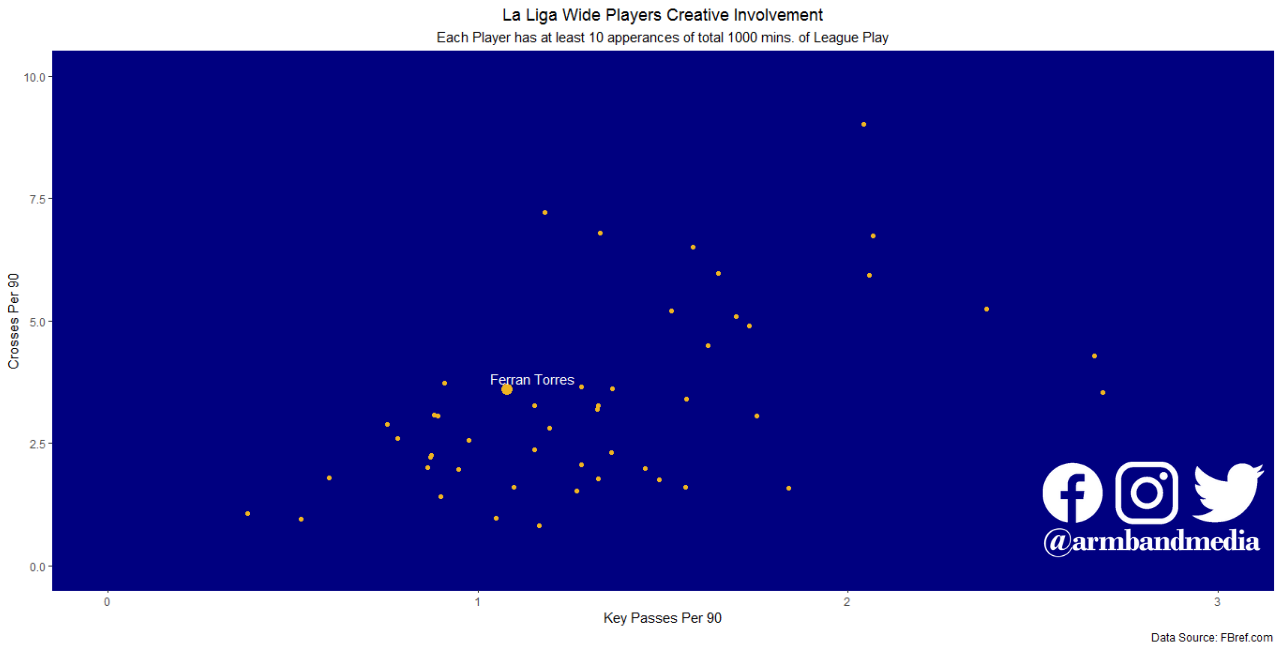 One thing that he will need to improve on if he is to fill the vacancy of Sané is his dribbling; with a 59.8% dribbling success rate, he'll need to be more efficient in retaining possession with his ball carrying if he is to win a roster spot.

Skills, Strengths and Concerning Weaknesses

While he still has to improve in terms of dribbling, especially in 1v1 duels, Torres has proven that he can excel at carrying the ball forward in transitions, using his blistering pace and technical skills to instigate the counterattack.

When the center forward moves back to pull out the opposing centre-backs, Torres can make his runs in behind the defenders to exploit the vacated space. At City, Gabriel Jesus or Sergio Agüero can attract the central defenders before playing Torres into space.

There is little doubt that Torres's passing range is sufficient for Guardiola's style of play, as demonstrated by his mid-range passing success rate of 81.7%. Moreover, his ability to make sharp turns and take on full backs will provide City a much more direct option on the wings.
There is, however, concern about his physicality. At 6'0″ and 170 pounds, he is a lanky player, and despite his technical proficiency, he can be easily dealt with physically imposing defenders. He'll need to hit the weight room in order to not be shrugged off the ball by the likes of Ben Davies and Kieran Tierney.


Conclusion
At 20 years old, Ferran Torres has joined the ranks of Manchester City, where he was given the #21, following in the footsteps of the legendary David Silva, another player who began his career at Valencia's academy. It's unlikely that he'll leave a legacy as unforgettable and glamorous as that of El Mago, but he has more than enough talent to leave his mark in England.
By: @ArmbandMedia
Featured Image: @GabFoligno / Soccrates Images