Player Analysis: Florian Neuhaus
In July 2017, Borussia Mönchengladbach signed a talented young midfielder from German second-tier club TSV 1860 Munich. His name: Florian Neuhaus. Gladbach then decided to send the 20-year-old back on loan to the second division with Fortuna Düsseldorf. Neuhaus helped the Flingeraner win the championship in the 2017/18 season, playing 27 league matches; scoring six goals and assisting three times.
For the last three seasons, Neuhaus has been a regular starter at Gladbach, picking up 93 appearances for the club since returning from his loan at the end of the 2017/18 season. This player analysis will be delving into the different qualities which Neuhaus brings to Gladbach and will also consider areas on which he can improve on. I will be using in-game examples and statistics throughout the analysis to help show the German's strengths. All statistics used will be from FBref.
Position and Tendencies 
Neuhaus spends the majority of his time playing on the left side of Gladbach's double pivot but has also played as the number ten in their 4-2-3-1 a handful of times. The midfielder offers help in both the build-up and attacking phases, sometimes dropping into the backline to create a numerical advantage in the first phase and then can use his brilliant range of passing, which will later be analysed, to progress the ball; Neuhaus then also can join his team in the final third as shown in his heat map for the current season below.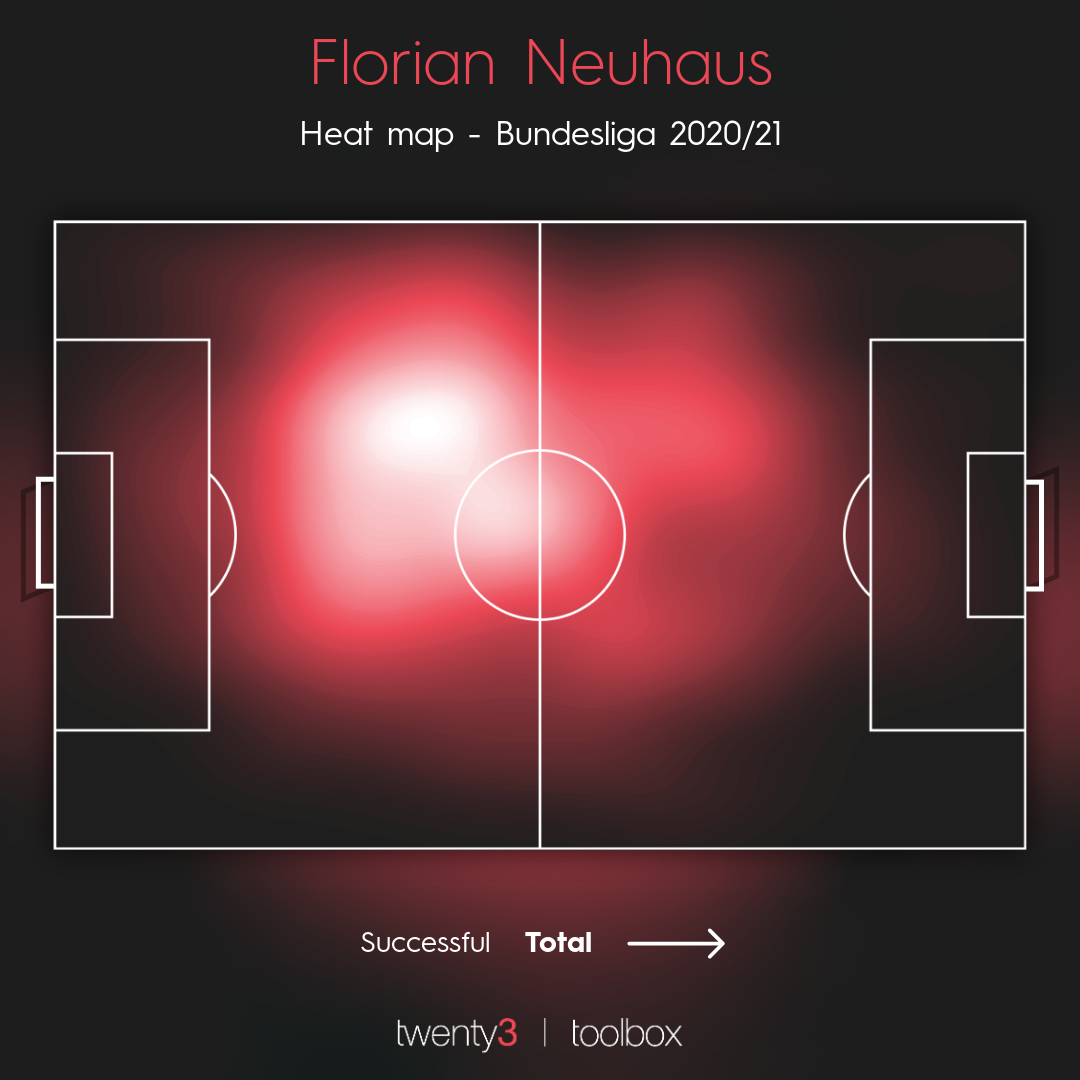 Photo: Twenty3/Wyscout
In the image below we can see an example of Neuhaus moving into the backline to receive the ball. This is usually done to create a numerical advantage in the first phase of possession [build-up], but Neuhaus will also do so when the opposition are pressing with just one or two players, this is because the midfielder has a solid passing range and looks to use it in the first phase regularly.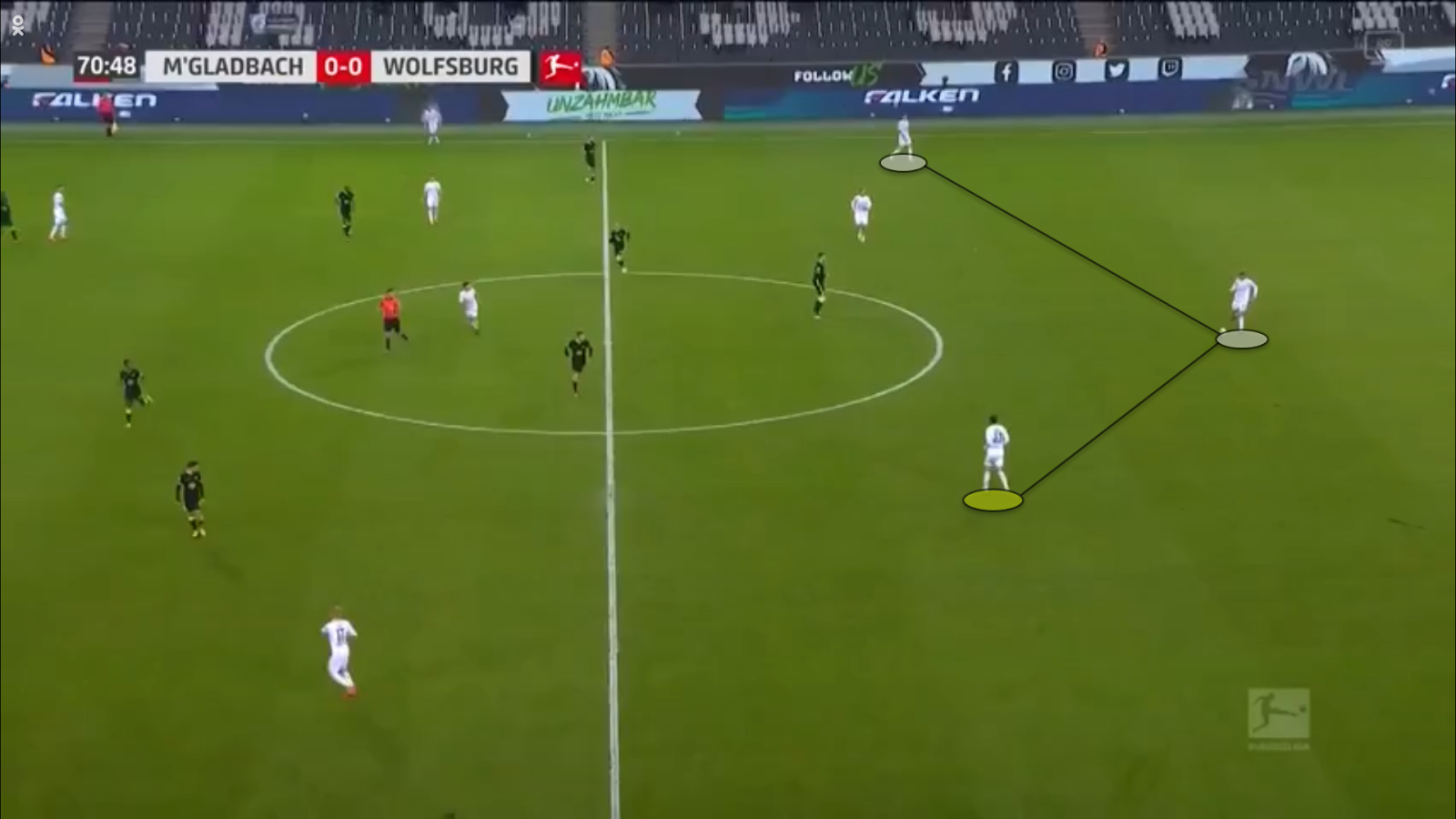 Neuhaus also can operate in the final third and he is a good option in attack for Gladbach, he often finds spaces around the edge of the opposition box to either shoot or link-up. This xG shot map shows his shots in both the 2019/20 and 2020/21 seasons. He often finds shooting positions around the edge of the area but can also make late runs inside of the area to provide an offensive threat.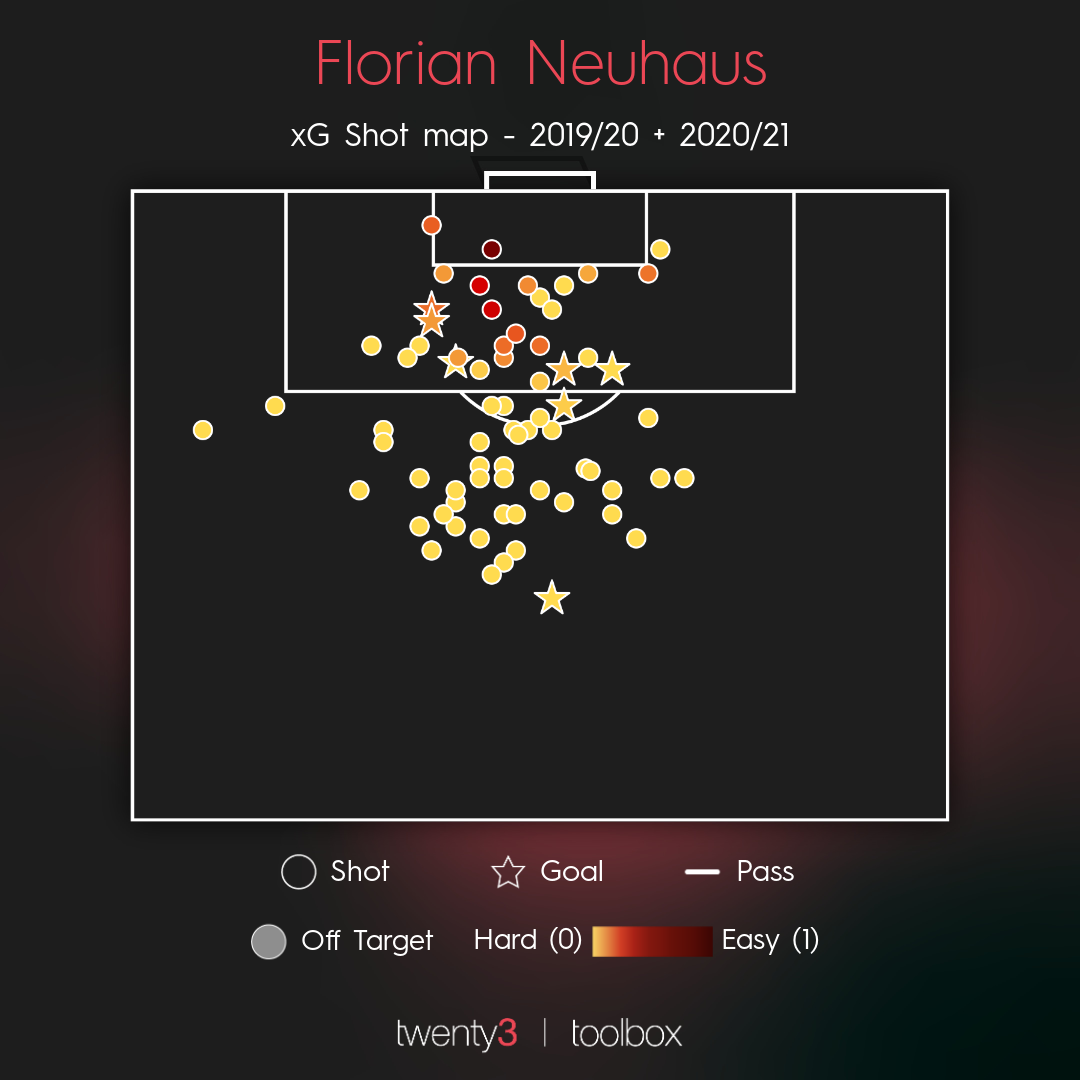 Photo: Twenty3/Wyscout
Passing Ability
First and foremost, Neuhaus is a passer and a very impressive one at that. He has an excellent passing range, being able to play short, intricate passes, sharp passes into players between-the-lines or long passes towards the flanks or in behind the opposition backline. 
Neuhaus averages 4.53 passes into the final third per 90 in the Bundesliga this season and 5.54 progressive passes per 90 this season. Both his vision to see players in spaces and the ability to fizz the ball into those areas make Neuhaus a very solid progressive passer.
In the image below we can see a clear example of his passing ability, where the midfielder takes out five Wolfsburg players with just one pass. Unfortunately, the play doesn't develop since the receiver tried a flick which was intercepted, yet it still is a great showing of the German's passing.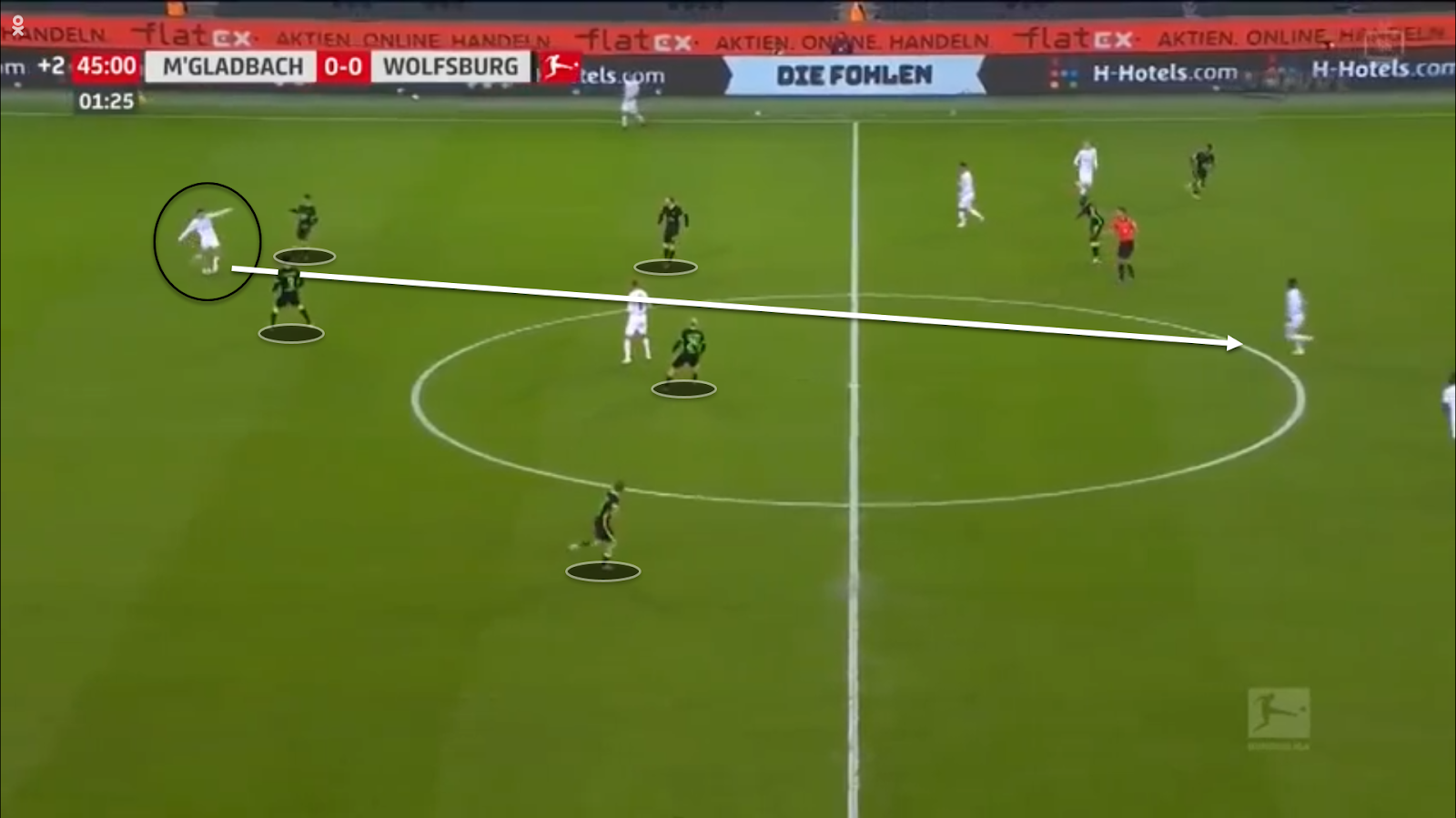 Here is another example of how he progresses the ball through his passing, but also through his body positioning and technique when receiving possession. In the example, we can see Neuhaus receive the ball from a deeper area and while Wolfsburg are applying pressure.
When he receives the ball, he positions himself so that he can receive on the half-turn and also his first touch opens up the pitch for him to not only avoid the press but to also find Breel Embolo in an advanced position.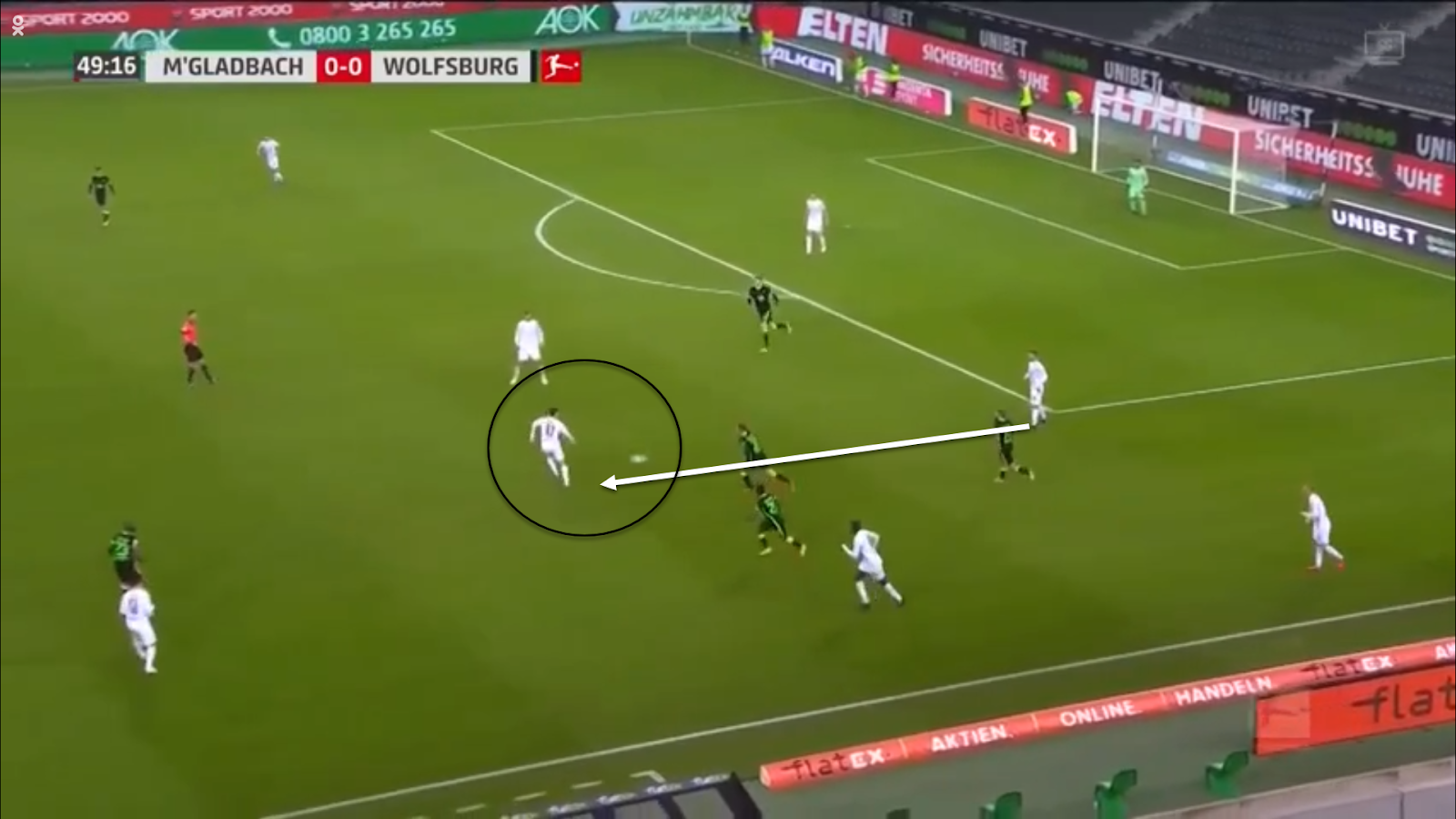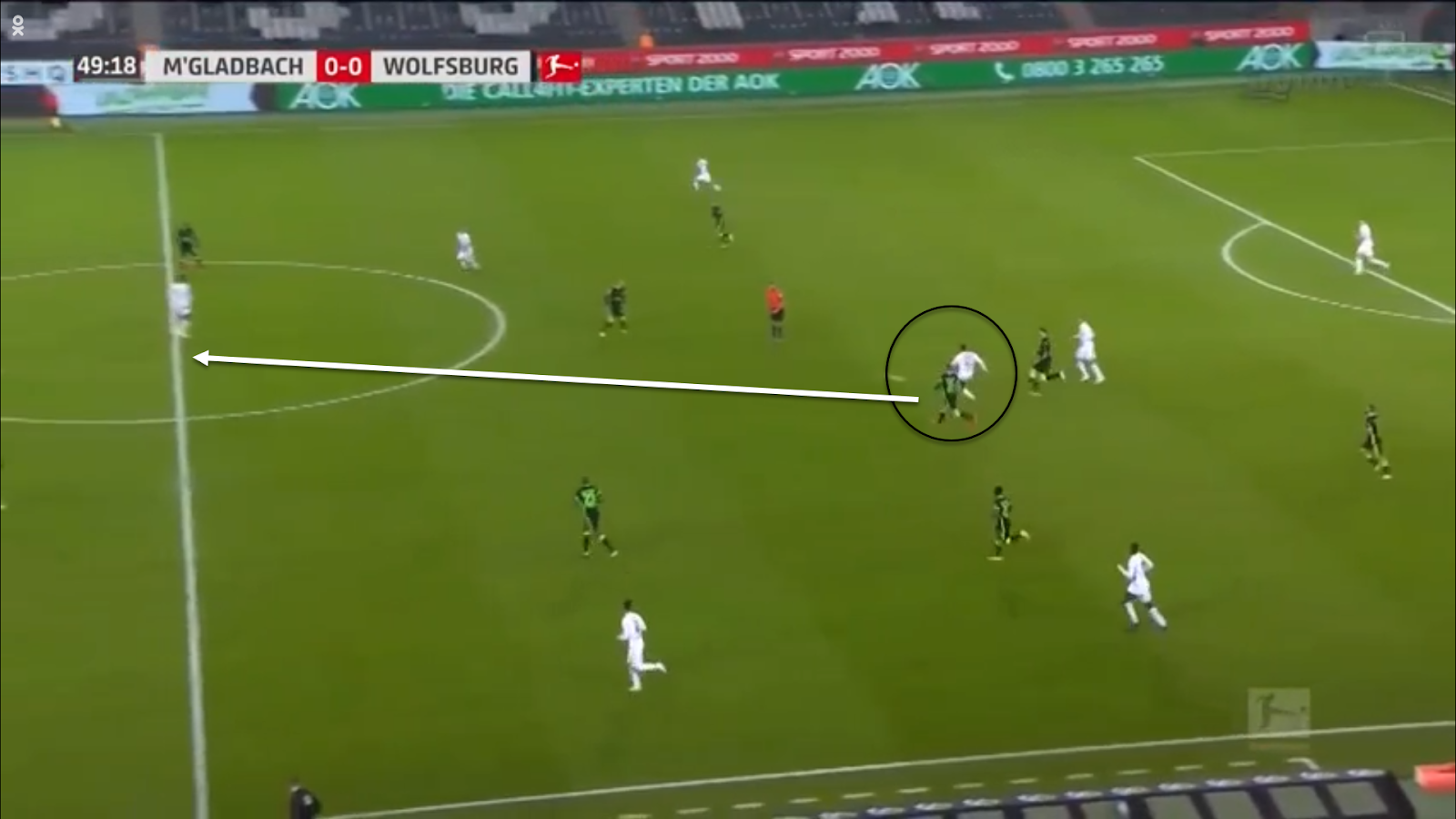 He can also involve himself in short link-up play, which is a great asset since he often moves into the final third. It also is important for him when Gladbach looks to lure their opponents into the third so that they can transition quickly and effectively. However, for the most part, Neuhaus does look to progress through a carry or pass rather than quick passes and movement. 
Neuhaus' passing range is where he really stands out. He completes 7.16 long passes per 90 at a 71.1% accuracy. He often can start attacks with long passes into areas for his forward players to run into. The pass map below shows the midfielders 'high passes' and 'launched passes' this season and we can see that he often plays long balls towards wide areas which helps Gladbach progress into the final third but also can lead to chances created following the pass.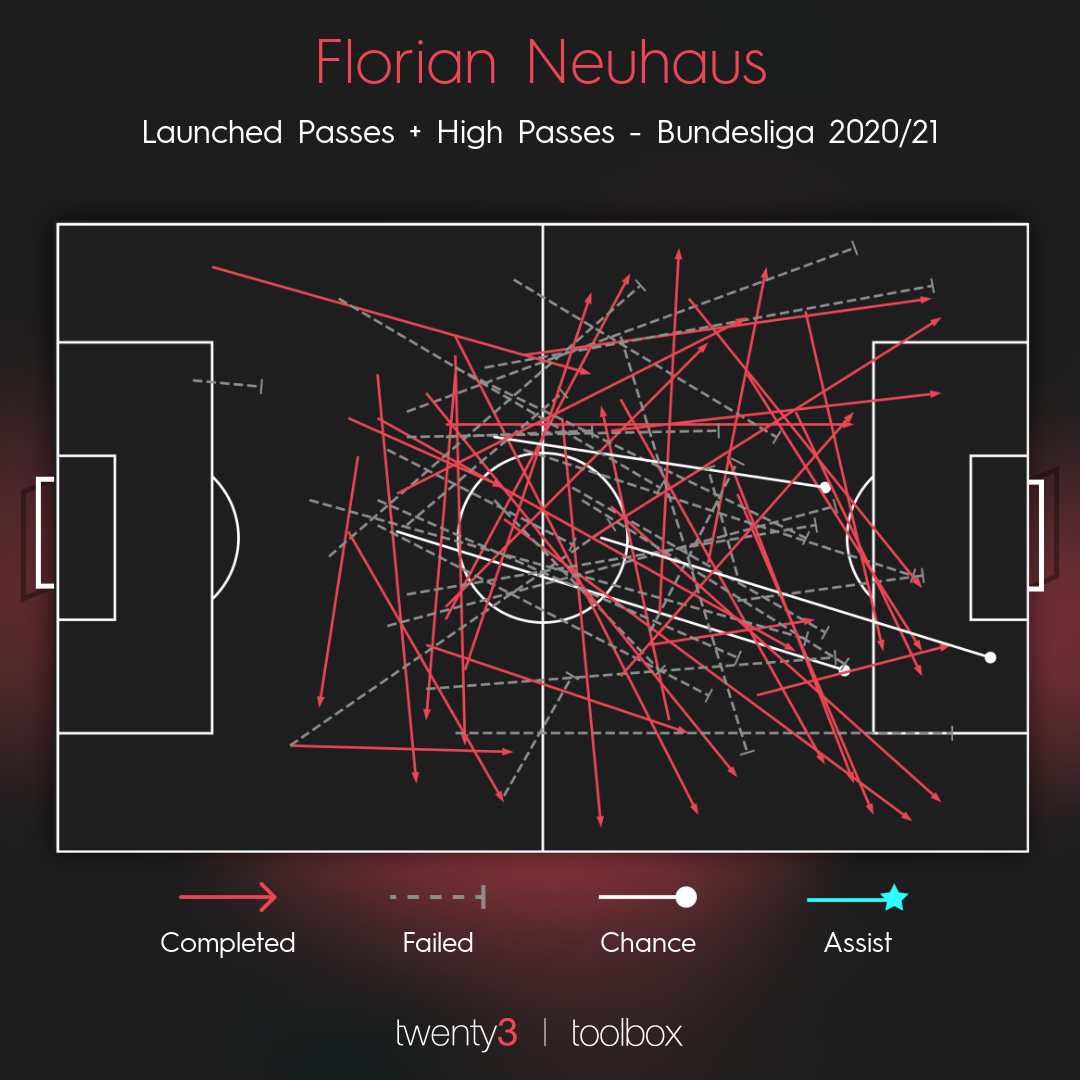 Photo: Twenty3/Wyscout
Below are three clear examples of Neuhaus' quality in his long passes, in the first example, Neuhaus also got forward into the box and had a headed attempt hit the post, showing his ability to move into the final third after progressing and the second example is a long ball which leads to a penalty for Gladbach. All examples, though, show Neuhaus' ability to launch attacks with his long passes.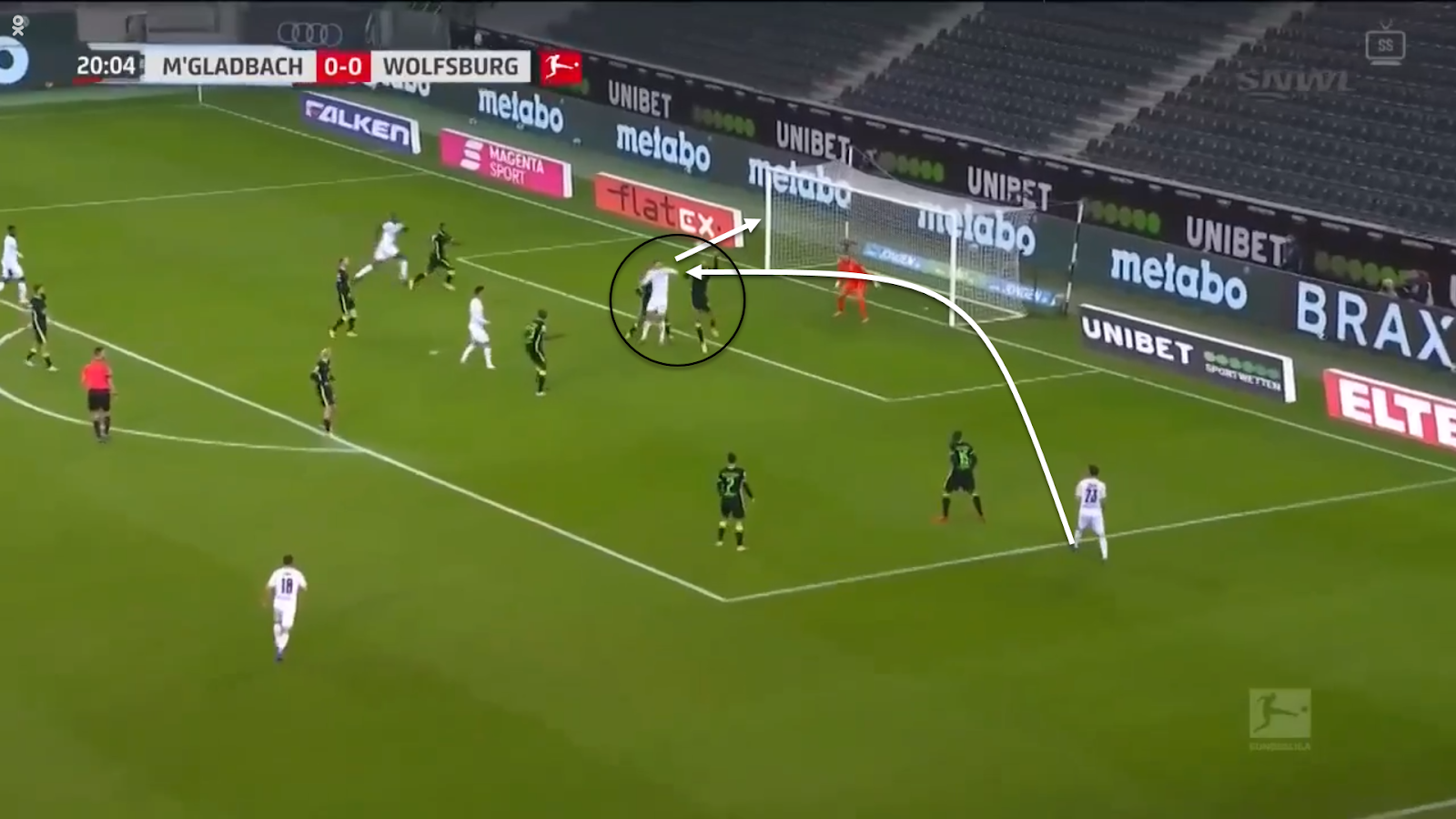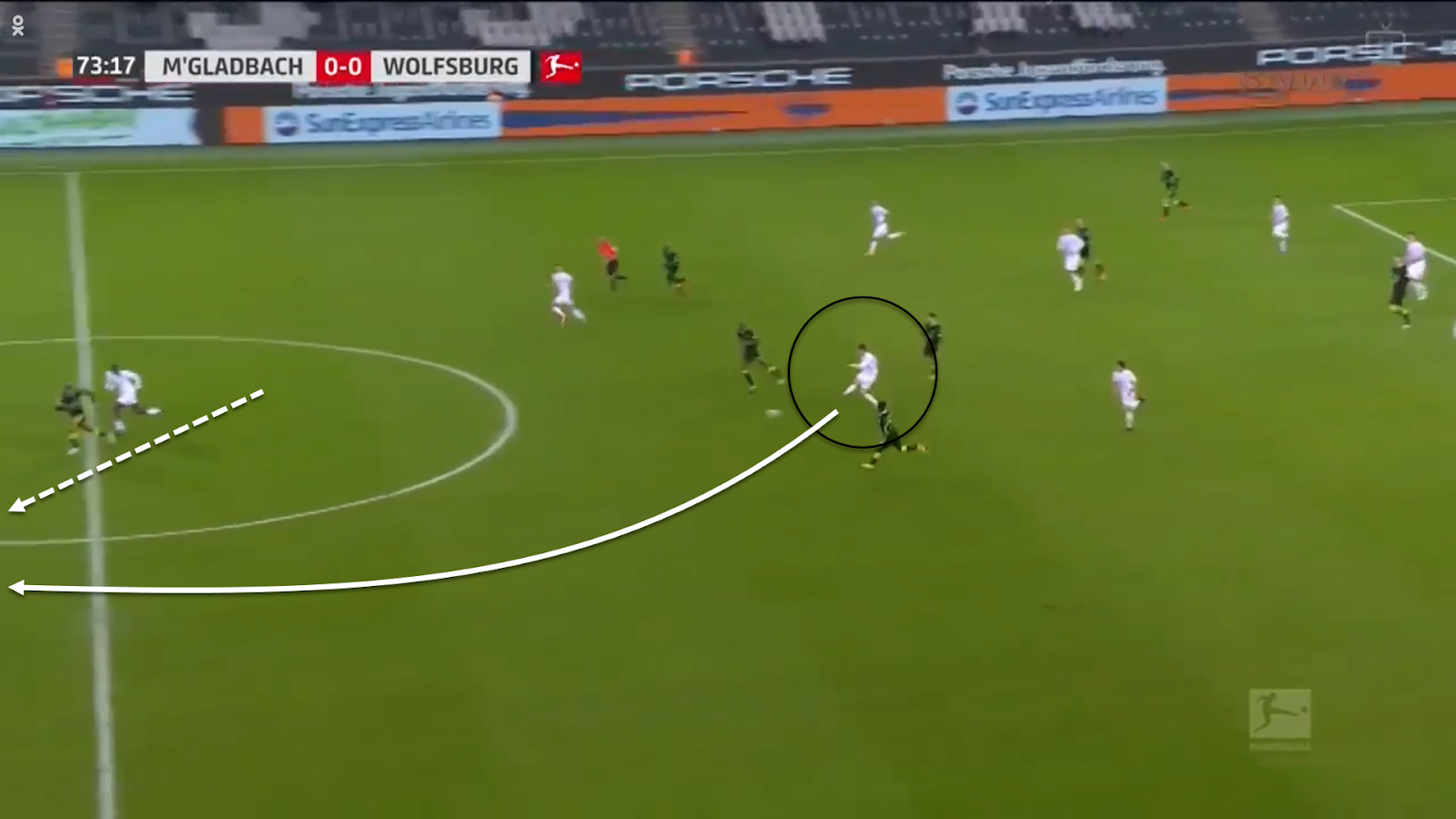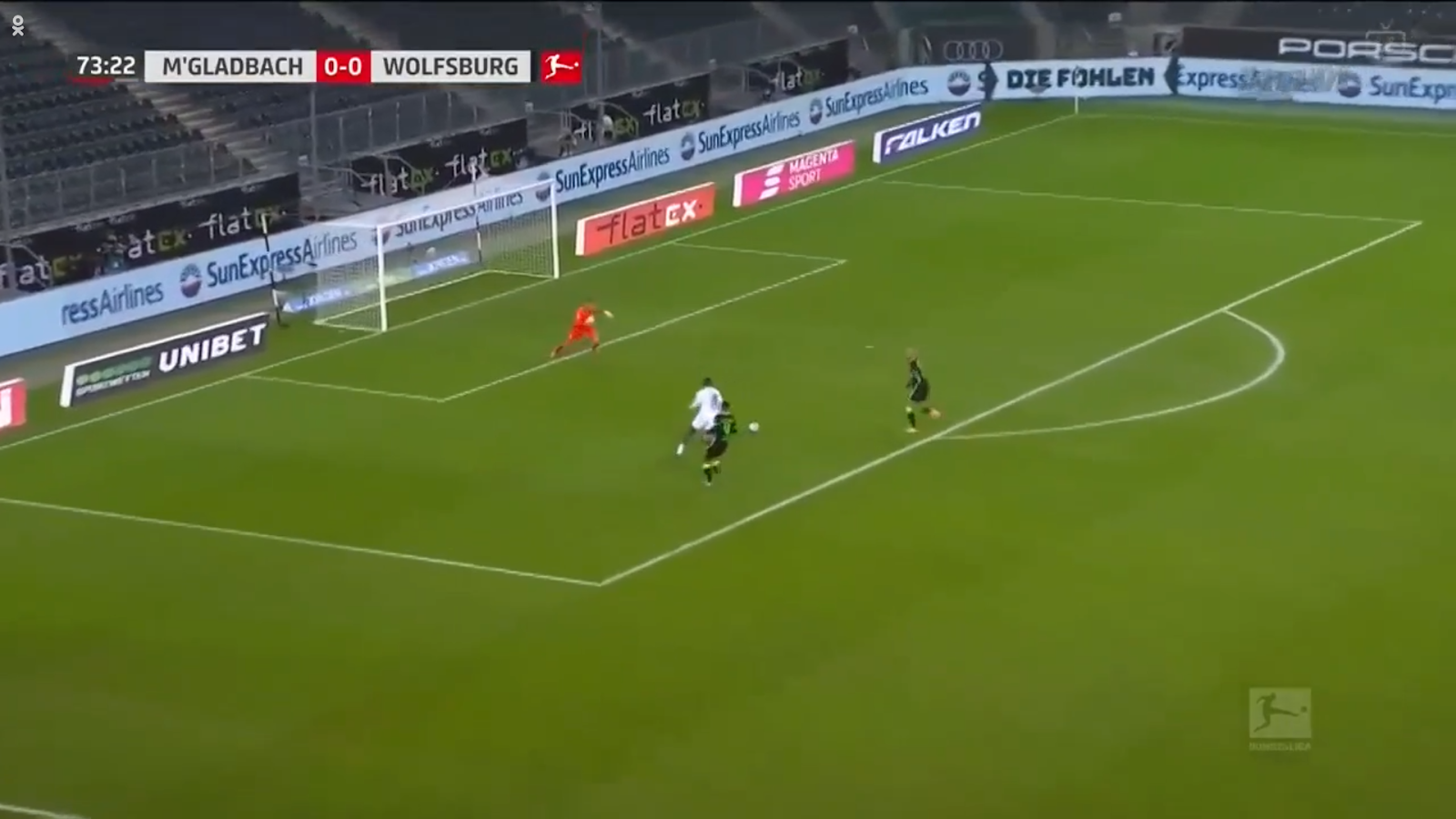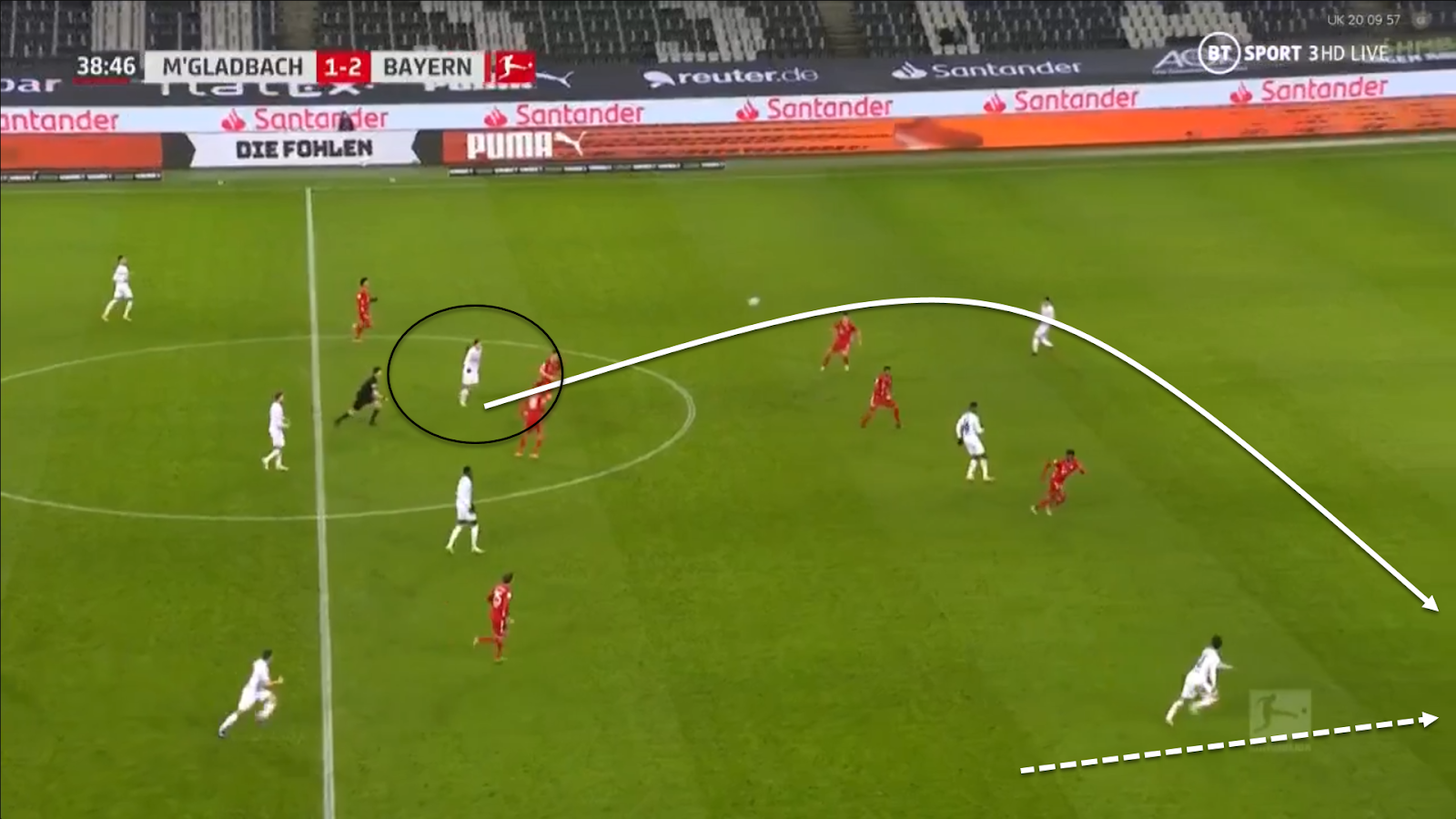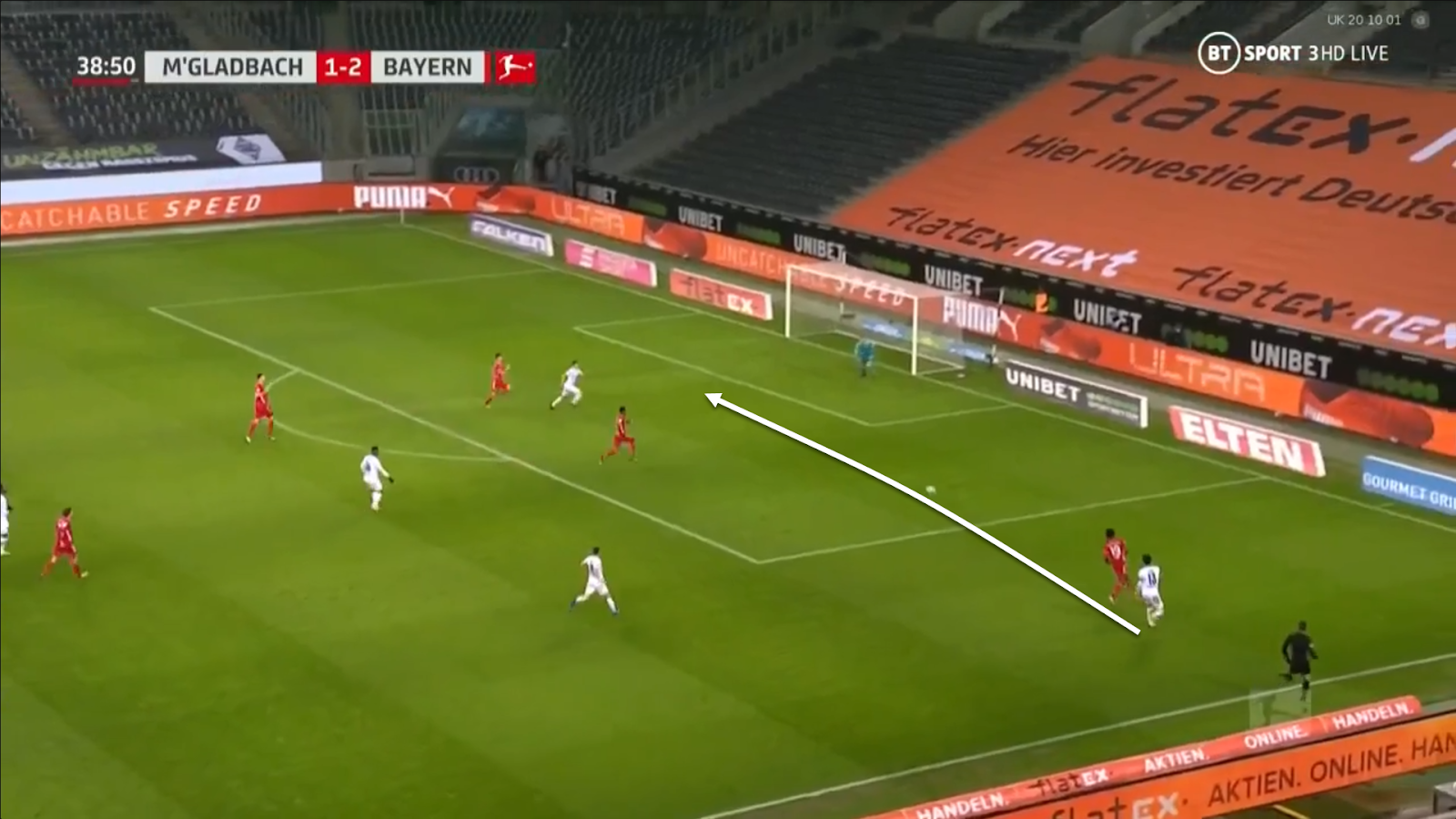 The Gladbach man also makes good decisions in his passing and has a great weight of pass, this allows him to be able to be effective when entering the final third. This is a good example of his weight of pass being impressive. Neuhaus firstly plays a progressive pass into Marcus Thuram's feet, he then continues his run and is found by the Frenchman.
He then plays a perfectly weighted pass across the floor to Oscar Wendt on the overlap on the left. This meant that the Swedish full-back did not have to break stride and made it easier for him to collect and finish past Schalke goalkeeper Frederik Rønnow.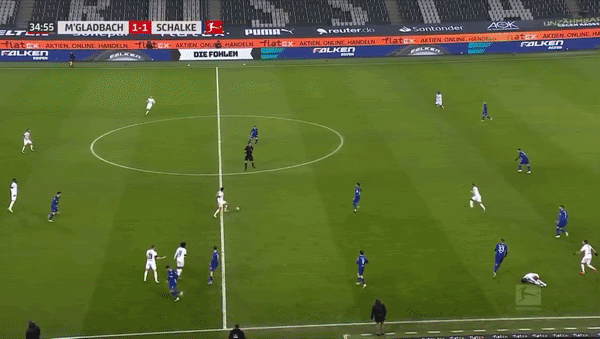 As mentioned, he does not only have a solid weight of pass but also usually makes the correct decisions in offensive and transitional situations. In the example below, we can see Neuhaus receive the ball following a turnover in possession. There is a clear transitional situation and the midfielder's quick and simple decision allows Gladbach to take advantage of the situation.
He carries the ball slightly and then releases a simple but perfectly weighted pass to Patrick Herrmann, this allows Gladbach to attack quickly and creates a 3v1 situation. While the decision looks obvious, some players would look to play in behind towards one of the players on the right, but Neuhaus recognised that there was an offensive overload so made the simple and best decision.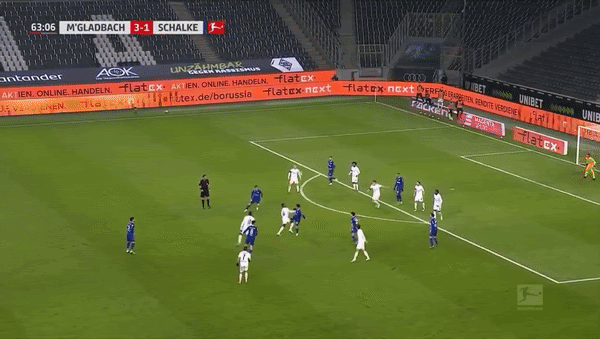 Overall, it is quite clear that the German midfielder's passing is one of his best qualities and one of the main reasons he is regarded as a real exciting midfielder to watch, however, what often goes hand-in-hand with his passing is his ability to create passing angles and opportunities through his close control and dribbling. This will be discussed next in the analysis.
Close Control and Dribbling
Neuhaus has excellent close control and often uses that in order to create passing angles that weren't originally open. A quick change in direction can create new avenues for progression and Neuhaus has the ability to create these avenues. Below are two clear examples where Neuhaus creates a progressive option through his close control and manipulation of the ball.
In the first, the midfielders' quick turn on the ball takes his marker completely out of the game and allows Neuhaus to play a progressive pass. The second shows Neuhaus quickly shifting the ball onto his right foot and carry the ball so that a clear passing avenue opens up for the German to pass into.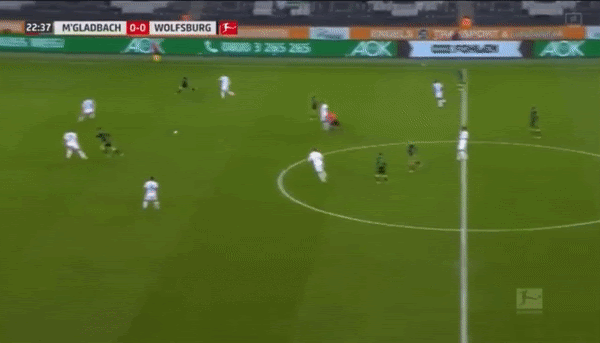 Neuhaus can also glide past players thanks to his dribbling ability, this is another way he can disrupt opposition defensive set-ups and create opportunities in the final third. The German midfielder averaged 1.83 successful dribbles per 90 last season and is currently averaging 1.22 per 90 this season. His success rate in 2019/20 was a highly impressive 73.8%, while this season it has slightly dropped but is still at a strong 62.1%. 
Below is a good example, showing that his dribbling can create opportunities in the final third. After he bypasses the opposition midfield with his great dribbling and close control, Neuhaus attracts the right-back to come inside due to his gravity on the ball when dribbling, this creates a large space for Neuhaus to pass to Alassane Pléa on the left but the Frenchman's cross was not accurate enough to meet the target.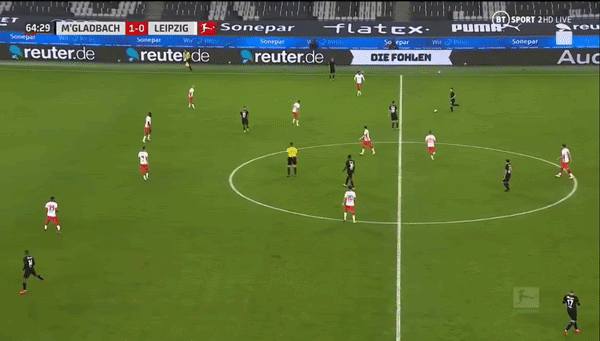 Defensive Ability
The midfielder often has decent positioning and movement in defensive shape to help him intercept and tackle his opponent; he averages 3.51 tackles and interceptions per 90 this season. Yet the midfielder is also not very mobile and can sometimes be bypassed when in defensive transition. Since he often looks to move into the final third this can cause problems, as shown in the images below.
In the first image, Neuhaus is circled as the turnover happens in the middle third and Schalke begin to attack. The second image shows the lack of ground that Neuhaus has covered to help recover in five seconds; he's barely covered any ground.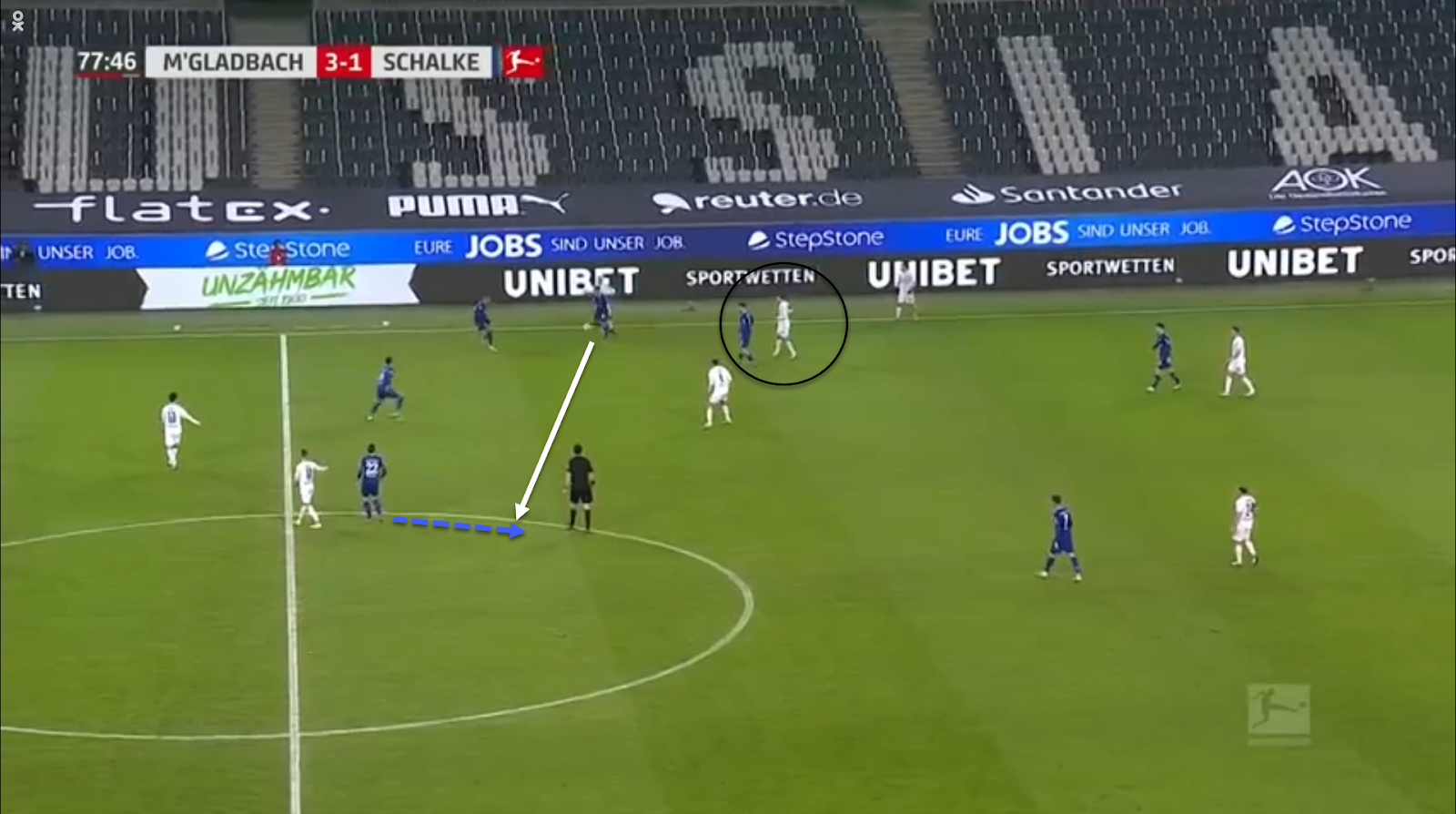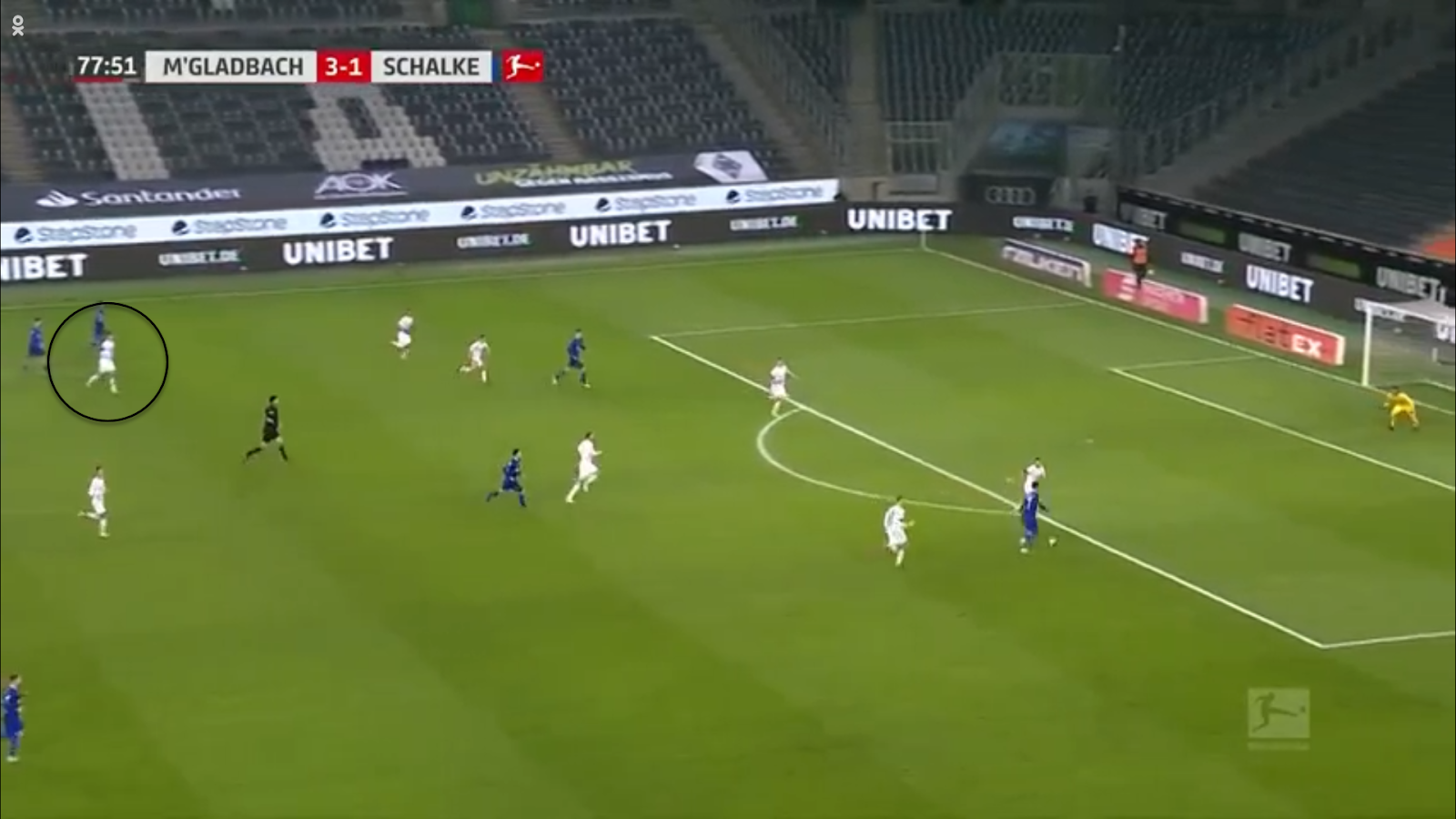 While he recovers well sometimes, there are other times like the example above where Neuhaus can be defensively poor in recovering and delaying when being dribbled at, tackling just 25.6% of the dribblers that he faces this season. He sometimes chooses to go for the tackle prematurely, rather than delaying the ball carrier which would allow the side to get into a settled defensive shape and would also give him more chance of being successful in tackling the dribbler.
Neuhaus is neither great at covering angles for passes into players between the lines or in advanced positions and this is a contributing factor towards Gladbach being somewhat easy to cut through at times for opposition. 
Conclusion
At just 23 years of age, Neuhaus is one of the most exciting midfield players in the Bundesliga. His quality on the ball is so impressive and would translate to many top teams, which is why the German has been heavily linked to Bayern Munich. His ability to move into the final third is great and ever-improving, and it is not surprising that he is getting more attention this season.
Whether he stays at Gladbach or moves to a bigger team next campaign, the further progression of Neuhaus as a midfield player will be great to watch. He has reached extraordinary heights over the past two seasons under manager Marco Rose, and with a reported buyout clause of €40 million, he could find himself on the move if he puts in a strong showing in this summer's Euros.
By: Cain Smith
Featured Image: @GabFoligno / Christian Verheyen – Borussia Mönchengladbach