Player Analysis: Gerard Moreno
It's been nearly 15 years since Villarreal, a small-town team from the Comunitat Valenciana,  put together one of the most astonishing Champions League runs of all time. Finishing top of a group in which Manchester United finished bottom, they dispatched of Glasgow Rangers and Inter Milan in the knockout stages, before narrowly losing out to Arsenal in the semi-finals, missing an agonising last-minute penalty that would have sent the match to extra time. They fell, just one step away from the biggest game in club football. 
With a population of just 50,000, the town of Vila-real is the smallest to ever boast a football team that has reached such dizzying heights. For context, Forest Green Rovers and Port Vale are the only two sides that represent smaller towns in England's fourth tier. More people live in Stevenage, Harrogate, Morecambe or Crawley. To have established themselves as La Liga, and indeed, European regulars is quite a remarkable achievement.
It hasn't all been plain sailing, though. Just six years after their miraculous Champions League adventure, and only four years after their highest ever La Liga finish of second place, Villarreal were relegated after a torrid 2011/12 campaign, as Champions League commitments and financial struggles saw the Yellow Submarine sink from 4th to 18th in the space of a calendar year. 
Perhaps unsurprisingly, following their shock demotion, a whole host of high-profile players packed their bags and left the club. Giuseppe Rossi, the club's all-time leading scorer, fled to Fiorentina. His strike partner, Nilmar, was never to be seen on Spanish shores again, joining Qatari side Al Rayyan. And Borja Valero, Marco Ruben, Iván Marcano, and Diego López, among others, were all sold for some much-needed cash.
Yet, intriguingly, Villarreal's dramatic failure of 2012 has, if anything, turned out to be a catalyst for their more recent success. While most of the big names left, those who stayed became legends. Bruno Soriano, despite being chased by Valencia and called up to the Spanish national side, committed his future to his boyhood club, and anchored the midfield with the iconic Marcos Senna, in a partnership that was far, far too good for the Segunda. The pair would go on to make 423 and 356 appearances respectively for the Yellows.
And, in an attempt to balance the books financially, newly appointed manager Marcelino looked to the academy to cover up some of the holes left by the mass exodus. Some of the players he found? 18-year-old, promising winger Moi Gómez, who's made 154 appearances for the side since. Fantastic full-back Jaume Costa, now with 255. The exceptional Manu Trigueros, catching up to Senna with 348. And, arguably most importantly, the man who will surely go on to catch Rossi's record and become Villarreal's record goal-scorer, a 20-year-old striker by the name of Gerard Moreno. 
Fast forward 8 years and Gerard is defending his first Zarra award, having crashed in 18 goals last season to become the league's highest-scoring Spaniard. And, with 10 goals in 16 La Liga appearances so far this campaign, he's made a pretty good start at retaining it. His closest competition, the legendary Iago Aspas, is somebody he is looking to emulate. 5 years younger than Celta Vigo's hero and starting to produce his best La Liga form at a similar sort of age, there's real optimism at Villarreal that Gerard truly has his best form ahead of him, and hope that, going into his thirties, he can become the type of talisman that Aspas has become in his later years. 
Positionally, Gerard is an intriguing mix between centre forward and inverted right winger, providing invaluable flexibility for his manager, Unai Emery, famously experimental with his formations. Up top with Paco Alcácer, out wide in a 4-3-3, or even on the right of a 4-4-2, Gerard is always in the starting 11, and always given maximum freedom to affect games from wherever he likes.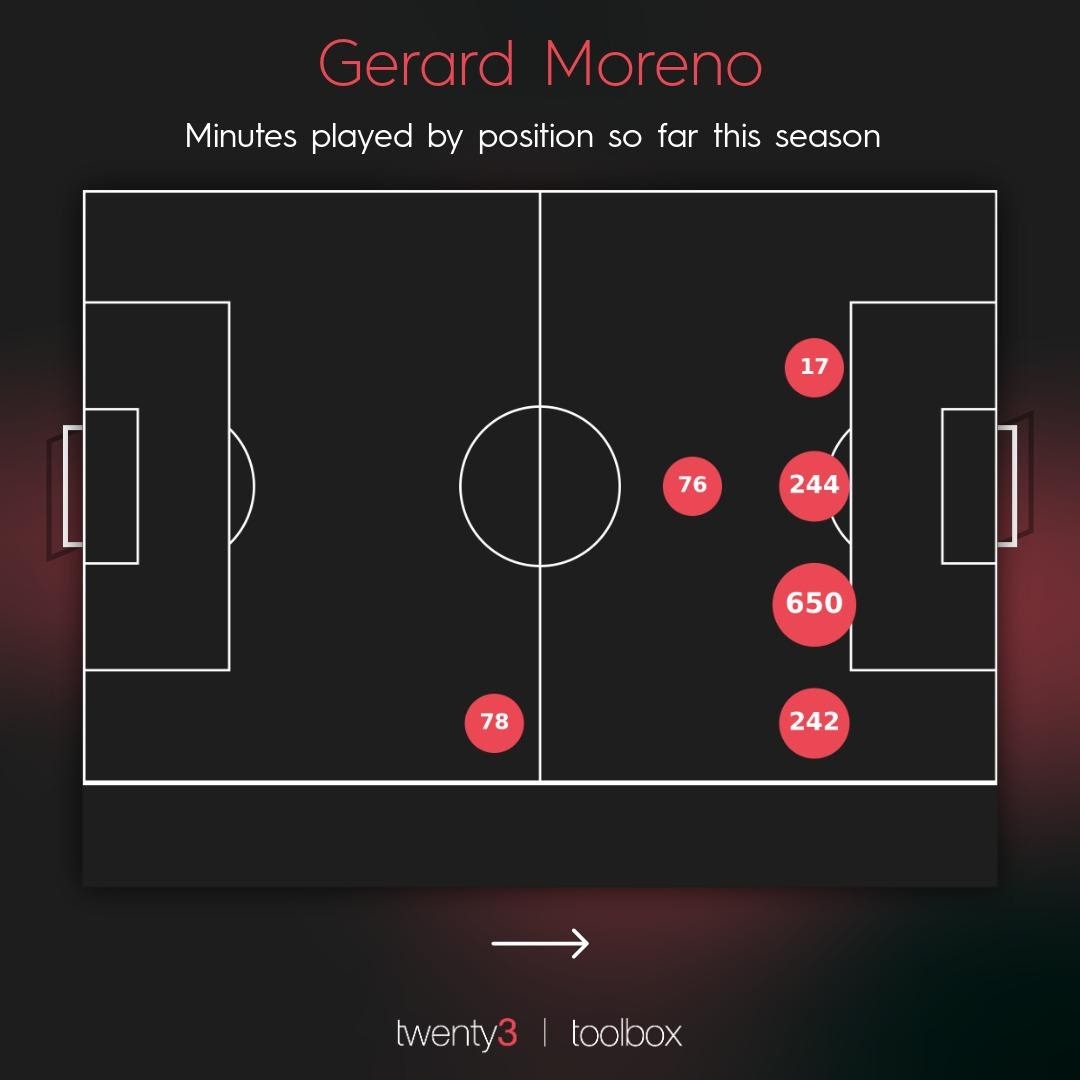 Photo: Twenty3/Wyscout
While not particularly blessed with blistering pace or colossal strength, Gerard is devastatingly effective when it comes to doing the simple things well. Whether it's cutting inside onto his left foot from wide areas, dropping deep to receive a pass to help build an attack, or instinctively drifting into space when he senses an opportunity, he's a player who makes goalscoring look easy due to his intuitive movement and a fantastic shooting technique.
A good example of his movement and attacking instinct came as he opened the scoring at Léganes last season. As a disorganised defensive line tries to reorganise, Gerard quickly moves out into space on the right, creating the passing angle for the clever Santi Cazorla. The ball is chipped over towards the striker, who, in a show of his excellent close control, cushions the ball expertly with his chest, ensuring to shift it onto his left for the first-time strike.
Notice as well the speed in which he is able to bring the ball down and manipulate a favourable shooting position, giving the defence no chance to recover. Instinctive movement, quick, close control and an emphatic finish, this goal from Gerard showed what he's all about in the penalty area.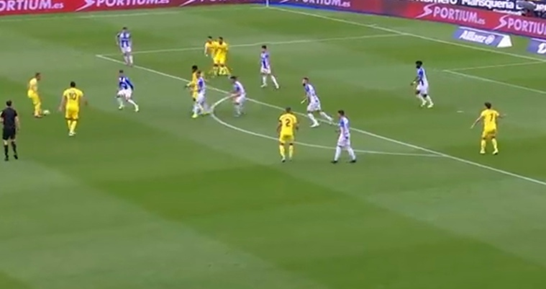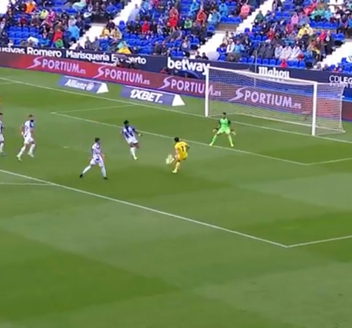 Although his greatest statistical danger is cutting inside onto his lethal left foot, Gerard is also very adept with his weaker right, an ability that he uses to fantastic effect to add unpredictability to his game. Particularly in the 18-yard box, he often produces sharp turns to shift the ball onto his opposite foot, in what has become somewhat of a signature move for the Spaniard. The images below show one such example, here, producing a crucial, match-winning goal against Real Betis.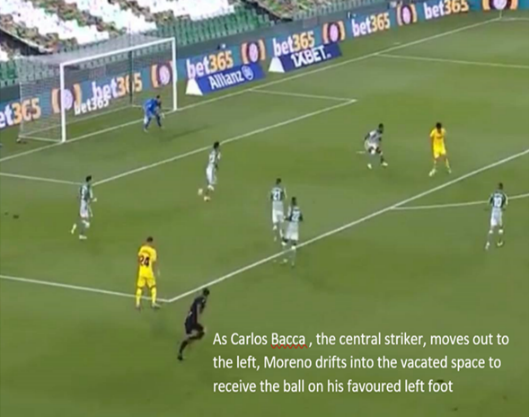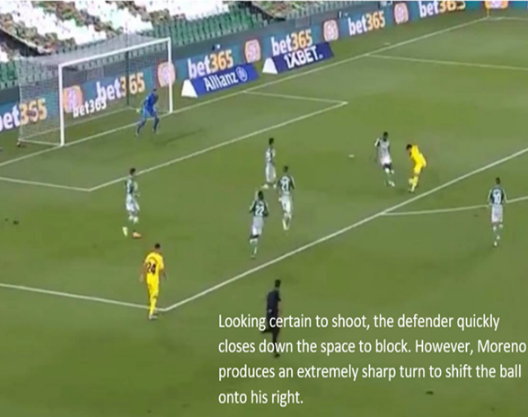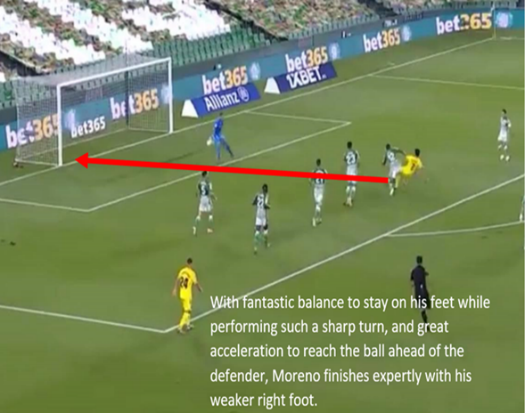 Further examples of the "Moreno chop" are littered throughout his recent La Liga scoring run, including in the build up to a sensational goal against Eibar, where he produced an almost 180 degree spin to fashion a yard of space in a crowded penalty area, before lasering the ball across the keeper with his right foot.
He can also, of course, shift the ball quickly onto his stronger side, as shown by another showstopper against Eibar, where a slaloming dribble ends with Gerard cutting sharply onto his left after feigning a shot with his right, before smashing the ball into the top corner. Such unpredictability, where he can immediately twist and turn into space with such close control, and finish so devastatingly with both feet, is a nightmare for defenders, who can't afford to show him a yard of space either side.
Aside from his finishing abilities, Gerard is also proving invaluable to Emery's side with his playmaking contributions, as he often drops deeper to receive the ball from the midfield, helping to move his side up the pitch. With two assists to add to his ten goals, he's attempted 42 through passes, the 3rd most in the league, and has assisted 19 shots, demonstrating his tenacity in the creative department.
Just as with his shooting, Gerard is particularly dangerous with the ball on his left foot in the right half space, shown by this pinpoint assist he provided for Paco Alcácer last season against Valencia.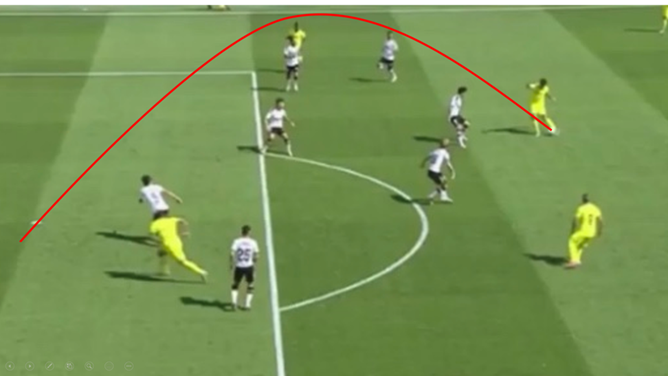 He's also devastating on the counter-attack, shown perfectly by his attacking contributions in that 4-0 blitzing of Celta Vigo last weekend. In addition to his 4th minute goal, that also came from a perfectly timed run on the counter, he provided a sublime assist on the transition, bringing a quick goal-kick out of the sky with his chest before waltzing between two challenges and sliding a perfect ball through to Fernando Niño, who finished excellently. With great running power and fantastic decision making, he's become so brutally efficient when facing a back-tracking defence. 
Throughout the recent Levante game, too, a 2-1 triumph over their local rivals, he was a constant threat throughout the ninety minutes, popping up all over the pitch in a similarly tireless attacking display, running over 11km in the process. Starting on the right of a front three including academy graduates Yeremi Pino and Niño, it was clear to see how hard Gerard worked to take the pressure off younger shoulders.
Constantly dropping deep to receive the pass, making progressive runs with the ball at his feet, and switching wings to provide options for the midfield three – Gerard was relentless in his efforts to maintain the connection between midfield and attack. Compare his season average heat map (left) with that of the Levante game (right), and you can see exactly how he stepped up for the team.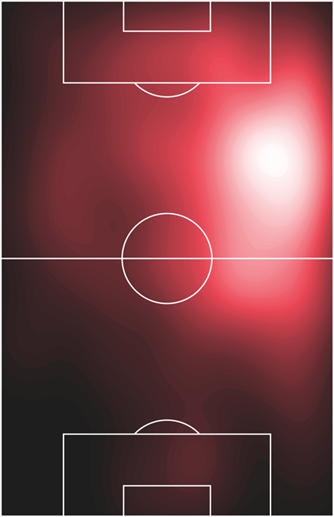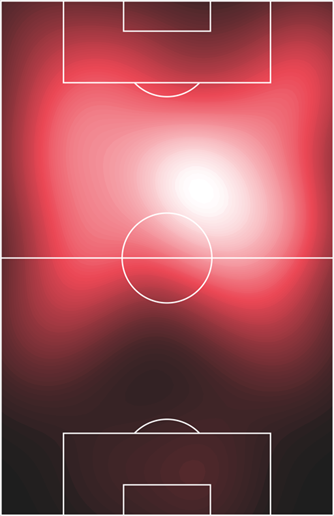 Photo: Twenty3/Wyscout
It was, just like most of his other displays this season, a talismanic performance –  one in which he led his side from the front. Not only in his individual brilliance to yet again score the crucial, match-winning goal, but also in his lung-busting commitment to the side. And, in that sense, he's quickly becoming so much more than just a goal-scorer for Villarreal. 
In truth, it's been an understated ascent to greatness. Now, however, just 20 goals from becoming his prestigious club's all-time leading scorer, and it seems that Gerard is finally starting to turn heads across the continent. And, as he became the first La Liga player to reach double figures for goals on Friday, tearing Celta to bits in the process, you can be sure that Luis Enrique was sat at home, taking some very positive notes. 
And so, with the European Championships fast approaching, and every chance that Villarreal will be hunting down one of those 4 Champions League spots come the end of the season – maybe, just maybe, we could be about to witness Gerard Moreno's moment in the European limelight. At 28 years old, it's better late than never.
By: Thom Harris
Featured Image: @GabFoligno / NurPhoto