Player Analysis: Glen Kamara
It's Christmas 2019, and a man walks into a bar and opens his briefcase. He tells everyone in that bar that he has £50,000 to spend and wants to purchase something then and there. Every man and woman in the bar approaches him with an idea; however, only a few stick out to the savvy investor.
The man takes time to contemplate over four proposals, one being 13.1 Bitcoin, another being 35 dairy cows, the third being 33.3 shares in Amazon and the last but most intriguing: a Finish midfield maestro who is soon to be out of contract. The man quickly turns down the cows and the footballer as he wants something easily liquidable and an asset that won't fall in peril to physical ailment.
The man looks back on this night with fondness as he chose to split his investments into amazon and bitcoin, which have returned profits of 2x and 6.5x, an impressive addition to his portfolio. Despite this, the man is dumbfounded when he realises this missed opportunity that laid in his path. It was not that the cows on offer were purebred Wagyu.
Instead, the footballer was Glen Kamara, who, if rumours are to be believed, might fetch upwards of a 200x profit this summer for the brave investors who took a chance, Rangers FC. Though I doubt Rangers signed Kamara whilst at a pub night investing session, the breakdown of the deal sounds an awful lot like your typical online investment scam, where promises of endless profit and high-quality products are made, but once the initial investment is delivered, radio silence.
Whatever the numbers are when Kamara eventually moves on from Ibrox, they play only a supporting role in what has to be seen as one of the best pieces of business done in the British Isles in the past decade. The midfielder has cut his teeth up north whilst turning out in the blue of Rangers and earlier the blue of Dundee.
Kamara's performances at this summer's Euros was a culmination of the work he has put in whilst away from the bright lights of Arsenal, where he was once a highly-touted youth player. Whether his eye-catching performances for the Huuhkajat were means to a big-money move or not, let's look at why the performances from Finland's crown jewel at the euro's were no surprise to those who watch him regularly.
Stylistic Features and Positional Tendencies
Kamara falls victim to the lazy FIFA ultimate team-inspired idea that in football, there are only two types of central midfielders, those who operate in and around the opposition's box and those who patrol their own. At Rangers, Kamara operates mainly as the furthest left centre mid in there for 4-3-3; however, he sees considerable time at all three midfield roles, as the position map below suggests. Due to the nature of Rangers' fullbacks, Kamara is often asked to cover them as they make inroads upfield.
Despite the limited time that the position map suggests Kamara has spent at either fullback, he has the experience and the technical and tactical nous to offer a stopgap at LB or RB, as the heatmaps later divulge. There is a limited sample size for when Rangers would break their renowned 4-3-3; however, if they did, it would most often only be a minor shift to a 4-2-3-1, where Kamara-like a glove would be found on the left of a double pivot.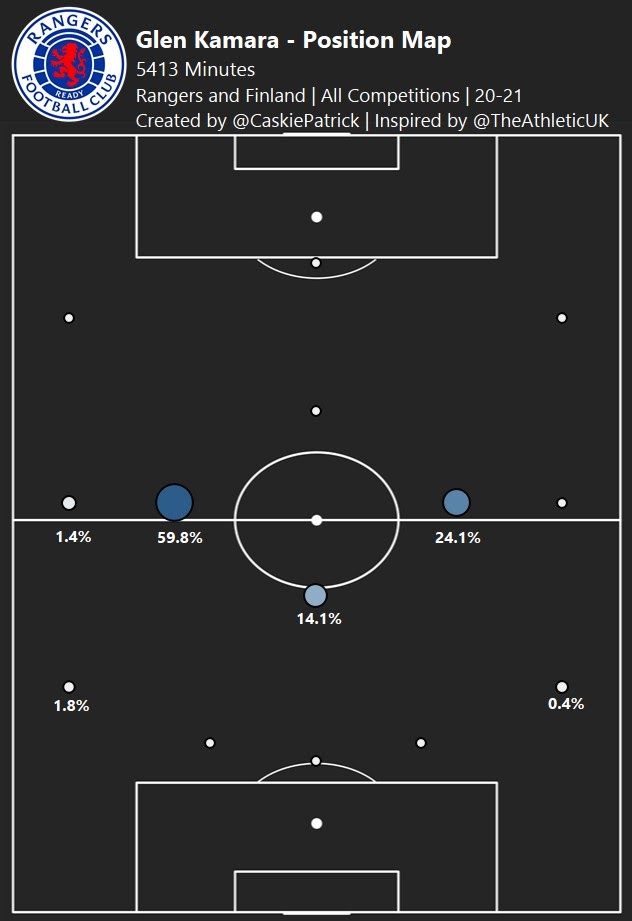 Though the earlier position map suggests that Kamara plays exclusively in the midfield, which technically he does on the team sheet, the nature of Rangers plays both domestically and continentally means that Kamara strays far from just the centre of the pitch and influences affairs far and wide.
Though the earlier position map suggests that Kamara plays exclusively in the midfield, which technically he does on the team sheet, the nature of Rangers plays both domestically and continentally means that Kamara strays far from just the centre of the pitch and influences affairs far and wide. The heatmaps below paint a clear picture that Kamara is most often found on the left and around the halfway line but also tracks back and occasionally joins the attack.
As you survey the graphic, this changes depending on the opposition. In some matches, his heatmap is reminiscent of a left-winger (Lech Poznan at Home) and conversely as a left-back (Benfica Away). Additionally, you can see that Kamara is also found on the right, not necessarily from the beginning, as Kamara is often the lynchpin that allows for personnel or tactical changes.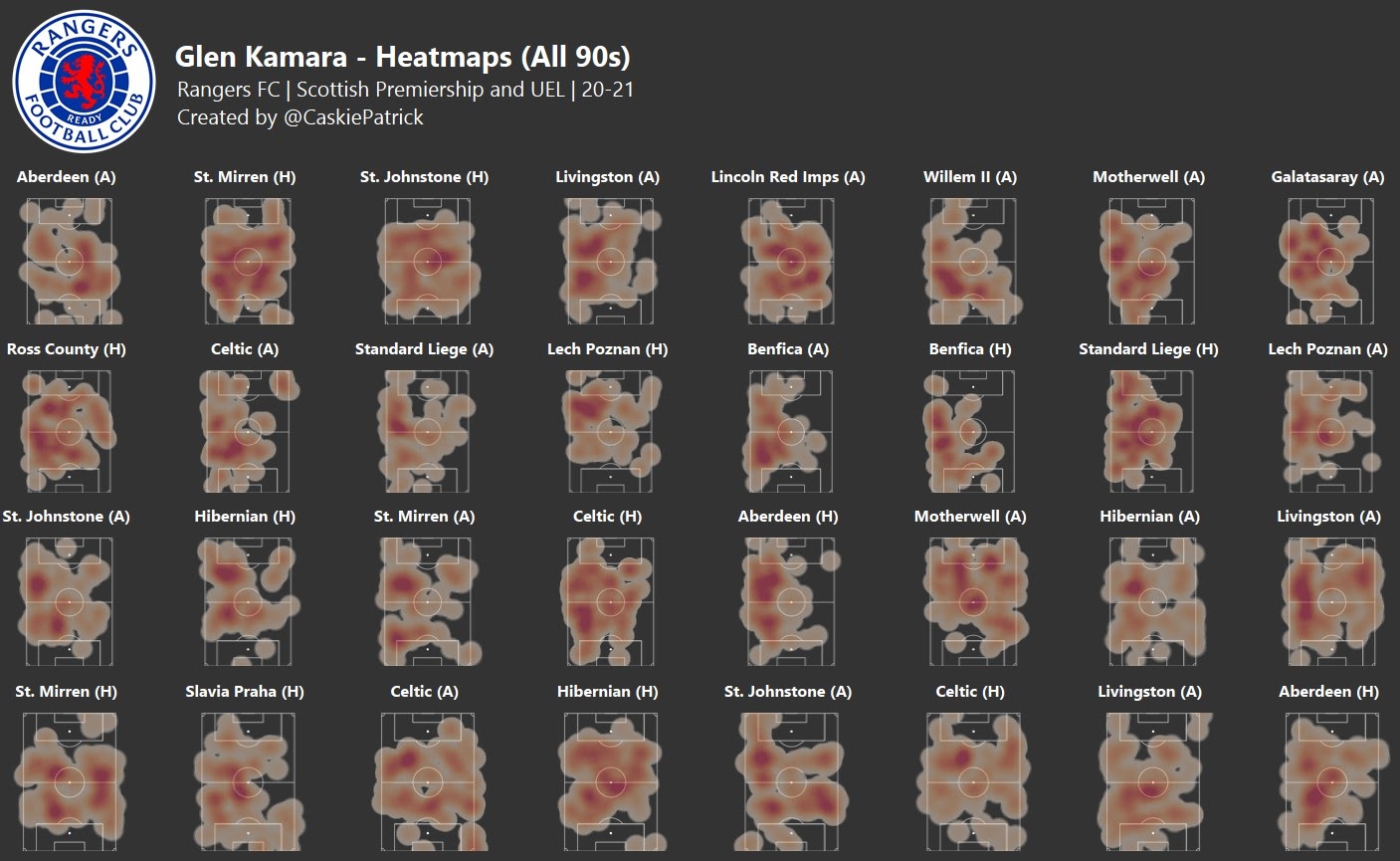 Some may question the validity of Kamara's positioning in such a dominant Rangers side as he will most likely not join a team that enjoys so much possession and sustained pressure in a top 5 league. However, the graphic below shows that even in continental competition, Kamara's positioning and, as we will later see, his playstyle remain almost identical regardless of opposition.
If anything, in last season's UEFA Europa League, we saw a more advanced and wide version of the Finnish midfielder, further supporting the claim that Kamara can sustain his positional work against higher quality opposition.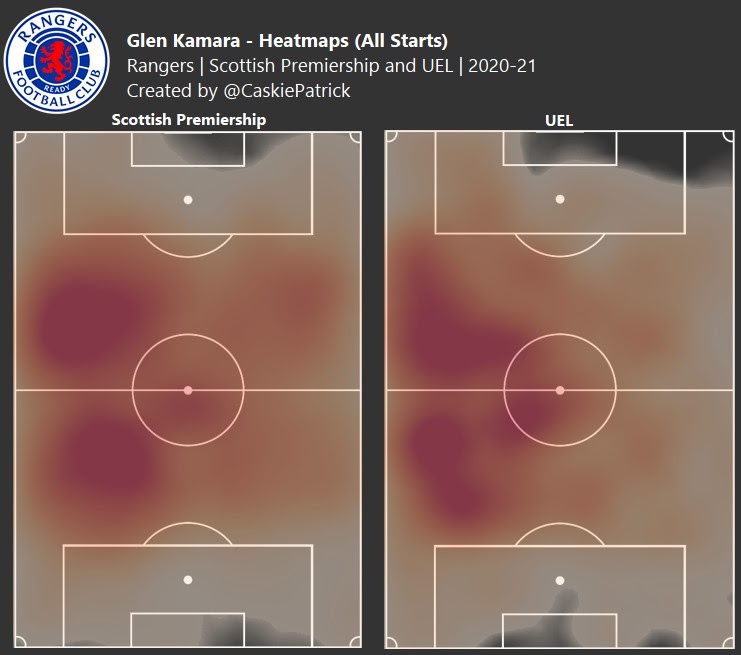 Kamara statistically profiles as a calm presence on the ball who has metronomic qualities capable of being a supporting creative presence. Defensively his stats are not great; however, this is due to his club side's share of possession. Additionally, there may be no more significant statistical and visual antithesis than Kamara's defence capabilities, as the video will present a very different case.
It will come as no surprise to those familiar with his game that the Finnish player offers little when in and around the penalty box when it comes to ball-striking. His dribbling stats are middle of the road; however, much like the divide between numbers and eyes defensively, Kamara provides a calm presence that is challenging to quantify.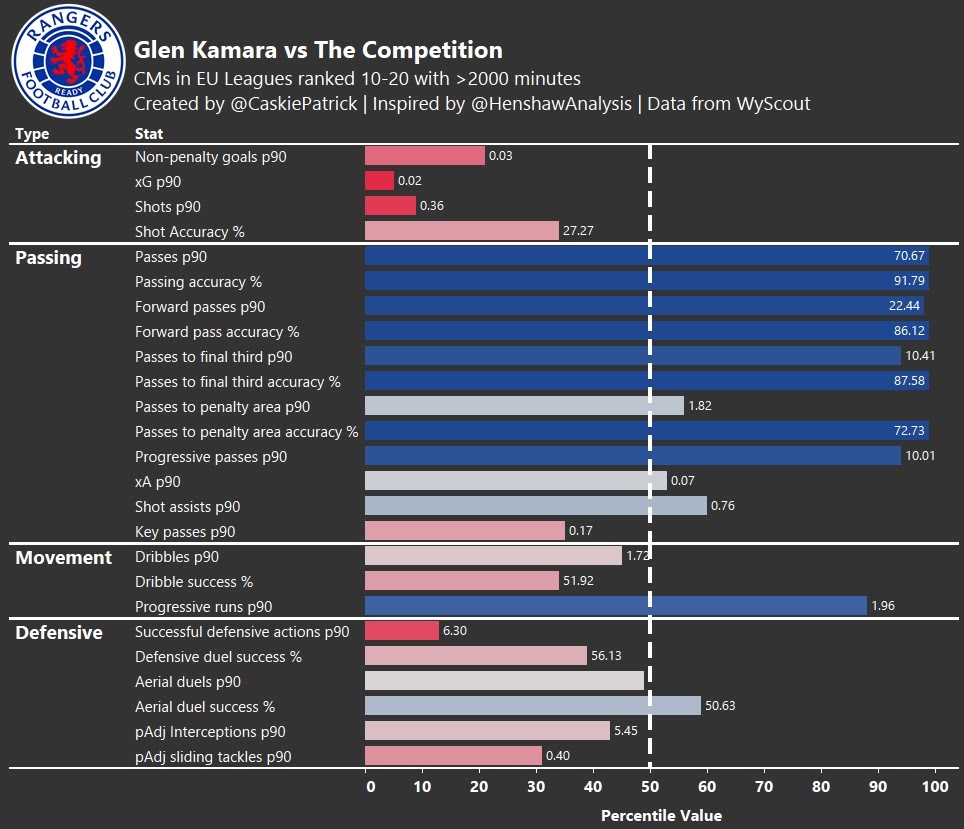 Goalscoring midfielders are those who increasingly attract all of the media's midfield ration's; despite this, Kamara has managed to impress and receive the relevant plaudits despite being relatively toothless in front of goal throughout his career. The shot map below shows the lack of attempts on goal from Kamara throughout his time playing professionally in Scotland.
The concern with Kamara is not that he doesn't shoot; instead, when he does, it is often unconvincing and appears to merely be an afterthought as Kamara will always look for the pass first, alla, John Stockton. Though the unselfishness is very much in his character, this often means openings that were once open close and the flow of the attack is disrupted.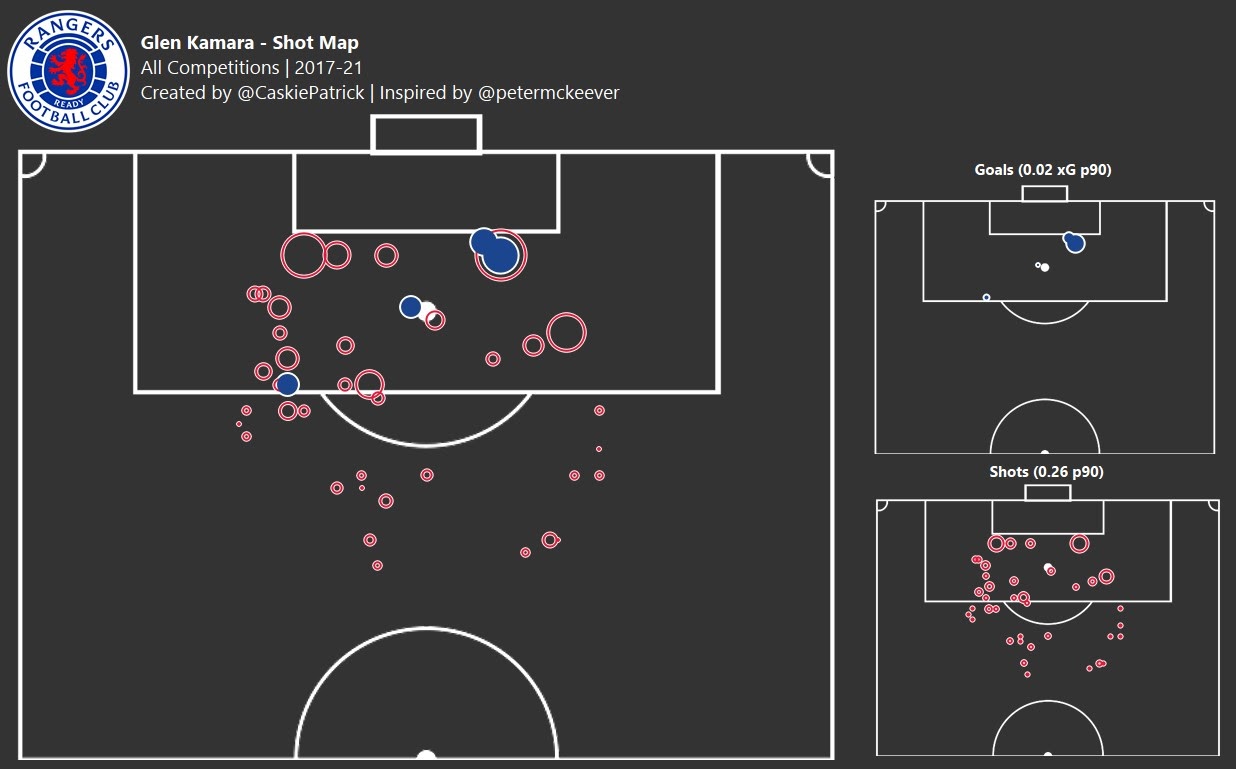 In general, the graphic below shows that Kamara is not overly active in penalty box activities whilst at Rangers. However, he does set up his teammates far more often than the opposite, which indicates that Kamara knows his game well and plays to his strengths.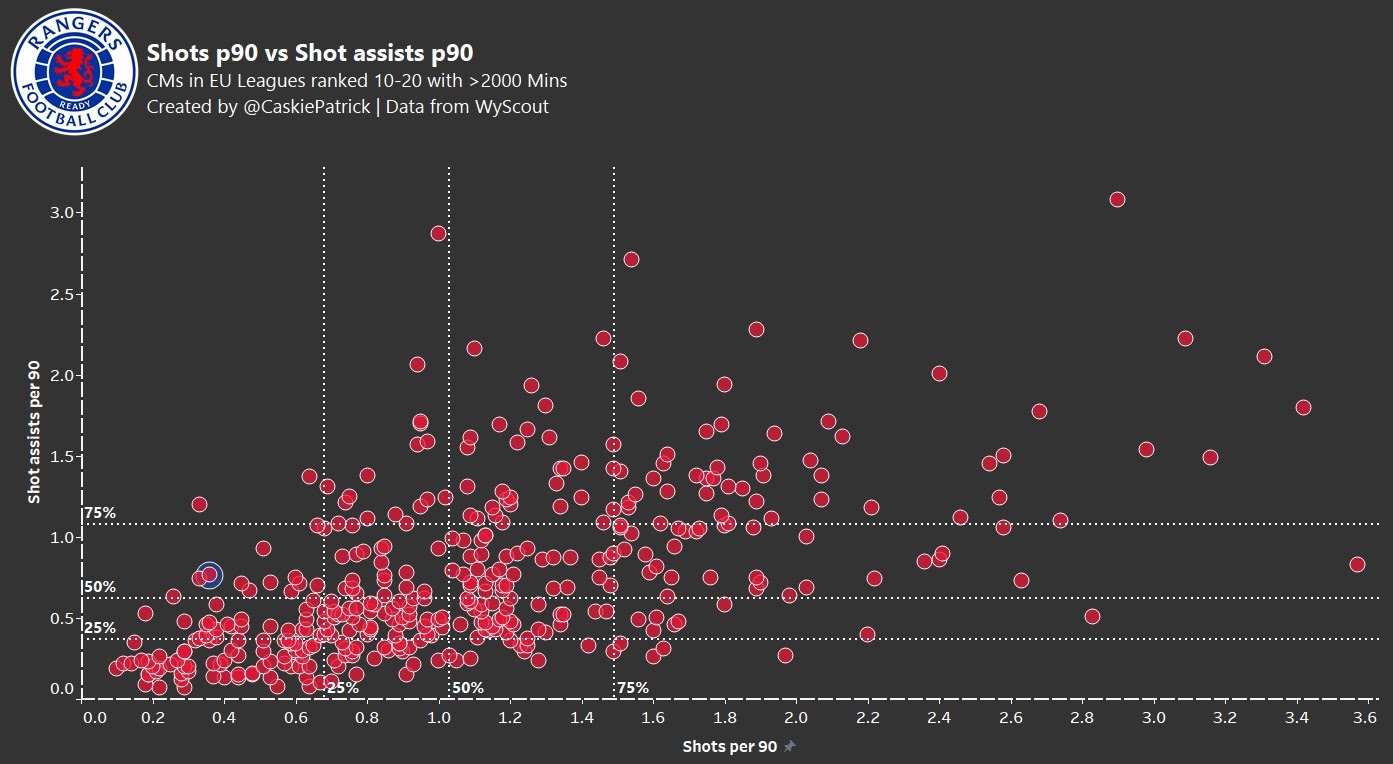 As previously mentioned, when striking the ball, Kamara is far more adept at playing to a teammate or into space than towards the keeper. Kamara's passing in the first graphic was plain for all to see, so let's look at where on the pitch he does this best.
The graphic above shows us all of Kamara's assists and progressive passes from the past season for club and country, with a few things sticking out. First, Kamara relies on short yet effective passing as opposed to long hail mary style balls, and second, Kamara's most threatening passes are almost always moving towards the right.
As we discussed earlier, the latter should come as no surprise that Kamara spends a majority of the 90 on the left side of the pitch. To address the former, the nature of Rangers play in the Scottish Premiership, and the low blocks they face on a nearly weekly basis make it so that short intricate passes that shift defences are worth as much as the final decisive ball.
Some could point out that if Kamara were to move to a team that doesn't enjoy the same possession, he might struggle to adapt and mould his game; however, his stint in Dundee and national team experience should put him in good stead in this regard.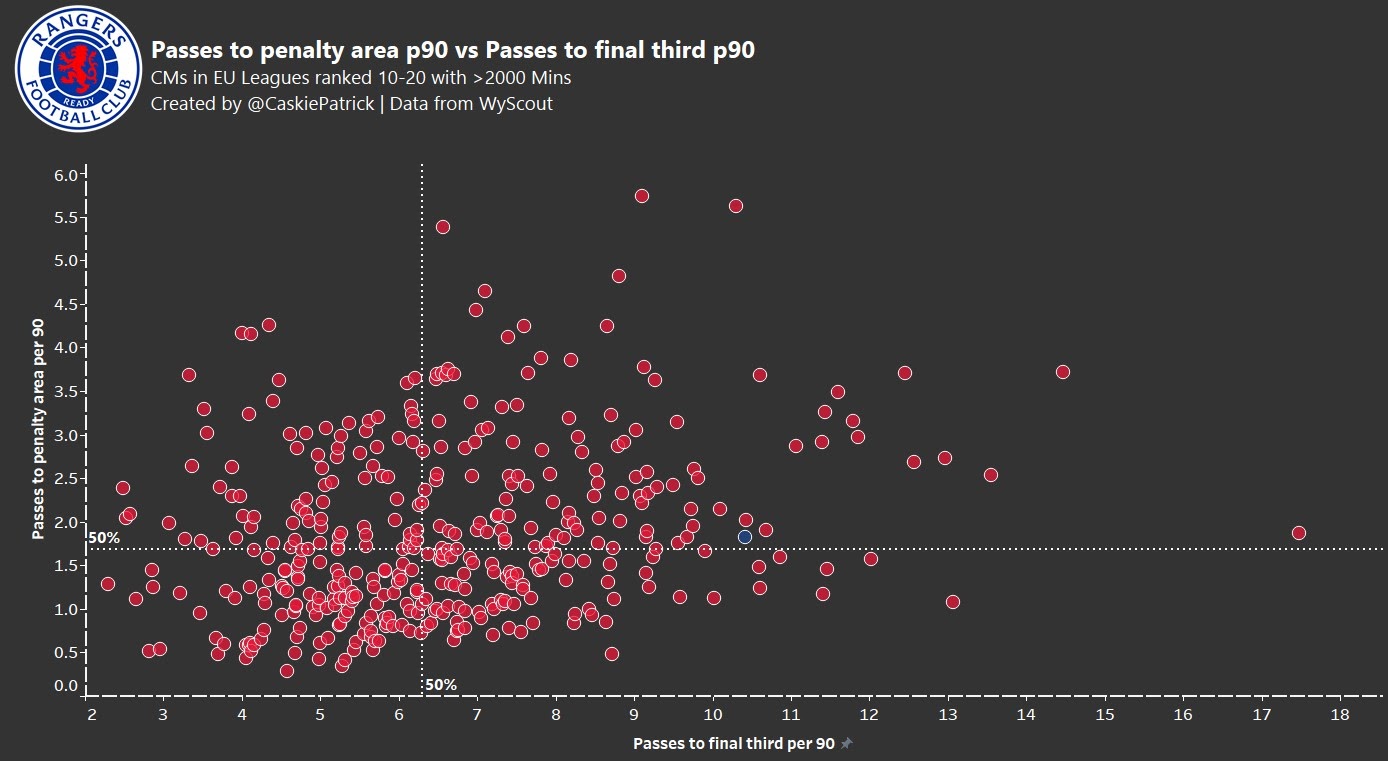 Though Kamara's key passes (0.17 p90) or xA (0.05 p90) hardly jump off the page, and the total of 3 assists he racked up in over 5000 minutes last season don't appear to be conducive with a top-level creator, he still puts the ball in good areas.
The graphic above clearly puts Kamara in the elite quadrant when it comes to passing into the right spots, as he ranks in the 90th percentile for passes into the opposition's third and penalty area. This is undoubtedly inflated because he plays for Rangers, but regardless is still encouraging and is further supported by the graphic below.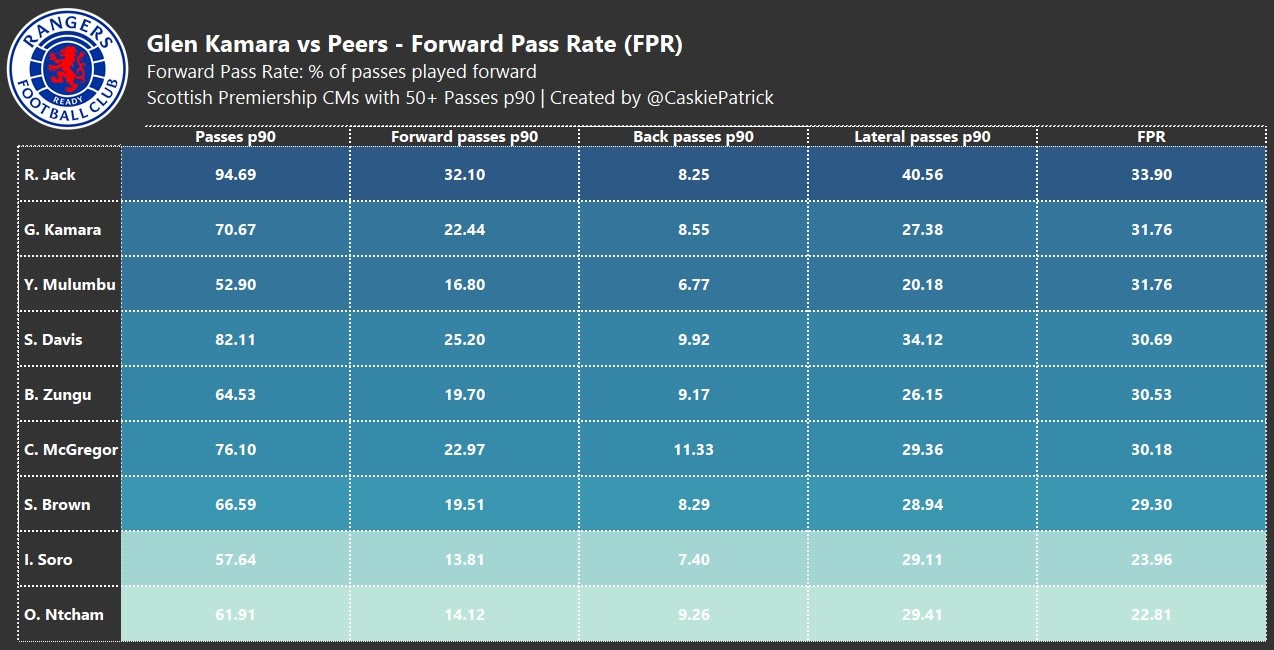 This graphic compares Kamara's proclivity for forward passing with his domestic peers in Scotland. Here he ranks second with 31.76% for all midfielders with more than 50 passes p90, which is an encouraging sign, as so many CMs who enjoy such a number of passes too often defer to sideways or backwards passes.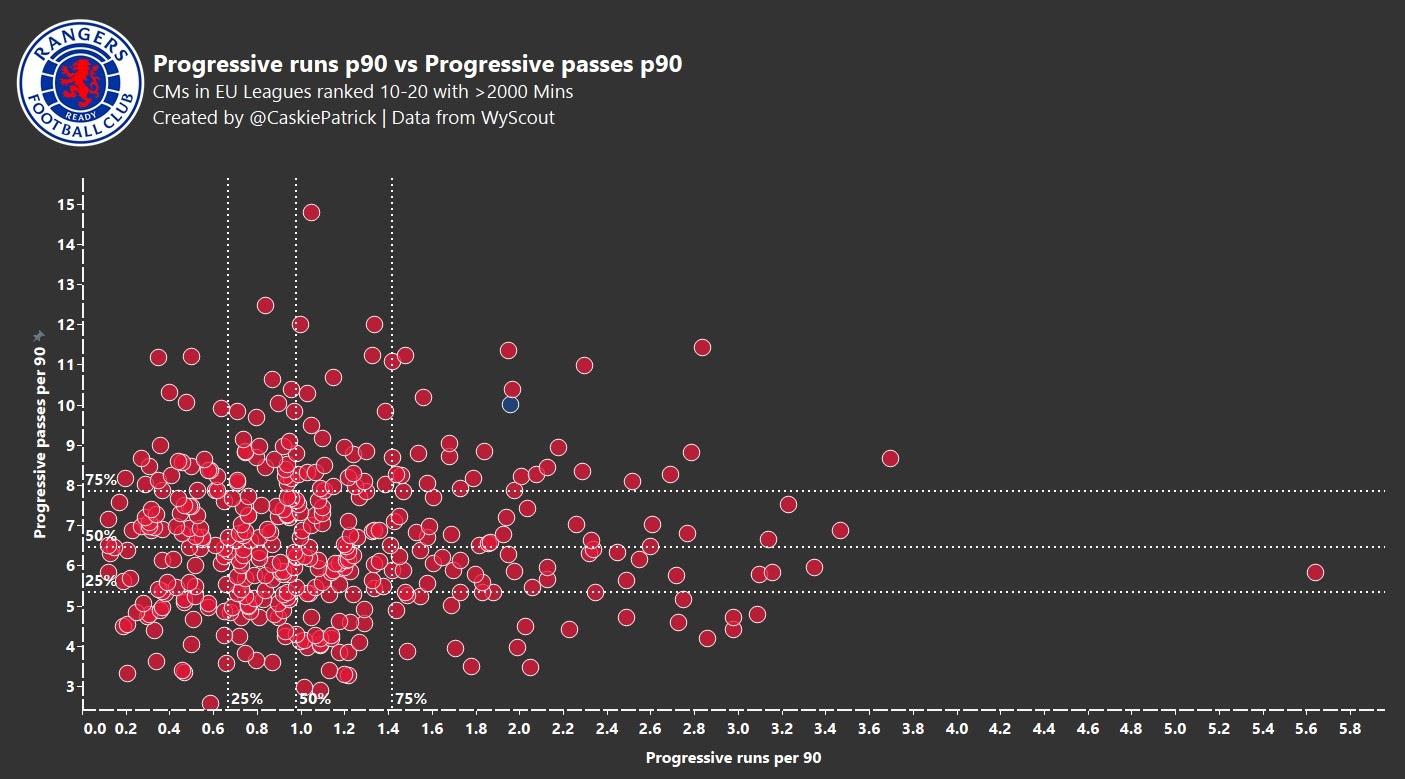 To be fair to Kamara, a lack of end product is not much of a deterrent for any potential suitors. Kamara's primary responsibility when passing is to get the ball up the field and safely to teammates; progression is the name of the game for the Finn. The graphic above shows that Kamara, in the given sample size, is an elite progressive passer.
This is undoubtedly a skill that is often underappreciated at Rangers but would be worth its weight in goal if he were to move to a less dominant side. Importantly when both axes are combined, we can get a clear picture of Kamara's progressive work as a whole, both passes and runs. To the surprise of few, Kamara is in the top 75% for both, supporting the idea that Kamara is an elite progressor of football.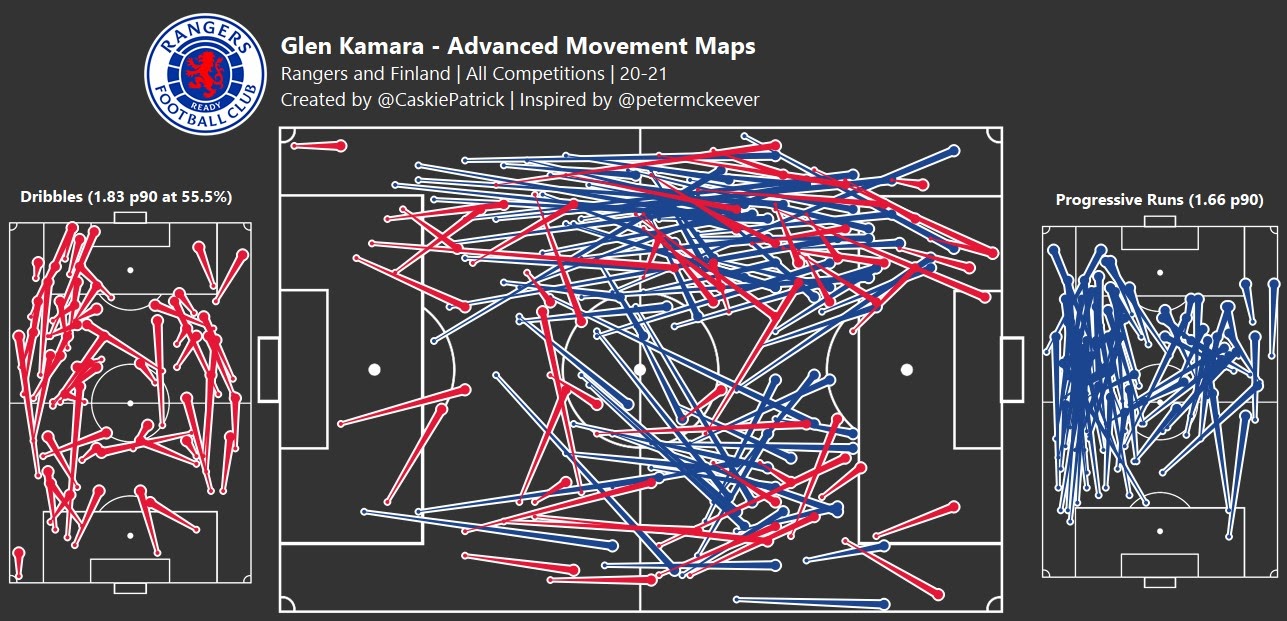 The graphic above shows us the distance Kamara has successfully covered when running with the ball at his feet, which, as his position and heatmaps would suggest, is the left side of the pitch. Kamara is often the first point of progression when Rangers win the ball back or counter, and this is seen by the sheer number of dribbles or progressive runs which start from the left side of the penalty area and end around the halfway line.
Kamara is more suited at navigating large swathes of space and then passing it when he arrives closer to the goal than picking the ball outside the box and breaching the block but is capable of the latter, as the graphic shows.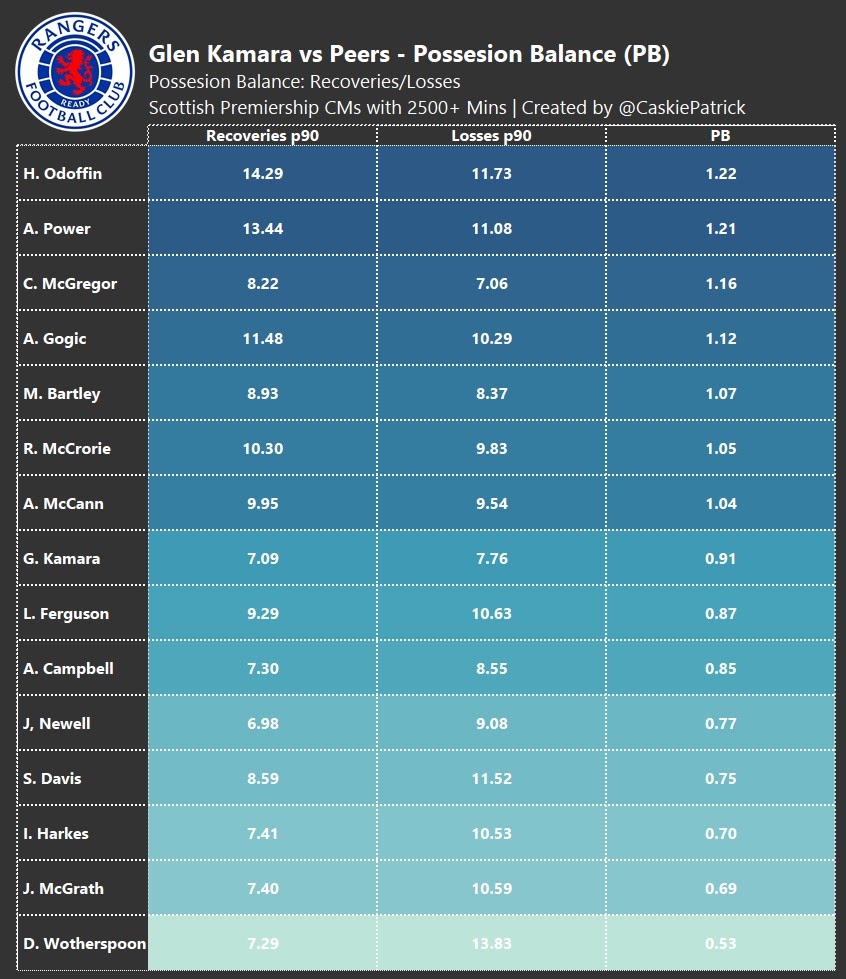 Although interesting, for a player like Kamara, ball security and retention will almost always come before the ability to beat opposition players on the dribble. Though the above graphic does favour defence midfielders as they have more chance to adjust the ratio with winning the ball back, we see that within the sample size that Kamara has the highest rate of any "attacking/progressive" midfielder and the second-lowest losses p90 of anyone, suggesting that he is a safe pair of hands when on the ball.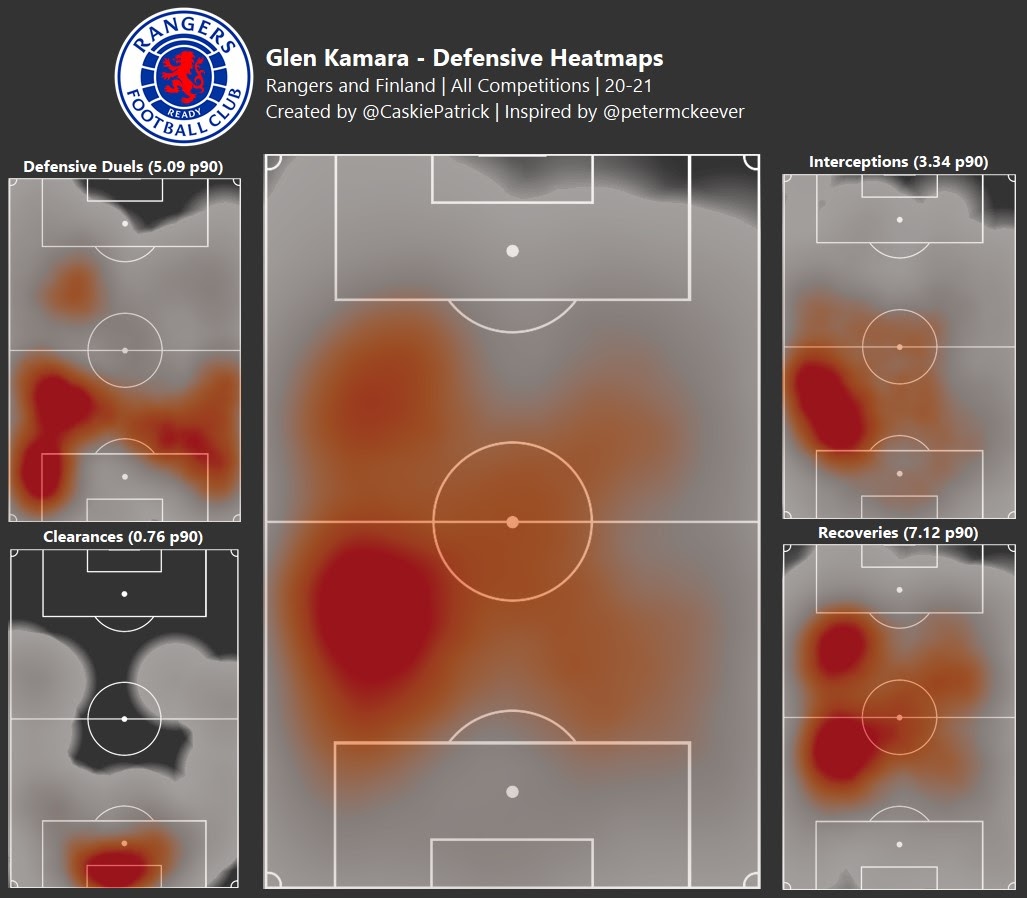 Finally, let's look at Kamara's defensive statistics and profile, which, as mentioned earlier, is perhaps the single area with the greatest contrast between visual and statistical evaluation. Let's begin by examining Kamara's overall defensive heatmap as well as where on the pitch he executes each of the four selected defensive statistics. Kamara's defensive heatmaps come as no surprise considering the earlier heatmaps.
Most of his clearances come in his box, interceptions around the halfway line, recoveries in the opponent's half and duels all over his half. The recovery heatmap may be the most surprising, considering how advanced it is. Still, again, the nature of Rangers' domestic dominance means that Kamara is picking up balls outside the box after his teammates lose it. Overall this shows that Kamara is positionally disciplined but does roam around when help is needed.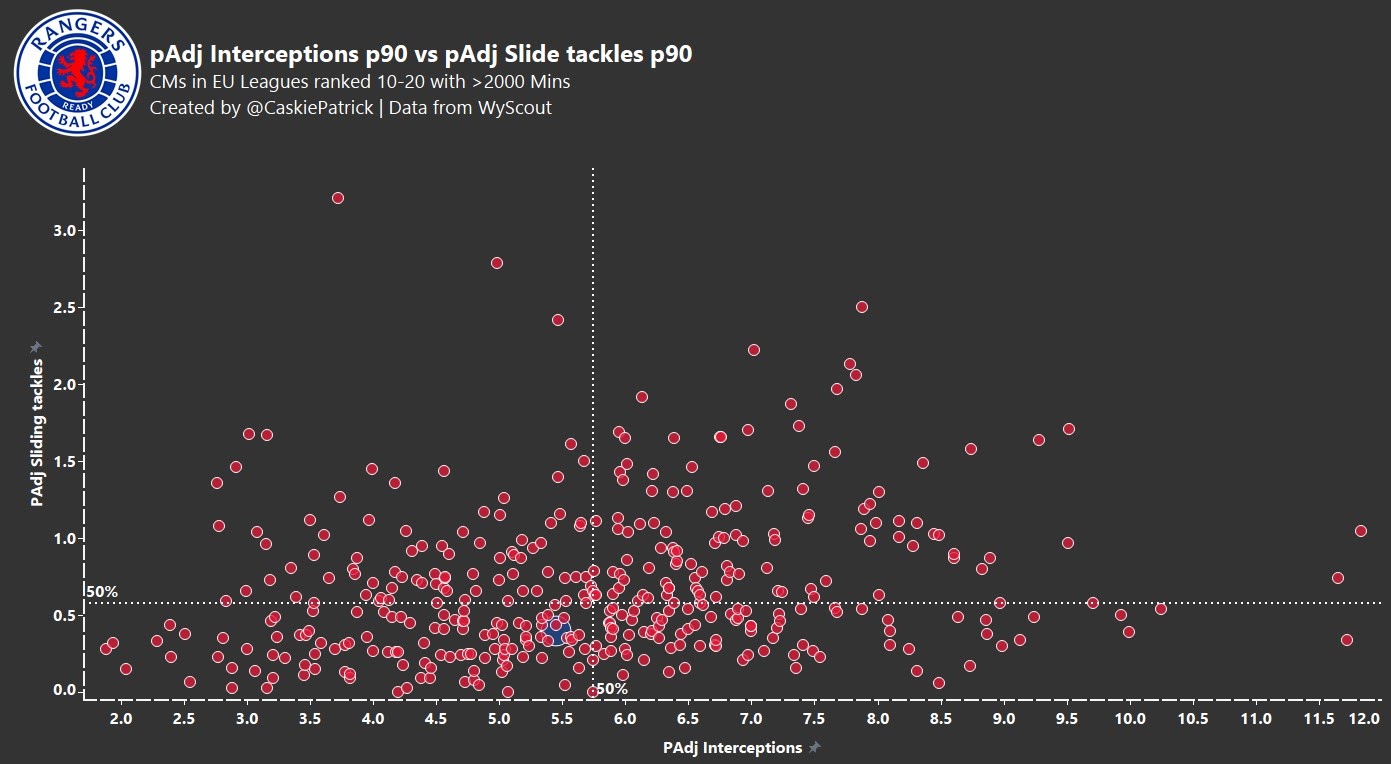 The stats would suggest, and there is some truth in it, that Kamara is far better at picking off passes and picking up loose balls than actively engaging in duels. What is for sure is that he is not overly active when possession values are considered, as the graph above would suggest. However, it is up to you to decide how detrimental possession adjusted defensive stats are for a player who plays for a team that is both skill and possession whys far above the domestic mean.
Video Analysis
As detailed earlier, Kamara lacks any real goal threat, in part due to his ability but also due to the fact Rangers get more than enough goals to go around, so he is rarely asked to step up in that department. Regardless, let's have a look at the two goals he scored last season.
Credit & Source: YouTube
The first goal came against Benfica in the UEL group stage (clip above) and perhaps took Rangers fans by surprise more than the goalkeeper, who was powerless to save it. The build-up to the goal is very in line with what we have expected of Kamara as he offers a central run; he is an option that is not always taken up but valued nonetheless.
Once Kamara picked up the ball, the expectation would have been for him to place a pass in the path of the left-back Borna Barišić; instead, he took the shot on himself, and fortune favoured the brave.
Credit & Source: YouTube
The second and final goal that Kamara scored during the most recent season is a far better example of his attacking skill and a situation where he can provide consistent value to Rangers, Finland, or another team.
In the clip above, we see Kamara make an intelligent run towards the box and is found by teammate Joe Aribo before he dinks the ball beyond the onrushing keeper. This encompasses what he can bring when in attack mode. Kamara offers runs from midfield as well as an adept touch. Inherently, this mix of skills won't change the games weekly but will provide an extra boost every once in a while.
Credit & Source: YouTube
Kamara's movement in an attacking sense was just highlighted in that second goal, this ability to navigate under pressure at any juncture all over the pitch is the single best skill that Kamara possesses. This has been evident throughout his time in Scotland and as a key skill when at Dundee as the side were often pinned back and faced opposition who were tactically and technically superior.
Above, we see a clip from his time at Dundee against then champions Celtic. Kamara is able to handle the pressure from the Celtic midfielder and, in the process, shows off his footwork which assists him in beating his man and evading the Celtic press; as a result, progressing the ball upfield to an open teammate.
Credit & Source: YouTube
Another example of Kamara's ability to navigate pressure is in the clip above. Again we see Kamara's clever use of his body weight and feet allow him to ride the pressure of the Lech Poznan player and, in the end, dupe his man and create an avenue of space. This is a transferable skill to any level and is helpful in any area of the pitch; Kamara's presence is invaluable for any team when attempting to play out of a press.
Credit & Source: YouTube
Kamara often springs counterattacks as his quick feet regularly open up passing opportunities and force defensive rotations. Exhibit A of this is the clip above, where we see Kamara with acute first touch spin-off Celtic's Ismaila Soro and leave him for dead, before quickly moving up-field before waiting for one of Celtic's backline to blink and for him to feed a runner.
Credit & Source: YouTube
When higher up the pitch, these smart touches are worth their weight in gold and Kamara is prone to them. Naturally, due to his position, Kamara has limited time in and just out of the penalty area; however, he does provide value as he can shift defenders, as seen in the clip above.
Here we see Kamara displace three Hibernian defenders before playing a one-two with teammate Kemar Roofe which forces Roofe's defender to choose between the two as one will be open. Without Kamara's earlier foray, this advantageous position doesn't materialise, and the later shot attempt doesn't happen.
Credit & Source: YouTube
Though his best work usually only takes a few seconds and consists of only a few touches, Kamara can try his hand at the art of long and marauding dribbles. Kamara's pace and lack of end product hold him back in this regard as defenders are not scared by his pace and can also sit off him from a distance. Regardless, Kamara still possesses a threat over distance, seen best in the clip above.
Here Kamara quickly and effectively progresses the ball from around the halfway line up to the penalty area. Once he realises that his skills are no longer needed, he defers to a teammate with a more significant goal threat. Though seemingly simple, someone has to do this, and a player like Kamara makes these same easy tasks non-events due to his cool head.
Credit & Source: YouTube
Despite the praise and video evidence, there is always an exception to every rule. Kamara can appear fazed and sloppy on the ball when met by immense pressure, as seen in the clip above. Kamara is hounded by one Hearts midfielder and "cordoned" off by three others forcing Kamara to panic and ultimately lose the ball.
This was quite the concern during Kamara's first 12 months in Glasgow; however, now, this occurs sparingly at best as increased confidence both as an individual and as a team have benefitted. As detailed in one of the earlier graphs, Kamra provides the perfect marriage between progressive movement and passing, so let's move on and have a look at Kamara's ability to move the ball to teammates. No clip optimises the happy medium more so than the clip below.
Here we see Kamara evade a tackle with a cute move before playing it wide. He then receives the ball with his back to Scott Brown, who he easily beats with a turn of pace before playing a searching ball after a Jermaine Defoe dummy makes its way into the box to be finished off by Scott Arfield. This is Glen Kamara at his best.
Credit & Source: YouTube
As evidenced by the statistical portion and much like his dribbling, Kamara is most comfortable playing short passes that gradually move his team in the right direction. Though Kamara is not an excellent distance passer, he can carve up chances on a semi-regular basis. The clip below shows the most common key pass type Kamara delivers, a deep searching ball that kick starts counterattacks.
The goal here is to play the ball before the defence has regrouped into their established positions. Here we see a well-timed ball that finds a willing runner who finishes the attack off in style. This is reminiscent of a shot assist from this season where Kamara set up Alfredo Morelos against Livingston, although a goal didn't come.
Credit & Source: YouTube
Kamara is the embodiment of Fort Knox in the pass, as the statistical overview graphic shows Kamara is in the 90th percentile for all variations of pass accuracy. Despite this, Kamara is surprisingly slack in the pass on occasion.
This is often too little effect as Rangers' ability to win the ball back bails him out; however, this may be a more significant concern in a different system. The clip above shows this clearly as what should be a simple pass at any level of football is misplaced, allowing St Johnstone a much-needed chance to attack.
Credit & Source: YouTube
As hinted throughout, Kamara is a much better defender than the stats paint him out to be, as he has good timing in the tackle and has a knack of getting his body in all the correct positions. This is obvious in the clip below, which shows both Kamara's ability to get his frame in the right place and his timing in the tackle as he wins the ball cleanly with his feet, despite being pushed over by Allan Campell.
Credit & Source: YouTube
A further example of Kamara's proclivity for being in the right place at the right time is seen in the clip below. Kamara beats the Bosnian midfielder to the space that he is trying to dribble towards, allowing him an easy go at dispossessing the man and regaining possession, which he does.
It is the combination of Kamara's ability to read body movement and his knowledge of angles and space which see him scoop up loose balls and consistently pose a threat to opposition midfielders and forwards.
Credit & Source: YouTube
Kamara's defence ability is most often utilised to restart attacks whilst at Rangers; however, he also offers the ability to stop counterattacks. This is seen in the clip below, where Kamara contains a promising Celtic attack in its tracks with a well-timed gutsy challenge.
This ability is a two-way affair, as it depends on Kamara's ability and his opponents' ability. In the event of a step up in league quality, Kamara most likely will be unable to keep this up at the same rate as players get better and more intelligent; nonetheless, Kamara will remain a net positive in defensive transition.
Credit & Source: YouTube
Top 5 League Comparisons
Whilst reading this piece up to now, my description of Kamara may have reminded you of any number of players. A midfielder who is press resistant, defensively effective and knows his limitations going forward is seemingly a description for any number of players. No comparison is perfect, and the two that I am going to present to you do have their flaws; however, for the most part, they are accurate.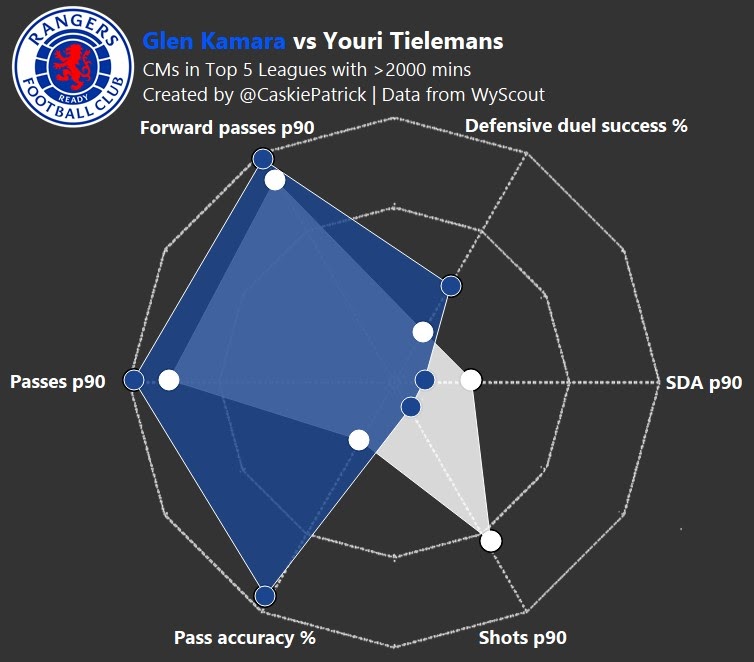 The first comparison is with Belgian Youri Tielemans. As the radar suggests above, they profile pretty similarly, though Tielemans is more effective in front of goal. This comparison is more stylistic than statistical as both midfielders play the game in a style that looks effortless and smooth.
Both are very capable of beating their man with their feet and provide defensive cover. There is no question about who the superior player is; however, if Tielemans was ever tempted away from the King Power, Leicester could do worse than replace him with Kamara.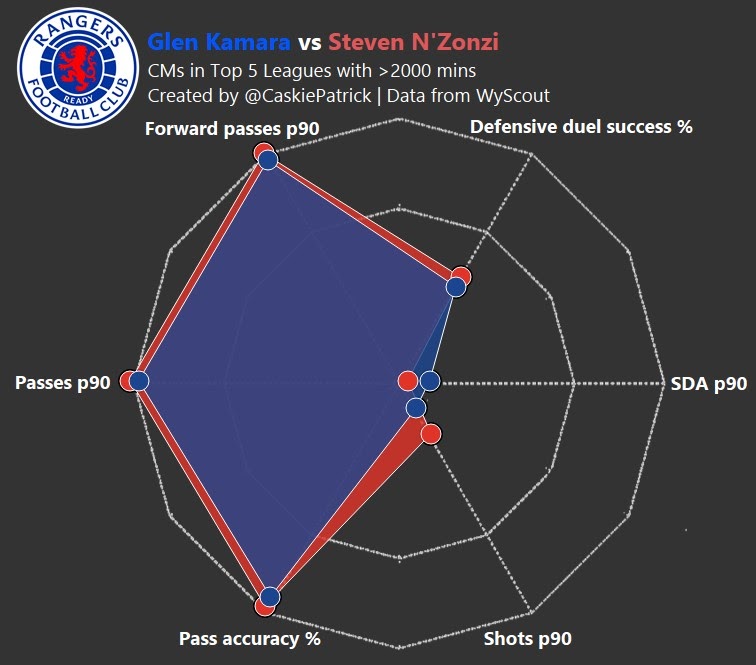 On the other side, Kamara is a statistical mirror image of France's Steven N'Zonzi and, stylistically, is very similar; however, the striking height difference does throw me off. Despite this, I think that N'Zonzi is the aptest comparison as he maintains that same smooth approach to the game, is an essential cog in defending Stade Rennais's back four and has limited impact in front of goal.
I think Kamara could do better than replacing the Frenchman in northern France; however, N'Zonzi's CV could be a goal for Kamara as it well within his reach to turn out for the likes of Sevilla and Roma. 
What's Next?
After a stellar Euro's, which put Kamara on the map for those not Scottish or Finnish-football inclined, an exciting summer awaits the Finn. Kamara has already been linked with EPL duo Brentford and Watford as teams circle off the back of his performance for Finland; however, the lure of UCL football and the relationships he has developed in Glasgow could see him extend his stay north of the border.
Regardless of what colours Kamara plays by the start of next season, expect him only to further his reputation from now on and at some point leave Rangers for better things returning an astronomical profit compared to that measly 50k they spent to buy him.
By: Patrick Caskie / @CaskiePatrick
Featured Image: @GabFoligno / Alexander Demianchuk / TASS