Player Analysis: Goncalo Inacio
Age: 21
Nationality: Portugal
Position/s: Centre-back
Height: 6 ft 1 in
Current club: Sporting CP
Number: 25
From Cristiano Ronaldo to Nuno Mendes, from Joao Moutinho to Rafael Leao, Sporting's famed Alcochete academy has helped to produce a wide array of Portuguese internationals. The latest player to go from developing at Sporting's training center to suiting up for the Portugal national team is Goncalo Inacio.
The Portuguese defender started his youth career with his local club Almada in 2010, before making the move to Sporting CP's academy in 2012. Inacio gained his first call up in July 2020, however, remained an unused substitute on that occasion, later that year Inacio gained his first appearance for Sporting in a 2-0 away win against Portimonense on October 4th, coming on as a sub in the 62nd minute.
Since breaking into the first team, Inacio has become a breakout star in Portugal, making 122 appearances so far for Sporting at 21 years old. In his 122 appearances, Inacio has scored 11 goals and provided eight assists from centre back which highlights his aerial threat and passing range. He is also left-footed, and this in itself is a demanded quality to have, as left-footed/left-sided centre backs are rarer to come by. In the 2022/23 season, the young defender made a whopping 52 appearances in all competitions, scoring four goals and providing three assists, as well as keeping 19 clean sheets.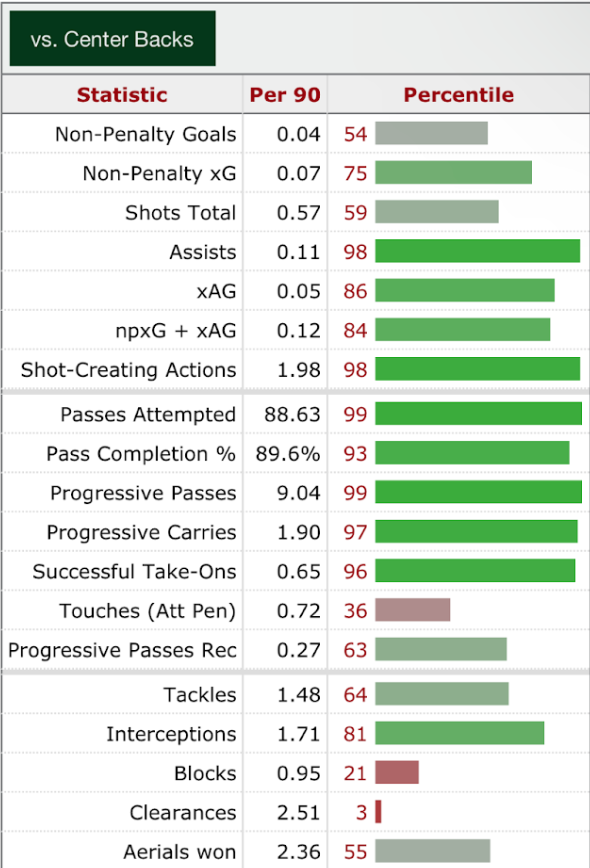 Photo: FBRef
As you can see in the above figure, Goncalo Inacio excels in his passing and ball-carrying abilities. Ranking in the top 99% for passes attempted per 90 (88.63) and progressive passes per 90 (9.04) compared to other centre backs in world football. Inacio's ability to break the lines with his passing from the back allows Sporting to miss the midfield at times and progress the ball into dangerous attacking areas quickly with fewer attacking actions.
Inacio also ranks in the top 97% for progressive carries with 1.90 per 90, which allows him to drive into midfield and break the press from the front of the opposition. This is an extremely positive ability for a centre back as it makes it hard for the opposition's pressing patterns and can cause opponents to make adjustments.

Photo: Brazil Scout Premium YouTube Channel
Here is an example of Inacio's passing range and ability to switch the play, in this example, the opposing defence is tilted towards the left-hand side of the pitch, and this leaves the right flank switch open, and the passing ability of Inacio allows Sporting to exploit this space with a switch of play, which puts them into a dangerous area for a cross.
Progressive passing from central defenders is becoming an in-demand quality for top European sides, with an emphasis on ball-playing defenders, and the ability to play out from the back becoming more required for top teams' play styles. And Inacio fits the bill, he is a left-footed central defender, who is extremely comfortable on the ball, has excellent progressive passing, and can drive with the ball to elevate pressure.
Inacio ranking in the top 98% for assists (0.11 per 90) and shot-creating actions (1.98 per 90), shows the influence he has on the Sporting attack, even from defensive areas. Whilst Inacio is highlighted for his passing actions and ability to drive with the ball, it is important to note his defensive capabilities too as they are another asset that makes him extremely strong. He completes 1.71 interceptions per 90, 1.48 tackles per 90, and 0.95 blocks per 90. He is also rated extremely strong at challenging opposition dribblers as he tackles 0.87 dribblers per 90 and challenges 1.56 dribblers per 90.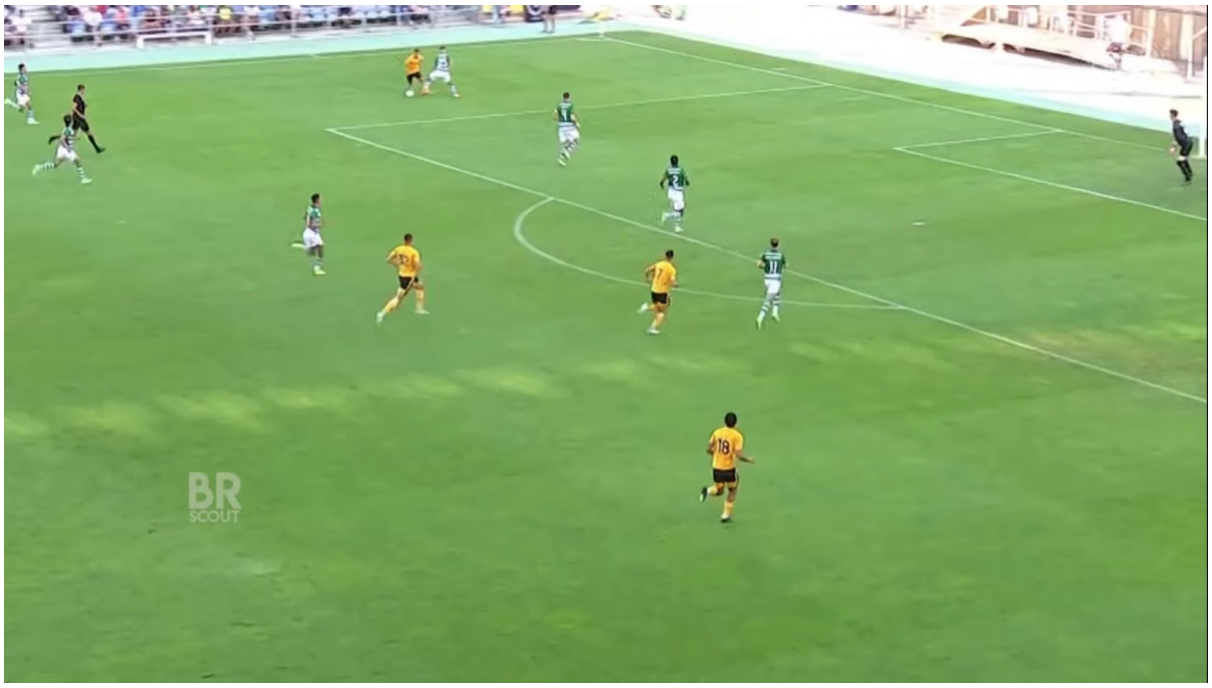 The above figure is an example of Inacio standing up the opposition dribbler, ready to then pounce and poke the ball away as the dribbler looks to cut inside and beat him. Inacio is incredibly well-balanced when jockeying an opponent and has good agility in order to track the dribbler's movement before making the decisive challenge.
In conclusion, Goncalo Inacio is already showing signs of being an elite central defender at only the age of 21, and after his stellar season with Sporting it is expected that top European clubs will be interested in the young Portuguese centre back, especially top sides that value the ability of ball-playing defenders.
By: Connor Holden / @ConnorHolden00
Featured Image: @GabFoligno / Jean Catuffe / Getty Images