Player Analysis: Goodman Mosele
Since making his PSL debut for Baroka in August 2017, Goodman "Pelele" Mosele, a graduate of Baroka's MDC (reserve) team has gone on to make 55 appearances for Bakgaga Ba Ga-Mphahlele in South Africa's Premier Soccer League.
His breakthrough season came in the 2018/19 campaign, where he made 20 appearances, 18 of those being starts. Last season also saw him remain a main feature in the starting 11, managing to start 21 matches out of his 22 PSL appearances throughout the season. 
Mosele is a pure number 6, often lining up on either side of a 2-man central midfield, usually in flat 4-2-2 (double 6), alongside Kampala or Gerald Phiri Junior. He is a mobile player that moves everywhere around the centre circle, tasked with advancing the ball into threatening positions, courtesy of his impeccable vision, range and passing ability.
However, those are not his only abilities, as the 20 year-old is capable of managing all four moments (attacking phase, attack-defensive transition phase, defensive phase and defence-attacking transition) of a football match. But just how well does Mosele manage the four moments of the game? 
Attacking Phase
In order to properly assess how much Mosele contributes to the attacking phase, we're going to consider various facets: his ability to break the lines; long passing, passing the ball into spaces (behind or between the lines), and advancing forward with the ball at his feet.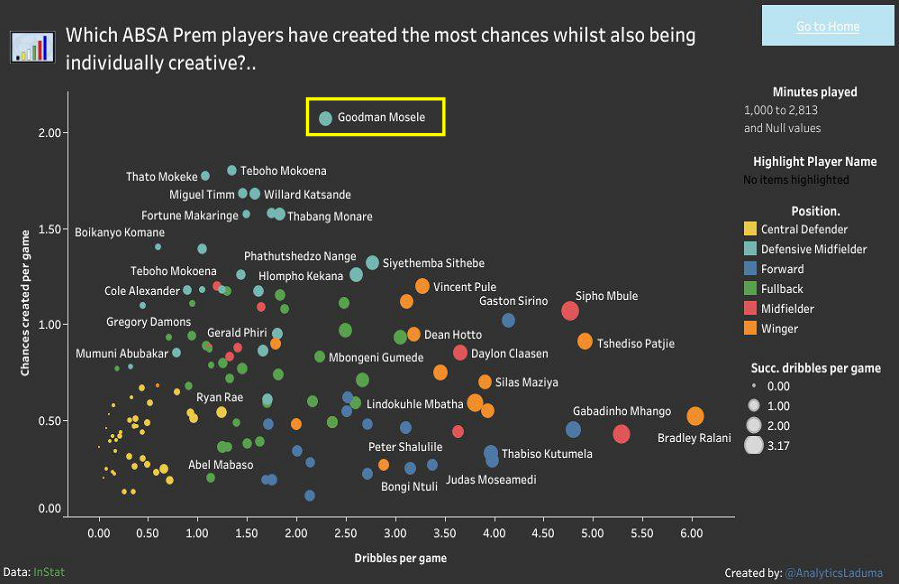 Figure 1: Chances created and successful dribbles per 90mins. By, @AnalyticsLaduma
In terms of chances created per game by players who have played more than 1000 minutes in the PSL, Goodman Mosele outperforms every player in the league – creating more than two chances per game.
Although his goal contribution is near non-existent, he has a terrific eye for a pass that can split defensive lines, in order to create crossing opportunities for wingers or centre forwards that are running the channels.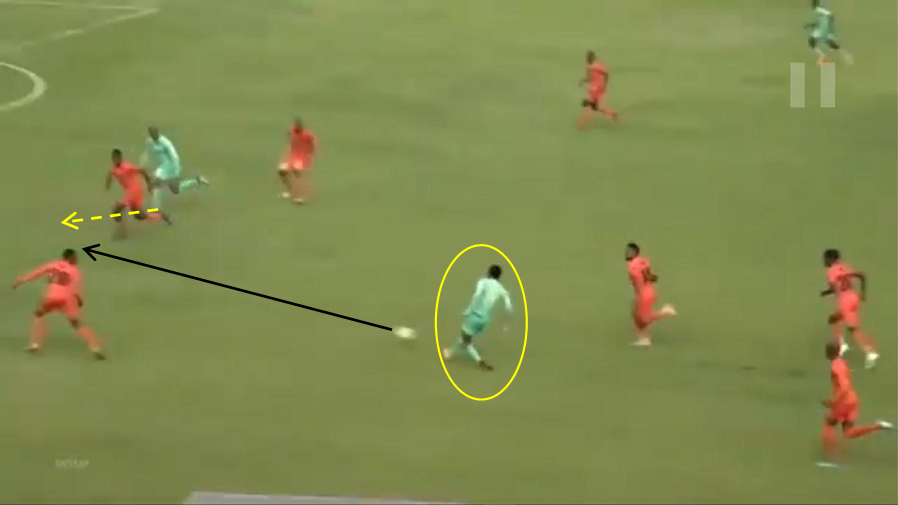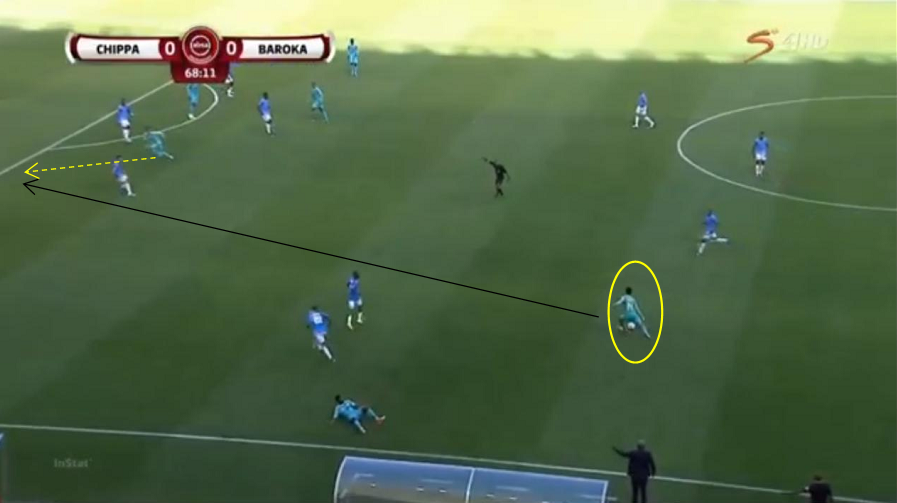 In most cases we would see attackers making runs off the shoulders of the defenders and in behind the defensive line, whenever he is in possession and has time on the ball. This is because they know he has the vision and quality to see their runs and play them through. With clinical players around him, his defence-splitting passes would translate into assists.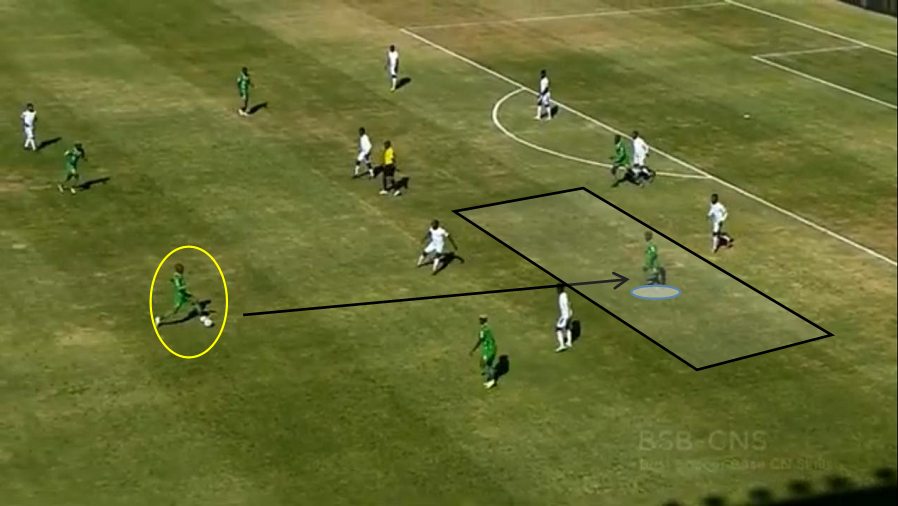 Against well-organised teams that prefer to defend with two banks of four, with a midfield line that makes it hard for him to thread balls in behind the defensive line, Mosele has the quality to identify and play progressive passes in between the lines.
In the modern day game, central-midfield players are no more just tasked with playing side-way passes and rotating ball possession from one side to another. Breaking lines (against low-blocks) with vertical passes into players roaming in between the lines has become increasingly important.
Receiving and playing in between the lines allows the ball possessor to receive on the half-turn and face the last line of defence, which allows him to either dribble past a defender to go through on goal or to slide a pass to a player making a run behind the defensive line.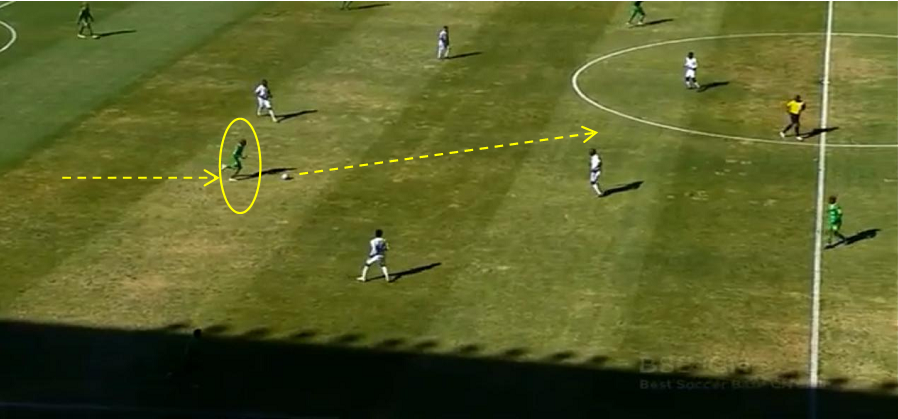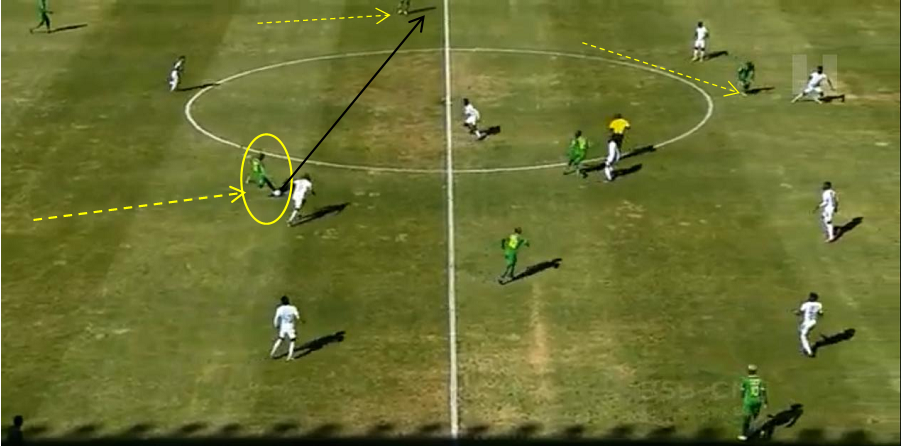 In the above illustrations, we can see him using his ball carrying capabilities to advance up the field and gaining territory, before spreading the ball out wide to the left back. Attacking the space ahead of him, and gaining ground helps him get closer to his attackers. Therefore, making it easy and less risky to try to make a pass in behind or to players in advanced positions.
Ball carrying from deep positions, especially when the opponent is not interested in pressing the ball carrier, allows fullbacks the time to move up the pitch into wide advanced areas. This triggers wingers to come inside to become central threats in the half-spaces. The inverted wingers also provide numerous vertical passing options in central areas behind the midfield/defensive lines.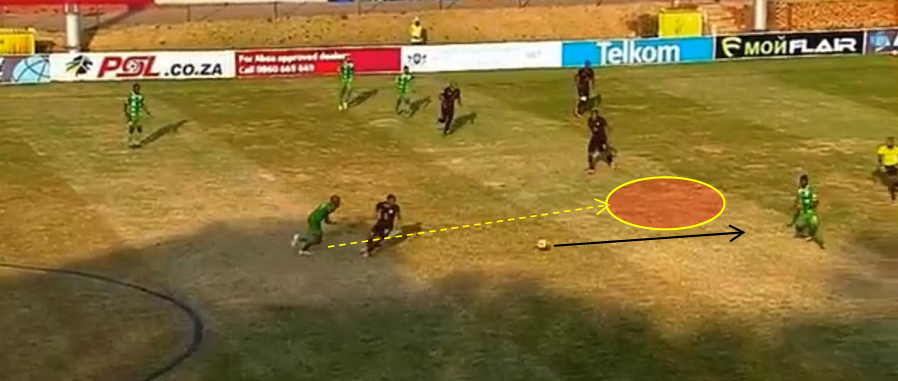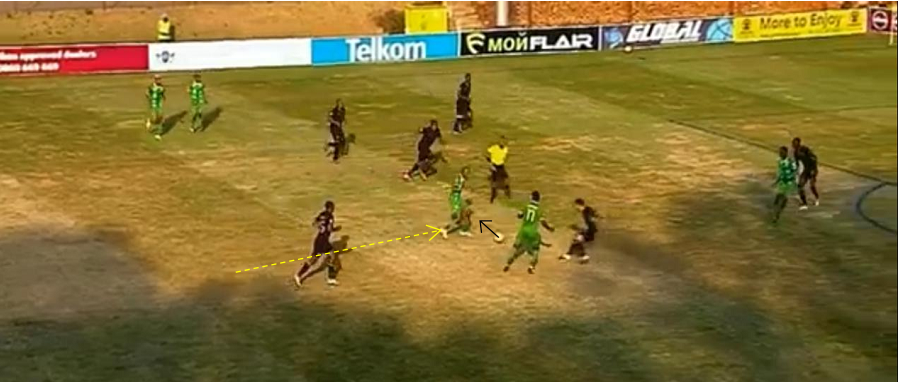 In the figures above, we can see Goodman Mosele passing forward and quickly running around and past Parker to receive the ball back in an advanced and open space. His trademark has to be one of losing markers using players ahead of him to pass, move and receive. These kinds of actions facilitate for the ball to move up the pitch through quick and effective passing and movements.
Often being the deepest of the central midfielders, he is at times tasked with circulating the ball from one side to another, so as to bring the fullbacks into play. Shifting the ball horizontally is not always a negative move, this kind of action gives fullbacks opportunities to receive the ball out wide and cross into the box.
This kind of action forces the opponent to shuffle across to try to deny the fullbacks time on the ball. When shuffling across, the opponents tend to open spaces in central areas and also lose sight of attackers – giving them chances to make runs from the defenders' blind spots.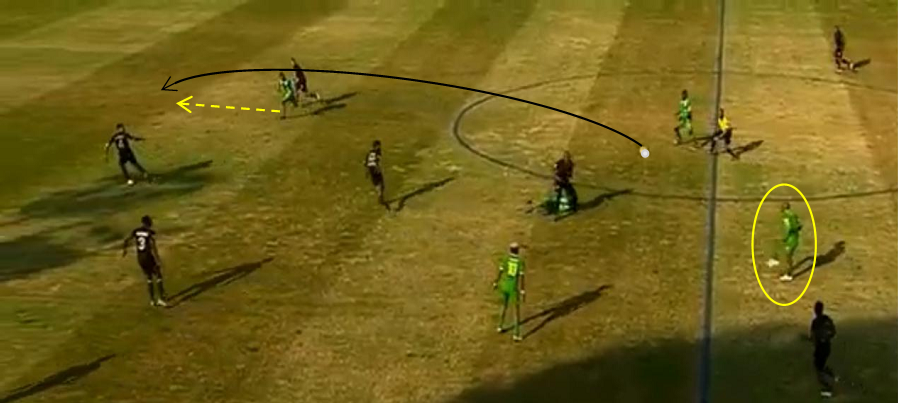 Naturally when playing against bigger teams that press high and want to be on the front-foot, we would often see Mosele dropping to play deeper than usual. This sort of action allows him to easily collect short passes from the defensive line before using his vision and range to play lobbed passes behind the opposition's high-line.
Mosele also has a spine-chilling powerful right foot which he occasionally releases shots from range. However, most of his shots are too central and are often parried away by the goalkeeper. 
Defensive Transition Phase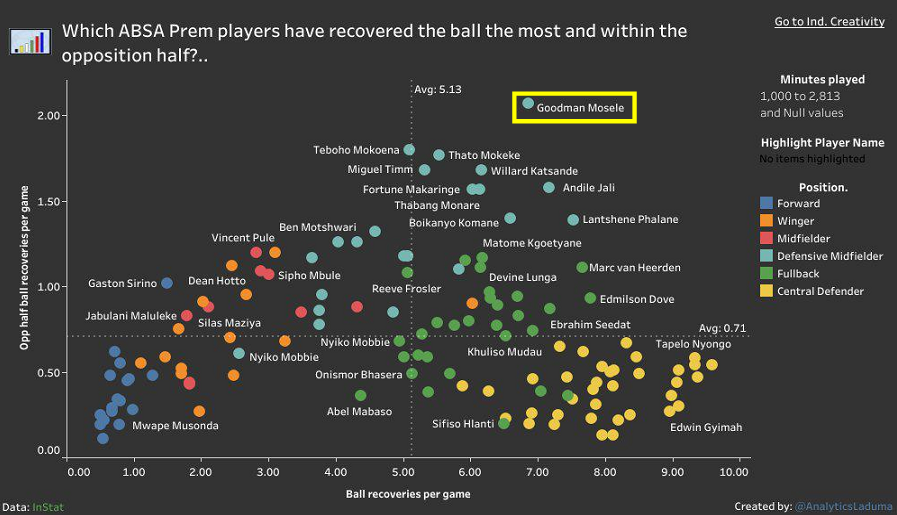 Data: ball recoveries per game and ball recoveries in the opposition's half per game from the 2019/20 PSL season . By: @AnalyticsLaduma
The 21 year-old stands alone in terms of balls recovered in the opposition half per 90 minutes. This is consistent with a player that is always near the ball when his team is in possession – allowing him to counter-press and break down attacks whenever players ahead or around him lose possession of the ball. He also managed an average of just below seven ball recoveries per 90 minutes.
 Mosele is a tough tackler and never shies away from 50/50 situations. Under former Baroka mentor Wedson Nyirenda he was used more as a screen for the back four, helping out the defence, allowing Mdantshane play in more advanced areas.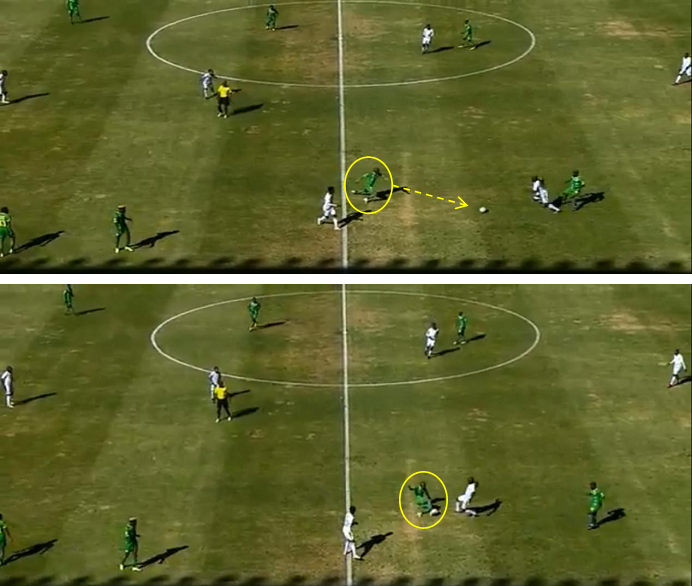 In the above illustration, we can see Mosele using his explosive pace to arrive early at a 50/50 situation to successfully win the ball and break down a possible attack. He covers the ground quickly and has great stamina, attributes similar to those of the great Hlompho Kekana.
In most cases, we see defensive midfield players giving the ball away immediately after regaining possession for their sides. However, that is not the case for Goodman, his composure and quality on the ball often allows him to calm frantic situations down, before playing a defence splitting pass or off-loading the ball to a teammate in space.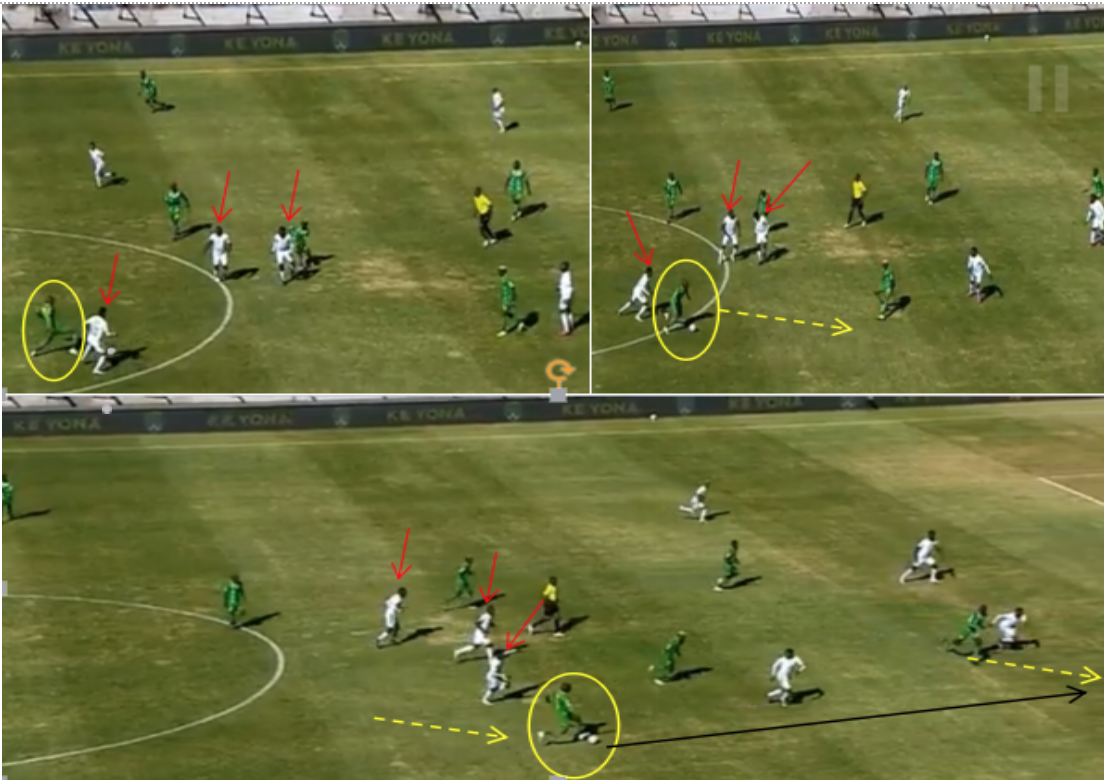 In the illustration above, we can see Mosele successfully winning the ball in the middle of the park, where he gets away from three opposition players. After getting himself out of trouble, he then has the vision and quality to slide through an attacker that is making a off the shoulder of the defender.
He is a player that can easily get away from pressure that is coming from the opponent – no matter the number of opposition players around him. He can be trusted to retain ball possession in high pressure situations – through cameos of graceful touches and movements with the ball at his feet. 
Defensive Phase
As good as Mosele is in attacking phases, he is equally capable in defensive phases. Standing at 1.76m/5'9'', neither is he the tallest of players, nor the strongest. However, he makes that up with countless other attributes that allow him to put in a proper defensive shift in front of the back four. 
His mobility and sharpness enables him to act as a shield in front of his centre-backs. He is also capable of cutting out passes played into the space in between the midfield and defensive lines. He is a good reader of the game – cutting threatening passes played into central players is one of his forte. He also possesses the speed to track back and cover for his centre-backs when they are beaten for pace or skill.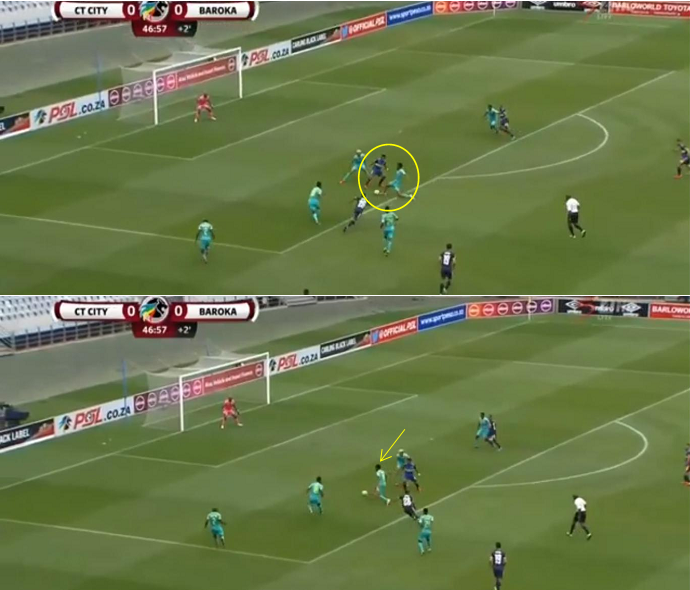 In the above illustrations, we can see Mosele identifying a threat posed to his centre-back and quickly stretching to engage a tackle before the attacker could even have time to turn and take-on the defence or link-up play with other attackers.
His aggressive nature of defending makes him joy to defend with – balls often break loose after he challenges, making it easier for his team-mates to just sweep up after him.
Attacking Transition
Against more dominant opposition, where Baroka tend to sit back, transition from defence to attack is very crucial. However, in order to successfully transition from defence to attack, a team needs to play through/around a counter-press.
This action can be achieved through good passages of quick passing or having press-resistant players, that can bypass a press through excellent ball-carrying.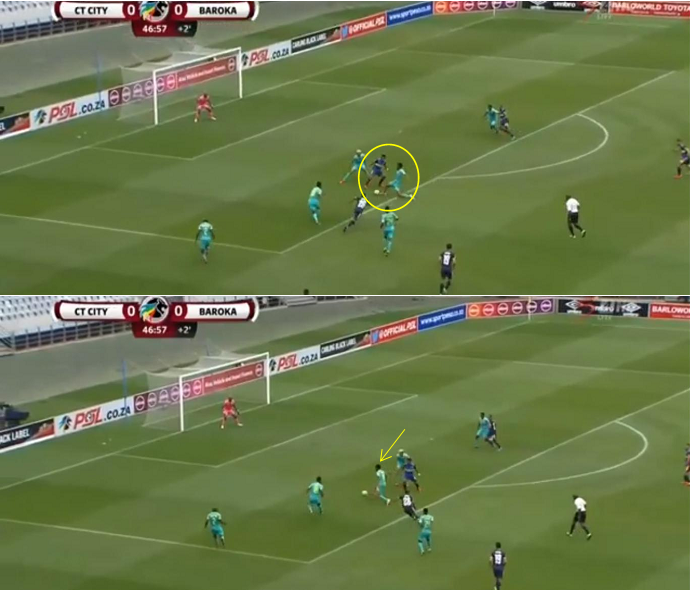 In the illustration above, we can see an opponent trying to apply pressure to prevent Baroka from launching a counter-attack. Mosele was able to see him coming, with a slight drop of the shoulder and close control, he was able to lose his marker. 
Having a press resistant player that you can rely on in transition is very important in the modern day, because more teams have increasingly been seen making use of counter-pressing.
Pressure Resistance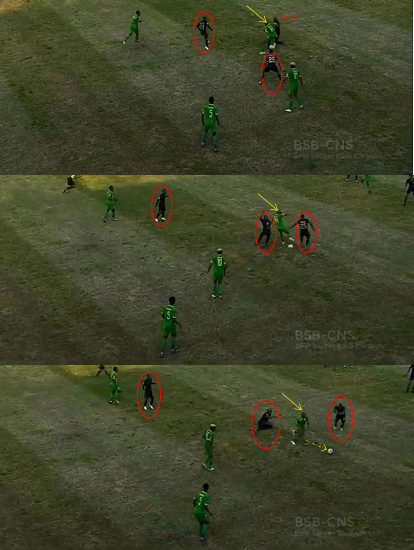 In the illustrations above, we can see Mosele working his way out of pressure that is coming from three opposition players. He is a player that has a supreme relationship with the ball. He has the ability to manipulate ball possession in tight areas to create space for himself.
In a game of 11v11, having one player being occupied by three opposition players means that the player in possession has two free teammates off the ball.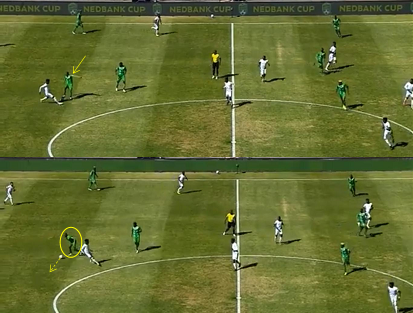 We can see him again in the above illustration, beating a player for skill to earn some time on the ball. A quick drag back and roll forward at the right speed and timing, was enough to leave the opponent chasing shadows.
Goal Contribution
Mosele has never scored a goal in the PSL and has only managed 1 assist, which came in the 2018/19 season in a 2-1 away win against Golden Arrows. In most matches Mosele is played as the more deeper player in a midfield two. Hence, he is positionally restricted from making late surges into the opposition's penalty area. 
There is no doubt that he has an eye for a pass. However, he doesn't have team-mates that can consistently bury the chances that he manages to create.
Conclusion
Goodman Mosele is an all-action central midfielder that can manage game phases at a very high level. However, he does not contribute enough in the final-third, that is down to restrictions such as positioning, hopefully the arrival of Themba Chauke (CDM) will give him the license to surge forward and get at the end of things. Although he usually plays that last pass before the assist, in instances where he does play the final pass, he needs players that have the quality to finish them off.
Last season, Baroka scored 19 goals in 30 matches, that further shows how much Baroka needs players that can get at the end of high quality chances. With better players alongside him, Mosele has the qualities to show that he is one of the best all-round midfielders in the country.
By: Hamza-Sello Ledwaba
Featured Image: @GabFoligno