Player Analysis: Hakim Ziyech
In February 2019, FIFA leveed Chelsea with a one-year transfer ban after the English club was found to have breached international regulations in relation to third-party influence and youth player registration.
While Chelsea were able to register Christian Pulisic, who they signed nearly two months prior to the ban before loaning him back to Borussia Dortmund for the rest of the season, and Mateo Kovačić, who they signed from Real Madrid on loan with an option to buy at the start of the 2018/19 season, they were prevented from signing any other players until February 2020. Shortly after their ban expired, Chelsea announced their first signing of the upcoming season, purchasing Ajax's Hakim Ziyech for €40 million plus bonuses.
Although Ziyech has mainly operated as a right winger in Erik Ten Hag's 4-2-3-1, he has the close control, vision, and passing precision to play in the #10 role. In addition, he is a dangerous shooter from distance with his powerful left foot, usually taking positions to shoot at the far post from the right side of the box.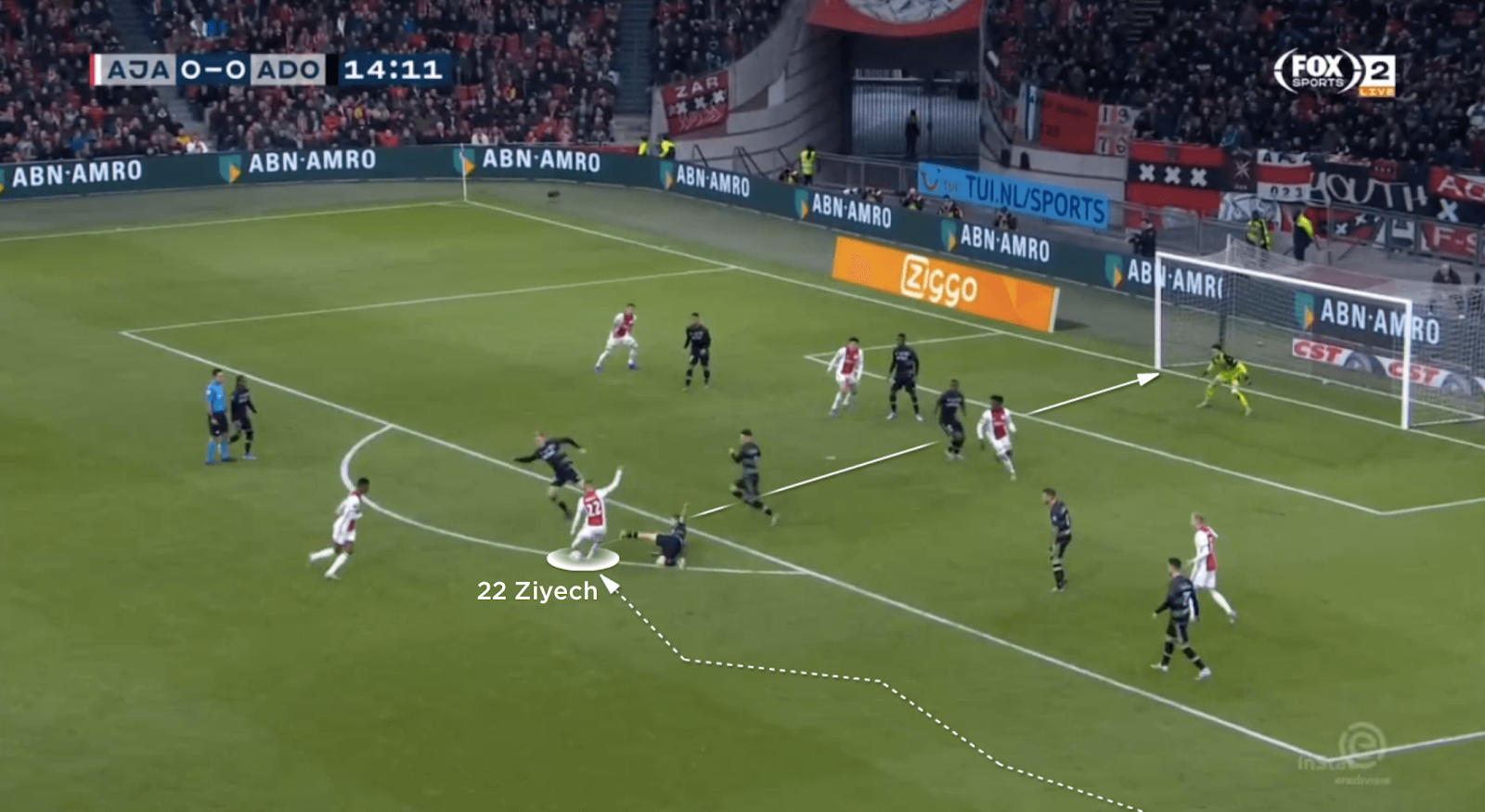 Photo: The Coaches' Voice
Being the technically strong attacking minded player that he is, Ziyech roams all over the field. However, he mainly tends to cut inside from the right flank and take up positions in the half-spaces and central positions, where he will often look to cross the ball or attempt a through ball. 
In these positions, Ziyech plays as more of an inverted winger, allowing his teammates on the opposite end of the field to make darting runs in behind the defense and enabling the Morocco international to play in-swinging crosses into the box or switch the field of play to create more space.
This kind of movement by Ziyech also allows for the fullback on his side (typically Sergiño Dest or Noussair Mazraoui) to push into advanced positions, allowing for ample width on his side and providing him with an easy passing option.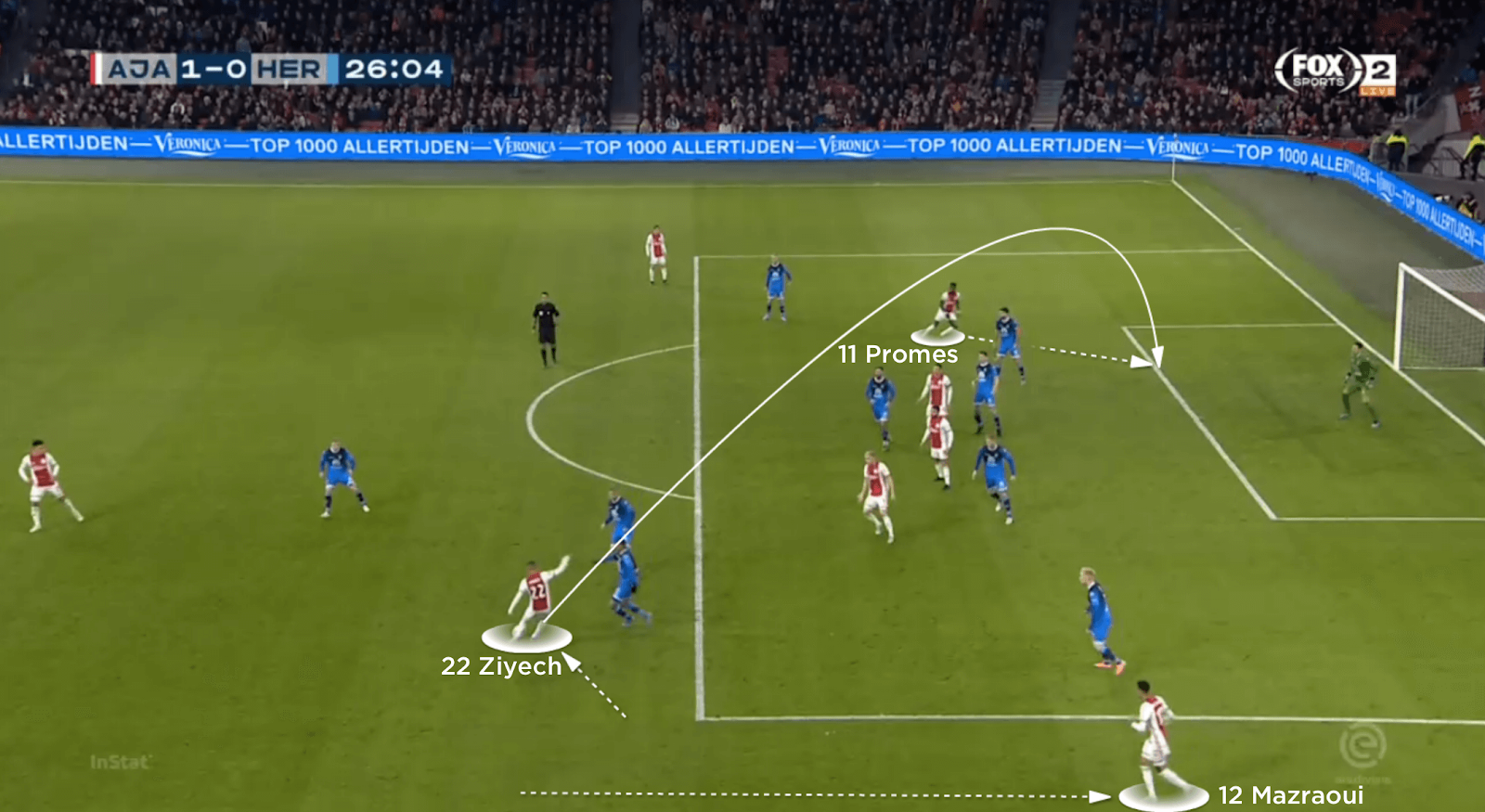 Photo: The Coaches' Voice
Although Ziyech is not known for his tackling ability, he doesn't shirk his defensive duties either. Playing in Ten Hag's high-pressing system, Ajax was drilled in pressing their opponents in their own half and winning the ball high up the pitch.
Ziyech flourished in this system, as this aggressive style of play allowed him to showcase his engine and work rate. However, in order to best analyze what difference Ziyech can make to the Chelsea squad, it's important to compare the difference in his output relative to Chelsea's long-standing right winger: Willian.
The Brazilian ended his successful spell at Chelsea this month, joining crosstown rivals Arsenal on a free transfer. While he constantly split opinion among the fanbase during his seven years at the Stamford Bridge, he was a full-fledged starter under managers with vastly differing styles such as Antonio Conte, José Mourinho, and Maurizio Sarri. It's no surprise that Chelsea manager Frank Lampard desperately tried to convince him to extend his stay at the club, even with Ziyech's arrival already confirmed.
Since joining from Anzhi Makhachkala in 2013, Willian played a supporting role to star forward Eden Hazard, with a focus on staying wide, beating the opposing fullback, and using his sheer pace to drive forward before supplying a dangerous cross for his teammates to latch onto.
As a result of their distinct playing styles, different metrics from their 2018/19 season will be used to represent the tendencies and strengths of each player in games. We have decided to use the 2018/19 season to compare the two players due to the fact that the 2019/20 Eredivisie season ended with nine league matchdays left to be played, hence why 2018/19 presents a more balanced timeframe for the statistical analysis.
WhoScored shows that Ziyech takes on shooting positions much more often than Willian, averaging 5.1 shots per game compared to Willian's 1.9. On the other hand, StatsBomb shows that Ziyech averaged 0.51 goals per 90 stats for the season, while Willian's numbers stand at 0.2. Additionally, Ziyech's high shot volume put him in the 99th percentile for shots taken and in the 95th percentile for expected goals when compared with the rest of the Eredivisie's players. 
In relation to their creative styles, their differing styles also result in a different edge for each player. Willian, who is more heavily involved in possession, boasts a higher pass completion percentage of around 84%, while Ziyech sits at around 74%, with Willian playing fewer passes per game than Ziyech.
This is likely explained by the types of passes played by each player. Ziyech tends to play 2.5 crosses and 3 long balls per game, while Willian plays only 1.2 crosses and 1.2 long balls per game, and these longer distance passes and crosses into the box are more difficult to complete. However, Ziyech totaled 19 assists this season (16 in the Eredivisie and 3 in the Champions League while Willian only totaled 13 (6 in the Premier League and 7 in the Europa League).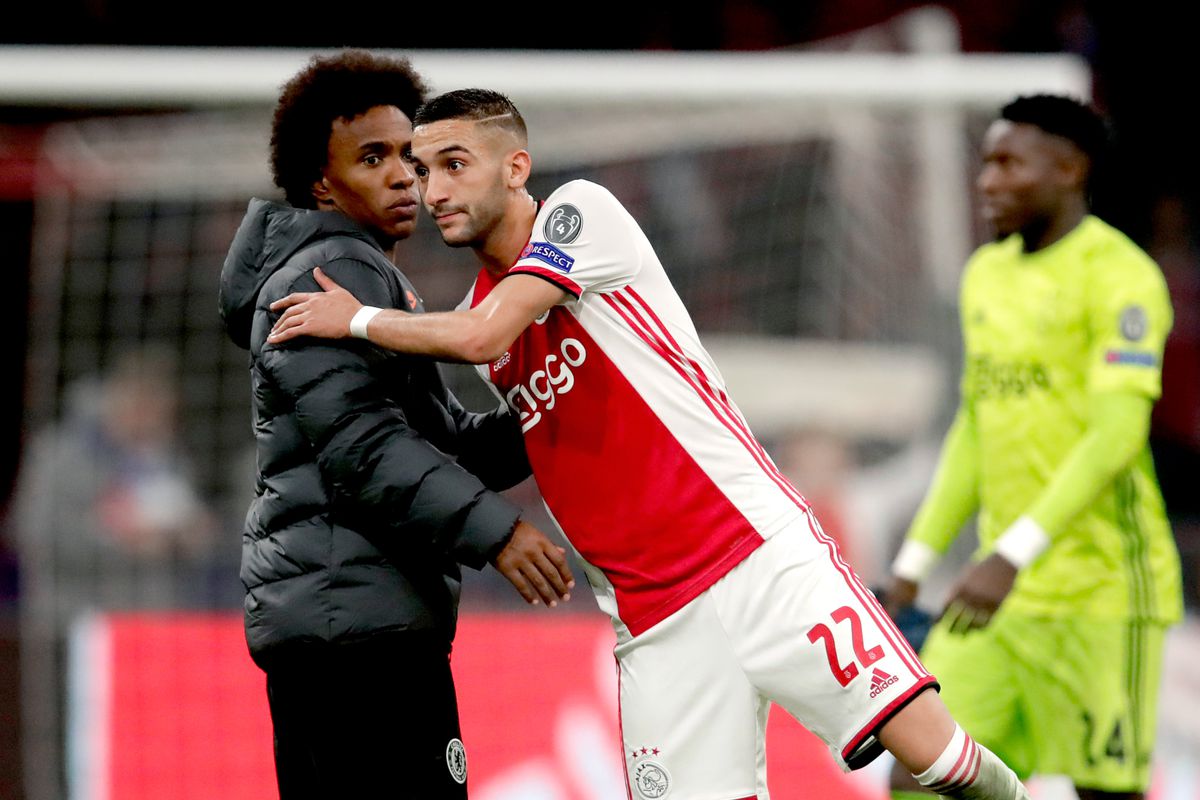 Photo: Eric Verhoeven/Soccrates/Getty Images
Their offensive output numbers also differ, as Ziyech is a more direct attacker in addition to being a central playmaker. As such, he is more heavily involved in goal-ending sequences, so naturally his Non-Penalty Goals+Assists per 90 minutes exceeds that of Willian.
StatsBomb also shows that Ziyech has 0.93 G+A per 90 this season, outperforming his expected G+A per 90 by 0.28, while Willian only has 0.48 G+A per 90, falling short of his expected G+A per 90 by .05. While Ziyech may pose a greater goal threat and a better final ball than Willian, the Brazilian is more heavily involved in his team's build-up play and is tasked with progressing the ball forward in order to support the attack.
With Ziyech starring in a perennial Champions League side in Ajax, it's easy to write him off as a 'big fish in a small pond,' as the proverbial saying goes. However, before joining Ajax in 2016, Ziyech spent two seasons at mid-table side FC Twente, where he produced similar numbers in comparison to his time in Amsterdam.
In fact, while his best season from a goal-scoring standpoint was 2018/19, in which he contributed 21 goals and 24 assists as Ajax won the Eredivisie and the KNVB Cup while also reaching the Champions League semi-finals, his best season came in 2014/15, where he delivered 17 goals and 17 assists for 10th-placed Twente. The following season, he mustered 17 goals and 12 assists for 13th-placed Twente, before sealing an €11 million move to Ajax.
But how exactly would Ziyech's offensive capabilities play out in this new-look Chelsea squad next season? With new teammate Werner and possibly Havertz, along with Pulisic, Mason Mount, and Callum Hudson-Odoi, Lampard has a plethora of attacking talent at his disposal.
Chelsea have lined up a number of ways this season, but their most common shape has been the 4-3-3.  In this formation, Chelsea's players can play a multitude of positions depending on the opposition and Lampard's tactics, making the Blues a much more dynamic side.
In Ziyech's case, however, it is most likely he starts on the right wing next season. There is a chance that Ziyech could occupy the 10 role should Lampard revert to a 4-2-3-1 as they did earlier on in the season, but for the purpose of our analysis, we shall assume that Lampard's first-choice formation next season will be the 4-3-3.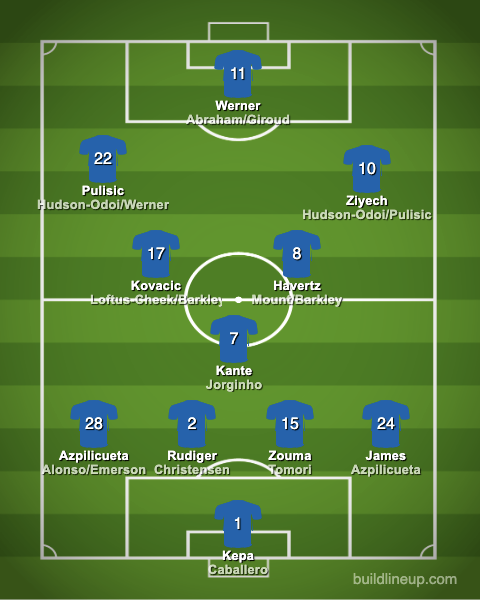 Chelsea will likely add more players to their squad this summer such as Leicester City's Ben Chilwell, but for the sake of simplicity, let's assume that Havertz is their third and final signing for this window. If that were the case, Chelsea could operate in this line-up next season; Kovačić and Havertz partner N'Golo Kanté in midfield, whilst Ziyech, Werner and Pulisic make up the front three.
Of course, this line-up is subject to change depending on the opposition and the players that Lampard has available; we could see Havertz deputize at the center forward position, or Olivier Giroud continue to start up top. While he has struggled over the second half of the season, don't be surprised to see Lampard play Werner out wide on the left whilst Tammy Abraham starts in the middle; as proven during his time at Leipzig, Werner thrives at playing off the shoulder of a physical, target man such as Yussuf Poulsen or Patrik Schick.
Finally, let's look at how Ziyech will influence the shape and positioning of the attacking players in Chelsea's system. This is is how a counterattack on the right wing may play out: Havertz carries the ball forward from the middle of the pitch, before threading in a pass to Ziyech on the right. Ziyech can now cut inside before attempting a long shot, or sliding in a pass to Reece James / César Azpilicueta who can then tee up a cross, or playing it into one of the other forwards.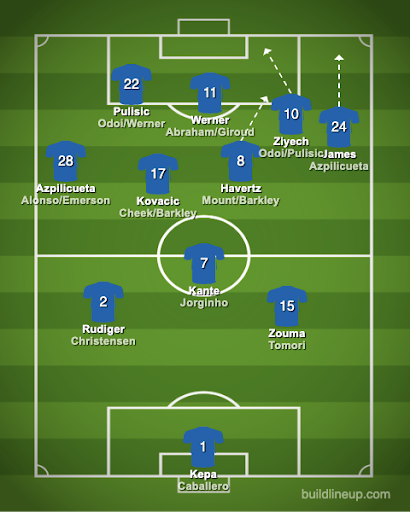 In this scenario, after Havertz plays the pass and James exploits the space on the wing, either Pulisic or Werner would assume a more central position and make a run towards the far post. In turn, Ziyech can pick his next move; play a ball over the top of the defense to an onrushing teammate, attempt a through ball, or test the goalkeeper from long range.
The rest of the team would remain high up the field to counter-press the opposition in case they lose possession. allow for a counter press in case possession is lost. However, in order to retain a defensive balance, Kanté must sit deeper, forming a back three with the other two central defenders in order to compensate for the fullbacks's advanced positioning.
This would also allow Azpilicueta or James to push forward and provide width whilst Pulisic or Werner tucks inside. Ultimately, Ziyech's introduction in the starting line-up will allow Lampard far more dynamism in attacks as well as a greater goal threat on the right flank.
Ziyech is the first signing in what promises to be a transfer window for the ages; The Blues are reportedly closing in on a deal for Leicester City's Ben Chilwell for £45 million plus £5 million in add-ons, whilst they are in reportedly advanced negotiations with former Paris Saint-Germain captain Thiago Silva, who is available on a free transfer.
Combining that with the arrivals of Ziyech and Werner and the potential signing of Havertz, Chelsea are making a strong push to reclaim their Premier League crown after a three-year drought.
By: Michael Nazarian
Featured Image: @GabFoligno / Chelsea FC