Player Analysis: Ibrahima Bamba
Ibrahima Bamba is not a name many will be particularly familiar with. He is currently enjoying his first full season as a first-team player, having only made his first-team debut in February 2022. That said, the promising youngster has emerged as a key player for the Primeira Liga's Vitória de Guimarães this season and is attracting interest from clubs throughout Europe.
Additionally, having been born in Italy to Ivorian parents, there is little doubt that both the Italian and Ivorian national teams will be hoping he commits to them should he continue to develop at his current trajectory. So, who is Ibrahima Bamba and how has he so rapidly established himself as a key player for his club?
Unsurprisingly, Bamba is still a very young player. He's still only 20 years old and, therefore, has plenty of room to grow as a footballer. Despite his young age, he has proven himself to be a high-IQ footballer with a willingness to play in any role that his coach requires. He largely plays as the middle centre-back in a back three when defending in a block, but moves forward into the central defensive midfield position when his team is in possession, similarly to a "libero".
This shows his tactical flexibility and versatility as he undertakes two separate roles simultaneously — an incredibly difficult task. At 184cm tall, he's a solid height to play as a centre-back defensively as he can be effective against crosses and high balls. He does possess a considerably slender frame but is still deceptively strong in duels. This gives him the length to be vertically and horizontally dominant against opponents whilst still being agile and mobile enough to be effective in both of his roles.
As has been indicated thus far, Ibrahima Bamba's greatest strength is his defensive prowess. Despite his aforementioned slender frame, he's a very high-volume ball-winner and approaches duels fearlessly against bigger and stronger opponents. His IQ and tenacity allow him to gain advantages in most situations, regardless of who he may be facing. Statistically, Bamba ranks amongst the very best players in Europe defensively.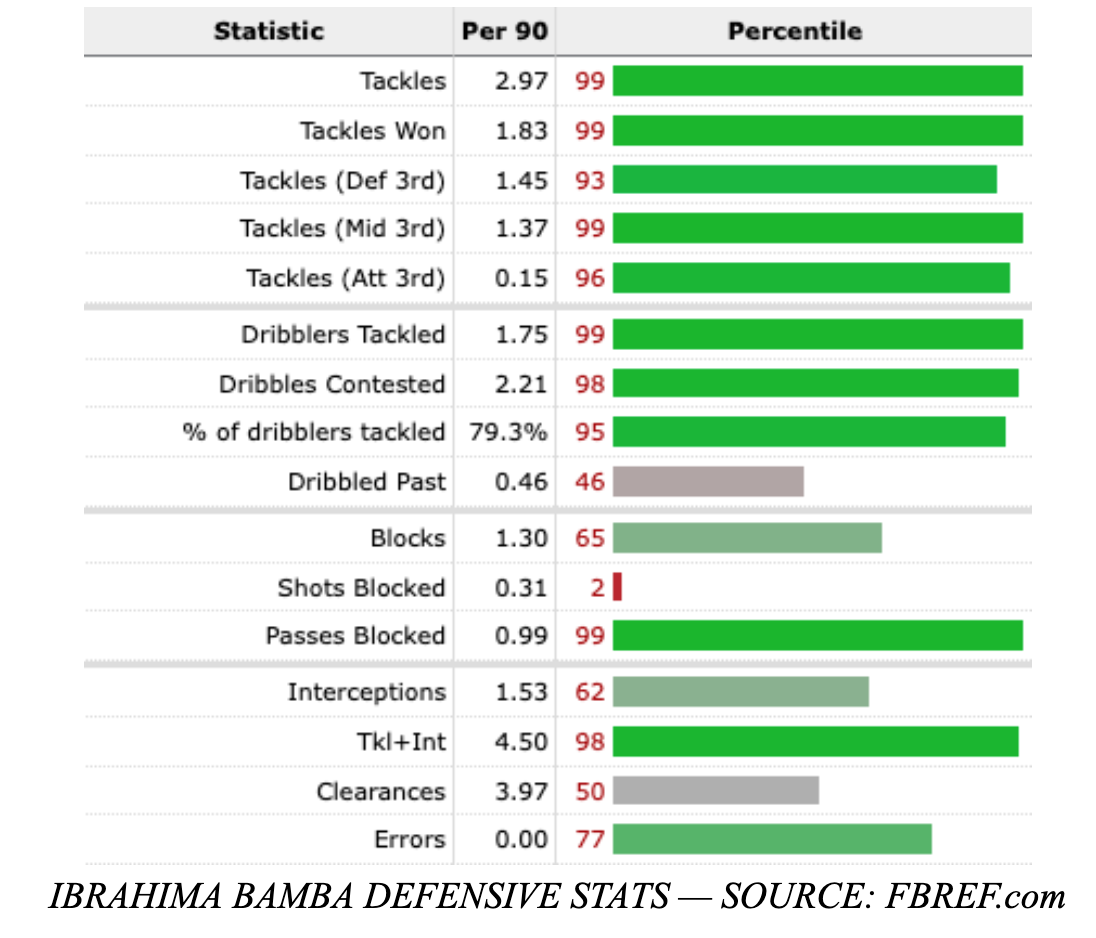 As the data shows, the Vercelli-born starlet is an all-action defensive player. His hybrid role allows him to be active in every third and he possesses the ability to be a force in every zone. He's especially proficient at tackling dribblers, where he can use his length and impressive timing to prevent forward carries into dangerous zones. This also plays a major role in his ability to make recoveries in the event that he's out of position or needs to cover for a teammate.
Ibrahima Bamba's tackle — SOURCE: WYSCOUT
Bamba is a robust but controlled tackler as exemplified by the above clip. His athleticism allows him to cover ground quickly and tackle emphatically, but he still possesses the poise required to avoid dangerous challenges and unnecessary fouls. Due to his hybrid role, he is expected to both anchor the midfield and lead the back-line, resulting in him needing to make a number of tackles throughout a single match. In addition to this, he is expected to make interceptions and break up play before it has the opportunity to fully develop. Whilst tackling is Bamba's specialty, he is still competent and effective at intercepting the ball.
Ibrahima Bamba's interception — SOURCE: WYSCOUT
The unique role in which Bamba plays may have an effect on his interceptions. He won't break up play as much as a traditional defensive midfielder and he can't step too far away from the defensive line as he operates as the middle centre-back.
Despite this, he still manages to rank in the 62nd percentile of centre-backs in Europe's big 5 leagues for interceptions, which is impressive for his role. As a whole, Ibrahima Bamba flourishes defensively and these abilities give him a platform on which to build and grow into a more well-rounded player. But whilst Bamba's defensive skills are evidently vast, how does the tough tackler operate in possession?
Bamba is a calm player on the ball. He generally receives possession in deeper zones and has displayed good press resistance in these positions when pursued by opposition attackers. He uses his body well to stay in between an opponent and the ball, and his lengthy strides allow him to create separation and cover more ground.
He's not a particularly progressive passer yet, so this is an aspect of his game he'll need to work on in order to reach the next level. Due to his slender frame and high-volume ball-winning, his long-term future most likely lies as a pure defensive midfielder and, as such, he will need to become a more dynamic passer.
This isn't to say Bamba will need to turn into Marco Verratti in possession, but his overall game would certainly be well-served by an improvement in his passing and even his ball-carrying. At just 20 years old and less than 12 months into his first-team career, he has plenty of time to work on these parts of his game, and the fact that he's so proficient defensively gives him more room to concentrate on his ball-playing abilities.
Bamba has already reportedly received interest from the likes of Arsenal, Villarreal and Atalanta; evidently, teams value his defensive acumen and overall upside. He is certainly still raw in various aspects, but his potential is clear and he possesses many of the tools needed to become a top defensive midfielder someday. Another season at Vitória de Guimarães would serve him well, allowing him to grow as a player and, perhaps, secure a bigger move in the future.
By: Lebohang Mwamuka / @lebzygold
Featured Image: @GabFoligno / Gualter Fatia / Getty Images