Player Analysis: Jack Grealish Under Gareth Southgate
One of the shining lights from England's November Internationals was Jack Grealish's prevalence as an important player for England manager Gareth Southgate. Previously, Grealish was very much on the fringes for the Three Lions after taking what felt like an eternity for him to get his first senior call-up.
Over the last few years, Grealish has divided opinions for his antics on and off the pitch. However, at 25 years old, he has matured into a key player not just for Dean Smith's Aston Villa but also for Gareth Southgate's England, and has also grown into the role model that Southgate craves from his players. This article analyses the enigmatic midfielder under Southgate, and what the future might look like for England with Grealish.
Watford striker Troy Deeney compared Grealish to Paul Gascoigne on British radio station TalkSport before England's last international of the year against Iceland. Whilst Grealish is playing more advanced and in a different system that Gascoigne played in during his England career, the similarities are clear to be seen with Grealish keeping fans on the edge of their sets with his flair and skill with the ball.
Positioning
Southgate has utilised Grealish as part of a two in behind a lone striker, as shown in the graphic below demonstrating the England team's system against The Republic of Ireland.
Grealish also operated in this position in the remaining two games for England vs Belgium in Leuven and vs Iceland at Wembley Stadium. Interestingly, the game against The Republic of Ireland featured both Mason Mount and Grealish in the same team with Mount the midfield 'eight' and in a deeper role than Grealish.
It has been speculated before that Grealish and Mount wouldn't feature in the same team due to being too similar, or simply the fact they were in direct competition for the role. Despite this, both players's versatility has given England fans reason to be positive about seeing both players in the same team.
Attacking Intelligence
When England built-up the play, especially in the game vs. the Republic of Ireland. Harry Maguire in particular favoured to be more direct with his passing using Dominic Calvert-Lewin's strength to receive the ball with his back to goal.
As a result of this Grealish, is required to roam to find space to receive the ball whilst staying relatively close to Calvert-Lewin to offer combinations. The space that Grealish picks up is a direct consequence of the midfielder's attacking intelligence. Here it shows a couple of possibilities that are in play.
Firstly, Grealish is in a position to either receive a flick on from Calvert-Lewin in space, or challenge for a second-ball in a transition. Secondly, if Grealish picks up the ball in the space he can isolate opposition right-back Cyrus Christie as it presents a dilemma for the Irish defender as to whether to apply pressure on the ball, thus leaving a massive space in behind for Bukayo Saka to exploit, or to drop off and cut the through ball behind him and allow Grealish to run at him.
Another tactical ploy used by Southgate was for Grealish and Jadon Sancho to constantly swap wings, as we can see Grealish receiving the ball on the wide-right touchline. Over the course of this month's international break, we regularly saw Grealish roaming from his position to seek space to receive the ball. Although a different style of player similarities can be drawn to Thomas Müller for Bayern Munich who operates as a 'Raumdueter' or a 'Space Interpreter' seeking to leave his formal position to look to receive the ball in space.
It seemed that over England's three games, Grealish's partner in the two 'Number ten' system reacted off of what the Villa man did and the spaces he took up, shown by Sancho moving over to the left. As a side note to this, Saka also reacted off of Grealish's movement as he became more narrower and took up positions Grealish himself was taking up before switching flank, allowing Sancho to roam to a wider and more familiar position just out of shot.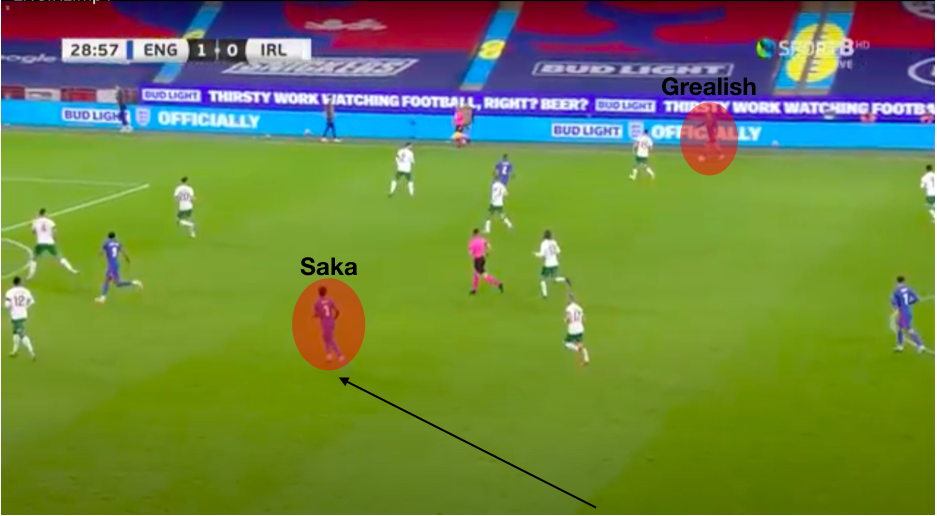 There is no question that Grealish is more dangerous in the final third, in and around the opposition's 18-yard box. Grealish has the requisite skill to dribble around players in close proximity or play a smart through ball. Also with Grealish being well-known for getting fouled regularly, it offers England set-piece chances, made more appetising by the dead-ball striking qualities of James Ward-Prowse, Mount and Kieran Trippier to name but a few.
However, Grealish has the intelligence to drop deeper in some instances to receive the ball. Despite Southgate preferring Grealish to operate higher up the pitch, service may be limited to Grealish against some teams. This was apparent in England's game vs Belgium where the Belgians aimed to stop the service to Grealish and did so for parts of the game.
Nevertheless, Grealish's intelligence allowed him to find him a way into the game for him to flourish. The photo below shows Grealish finding space deeper and operating in the 'half-space', almost as if to try and come out of the congestion of Belgium's defensive block in order to penetrate from a deeper position.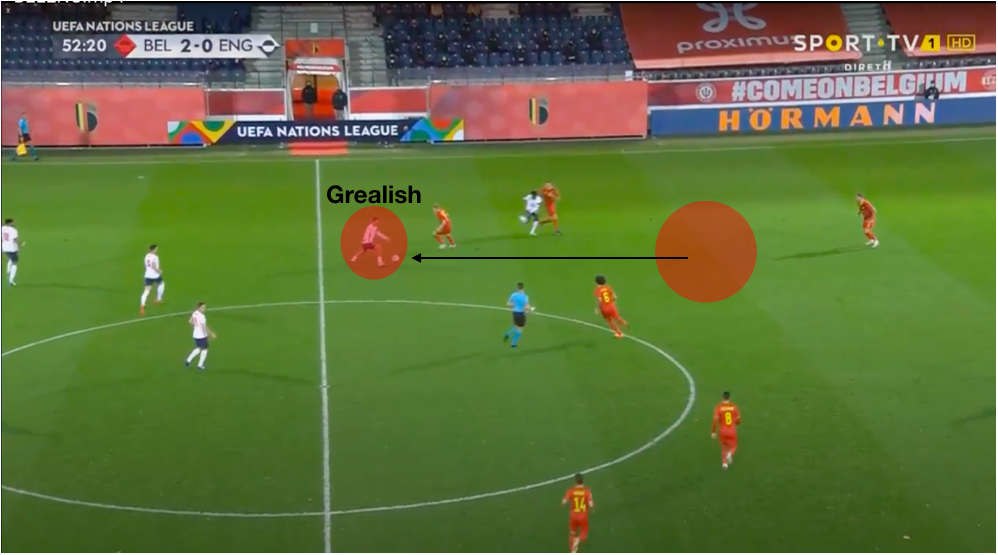 From a more technical point of view, Grealish is arguably England's greatest asset. Grealish's ability to manipulate the ball into spaces where he can attack the opposition defence after receiving makes him a dangerous asset for England going forward.
Alongside Mount, Grealish is one of England's best players at receiving the ball on the half-turn (When the player in question receives a pass on their back foot and can turn 90 degrees in the opposite direction to the pass they receive). Receiving the ball on the half turn in the areas England's attacking midfielders pick up is key for a number of reasons.
Firstly, England's intricate play in the final third relies on efficient pass and move combinations to exploit the small gaps left by the opposition when in a low-block. Secondly, receiving the ball on the half-turn with a good first touch will generally lead to defending jockeying backwards towards their goal as opposed to being able to get tight to the player receiving the ball with their back to the defence. The graphic below demonstrates the most effective positions for Grealish when receiving the ball on the half-turn.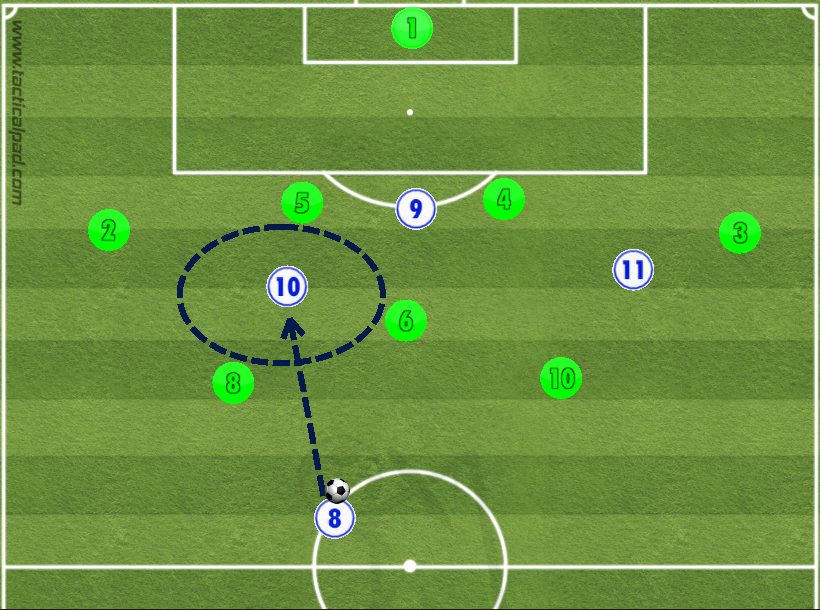 The England DNA is the English FA's pride and joy, a document that shows how The FA wants all of the England teams to play, right through the system from u16s up to the Senior team. One of the emphasis of the England DNA is to produce technically smart and proficient players. Players like Sancho, Mount, Marcus Rashford and Phil Foden have been earmarked as examples of what an English player should look like under the England DNA.
Grealish, despite playing most of his International Youth Career for The Republic of Ireland demonstrates qualities highlighted in the England DNA. In addition to his mastery of receiving the ball on the half-turn, Grealish is excellent in manipulating the ball using any surface of his body.
The first image shows this with Grealish using his foot to wrap around the ball and push the ball into space to start a dribble, a hard touch to perform given the weight of the ball and the difficulty of perfecting the skill. Grealish also demonstrates that he can receive a ball with height on it; The Villa man is able to use his body shape to move the ball to open up space, to orchestrate a dribble or make a pass.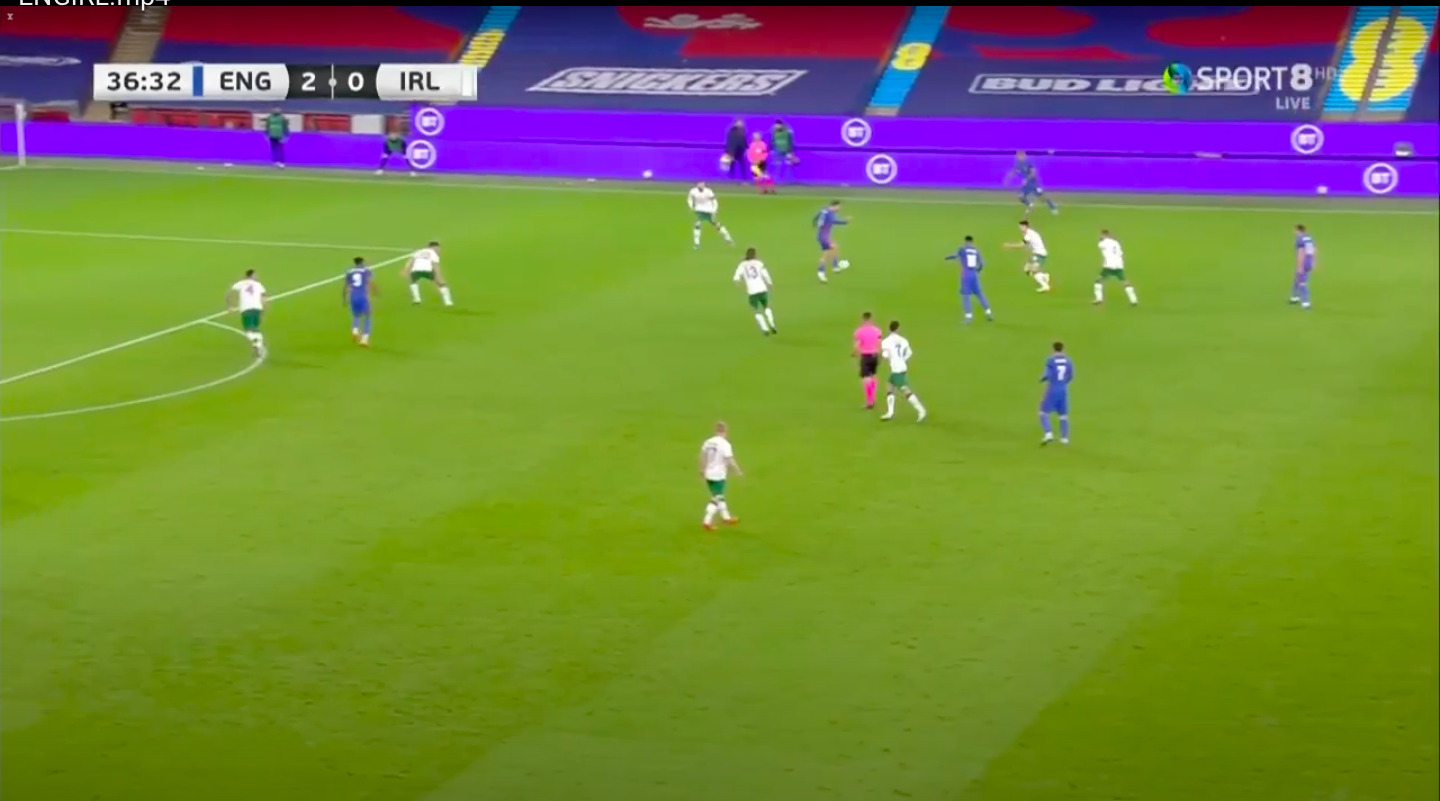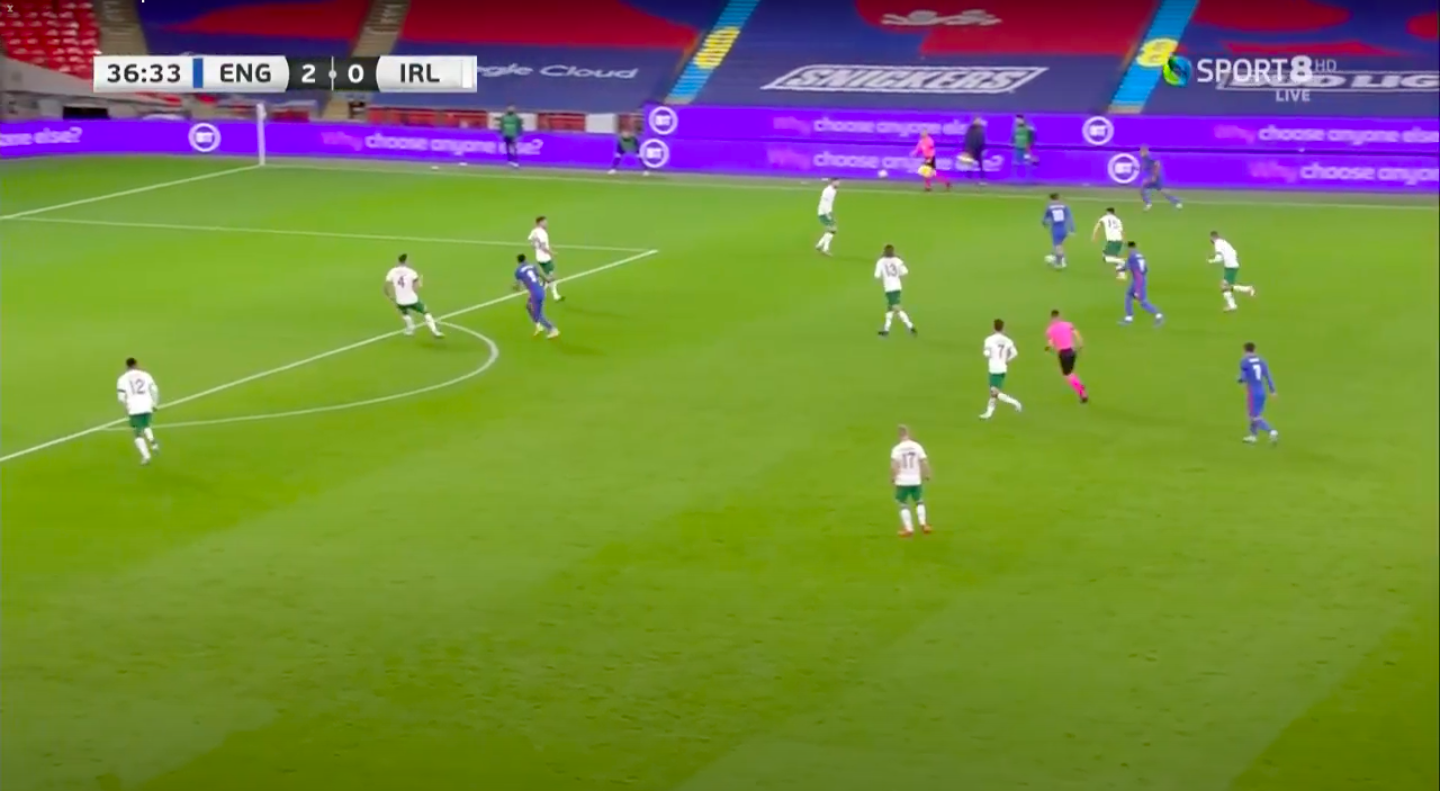 Defensive Contributions
Sometimes, players that offer flair, skill and moments of sheer brilliance are given a stereotype that neglects their work rate and defensive contribution to the collective. This stereotype is one that cannot be attributed to Grealish.
Just as he is proficient in his attacking intelligence, the man from the West Midlands does not shirk away from his defensive responsibilities. Grealish is very intelligent when the opposition defence have the ball, and responds well off of what the centre-forward does when initiating a press or trying to dictate the play.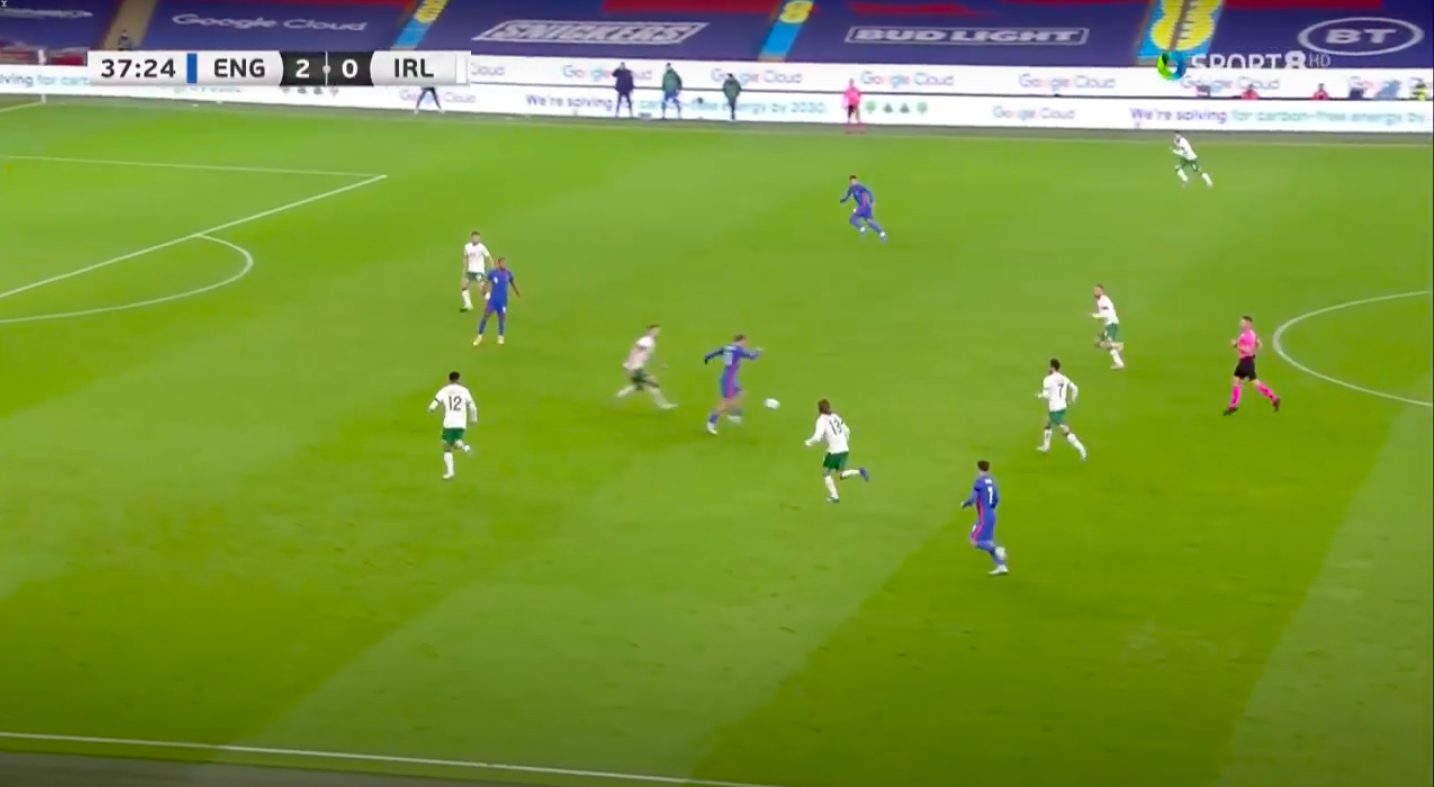 In the instance below, the temptation is to apply pressure to Belgium goalkeeper Thibaut Courtois. However, applying pressure to Courtois would have done more harm than good. The distance between Grealish and Courtois is too far to effectively apply pressure. Grealish checks over his shoulder to see Toby Alderweireld creating a passing lane to receive the ball.
Grealish shows defensive intelligence by stopping the ball to Alderweireld who has the ability to progress the ball from deep and break lines through a diagonal ball to the opposite flank or through a vertical pass into the final third. Grealish also acknowledges that Harry Kane is in a position to pick up Dedyrick Boyata.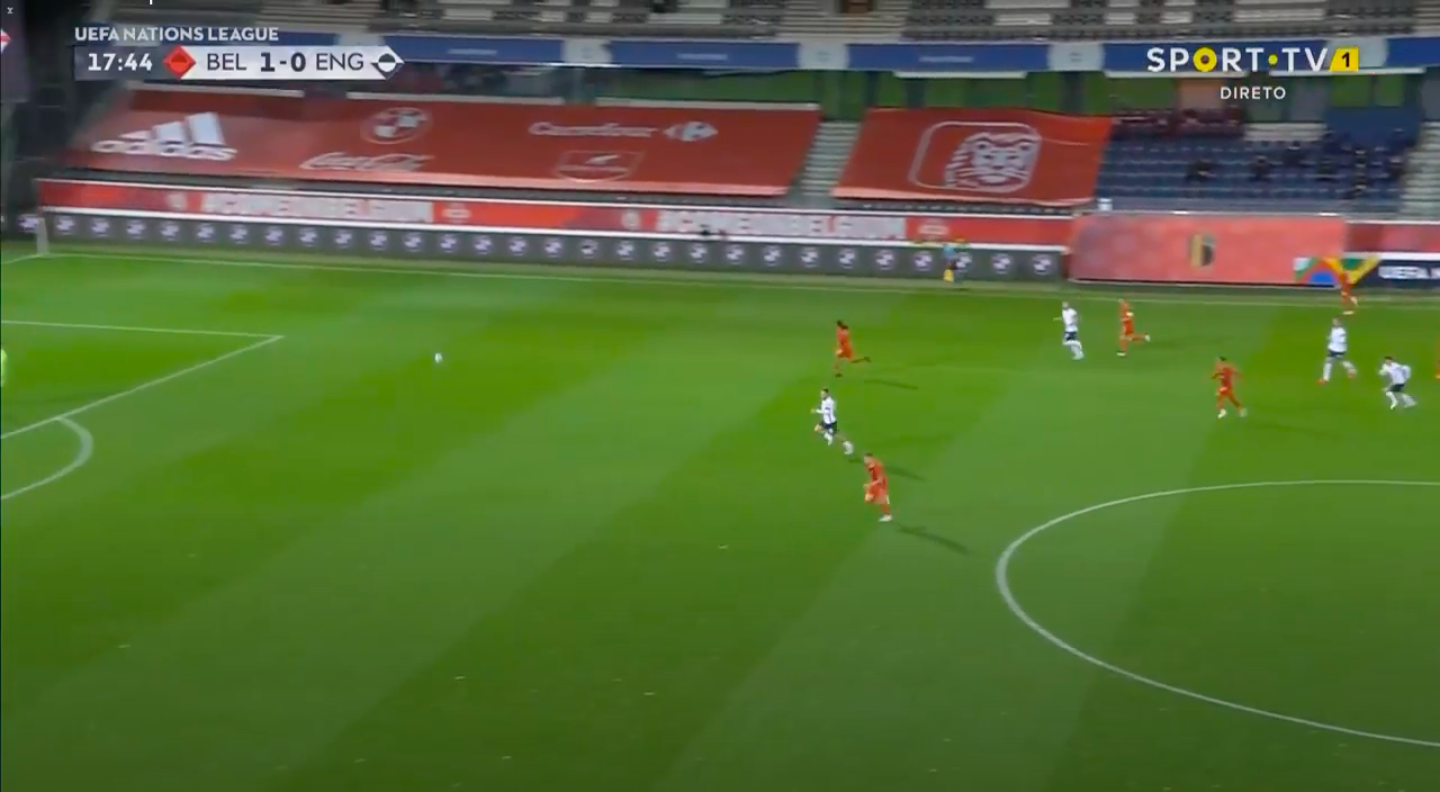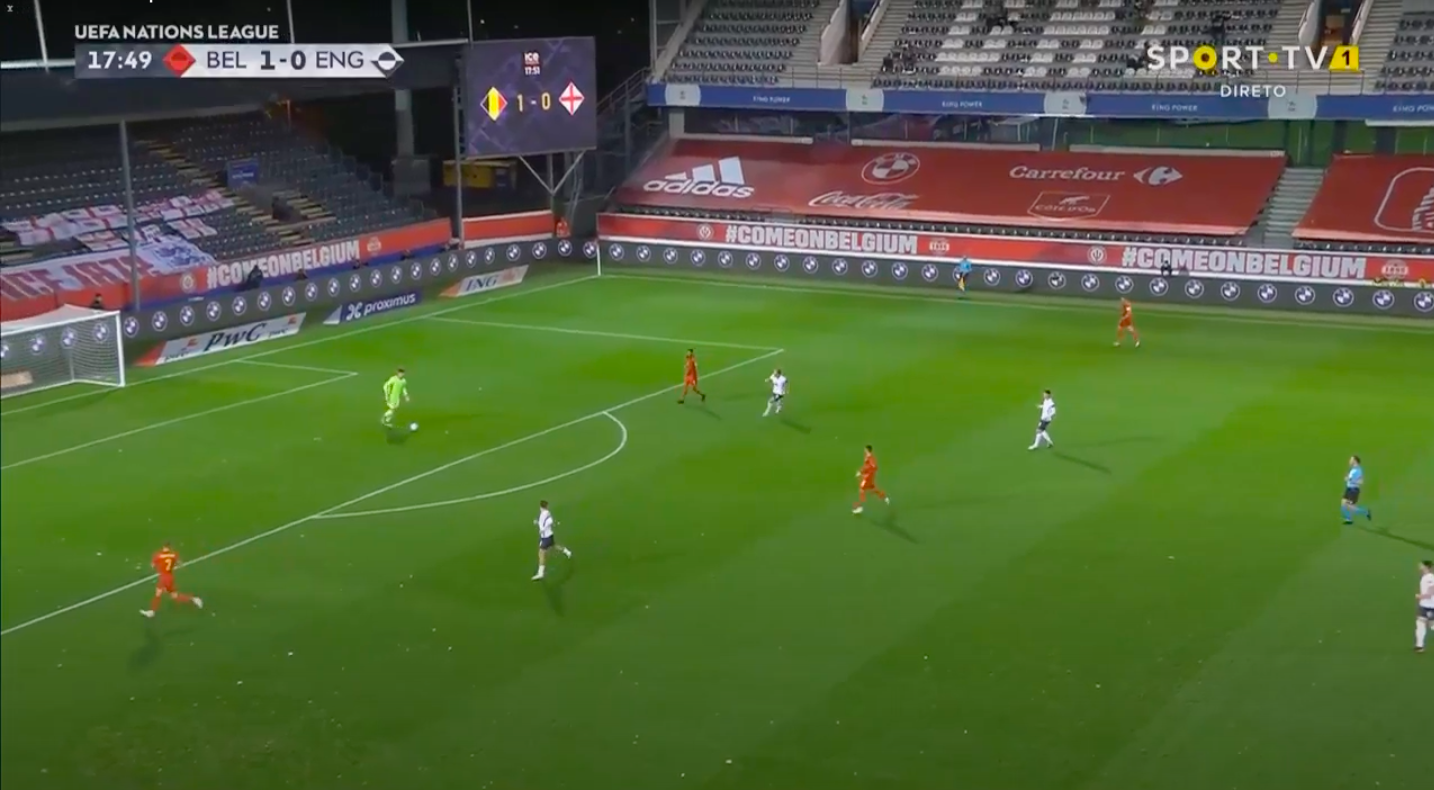 Another thing that became apparent is that Grealish was asked to present different defensive actions and positions based on opposition. Against the Republic of Ireland, Grealish was given the task of picking up more narrow positions to stop a pass into the midfield, due to the license given to Bukayo Saka to have a higher starting position and to apply pressure to the full-backs whilst Grealish marked the zonal space where a pass can be played into the centre-backs whilst stopping the progression into midfield.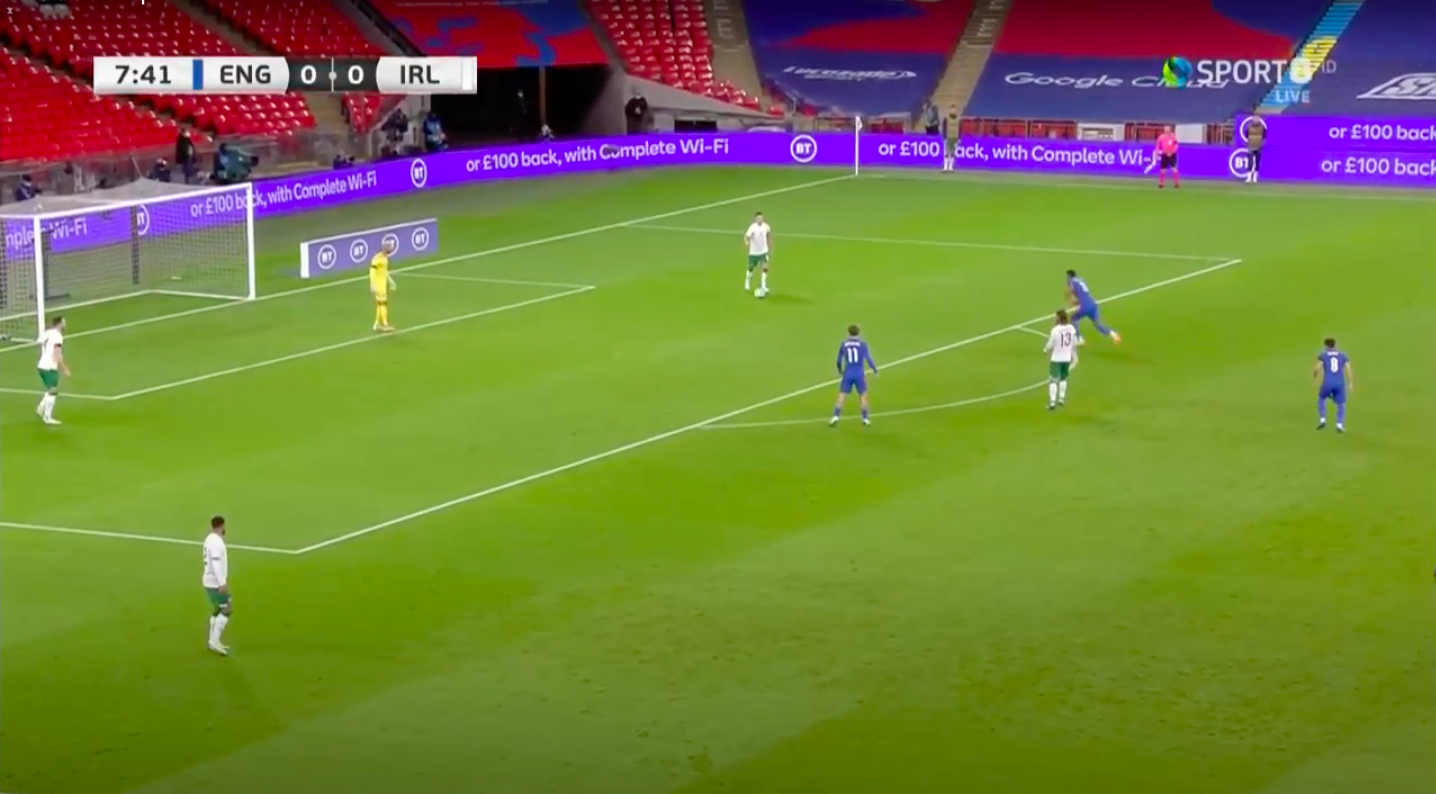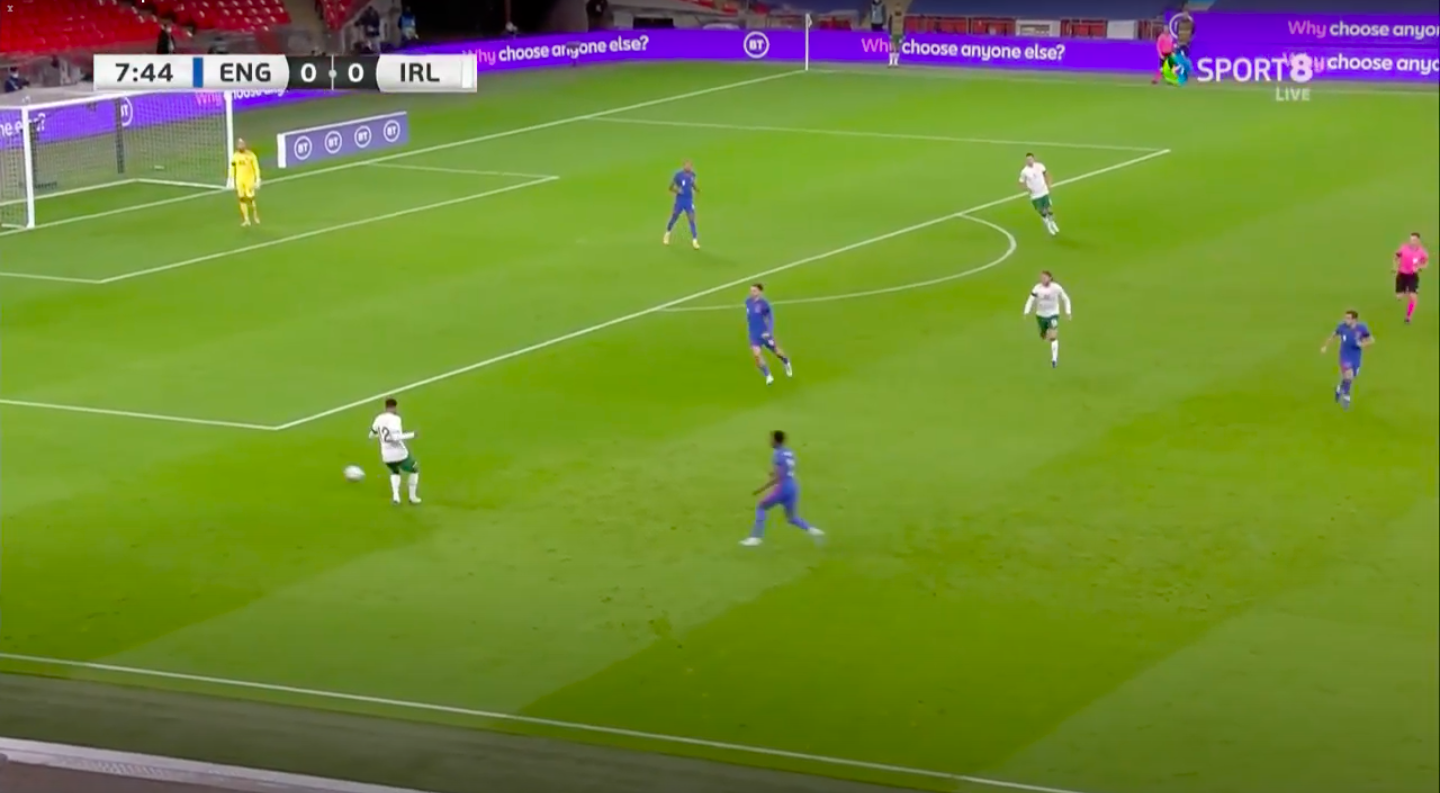 Against Belgium, however, due caution was given when out of possession in the opponent's half. Grealish was tasked with zonally marking the spaces in which stops a pass into a wider area. As such, this differs to the much narrower defensive positioning of Grealish against the Republic of Ireland.
Grealish's positioning is a consequence of Belgium's strength in wide-areas, especially with Kevin De Bruyne often shuttling to support in the half-spaces. Another reason as to why Grealish was tasked with this is because of Ben Chilwell's deeper starting position to combat the specific threat of Thomas Meunier's high starting position as well as the movement of De Bruyne on that side.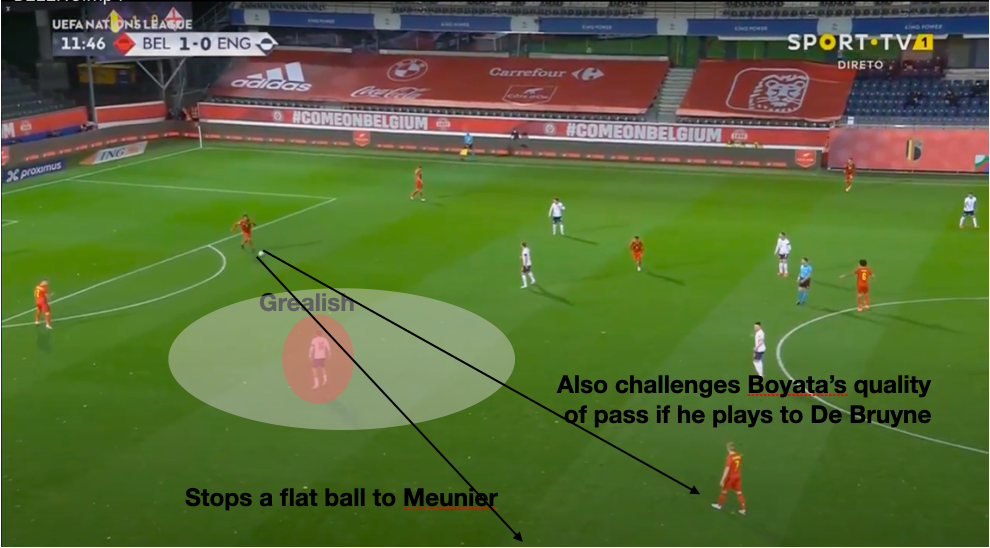 Grealish is often given license to switch flanks with his opposite ten or winger dependent on the system and in-game situation, but despite his free-roaming license, he is still tuned in defensively, filling into England's compact block on the right-hand side ensuring Trippier isn't outnumbered.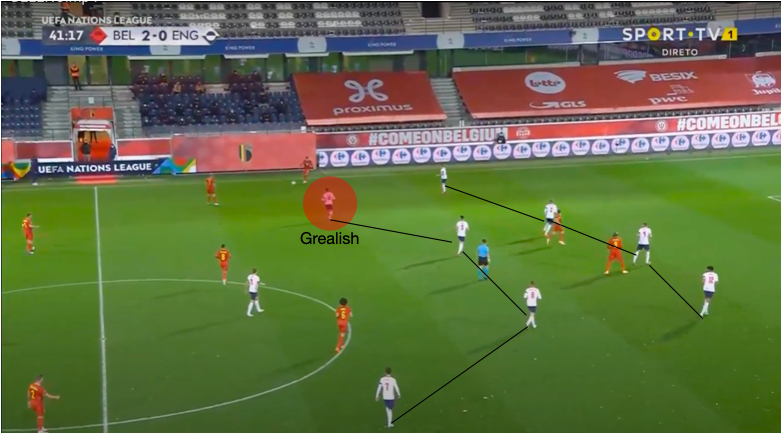 Grealish in Future England Teams
Competition for places in the England set-up is fierce currently, especially in Grealish's position under Southgate and the type of creative player he is, with threats coming from Rashford, Sterling, Mount, Foden and James Maddison. Nevertheless, Grealish's performances for club and country this season have proven that he has what it takes to thrive as a "mezzala," or a half-winger, for England during next summer's Euros.
The graphic below demonstrates the role and positions that Grealish needs to pick up in an England shirt for The Three Lions to get the best out of him. With Grealish picking up positions in the half space, he can roam to find a passing lane that is vacated by an opposition player, meaning he can receive the ball on the 'half-turn' which he is very successful at.
This is made even more realistic given the Harry Maguire's progressive passing, should he operate in the left-side of the English centre-half pairing. Grealish operating in these areas mean that he can drop deeper to collect the ball and not venture too far out of position, or alternatively if he stays higher up the pitch he presents the opportunity to play combination passes with the left-midfielder and centre-forward.
Should Grealish operate in a three-man midfield in a 4-3-3 system, a balance needs to be struck. With Grealish roaming into more advanced areas, England would need to balance with two more defensive minded midfielders. Declan Rice as a midfield 'six' and Jordan Henderson as a box-to-box 'eight' would allow Grealish to operate more 'freely' without being too wary of his defensive responsibilities with the potential for the system to rotate to a 4-2-3-1 when entering a defensive transition.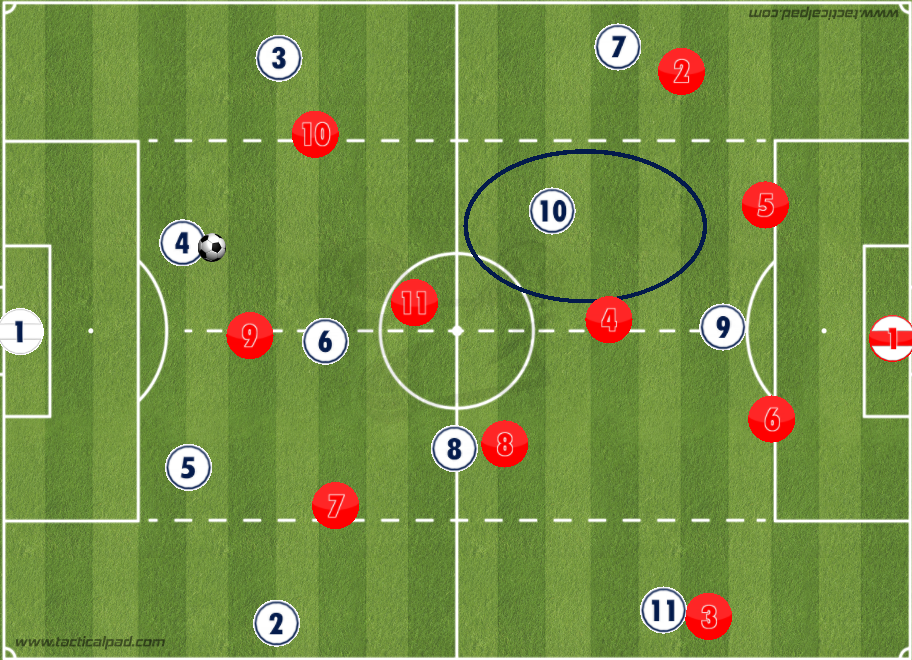 Southgate, however, seems to want to persist with this 3-4-3 system he has adopted in recent months, and it seems as though Southgate favours Grealish on the left side of a forward three, in a more advanced position. Despite this, Grealish has to compete with Rashford, both very different players. Rashford offers genuine pace and the run in behind, something which England lacked, especially against Belgium.
Whilst Rashford might be the better choice in games where space will open up behind the oppositions back line, Grealish might be the better choice for teams choosing to operate with a mid-to-low block, to try and open up defences with his silky skills and intelligent eye for a cute pass. What is for certain is that England fans can be excited about the potential for Grealish to start more games for the 'Three Lions' regardless of the position he takes up or the system that England adopt.
By: Russell Pope
Featured Image: @GabFoligno / Soccrates Images / Getty Images