Player Analysis: Jamie Bynoe-Gittens
Every season, Borussia Dortmund appear to spawn a new, exciting young player for their first-team squad. Their willingness to sign and develop teenagers and allow them to experience first-team football from a very young age is an effective tool to bolster the squad as well as making a significant profit on player sales.
In recent memory, Jadon Sancho and Jude Bellingham were both acquired from English clubs for fairly modest fees before then being sold to European giants Manchester United and Real Madrid for significantly larger fees. It appears as though Dortmund may have unearthed their next major cash cow and it's come in the form of yet another English wonderkid: Jamie Bynoe-Gittens.
Bynoe-Gittens joined Borussia Dortmund from Manchester City's academy in 2020 with the idea of initially joining Dortmund's youth setup before gradually becoming a part of the first-team squad as he was still just 16 years old at the time. Unfortunately, soon after joining the club, the youngster tore ligaments in his ankle, ruling him out of action for a number of months.
This temporarily halted his development and likely worried some officials at the club as to how this would affect his career trajectory, but he's since returned and quickly established himself as a huge prospect for Dortmund. Now 18 years old, he's an important part of Edin Terzić's squad.
Bynoe-Gittens impressed for Dortmund's U19 side, especially in the UEFA Youth League where he registered 6 goals in 5 appearances during the 2021/22 season, ultimately earning his first team debut in the same season. During the 2022/23 season, he made 20 appearances in all competitions for the senior side, 15 of which were as a substitute.
In this time, he registered 3 goals and 1 assist in just 676 minutes — an impressive return, particularly for a teenager at the beginning of his senior career. He also represented England at U15, U16, U17 and U19 levels and he certainly has the potential to become a full England international in the future if he continues on this trajectory.
The 18-year-old winger plays primarily off the left flank and likes to cut inside onto his stronger right foot. However, he's also more than capable of playing on the right wing too, presenting the opposition defence with numerous problems. When cutting inside from the left, he's always a threat to shoot, ranking in the 99th percentile for shots per 90 amongst attacking midfielders and wingers in Europe's big 5 leagues. He's able to use his impressive ball-striking and unpredictable timing to cause uncertainty for goalkeepers.
Bynoe-Gittens' goal vs. Augsburg [Sky Sports]
Bynoe-Gittens is strong with both feet, making him more dynamic and particularly difficult to read due to his ability to go both inside and outside his marker. This results in him boasting remarkable dribbling statistics.
Bynoe-Gittens' take-ons [FBRef]
The Englishman is a high-volume dribbler and does so with the flair and fearlessness of a seasoned pro. His outstanding agility allows for unpredictable movements with the ball and quick changes of direction, leaving defenders flummoxed. Whilst he does possess impressive pace, it's not at the level of a Marcus Rashford or Kylian Mbappé.
He instead uses his elite close control and creative dribbling to beat defenders as often as he does before regularly making the right decision in advanced areas. His acceleration over shorter distances is how he best uses his speed, especially when he receives in the half-spaces and needs to quickly create separation from his marker(s). This allows for carries in fairly tight spaces in the final third and, especially, carries into the penalty area.

Bynoe-Gittens' carries [FBRef]
Bynoe-Gittens is also incredibly nimble, allowing him to evade multiple defenders in a single possession. He's also shown signs of excellent decision-making, despite his young age. He doesn't turn 19 until August, but he's shown maturity beyond his years on the pitch. This wide range of skills results in him generating a number of shot-creating actions (SCA) and goal-creating actions (GCA).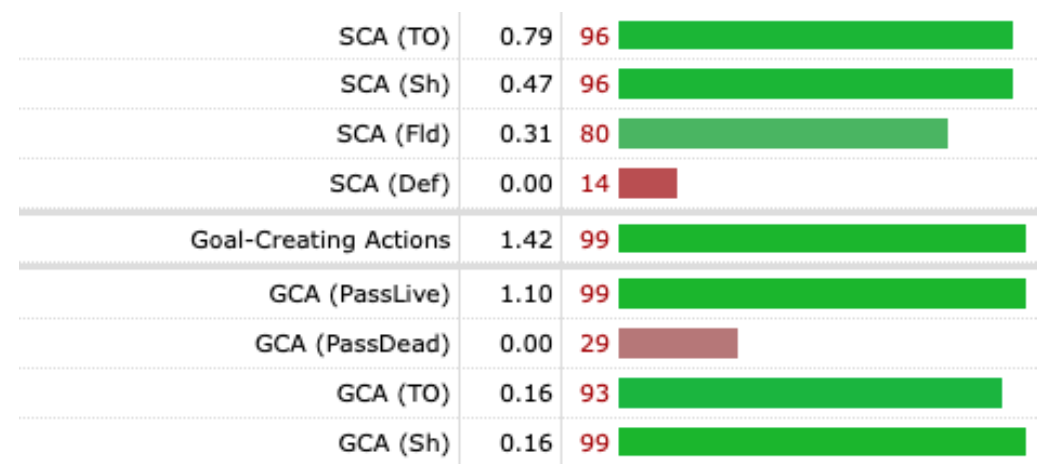 Bynoe-Gittens' shot-creating and goal-creating actions [FBRef]
The data shows that Bynoe-Gittens is far from being all style without substance. He complements his outstanding dribbling statistics with consistent end-product, as reflected by the data. He possesses a number of tools in his locker with which to attack his opponents and this potential threat as he runs at defenders subsequently creates space for his teammates.
Bynoe-Gittens' dribble vs. Freiburg
In the above video, Bynoe-Gittens is moving at speed, attracting several defenders' attention before playing a perfect reverse pass that is key to creating the goal. This is the perfect example of his amazing blend of style and substance and, although he wasn't credited with a goal or assist, his mazy run is absolutely crucial to the creation of the goal. This is the quintessential Bynoe-Gittens action and gives us a peek into the player he can — and likely will — become in the future.
Evidently, the London-born youngster has plenty of potential, but it's up to him to live up to this potential. Fortunately, Dortmund is the perfect environment for player development and the club has an outstanding track record for turning high-potential prospects into bona fide stars. There are certainly aspects in which Bynoe-Gittens can improve such as becoming physically stronger without losing his speed or agility, but that should come with age. He can also find a better balance between being a facilitator and a finisher.
At present, his priority tends to be taking a high volume of shots, but he should aim to bring his teammates into the game more often and become a regular creator from wide areas, much like Jadon Sancho was for Borussia Dortmund. Regardless, the future is very bright for Jamie Bynoe-Gittens and, in a few years, we may be asking ourselves how Dortmund managed to pull this trick off yet again.
By: Lebohang Mwamuka / @lebzygold
Featured Image: @GabFoligno / DeFodi Images