Player Analysis: Jeremie Frimpong
Bayer Leverkusen have heavily leaned on the attacking prowess of Jeremie Frimpong this season. The Dutch wing-back has contributed 8 goals and 6 assists in the Bundesliga this season and has acted as one of the main offensive weapons for a young, exciting Leverkusen side under Xabi Alonso.
In the Spanish coach's system, Frimpong is given the freedom to maraud forward and primarily focus on his offensive duties as he has extra security behind him in the form of a back 3. This has resulted in his highly impressive output in the final third and serves as the main reason for his outstanding statistics, ranking in the 99th percentile amongst players in his position in several key metrics such as goals and goal contributions.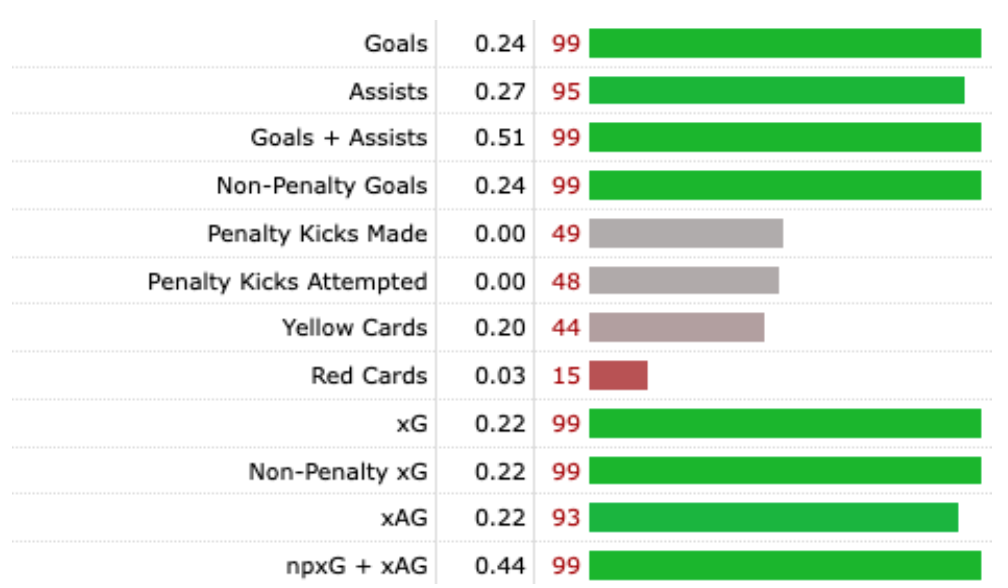 How Frimpong fares in attacking metrics [FBRef]
It must be noted that this data is compared to other full-backs and wing-backs in Europe's top 5 leagues therefore the numbers may be somewhat inflated due to the attacking freedom given to Frimpong, but these are still highly impressive statistics and exhibit how clinical the Netherlands international is as both a facilitator and a goalscorer. He also ranks in the 92nd percentile for progressive passes received, further showing just how offensive a player he is and the advanced positions he picks up on the pitch.
Frimpong also possesses a fantastic relationship with Moussa Diaby on the right flank. Both players utilise their devastating pace and have the ability to go both inside and outside, posing a constant threat to opposing defences through both avenues.
Frimpong's goal vs. Schalke [Wyscout]
The above goal perfectly displays the duo working in tandem and causing indecision in the defence due to Diaby's threat of cutting inside onto his stronger left foot, subsequently creating space for Frimpong to attack and finish with aplomb. Both players are fantastic in the final third and having an inverted winger with the skillset of Moussa Diaby makes Frimpong even more dangerous as an attacking threat.
One of Jeremie Frimpong's greatest strengths is his ball-carrying ability. He is one of the premier ball-carriers on the continent, not just in his position. He's incredibly quick — genuinely one of the quickest footballers in Europe, and that contributes greatly to his ability to carry the ball over long distances with ease.

Frimpong's carries [FBRef]
Frimpong stands at just 1.71m tall and uses his pace and low centre of gravity to great effect, cruising past opposition defenders and using his balance to win 1v1 duels. Not only is he quick, but he's also extremely controlled when moving at speed, knowing when to slow down and speed up depending on the situation.
Frimpong's assist vs. Augsburg
The above assist shows Frimpong's controlled carrying ability as well as his patience and vision to pick out the correct pass at the right time. He's remarkably elusive and very difficult to stay close to, thus resulting in the pitch opening up and space being created for both himself and his teammates. He can single-handedly break multiple lines through his ball-carrying and manufacture transition-like opportunities from seemingly settled possession — an incredibly valuable trait.
On top of his dynamic ball-carrying, Frimpong is also an excellent dribbler. He doesn't only use his pace to get past opposition defenders, but he also has the creativity and quick feet to complete take-ons, much like a traditional winger.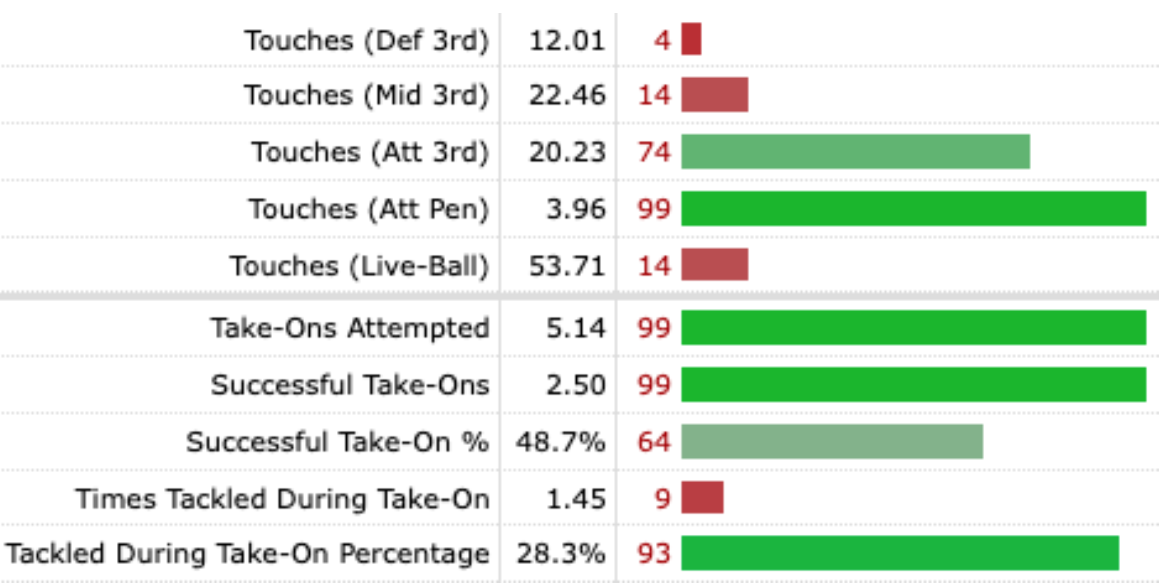 Frimpong's take-ons [FBRef]
As shown by the data, Frimpong is tremendously offensive and does most of his work in the final third. He's often not required to take part in build-up, instead using his skillset in the most advanced positions. He ranks in the 99th percentile for both attempted and successful take-ons amongst players in his position, showing his willingness to dribble his way into good positions and advantageous situations.
Frimpong's dribble vs. Hertha Berlin [Wyscout]
Frimpong uses his quick feet and elite agility to avoid challenges before accelerating away with his devastating pace. He's supremely difficult to track due to the number of ways in which he's able to escape his marker in every situation. He's capable of changing direction at such a high speed and is a nightmare for defenders due to his unpredictability. This is one of the many reasons he's given permission to attack so aggressively in Bayer Leverkusen's system and why he's so productive as a result.
The dynamic Dutchman has been linked with a move away from Germany with a number of European clubs interested in securing his signature. Formerly a Manchester City academy graduate, he's recently received interest from the other side of Manchester with Erik ten Hag looking to bring a new right-back to Old Trafford. Theoretically, he could form a dangerous partnership with Antony on the right flank, one similar to his connection with Moussa Diaby.
There remain question marks regarding his suitability for a back 4 system due to his attacking nature as well as his underwhelming defensive metrics, but at just 22 years old, these are attributes that can be coached into his game. Should he round out his game defensively, Jeremie Frimpong possesses all the traits to become one of Europe's very best full-backs.
By: Lebohang Mwamuka / @lebzygold
Featured Image: @GabFoligno / BSR Agency – Getty Images