Player Analysis: João Mário
Benfica's Champions League campaign may have come to a premature end at the hands of Inter Milan, but their pursuit of the Portuguese league title is still well and truly alive. They sit atop the league table, 4 points clear of rivals Porto with 4 games remaining. and although they haven't been quite as dominant as they were during the first half of the season, As Águias remain favourites to claim their first league title since 2019 and the 38th title in the club's history.
Whilst the likes of Gonçalo Ramos and Enzo Fernández have received the most acclaim for Benfica's impressive season, with the latter having earned a January move to Chelsea and the former being linked with his own big-money move to the Premier League, one player who has seemingly gone under the radar is the midfield talisman, João Mário.
João Mário has enjoyed a prolific 2022/23 campaign at Benfica this season. The Portugal international turned 30 years old in January but he appears to be better than he's ever been. He has enjoyed, by some distance, the most statistically productive season of his career thus far and that's a testament to his ability and determination to continue improving this late in his career. He's been an end-product machine throughout the season.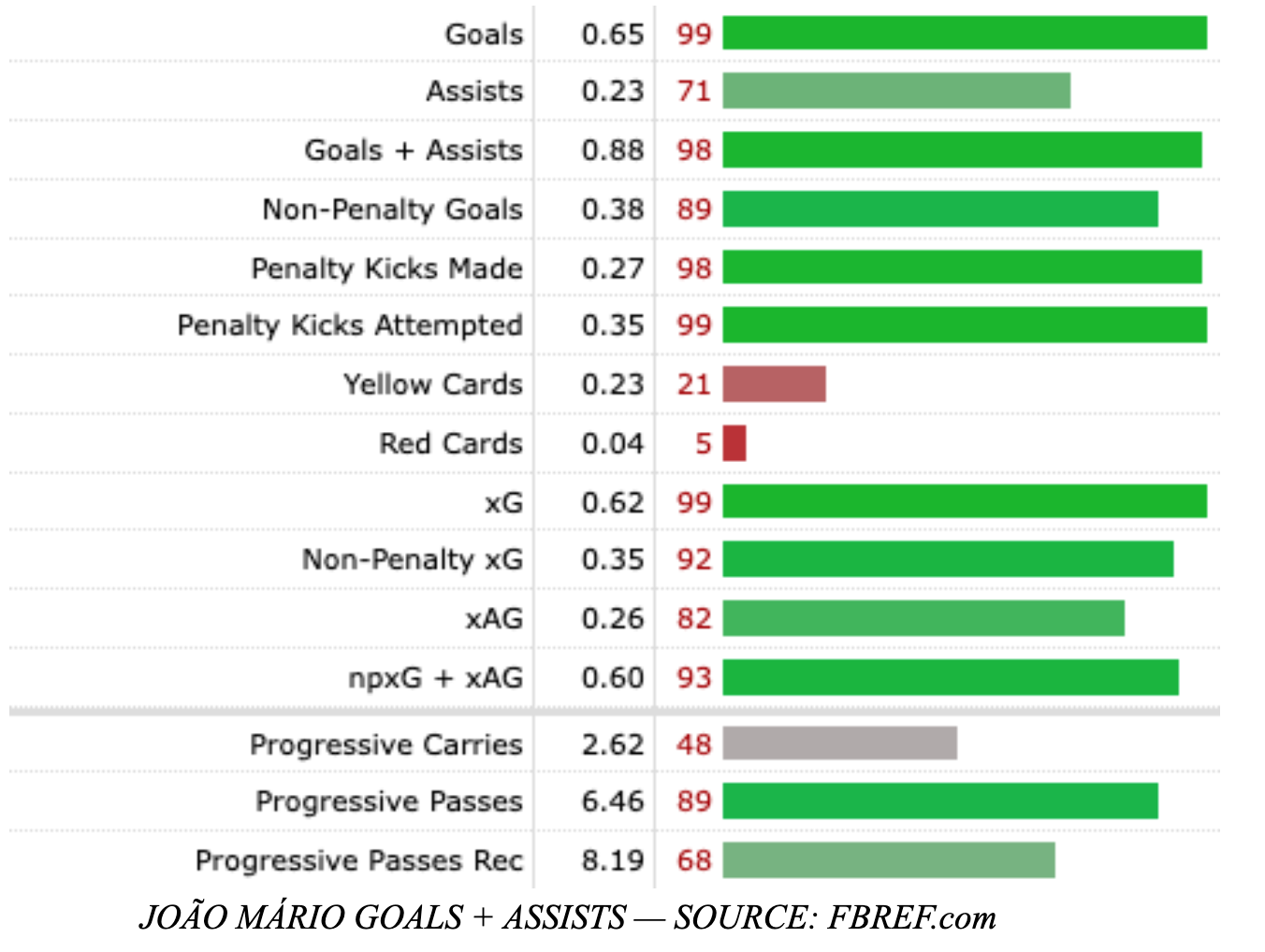 He has been relentless in the final third, registering 23 goals and 8 assists in all competitions this season. His ability to operate as both a facilitator and finisher is incredibly valuable to Benfica and allows for a striker like Gonçalo Ramos to use his full skillset to both score and create because he has a prolific teammate like João Mário to link up with. He's most notably an excellent finisher, possessing remarkable composure in front of goal and pinpoint precision.
João Mário's goal vs. Vitória [Wyscout]
The Porto-born midfielder has a knack for knowing exactly what type of finish is required in a given situation and is able to apply that finish accordingly. This is the first season of his professional career where he's managed to score more than 10 goals and this has largely been due to his heavy involvement in advanced positions.
He ranks in the 97th percentile for touches per 90 in the attacking third amongst attacking midfielders and wingers, showing his influence in the final third and his willingness to get on the ball in order to score and create. But it is also worth noting that, of the 23 goals João Mário has scored this season, 12 have come from the penalty spot.
This isn't a criticism of his game, as his excellent penalty-taking ability has been valuable to Benfica this season, considering how often they receive spot kicks. It's simply another reason for his high volume goalscoring this season. João Mário is far from simply a goalscorer. He does a great job moving the ball and connecting the midfield to the attack. He's a high-volume passer in Benfica's possession-based system; unsurprising considering his many touches in the attacking third.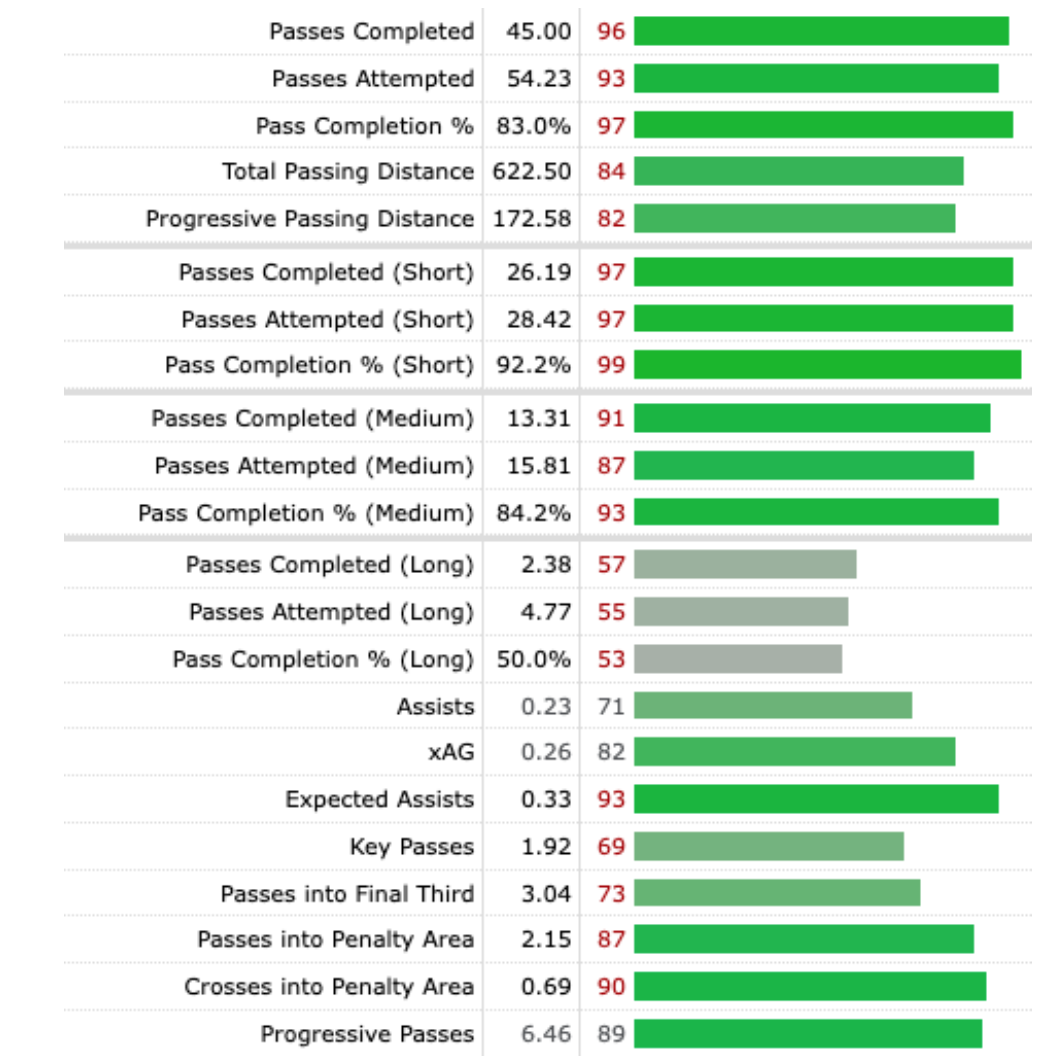 João Mário's passing statistics [FBRef]
He possesses excellent accuracy for his advanced position whilst still managing to be a progressive passer and dangerous crosser of the ball. His 8 assists this season show his capabilities as a playmaker, especially when one considers that he ranks in the 93rd percentile for expected assists per 90, so he's actually underperforming his expected assist numbers as the data suggests he would be expected to have more. This diverse skillset is a big reason for his value to Benfica and the impressive numbers he's been able to record.
That said, João Mário isn't much of a dribbler, ranking only in the 47th percentile for successful take-ons per 90. His ball-carrying makes for similar reading as he ranks in the 48th percentile for progressive carries per 90. Evidently, this isn't where he does his best work, often choosing to instead release the ball with his accurate passing and finding spaces in which he can be most useful upon receiving possession again. His intelligent off-ball movement allows him to roam and pick up positions that are difficult to track and cover, resulting in many of his goals.
João Mário's goal vs. Casa Pia [Wyscout]
He's brilliant at sensing where the play is moving and, subsequently, where the ball is likely to end up, allowing him to have an impact. He has the license to roam in this fashion as it's advantageous to both himself and his teammates, creating space in a variety of positions and situations.
If João Mário were 5 years younger, this kind of form would be attracting the attention of clubs throughout Europe's big 5 leagues, but his age doesn't make this season any less impressive. He's established himself as a regular in the Portuguese national team squad and he's found a home at Benfica after stints at a number of clubs throughout Europe. It's left to be seen whether he can replicate this form next season, but as we've witnessed over the past number of months, João Mário is a late bloomer and he's making the most of his opportunity.
By: Lebohang Mwamuka / @lebzygold
Featured Image: @GabFoligno / Quality Sport Images / Getty Images