Player Analysis: Jonson Clarke-Harris
On 27 August 2020, Jonson Clarke-Harris re-joined Peterborough United, a team that HE had been a part of in 2012 but never managed to make a first-team appearance. The return was made due to Ivan Toney's departure to Brentford. Toney scored 49 goals in 94 appearances in all competitions for Peterborough, so Clarke-Harris had quite the boots to fill.
Clarke-Harris had eight different clubs in between leaving Peterborough in his first term and then his return, a journeyman-like record for a player is still only 26. Now settled at Peterborough, Clarke-Harris is the top goalscorer in not just only League One, but the joint-top goalscorer of all professional English Leagues for the current 2020/21 season alongside Paul Mullin of Cambridge United and the man who Clarke-Harris replaced at Peterborough, Toney.
Clarke-Harris at Bristol Rovers
It was here at Bristol Rovers in 2018/19 that allowed Clarke-Harris to settle properly into a team that wanted him and could play to his strengths. In his fifth game for Bristol Rovers, Clarke-Harris showed his quality in which he notched a hat-trick against Blackpool. It was this game that gave Clarke-Harris the confidence boost he richly needed.
He went on to score in 7 of the next 8 EFL League One games, this form saw Clarke-Harris win the EFL Player of the Month for March. The forward finished the season with a goals-per-game of 0.69 for Bristol Rovers, a goal for every 119 minutes played, a truly astonishing stat. A player that joined on the last day of the January transfer window of the 2018/19 season was Bristol Rovers' top goalscorer for the entire season.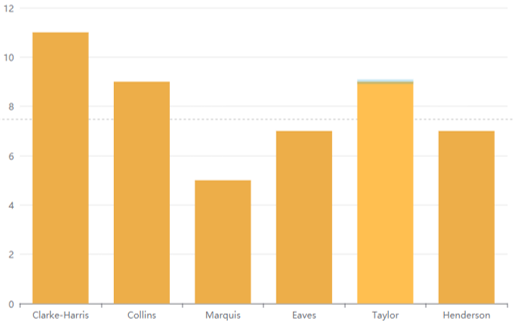 FIGURE 1: Clarke-Harris' goalscoring form since joining Bristol Rovers on 31 January 2019 till the end of the EFL League One 2018/19 season compared against the top five goalscorers in the league at the end of the season.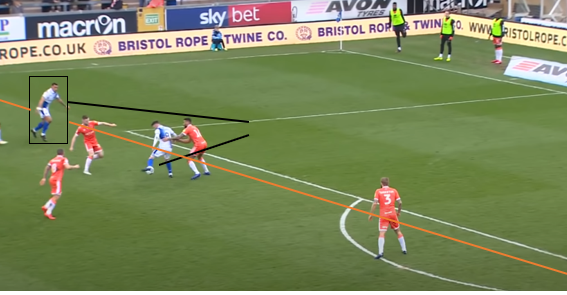 FIGURE 2: Clarke-Harris against Blackpool in his fifth game for Bristol Rovers, beating the high defensive line to score his and Bristol Rovers' second following a bounce pass from Ollie Clarke which involved a forward pass from Liam Sercombe, breaking the lines set by Blackpool. 

FIGURE 3: Clarke-Harris with a poacher's goal, in the last minute of added time in the match against Bradford. He created space for himself within the Bradford 18-yard box surrounded by four Bradford players, including the two centre-backs, the left back and the defensive midfielder.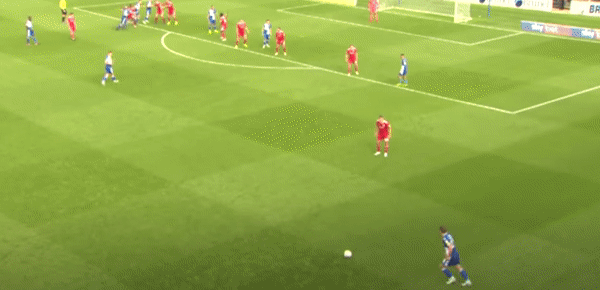 FIGURE 4: Clarke-Harris with an incredible overhead kick against Accrington Stanley in the 2019/20 season. He shifts his body to not only get the angle but to protect the ball against defenders.
The Return to Peterborough
Clarke-Harris re-joined Peterborough with the expectation of Posh fans to be the replacement of Ivan Toney, who is currently leading Brentford to the Championship Play-offs as the Championship's top scorer. Massive shoes to fill, but Clarke-Harris has exceeded all expectations of him.
In the month of February, Clarke-Harris scored in every League One game for Peterborough, scoring eight goals in six games. A goal every 68 minutes in the games Peterborough played in February, and a goals per game average of 1.3.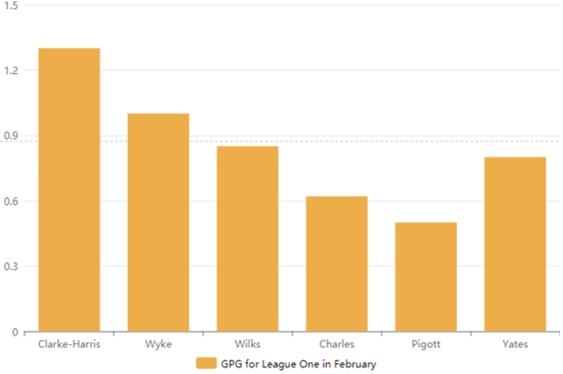 FIGURE 5: Goals per game in February of the current 2020/21 League One season in which Clarke-Harris won Player of the Month. This compares Clarke-Harris against the other five players in the chase for the top goalscorer award for the entire League One season. This stat alone is one of the reasons why Clarke-Harris won the League One Player of the Month award for February.
Clarke-Harris' Mind-boggling Stats
Clarke-Harris' goals per game for the season so far is 0.65 and adding in the assists, his goal contributions take the average up to 0.72 per game. A goal in League One every 131.6 minutes for Clarke-Harris, a goal contribution that includes assists takes the average to 119.3 minutes. 
Not only for himself, but the effect he has had on Peterborough is indescribable: 42% of Peterborough's goals this season in League One have either been scored or assisted by Clarke-Harris. Clarke-Harris has taken 122 shots, with 54 of them being on target and of the 54 shots on target, the average percentage of the shot on target being a goal is 53%, meaning Clarke-Harris scores, on average, around once per two shots he takes.
Clarke-Harris' Attacking Attributes
Since Clarke-Harris has joined the club, he has been used as a lone number nine by Darren Ferguson, with Sammie Szmodics usually playing in the 10, but transitions into a second striker as support for Clarke-Harris, this can be used within a 4-2-3-1. With an 8 in Reece Brown and a 6 in Jack Taylor to hold the central midfield intact and can sometimes be used as a double-pivot. This can also be seen as an attacking 4-3-3 with a 10. 
However, Ferguson also uses a 3-4-2-1 to match the opposing team up if they play three at the back which can temporarily turn into a 3-4-1-2 causing Szmodics or Siriki Dembélé to come aside Clarke-Harris. This is to allow the break down of the opposing teams' defence by going narrower in the final third.
This formation also has two roaming 8s in the central of midfield to counteract the lack of having a number 10 and to allow the creativity of the midfield to remain. If Peterborough are defending this formation of a back three can drop deeper, allowing transitions of the right and left midfielders to drop into wingbacks forming a 5-2-1-2.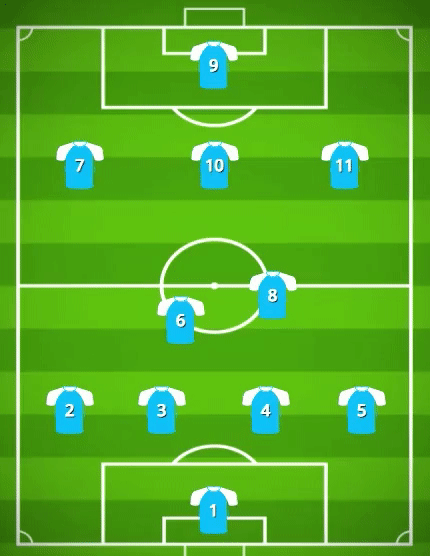 FIGURE 6: Clarke-Harris as the 9 in these formation changes and transitions always keeps him as a 9, but can be temporarily joined for more support, clear to see that Peterborough trust Clarke-Harris to be able to do all the work himself in which he has proved time and time again.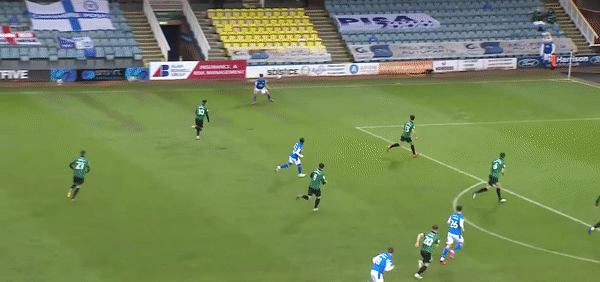 FIGURE 7: Clarke-Harris uses one of his best qualities in his knowledge of attacking positioning to allow the best chance at Peterborough scoring, creating space for himself within the Rochdale six-yard box which allows for a powerful attacking header into the ground to make it 2-1. In which would be a 4-1 romp by Peterborough and Clarke-Harris scoring his first hat-trick for the club.

FIGURE 8: The temporary 3-4-1-2 in action with a roaming 8 pushing to help the attack alongside the 10. Clarke-Harris already looking for free space on the blind-side of the Gillingham centre-back to generate more space for himself. In which, the ball falls to him after a save from the goalkeeper, yet again Clarke-Harris with a poachers' mentality of right place at the right time.

FIGURE 9: Clarke-Harris with his attacking positional awareness at its finest. Dragging both Plymouth centre-backs to him on the right-side to generate space on the left-side for Szmodics to run into. When the time is right, Clarke-Harris cuts back and plays a through ball in behind the two centre-backs for a 1-on-1 chance for Szmodics.

FIGURE 10: Clarke-Harris causes confusion for the number 24 of Plymouth by tricking him into thinking that Clarke-Harris is making his run near post, to then at the last few seconds pull off to the back post on the blind-side of the defender yet again.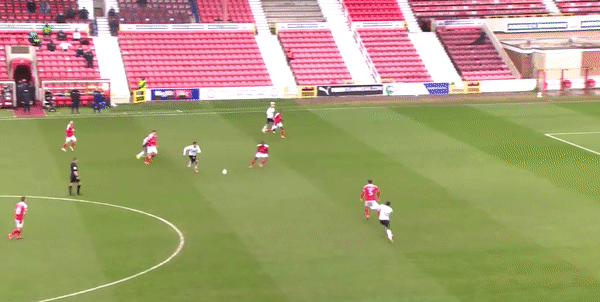 FIGURE 11: Clarke-Harris drops deep as a temporary false 9 to collect the ball, before knocking it around the oncoming Swindon defender. He then commands authority by getting Idris Kanu to leave the ball for him in which Clarke-Harris hammers the ball with enough curve to bend it into the top left corner.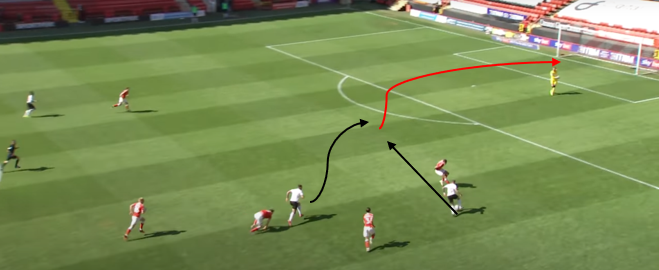 FIGURE 12: Clarke-Harris drops deep to win the aerial challenge, dragging the Charlton centre-back out of position allowing room for Clarke-Harris to make his run to be able to curl the ball into the bottom corner to make it 1-0. Using his physicality and positional awareness to full effect to create the chance and then has the ability to finish it.
Clarke-Harris has been truly clinical this season due to the workaround him and his teammates working to his strengths. He has molded into one of if not the best number 9s in League One, causing havoc on opposing defenses by using his physicality, positional awareness, and his finishing.
Due to there being a very high chance that Peterborough get promoted to the EFL Championship, next season will be the hardest challenge that Clarke-Harris has had yet. However, if he plays like he has this season then there is no doubt that his form will carry over into the Championship, especially like his predecessor, Ivan Toney.  
By: Oliver Hargreaves
Featured Image: @GabFoligno / NurPhoto