Player Analysis: José Campaña
José Campaña is a Spanish footballer who plays in the humble team of Levante UD, a team that usually fights near the middle of the table. He has the level to be in a bigger club but for one reason or another, he still has not made the move. His ability as a player is proven with Sevilla being very interested in him in the past, and his call-up to the national team earlier this season.
Campaña even came close to joining Atlético Madrid at the start of the season, but Levante's asking price of €30 million meant that Atleti signed Geoffrey Kondogbia instead to replace Thomas Partey. Nevertheless, Campaña is a technically gifted player who reads the game brilliantly, and with the help of data from FBRef.com, we will take a look at his attributes and importance to Levante's system.
Position
The 27-year-old is a versatile player, which means that he can play more than one position in the field. Levante's manager has taken advantage of this and incorporated it into his system. When defending, Levante use a compact 4-4-2 and here, Campaña plays as a winger, as seen below. No matter what flank he is playing in, his job is to close the middle and to force the opposition wide so that he can press the full-back.
Here comes the interesting part about his positioning. Once Levante recover the ball, he goes into the middle and becomes an attacking midfielder, leaving the wing for the full-back. We see his transition into the middle below. He will now roam around that area and try to find spaces where he can be an option for his teammates.
Campaña does this because he is not a natural winger and barely attacks down the wing like one. Instead, he goes into the middle where he can connect with teammates and create danger with his playmaking ability. The other winger also goes into the middle and so in possession, Levante resembles a 4-2-2-2, with two attacking midfielders.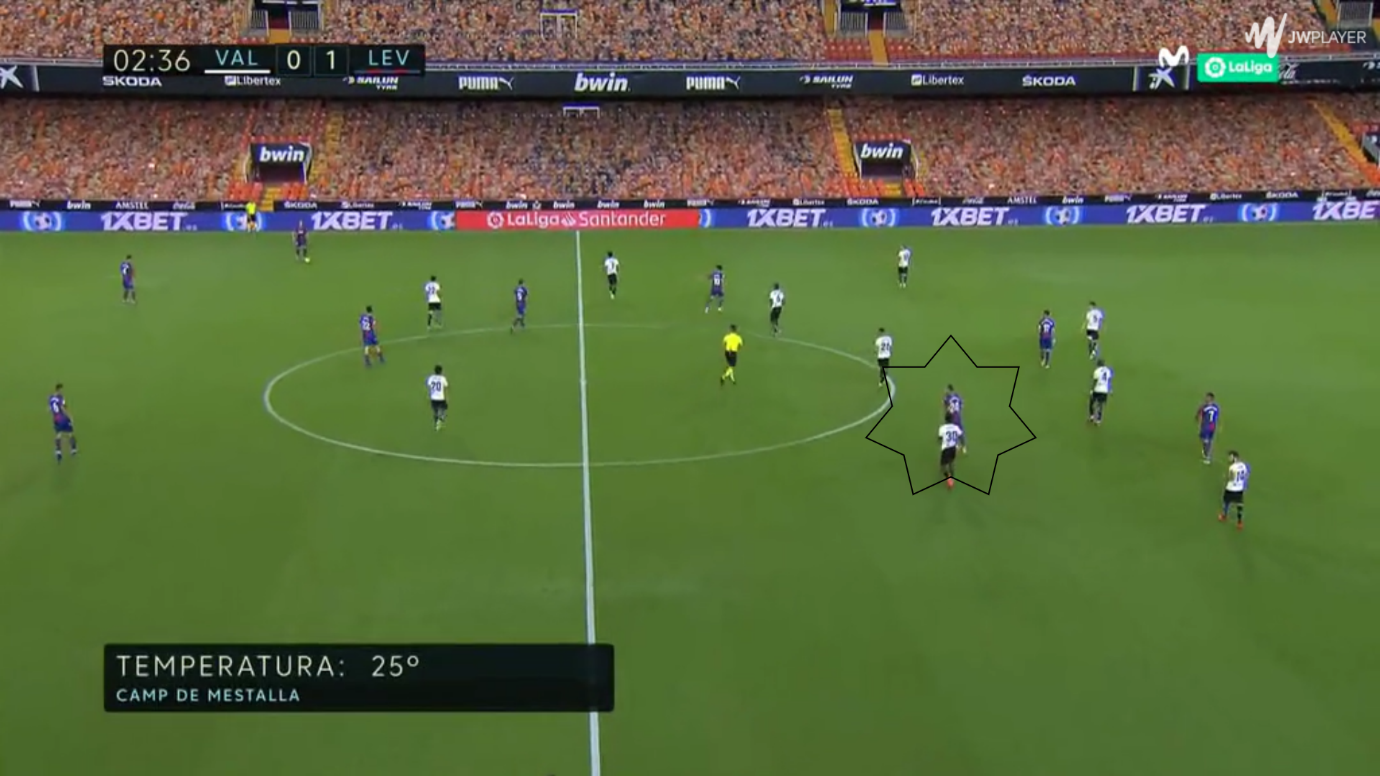 Defending
Since being the winger in a 4-4-2, Campaña has to sacrifice himself and defend with the team. This generally means that he has to defend in 2vs2 situations on the wing for example. He is a decent defender which is shown by his 10.18 ball recoveries per game which places him in the 99th percentile between attacking midfielders and wingers. 
Below is an example of him defending in a situation on the wing against Real Madrid. While the left-back has gone up to defend the player on the ball, Campaña has had to come deeper to protect the wing against the two Madrid players there.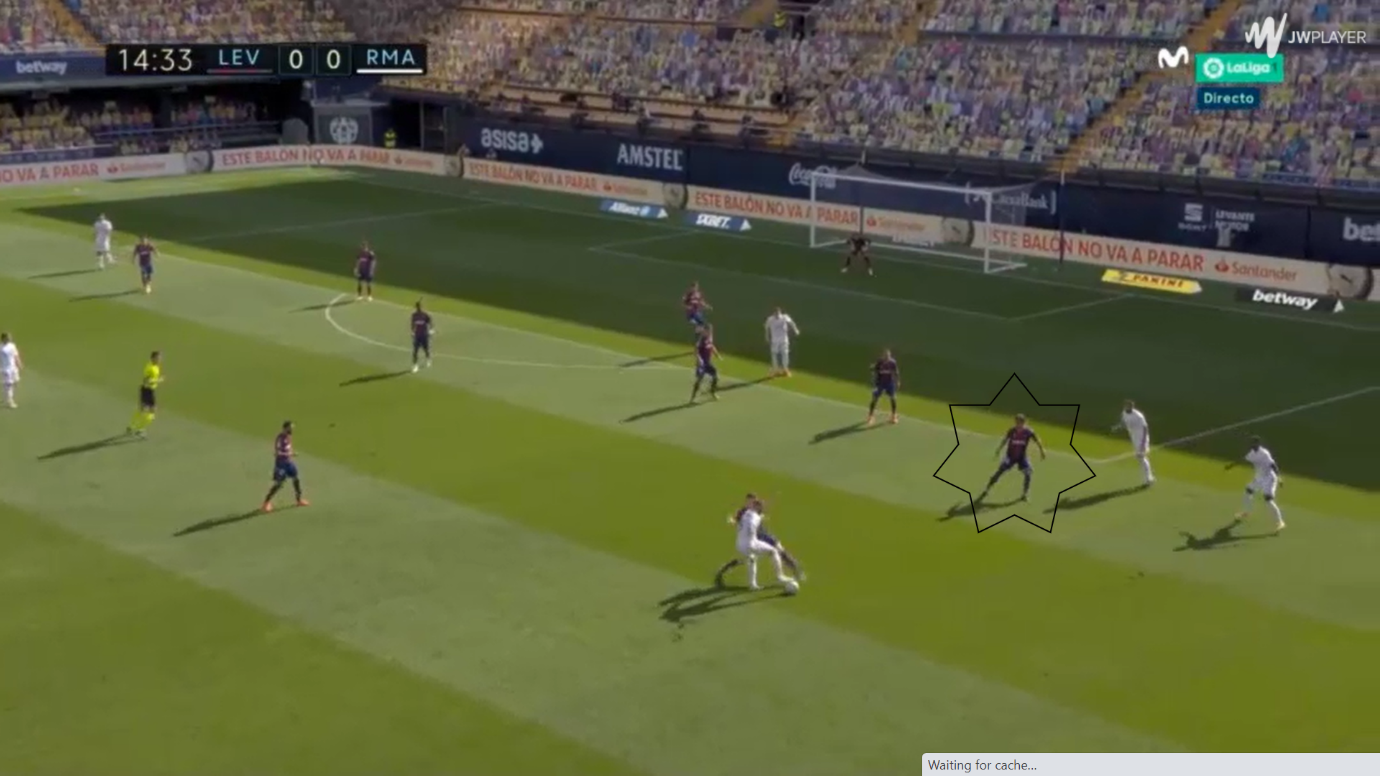 Moreover, Levante like to press high and Campaña is also involved in this aspect. He makes 0.96 interceptions per game and 0.45 tackles in the final third, which are both some of the highest stats for attacking midfielders. 
In the first game against Valencia, we see this in action. Levante's two strikers are high up, ready to press the centre-backs, and Levante's wingers (including Campaña) are in an intermediate position between pressing the full-back and protecting the middle. That way, they have time to choose what to do depending on the play.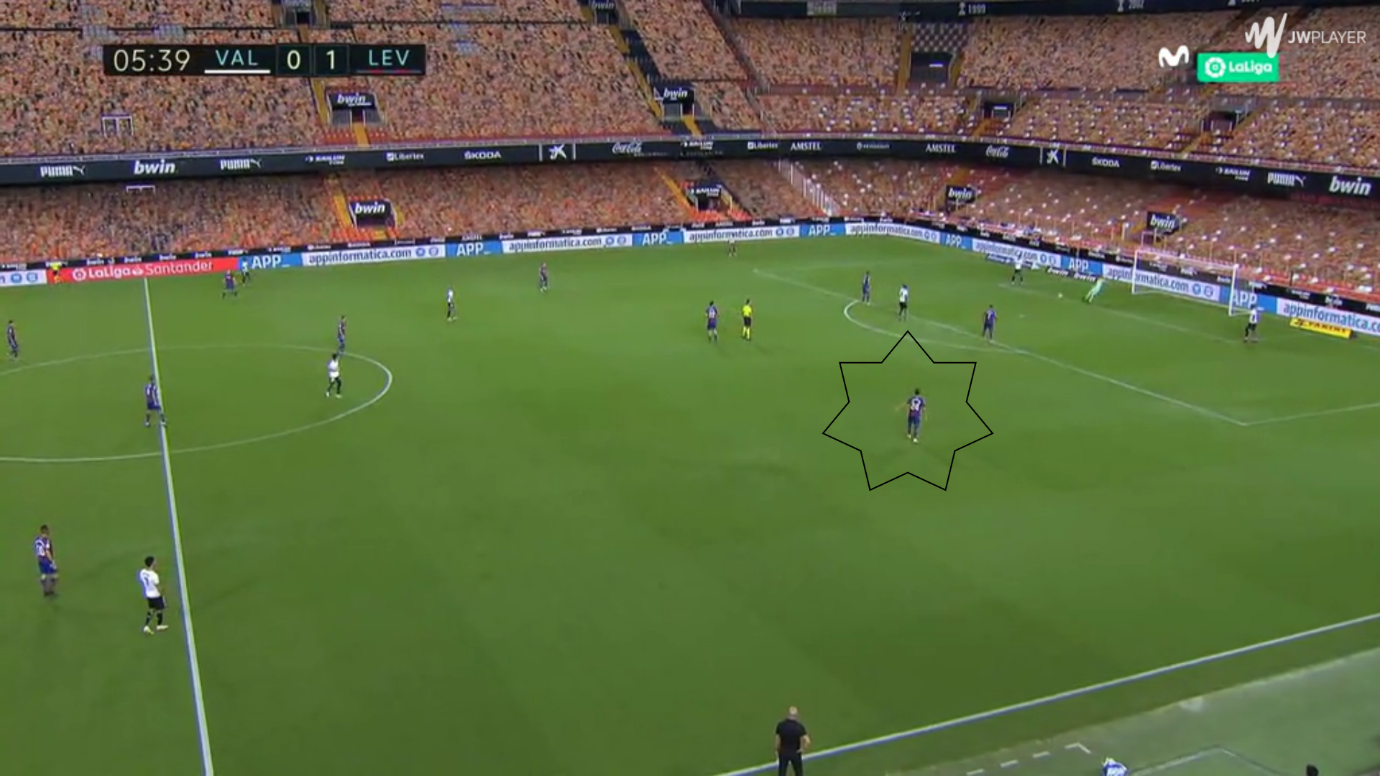 With the striker's good pressure, Campaña anticipates that the centre-back will try a pass through the middle and intercepts the ball. This would later turn into a dangerous action for Levante.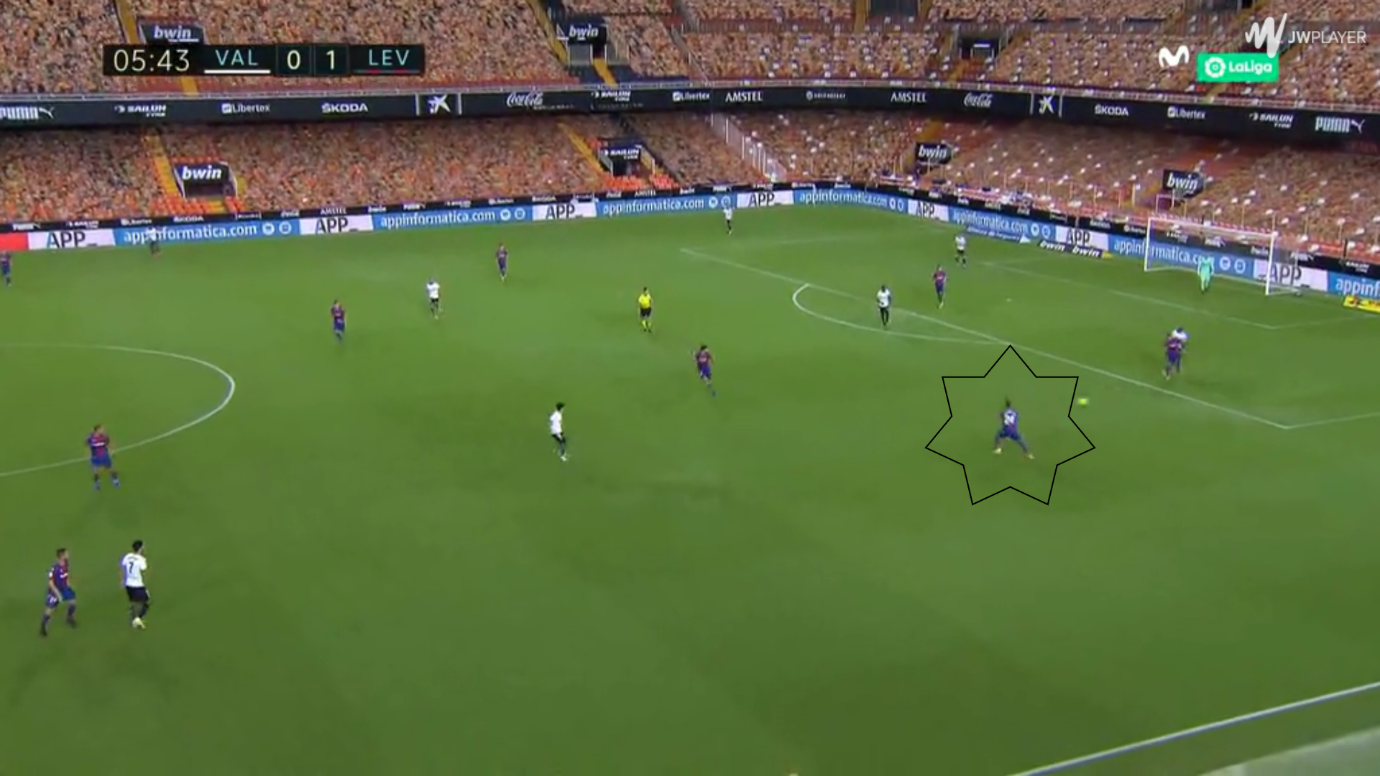 Between the Lines
Players that can play effectively through the lines are valuable because receiving in these positions create danger as they split the opponents. When a team passes through the lines, it means that they are finding teammates in between the opponents, most generally between their midfield and defence. 
With these passes, a team takes out many opponents out of the play and so if they can keep the play going once this pass is made, they can heavily disrupt the opposition. Campaña does this well as he is able to receive between lines and either make a good pass or turn and create danger. Being able to receive between lines also means that Campaña is an intelligent player as he has to understand where the spaces are to then go there and ask for the ball.
In the images below, we have a great example. As we said before, Campaña is not a natural winger and comes inside when in possession. To help this, Levante often employ a simple action that opens space for him. Once the left centre-back has the ball, the left-back opens wide to attract his marker and so opens space through the middle. This is where Campaña comes in from the wing to receive.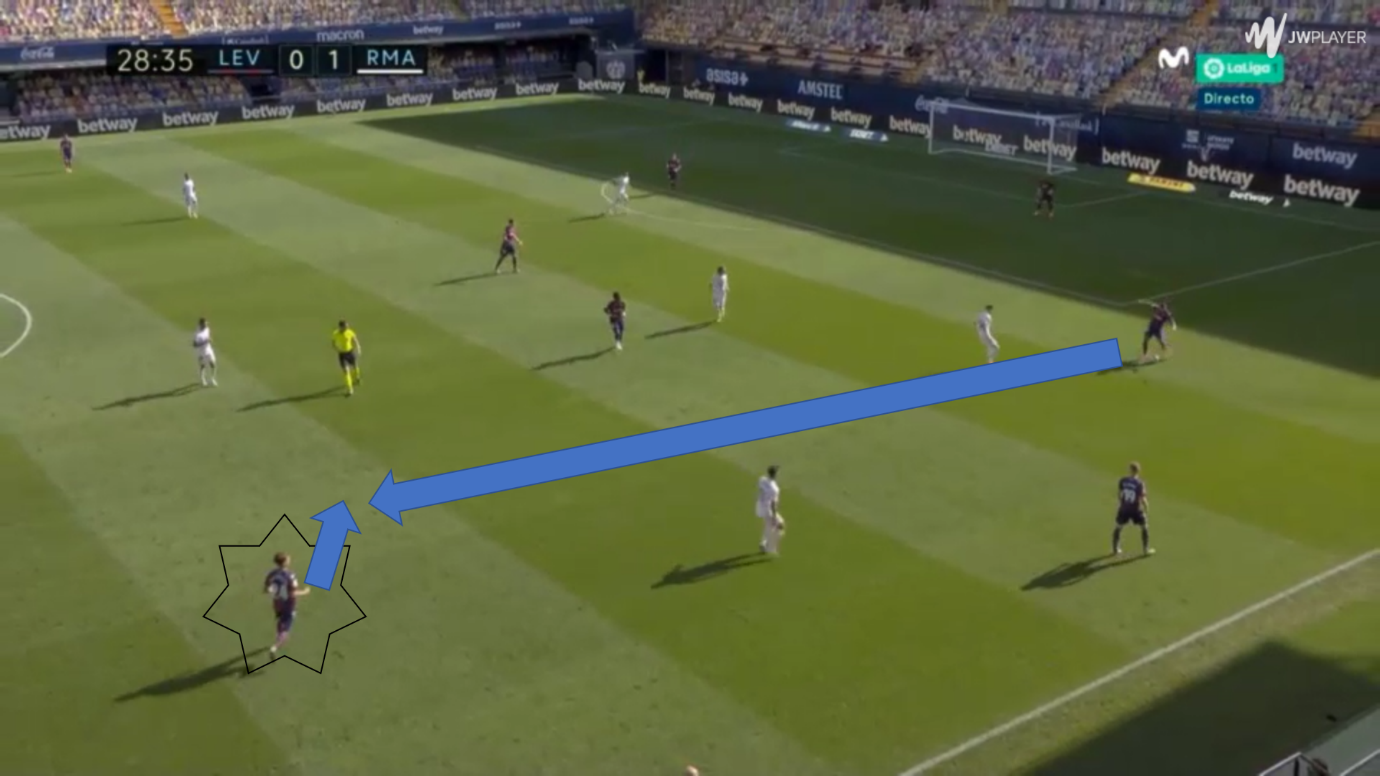 Now, to show his ability to play through the lines, he receives the ball and attracts the right-back that was marking him, and a midfielder. This then means that there is a Levante midfielder free in the middle. This Levante midfielder offers a diagonal passing option for Campaña, who makes the pass. In two quick touches, Campaña has just opened up Madrid's midfield and has started a good attacking movement.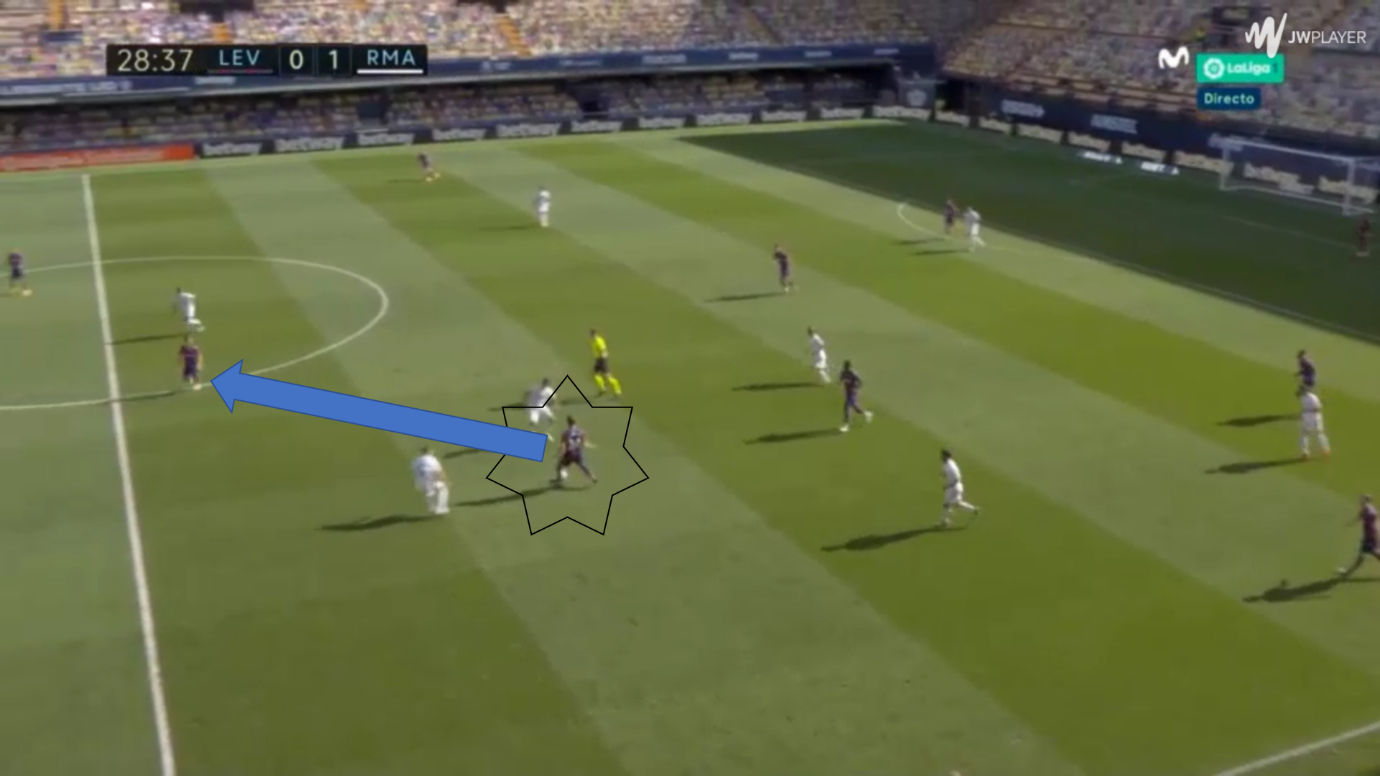 This ability to play between the lines and under pressure shows that he is aware of his surroundings and also that his teammates trust him enough to make a pass that is risky. This trust by his teammates is proven by him receiving 53.66 passes per game, which places him in the 96th percentile.
Playing Deeper
Although I believe that Campaña offers more in an offensive position, he also drops back in games when he feels that he is not getting the ball enough. When Levante are having trouble building up, he will come down to support and add more quality to the build-up.
He does help here too as he is able to link up well with his teammates and also carry the ball from deep. In fact, he makes 55 carries per game and 8.33 progressive carries per game. Both of these stats are some of the highest. This shows that he is confident on the ball.
However, this can also be a disadvantage sometimes because in some moments it is better to pass the ball quickly instead of carrying the ball. This then slows the play down for Levante and doesn't help their attacking movement. For example, in the first image below, we observe that Campaña is starting the play from deep and that the opponents are well-positioned in a mid-block.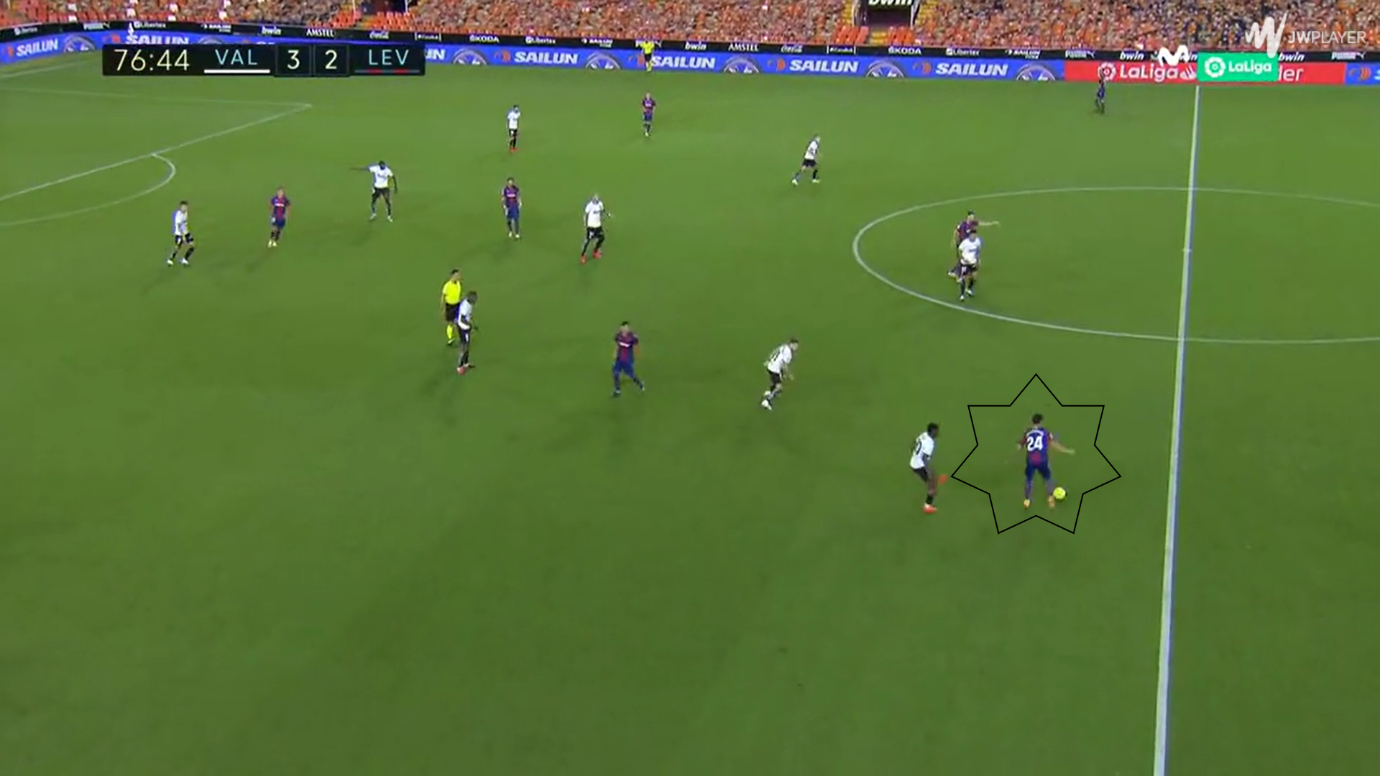 The second picture shows just how far Campaña has carried the ball. He has done so for nearly the whole pitch vertically. Then, when he decides to pass the ball in this second image, he will then misplace the pass as it will be intercepted. At this moment, it was probably better to just make a safe pass and move to find spaces elsewhere.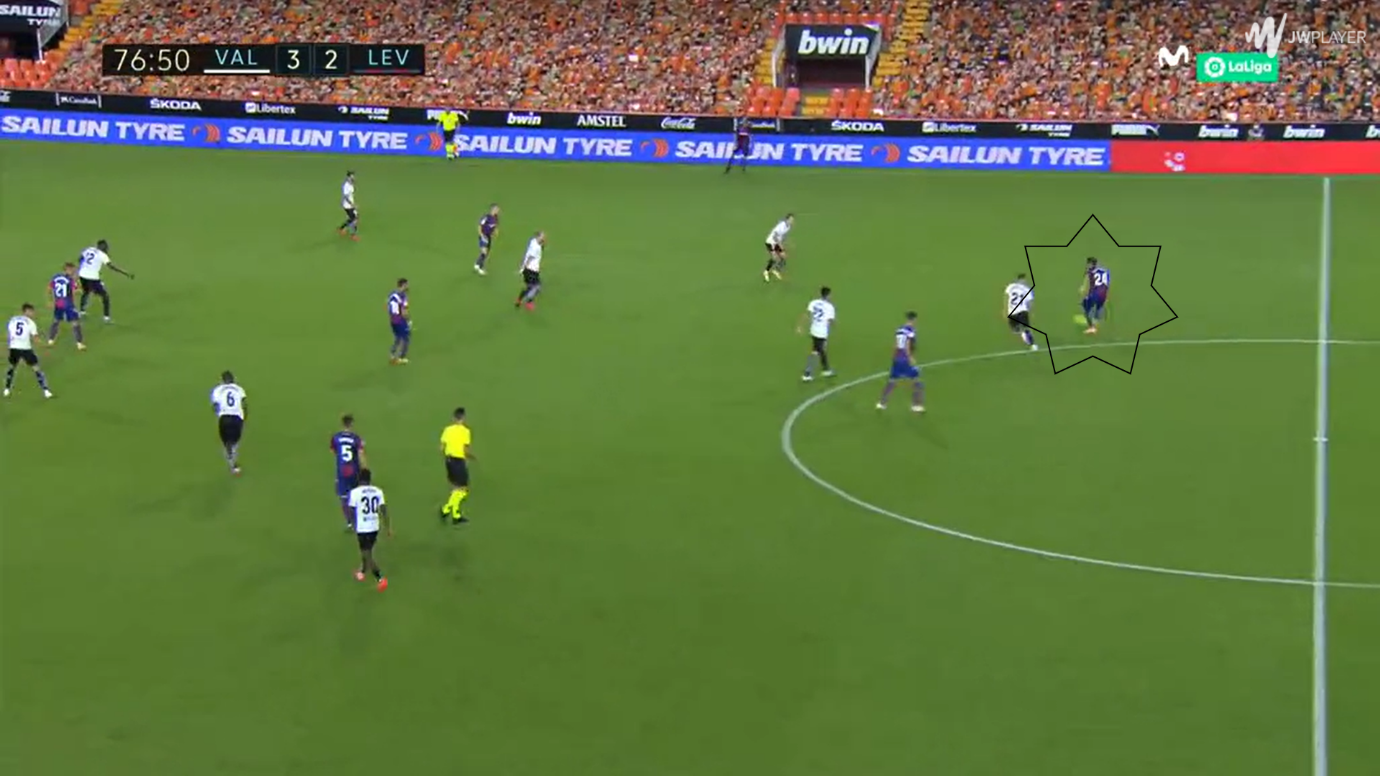 As for linking up with his teammates, it is most likely the reason why he got called up to Spain because connecting with teammates well shows excellent technical ability, reading of the game, and awareness. Having good link-up play from deep can help Levante progress efficiently with control of the ball.
In the game against Real Madrid, we see such an example as Campaña goes on to make a one-two with a teammate to get rid of Luka Modrić, who was his marker. This play then means that Campaña controls the ball facing Madrid's goal and having lost his marker, a perfect way to create danger.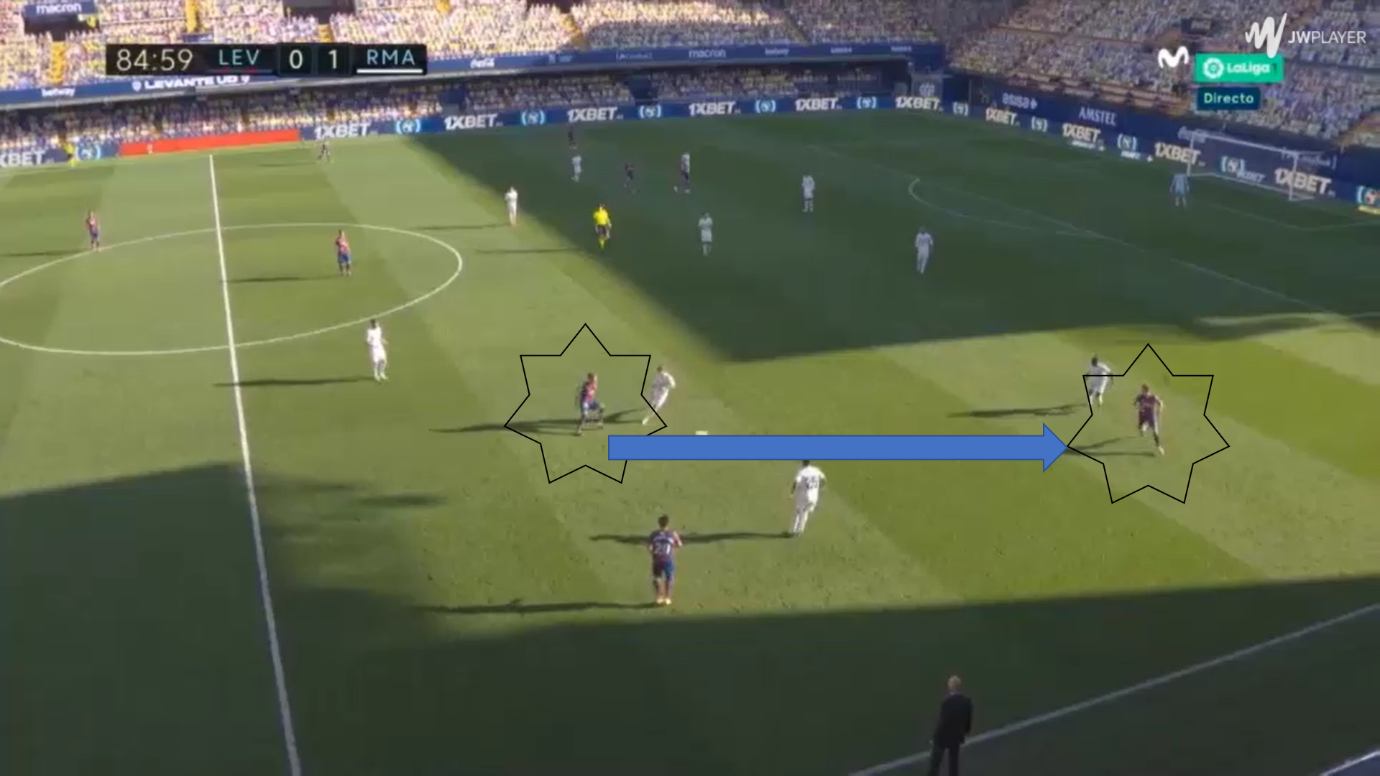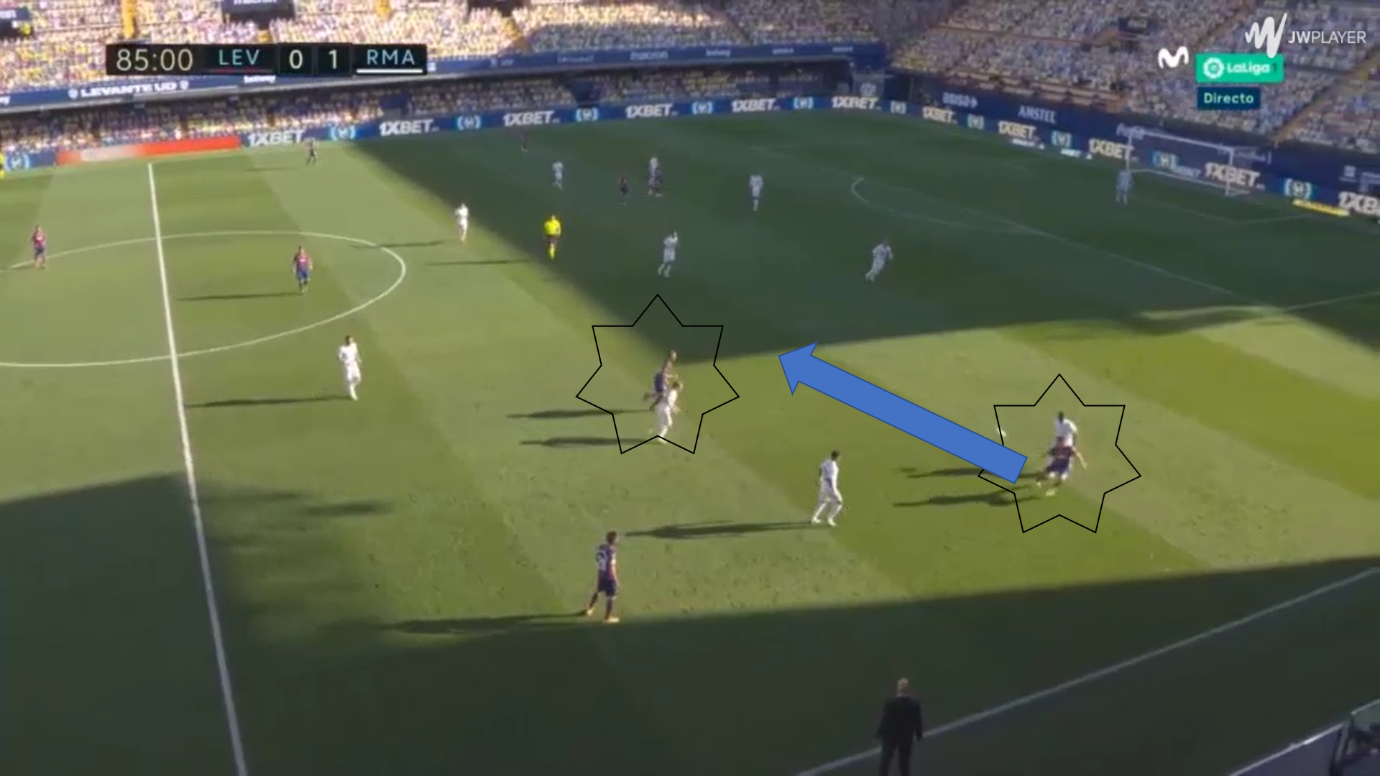 Dangerous Passes
Adding on to his technical ability, Campaña is dangerous in the offence, especially with his passes. He is not a great goal-scorer or provider of assists, but he is involved in the build-up which leads to threatening plays for Levante. This is due to his ability to make dangerous passes in the final third or passes that split the defence. We just have to look at the data to back this up.
He makes 4.89 passes into the final third, 2.03 passes into the penalty area, and 7.14 progressive passes per game. These stats rank him in the 98th, 91st, and 99th percentile respectively which is impressive. To back this up visually, in the game against Madrid below, he is being pressured, yet still manages to make a great through-ball for the right-back who is making a run in behind.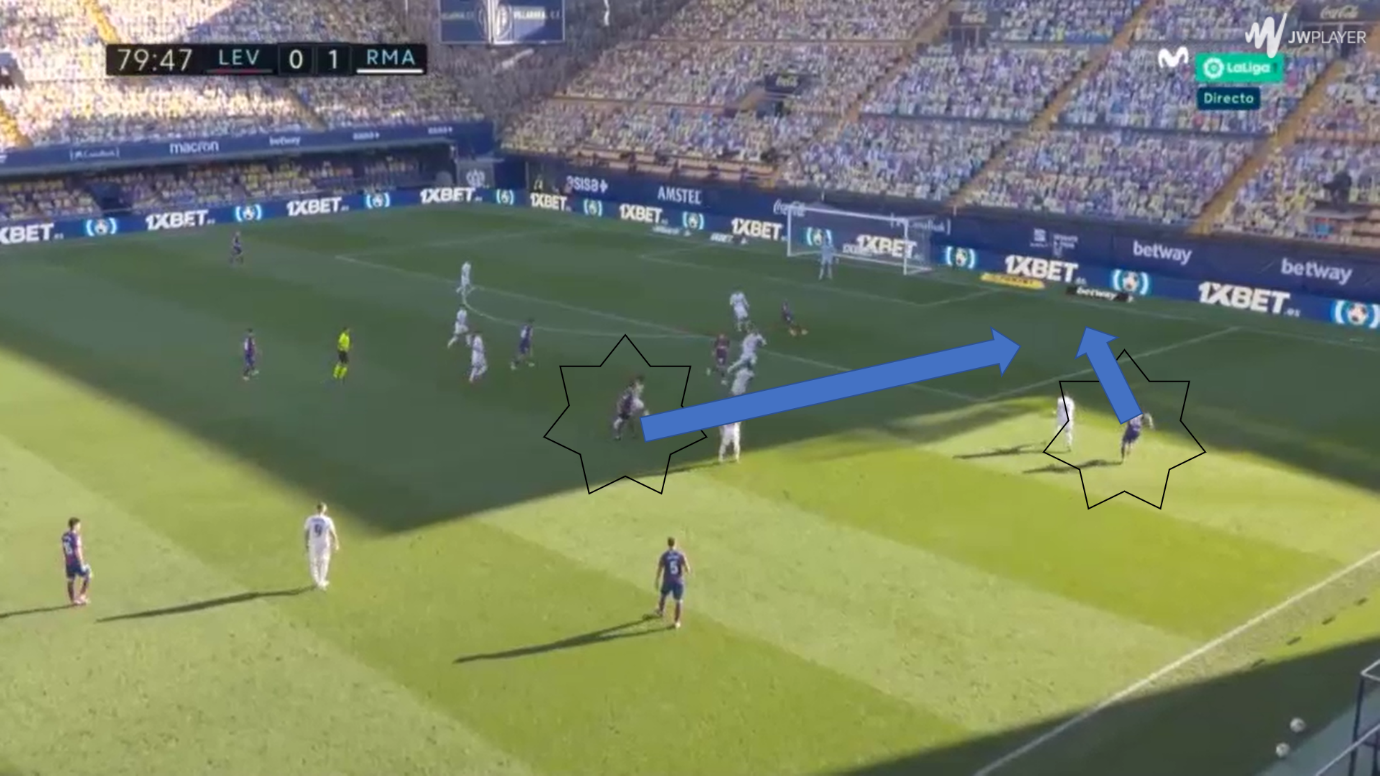 Conclusion
Overall, José Ángel Gómez Campaña is a versatile player who can fulfil different roles in the midfield well. He can either act as an attacking midfielder and play between the lines, thus being able to create more danger. Or he can sit in a deeper role and help with the build-up, which is the role he played with Spain when he got called up.
It is merely a matter of time until the 27-year-old moves onto a bigger team as he has proven that he is confident, and can play in a team that plays possession-based football. The Andalusian has spent the past five years at the club, but with his contract set to expire in 2023, he could be set for a big move to one of La Liga's top-half clubs sooner rather than later.
By: Jaime Fernandez Valencia
Featured Image: @GabFoligno / Soccrates Images – Getty Images