Player Analysis: José Gayà
Playing at a struggling Valencia team this season, José Luis Gayá has still consolidated himself as Spain's left-back. Valencia are currently 12th in La Liga and with Gayá being the captain, it is clear that he is probably the best player in the team. Gayá could have switched teams a couple of times, but his sense of belonging to the club have made him stay, making him a rarity in today's modern football.
Gayá is specifically known to be an attacking full-back, sometimes turning into Valencia's main attacking threat. To prove this, he has made five assists so far this season. This is also one of the ways that he has earned himself a place in the Spanish team, because Spain have always had offensive full-backs in the recent past. The best example is Jordi Alba, who also came from Valencia's academy and both share similar traits.
In this article, we will look into Gayá's attacking abilities, his importance in the Valencia team, and his defensive characteristics. The data shown here will be offered with the help of FBREF.com. 
Passing Patterns
As mentioned before, Gayá is known for his attacking prowess. To be known for this, he has different ways to create danger. That is probably the best thing about him, that he varies in the type of attacks which make him a more complete left-back. Some full-backs have the limited creativity to try to get to the by-line and cross it, but that's about it. However, Gayá attacks in different ways throughout a game which makes him unpredictable for defenders. 
The first way he creates danger is with his passing patterns with teammates. These plays are probably rehearsed in training, but it does not make them less admired as they are simple and efficient. Most of the times, these passing combinations are made with the left-winger to get past a 2vs2 situation on the wing. For example, we see an example in their game against Real Madrid below. Here, they used one of the simplest passing combinations in football which is the one-two.
Gayá passes it to the left-winger in the first image and sees how his defender is standing facing him, meaning that it will take more time for him to turn around if Gayá makes a run behind.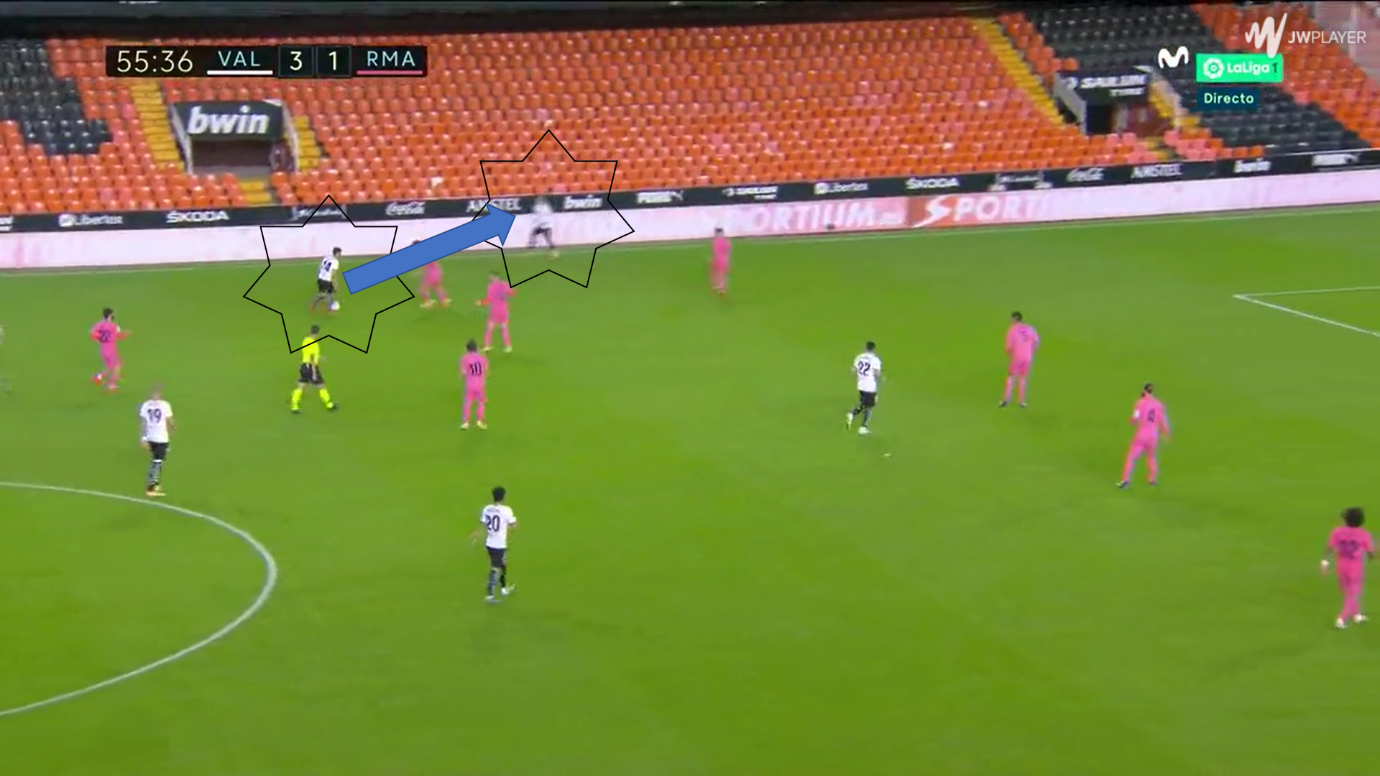 Therefore, he sprints and makes an underlapping run, having clearly won the position against his marker. When he controls the ball, he will have the option to put a cross in from a dangerous position. He gets into these positions often which is seen by his 3.15 crosses per game.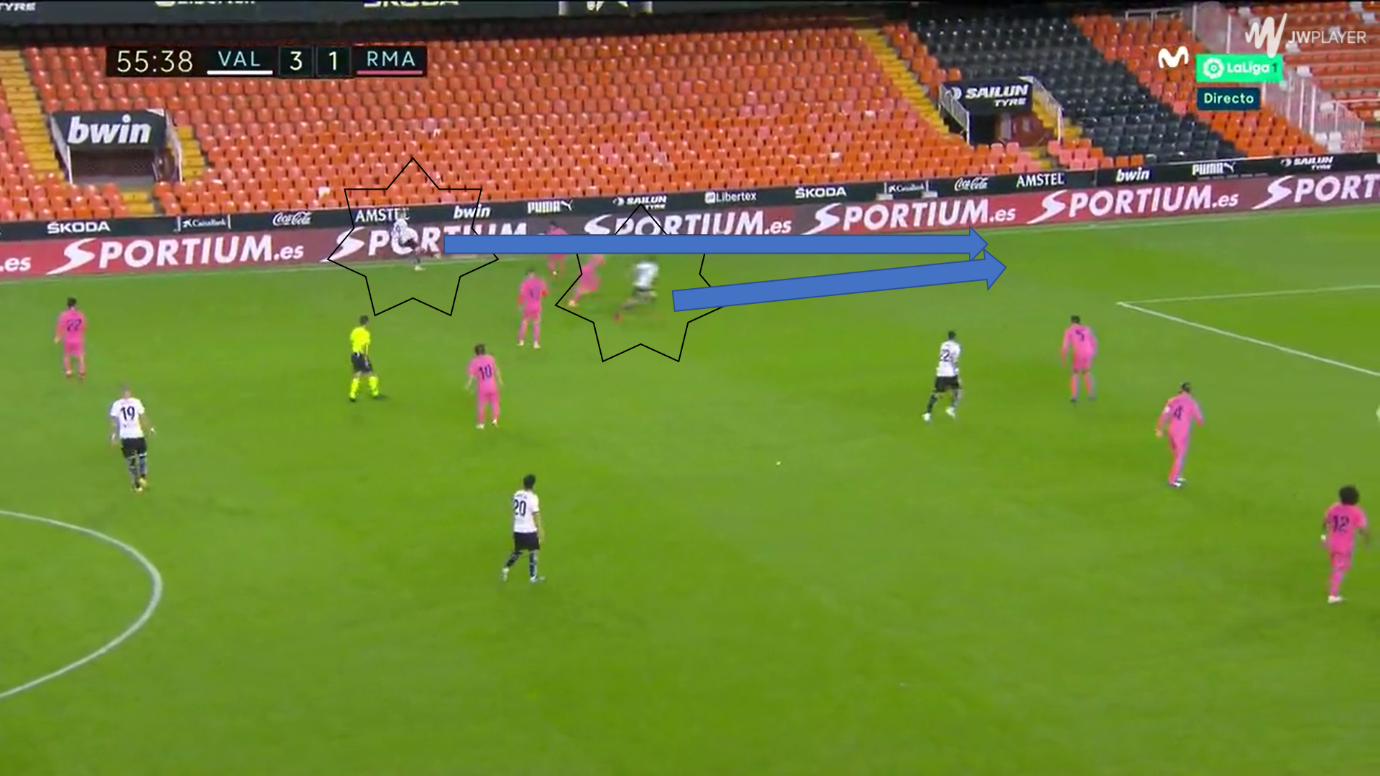 Incisive Runs
Making good runs is an essential aspect for Gayá as his ability to analyse the space in front of him and decide the best course of action is rare among full-backs. These attacking runs allow him to constantly trouble the defence and to switch the way he attacks as he sees fit. Connected to this is his good decision making which also allows him to position himself and to make the right action to leave a teammate in a good position. It is clear to see that Gayá is the perfect prototype for the modern full-back that doesn't just have to defend but has to participate in the attack too.
Once again, we look at his analysis of the situation in the offence in Valencia's game against Real Madrid. This game was one of the best Gayá has played the whole season which means that he was very active going forward. In this situation, since Valencia's left-winger has cut inside and is near the striker, it has made the Real Madrid defence stay compact because they did not see imminent danger coming from that wing. Gayá saw the space they left and decided to take advantage.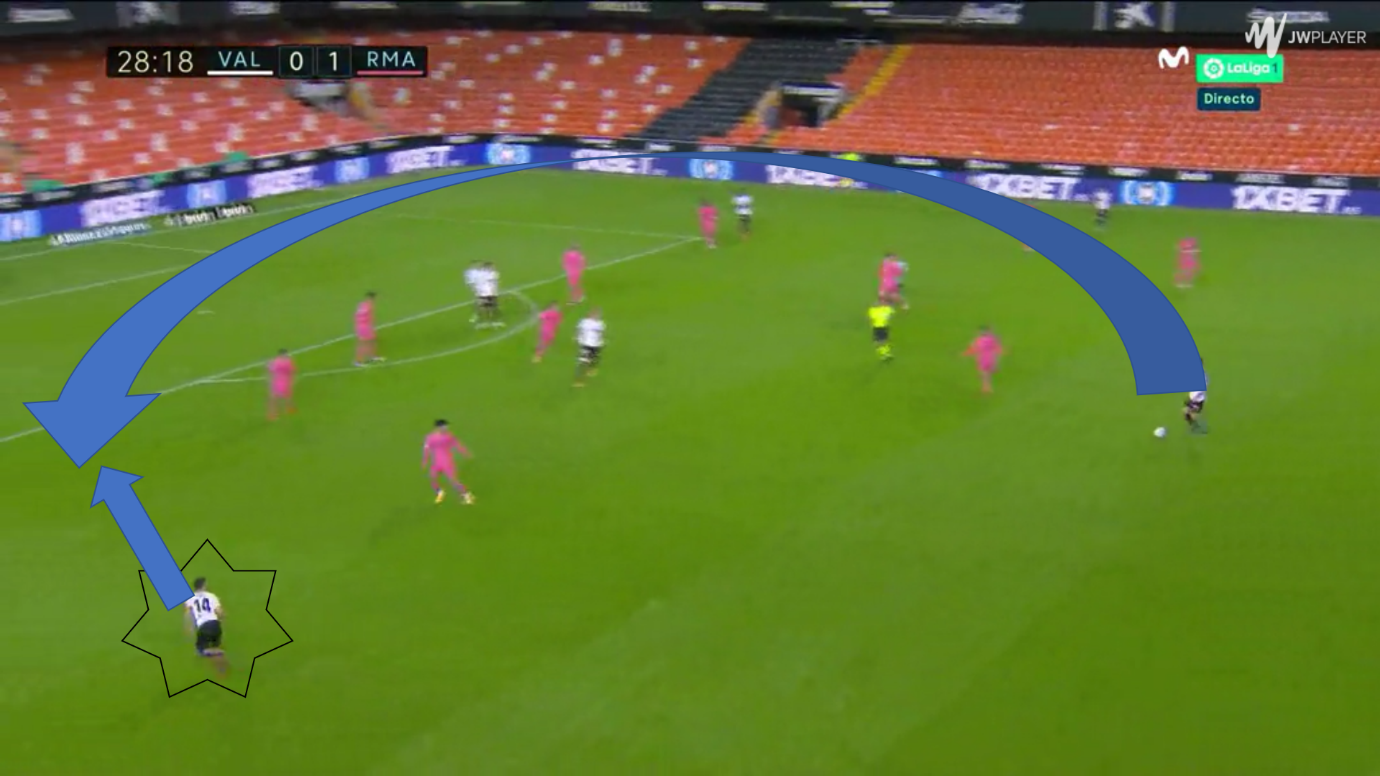 We can appreciate his speed as when he volleys the ball in the second image, the defenders are quite far away from him. In fact, through this play Valencia win their first penalty as Gayá's cross will impact on the right-back's hand. Gayá likes these types of movements that catch the defenders by surprise, and this is backed up with his stats. He receives 3.76 progressive passes per game which is an important number considering he is a left-back.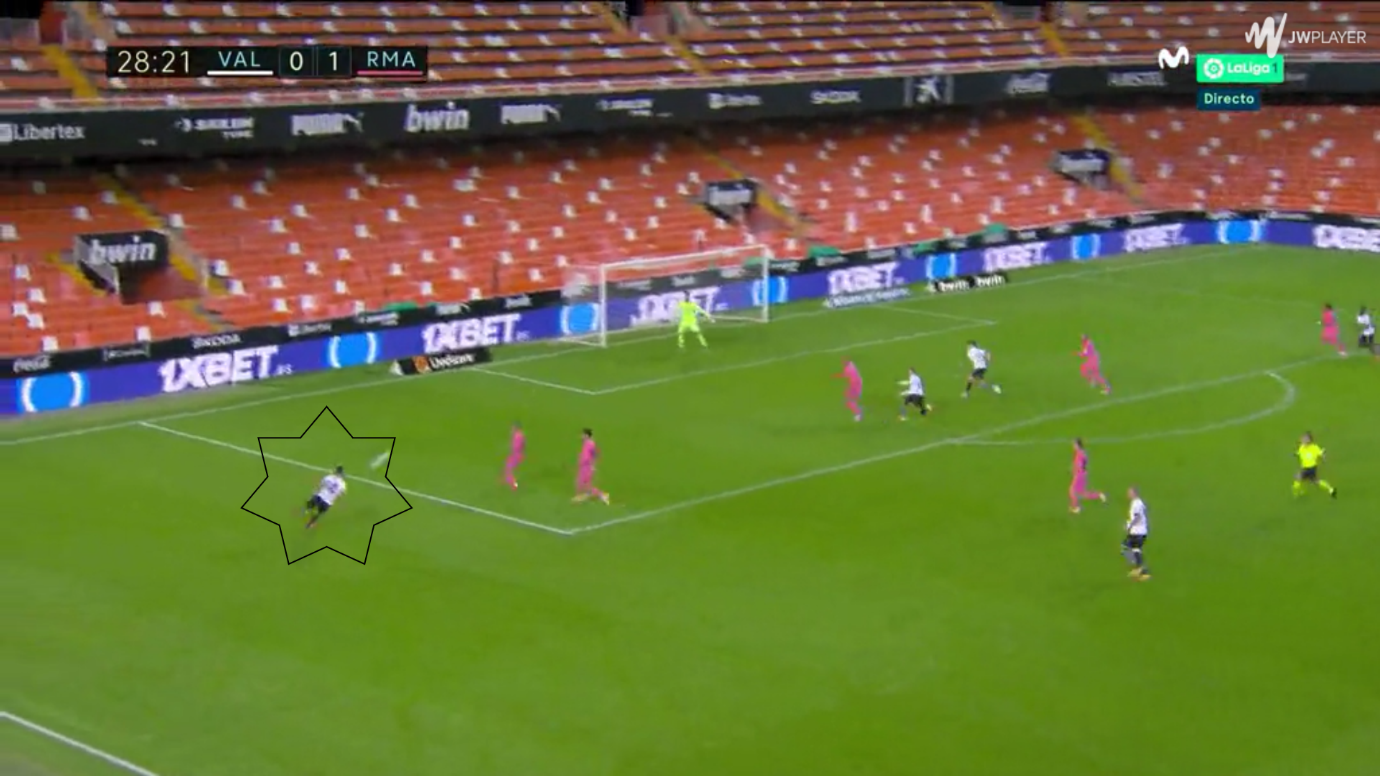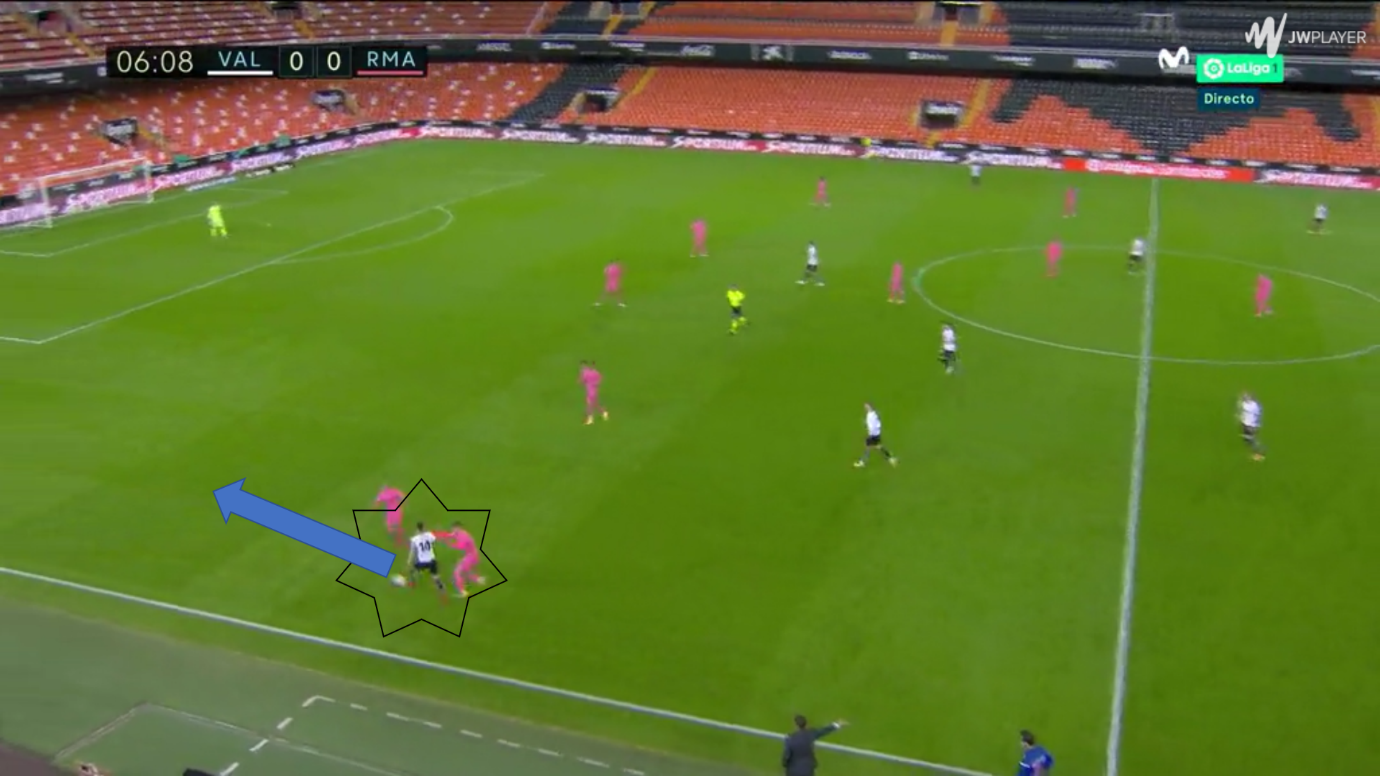 Awareness
Obviously, when talking about a full-back, we also have to analyse his defensive output. The first thing we can highlight about Gayá is his defensive awareness. For a defender, having awareness is crucial because it means that you can analyse the situation and act on it on time. Being aware makes a defender become proactive as he can anticipate what an opponent will do.
The best situation to see this awareness is one which happens often for Gayá. This is when the opponents are attacking on the opposite side and Gayá has to tuck into the defensive line to make a back four. In this situation, he has to look at the ball and also the opponents near him who are trying to make runs into the box. In the image below, we catch a moment when he is well-positioned to defend the cross but is also turning his head around to watch incoming opponents.
If you watch him closely during a match, we observe that he turns his head at a constant rate to be always concentrated and aware in that defensive situation. Another reason why he has to remain so concentrated in these situations is because of his height. Standing at 1.72m, he is not the most imposing full-back, meaning that if a cross were to be made, it would be tough for him to win the header. Therefore, by staying vigilant, he can anticipate and act accordingly. It's no coincidence that he makes 0.68 pass interceptions per game, placing him in the 94th percentile for this statistic.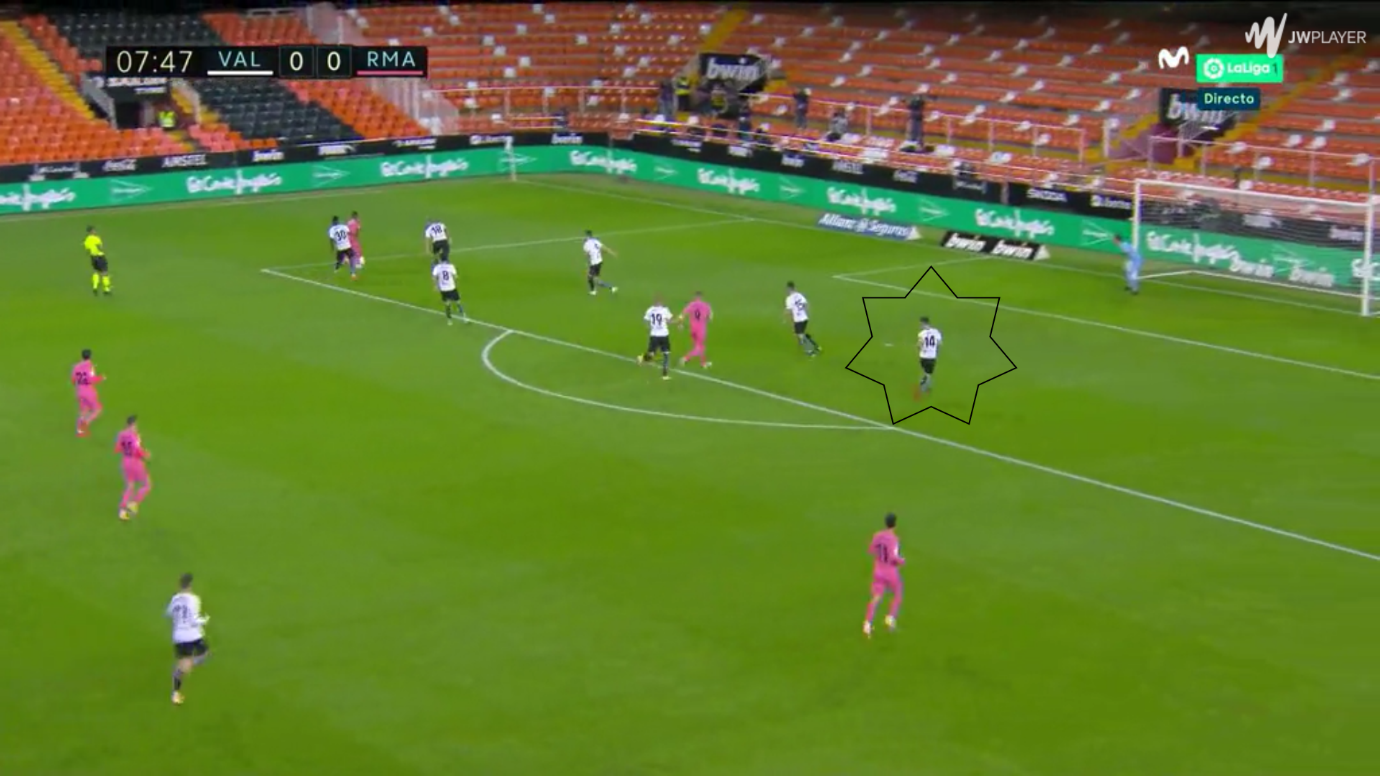 Positioning
When a defender has good positioning skills, it means that he understands football as having this ability shows that you can read the game well. Gayá can boast about having this which enables him to solve threatening opportunities. We can see an example of this in the below image from Valencia's game against Levante.
Valencia's midfielder is not controlling the opponent midfielder well so Gayá comes to support him. While doing so, he is protecting the pass through the middle and facing the opponent that is wide. In essence, he is forcing the opponent on the ball to pass it wide. The reason why Gayá has come out to help is because his teammate was struggling and because Gayá is confident in his pace, knowing that if the opponent passes it wide, he can get there easily.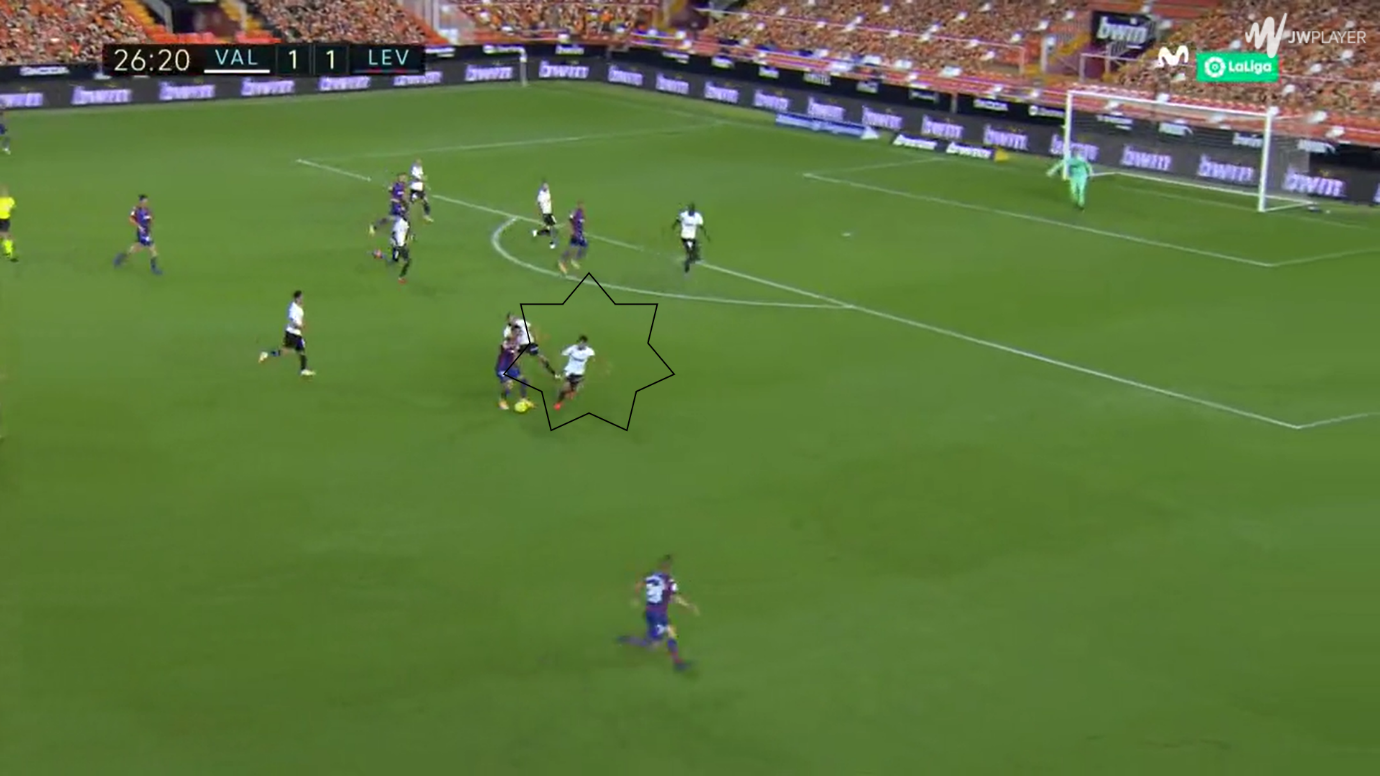 2vs2 Situations on the Wing
The most common defensive situation that a full-back finds himself in is a 2vs2 situation on the wing, where the winger on his side helps him. In these situations, it is important for both defending players to either man-mark one attacker or to defend zonally but communicate well to switch markers if the opponents make movements. Gayá and the left-winger generally employ a man-marking strategy because it is an easier method that requires a lot of concentration but tires the players more. Therefore, once Gayá chooses the player to mark, he has to stay with him and does it well. 
When the opponents generate a successful attack through Gayá's side, it is normally because Valencia's left-winger has failed to defend his marker. However, below we see an image of how serious Gayá is in these defensive situations. Gayá has chosen to man-mark Marco Asensio in Real Madrid's attack on the right side and has defended him well. This is clear as Asensio is now facing his own goal and going backwards while Gayá continues to apply pressure.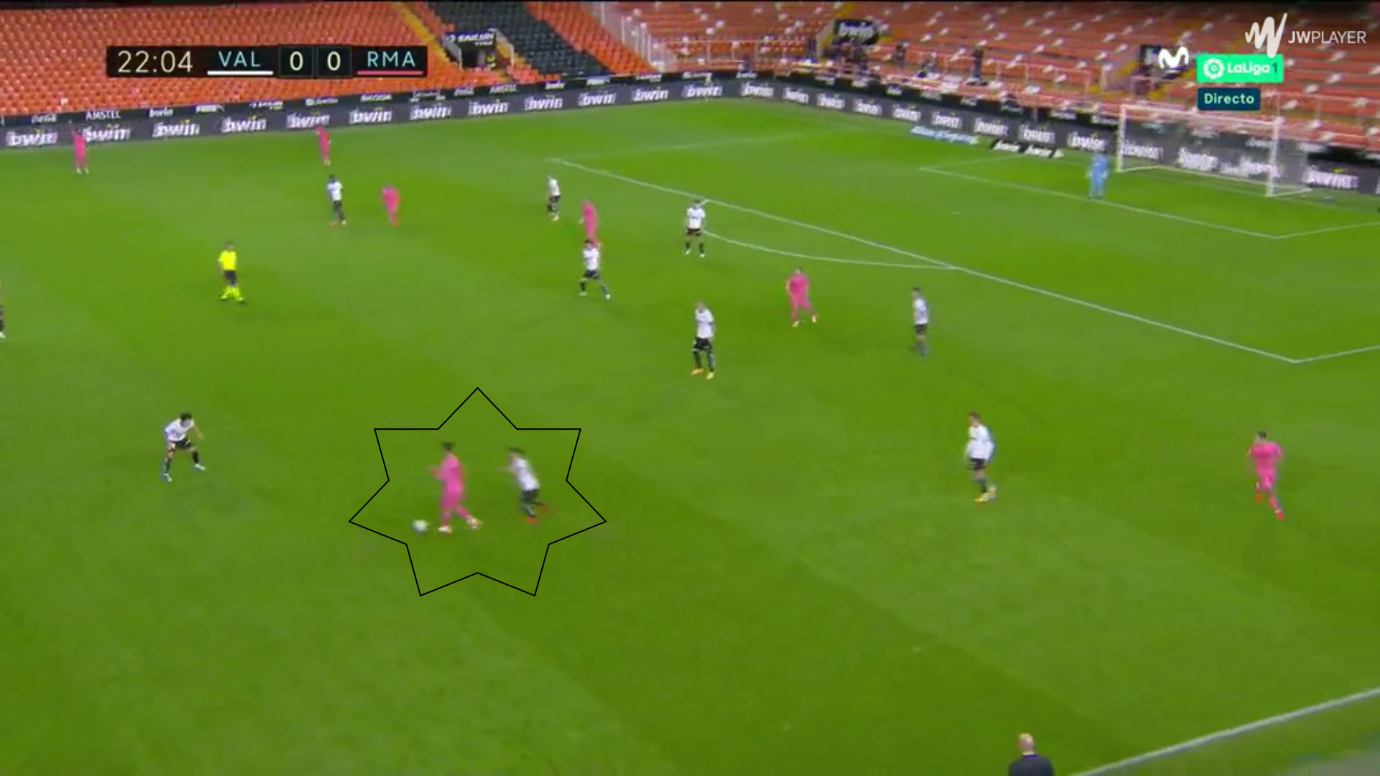 Conclusion
José Luis Gayá is a fan favorite in Valencia, as they appreciate his loyalty in the club's tough times. Even though he has gone through some average games, like Valencia as a team, he is still called to be Spain's left-back in this summer's tournament. Through his great attacking output, he can disrupt the opponents in different ways, while also providing safety in the back with his awareness and positioning. Being a Valencia fan myself, I really do hope that Gayá stays his whole career at the club, becoming a "one-man club" that is so rare in the modern game. 
By: Jaime Fernandez Valencia
Featured Image: @GabFoligno / Pressinphoto / Icon Sport