Player Analysis: Josh Dasilva
On 21 August 2018, Josh Dasilva joined now newly promoted Brentford FC on a three-year deal with an option of a further year following his release by Arsenal at the end of the 2017-18 season. With a contract also offered by Arsenal to extend his time at Emirates, Dasilva chose to join Brentford with the idea of gaining more experience and game time at the West London club.
A move that has seen Dasilva accumulate 89 appearances in 3 seasons for the Bees, with fine displays throughout his time so far at the club. With Brentford rewarding Dasilva a brand new 4-year contract on 4 October 2020, with 2 years left on his previous deal. 
Josh Dasilva Under Thomas Frank 
Due to Thomas Frank being internally promoted to Brentford head coach after Dean Smith leaving to join Aston Villa, Dasilva has been vital for the Dane's rise to success.  With the 2019/20 Championship season being the best for Dasilva yet with 14 G/A in 42 appearances. With 4 goals and 1 assist coming in November from Dasilva it caused him to win the EFL Championship Player of the Month award.
Through the formation of Frank's 4-3-3, it allows fluidity, such as turning into a 4-2-3-1 with Dasilva stepping into the 10, but also a 3-4-3 with the fullbacks coming alongside the two eights and the six dropping back in between the centre-backs. Throughout his time at Brentford, Dasilva has shown his ability to play both right and left side of central midfield. A true show that Dasilva is comfortable with both feet which allows more strategies to be made by Frank and gives much more of an influence on the pitch from Dasilva.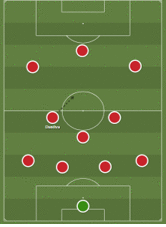 FIGURE 1: Dasilva within Frank's 4-3-3 formation, which allows a fluid midfield consisting of two roaming eights in Dasilva and Mathias Jensen. With a 6 of Vitaly Janelt who steps in front of the two centre-backs to collect the ball from David Raya when Brentford reset for another attack. But it also can change when full-backs of Rico Henry and Henrik Dalsgaard push forward to create a temporary 3-4-3. 
Josh Dasilva for Brentford in the Championship 2020/21 season

FIGURE 2: Dasilva with his first of the season at home against Huddersfield. Rico Henry makes a darting run from left-back causing Romoney Crichlow to cover right back Pipa due to him being out of position.
Ivan Toney and Bryan Mbeumo drag Jonathan Hogg and Jaden Brown away from the edge of the 18-yard box, causing the Huddersfield defensive line to drop. Dasilva sees this and slows his run to receive the ball. Before side-footing the ball first time emphatically into the bottom right corner. A complete overload by Brentford.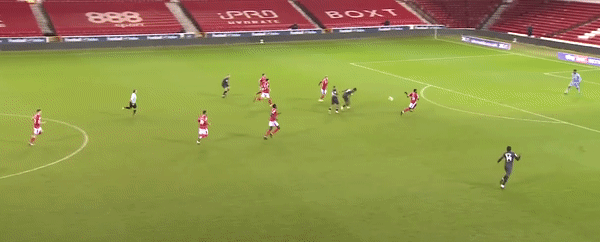 FIGURE 3: Dasilva with Brentford's second of the game away at Nottingham Forest. A clinical counter-attack from Brentford with a temporary 4-2-3-1 made. With Sergi Canos picking up the ball on the left, Mbeumo coming in central, therefore allowing Dasilva to go onto the right with Toney through the middle.
Due to Dasilva picking up a wide position, Forest defenders were caught ball-watching which then allowed Dasilva the space and time to receive the ball, before cutting in on his left foot and curling the ball into the top left corner. Yet another overload by Brentford saw Dasilva score due to him generating masses of space for himself. CREDIT (Brentford YouTube Channel)

FIGURE 4: Dasilva, yet again in an advanced area in the final third. Due to Canos dropping deep, Dasilva made a run outside to receive the ball as a temporary left-winger in a 4-3-3. With Toney central and Mbeumo out on the right. Preston's backline is a spread four, with right back Joe Rafferty (highlighted) taken out of the play due to his positioning.
Leaving Ben Pearson, a number 6 to try and follow the run of Toney, which at this point in the play is near impossible due to the positioning of Toney already. In which Dasilva expertly swings the ball in front of Toney for Toney to knock past Declan Rudd in goals. Expert attacking positioning and footballing IQ to see the opportunity for Toney and put the ball in the perfect place for him to dispatch.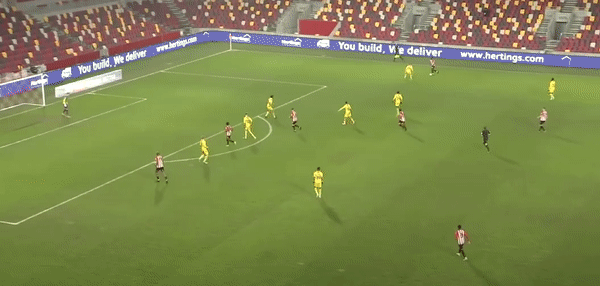 FIGURE 5: Dasilva picking up the ball on the right in another advanced position. He then uses raw pace and power to beat the helpless Wycombe left back. In which Sergi Canos spots this, dropping to the edge of the box as a 10 to allow Dasilva the chance to find him, in which Canos finishes emphatically. Physically fantastic from Dasilva. CREDIT (Brentford YouTube Channel)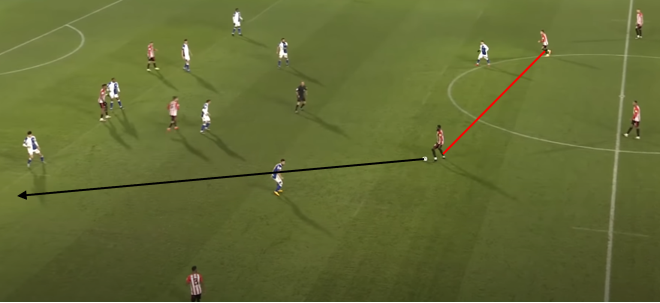 FIGURE 6: Dasilva finds himself in a deeper role, acting as a 6 alongside Jensen due to Emiliano Marcondes playing the 10 in behind Toney. With the full-backs of Dalsgaard and Henry pushed up, Dasilva drops deep to receive the ball and then to swivel, ready to distribute for the attack. With that he plays a defence-splitting ball in behind the Blackburn defensive line, breaking the lines. For which Canos picks up the ball and cuts in before unleashing the ball into the top right corner. Another assist for Dasilva.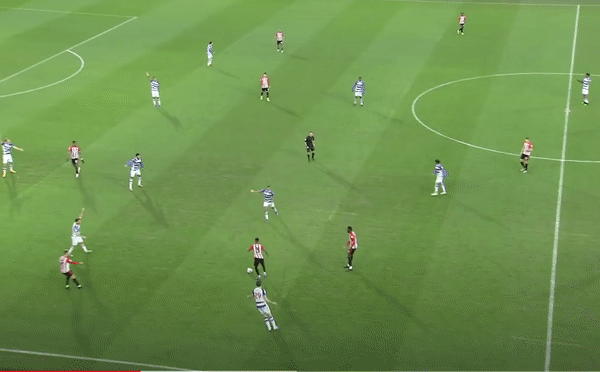 FIGURE 7: Dasilva picking the ball up deep once more, receiving the ball from Henry. With Dasilva almost acting as a 3rd central defender with how deep he is. He then pings the ball diagonally to Mbeumo. Which is utterly inch-perfect, Mbeumo cuts in and slams the ball into the top corner of the net, a goal which is yet another assist for Dasilva. CREDIT (Brentford YouTube Channel)
Statistical Excellence in 2020/21
Da Silva has racked up 30 appearances in the EFL Championship this season, with 5 goals and 4 assists, a G/A every 238 minutes from Dasilva. An average of 1.1 key passes per game, from an average of 34.8 of passes made. A very high average of key passes comparing against the passes made from other championship midfielders. Quality passes from Dasilva over quantity.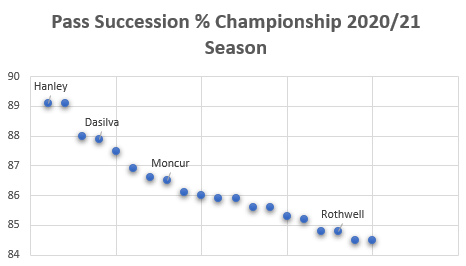 FIGURE 8: Dasilva's pass succession compared against the top 20 in the Championship for pass succession percentage within the 2020/21 season.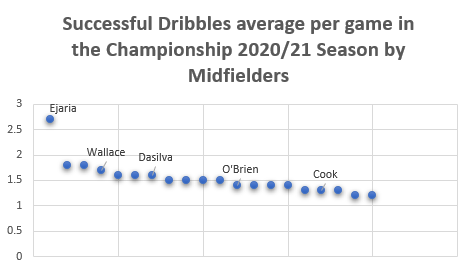 FIGURE 9: Dasilva's successful dribbles per game average compared against midfielders within the Championship for the 2020/21 season. 
Conclusion
Josh Dasilva was one of the most influential midfielders in the Championship season of 2020/21, which unfortunately ended abruptly in February due to an injury. Dasilva can play various roles across the midfield due to his all-round attributes. He can drop deep as a 6 to collect the ball before distributing it to start an attack for Brentford, this can be seen in the number of key passes made on average per game by Dasilva compared with the amount of passes he makes. Showing how much of an impact he has on the ball for Brentford.
Dasilva usually plays as a roaming eight, a box-to-box midfielder. One that carries the ball into open space with ease due to his pace and power that is a nightmare for the opposition. A player who can generate space for himself and his teammates to positively impact the game, he is truly a fantastic footballer. He is a player that I have no doubts will make the step-up to the Premier League and positively influence Brentford next season. And with Dasilva only being 22 years of age, he has a very bright future ahead of him.
By: Oliver Hargreaves
Featured Image: @GabFoligno / Adam Davy – PA Images