Player Analysis: Julien Duranville
Name: Julien Duranville
Age: 16
Position: LW/W
Height: 5'7/1.72M
Preferred foot: Right
As far as the Belgian Pro League goes, RSC Anderlecht and Club Brugge often reign supreme, with the prior claiming the title on a record 34 occasions in the small but yet vastly blessed Western European Kingdom. Surprisingly though, they last topped the league in the 16/17 season, making this period the longest drought in the club's history since the turn of the century. Winning the league doesn't only come with domestic bragging rights but a much-prized automatic ticket into the UEFA Champions League group stage. 
Their lack of participation in Europe's elite club competition has meant that the club has struggled to attract top talents from around the world and even the continent, however, this has provided an opportunity for academy players who are deemed ready for first-team football to earn some priceless experience so early on in their careers. In 2022 alone, 22 of their graduates were awarded a debut, with 3 of them being born in 2006. One such talent was highly rated 16-year-old winger Julien Duranville. 
Born on the 5th of May 2006 in the small affluent town of Uccle just outside the capital city, Brussels to a Belgian-Martinican father and a Congolese mother, Julien started his footballing journey at the clubs world-renowned Neerpede Academy in 2013 at the age of seven and has blossomed into an exciting prospect through the years.
In May 2021, still only 15, the youngster signed his first contract before making his inaugural professional appearance for the club a year later on May 22nd, 2022, two weeks after his 16th birthday, against archrivals Club Brugge in a 1-1 draw. With this, he became the third youngest player in Anderlecht's history at 16 years and 17 days – only Nii Lamptey and Red Devils legend Romelu Lukaku were younger when they first appeared for Les Mauves et Blancs.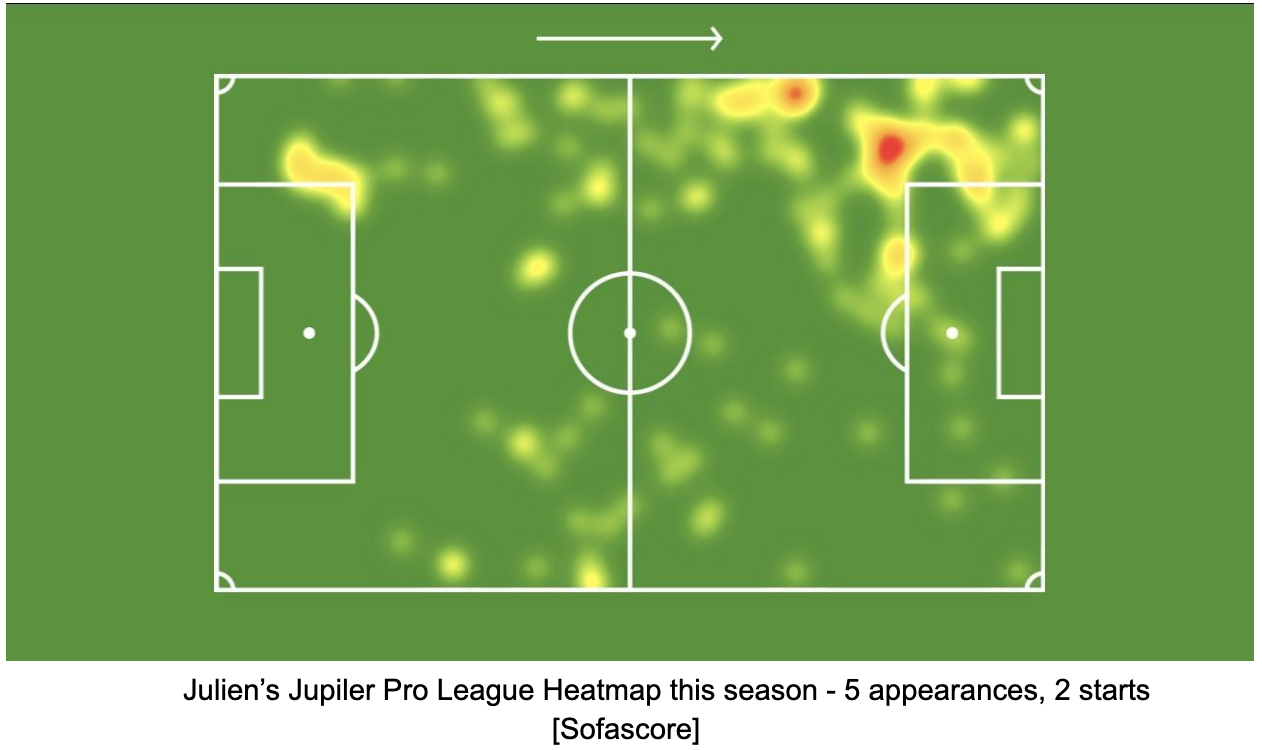 Since his debut last year, Duranville has gone on to make 15 appearances for the first team, with 5 of them coming in the league this campaign (22/23). He has started 2 games with an average of 48 minutes in each game and has a single goal to show for his noteworthy performances. The first thing that catches your eye when watching Julien are his physical attributes and how well he uses them to his advantage.
The fleet-footed winger is only 5'7/1.70m (considering his age there is still room for further growth height and strength-wise), but yet does not shy away from bodily contact when in possession. On average he has won an impressive 3.2 duels per 90 with a 53% success rate this season.
His low center of gravity often works in his favor as he is very agile and has a lot of pace to burn once he gets going. Peter Verbeke, the club CEO has nicknamed Duranville "Blitz", going on to emphasize just how special he is. "Julien passed physical tests with results that were never seen before. And he also combines that with phenomenal technique. He's an absolute top talent."
🗓 2 Sep: Scoort voor RSCA Youth.
🗓 4 Sep: Scoort zijn eerste doelpunt voor RSC Anderlecht.

Wat een weekend voor Julien Duranville (16)! 👏👶 #ANDOHL pic.twitter.com/zhCHTKLuLc

— Eleven Sports (NL) (@ElevenSportsBEn) September 4, 2022
The teenager tends to dribble toward defenders with a very direct style and generally outpaces them with his explosiveness when attacking, completing 1.8 dribbles on average per 90. If his speed alone is not enough to beat his man, Julien relies on his skill and outstanding ability in 1v1 situations – be it with some stepovers or by simply deceiving them with a feint. Thanks to his excellent body control, he can lose opponents with great efficiency.
Duranville is very aware of his strengths and engages in said duels with a high level of self-confidence coupled with his good first touch, he is able to react accordingly and control passes at high speed. His composure for someone so young is exceptional as he usually keeps calm and can hold up play very well even under pressure, using his body intelligently and creativity to wiggle out of tight spots.
⚡️| Julien Duranville, een nachtmerrie voor elke verdediger. 😵‍💫🇧🇪 pic.twitter.com/TGh5niRnMR

— Eleven Sports (NL) (@ElevenSportsBEn) November 20, 2022
Another feature of his game that distinguishes Duranville is his versatility. With the ability to use both feet, he's very unpredictable as he can either opt to dribble down the touchline or cut infield when afforded the space by the opposition, looking for vertical options and quick 1-2's with teammates.
This season he has mostly been utilized as a left winger but can also be used to equally devastating effect on the other flank. Moreover, Julien offers smart off-the-ball movements and likes to find the best space to receive the ball with good timing. His crossing and passing alike are also underrated traits he possesses.
🚀 | Julian Duranville's eerste #CPL-doelpunt is een schicht! ☄️ #RWDAND pic.twitter.com/PdeQgyMbdE

— Eleven Sports (NL) (@ElevenSportsBEn) September 2, 2022
As with most youth players, understanding the importance of teamwork is a huge factor in determining whether one will be a success or not at the next level as the individualistic qualities that make you stand out at the younger age groups may not necessarily be what does in senior football, and Duranville could certainly do a bit better in that regard. However with that being said bravery and confidence are very important for players in his position.
With his 17th birthday still a couple of months away, there are other areas of his overall play that could use improvement. As expected, decision-making is one such part but that usually comes with maturity and experience. If he can apply the composure he shows in his dribbling to execute chances, he will become even more difficult to stop. Another is his defensive awareness and positioning but to his credit he often tracks back to help in that phase and is able to dispossess opposition attackers successfully as his speed enables him to cover ground quickly. 
💫 | "On voit qu'il a quelque chose d'exceptionnel." – Roberto Martinez n'exclut pas de sélectionner Julien Duranville pour la Coupe du Monde. 👀⚡ pic.twitter.com/oFdWpjwtdX

— Eleven Sports (FR) (@ElevenSportsBEf) September 15, 2022
Former Belgian national team manager Roberto Martinez showered Duranville with praise in an interview in September, stating: "He has something special. He still has to grow and you can never predict how long it will take before he is a complete player and ready for the Red Devils. He is an immense talent and someone who can make a difference…for him it is more a question of when than if he will ever become a top player."
Overall, Duranville is well on course to be a part of a thrilling generation of Belgian players to come through in the next few years. Having opted not to extend his current contract that expires in the summer of 2024 and on the verge of a move to Bundesliga powerhouse, Borussia Dortmund in a deal reported to be worth around €8.5million + €3 million in add-ons, the starlet will be in the perfect environment to nurture his talent at a competitive level.
BVB has successfully propelled the likes of Jadon Sancho and Christian Pulisic into world-class players, for example. Probably a bit advanced for U19 football, he will most likely earn most of his minutes in the U23s before being assimilated into the first team sooner rather than later. It's no doubt a big change but a good one nonetheless and could be massively beneficial in seeing him take the next step in his development. 
By: Vuyo Reggie Ndebele / @RegaloJnr
Featured Image: @GabFoligno Dean Mouhtaropoulos / Getty Images