Player Analysis: Lucas Paquetà
When AC Milan signed Lucas Paquetá from Flamengo in January 2018, there were high expectations. Touted as one of Brazil's next greats, the midfielder made the journey across the Atlantic to the San Siro, for a fee of 38 million euros. Expected to set the world alight, Paquetá promptly proceeded to register just 1 goal and 2 assists in 37 appearances for the Rossoneri.
Later opening up in an interview, he claimed that he put too much pressure on himself to be the star of the show in every single game, which led to a vicious cycle of lost confidence and poor performances. Milan decided to cut their losses on the Brazilian, and sold him to Olympique Lyon in the summer of 2020, for a loss of 18 million euros. In France, Paquetá has been a player reborn, rediscovering the kind of form that put him on the map in the first place. Here is a look at his 2020/21:
Statistical Analysis
Despite playing as a number 10 for much of his career, Paquetá has been used as a more traditional central midfielder under Rudi Garcia. He has stepped up on occasion to reprise his regular role, but by and large, has adapted his game to play slightly deeper as well. This has not diminished any of his creative powers, however.
On the contrary, it makes Paquetá a fantastic asset to most managers, providing tactical flexibility with respect to the team shape, over the course of a season, or even within a specific game. To get a sense of the different ways he has been used this season, here are his game-by-game heatmaps for the league season: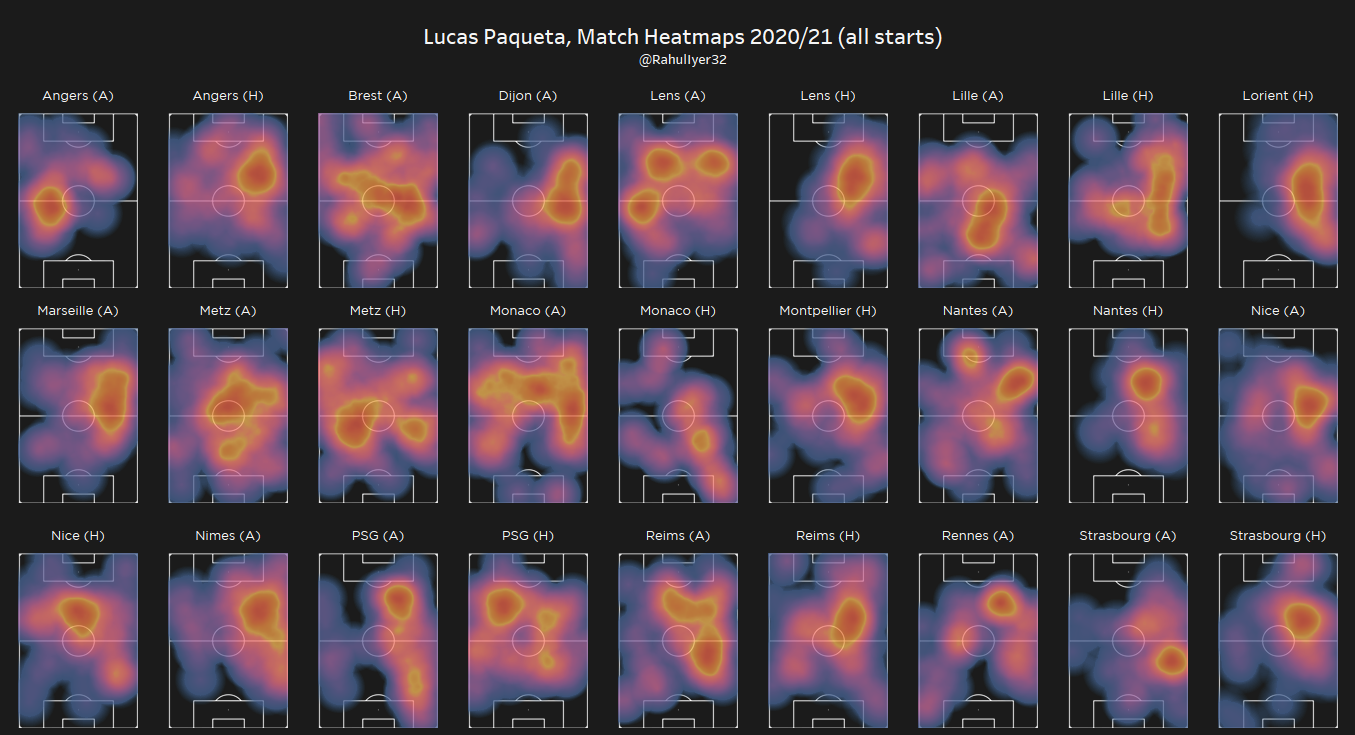 As is clearly visible, Paquetá's main position appears to be in the right-sided half-space, just over the halfway line. This tendency is usually seen due to the fact that he is used on the right, as one of the 'eights', or more advanced midfielders, in a 3-man setup, with Maxence Caqueret on the left and one of Bruno Guimarães and Thiago Mendes behind the pair.
Of the 27 games, he has started this season, he has played 20 in this role, with the other 7 seeing him operate in his usual number ten position. With respect to his creative role, Paquetá has not only been at the very top of his game, but has been one of Europe's best. Among midfielders who have played at least 10 games in the top 5 leagues this season, Paquetá ranks 9th for non-penalty xG generated (through both shots and shot assists) per 100 touches.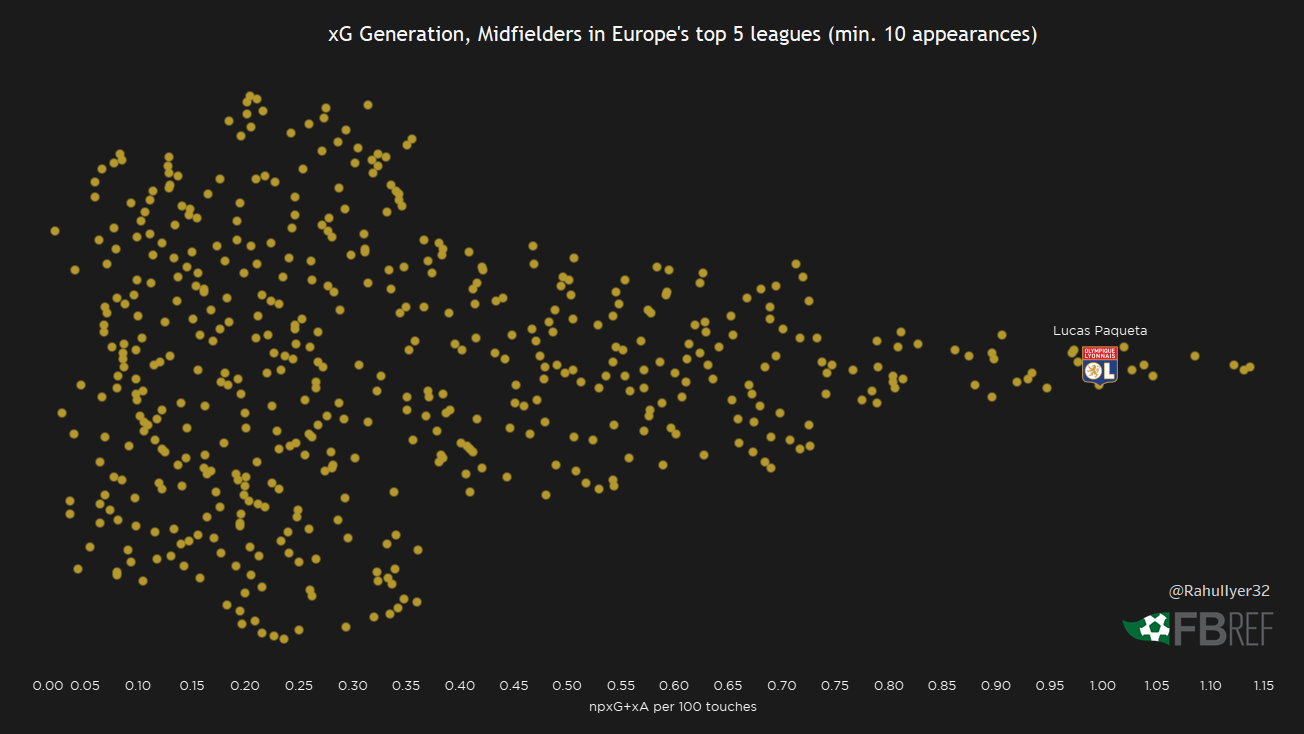 Clearly playing a primarily deeper role, presumably a more withdrawn one as well, has not affected his ability to be a real force in the final third. However, there are slight differences in the way this objective is reached. For example, here are the differences in his pass reception areas when playing deeper, and more advanced, respectively.
Unsurprisingly, the majority of passes he receives are on the right-hand side of the pitch, in and around the halfway line. In this role, he usually participates in the first phase of possession, receiving the ball from the centre-backs and moving it up the pitch to the more advanced players. It also enables him to create separation from opposition defenders for a while, following which he can drift into attacking positions with less attention.
Now contrast this with Paquetá's positioning when playing in the more advanced role. Despite a similar tendency to move towards the right flank to receive the ball, he also has a more significant presence on the left, compared to when he plays deeper. He is also more advanced and involved in the second phase of possession, where he can take up positions between the opponent's defensive and midfield lines and look to create opportunities in the final third.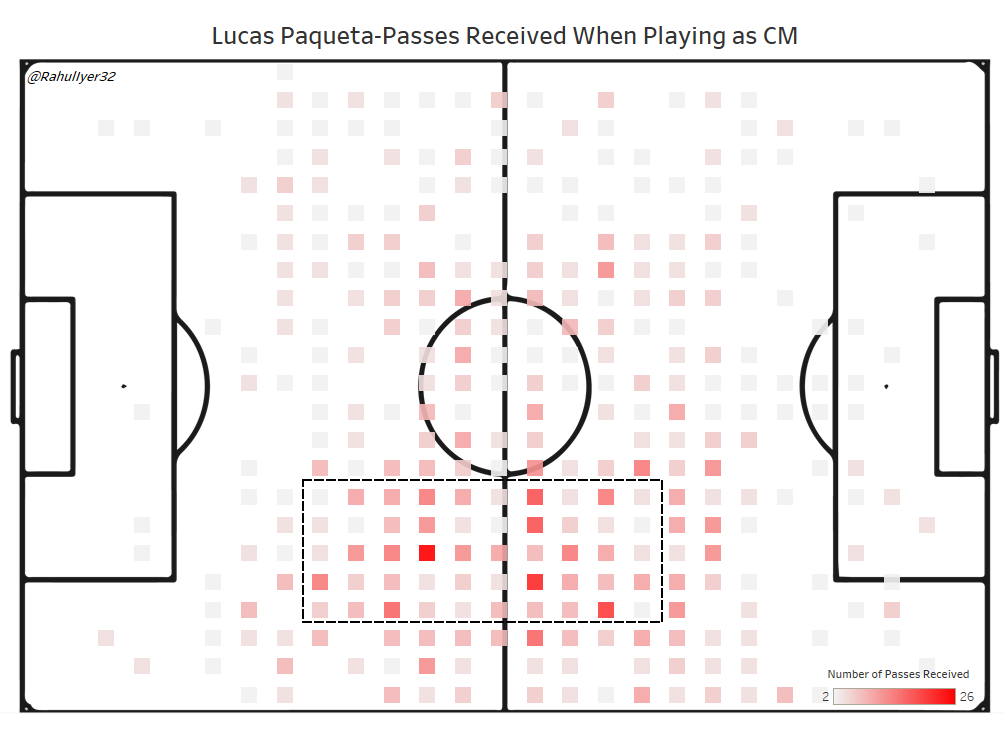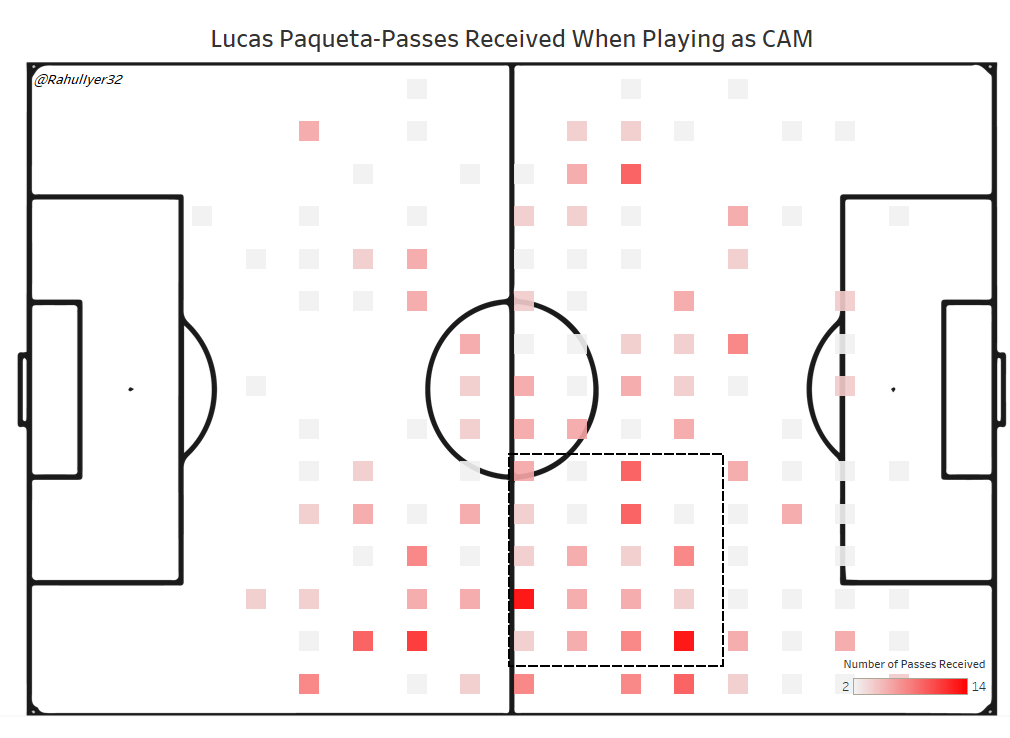 There is also a contrast in Paquetá's style of distribution when playing in these positions. Playing as an eight, he tends to spread the ball a lot more, generally all around the pitch, with a slight preference for passes into advanced central areas. These are usually to the feet of a centre-forward (usually Memphis Depay) dropping deep, or to a midfield runner bombing forward.
As a ten, he generally receives the ball in these central areas, but doesn't quite play one-twos and get involved in intricate passing moves in those areas. This is probably due to the fact that the games in which he plays this position are usually against teams that like to pack that area and deny him space to manoeuvre in.
As a result, there is more of a focus on distributing to the wide areas, where Lyon can then seek to create numerical superiority with overlapping full-backs, and create chances from there. Although, if given the chance, he will almost certainly attempt to play a runner in through the middle.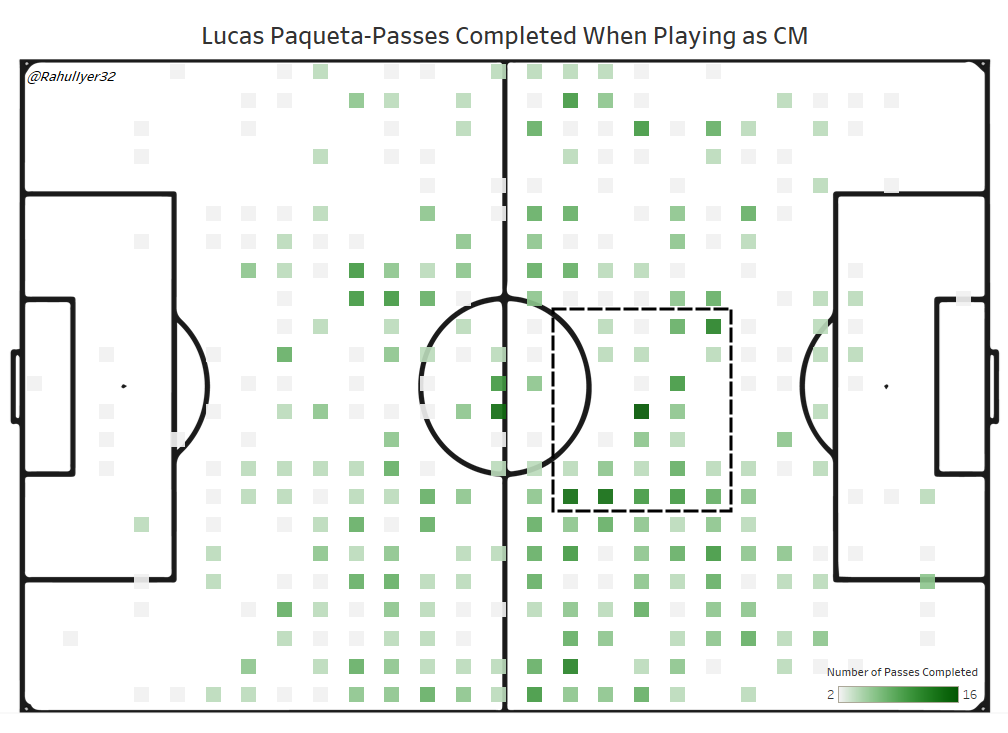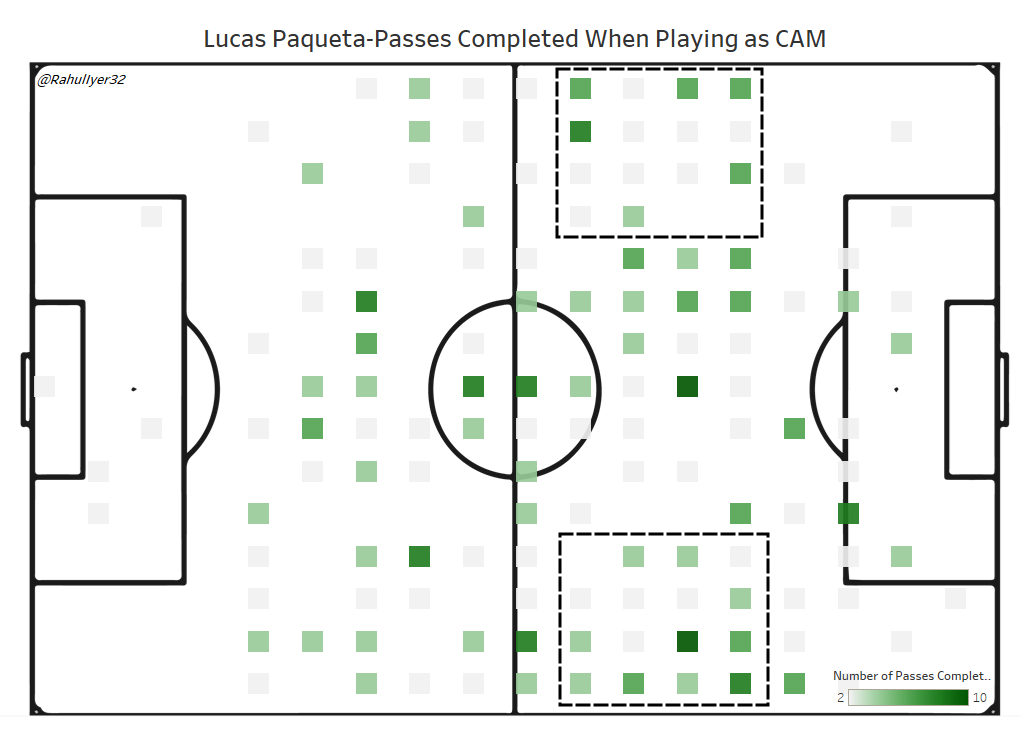 Evaluating Paquetá's defensive performance from a statistical standpoint is slightly trickier, given the change in positions he has, but there are two aspects of his game he does retain, irrespective of positional shift: his tendency to press hard, and attempt tackles on a regular basis. However, these are better analysed through video footage.
Video Analysis
Credit & Source: Wyscout
As mentioned earlier, particularly when playing in midfield, Paquetá tends to drop deep and receive the ball from his defenders in order to progress the ball. It not only allows him to escape the attention of his designated marker(s), but it also gives Lyon the chance to move the ball more directly into the final third, thanks to Paquetá's vision and passing technique. This is also why, if the team is trailing/drawing going into the final minutes of a game, he will drop deeper and deeper to enable this. 
The following clip is a great example of how useful this tendency of his is; at the very beginning, Paquetá receives the ball in what is effectively the right-back position. As the ball is circulated among the back line and by the time he comes back to him, he has taken up a position where it is possible for him to play the pass he does, without being put under pressure by the opposition, who have already returned to their defensive shape.
Credit & Source: Wyscout
However, given that possibly his main strength is his influence in the final third, it would be remiss to not mention Paquetá's ability to fashion chances for his teammates, such as in the next clip:
Credit & Source: Wyscout
One interesting point to note, particularly from this, is not just the fact that he is creating chances, but the way he creates them. Most of his key passes are made into space, for a teammate to run on to. In fact, according to FBRef, Paquetá's 0.46 completed through balls per game put him in the 97th percentile for midfielders in Europe's top 5 leagues this season.
This strength of his, to pick out players on the move, may well have been a contributing factor to his dip in form at Milan. He often played with the likes of Zlatan Ibrahimović, Ante Rebić, Samu Castillejo and Hakan Çalhanoğlu, players who prefer to receive the ball to feet, similar to Paquetá, instead of making runs in behind and stretching defences. At Lyon, with Memphis Depay, Karl Toko Ekambi, Tino Kadewere and Houssem Aouar, the cast around him suits his style of play better.
Despite being a primarily creative player, however, Paquetá does not shirk his defensive duties. Tracking back to provide additional cover to his full-back, while also being adept at forcing opposition defenders into uncomfortable situations, he proves just as useful out of possession as he is in it.
Credit & Source: Wyscout
There are two things in particular to like about Paquetá's defending, both very strong fundamentals. When facing up opponents one on one, he tends to stay low, bent on his knees, allowing him to adapt quickly to sharp changes of direction his opponent may employ to get past him.
In addition, observe his approach style. He attempts tackles from the blind side of his opponents, ensuring that it is difficult for them to see him coming. In addition, the intensity of his approach combined with his surprisingly long reach make sure that he can always make opponents uncomfortable.
The following clip, again, is a perfect blend of what makes Paquetá so functional; he starts the move by pressing hard and winning the ball back, and finishes it off by setting threading a ball between two defenders to set up Houssem Aouar.
Conclusion
At a price of 20 million euros, Lyon picked up an absolute gem in Paquetá. If he can maintain the kind of form that he has shown this season, L'OL will surely have a thing or two to say about the Ligue 1 title race in years to come. Expect them to be a significant force in Europe as well. As for Paquetá, he is still only 23 years old, and could still have a potential move to a European super club waiting in the future.
By: Rahul Iyer
Featured Image: @GabFoligno / Eurasia Sport Images – Getty Images