Player Analysis: Mady Camara
The cradle of western civilisation has borne witness to countless legends, mythical or not. Men of distinction, character, and strength have long inhabited the lands of the Hellenes, from the stories of Achilles to the very real legacy of Alexander the Great. Though contemporary Greece appears to be on the ropes both in a footballing and societal sense, a few good men remain.
One of those men is Olympiacos's own hero, Mohamed "Mady" Camara, The star of Piraeus's footballing Parthenon, not to be confused with ten other professional footballers that share the same name. In the Greek Super League ecosystem, Camara merits comparisons to the legendary Heracles, an extraordinarily strong, courageous and ingenious man who relies on wits on the occasion his strength fails him, a player built for the footballing equivalent to battles in Homer's Iliad.
Born on Guinea's Atlantic coast in the country's capital, Conakry, Camara grew up in a nation embroiled in instability from countless internal and external threats, not least president of 24-years, Lansana "big-man" Conté. His Guinean footballing education was a means to leave the nation, a hopeful passage to the warped "reality" of the riches and stability of European football, with France undoubtedly the destination for Guineans and, in a greater sense, Africans.
Camara's early footballing education saw him turn out for AS Kaloum Star and Santoba FC. May 2015 marks the month when Camara left Guinea for pastures new as he embarked on a make or break trial with AC Ajaccio. Evidently, Camara impressed while in Corsica, as under 12 months later, he ended up back in Ajaccio but then on a professional basis. Camara's two years in France were impressive but not outstanding.
Perhaps more important than performance for Camara was the acclimatisation to top-level football whilst in relatively familiar surroundings. France provided a situation in which Camara would be understood lexically and culturally, a factor that cannot be underestimated. It's sad to ponder the troves of talent who have been unable to lie in the bed they made in a foreign home and instead returned to home and, with them, their dreams of a football career.
He left France for Greece in March of 2018, trading Ajaccio for Athens, leaving his former club with an extra £2.5 million in the coffers. Though the then 21-year-old was expected to feature as a rotation option for Thyrlos, Camara soon became a crucial fixture in the middle of Olympiacos' 4-3-3. The Guinean's time in Greece has ticked all the boxes for player and club alike, so much so Camara has been linked with several moves away from the Karaiskaki with the rumours of Arsenal, AC Milan and Roma failing to dissipate.
Camara's countrymen back home are gleaming with pride for one of their finest exports, so much so that one of Guinea's biggest musicians, Mousto Camara, made a song about the man who shares his last name. Mousto Camara's number is an intensely catchy afro-beats song that may be as fun as watching the man on the pitch. In football and in life there is no smoke without fire, so in this piece, I will look at why some of Europe's traditional elite are flirting with the Guinean.
Position and Tactical Responsibility
He is Olympiacos's enabler of sorts, the gel which allows a midfield of Mathieu Valbuena and Yann M'Vila to function. In a tactical sense, Camara is a key motivator and benefactor. Pedro Martins' Olympiacos focuses on attacking width and creating wide overloads that force inopportune defensive rotation. Camara's role is two-fold: the first phase of his involvement is to provide accurate progressive passes to the wide-men.
If they can navigate the opposition's fullbacks, Camara is often found charging in late as an external option for those same wide men. In simple terms, the Guinean is the linchpin who enables tactical continuity and quality for Olympiacos. Out of possession, Camara's impetus is equally pivotal. The Greek side utilises a high press reminiscent of a 4-2-4; Camara is often left to patrol the central areas of the pitch as one of the two in the "defensive" midfielders.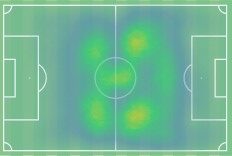 Photo: Wyscout
Camara's defensive responsibility is compounded when you consider the aforementioned tendency of Olympiacos's fullbacks to get high and wide. Fundamentally Camara is a high-level tradesman familiar with many football trades; his forte is not plumbing or plastering, but instead tackling and passing.
He is the sort of player at the Greek level capable of everything, similar to the former county-youth player who opens both the batting and bowling at your local club side. If pushed, you would say that he is slightly more inclined in the opposition's half than his own; however, this is an exercise in splitting hairs.
As seen in Wyscout's heatmap for Camara above, he operates around the halfway line with an inclination to wander wide but not to the extent to which it blocks a running lane for a teammate. He may start the game on paper in the middle of the 3 in Olympiacos's 4-3-3, but there is plenty of wiggle-room for the Guinean, as he has been used on occasion on the left of a 5-4-1 or 4-4-2.
Defensive Contributions
There is a hierarchical nature of footballers' roles; however, those like Camara, who are in the thick of it on both ends, are expected to juggle defensive and attacking exploits. That doesn't necessarily mean that they need to be equally skilled, rather equally committed, which shines true in this case.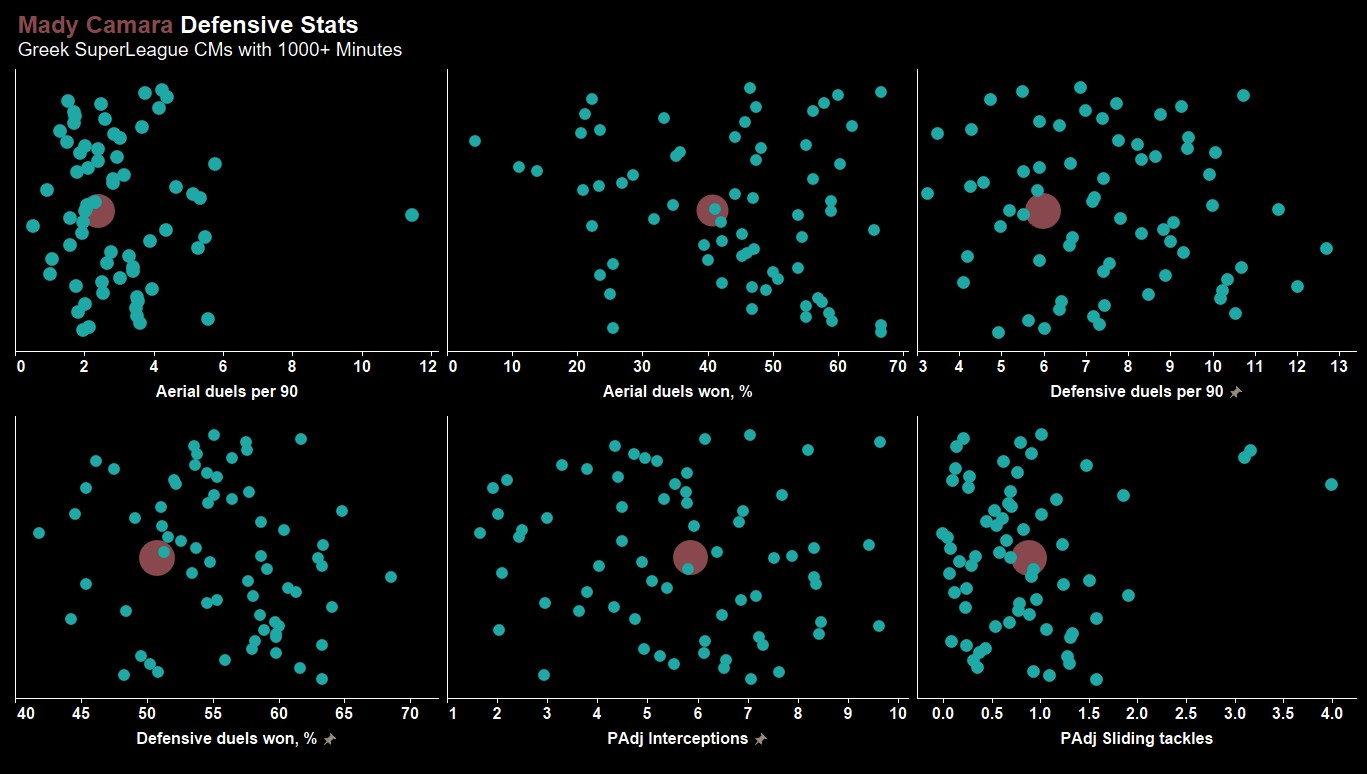 Camara is an able defender though he is made out to be slightly better equipped when playing in the SuperLeague, though, even in Greece, his defensive stats do not stand out, as seen in the chart above. Most of his good work is borne out of his work ethic and physical power; these enable him to challenge the opposition throughout the 90 consistently.
Nonetheless, he still has good timing in the tackle and has a knack for being in the right place at the right time. The clip below is an example of the most common defensive interference in Camara's game: a backtracking support run that puts pressure on the opposing forward with the intent of pushing that forward into the back four or forcing the break to halt.
In the clip, Camara is seen at speed, running back to assist the back four and forces the AEK forward to turn lateral and momentarily pause. This short pause allows Camara enough time to catch up and eventually win the ball back with an easy touch which sees Olympiacos back in control of the ball.
Credit & Source: Metrica Sports
When faced with the ball, Camara again proves a valuable facet in any defensive system. When engaged in a low block, he usually hovers outside the penalty area as a part of the intermediate block between the defence and pressing spearheads. When a player runs into Camara's vicinity, it is akin to being a crumb of bread in the vicinity of a, however, your fate sealed. The clip below shows this crystal clarity.
Camara quickly moves towards the opposition midfielder in tandem with his teammate. When close enough to his opposite, Camara quickly barges in, albeit cleanly, wins the ball, and promptly disposes of the ball to an advanced teammate. This shows the value of Camara's physique as he is seen here easily winning the ball due to his strong core and shoulders. 
Credit & Source: Metrica Sports
If a team considers signing Camara to fill in a purely defensive role, they may be left disappointed, not just because he is so much more than a destroyer, but rather he may not fill that role well at all. Defensively he gets by, and though it may be essential to his role, it is far from the fulcrum of Camara's game. To put it bluntly, if you are prepared to put up the big bucks but want a defensive specialist, you may want to stay clear of Camara.
Passing and Chance Creation
Camara mixes functional and aesthetic when it comes to his varied passing repertoire. Much of his work is passing as a means of footballing transport: small, simple passes that slowly progress the ball. This doesn't mean that this is all he does as he regularly flaunts his technical acumen, but rather the meat and potatoes of Camara's ball-playing are the passes that are the basis of possession and football itself.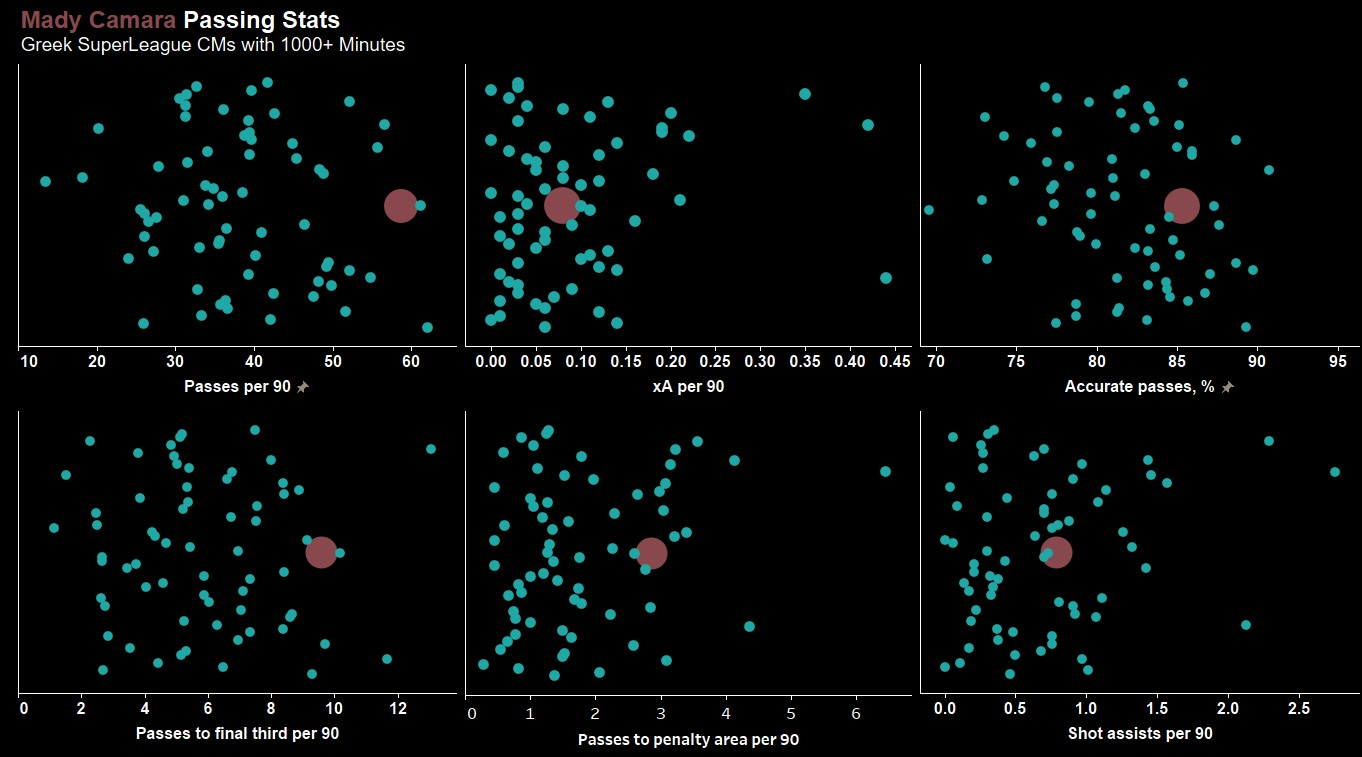 He operates as Olympiacos's chief orchestrator, as evidenced by his passing numbers above. His passing accuracy on its own is impressive and in the top 25% of the player pool but is even more so when you consider the number of passes that the Guinean plays, the third most in this pool. It's the few, not the many, that make Camara stick out on a game-by-game basis; Camara will thread needles and is often a key figure in Olympiacos's build-up play and sometimes goalscoring.
The clip below shows Camara as a key architect of Olympiacos's build-up play. What comes before the pass is perhaps the most impressive bit, as Camara navigates through a host of Asteras Tripolis midfielders, eventually finding the required space to fire off a pass.
The pass itself a work of art, a perfectly hit and timed traveled that falls to the feet of Olympiacos's left-winger. This pass is only possible because of Camara's ingenuity, courage, and technical ability and, when rolled into one ball, this pass presents a feast for our eyes and his teammates alike.
Credit & Source: Metrica Sports
Examples like that above are fun but aren't the basis of why Camara is an appreciated passer in his Olympiacos side. The clip below is the best representation of Camara as a progressive passer. A patient operator who lurks just inside the opposition half waiting for an opening.
At first, Camara intercepts the ball from a stray AEK pass and immediately plays it up to his striker, thinking that AEK can be caught off guard. This is not the case, and the ball is recycled, eventually heading back to Camara; however, the forward's intelligent movement has created a chasm on AEK's left.
A willing runner enters this dead zone and is met by a Camara ball, with the Wideman continuing and eventually placing the ball in the back of the net. Though the ball may not appear tricky, the timing is imperative; if slightly off, a certain goalscoring opportunity may be relegated to just a cross.
Credit & Source: Metrica Sports
Yes, most of Camara's work is done behind an attacking unit; however, he is not against joining the front line, especially in transition, where his powerful running aids his ability to get in about the areas to get passes off. His quick thinking and quick feet aid him in this pursuit, which is evident in the clip below.
In a cavalry charge against Asteras Tripolis, Camara joins his forwards, making a beeline for the opposition goal. He picks the ball up in an advanced central area, forcing the opposition backline to either pressure him or risk the threat of him unleashing a cannon of a right foot.
They choose to risk the latter; however, even with the focus on stopping a ball into the runners, Camara manages to slip a ball past the RCB into the path of his teammate, who ends up scoring. The ability to thread such a pass during such a hectic phase of the game is an invaluable skill that Camara possesses in droves. 
Credit & Source: Metrica Sports
Goalscoring
A goalscoring midfielder who consistently fills up the stat sheet is footballing equivalent to vibranium, and much like those who procure the elusive metal, goalscoring midfielders are well compensated. The stats above place Camara in a positive light; he contributes goals on a semi-regular rate and doesn't suffer from altitude sickness; however, he is far from the deadly operators who garner 8-figure salaries.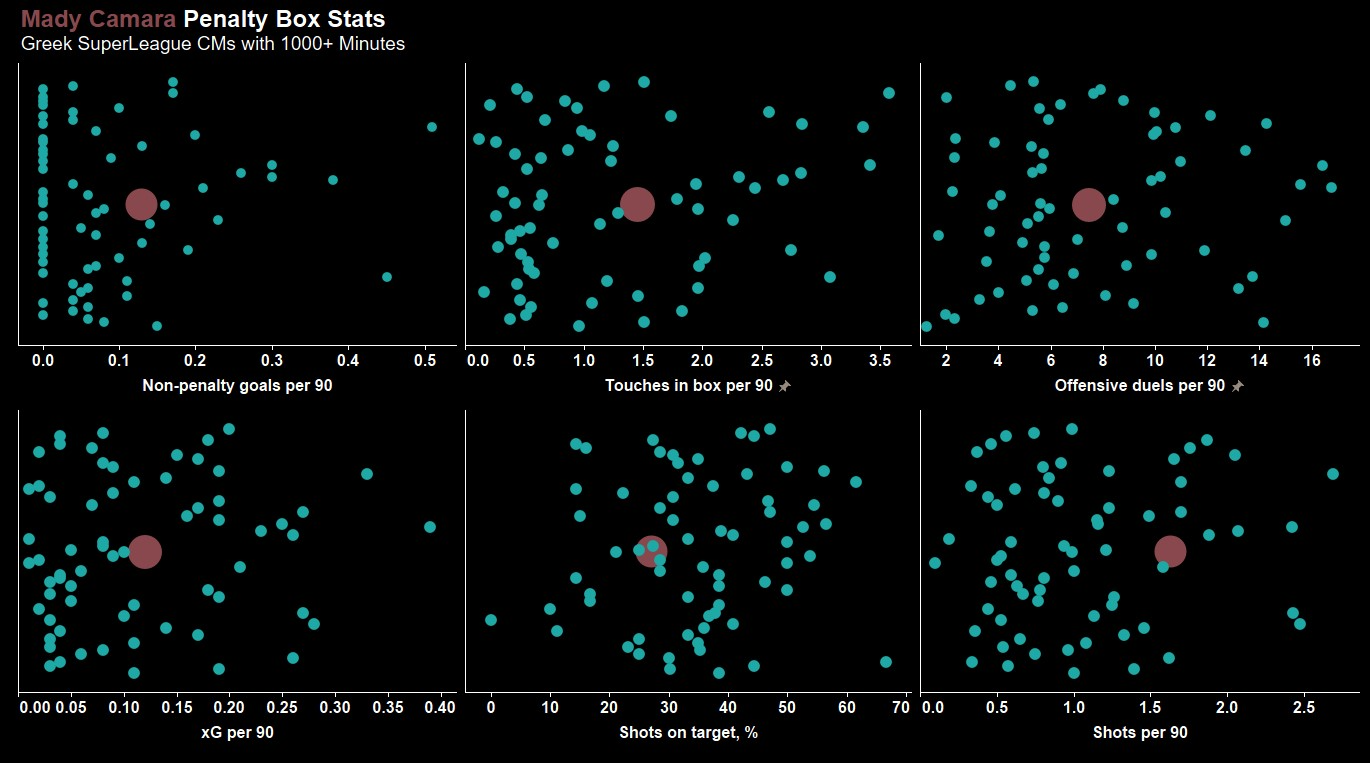 When Camara does score, they are usually screamers though fun for the crowds and staff alike; the fact that he is often relegated to long shots, which are second-rate chances, is of concern. It is in most likelihood down to convenience; Camara inhabits areas outside the box for the most part, so the most common shooting action he has is when he operates in an opening outside of the box.
The clip below displays all that happens when Camara does this right. Like many other clips, Camara's patience and willingness to wait for an attractive opening instead of settling for what is on offer immediately. Here Camara is probing for an opening, whether it be a pass or shot.
He eventually wins enough space to shoot due to his close control, with him then pulling the trigger and rifling the ball past the goalie's right hand into the bottom-right corner. Camara doesn't score these every game; however, he does it at a rate that renders these goals not flukish; instead, he has a powerful and, at times accurate shot, which on occasion manifests into goals.
Credit & Source: Metrica Sports
Though efforts from a distance may be characteristic of Camara's attacking exploits, the situations which fuel his goal count come from closer proximity to the goalframe. Camara often finds himself in opportune situations off the back of a late lung-busting run, which sees him arrive as an extra often unmarked option for those in possession.
This is the preferred method of goalscoring for many of the best midfielders globally. If not a way for them to get their name on the scoresheet, moving the ball to them forces a defensive scramble that can lead to even greater openings. The clip below paints a clear picture of Camara in relation to his late runs. Camara sneaks into the box whilst the other three Olympiacos players preoccupy the AEK defenders.
Once the wide player has acknowledged his presence, the ball is supplied, and Camara finishes it first time with precision. Conveniently, this clip also shows off Camara's weaker left foot, which by definition is inferior to his right, though it is far from a foot which is meant just for standing.
On-the-ball and Off-the-ball Movement
It's all well and good executing when in position, but it's of equal importance to consider how effective a player is at getting to the desired position. Camara thrives both on and off the ball at dealing with pressure and moving into areas of strategic benefit to the individual and team.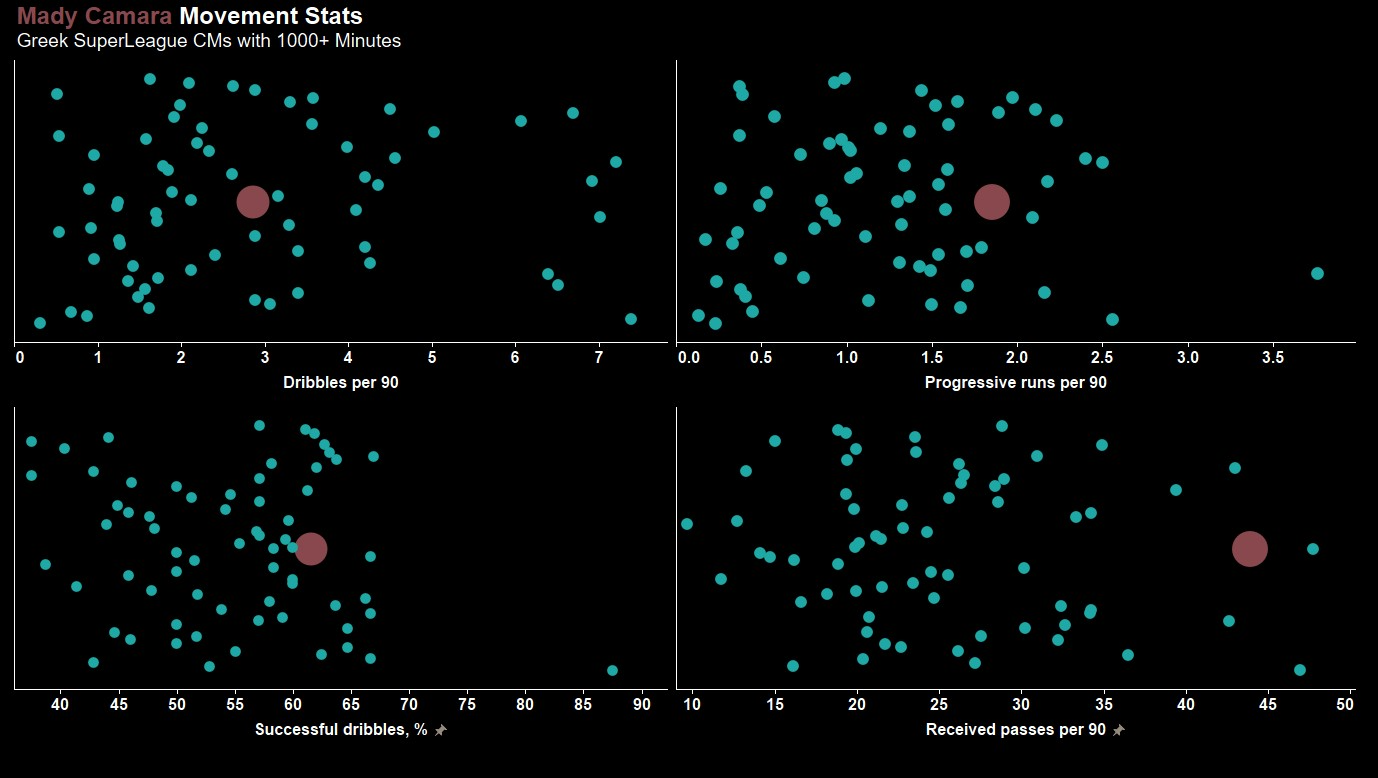 In terms of off-the-ball movement, this has been briefly addressed earlier in the article. However, I will reiterate that Camara is quick, strong, and possesses an impressive work ethic, culminating in him being a direct and dangerous runner, which translates well to the stats, particularly his progressive runs p90 stat.
He doesn't have game-changing pace, but he is also not the type to be consistently left in the dust, left to chase coattails. Camara is reliable and often Olympiacos's chief operator when bombarded by the opposition's press on the ball, the proverbial towel used to wipe away the droplets of pressure. This is seen in the clip below, which sees Camara easily manage the intentions of the Arsenal striker with close control and intelligence before dispatching the ball to a teammate.
Credit & Source: Metrica Sports
Camara's on-ball exploits are not exclusive to defensive exploits; he also uses it to great effect to create openings and navigate through the opposition. The clip below shows this to great effect. With a mere single touch of the ball, Camara removes the Larissa player from contention and enters a highway of space to progress through, ultimately forcing the defensive unit to choose to close him down but at the risk of an opening for an Olympiacos player.
Credit & Source: Metrica Sports
Camara is a deceptively smooth ball carrier who is equally adept at hoovering up the pressure at either end of the pitch. A recurring theme of Camara's is that he is good at a skill without being excellent which runs true for his dribbling and movement. He is not the type that would be forced on the ball and expected to break ankles and create openings, but he equally would not be identified as the weak link and accordingly be left open and challenged to carry by the opposition.
Camara's Position Within the Disconcerting Discourse Around Black Footballers
I will try not to digress for too long on this topic as it could and should be a stand-alone article; however, it is pertinent when discussing a player like Camara. Players rightly or wrongly are often compared to their compatriots; this is mainly born out of the national team debate and does serve a purpose. It begins to become slightly uncomfortable when nationality is removed and players, despite stylistic clash, are compared because of the colour of their skin.
Despite most likely meaning no harm when you scroll around Twitter or YouTube, the only players that Camara is ever likened to are other Black footballers, with Yaya Touré, Abdoulaye Doucouré and Thomas Partey the trio who are most prominent. These three are all incredible footballers, so the comparison is undoubtedly flattering; however, you have to think which composite merited more influence the pigmentation of skin or playing style.
The relationship between Camara and each of those individuals is not dichotomous far from; however, there are stylistic comparisons that are more appropriate when a colour-blind approach is applied. Mady Camara is fast, and he is strong; however, that is not what Camara should be pigeon-holed as.
I hold out little hope of Camara being given a fair trial by media if he were to come to the British shores; despite all that he is, he would still be relegated to being brandished as the bruiser/destroyer type.  If the British media failed a player like Romelu Lukaku, there is no chance that Camara ever receives the stylistic credit he truly merits.
Camara's Future
For the sake of a succinct and approachable analysis, each strand of his game was isolated; however, a player like Camara is effective as each facet of his game fits together like a jigsaw. An apt summary of Camara is the saying, "a jack of all trades is a master of none, but oftentimes better than a master of one." It's this ability to play any role that has and will attract the big names and big bucks to Piraeus.
The unlikely universe in which Camara seriously struggles to acclimatise to a step up is one in which his all-around game is handy, but his lack of a perfected craft leaves him high and dry, leaving Camara with no hill to die on. In the grand scheme of things, a future in which Camara succeeds at a top club and Olympiacos is handsomely compensated is far likelier, however not guaranteed.
With prospects of the coming winter's AFCON as well as a home AFCON to look forward to, Camara and Co are eager to show off all that the Syli Nationale have to offer and, in the process, gaining some much needed respect for Guinean football. Camara, at just 24, has the best part of his career ahead of him and is no doubt motivated by the eternal flame that burns so deep in footballers who hail from countries that are sadly misinterpreted at best and wilfully ignored at worst. 
Mady Camara is on the path to becoming yet another Olympiacos export who fulfills the Greek concept of "arete", the notion of excellence related to the fulfilment of purpose and function, and it is perhaps only a move to one of Europe's top five leagues which allow us to truly assess his credentials and allow him to fulfill his potential.
By: Patrick Caskie
Featured Image: @GabFoligno / Sebastian Frej / MB Media / Getty Images