Player Analysis: Mahir Emreli
The octagon, the ring, the mat, whatever dimension or set up, martial arts grounds are often the sanctum for Azerbaijan's finest athletes and civilians alike. Though perhaps not as prevalent as football's whistle, the ringing of the bell in boxing or the sijak of taekwondo have commenced almost all of Azerbaijan's international sporting acclaim.
Admittedly, the land of fire may lack footballing clout personnel and team-wise; regardless, the Olympic pedigree of Radik Isayev and Toghrul Asgarov, amongst others, provide the Caucasus nation with sporting clout that some of their neighbours could only dream of. With a relatively blank slate, current and future generations of Azeri footballers have a proverbial empty frame with the pure white canvas staring at them, yearning to be adorned with the colours of success.
The current cast of Azerbaijan's elite footballers is a mixed bag; however, a burgeoning group of youngsters may offer a way out of the footballing labyrinth they find themselves in. Anton Krivotsyuk, Omer Budulov, Raghim Sadygov, and Renat Dadashov all have a part to play in the trek up the world rankings and the blissful idea of tournament football. However, despite a healthy supporting class, a single figurehead for all to rally around, a star, is needed.
Though maybe not a star by most nations' standards, Azerbaijan is and will continue to be forced to look to the mercurial talents of Qarabag star forward Mahir Emreli. Despite his talent, Emreli is somewhat of a pariah in national team circles, as his hot-headed nature has complicated matches on multiple occasions. The youthful forward needs patience from his compatriots, and hopefully, then, we may see his club form transfer to when he wears the blue of the national team.
Emreli has played a vital role in maintaining the seven-year monopoly that the horsemen have enjoyed over the Azerbaijan Premier League. Since his debut season (2014-15), Emreli has notched 80 goal contributions in 140 appearances, undoubtedly the premier domestic talent this period and a model of consistency. It seems that 2021 will see Qarabag fans lose not only their revered title streak but also Emreli himself, as he looks destined for a move, with Besiktas and Legia Warsaw key players.
If Emreli leaves Azerbaijan this summer, he will leave with a resume unmatched by most and been a vital cog in the greatest Azeri club side and reached continental feats that no other Azeri side had even dreamt of. Let's have a look at why Emreli is seemingly one of Azerbaijan's in-demand commodities this summer.
Stylistic Features and Tendencies
The young Emreli who arrived at the gates of AzerSun Arena in the summer of 2015 is almost unrecognisable compared to what the forward has become; regardless, some areas of his game have remained untouched; his ambition and propensity for entertainment.
As Emreli has aged, he has become increasingly pragmatic and developed from a wide pace-merchant to a complete striker who now leads the line, using his body, pace, and touch equally. Though Emreli most often starts the 90 centrally, he is sparingly used out wide, however nowhere near at the same rate as earlier in his career, evidenced by the position map below.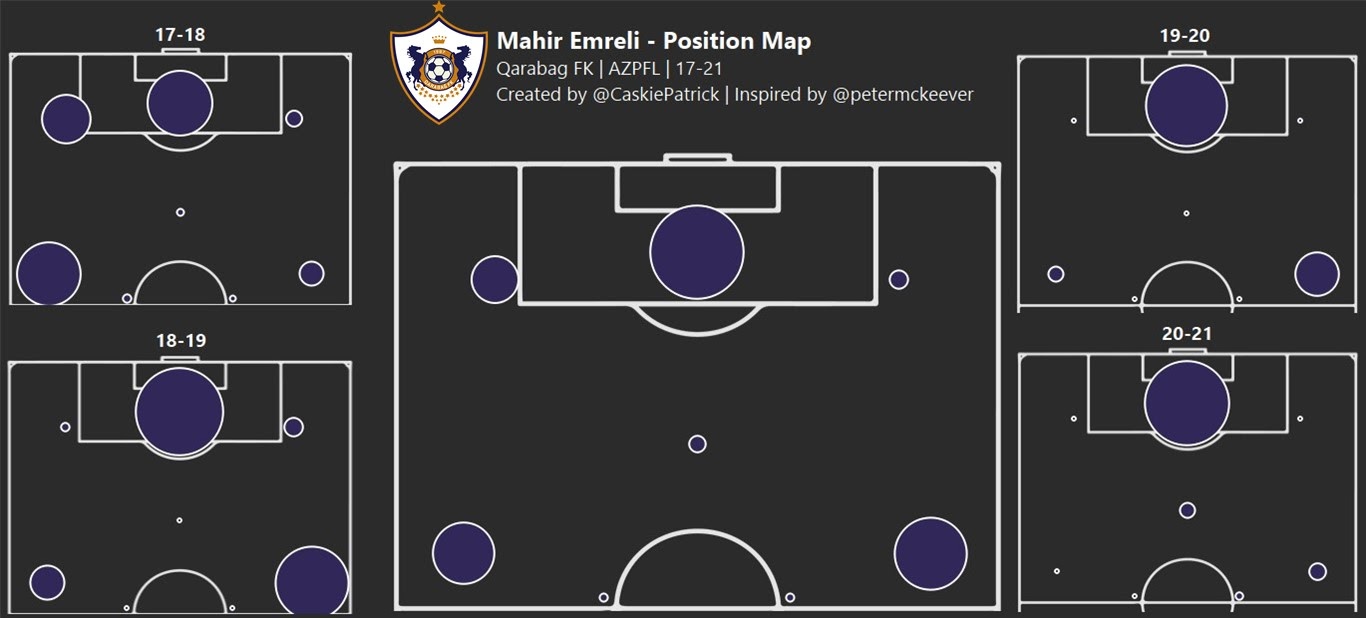 As Emreli has aged and moved centrally, he has become a more selfless player. Whether that is in the form of increased off-ball movement or looking for teammates more often, Emreli has developed into more of a team player. When on the ball, Emreli is dynamic; his mix of pace, strength, and touch make it difficult for players to win the ball off him.
However, when dispossessed, it is often due to a combination of indecision and over-confidence, as Emreli is too often guilty of embarking on glamour runs. Nevertheless, the striker can finish with both his head and feet and is adept at running at defences or backing them in. In addition, a youth career as a winger means that Emreli is an accurate crosser of the ball and has the eye for the occasional penetrative pass. 
Video Analysis
Emreli is first and foremost a goalscorer, a man who trades in football's most valuable currency, which has undoubtedly led to his many suitors. What distinguishes Emreli from many of his peers, who are equally big fish in small ponds, is the variety of goals that he scores.
He is not exclusively a poacher, neither a target man nor a runner. Instead, Emreli can rely on a multiplicity of skills, making his defensive matchup that much harder. Let's start by looking at his aerial threat, a part of his game that may not be at the forefront but, regardless, is still a valuable leg to stand on.
Credit & Source: YouTube
The clip above is a prime example of the value of Emreli's aerial threat. This clip's from a corner; however, Emreli is also dangerous in open play situations. Here we see a vast chasm of space in the front post area. Emreli's teammate plays the ball into space with perfect height and pace.
Emreli, due to his speed and positioning, is the first to meet the ball and heads the ball with precision into the opposite corner. He stands at 1.88m which assists him in any aerial pursuit; nonetheless, a host of other factors mentioned allows Emreli to be a key player in aerial disputes.
Credit & Source: YouTube
A similar goal to a header is back-to-goal snapshots; both require patience followed by a sudden burst of pace to get in the appropriate position, which again suits Emreli's attributes and style. Furthermore, we see this on full display in the clip above.
Here, Emreli takes the ball in with his right foot with a defender on his back. All that it takes for Emreli to generate enough space is two small touches, with those providing ample space for the Azeri to get off a quick snapshot which ends up in the back of the net.
Credit & Source: YouTube
The previous two clips have shown Emreli's ability to navigate in tight spaces; the clip above shows his ability to manoeuvre behind defenders. Here, Emreli makes the wise decision to stay at arms-length between both centre-backs, not allowing either of them to have a concrete idea of who is the primary marker.
Emreli continues to remain between the two until his teammates move to the right, which the striker does as well, to create an overload on the left centre-back. The other centre-back comes to help, which gives Emreli a pocket of space to slip into, which he does, and the ball follows him, resulting in a 1v1 that he converts.
Credit & Source: YouTube
A vast majority of Emreli's goals come on the counter or a result of a penetrative run, customary of the Azeri forward. The clip above demonstrates this. Here we see Emreli lead a promising counter-attack which at one point sees Qarabag attackers outnumber Kesla defenders. As a result, the Kesla defence is stretched, leaving large pockets of space, and as they get closer to the goal, these pockets get increasingly attractive.
Characteristic of Emreli, he pulls off to the left, which is his preferred wing. Once in the penalty box, Emreli signals to his winger where he wants the ball and, without alerting the defender in front of him, slips forward, finding himself at a tight angle 1v1 with the goalie. Emreli places the ball past the goalkeeper, striking the ball across his body, a typical finish for the Azeri forward.
Credit & Source: YouTube
Though not on the counter like the previous clip, here we see Emreli's tenacity and speed on display as his pressing leads to a goal. From kickoff, Qabala played it back to their left centre-back, who made the poor decision to turn his back. Emreli immediately puts pressure on the defender, who loses the ball to the forward; he then proceeds to charge in on goal.
Emreli turns on a dime, cutting in, and is presented two options to pass or space to continue to dribble. Emreli chooses the latter, which often is his downfall; however, he creates enough room to get a shot that results in the ball nestled into the bottom right corner.
Though the highlight of the previous clip was Emreli's finish, his off-ball aggression and desire to win the ball were pivotal and an indispensable feature of any modern footballer, not least a line leading centre-forward. Let's not pretend that Emreli is some behemoth out of possession that puts in equal graft on and off the ball.
Regardless, he does have the physical tools to fill a role in a team that is either forced to work relentlessly off the ball to regain possession or a team that utilises a high pressing system. However, the clip below shows an example of Emreli's off-ball work, which is often catalysed by the forward himself losing the ball. What is impressive in the clip is the rate at which Emreli can win the ball back and then, with input from teammates, place himself in such a promising position with space to run into on the right-wing.
Credit & Source: YouTube
Emreli's influence on his teammates is not limited to off-ball affairs or goalscoring; the following few clips will look at Emreli's passing and his role in the build-up, as well as setting up teammates for shooting opportunities. Since Emreli is the most advanced player at most times in this Qarabag aside, he isn't afforded plenty of opportunities in the build-up.
However, when he does trackback to pick up the ball, he often utilises his passing ability to progress his side up the pitch. The clip below is an excellent example of Emreli at his passing best. Here we see Emreli receive the ball at the halfway line with his back to the defence; despite not looking forward, he plays a well-timed searching ball which a teammate runs onto that leads to a 1v1 situation. Admittedly, this is far from a regular occurrence; however, Emreli can provide passes of value at an occasional rate.
Credit & Source: YouTube
The most common and valuable method of delivery Emreli has in his repertoire is crossing, an art he no doubt focused on extensively during his youth career as a winger. As Emreli often strays wide, his ability to deliver balls to the penalty box from out wide is important and could lead him to be used as a winger in a system that requires. The clip below highlights his crossing ability, as here we see him deliver an appropriately weighted and lofted in-swinging cross to the back post, which somehow doesn't lead to a goal for Qarabag.
Credit & Source: YouTube
Emreli's crosses are not limited to the aerial variety; rather, it would be accurate to say that most of his crosses are grounded, like the one below. Here we see some good decision-making and tricky movement, which allows Emreli to make it to the byline. Once there, Emreli considers his option and slides in his teammate, who finds himself open just right of the penalty spot. Despite this, his teammate manages to put it past the left post and out for a goal kick.
Credit & Source: YouTube
A constant of every clip so far has been Emreli's ability to move with the ball. His dribbling and ball control is far and ahead as one of his best skills and should assist him in any transition to a league of higher quality.
This ability, mixed with his physical gifts, make Emreli a real threat on the ball regardless of where he is on the pitch. This is abundantly clear in the clip below, where despite starting from inside his half, Emreli is able to make it up to the opposition's penalty box, where he, like so often, slips the ball past the on-rushing keeper with a cross-body finish.
Credit & Source: YouTube
Statistical Analysis
Let's begin by looking at a general summary of how Emreli has performed and then move on to specificities of Emreli's goalscoring, passing, dribbling and defending. The data set selected is all strikers in leagues ranked 20-30 in Europe; this allows for us to look outwith Azerbaijan and consider who Emreli compares with his peers in leagues that rank similar to Azerbaijan, including Greece, Norway, and Poland.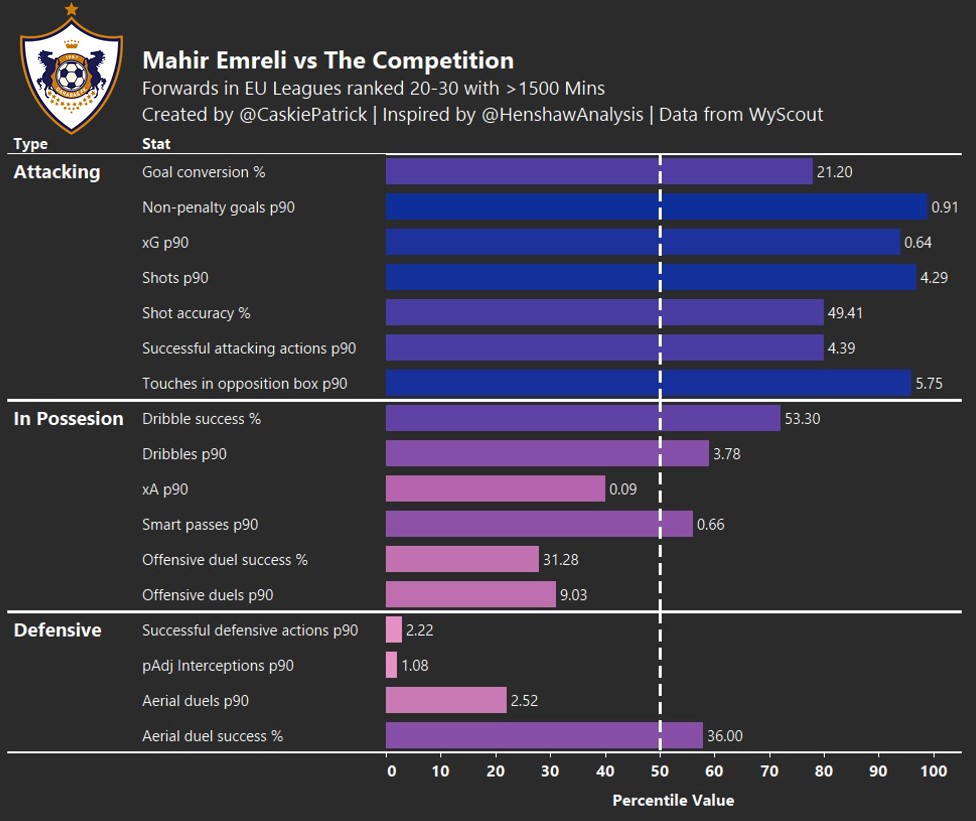 What is immediately apparent is that Emreli is an elite level goalscorer at this level, with the Azeri striker ranking above the 90th percentile for 4 of the 7 attacking related statistics and the other 3 in the 80th percentile. Furthermore, Emreli has massively outperformed his xG p90 of 0.64, with a non-penalty goals p90 of 0.91.
This suggests that Emreli has overperformed in the past season and will regress to expectations; however, 0.64 xG p90 itself is an elite level. When we move onto his passing, defending, and dribbling stats, they are a mixed bag. Many are under the 50% percentile, whilst his dribbling numbers are impressive (3.78p90 and 53.3% success), expected from the earlier footage.
His passing stats hover around the 40% percentile, which is serviceable and acceptable considering what is asked of Emreli. His defensive stats show more that Emreli rarely engages in defensive issues than a lack of quality. Finally, Emreli's aerial duel success (36%) is also above average, confirming the theory from the footage that Emreli possesses an aerial threat.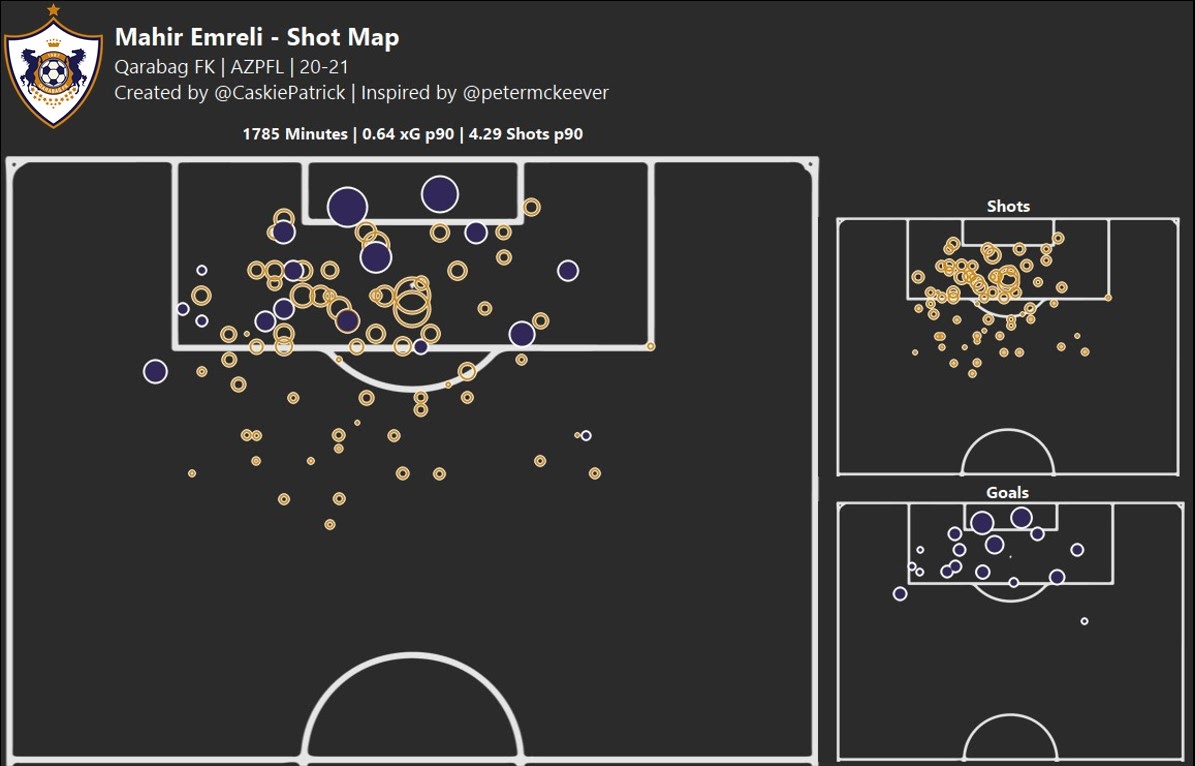 Emreli's shooting numbers are elite, as previously mentioned; however, let's look at where he shoots from. Emreli takes a monstrous 4.29 shots p90 in the recently finished Azeri Premier League season, a number which compares kindly to the likes of Cristiano Ronaldo and Lionel Messi. Emreli's lengthy time playing left-wing is evident when you see the placement of many of his shots, as a vast majority of shots originate from the left-wing.
This is somewhat surprising since Emreli is left-footed, as most players prefer to cut in and shoot instead of a shot across their body; however, we saw Emreli's propensity shot from across the body throughout the video portion. What is also evident is that Emreli enjoys striking from a distance, which is more often than not frustrating as opposed to beneficial as the forward only scored twice from outside the box this season.
Finally, Emreli often scores from unfancied chances but then proceeds to miss chances you would expect a player of his calibre to finish. Patience from the fans of whichever club he ends up at next is necessary as the forward may miss a few good chances, but if given the time, he should balance it out.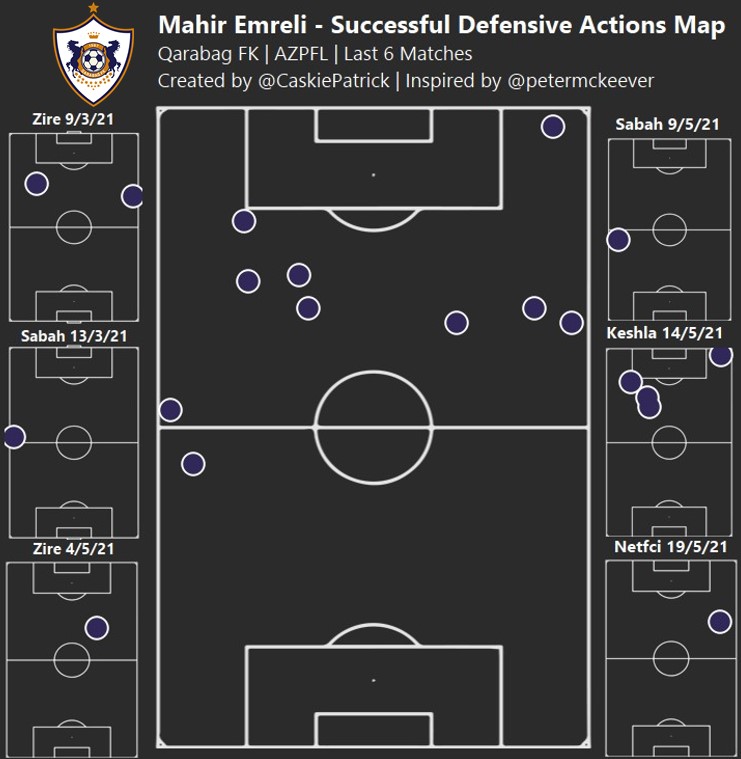 Emreli is not a pressing forward and, more often than not, when out of possession, uses the time to rest; however, he still does provide some defensive contribution, as mentioned previously. The defensive success he does achieve is more often than not in the opposition third.
However, this is as much down to Emreli's pursuit of the ball as most of Azerbaijan's defenders' poor on-ball qualities. When Emreli steps up to a better league, this perhaps will be the most significant uncertainty, although this shouldn't be too consequential as it is also the least important aspect of Emreli or any forward of his ilk's game.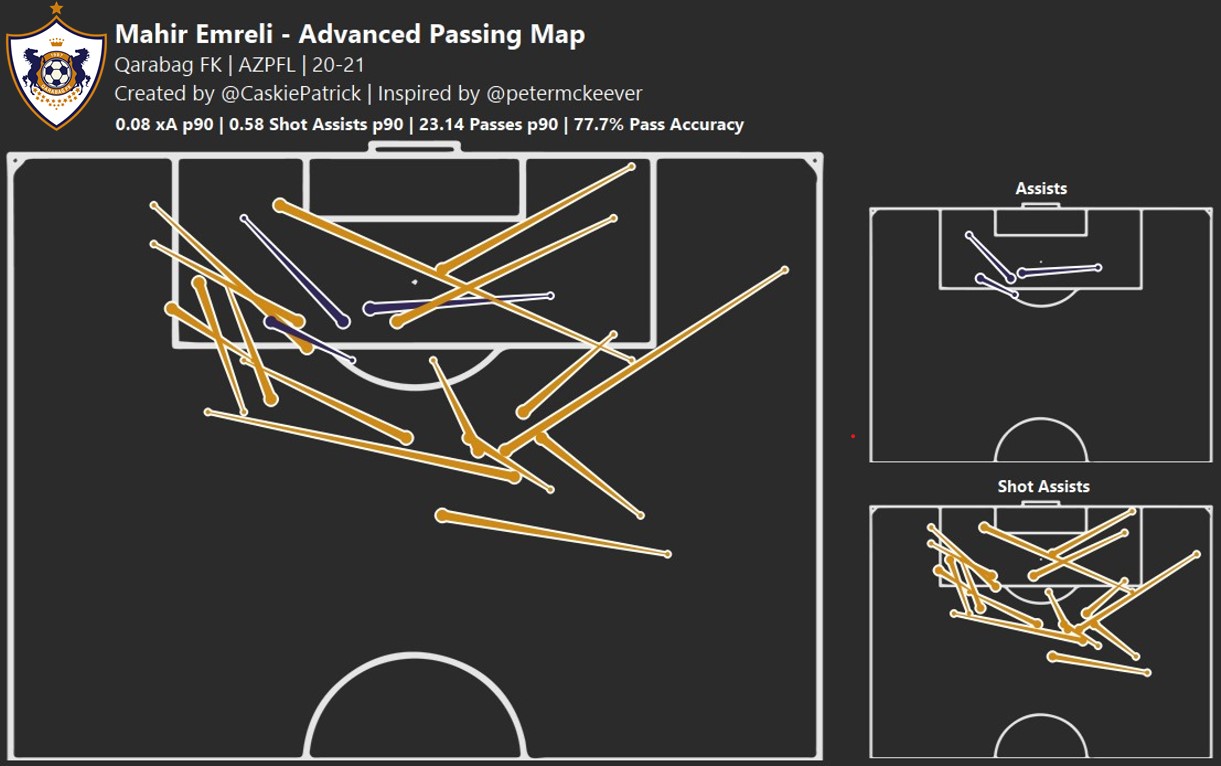 Though Emreli is primarily a goalscorer, he can set up his teammates. Though not at an elite level as the stats show, his passing ability remains valuable to a team. When we look at the origins and end locations of Emreli's assists and shot assists, we begin to see a developing theme.
A majority of these come from out-wide and are a decent length, painting a picture that often Emreli would go wide and play it back in and around the box. Additionally, many are back passes, which makes sense. Emreli was the most advanced forward at Qarabag, so more often than not, the forward would knock it back to incoming runners, as seen in the video portion.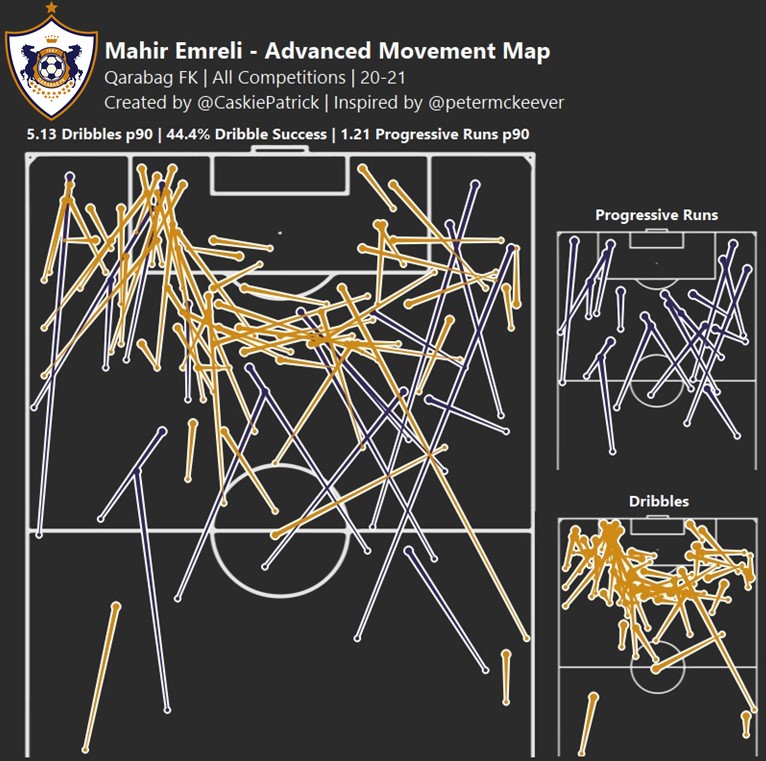 Finally, let's look at Emreli's dribbles and progressive runs, where they originate, and where he moves to. What comes across is that a majority of his best on-ball movement either starts from the wings or ends on the wings. This makes sense; as mentioned earlier, Emreli tends to drift wide, and the middle of the pitch is most often clogged. Also, many of Emreli's dribbles are very short, especially when compared to his progressive runs.
However, this can be easily rationalised as often Emreli picks the ball up in advanced positions, so there is limited space for him to move into. Anyways, the criteria for an effective dribble are is not length. Emreli's dynamic dribbling and running should translate in the event of a step up, as this is one of the areas which seemed not to regress when Emreli and Qarabag battled it out in the UCL or UEL group stages.
Comparisons: Ekstraklasa and Süper Lig
If you are a betting man, you would be almost guaranteed to make money if your bookie offers a market on Emreli, leaving Qarabag this summer upon the expiration of his contract. Despite the success he has experienced in his hometown, it has become increasingly evident that the Azeri forward is ready for a new challenge, away from Azerbaijan.
Emreli's talents could be of use in areas as varied as Portugal or Ukraine; however, it seems dead-set that Emreli will play in the white of Legia Warsaw; though Besiktas appear to be keen in the event of any slip-up.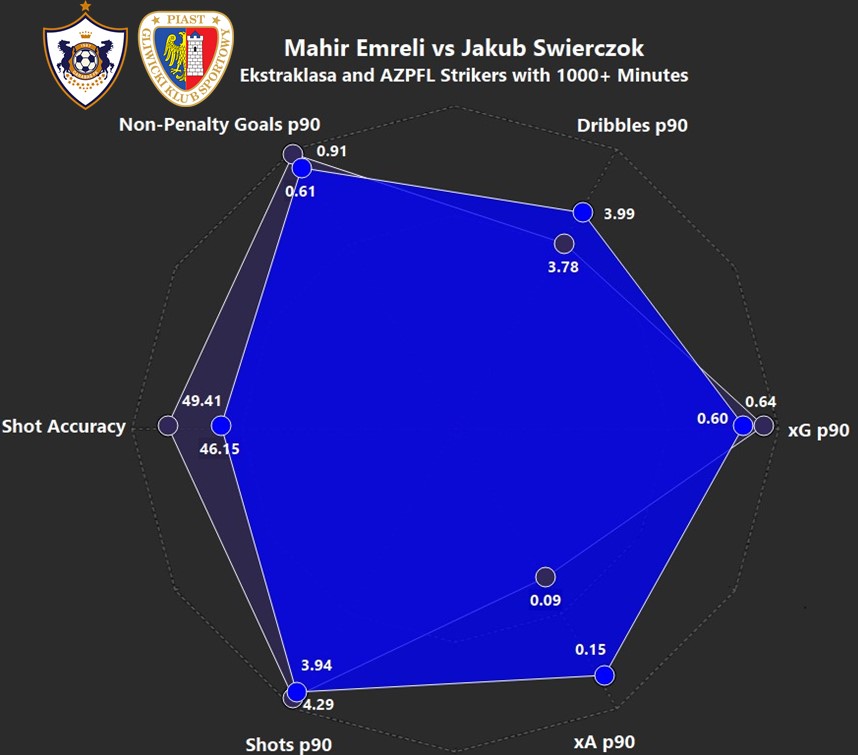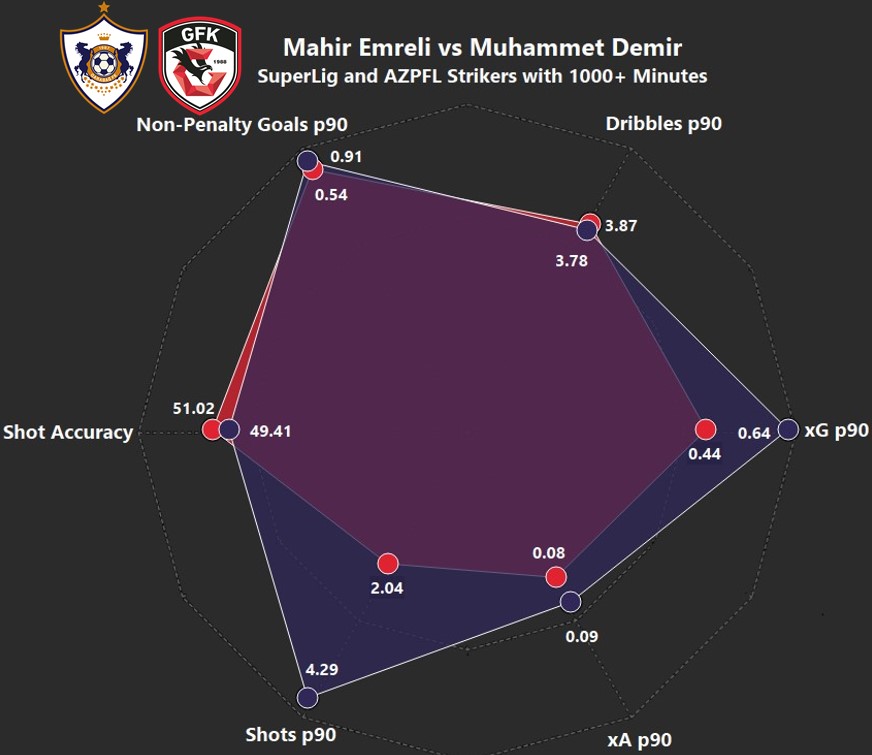 Considering this, I thought it appropriate to compare Emreli to some of the best strikers in each league. As seen above I chose Gaziantep's Muhammet Demir and Piast Gliwice's Jakub Świerczok. Emreli's compares favourably to both when it comes to the six metrics on the radar, which puts him in good stead to perform well in both the Ekstraklasa or Süper Lig.
What's Next?
Mahir Emreli sticks out in Azerbaijan and will undoubtedly face a barrage of doubt regardless of where he moves due to concerns over the level of the Azeri Premier League. This, coupled with some inconsistent performances at UEFA Europa League and Champions League level, mean that acquiring Emreli may be a bit of a risk. Nonetheless, for a free transfer, it appears that Legia can't go wrong singing the Azeri forward, as if he fails to impress on the field, he should bring a new set of fans to Legia to the Caucasus.
By: Patrick Caskie
Featured Image: @GabFoligno / Nicolò Campo – LightRocket