Player Analysis: Matheus Nunes
It has been a whirlwind year for Matheus Nunes, who has solidified a starting spot in Sporting's midfield, earned a call-up to the Portuguese national team, played in the Champions League against Manchester City and attracted attention from various top European sides, with City manager Pep Guardiola stating "Matheus Nunes is one of the best players in the world today."
It remains to be seen whether Matheus remains put at Sporting or depart Lisbon in the final weeks of the window as Nuno Mendes did last summer, but one thing's for certain: he has no shortage of suitors. Let's take a look at what makes Nunes such an intriguing midfield talent.
Born in Rio de Janeiro to a Portuguese father and a Brazilian mother, Nunes moved to Portugal at the age of 12, beginning his development at local club Ericeirense, spending a year at Estoril Praia, before moving to Sporting in January 2019 with the Lions paying a total fee of around €1 million for the 20-year-old.
The 2021/22 season would see Matheus break into the XI following João Mário's departure, typically playing as a left-sided central midfielder (although he is right-footed) in Rúben Amorim's 3-4-2-1 formation, sharing the double pivot position with João Palhinha who would join Fulham in the following summer.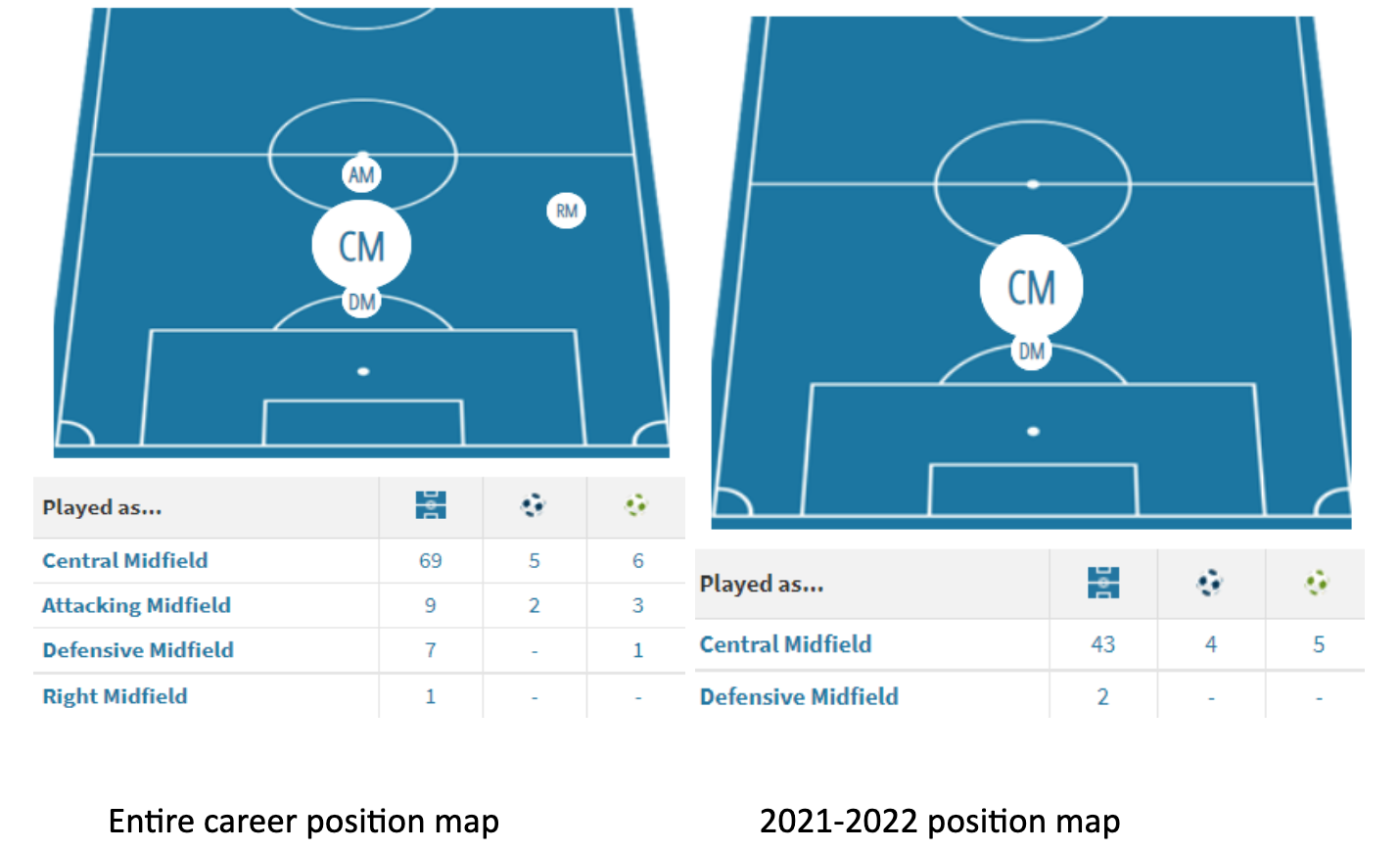 Before moving on to in-game data, let's take a look at how Matheus Nunes compares with Europe's top central midfielders in key metrics. For example, if Matheus ranks in the 53rd percentile for key passes, this means that his key passing statistics are better than 53% of the midfielders in his data set.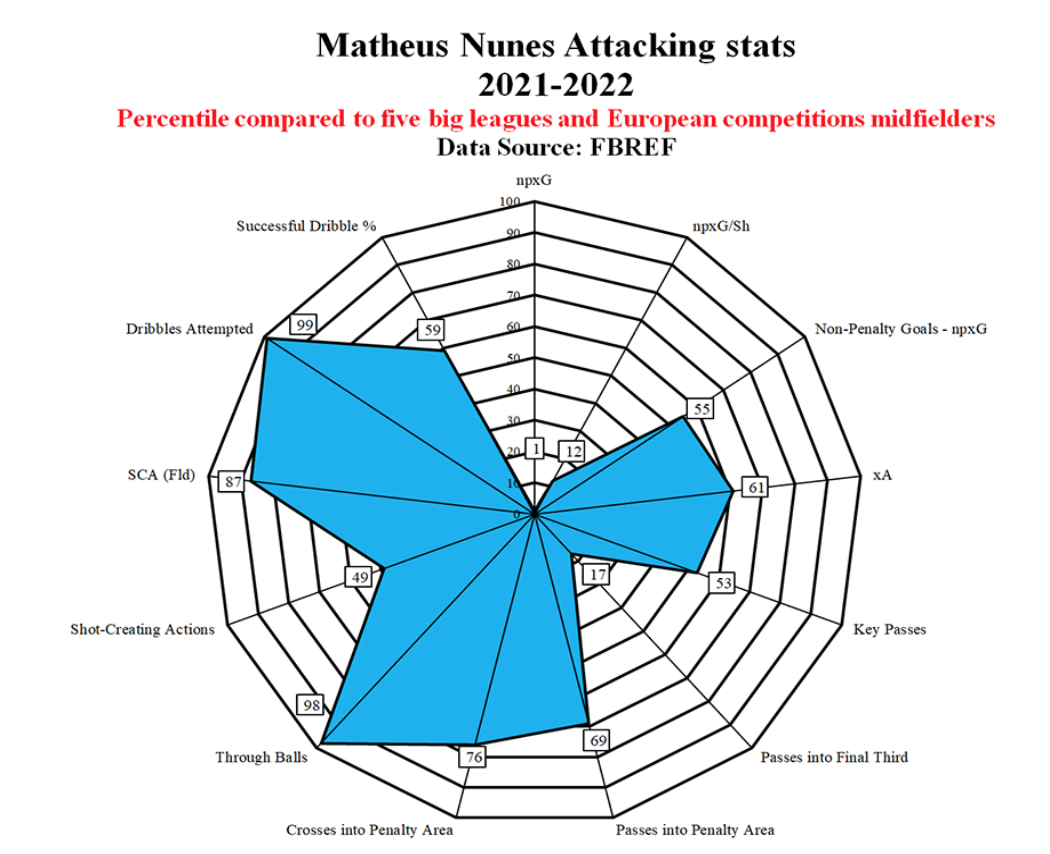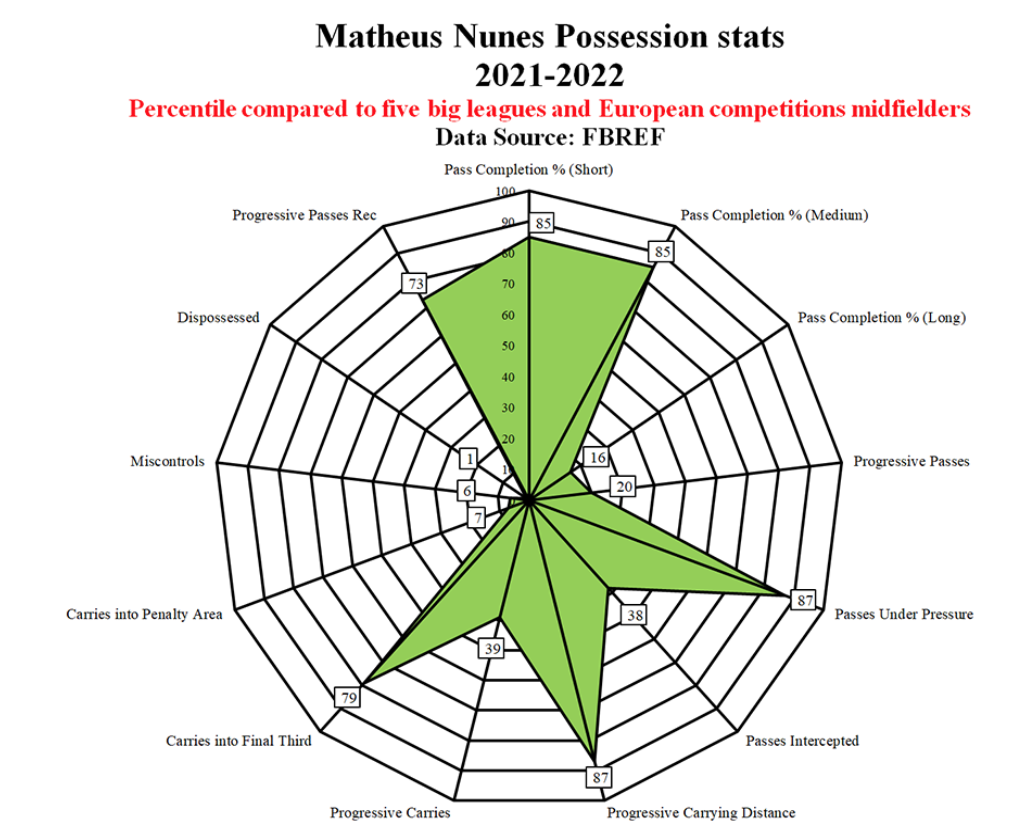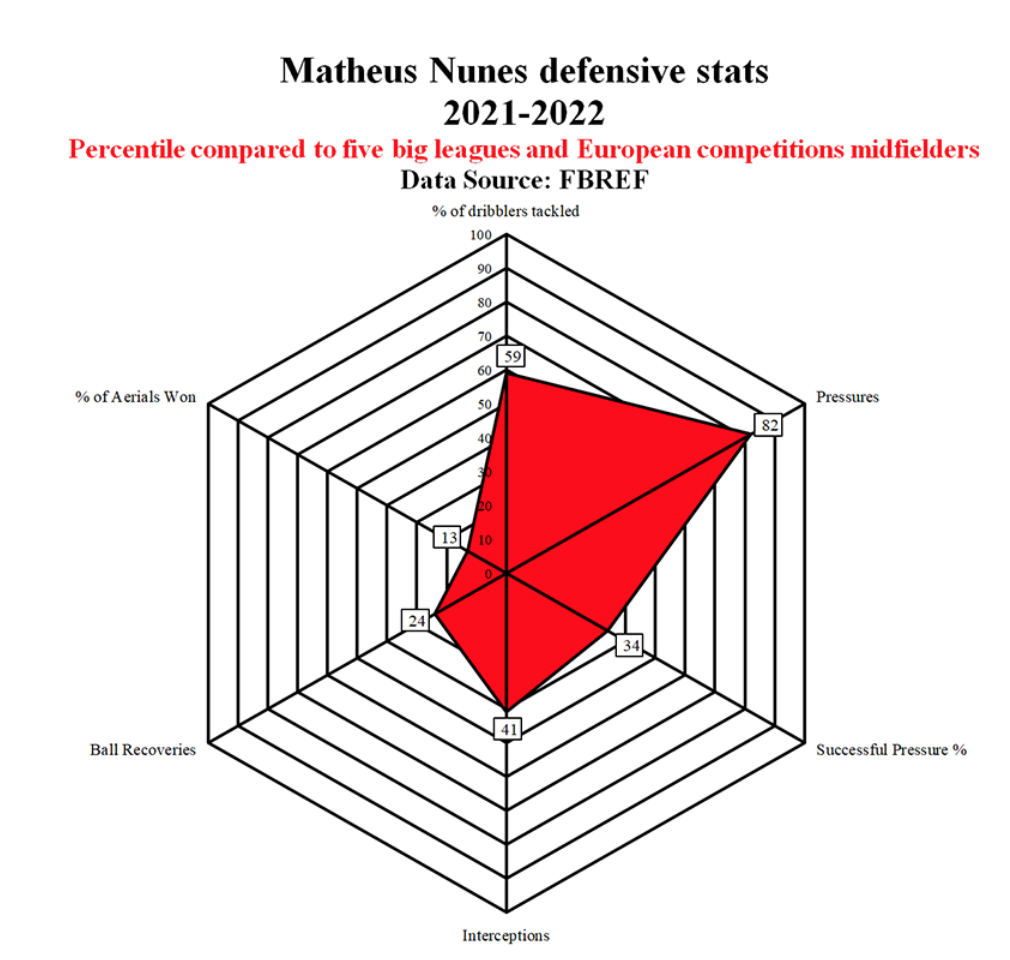 Now that we've used numbers to dissect Matheus' style, let's use the eye test to get a better picture of the Sporting midfielder. We'll be utilizing the Four Corners player individual analysis model, which rates the player based on his position-related technical, tactical, physical and psychological attributes.
Technical Attributes
Receiving Skills
Nunes does well to check behind his shoulders and make multiple scans of his surroundings before receiving the ball, especially when he faces his goal, in order to collect information about the position of his teammates and opponents. On the other hand, he needs to improve with regards to his body shape and first touch when receiving the ball.
We can notice that he sometimes gives the ball away or fails to deliver a progressive pass because of his closed body shape and subpar first touch, especially under pressure; which perhaps goes to explain his low progressive passing, miscontrol and dispossession percentiles.
Dribbling Under Pressure
Nunes boasts a superb dribbling technique under pressure, but he needs to improve in knowing when to release the ball. Nevertheless, the Portuguese midfielder has a solid ranking in most of the carrying attributes and is one of the highest ranked players in dribbles attempted with relatively lower percentiles for the successful dribbles percentage.
Passing Range
This is one of the skills that Matheus Nunes needs to improve significantly, especially in the weight of his long passes which often fail to reach his teammates. The low percentiles of passes into final third, progressive passing, long passing completion percentage and passes intercepted further highlights his need to improve in this area.
Attacking Threat
Matheus is a box-to-box, all-action midfield threat, and his attacking verve helps him stand out in the final third for Portugal and Sporting.
Tackling
Nunes has a very good tackling technique, as exemplified in the below video. 
Pressing
Although pressing is considered mainly as a technical attribute, it is obviously dependent on physical attributes like body strength and stamina and also psychological attributes like aggression and work rate.
Nunes executes pressing with a great intensity, work rate and stamina, but he can lack aggression due to an undeveloped physical profile and lack of body strength. This explains the high percentile of the number of pressures and low rankings in successful pressures and ball recoveries.
Heading
We can deduce by the low percentiles for aerial duels that Nunes struggles with regards to his jumping and heading technique, which can cause many problems for his team in defensive set pieces. He needs to improve at this if he is to become a bigger threat when it comes to winning second balls and physical duels — a fundamental trait should he move to the Premier League.
Tactical Attributes
Availability for Receiving the Ball
Nunes is a constant passing option for his teammates, especially in the build-up phase, and his impressive positional awareness allows him to serve as an outlet for the ball against high-pressing opponents.
Passing Awareness
One area of improvement that Nunes must focus on if he is to become a world-class midfielder is his passing awareness. He needs to become more aware of the best available passing option, especially when his teammates are making dangerous forward runs, and pull the trigger and find them with a quick pass.
Out-of-possession Tactical Skills
Nunes boasts a solid positional awareness, an impressive work rate (psychological attribute) and stamina (physical attribute) to perform well in winning second balls, covering and tracking opponent runners attributes, as shown in the below videos.
Physical Attributes
Mobility
The Portuguese midfielder excels at changing direction on multiple occasions over a short period of time which helps him to stand out at dribbling and pressing, as the below video shows. 
Ball Shielding
Nunes isn't just a good dribbler, but he also has a superb technique for shielding the ball away from the reach of his opponent. As the opposing player attempts to push him off the ball, Nunes uses his hips, arms and back foot to keep the ball in his possession, but he nevertheless needs to put on some muscle if he is to make the step up from the Primeira and cope with a physically demanding league like the Premier League.
Psychological Attributes
Communication
Perhaps one of Nunes' most underrated attributes is his communication skills. He is always speaking, speaking, shouting or waving to his teammates in order to organize the press, keep the ball ticking in possession, maintain the defensive block's compactness or even to call for the ball. These communication skills bode well for his future as a captain and a leader for club and country.
Decision-making
Decision-making is undoubtedly one of the biggest assets that Nunes needs to improve the most on. As seen in the below video, Nunes typically reads the situation well but often decides to go for the most risky option with no expected reward, often going for the worst option.
Game Control
Nunes remains composed under pressure and can keep possession of the ball and control the game's tempo for Sporting. He doesn't usually rush passes until his teammates are in a situation that grants ball retention or even provides numerical superiority against the opponent.
Conclusion
Matheus Nunes is a very promising and tactically well-built midfielder but has some important technical and physical attributes that need a lot of improvement. Following the departure of João Palhinha to Fulham and Daniel Bragança's long-term injury, he looks set to play a massive role in midfield for Sporting alongside Manuel Ugarte or Hidemasa Morita in Rúben Amorim's double pivot this season.
By: Loay Mamdouh / @loay_mamdou7
Featured Image: @GabFoligno / Gualter Fatia / Getty Images