Player Analysis: Mattia Zaccagni
The Serie A season is far from being over but Hellas Verona have already achieved all their goals. First of all, relegation has been avoided for the second straight season as the team is sailing smoothly mid-table with ambitions of qualifying for the brand new UEFA Europa Conference League.
Manager Ivan Jurić, just like he did last season, has built "a tough team to break down" that play with high intensity, breaking down stronger opponents with a resolute defense. His squad has managed to achieve major results, like the draws obtained against Juventus and AC Milan or the win against Lazio. Those great performances helped Jurić in accomplishing his second objective of the season, which is to increase the value of his players so that the board will be able to receive large sums of money by selling their brightest stars.
Last season, Sofyan Amrabat was sold to Fiorentina for €20 million, Amir Rrahmani was sold to Napoli for €20 million and Marash Kumbulla was sold to AS Roma in a deal that has been valued around €30 million. Now, even more players are on their way out for a high fee.
One of them could be Marco Silvestri, one of the best goalkeepers in Serie A this season and potentially one of the 23 players that will be called up by Italy's coach Roberto Mancini for the European Championships next summer. Another one could be Matteo Lovato, the 20-year-old centre back that AC Milan technical director Paolo Maldini fell in love with. It was unrequited love as Hellas Verona turned down an offer from the Rossoneri (€5 million and Léo Duarte). 
But the most precious and most desired diamond in Hellas Verona's jewelry is undoubtedly Mattia Zaccagni. At 25 years old, he is enjoying his breakout season with five goals and seven assists in 20 games. Those numbers have a lot to do with Jurić's intuition as the coach is deploying him regularly as an attacking midfielder on the left side of the pitch rather than using him as a holding midfielder like all the managers that coached him throughout his career have done.
In this role, Zaccagni has become Hellas Verona's key player as he sees football differently from all of his teammates. The system created by Jurić is robotic, it works only when players do their job like workers on the assembly line. Sometimes, it feels like they are not allowed to think outside the box, otherwise the structure will fall down. That is, except when Zaccagni has the ball in his feet. He's just different and, consequently, special. He's afforded the creative freedom to improvise.
Take as an example the assist he provided for Andrea Favilli against Juventus. He leads a fast counter-attack that catches Juventus's defenders out of position, a typical scenario in any of Hellas Verona's games. The most logical choice is to serve the player on his left.
He has space in front of him and a pass in that direction will maintain the aggressiveness of the attack and prevent the opposing defense from getting into a coordinated sitting position. Zaccagni, instead, sees the situation differently. While everybody runs as fastest as they can, he slows down and waits. He waits for the right moment to find Favilli in the hole that would be created by Leonardo Bonucci's movement on the left.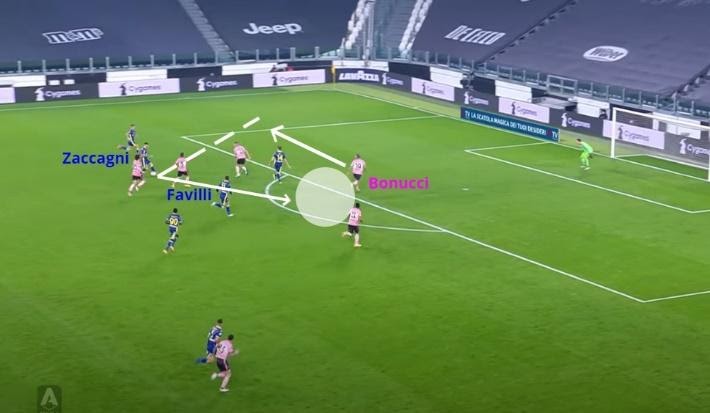 Zaccagni was the only one who read the situation in a different way. That's because Zaccagni has great technique and vision, the two basic skills for modern attacking midfielders. He loves to engineer counter-attacks with his incisive dribbling and close control, and he knows the importance of the pausa, a unique quality that allows him to read the game better.
At the same time, he's a physically imposing player as he knows how to protect the ball when playing with his back to the goal. His favourite play is to attract the pressing from one or more opponents in order to dribble past them and create numerical superiority, or to cut towards the inside, thus generating a line for a pass that will free a teammate beyond the defense. Usually, the receiver of those passes is Federico Dimarco, as seen in the stunning volley goal that the Inter loanee scored against Torino on January 6.
When it comes to evaluating Zaccagni's performance at the Stadio Marcantonio Bentegodi this season, the numbers speak for themselves. Prior to the match against Bologna, Zaccagni had completed 34 of the 55 dribbles that he attempted, beating 37 different players. He has registered 68.5% accuracy over the 444 passes, the majority of which came when pressed (120). He's also the second-most fouled player in Serie A (48) behind Torino's Andrea Belotti.
He's simply playing with really high confidence in his skills, as demonstrated in his equalizing goal in a 1-0 victory against Spezia on January 3. After picking out a pocket of space between Luca Vignali and Martin Erlić, he controlled a cross from Davide Faraoni on his chest, before firing a bicycle kick past goalkeeper Ivan Provedel and into the back of the net.
Obviously, there are skills that he has to improve if he wants to become an elite attacking midfielder, like medium and long passes. It has to be taken in consideration too the fact that Jurić doesn't ask him too much on the defensive side,  giving him offensive tasks almost exclusively. But despite that, nobody's wrong by saying that Zaccagni is ready for the next level, which is to play for one of the big Serie A teams.
Over the last few weeks, it has been reported that many clubs have contacted Hellas Verona for him. First AS Roma and Lazio then it came AC Milan but now, as confirmed by club president Maurizio Setti, it looks like Napoli are leading the race. They'll be tempted to pull the trigger after the Gialloblu's come-from-behind 3-1 victory against Napoli on January 24, in which Zaccagni provided the assist for Antonín Barák's go-ahead goal and scored the final goal.
The Partenopei are pushing to meet Hellas Verona's requests (around €15 million) and close the deal by the end of January. If this scenario becomes a reality, Zaccagni will stay at Hellas Verona on loan until the end of the season working on his skills, providing assists, scoring amazing goals, and seeing football in a different way. Like no one else does.
By: Andrea Agostinelli
Featured Image: @GabFoligno / NurPhoto