Player Analysis: Memphis Depay
Dutch players have come and gone from the Premier League, some have been a roaring success like Dennis Bergkamp or Robin van Persie, some not so much like Nigel de Jong but in the summer of 2015 when Manchester United splashed out £25million on the Dutch sensation Memphis Depay from PSV Eindhoven on the insistence of then manager Louis van Gaal, there was a belief that Depay would be another Ruud van Nistelrooy and not an Alexander Büttner.
When he did play, his performances created more surrounding noise around his off the field issues. Van Gaal decided to pull him out of the limelight by not selecting him. He knew a sports psychologist and suggested that Depay set up a meeting.
Van Gaal was trying to help but he thought it would never work. Depay had only ever opened up to people he knew well and by then, his relationship with Van Gaal was already floundering. At the time, Depay had finished the 2014/15 season as the Eredivisie's top scorer with 22 goals as PSV won a first top-flight title in seven years.
However, this form was not replicated in a Manchester United shirt only recording 7 goals in 53 appearances and the arrival of José Mourinho which eventually led to a transfer to Lyon in the 2017 January transfer window only hindered his future at the club. Four years on, Memphis is the figurehead of the Dutch national side and a Barcelona player in waiting. The journey is impressive for a talent who fell under the curse of United's most fabled squad number.  
Stylistic Features
Memphis Depay is known as your typical modern-day footballer. Flashy cars, artistic tattoos and lavish off the field lifestyle but it's usually on the field that he catches your eye with a player who causes damage to opposition defences whilst looking the part. 
Low socks seem to be the trend nowadays players like Jack Grealish or Paulo Dybala are seen donning the style week in week out but like Francesco Totti, no one pulls it off like Memphis Depay. Like a Roger Federer headband, or like a one-arm sleeved Lebron James it's become customary for the Dutch star to rock up to a pitch with low socks, tape on each of his wrist and fancy new Under Armour boots (the face of the brand on the footballing end).
Very few footballers can pull off the style Memphis Depay sets on the pitch but with his phenomenal skill set like the ability to glide through players in tight spaces with such a low centre of gravity and the artistry footballing mind to make things out of absolutely nothing, it's comparable to his style off the pitch. 
Chance Creation
One of Memphis' most valuable skills is his ability to create for others and he makes sure these chances lead to goal-creating actions for his teammates. Despite playing as centre forward for Lyon this season, Memphis is an intelligent player who knows how to get the best out of the players around him and would usually roam between the left and right halfspaces to get more space to create, this would lead to runs being made inside the box from midfielders like Karl Toko Ekambi.
Memphis is very difficult to read or press as he is constantly roaming around the opposition box and always being aware of his position, space, teammates and opponents. His superb vision with the ball and technical ability also adds to his chance creation. This is further demonstrated by the fact that he has 52 chances created and 12 assists in Ligue 1 in the season just gone. He averages 5 shot-creating actions per 90 and he's constantly making things happen in the final third.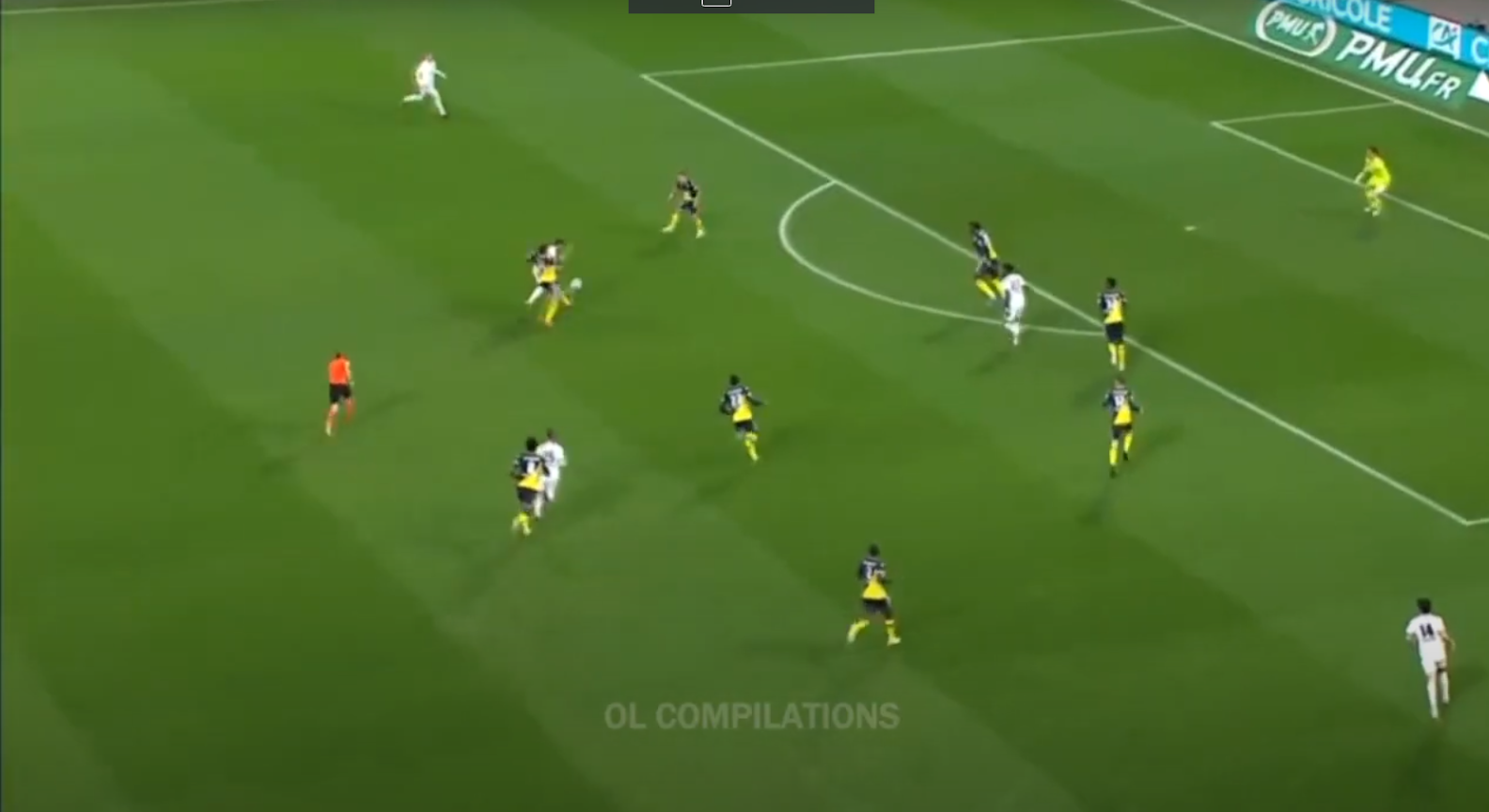 Monaco's striker Kevin Volland has tracked back to close down Memphis Depay but has not put enough pressure to stop the pass, Memphis is about to execute to his teammate overlapping at left-back.
The overlapping run is made by Melvin Bard and Memphis has the vision and execution to pick out his teammate and put him through on goal. This incisive movement led to a dangerous scoring opportunity, but it was saved by Monaco's goalkeeper Radosław Majecki.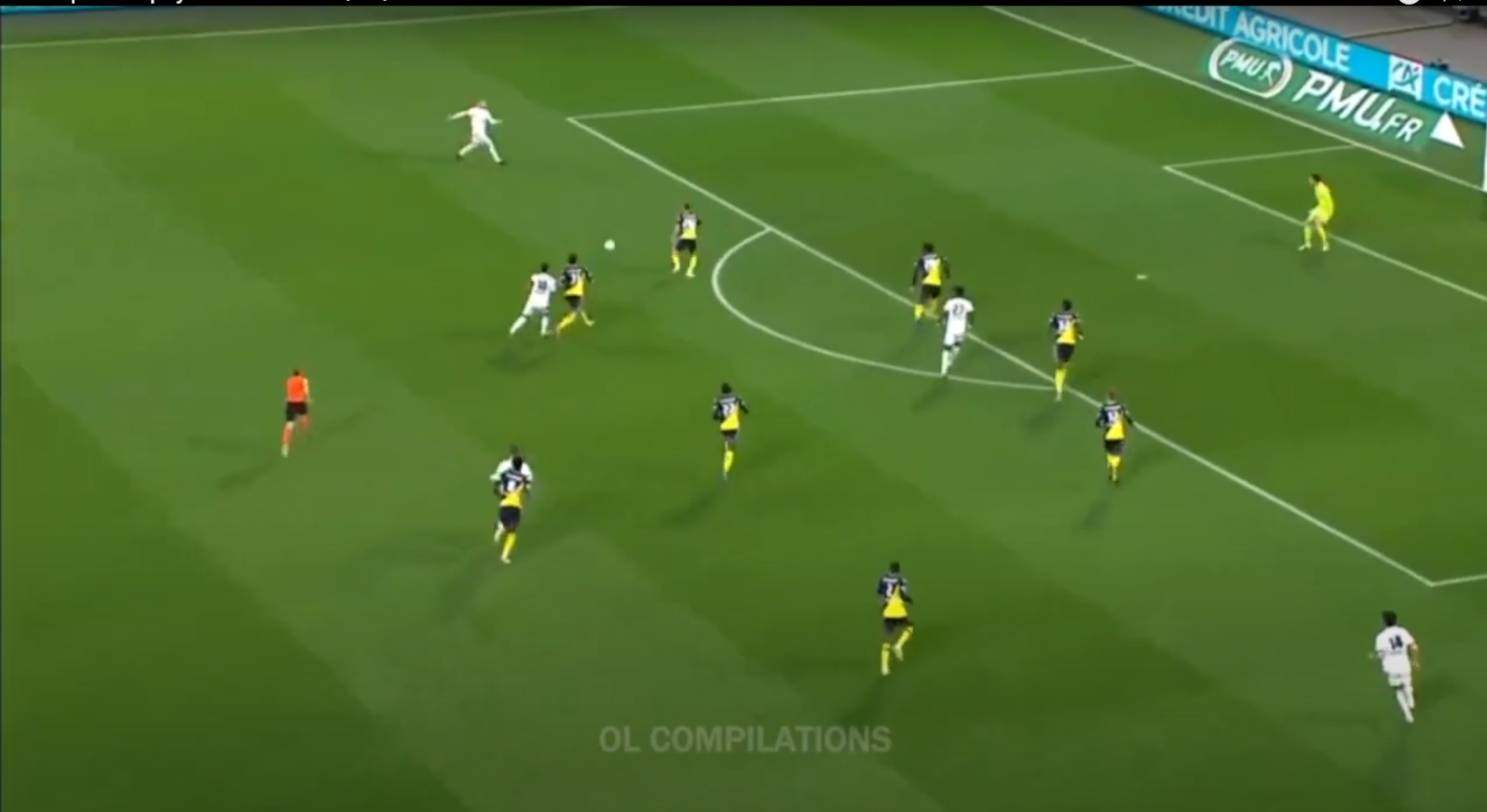 The pass from Memphis gives Bard two options when he enters the box, whether that's to cross into his onrushing teammate Maxwel Cornet or to test the keeper by shooting to Majecki near post. He picked the latter and due to the angles it seemed the only option but it was an intelligent pass that shows his ability to analyses a situation and decides which attacking skill is best.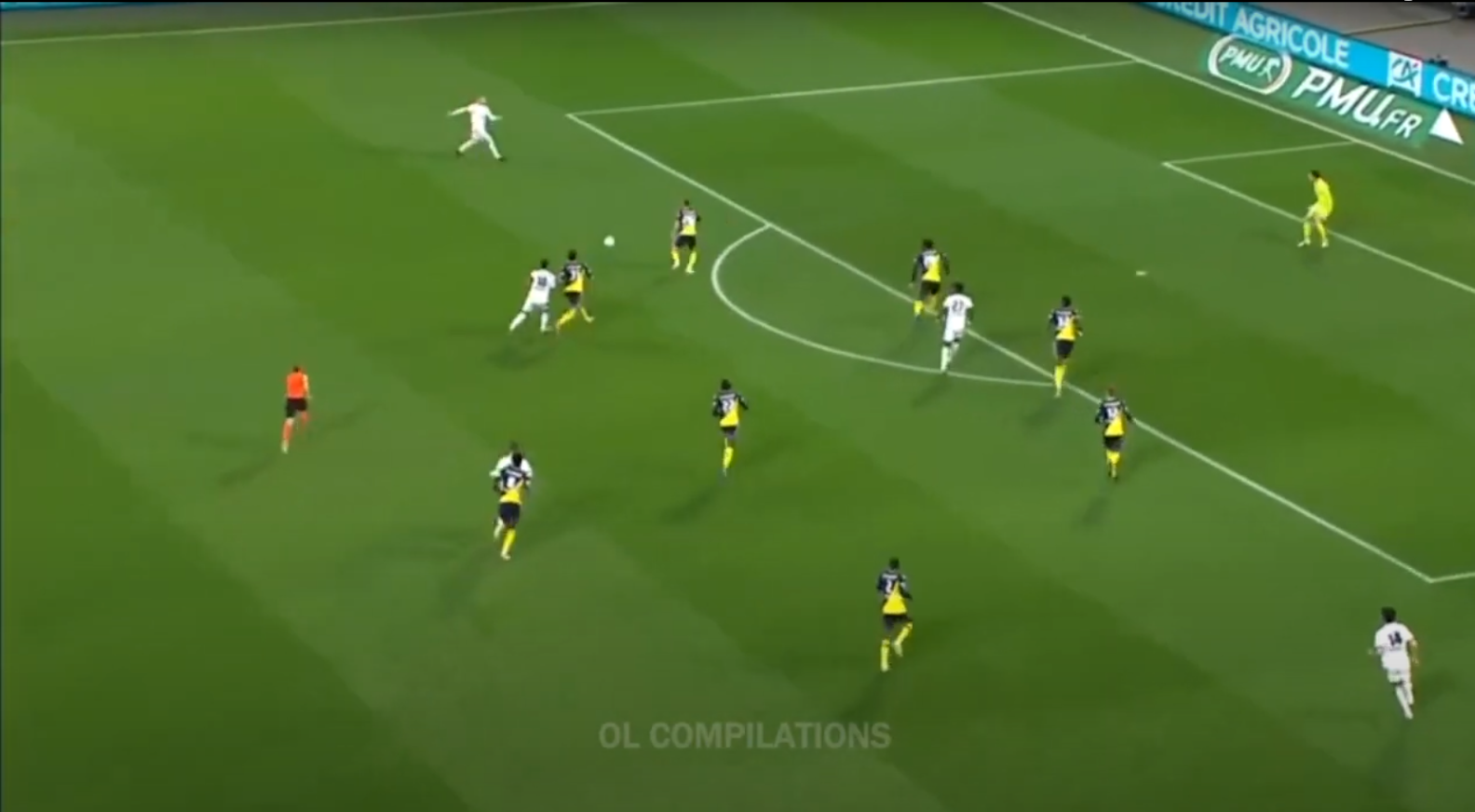 Another example of Memphis' creativity is his awareness of situations going around him. Another type of chance he makes in the box below. This time, Lyon are on a counter-attack and he's only supported with Maxwel Cornet.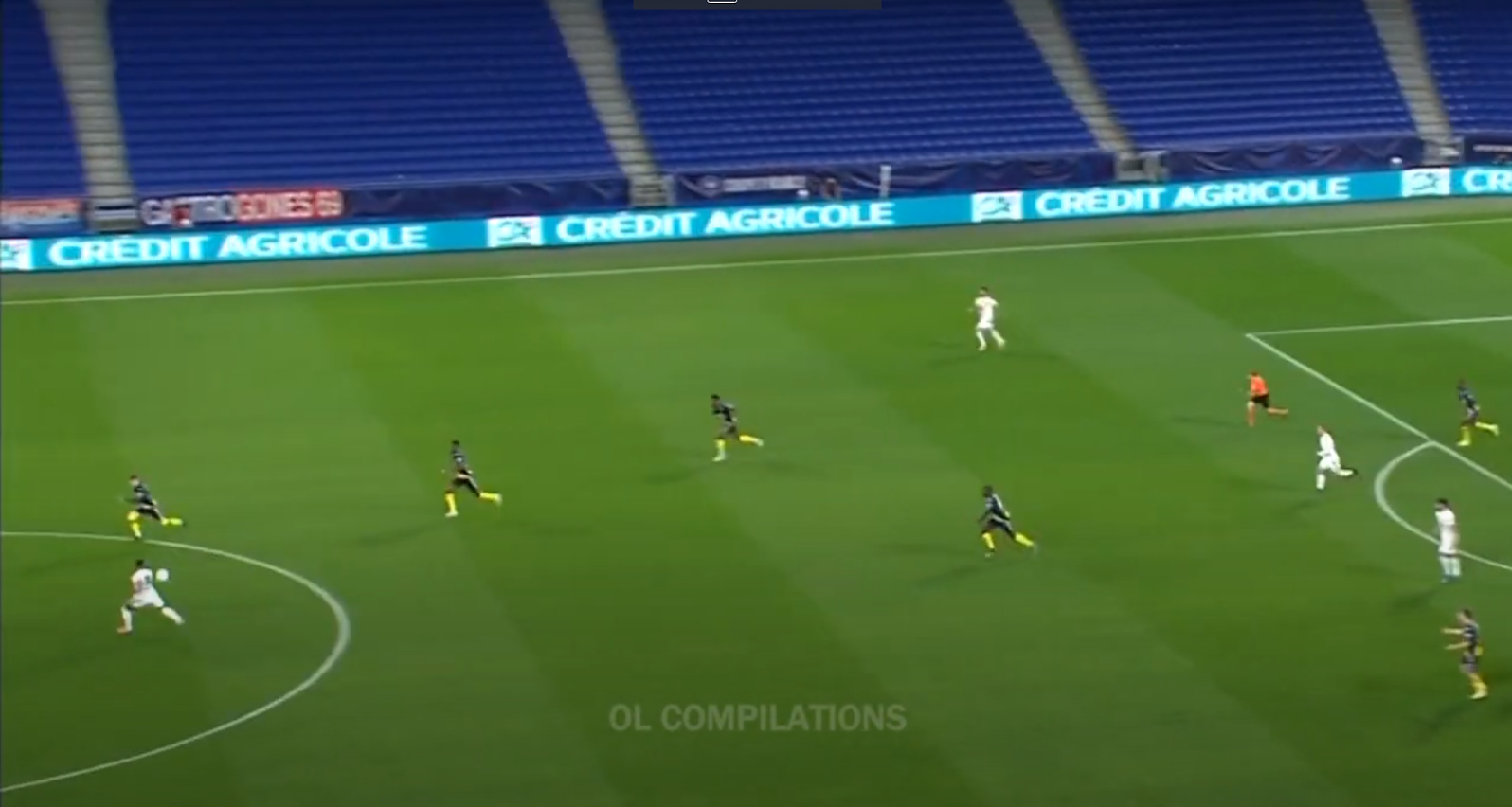 Knowing Cornet's run is on, Memphis plays a quick pass into space to put his Ivorian teammate eventually through on goal, this understanding of spatial awareness highlights the type of quality the Dutchman possesses especially when given time and space and this sudden burst of space is critical to the surprise of the Monaco defence and get the ball quickly up the field. Monaco's right back Ruben Aguilar, who is quite quick, read his intentions well and managed to get close to Cornet but not close enough to stop him from finishing off the move.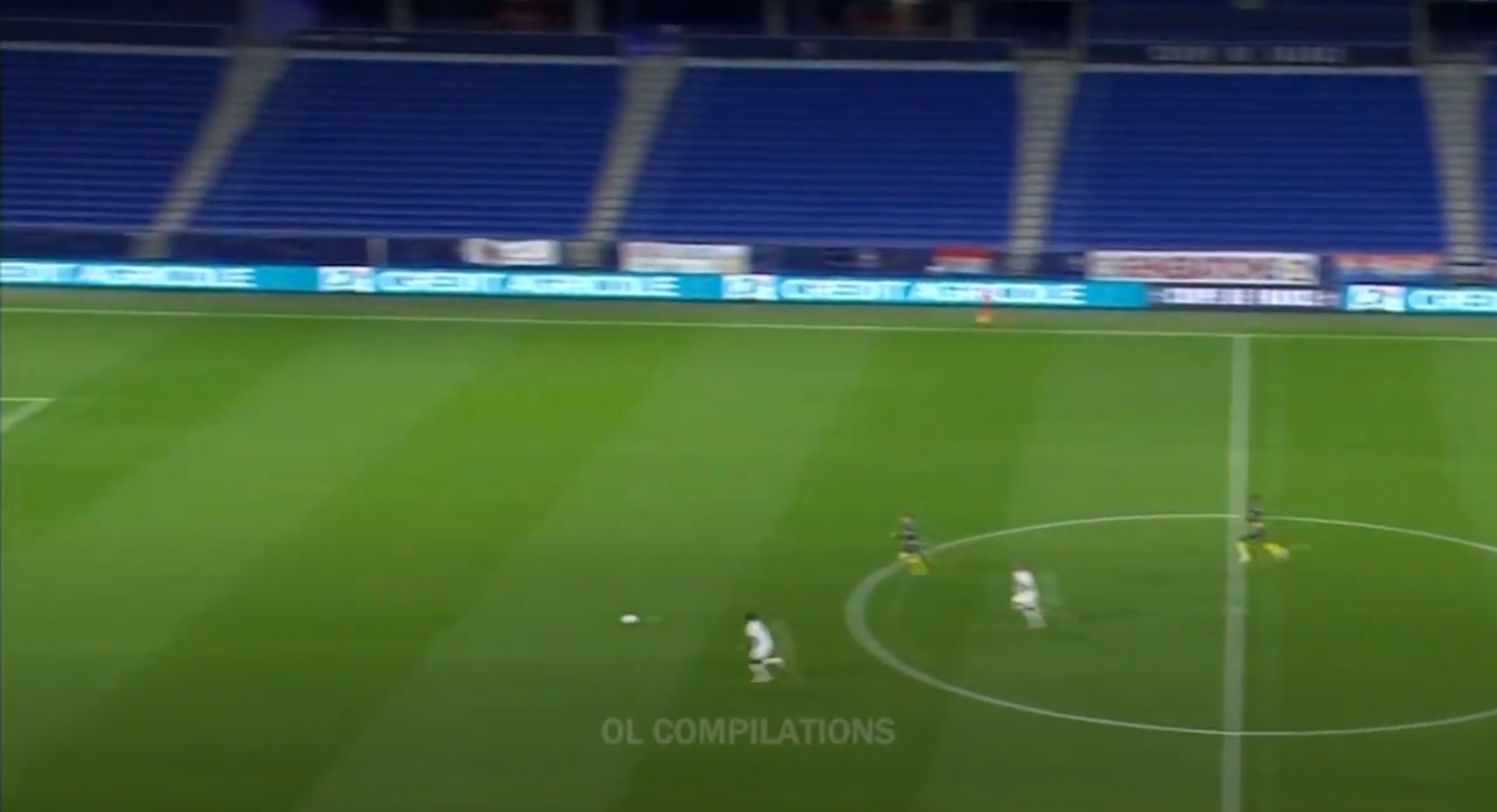 Dribbling
Memphis Depay is the type of forward that likes to get involved in the play a lot and he will go looking for the ball by drifting into spaces that the ball may be. He has the technical skill and craft to get out of tight spaces. 
He encounters tight spaces often because of the positions he takes up; however, his ability to skip past defenders and progress in open space is impressive and an aspect of his game that has undoubtedly contributed to his eye-catching performances in France. Memphis attempts 4 dribbles per game and makes 2 progressive carries into the final third per game. 
Let's focus on the situations when 1v1 with a defender. In the box below Aleksandr Golovin calls for backup when facing Depay there is a clear understanding of the threat he poses but Depay isn't doubled up quick enough and skips past and burst into open space from Golovin's poor defensive approach.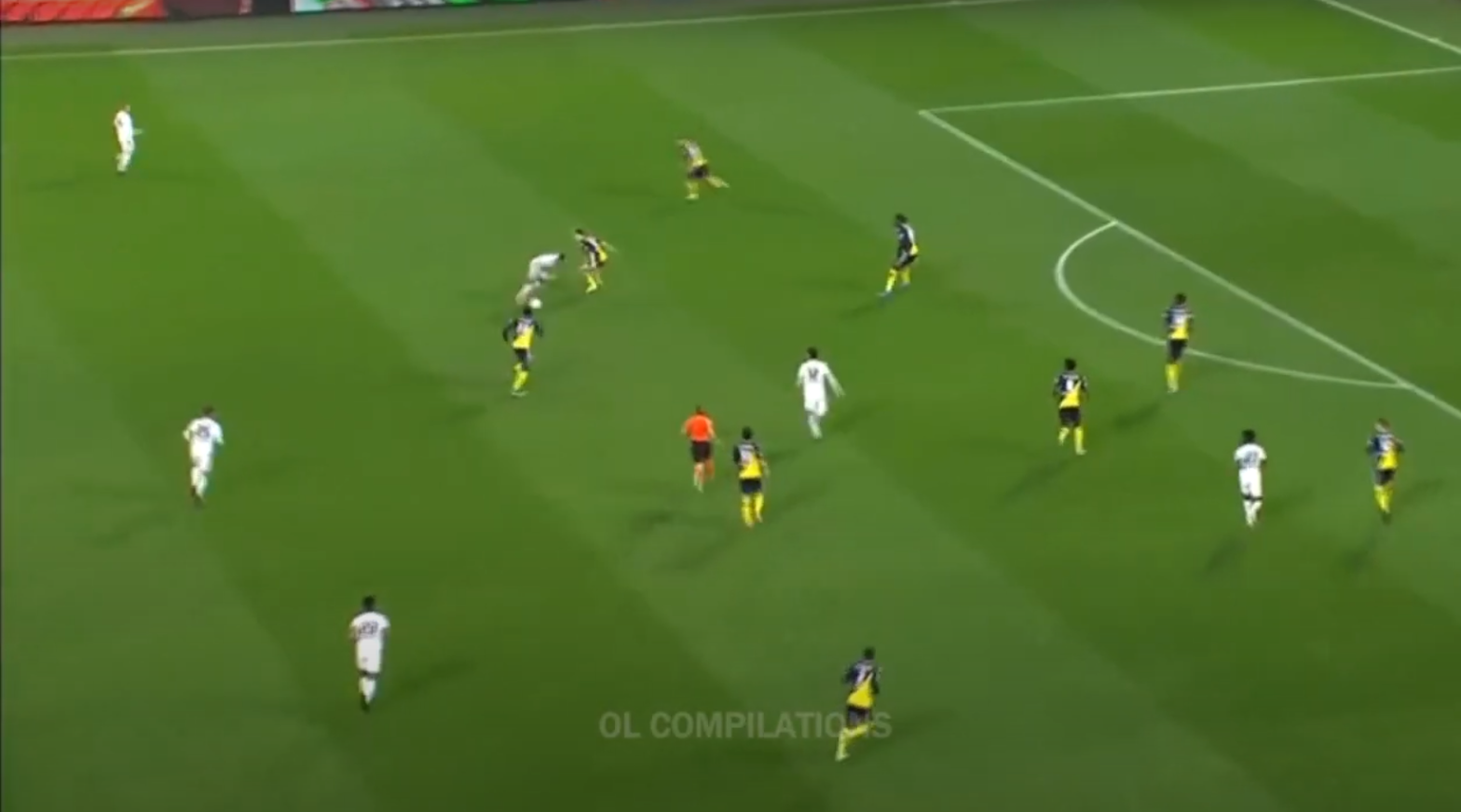 After beating his opposition man (Aleksandr Golovin) Depay looks to play a through ball to Lucas Paquetá who has made a run into the space vacated by Axel Disasi as he looks to engage Memphis' run through midfield. This highlights Depay's awareness of space once again knowing if he comes deep it allows space for midfielders to run into and helps being involved in play as he moves it quickly.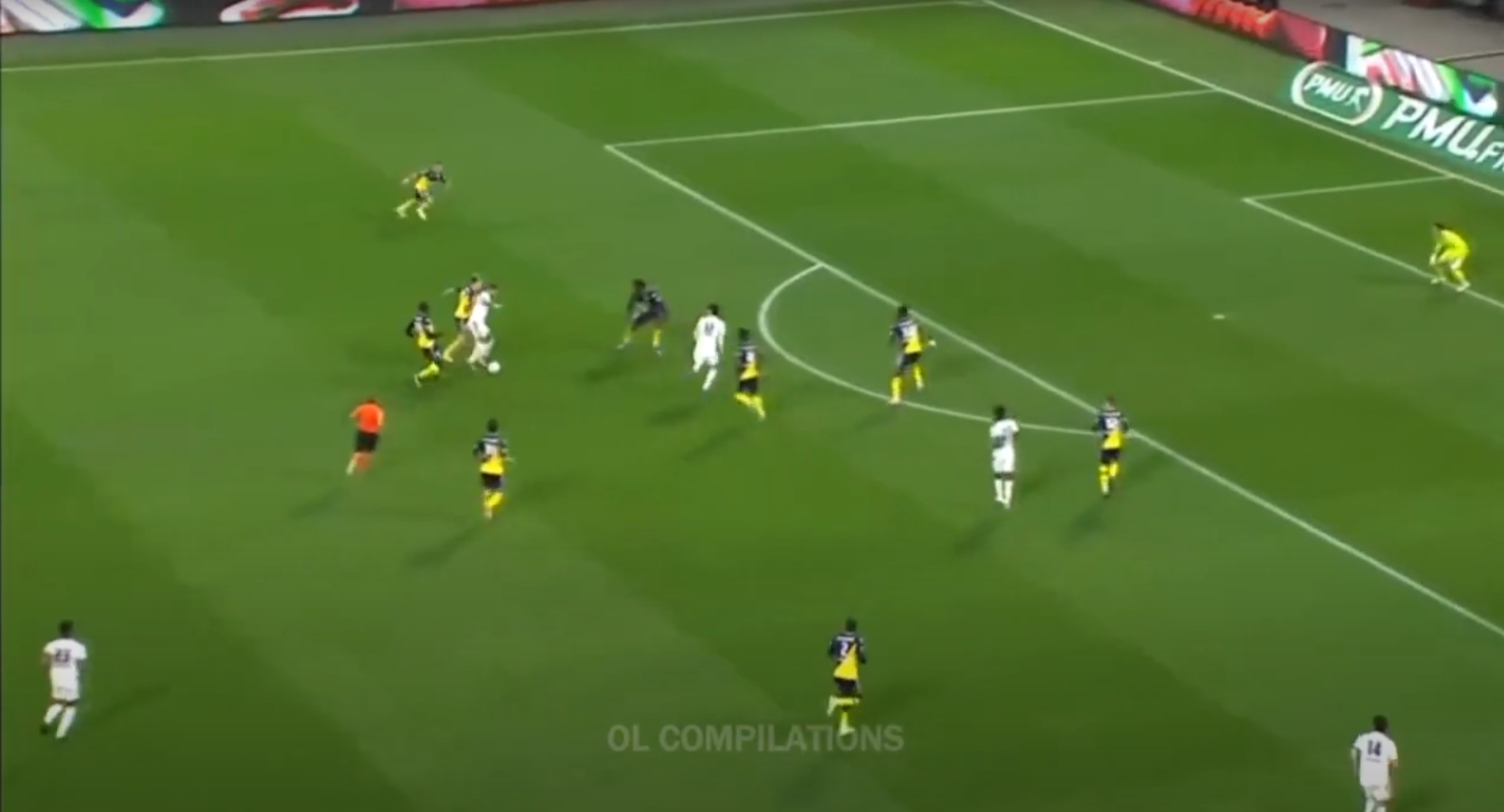 Memphis likes to drop back to be heavily involved in the build-up. He will drift into the wide half-spaces when his team is in possession of the ball to either start dribbling himself or make a vertical pass after a dribble.
He does this often and does it well because in a few touches, he makes the team be in a dangerous attacking position. In the box below in a game against Monaco, Memphis has come deep and he aims to beat his man (Aurélien Tchouaméni). He has 3 players around him but his close control is so good he doesn't look like giving up possession in this situation.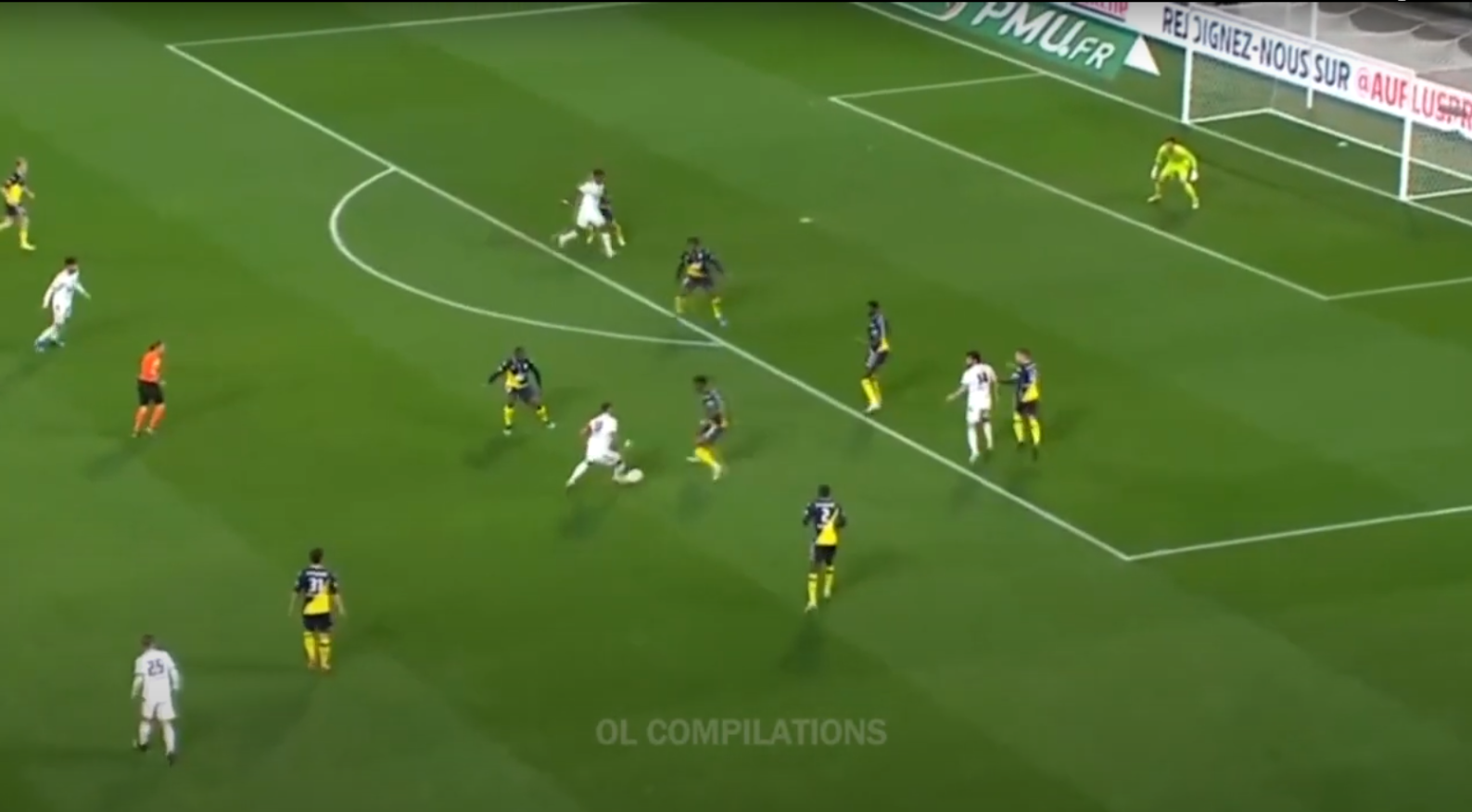 Memphis skips past the first defensive midfielder (Tchouaméni) with a stepover, which then disrupts the midfield defensive arrangement, as he creates space for himself and approaches the box. Memphis was afforded the time and space to pick out a pass, which he did to an overlapping fullback from the right-wing ( Léo Dubois). This highlights his ability to create space off the dribble and how he can attract opponents and leave space for his teammates to find them with the right pass or even take on the shot himself.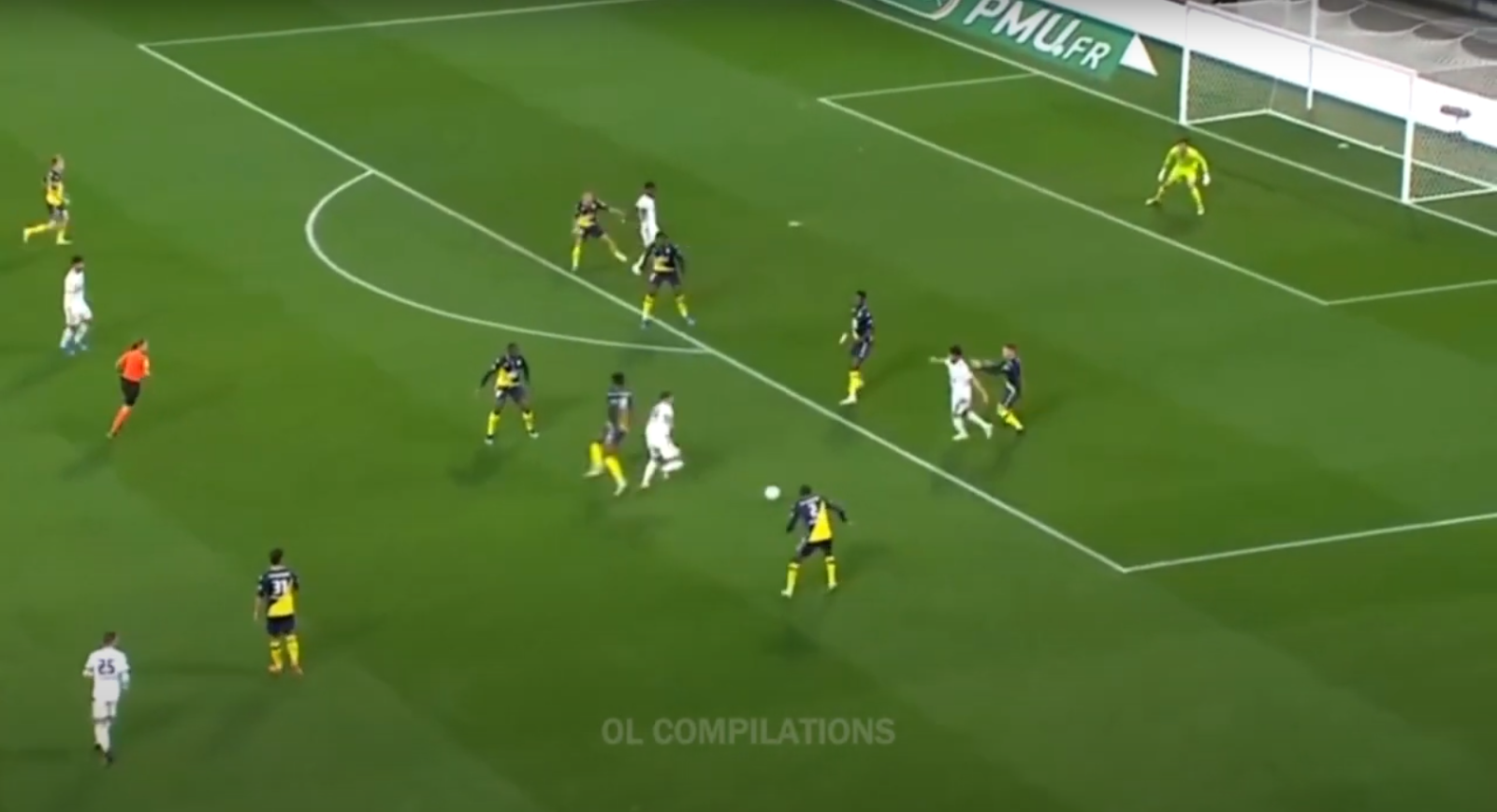 Conclusion
The talent and potential shown in his PSV days should see Memphis Depay at an elite club right now, he might not have thought it would be precarious as it has been in recent years but a move away from the limelight and into a team and league with less focus of attention has aided his development, has put Memphis back onto the right track to fulfilling that truly world-class potential.
He has the ability to get you off your seat with his mesmerizing skills and captivating goals. In recent years the flicks and tricks have turned into top-class output and has earned himself another chance at an elite club like Barcelona, where he has signed on a free transfer in a contract until 2023.
By: Raphael Adelugba / RaphaelAdelugb0
Featured Image: @GabFoligno / Fran Santiago – Getty Images