Player Analysis: Mert Müldür
In an all too familiar story, a child is enamoured by a football from an early age. His parents are frustrated by their offspring's obsession with kicking this spherical object around the house. He is encouraged to join a team and begins to play regularly outside. Fast forward two decades and he is a senior international playing for one of Europe's most exciting sides.
In brief, that is the story of Mert Müldür. He was born in the Austrian capital of Vienna on 3 April 1999 to Turkish parents. Pushed by his mother, he joined local side Rapid Vienna as a seven-year-old. At that point a striker, after several years in Rapid's academy Mert moved to his current position of defender.
Explaining this switch to Bi'Soru Bi'Cevap in October 2018, he said: "One day in the U-14 team our coach Bernd Schreiner played everyone in the team in different positions in training. I played centre-back and performed successfully. He tried this a few times and then told me if I wanted, he would play me as the centre back from now on. So, my position changed."
Growing up a dual national, Mert also had a decision to make early on regarding his international future. In 2016 he played for Turkey's U-17 side, before then representing Austria's U-18s. Matters were accelerated when both nations called him up for under-19 European Championship qualifiers the following year. There was however only going to be one end result, that of his heritage.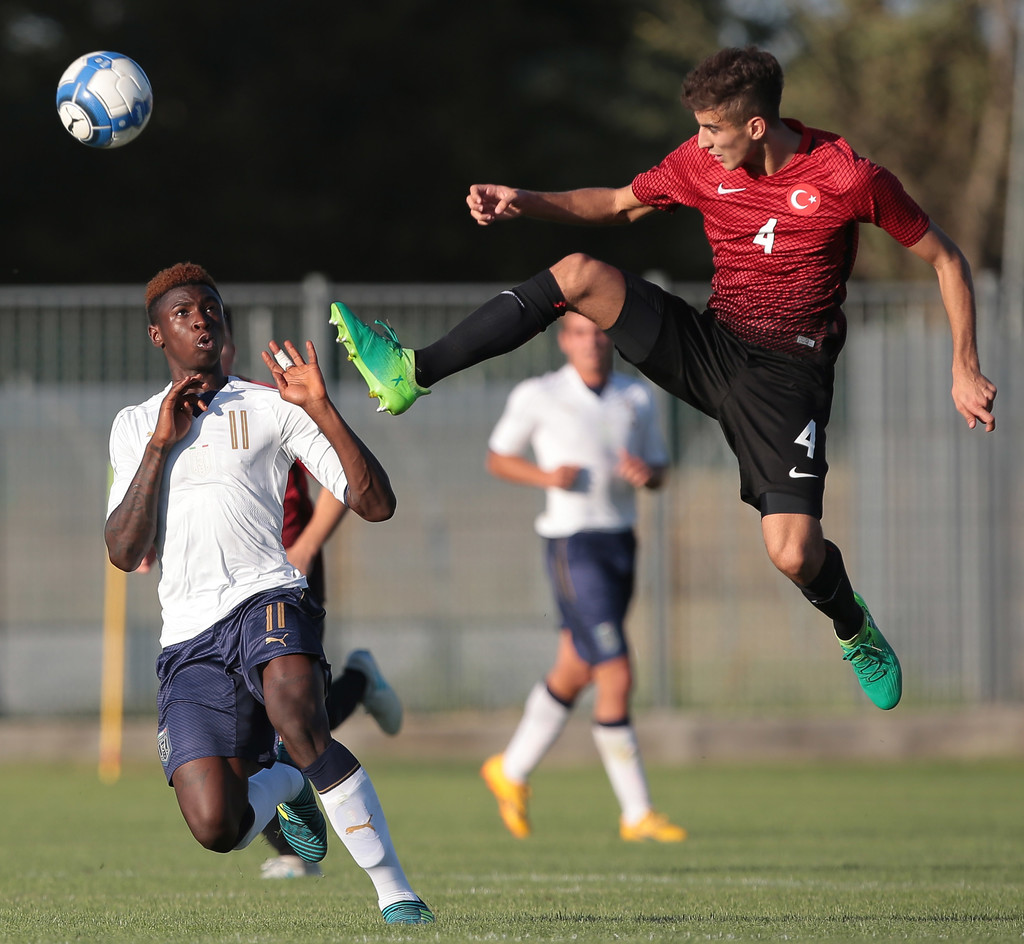 Photo: Emilio Andreoli / Getty Images
Listening to my heart. It is a special pleasure for me to be selected for (Turkey). After all, who doesn't want to wear the crescent-star jersey? I am very happy to be here."
In terms of what has got Mert to this point, the first thing that stands out is his versatility. Having already swapped ends of the pitch, he has since been moved out to the right flank. Here he can be both a conventional defender or a more marauding wing back.
Speaking with Bi'Soru Bi'Cevap, Mert said: "I am a fast player and love to play with the ball. This is the reason why our coach tried me at right back in Rapid. I usually try to do good things with the ball. I am not a player who gives up easily in duals and I think I'm good at heading too. Apart from that, I place importance on my fitness training.
"My idol right now is Sergio Ramos. He is a complete player with all the features I love: control over aerial balls, strength, ability to play forward from defence."
Mert made his debut for Rapid on 13 May 2018, starting at home against perennial league leaders Red Bull Salzburg. Unfortunately, it was a debut to forget. Salzburg quickly raced into a 3-0 lead, with Mert taken off after just 34 minutes having injured himself.
Thankfully, the Turk did much better when handed his second chance two weeks later. He stayed on the pitch for the entirety of a 0-0 draw against Wolfsberger, signing a three-year professional contract at Rapid later that week.
Bizarrely, there was a time in his career when Mert had made 66 percent of his appearances in goalless draws with Wolfsberger. His first outing of the 2018/19 season came against the same opposition, ending in the same scoreline, but this percentage quickly decreased. Then manager Goran Djuricin – and his successor Dietmar Kühbauer – saw enough in their young Turk to entrust him with regular game time.
Mert made 41 appearances across the season, mostly at right back. He also played in Europe for the first time, starting every group game in the Europa League. His equaliser inspired a late win at Spartak Moscow that was crucial to qualification for the round of 32. Rapid also reached the final of the ÖFB-Cup, although lost 2-0 to Salzburg. Despite these setbacks, it had been a promising debut campaign for Mert.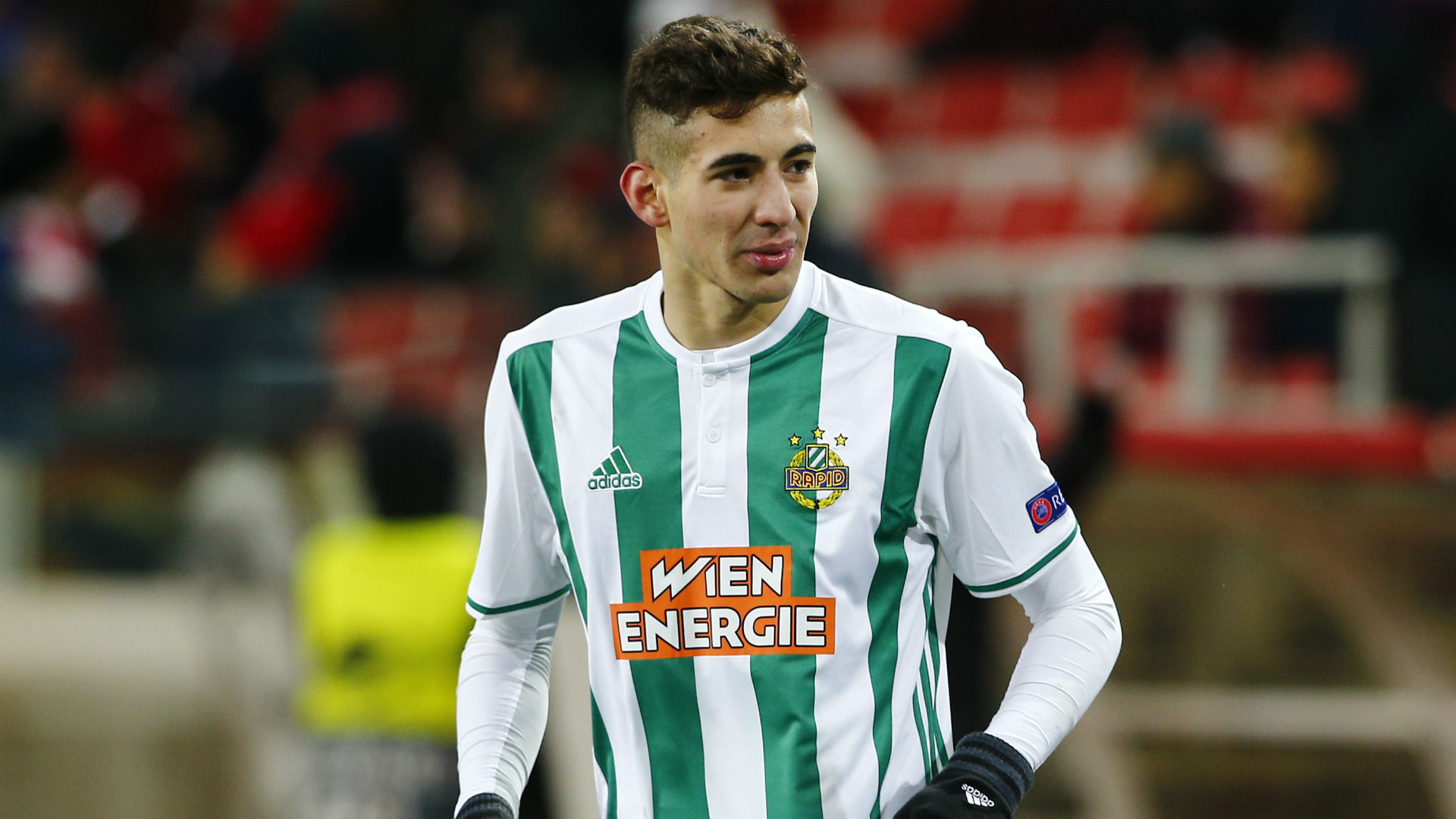 Photo: AA
As Austrian football expert Tom Middler tells me: "He seemed to be improving well in terms of the way he read the game, I think that element placed him above most of Rapid's other defenders. He was still really young but looked more assured than most of the older players at the back.
"At the time that he broke through Rapid were really struggling, so it was hard for him to shine, but he was pretty much on the team sheet for every game at the time they sold him. For Rapid it was just a case of needing the money, and as he was a youth player it was "all profit" which they couldn't turn down."
Mert started the first four Bundesliga games of 2019/20, mostly at centre back, before being sold to Sassuolo for €5 million late in the summer transfer window. Upon arriving in Italy he was largely used as backup to Jeremy Toljan, who he replaced against Torino to make his Serie A debut five days after signing.
The Turk only started to play after the season restart in June. Toljan injured himself shortly afterwards against Atalanta, with Mert stepping in to replace him. He finally started to hit form. In the next game, away at Inter, he won a penalty with ten minutes left which was converted by Domenico Berardi as Sassuolo grabbed a surprise 3-3 draw.
In July, going up against Giuseppe Iachini's Fiorentina, Mert robbed Gaetano Castrovilli from behind, showing strength to then hold off the Italian and fire home. Just three days later he scored again, cutting into the box before placing a deft finish into the bottom corner in a 4-2 win over doomed Lecce. In the end Mert would play 25 times during his debut season in Italy, helping Sassuolo to an 8th placed league finish.
Into the current campaign, Mert has had to make do with appearing largely off the bench, with summer signing and compatriot Kaan Ayhan preferred at right back. However, he has still featured in every game for a Sassuolo side that are currently riding high in Serie A under their impressive coach Roberto De Zerbi.
He is also a Turkish international, having made his debut in October 2018 in a friendly with Bosnia. He has since gone on to be capped twice more for Milli Takımlar, most recently in a 1-0 loss in the Nations League to Hungary in September. With the Euros coming around next summer, Mert is definitely one to look out for.
By: James Kelly
Featured Image: @GabFoligno / MB Media / Getty Images