Player Analysis: Michael Olunga
As the Portuguese Jesuits broke new ground in South Japan, they brought not only the faith of Christianity but also a human marvel who consumed the interest of the locals. At the height of the Sengoku Jidai, a man of east African origin became somewhat of a fairground attraction.
That interest eventually developed into reverence, as the once nameless stranger became "Yasuke," the sole African to wield the double katana of the Samurai. Yasuke possessed the strength of ten men and stood heads above anyone else on the Island. Some 440 years later, a giant East African man, hailing from Kenya, arrives in Honshu's Chiba prefecture, bringing goals and excitement with him, his name Michael "The Engineer" Olunga.
Olunga grew up in Nairobi's Karasani residential area where, as a young man, football seemingly took second place to his burgeoning passion for aeronautics. It's a rare occurrence for a boy well versed in the trade of football to think of a future and career outside football's professional infrastructure; however, if anything, it was an indicator of a screwed-on head.
It was whilst at secondary school Olunga was identified and lobbied by clubs to join their youth academies, with the future Harambee's star opting to join Liberty Sports Academy. Upon graduation, Olunga joined the professional footballing fraternity, joining Nairobi's Tusker FC. Even though it appeared that Olunga's two dreams were beginning to fracture, the forward still made time for his geospatial studies at the Technical University of Kenya.
His final year in Kenya was a prolific one that led Kenyan Giant's Gor Mahia FC to an unbeaten league title. In the process, he staked his claim as Kenya's top prospect, one with ambitions of dominating in far-flung lands. Olunga swapped Nairobi for Stockholm and with it left any chances of a career in commercial aviation, though I am sure he and his family alike do not look back on the choice with any regret.
After just 13 months and 12 league goals in Sweden's Allsvenskan, Olunga's footballing exploits led him to southwest China, Guizhou to be exact, with once-employers Djurgardens landing a healthy profit. The Engineer saw the super-league emblazoned pitch just nine times before heading west to La Liga's Girona FC. Olunga marked his entrance to Spanish football with a customary hat-trick this coming against Las Palmas, with Spain being just one of the five countries in which he has managed this feat to date.
Olunga encouraged some but frustrated many whilst on the Iberian Peninsula, with Girona ultimately making no further move to secure the Kenyan's services. Despite returning to China, Olunga was quickly forced to pack his bags as he relocated to Japan, plying his trade with Kashiwa Reysol. In just two short years, Olunga ruled the roost, with his goals forcing Kashiwa Reysol back to the J League and once there cementing themselves as a force to be reckoned with.
Like Yasuke, Olunga came to dominate the physically inferior Japanese defences, as he dwarfed most backlines, with some having no answer for the Kenyan. Olunga's magnum opus came on a November afternoon as his Kashiwa Reysol put 13 past Kyoto Sanga, with 8 of them personally delivered by the Engineer. After a goal-filled 28 months and a league MVP to boot, the cash-soaked shores of Qatar's Stars League came calling.
January 2021 saw Olunga switch the quaint greenery of Kashiwa for the illuminated desert-swept Doha as he signed a lucrative deal with Qatari royals: Al Duhail. Olunga has called the Arabian peninsula home for just four months; despite this, he has already laid siege to defences both league and continent-wise, already notching a hat-trick in both domestic and continental action.
As the early signs suggest, Olunga's stay in Qatar should continue as he left off in Japan. It appears that the time for a trophy-laden career in Europe has expired for this Engineer, however, Qatar seemingly offers him everything, a continent's well-compensated pay packet as well as an opportunity to fight it out for the continent's top prizes, individual and team alike.
Stylistic Features and Tendencies
Olunga is a tall, strapping forward, and this has been exemplified during his time in Asia, where he dwarfs the majority of oppositions. Height and its complementary advantages are just a facet of a complex game that Olunga has crafted. Undoubtedly Olunga squeezes out every ounce of his physical superiority; however, it would be wrong to write him off as nothing more than a frame and a head.
The 27-year-old forward falls between the two schools of tall strikers, those who could compete at the highest level independent of their frame and those who morph their game around their natural gifts. Olunga, in his current iteration, would not have the CV he does if he were south of 5'10. Olunga compares well to Peter Crouch in terms that he is a skilled and complex footballer who is often cheaply brandished by the eye test even before taking a step onto the pitch.
Like Crouch, Olunga has an impressive touch and body contortion. In an attacking sense, the Kenyan operates on the shoulder of the defensive line and works hard out of possession and is a de facto direct option for any side he turns out for. When in control of the ball, he is capable with both feet but defers to his left in most cases and is ambitious, which is occasionally detrimental on an individual and team basis.
A serious concern that has followed the Kenyan during his time in Asia revolves around his ability to perform in a league where football's best athletes compete. Olunga's short stint at Girona put some doubts to bed, however putting him in an ecosystem where he isn't the clear apex predator could affect Olunga's niche.
Video Analysis
Most of Olunga's defensive work is born out of his long legs and height. In Japan and now in Qatar, Olunga is often utilised as a lone striker in a 4-4-1-1 or 4-2-3-1 and is thus expected to do some off-the-ball work but retain most energy for attacking exploits. The clip below exemplifies the functionality of Olunga's long levers.
Olunga here is able to "show" the Al Hilal the outside channel by placing most of his body weight on his right foot. This encourages the forward to try and beat Olunga; however, his long legs are easily able to block any progression and, in the process, regain possession for Al Duhail.
Credit & Source: Metrica Sports
The Engineers' other most prominent defensive engagement is the aerial type, not least during opposition corners. Olunga is often parked on the front post as a challenge for the opposition to play it over the 6'3 Kenyan.
The clip below is a clear example of the sort of suction cup that Olunga is to under-hit corners. He is seen efficiently and assertively removing any threat from the Esteghlal corner; he gets sufficient height and distance on the clearing header, giving Al Duhail ample time for any necessary defensive rotations.
Credit & Source: Metrica Sports
The Engineer's imperial aerial navigation is not limited to defensive set-pieces but is used in an attacking sense to link up and finish. The physical presence that comes with Olunga allows a team to defer to a tried and tested plan B, targeting the target man, make of it what you will. During the forward's tenure in Spain, Girona would often prefer this strategy to the high-risk, high-reward nature of playing out from the back.
The clip below is a microcosm of Olunga's effectiveness as a target from deep. Here we see a ball from the goalkeeper claimed by Olunga, who then heads the ball into the path of a teammate. Once he releases the ball, Olunga promptly runs, offering an option to his isolated teammate.
Credit & Source: Metrica Sports
The clip above offers an insight into the selfless expression of Olunga's aerial prowess, although Olunga's perhaps favourite use of his height is as a mechanism of goalscoring. Whether it be from a standing start or afforded a few steps, Olunga latches on to high balls and dispatches them goal-bound with accuracy and venom.
The clip below shows the most recent Olunga headed goal, for what it lacks in pace, it makes up for in accuracy. Esteghlal makes the fatal mistake of paying less than the requisite attention Olunga deserves and, as a result, he is served up a free header on the edge of the six-yard box.
Credit & Source: Metrica Sports
Like most strikers, especially of the lone variety, link-up play and chance creation come second. Despite it being behind goalscoring in the pecking order, it remains a valuable commodity and one that Olunga can trade. Olunga is the most comfortable trading possession in tight spaces with willing runners but also has the occasional long searching ball in his locker.
The former and the more common pass type is seen in the clip below. Olunga posts up on his man, practically ensuring a clean take or a foul; once received, the Kenyan smuggles the ball to his teammate with perfect timing and moves accordingly, akin to an ageing Arvydas Sabonis.
Credit & Source: Metrica Sports
The less prominent pass type incorporated in Olunga's repertoire is seen below. It's not that Olunga does not have the technical nouse to pull these progressive balls, but rather is seldom found in the positions that allow for it. Nonetheless, he still pulls off these passes on occasion. The clip below is a recent example of Olunga's quick thinking and weighting. He receives the ball in a trough of space towards the centre of the pitch.
The Kenyan quickly turns and sprays a ball with his weak foot to the right-wing, where an incoming winger picks it up. The timing and weighting of the ball make it, so the runner isn't forced to decelerate or alter his path. This sort of pass is not as prominent as the post up and should not be expected on a game-by-game basis; it should be seen more like the cherry on top as opposed to the sponge of the proverbial cake.
Credit & Source: Metrica Sports
Moving beyond setting up goals to scoring them, Olunga is well versed in obtaining the currency of strikers, goals. We have already brushed over Olunga's aerial threat, which is a key component of his goalscoring exploits. If not with his head, Olunga most often scores from one of two ways, chasing loose balls and misplaced passes from the last defender's shoulder or as the final destination of build-up play.
Japan is where Olunga got the greatest bang for his buck when chasing loose and second balls, as his physical tools outmatched everyone else. Thanks to his frame, the Engineer was able to ride tackles and overpower defenders when competing for a bouncing or loose ball. The clip below shows this with crystal clarity.
Surprisingly, Olunga is not the direct option from the goal kick; nonetheless, once his teammate heads into space, he is directly engaged in a battle with the defender. Olunga quickly brushes him off and rides his challenge, and once in possession of the ball, advances goalward. With a neat touch, Olunga buys enough space to get a pass off or shot, and like any striker who thinks he is worth his weight in salt, he opts for a shot, burying it past the goalkeeper.
Credit & Source: Metrica Sports
Olunga's direct running is not exclusively valuable for loose balls; instead, it is equally valid when making a supporting run when his side is in possession. Despite playing centrally, Olunga occasionally vacates this channel drifting wide, and it is then where his pace is best appreciated; the clip below is a perfect example. He makes a run on the opposite side of the pitch to where all the action is.
He goes virtually unnoticed until he picks up the ball, and upon seizing control, Olunga takes a single touch and dispatches the ball with the outside of the boot to the opposite corner from outside the box. The Engineer will not score like this every week; however, he perennially places himself in the best of positions and has acquired the taste for goals and indulgent finishes.
Credit & Source: Metrica Sports
When not moving into plains of open space, Olunga is intelligent and crafty with his use of space. Olunga drifts into annoying territory as he is often caught offside; however, it eventually balances out as these same runs when onside are a direct route to goals. The Al Duhail striker is always offering something to someone and, as a result, is often forced to check his runs and cool his jets. The clip below illustrates this adequately.
We see Olunga, the most advanced of all Kashiwa players, angling for a ball but is ignored; nonetheless, he continues and changes his course of direction and, as a result, finds a fracture in the back four. With this open space, the ball finds him, and since he has already passed the opposition, he is left just with the goalkeeper to beat, which he does with a thunderbolt from his strong left foot. This finish is characteristic of the Kenyan as he often releases his full force into the ball, which sees the ball fly into the top of the net from unfancied angles.
Credit & Source: Metrica Sports
The previous clip shows off Olunga's power when finishing, though power is not always the name of the game for the Kenyan as many of his best goals result from a cool-head. A majority of his goals are placed instead of smashed. This is paramount when he finds himself in 1v1 situations, which he often does as these require placement over all else.
A trademark of Olunga's is his tendency to round the keeper and finish into an empty net. The clip below presents a microcosm of the technical nuance involved in lots of Olunga's goals, as well as his ability to operate in tight spaces despite him taking so much of said space.
We see Olunga, despite the intentions of five defenders all packed in and around the penalty area, manage to get a shot off due to a silky first-time drag back, reminiscent of another tall lefty, Josip Ilicic. Whether it be a direct action that leads to goal scoring or utilised a few touches before releasing, Olunga's proficient close control comes in handy for himself when coupled with his finishing and, in a greater sense, the team.
Credit & Source: Metrica Sports
Evidently, these clips are just a mere drop in the ocean from Olunga's footballing CV and make of that what you will. Nonetheless, the Kenyan is a dynamic and exciting forward who is capable of leveraging his diverse array of skills to force goalscoring opportunities for him and his teammates alike. A complete statistical analysis is beyond my pay grade; however, I will look at a few vital statistical areas to see if Olunga's apparent domination translates from the eye test to the numbers.
Shooting
When it comes to getting off high-quality shots, few in Asia compare with the Kenyan. In the past calendar year, Olunga has averaged 4.15 shots p90 at an impressive 50.74% accuracy. The Engineer can get shots off and get them on target at rates that few in Asia can even scratch. This is most likely a direct by-product of his shot selection.
The graphic below shows Olunga's shots and goals over the past two seasons, one in Japan and his current season in Qatar. What is evident is that all of Olunga's best work is proximal to the penalty spot, with the Kenyan even yet to score from outside the box during his stint in Qatar.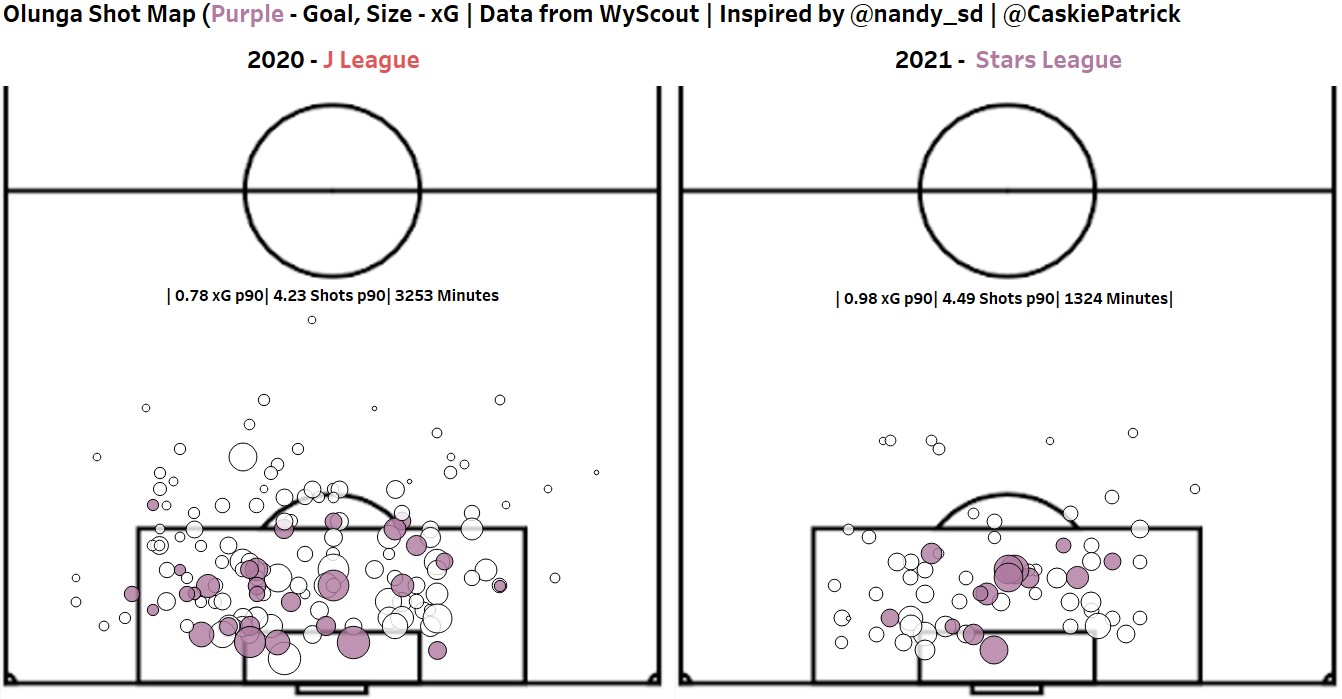 The barrage of close-range efforts that Olunga offers is most likely down to his aerial threat. This has a two-fold effect, one being that he is often close to the goal as that is where most crosses are directed, but even if he is not the recipient, the incumbent threat he has forces at least one defender, often two to stick on him at all times opening up space for teammates.
It's all well and good shooting a lot; however, the translation from these shots to goals is imperative, and again Olunga excels at this facet of the game. Clocking in at 0.77 non-penalty goals p90 and 0.76 xG p90, Olunga's numbers alone surely place him in the conversation for Asia's best striker.
It will be interesting to see if Olunga can keep up these numbers for an entire season in Qatar; going off exploits in Japan and so far in Qatar, he will have little trouble doing so. Without a doubt, Olunga would not be as prolific if he were to return to Europe; however, his goalscoring escapades whilst on the Earth's largest continent are nothing short of remarkable and should garner the utmost of respect.
Passing
As discussed during the video portion, Olunga can create for teammates but should not be relied upon. At only 0.76 p90, Olunga is not a central facet of chance creation in any of the teams he represents. This is not a slight on him and his passing credentials rather a concerted and mutual recognition by all of his coaches that his talents are best utilised in a goalscoring faculty.
A lot of Olunga's passing is lateral or backwards, so much so that only 15% of his passes are played ahead of him. Layoffs are a crucial facet of the forwards passing arsenal as he is most often the most advanced of the 11. Olunga's propensity to play in teammates less advanced is seen in the pass map below.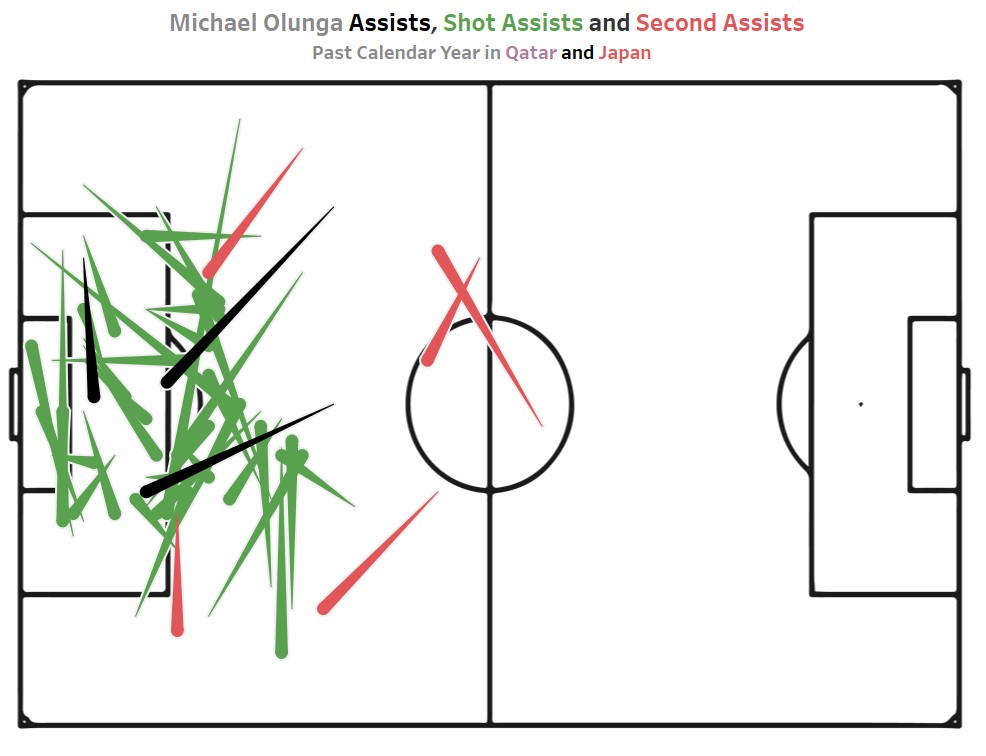 If not layoffs, a considerably high number of Olunga'a passes are done with his head; as seen in the video portion, the Kenyan is often targeted as a direct option. For the Harambees star passing is merely a means of transportation as opposed to an art form; luckily, Olunga is not the type that lacks the technical clout but insists on numerous hail mary attempts per game, evidenced by his low 17.33 passes p90
Movement
Due to Olunga's already very advanced starting position, he has limited scope for long marauding dribbles or runs. Nonetheless, he is still able to get off a few dribbles and runs p90. With a ball between his feet, he is not at Bambi on ice territory; however, he retains a less than convincing demeanour, which may in large part be due to his frame.
The striker manages 2.15 dribbles p90 at a surprisingly impressive 60.2% success rate. This came as a surprise to me as, during the video portion of the report, Olunga certainly did not come off as an imperiously secure ball carrier; however, the numbers don't lie. In terms of his running game, most of this goes undocumented.
When it comes to progressive runs, Olunga completes 1.07 p90. This figure does not do the Kenyan justice as progressive runs require a minimum threshold of distance which Olunga seldom satisfies as the majority of his movement is of the short and quick variety. When it comes to movement and its place within Olunga's game, it nestles itself alongside his link-up ability as a skill that fails to dazzle but at the same time ticks the boxes.
Defending
In both aerial and ground duels, Olunga offers a problematic proposition for opposition players to contend with. It goes without saying that the 6'3 striker will do well in the air, whether with a goal in front or behind him. At 7.15 p90 and 52% success rate, Olunga is effective in the air and, as seen in the video analysis, is used strategically to avert any airborne threat. The graphic below shows off Olunga's ability to compete defensively with an indication of the spaces he inhabits.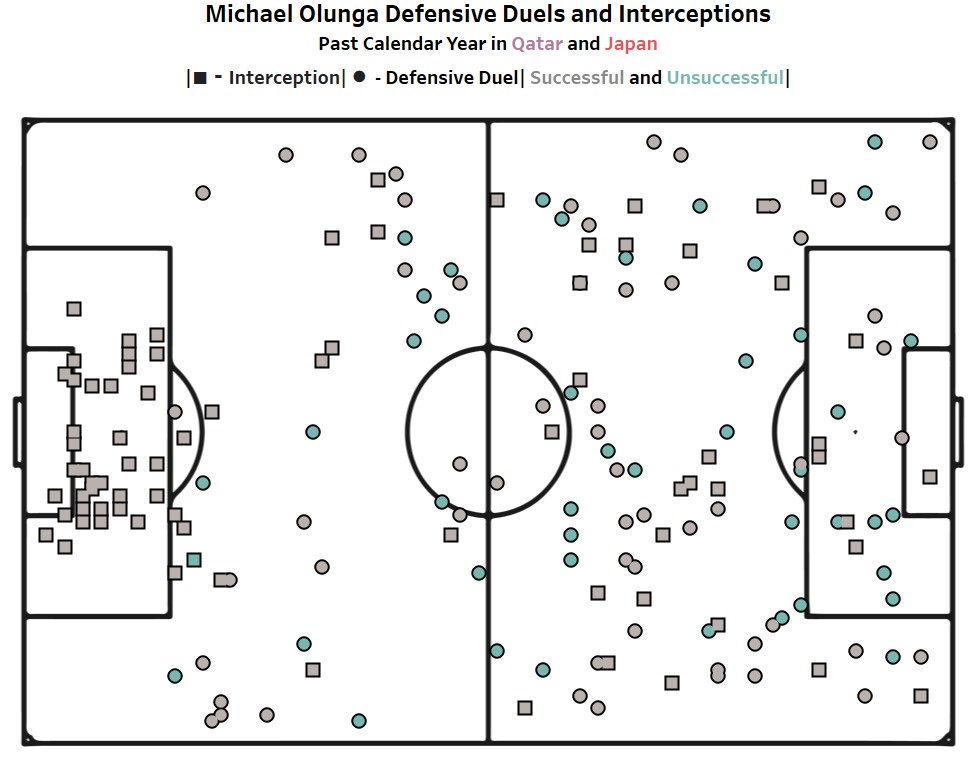 With 2.26 Defensive Duels p90 at a 52.5% win rate and 1.8 interceptions p90, Olunga offers a steady stream of defensive engagement, which often is not a given when it comes to the continents best strikers and their ballooned egos.
Despite a yearning for duels, Olunga does well to stay out of the referees' book and is rarely at fault for fouling the opposition. 1.52 fouls p90 and only 0.1 yellow cards p90 show that Olunga is calculated when it comes to engagement, which his manager Sabri Lamouchi will undoubtedly appreciate.
Asia's Best?
Outside the pantheon's of European football squad building and designing is top-heavy, seen no better than the infamous boom of the Chinese Super League, which saw the likes of Hulk and Eran Zahavi terrorising defences made up of exclusively home-grown products. This is two-fold when it comes to Olunga and his standing within the food chain; one is that the game is designed for goals, quality attackers, and poor defenders have only one outcome and that Strikers are by far the highest quality position in Asia.
With Olunga arriving in the Qatar Stars League, he moves from the third to the second-best league in Asia, according to the AFC coefficient list, so there can be little doubt over the level of competition. In the two charts below, you can see that Olunga compares favourably when it comes to goal scoring and shooting over the past calendar year.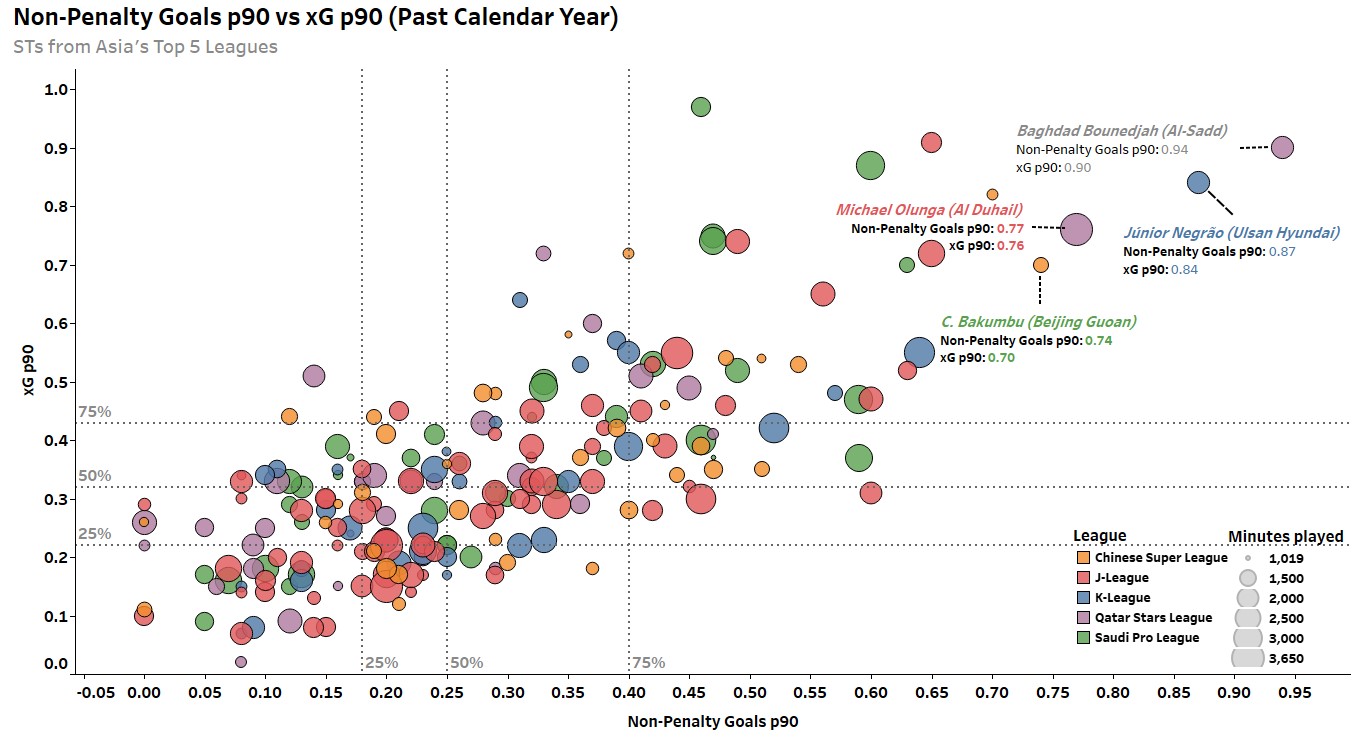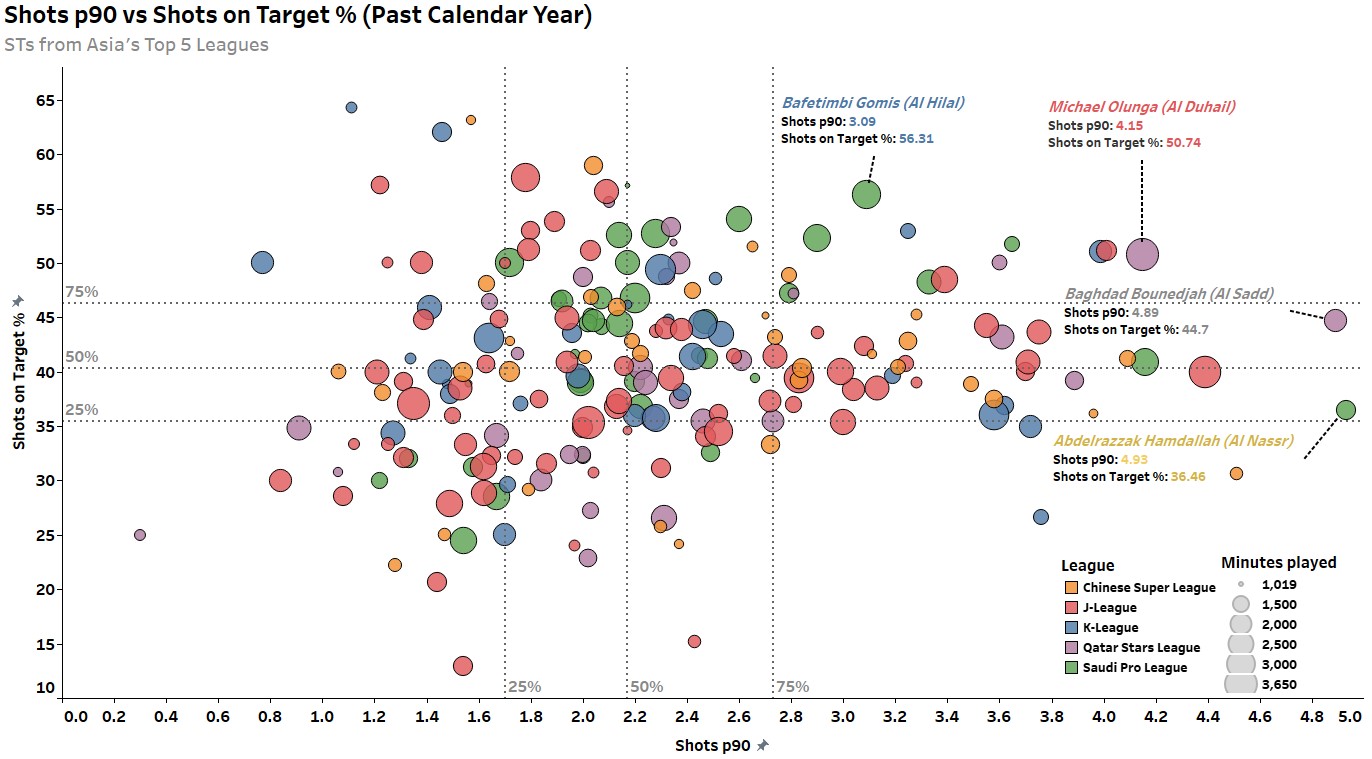 In Qatar,  Olunga has picked up where he left off in Japan; however, the real test will be his ability to compete in the illustrious Asian Champions League. Olunga's stiffest competition comes in the form of league-mate Baghdad Bounedjah, who has decimated Asia since his December 2015 move to Al-Sadd. Olunga vs Bounedjah will be an exciting storyline domestically and continentally and will indicate the identity of Asia's premier talisman.
What's Next?
Michael Olunga has long made it known that he yearns to donn the white of Real Madrid or the red of Arsenal. At 27, the engineer's chances of reaching the bright lights of Madrid or London are diminishing daily, and if we are realistic, they appear improbable at best. A move back to Europe could make sense, but only if the situation were right.
With Kenya failing to qualify for AFCON 2021, the hopes of Harambees worldwide will rest on the broad shoulders of Michael Olunga, who some able deputies will assist. Though not what young boys dream of, Olunga has a lot going for him in Doha and could easily stay in Qatar for the rest of his prime. Once Olunga hangs up his boots, he should be able to look back and realise that he was one of the lucky few that benefited from choosing football over their studies.
By: Patrick Caskie
Featured Image: @GabFoligno / Fadi El Assaad – FIFA