Player Analysis: Mikel Merino
After failing to secure a place in Europe last season – ending the season in ninth place – Real Sociedad have completely turned it around the season, currently sitting fourth in the league and having already advanced to the Copa del Rey Final. In a team that has scored the third-highest number of goals in La Liga, defensive balance is vital. As the creative talents of Martin Ødegaard, Mikel Oyarzabal, Portu, Adnan Januzaj and Alexander Isak look to blossom, their midfield metronome Mikel Merino provides a much-needed balance to the side.
After two short spells with Borussia Dortmund and Newcastle United, the Osasuna product returned to the Basque Country in 2018, with La Real paying a fee in the region of €12 million for his services. He has found his rhythm this season under manager Imanol Alguacil, emerging into one of the finest midfield performers in Spain's top flight.
Positioning
La Real usually deploy a 4-3-3 or a 4-2-3-1 system to break down their opposition. Merino features in the midfield alongside a defensive midfielder, usually Igor Zubeldia, and an attacking midfielder, usually Ødegaard.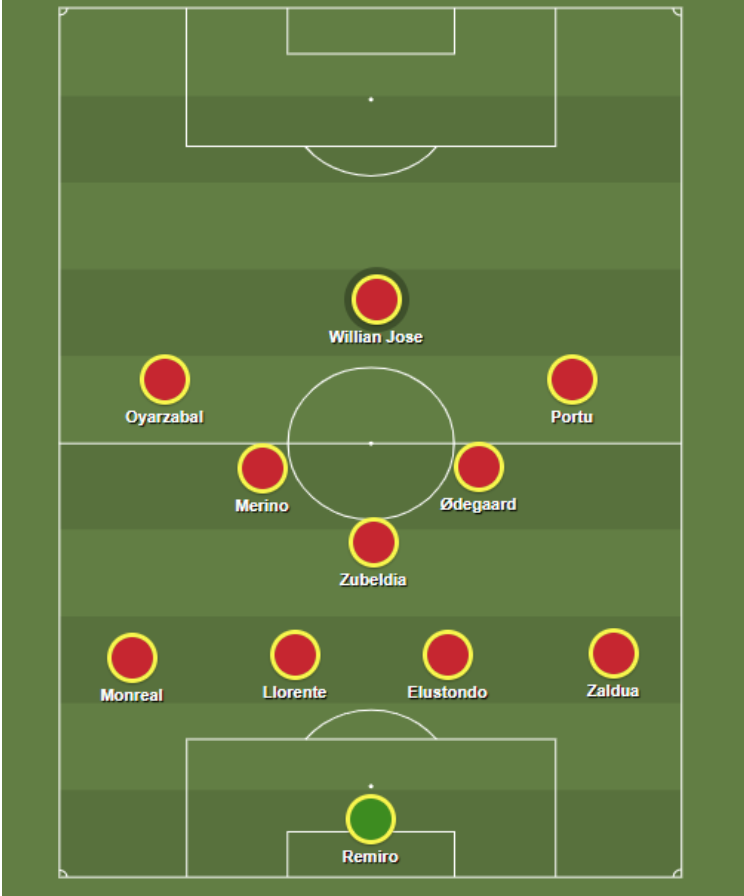 When La Real shift to a 4-2-3-1, Merino plays in the midfield pivot, alongside a defensive midfielder. In the 4-3-3, he plays on the left side of the midfield trio, helping to provide a link between defense and attack. 
Contribution With the Ball
While Merino isn't one of the chief creative outlets at Anoeta, he does play a role in transitioning defense to attack with quick passing. He isn't a magician on the ball, nor is he a press resistant midfielder like Luka Modrić or Marco Verratti, but he helps La Real break the lines and explode on the counterattack.
Here, Merino finds himself in space between Atlético's forward and midfield line, but delays his run to attract Thomas Lemar, and then plays a pass into Ødegaard's path. The Norwegian receives the ball behind Atlético's midfield line and launches into the counterattack.
In the next passing sequence, Merino positions himself with his back to goal between Atlético's two midfielders, attracting the attention of both players. He then plays a quick pass to Mikel Oyarzabal, who has plenty of space in the middle of the pitch.
As Oyarzabal receives the ball, Kieran Trippier moves towards him slightly, opening up the whole left flank for Nacho Monreal to run into. Oyarzabal plays him in and Monreal delivers the cross, which Isak fails to convert.
With the fourth highest possession rate in La Liga (56.6%), La Real dominate their opponents by maintaining long spells on the ball, and Merino plays a crucial part in keeping this possession flowing. Merino is often tasked with playing it safe with side passes and back passes in order to retain possession, and his smart decision-making helps him keep the game ticking.
Here, Merino receives a pass from Oyarzabal, before being quickly close down by two Eibar players. But instead of playing a risky forward pass, Merino plays it back to the defense in order to retain possession amidst Eibar's press.
Merino also contributes to La Real's attacking exploits by creating overloads on the left flank. His combination play with Monreal and Oyarzabal on the left flank can help disrupt the opposition's defense and open up space for them to attack.
In this instance, Monreal plays a pass to Oyarzabal, who drops deep and drags Trippier out of position with him. Merino recognizes the space that has opened up and makes a run into the space vacated by the English right back.
Merino then plays an inch-perfect pass to an unmarked Ødegaard in the box, who ends up converting from close range.
This link-up can be seen on several occasions as La Real look to break down their oppositions by using overloads on the flanks.
Here, Merino plays a pass to Oyarzabal, who plays it to Monreal. Monreal's run drags Eibar right back Pedro de Blasis with him, and Merino is played into vacant space by the former Arsenal man. The attack ends with Portu placing his shot above the bar.
Defensive Contribution
Apart from retaining possession, Merino plays a vital role in regaining possession. He presses intensely, sets himself in advantageous positions to win the ball back, and senses the right opportunities to catch the opposition lacking.
As seen above, Merino starts deep in his own half, but he's quick to realize there is an opportunity to intercept possession. As Koke drops back to receive the pass, Merino closes him down, causing Koke to misplace his pass to João Félix. The ball rebounds to Oyarzabal, who starts the counter.
Whenever La Real lose the ball high up the pitch, Merino presses his opponent either to win the ball or to force a back pass in order to escape a counter-attacking opportunity. The Basque is a vital component of their counter-press, leading the team with 285 recoveries this season.
Here, Ødegaard loses the ball high up the pitch, leaving Real Sociedad exposed on the counter. Merino recognizes the danger straight away and closes down the player in possession.
Despite being heavily outnumbered, Merino closes down the angles to stop his opponent from making a forward pass. By doing so, he forces a back pass and ensures that La Real don't have to defend a dangerous counter attacking situation.
Not only does Merino facilitate the attack by winning duels in the middle of the park, but he also makes the extra effort to recover and help his defence in their own half. His time in Dortmund helped in this respect, where he played two matches as a center back.
In this scenario, Real Sociedad's right back José Zaldúa finds himself high up the pitch as Eibar regain possession in a dangerous area, leaving La Real outnumbered against Eibar's five-man counterattack.
To cope with the counterattack, Merino instructs center back Robin Le Normand to move wide and cover for Zaldúa, who shifts right to cover Charles. Le Normand slows down Eibar's attack and gives his teammates enough time to recover and get into a settle shape to defend the counter.
Merino constantly remains focused and checks his position, enabling him to close down passing lanes with quickness. In this scenario, Eibar win a throw-in and Merino is quick to recognize the intended target, charging backward to intercept Cote's throw-in.
Merino is quick to react and intercepts the pass, a testament to not just his concentration levels, but his brilliant reading of the game and anticipation.
Not only does Merino know where to be to intercept possession, he also knows where to position himself to block off passing lanes and complicate an opposition player's decision. Here, João Félix drives into the opposition half and finds himself outnumbered. But instead of making a rash decision to press Félix, Merino blocks the passing lane to Ángel Correa, Félix's most likely passing option. Unable to find the right pass, the Portuguese forward ends up losing the ball.
Aerial Ability
Standing 6'2″ and weighing 174 pounds, Merino is a daunting player to beat in physical duels, and his height comes in handy in regaining or retaining possession.
Although La Real prefer to carefully build from the back with quick, short passes, Merino allows them to come up with the ball when they are forced to go long. He has won 115 aerial duels this season, the third-most in La Liga, winning 66.1% of his duels.
Merino's height makes him a threat in both boxes, both for defending and attacking set-pieces. When defending corner kicks, he stands near the edge of the six-yard box and monitors any player who invades his area, as seen below against Eibar.
On the other end of the pitch, Merino is a constant weapon in attacking dead ball situations, with 10 aerial shots this season, three of which have resulted in goals.
His goal against Valencia encapsulates the best of his abilities. Ødegaard turns over possession to the opposition, Eliaquim Mangala looks to play a simple pass to Geoffrey Kondogbia, but Merino is quick to intercept the pass, quickly playing it to Januzaj.
Januzaj's pass bounces to the onrushing Zaldúa, who has plenty of time and space on the byline. As Zaldúa weighs up a cross before firing an excellent cross, Merino makes a darting run between Dani Parejo and Mouctar Diakhaby, before heading home from close range.
While we have acknowledged that Merino has emerged as one of the finest midfielders in Spain this season, it's worth talking about his deficiencies as well. One of these deficiencies is his passing under pressure.
Struggles to Bypass the Press
Although Merino can link together possession with his teammates, he often struggles to make passes connect when pressured by opponents. Rather than attempting to take on his man, Merino tends to shield the ball and win a foul; he has won the fifth-most fouls in La Liga with 60.
Here, Merino receives the ball and is immediately pressured by two Eibar players, but rather than trying to elude both with a dribble or play a simple pass to Ødegaard, he shields the ball and wins a foul.
Even when Merino does find himself into good positions (which he often does), his teammates hesitate to pass him the ball as they fear the attack might break down if doing so.
As Real Sociedad continue to push for the final Champions League spot, Merino will have to improve his ability in escape tight zones. If he becomes a liability, teams will target him even more and attempt to launch counter-attacks from there.
Lack of Discipline
Although Merino has received just five yellow cards in this La Liga season, he has committed 55 fouls, the fifth-highest total in La Liga. Whenever Merino finds himself isolated in a 1 v 1 situation in any area of the pitch, he tries too hard to win the ball back, even when it isn't feasible. This creates two problems: Either he ends up fouling the opposition player or the opponent escapes his challenge and Merino is in no position to recover.
In this example, Merino finds himself in a 1 v 1 against Vitolo in the middle of the pitch. Vitolo turns his back to shield the ball, and instead of dropping off, Merino overcommits in his attempt to win the ball and is left on the ground as Vitolo eludes him.
Such instances occur on a regular basis where Merino overcommits and either loses the duel, or fouls the opponent when he has no place to go. He must improve his decision making in this regard, especially if La Real seal Champions League qualification.
Conclusion
All in all, Merino has been one of the best midfielders in La Liga this season. Not only can he facilitate in attacking opportunities, but he also provides much-needed strength in defence to the otherwise attack-minded Real Sociedad side.
He needs to improve his elusiveness on the ball and his defensive decision making to become a top-tier box to box midfielder, but at 23 years of age, he will get plenty more chances to do so.
By: Shaharyar Atique
Photo: @GabFoligno