Player Analysis: Mohammed Kudus
Mohammed Kudus made his €9 million move from Nordsjaelland to Ajax to last summer, and his transfer got the Ajax faithful very excited and for good reason. Kudus' combination of technical ability and impressive awareness had allowed him to stand out in the Danish side's midfield, even at the age of 19. Ajax are obviously no strangers to precocious young talents and their long history with the development of young players together with the Ghanaian midfielder's skillset meant that it should be a seamless transition period for both parties, in theory at least. 
Ajax started the 2020/21 Eredivisie season with the usual expectations of finishing at the front of the pack and Erik ten Hag was intent on allowing Kudus to contribute as much as possible to that effort, handing him his first start in the second game of the season against Waalwijk. In a solid debut, Kudus displayed a lot of the qualities that had attracted the Amsterdam club to him in the first place, a good sign for games to come. 
Positional Tendencies 
Mohammed Kudus is a midfielder by trade. However, one of his strengths is versatility and this trait has shown since his time in Denmark. In the Superliga he often played as one of the more advanced midfielders in Nordsjaelland's 4-3-3 formation. At times he featured as a number 10 when Nordsjaelland played with a 4-3-1-2 even though that was not a very regular occurrence.
His second most common position was actually as a forward. This is interesting for a number of reasons. Playing in such advanced areas the emphasis for him would be less on driving forward with the ball and keeping play ticking over, it would be more about combining with midfielders and picking up good positions in the box to finish off moves. 
In the 2019/20 season for FC Nordsjaelland Kudus averaged 0.50 goals per 90. A very impressive return for him, one that could easily attributed to the time he spent up front. A cursory glance over his shooting numbers would prove otherwise. Averaging 2.4 shots a game as a forward and 2.7 a game in midfield proves he is just as offensively active when he plays a more withdrawn role.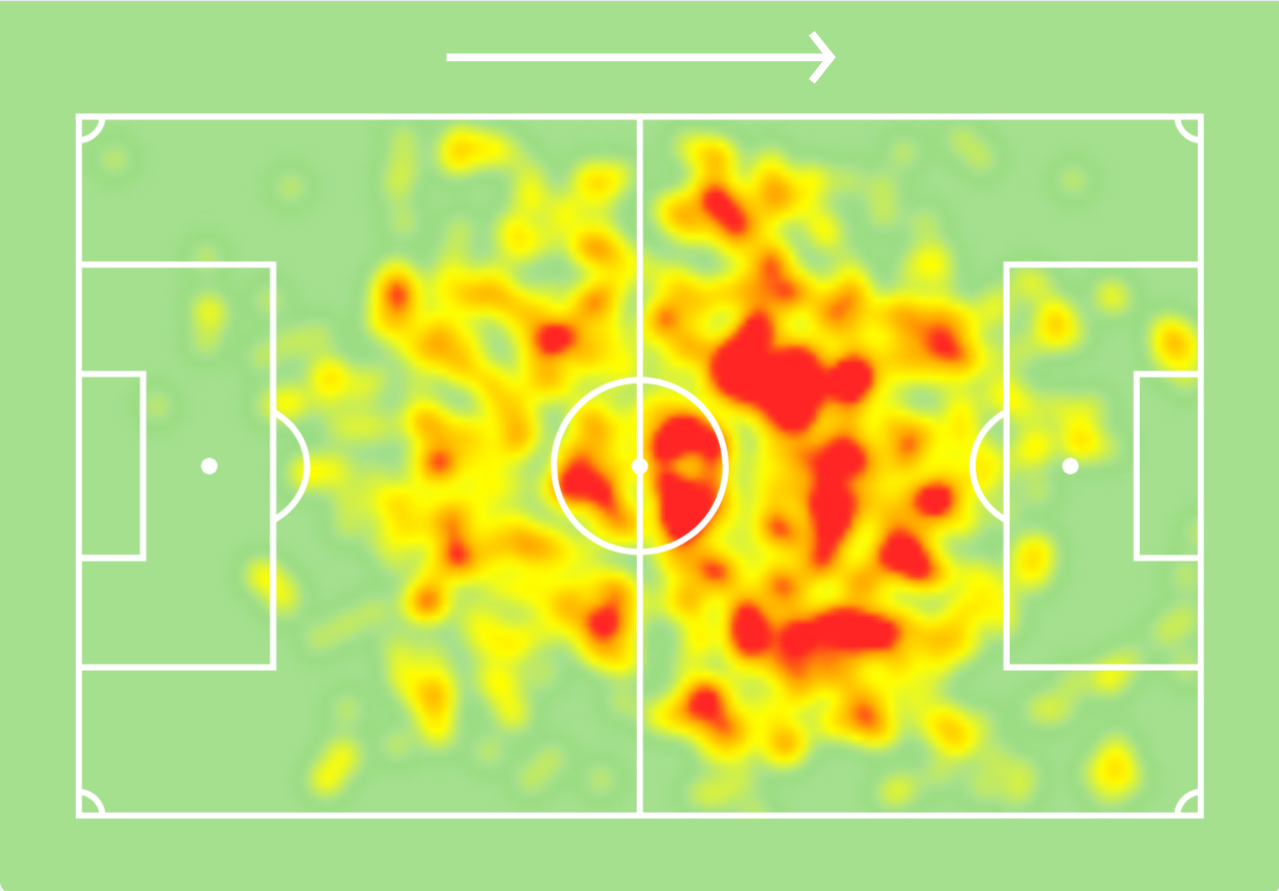 Photo: Kudus occupied central spaces with most of his activity coming close to the opposition area (Sofascore)
For Ajax last season he was deployed mainly as a central midfielder even though he rotated into more advanced positions at times as well. He occupied more central positions and depending on his midfield partners and the opposition Kudus drifted closer to the centrebacks or in similar areas to the forwards. 
As the heatmap from his 2020/21 performances shows Kudus often occupied central spaces. This is a slight shift from his role in the Superliga where he displayed a right side bias in his movement. By doing so he could open up good angles to spread play and find passes forward with his stronger left foot. This may be something Erik ten Haag has deliberately sought to modify since a number of Kudus' more prominent attributes will be maximised in central areas. 
Strengths
Playing pick-up football from a young age in Nima, the suburb of Ghana where Kudus grew up fashioned certain skills within his game that are still apparent now. Standing at around 177cm Kudus is not the tallest player around but his awareness and supreme close control – qualities that would have been essential for him as a young boy playing in small spaces – make him a difficult man to dispossess.
It is very fascinating to watch Kudus whenever he receives the ball under pressure from the opposition. He assumes a bent, almost hunched-over stance giving him a lower centre of gravity and allowing him to ride challenges and absorb contact without losing his balance or possession of the ball.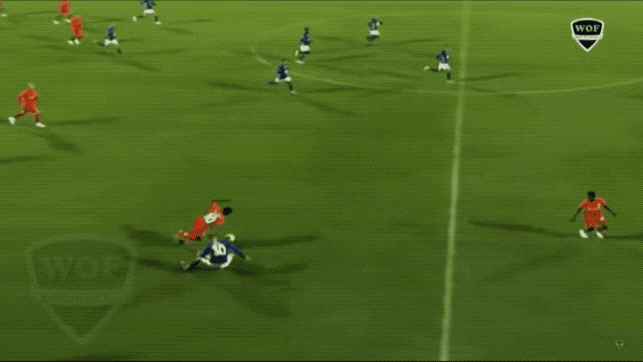 That is an area where he excels greatly, holding on to possession under pressure. This trait is even more valuable now in the age of counter-pressing with more teams attempting to suffocate opponents quickly and completely in order to try and regain possession.
A combination of excellent technical ability and strength allows him to hold off defenders and/or jink his way through challenges with clever footwork. In that sense he is of a similar profile to Tottenham's Tanguy Ndombele.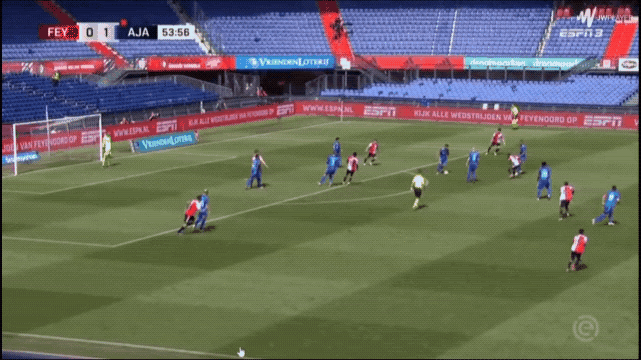 This attribute feeds into another one of his strengths which is his passing. Driving with the ball especially in central areas can destabilize a defence, with opposing players having to come out of the structure in order to close him down. This opens up spaces for other players Kudus can then find. Even though his assists numbers ahave never been particularly impressive he still shows a good proficiency when it comes to finding his teammmates in good positions.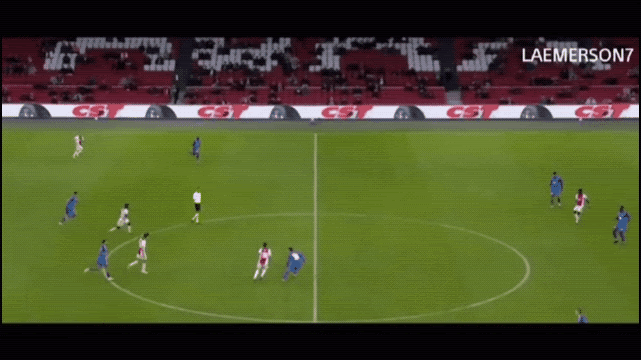 Areas of Possible Improvement
Even though Mohammed Kudus' passing is something that was picked out earlier as a strength of his the potential he has to become a high-level creator means that it also falls under an area he should be looking to improve in. A strong left foot is his main weapon but he not as dangerous on his right side.
Kudus is by no means complelely dependent on his right but an improvement in this area of his game would make him even more unpredictable. A more centralized position also means that he has many more angles available for him to exploit, he can do this more effectively by improving his ability on that right foot.
In his final season for FC Nordsjaelland he scored 11 goals, his highest for any season so far. Even as a midfielder he is very proactive with his forays into the box and his attempts on goal. Improving his finishing will make him more of a threat going when he makes those runs towards goal.
Most of these areas are not underdeveloped per se but are not at an elite level either. They would raise his overall game to the next level however if he can improve them and he certainly has the potential to make that next step.
Conclusion
Mohammed Kudus had a fairly disappointing campaign due to injuries. The heartbreak of not being able to complete his first Champions League will be a painful memory that hopefully spurs him on to bigger performances. The qualities he possesses could make him one of the most valuable assets in a very well stocked Ajax side however he will need some consistent playing time to show that. If he can avoid injuries this season, there is little doubt that Kudus is in line for a very big campaign.
By: Wepea Buntugu / @Wepea_
Featured Image: @GabFoligno / BSR Agency – Getty Images