Player Analysis: Nacho Fernández
The past decade has seen Real Madrid dominate European football, winning an unprecedented three Champions League trophies in a row as well as three league titles and two Copa del Rey trophies, but one area in which they have paled in comparison to other major European giants is their youth production rate.
Whilst Real Madrid's famed La Fábrica academy has churned out several top players over the past decade such as Marcos Llorente, Achraf Hakimi and Mario Hermoso, few have gone on to secure a starting spot for Los Blancos. One exception has been Dani Carvajal, who has become a mainstay at right-back since returning from his loan at Bayer Leverkusen and displacing Álvaro Arbeloa from the line-up, whilst Lucas Vázquez has been a valuable option for Zinedine Zidane's side, although he could be headed out this summer with the club struggling to agree on a contract extension.
The longest-serving player from that bunch, which includes Mariano Díaz and Antonio Blanco, is Nacho Fernández. Having arrived at La Fábrica at the age of 11, Nacho made his debut on April 23, 2011, starting at left-back in a 6-3 away win against Valencia. The following week, he started at left-back as Real Madrid's title dreams came crashing down in a 3-2 defeat against Real Zaragoza.
From José Mourinho's first season at the Spanish capital, Nacho is one of four players that remain alongside Karim Benzema, Sergio Ramos and Marcelo. Whilst he hasn't quite hit the same legendary heights as the other three players, the Spaniard has continued to play an important role both as a veteran leader in the dressing room as well as a reliable soldier who can slot in across the backline and go blow for blow against some of Europe's best attackers.
The 31-year-old has enjoyed a resurgence in form under Zinedine Zidane, having played the full 90 minutes in each of Madrid's last 12 matches in the league apart from a stalemate against Getafe on April 18 due to a yellow card accumulation, whilst he has done the same for six of Real Madrid's last seven matches in the Champions League. Going up against the likes of Mohamed Salah and Sadio Mané in the Champions League Round of 16, Nacho held his own alongside Éder Militão and shepherded Los Blancos past the reigning Premier League winners.
For the past 10 years, Nacho has played under Carlo Ancelotti, Mourinho, Zidane and Rafa Benítez and consistently remained a reliable backup defender eager to step in whenever Ramos, Pepe, or Raphaël Varane are unavailable. What's more, his impressive performances in defense could see Los Blancos allow Ramos to walk on a free transfer this summer, and count on him to ease the transitional process.
Defensive Prowess
Nacho is an old-school defender who has gained a reputation for his excellent positional awareness, conservative style, and brawn in physical duels, although he's no slouch in the build-up phase either. In the below example from Real Madrid's 2-1 victory over Barcelona, we can get a sense of his positioning as Madrid gradually shift from their 4-3-3 to a 4-4-2 off the ball.
Whilst he remains close to Militão in order to prevent a ball played in over the top to Ousmane Dembélé, he also is ready to step up and win the ball back if Frenkie de Jong manages to find Lionel Messi in between the lines.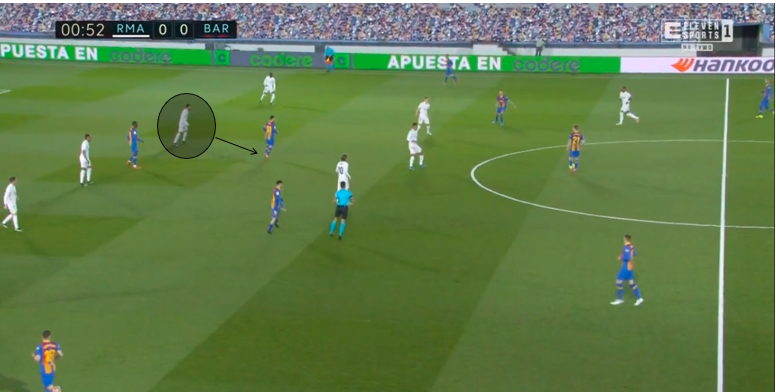 Nacho is a daring defender who knows when to step in to win a duel and is persistent in how he marks the opposing forward and swoops in on him to force a turnover. In the below example from the second leg against Liverpool, we see how he closes down Salah, preventing him from turning before sticking a foot in to regain possession and launch a potential counter-attack.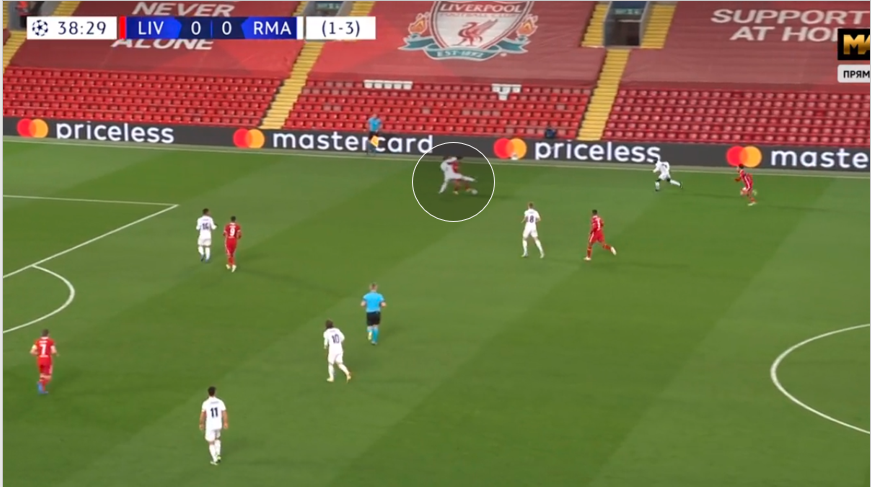 The Madrileño defender has a successful tackle rate of 62% per match, an impressive tally for any defender, let alone one who has grown accustomed to warming the bench for Ramos and Varane. Furthermore, despite standing just 5'11", he is a reliable warrior in the air who tends to come away with the ball, winning 57% of his aerial duels per match.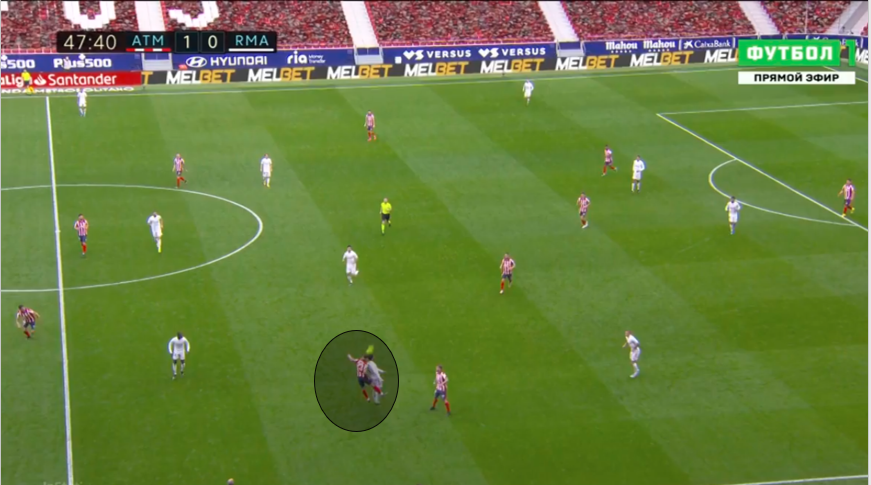 In the above example from Real Madrid's 1-1 draw against Atlético Madrid, Nacho pushes forward and wins the aerial duel against Kieran Trippier. Always focused on the ball and his opponent at the same time, Nacho is able to battle his man for possession and capture the ball without conceding a foul by being overly eager.
Not only is he capable of winning aerial duels and swatting away a barrage of crosses, Nacho is also skilled at positioning himself in the right area to control the movement of the opposing attacker and not allow him any dangerous shooting angles. His excellent positional awareness enables him to place himself at the right moment and right location and nullify an opposing attack, as seen below against Atalanta.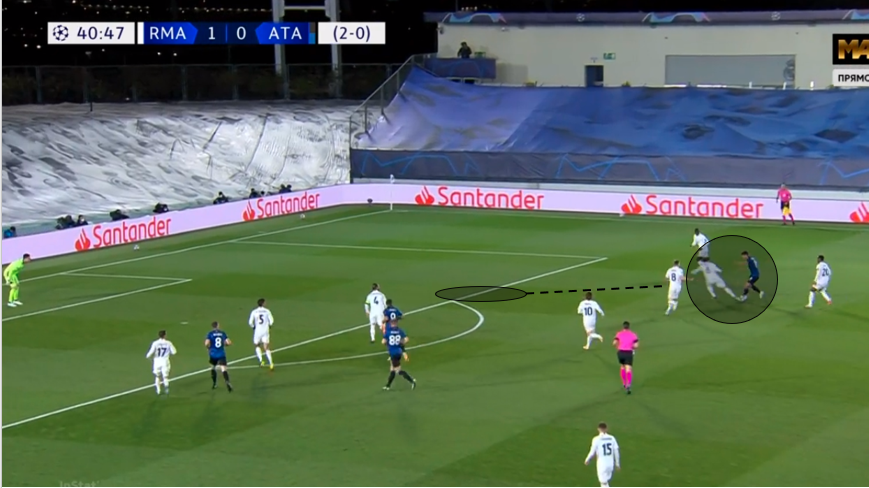 In the above example, Nacho comes off his line and snatches the ball away from the onrushing Ruslan Malinovskyi, preventing the Ukrainian from getting a long shot off and compensating for a lapse in concentration from Ferland Mendy. Apart from the wise decision to pressure Malinovskyi, Nacho's positional awareness allowed him to quickly step in without leaving his defense exposed.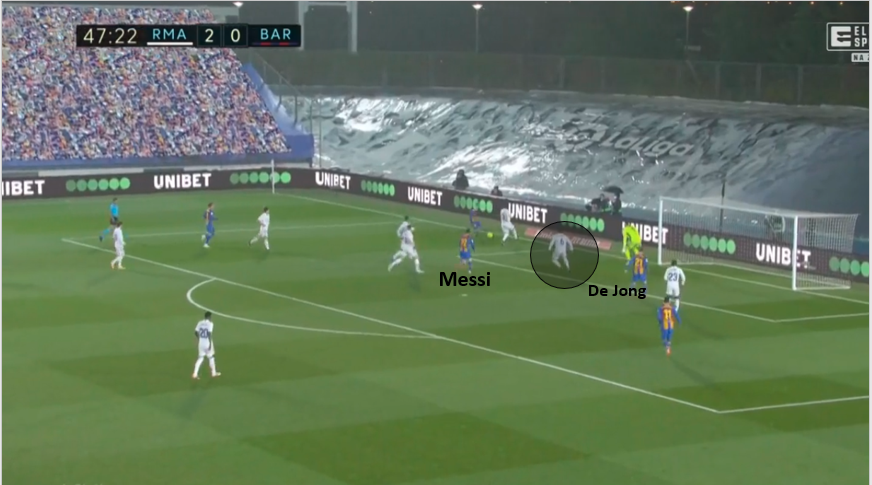 It isn't enough to simply be in the right position to pressure the opponent and close down a passing or shooting lane; you also need to how to place your body and move in order to prevent a goalscoring opportunity. We see an example of this here in the recent Clásico, where Nacho steps in and prevents Lionel Messi from getting a touch on the ball, before recycling it into safety.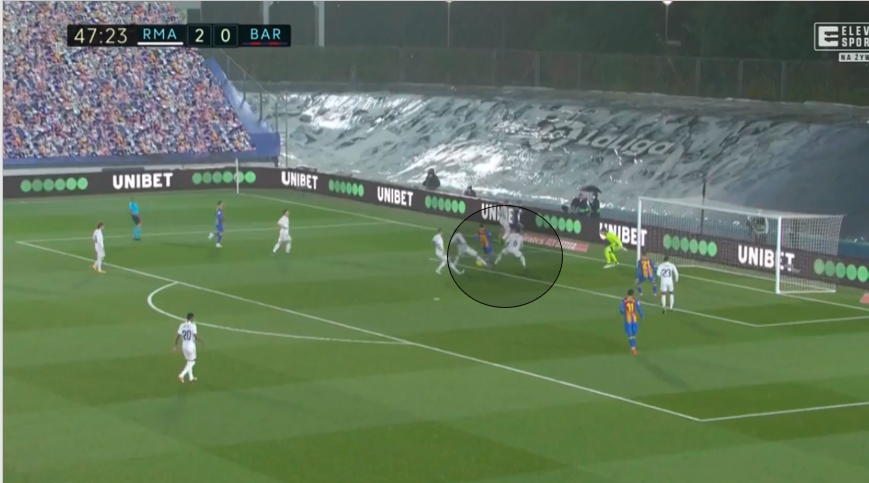 Thanks to his positional awareness, Nacho is not only able to prevent Messi from making contact on Jordi Alba's cross, but he also blocks a passing lane to Frenkie de Jong, who has snuck in past Mendy and ready to tap in Barcelona's opening goal. The Spaniard waits for the right moment before quickly stepping in and safely guiding it into the path of Federico Valverde.
Nacho's Role in Possession
Whilst Nacho's bread and butter comes off the ball when defending, he certainly meets the standard for a Real Madrid defender in terms of his ability in possession as well. He ranks in the 97th percentile for progressive passes received with 1.16 per 90 according to FBRef.com, whilst he is also averaging an impressive 4.05 progressive carries per 90 as well as an 89.9% passing completion rate this season.
Similar to his ability to play any position across defense, Nacho is also able to play incisive passes with either his left or right and to receive the ball with one foot and dribble with the other. His vision and capacity to eliminate the press by finding an open teammate is a massive boon for Madrid in possession, as seen in the below example against Liverpool, as he chips the ball over Salah and finds Mendy in space.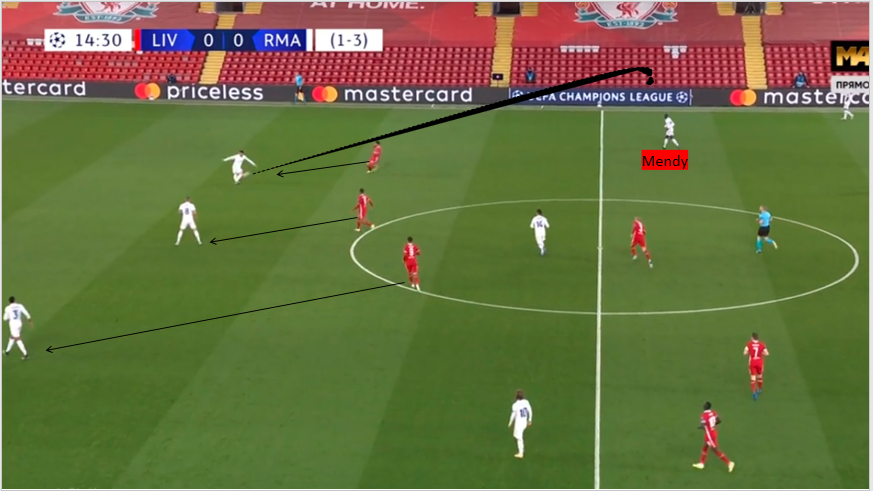 In the below example from Real Madrid's 1-1 draw against Real Sociedad, Nacho finds himself being tightly marked by Portu, who had just grabbed the opening goal seconds prior, and realizes he is at risk of giving away the ball in a dangerous area to a speedy wide player. At the same time, two of his short passing options are being sharply monitored by La Real players, whilst a horizontal return ball to Varane could pose all kinds of threats for Madrid.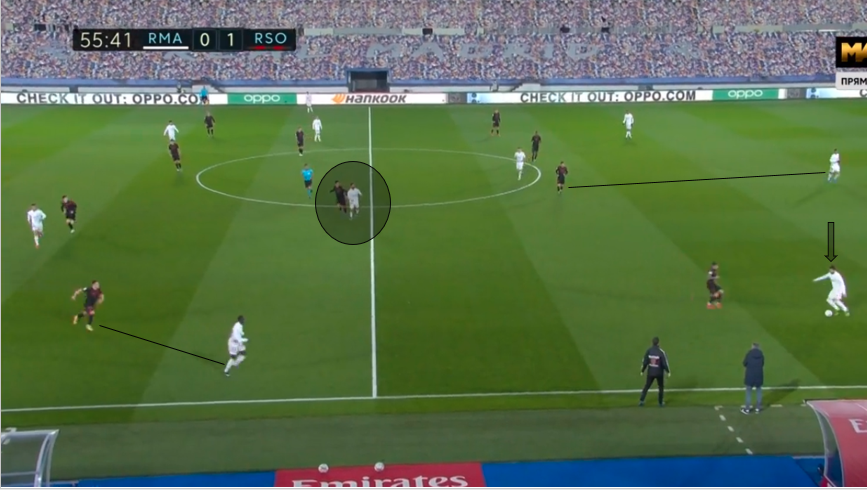 Rather than panic or play a hurried pass, Nacho elects to dribble forward, leaving Portu on the ground in his wake. He has now gained space from the Spanish winger and is able to find the onrushing Toni Kroos in the middle of the pitch. Whilst he may not be as prestigious on the ball as Madrid's captain, he also isn't the type to cough up possession whilst under pressure from an opponent.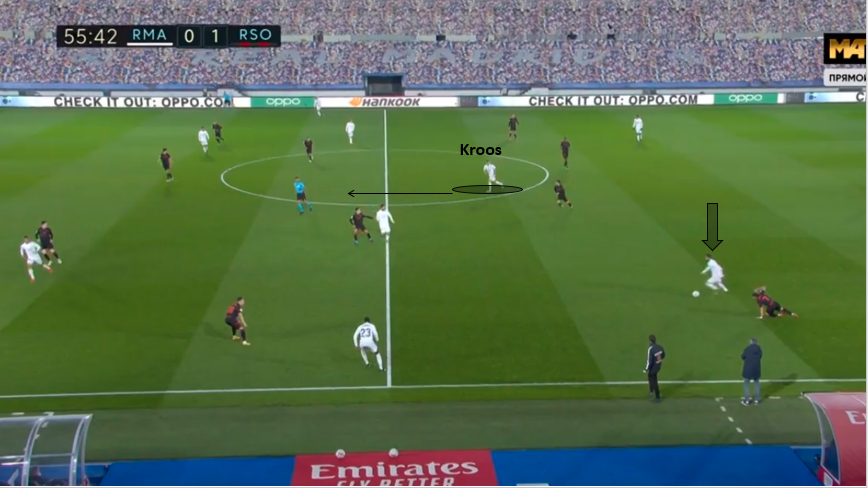 Nacho's Weaknesses
While Nacho is generally a reliable defender who can do a job against a range of attacking set-ups, there are certain vulnerabilities in his game that have prevented him from being a long-term starter in defense. We see an example of this in Real Madrid's 0-1 defeat to Cádiz where Zidane opted to play him at right-back.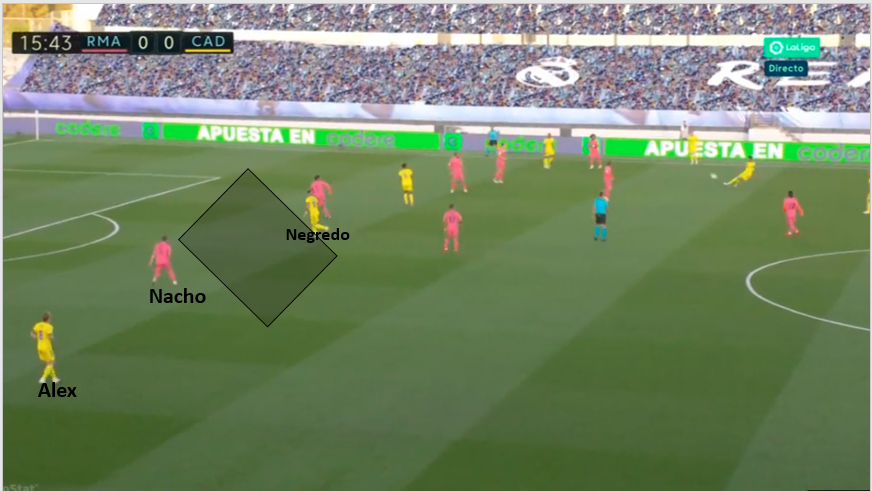 Nacho is originally staying close to Varane, but after noticing Alex Fernández — his younger brother — wide open on the left flank, he decides to scoot back a little in order to prevent against a switch of play. As a result, this allows José Mari to pick out Álvaro Negredo with a lofted pass. The ex-Manchester City striker heads it into the path of Anthony Lozano, and the Honduran forward sneaks in past Ramos and fires home the sole goal of the match.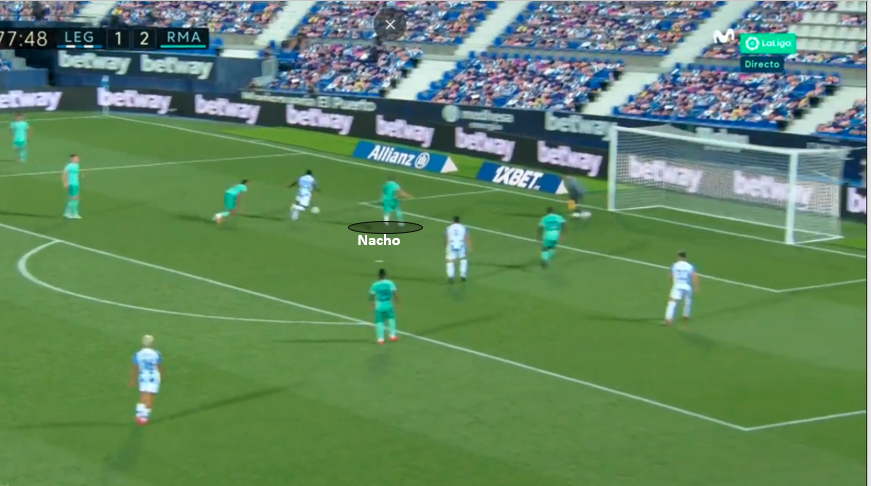 Nacho came on for Ramos midway through Real Madrid's 2-2 draw against Leganés on July 19, 2020, and once again, his failure to put pressure on the player with the ball as well as his conservative defending cost his team a goal. Jonathan Silva receives a throw-in from Bryan Gil and plays a cross into the box, which Militão fails to clear, leaving Roger Assalé in prime position to score the equalizer.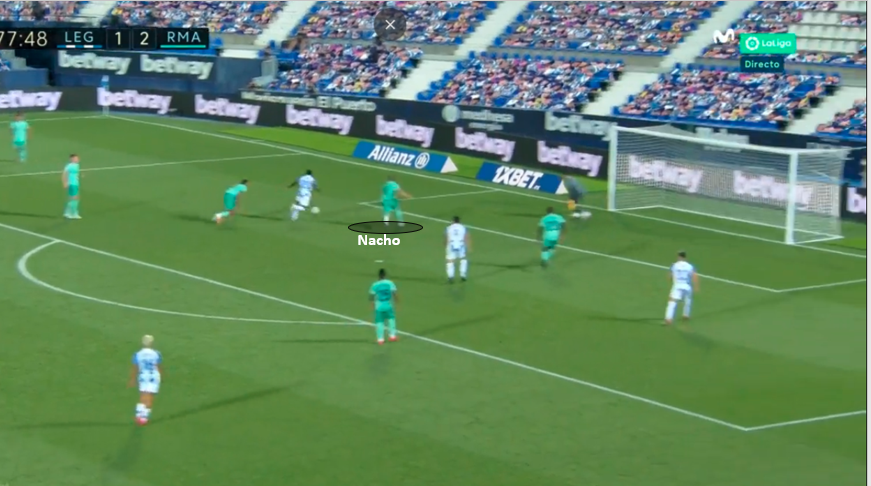 In both examples with Assalé and Negredo, Nacho's delay in his decision-making as well as his conservative style in defending allows the opposing player to score a goal. If there is any Achilles heel that can jeopardize Nacho in crucial moments, it is this. Nevertheless, Nacho continues to be a reliable defender who has helped the 23-year-old Militão adjust to the lofty standards of Real Madrid.
Conclusion
It has been 20 years since Nacho Fernández joined Real Madrid's academy, and while he has been approached by other clubs such as Roma in the past, it seems more and more likely that he will spend the entirety of his professional career in Chamartín. Having struggled with injuries last season, he has once again proven that he can step in when required and steer his team to victory whenever called upon.
At 31 years of age, he looks set to continue his time in Madrid and continue to play a valuable role both as a leader in the dressing room as well as a defender on the pitch, modest enough to step into the sidelines for Varane, Ramos, or potentially even David Alaba next season, but always ready to step into a leading role when required.
By: Bola Atta
Featured Image: @GabFoligno / Angel Martinez – Getty Images